Whenever my husband gets a cold, he always wants homemade chicken noodle soup. But he asks not for the traditional chicken noodle but my version which is called Japanese Udon.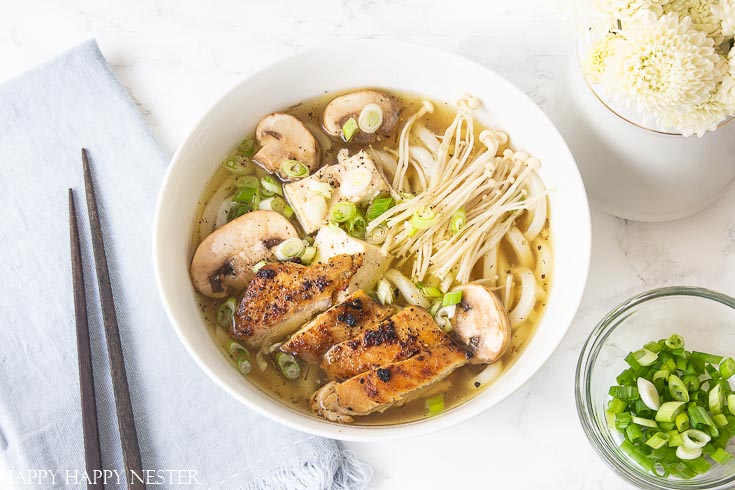 The udon (pronounced oo-don) noodles are thick and like no other noodle you have ever had. If you make one soup this winter, this is the one you need to try, ask my husband.
Today, I'm collaborating with a bunch of other bloggers on this soup theme hosted by Kristen from Ella Claire & Co. So, make sure to check out their delicious recipes at the bottom of this post.
Fond Memories of Homemade Chicken Noodle Soup
Growing up as a third-generation Japanese American, we often visited my dad's client's noodle restaurants. Yes, there are noodle shops in southern California where the windows are all fogged up from the big vats of hot chicken broth.
I have fond memories of watching everyone sitting around with their big bowls of udon and slurping up every last drop of delicious broth.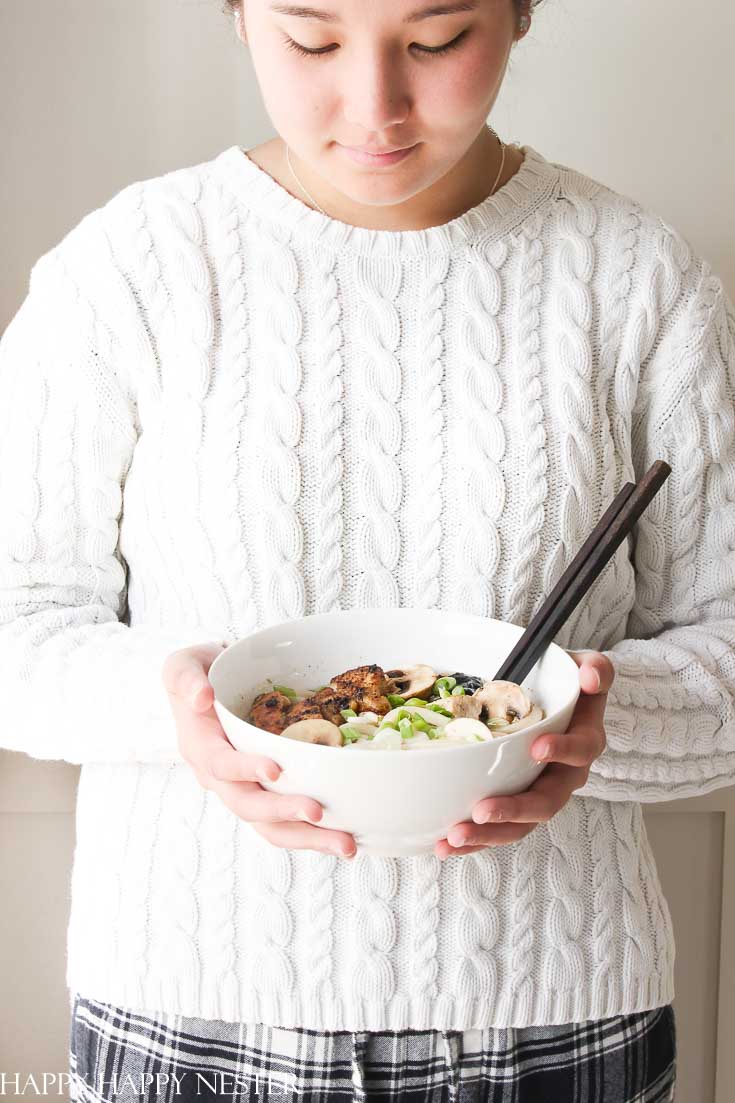 Not All Noodles Are Created Equal
Since I'm getting nostalgic, I can remember the time when Michael and I had just gotten married I wanted to share a bit of my Japanese cuisine with him. I was super excited to make udon, but I darndest time finding the special noodles. Well, Michael chimed in and said that I should use regular spaghetti noodles.
I was like, what?! In my mind, I was thinking I had to find the yummy udon noodles or not make it at all.
You see these special Japanese noodles are extra thick and a tiny bit chewy and like no other noodle you've tasted. They do have a wonderful saltiness that adds to the flavor of the broth. It's like if you bunched up about four spaghetti noodles in one noodle and add a bit of saltiness and chewiness to it.
This Japanese chicken soup with noodles has the base of a classic chicken soup, but then the noodles elevate it above and beyond!
*If you like to learn more about the history of the Udon noodles, check out this Wikipedia source.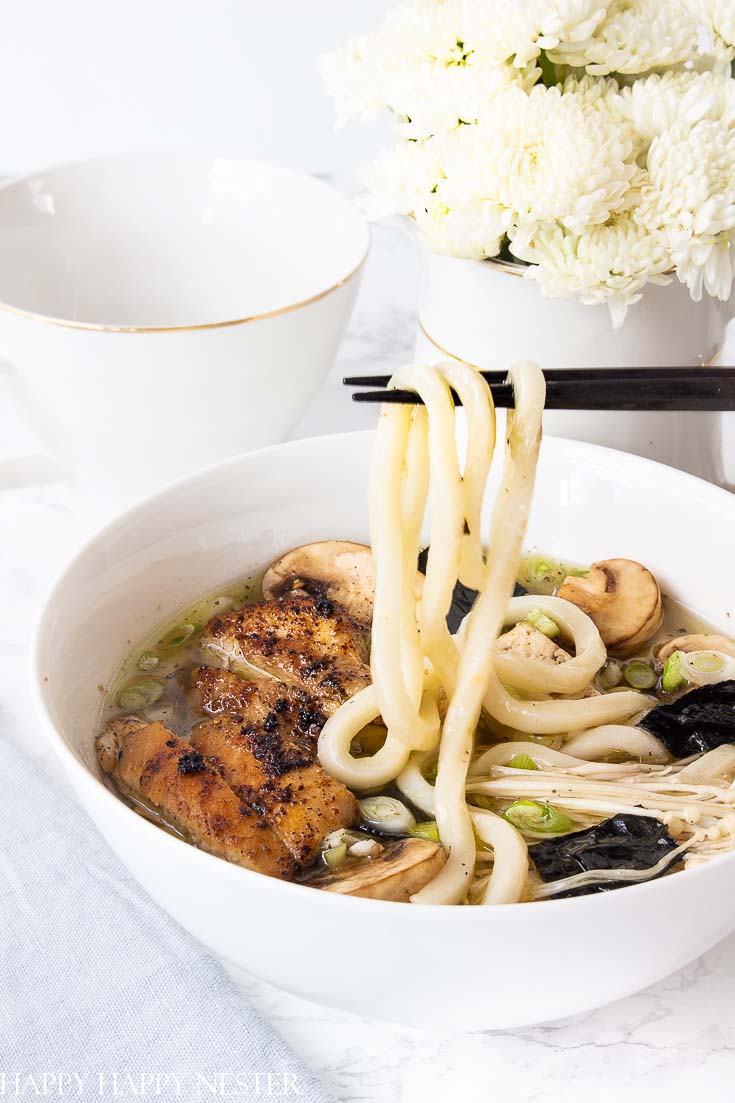 Chef Notes About This Japanese Chicken Soup
So, I need to let you know that I've made this recipe a gazillion times, but I have never measured it. So that is why I'm warning you that my recipe may be a bit off, and please let me know if parts don't make sense. I'll try and tweak it and get it perfect.
But, basically, you'll make a soup base like a homemade chicken noodle soup and then we will add some cool and yummy ingredients.
I've attached a link to the noodles but I use a frozen brand, Shirakiku. If you happen to have an Asian market near you, try and find this brand in the freezer section. They are absolutely amazing, thick and a bit sticky and chewy. If you buy it through Amazon here is the link for the Udon Noodles.
Since these noodles only have three ingredients, you can try making them at home. I've made Chef Morimoto's recipe and it's quite tasty. If you try making them, make sure to slice them thinly when cutting the dough out. The noodles tend to plump up when boiled.
How to Make Udon Chicken Soup
Step 1 – Make the Soup Broth
You can use rotisserie chicken to make this soup if you're cramped for time. Remove the meat from the bone and place the bones in a large stock pot. Add the chicken stock or water and any other vegetables to the pot. Cover and boil for four hours.
Half the time I will roast the bones at 425 degrees for about 20-30 minutes in the oven. I will also roast my onions and carrots before adding them to the broth. Roasting veggies and bones make a richer-tasting broth.
Once the broth is done, strain out bones and return the broth to the stock pot.
Step 2 – Prepare the Broth
Once the broth is ready add soy sauce, sugar, and salt, and stir and cook the mixture. Add mushrooms, and bean sprouts to the broth and cook over medium to low heat.
Step 3 – Cook the Chicken
While the broth is cooking, prepare the chicken. If you use rotisserie chicken for the broth, you can use the meat for your udon. But, if you don't have a rotisserie chicken then cook some chicken in a frying pan. Slice and set aside for later.
Step 4 – Cook the Udon Noodles
In a large pot, bring water to a boil. Add udon noodles and cook until tender. Strain and rinse noodles and add them to the udon broth. At this time add the snow pea noodles and keep cooking the soup until the noodles soak in the broth. This step takes about five to ten minutes.
Step 5 – Serve in Large Bowls
Serve the udon in large bowls and top with slice onion, seaweed, furikake, and fresh ground pepper.
Japanese Chicken Udon
This yummy recipe is a homemade chicken noodle soup but with delicious thick Japanese noodles. Once you try this recipe you'll fall in love with it and make it all winter long.
Ingredients
1

whole chicken

or use chicken bones that equal one chicken

5

chicken thighs

approximately two pounds of chicken thighs

3

quarts

chicken broth

4

quarts

water

3

tbsp

sugar

2

tbsp

soy sauce

1/2

tbsp

salt

8

packages

udon noodles

1

bunch

green onions

sliced

1

bunch

enoki mushrooms

optional

3

cups

whole crimini mushrooms

sliced

1

package

bean sprouts

optional

20

snow peas

sliced diagonally but they are optional.

fresh ground pepper

top your udon with pepper

siracha sauce

can squirt a bit of siracha if you like a spice it up.

1

package

seaweed

optional

1

jar

furikake

optional
Instructions
Broth
Take the chicken off the bones and place the bones in a big soup pot.

Add about 4 quarts of water to the pot. You can add vegetables like onions and garlic to the broth.

Cover and boil for about 4 hours. The broth will evaporate and it should reduce down about halfway.

After it is reduced, strain bones out and place the clear broth back in the pot.

Add sliced crimini mushrooms, enoki mushrooms, and bean sprouts to the broth. Simmer broth.

While the broth is simmering, add 3 tablespoons of sugar, 2 tablespoons of soy sauce, and 1/2 tablespoon of salt. If the chicken is salted, don't add the salt portion. If your soup base seasonings aren't strong enough, add another round of the above measurements.

You do want the broth a big strong on seasoning. Once you add the noodles it dilutes the taste.

The Costco chicken is already salted, so we don't use extra salt.
Cooking Chicken
Rinse and pat dry chicken thighs. Heavily season the thighs with salt, fresh pepper, and garlic powder. Place in a frying pan with vegetable oil and cook until brown and crispy. Slice cook chicken into wedges.

If you are using a rotisserie chicken remove meat from bones and slice.
Cooking the Noodles
In a large pot add water and bring to a boil. Add your udon noodles and cook according to the package's directions. I usually boil them for a couple of minutes until they are warm.

Strain and rinse the noodles.
Making The Udon
Add cooked noodles and snow peas to the soup broth and let simmer for about 10 minutes before serving, allowing the noodles to soak up the juices and seasonings.

Serve in a big soup bowl and top with sliced cooked chicken, fresh chopped green onions, squares of seaweed, furikake and freshly ground pepper.
Nutrition
Serving:
3
cups
|
Calories:
375
kcal
|
Carbohydrates:
316
g
|
Protein:
89
g
|
Fat:
27
g
|
Saturated Fat:
4
g
|
Cholesterol:
71
mg
|
Sodium:
7552
mg
|
Potassium:
564
mg
|
Fiber:
26
g
|
Sugar:
48
g
|
Vitamin A:
225
IU
|
Vitamin C:
35
mg
|
Calcium:
80
mg
|
Iron:
3
mg
Make Sure to Check Out My Other Chicken Recipes: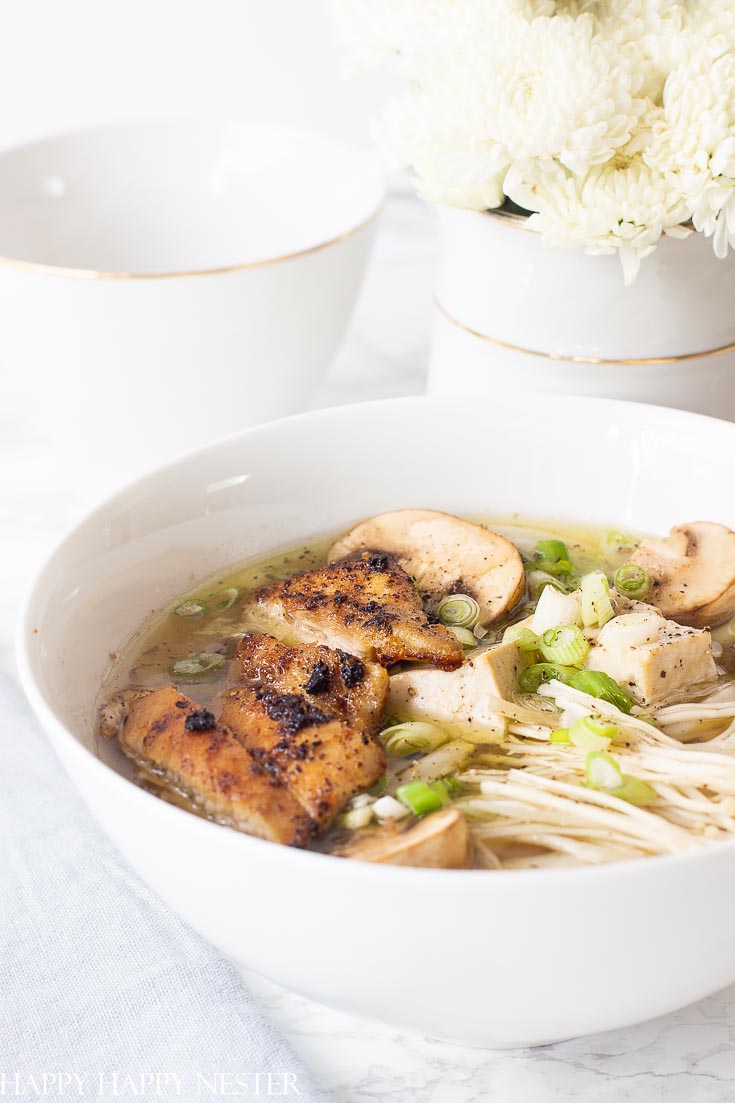 If you want some comfort food this winter, then make sure to try this Japanese Udon recipe. It is the Asian version of Chicken noodle soup that's hearty and delicious.
The noodles are so yummy that you'll be slurping up every last one from your bowl. And speaking of bowls, make sure to invest in some large ones for this dish. I almost forget to mention that the bowl is an integral part of this recipe! The presentation and convenience of serving this wonderful soup in a big bowl are so important.
I'm happy to carry on this Japanese family tradition of homemade chicken noodle soup. After many years of marriage and many bowls of udon, Michael now understands that these noodles are very special. He also knows that you don't eat a piece of bread with this yummy Japanese homemade chicken noodle soup. You could say that he is obsessed with this recipe and it is on his list of comfort food.
We are making this dish this week and I'm sure that will make my husband super happy!
Cheers,

Here Are Some Great Soup Recipes From My Friends!
Easy Slow Cooker White Bean and Ham Soup by Ella Claire & Co. | Creamy Cauliflower Soup by Tidbits | Butternut Squash Minestrone by Nest of Posies | Light Creamy Mushroom Soup by The Chronicles of Home | Corn Chowder by On Sutton Place
Crockpot Chicken Noodle Soup by Live Laugh Rowe | Apple and Celeriac Soup by Inspired by Charm | Chicken Gnocchi Soup by Tidy Mom | Chicken and Dumplings by House 214 | French Onion Soup Bowls by Shabbyfufu
Sausage Tortellini Soup by My 100 Year Old Home | White Chicken Chili by Rooms For Rent | Roasted Pumpkin & Garlic Soup by Home Made Lovely | Healthy Halibut Chowder by Town and Country Living | Homemade Chicken Noodle Soup- Japanese Udon by Happy Happy Nester
Creamy Low-Carb Roasted Cauliflower Soup by Summer Adams | Dairy Free Cream of Broccoli Soup by Zevy Joy | Butternut Squash and Pear Soup by Nick + Alicia | Harvest Lentil Soup by French Country Cottage | Creamy Asparagus Soup with Bacon and Lime Creme Fraiche by My Sweet Savannah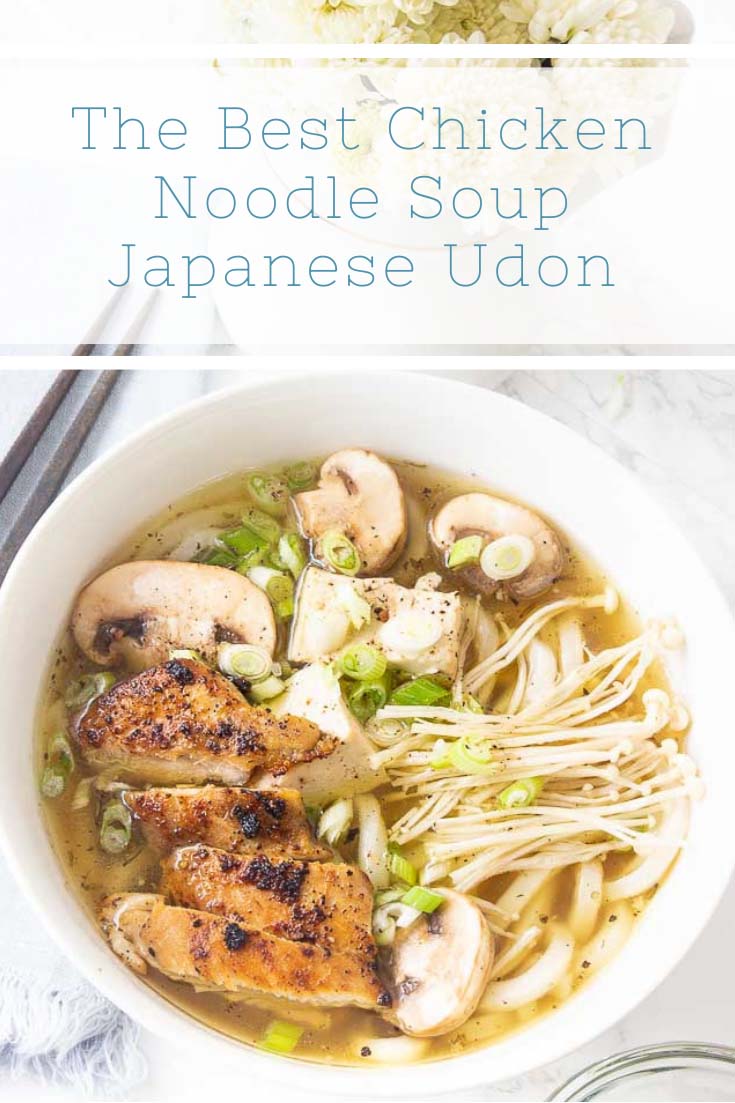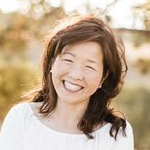 Latest posts by Janine Waite
(see all)