This Lemon Tart Puff Pastry is so easy to make. I love how it tastes like it was made in a fancy bakery. They key is to use a fresh homemade lemon curd.
I used my trusty English lemon curd recipe for this dessert. But, if you are pressed for time, a store-bought curd will do well.
I love any lemon dessert and this one is among my favorites. Lemons are so refreshing, light and tart. I have a lemon pie recipe that is creamy with a hint of sour cream.
But for this recipe it would be best if you made my lemon curd recipe. I got this wonderful recipe from my friend's mom who grew up in England. I've made it for years and my whole family loves to put it on scones and toast.
My husband will just take a spoonful when he wants something light and sweet!
I'm lucky since we have something like seven lemon trees in our yard. So, I have no excuse when it comes to making homemade lemon curd.
How to Make Lemon Tart Puff Pastry
Here is a brief outline on making this tart.
Step 1 – Thaw Puff Pastry Dough
You'll want to make sure to thaw your dough for about 30 minutes.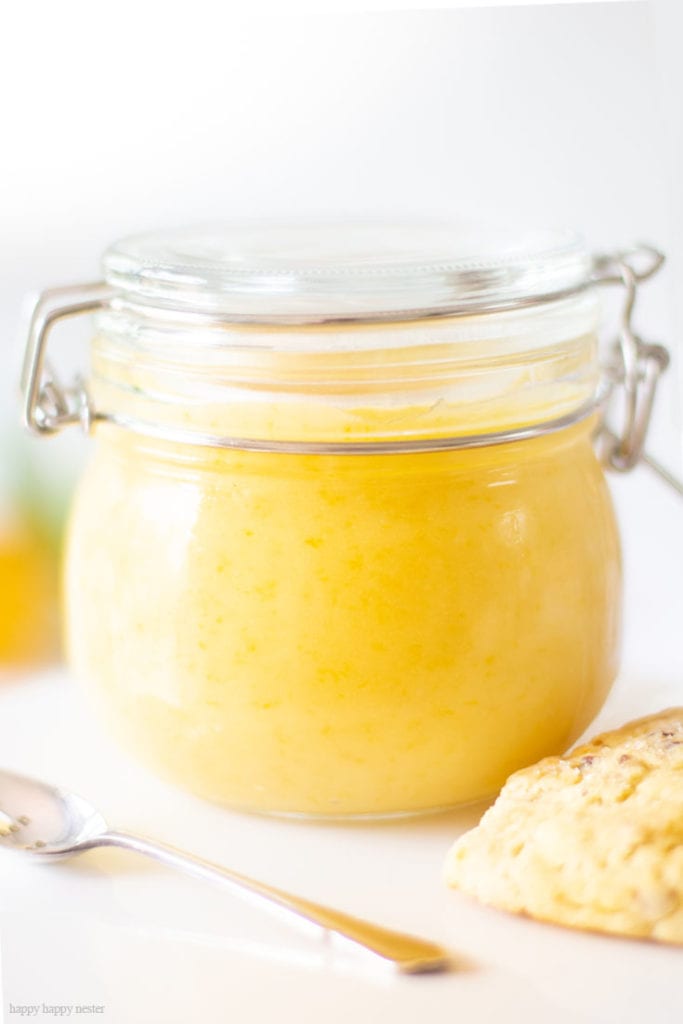 Step 2 – Make or Buy a Lemon Curd
I make my own lemon curd, and it tastes so fresh. Here is the link to the lemon curd.
Step 3 – Shape the Tart
Take one sheet of puff pastry and cut it in half so you have two pieces the size of 5 1/2″ x 1 3/4″ And as you can tell in the above photo, this recipe makes two tarts.
Now cut a 1/2 inch square in each corner and remove the dough. Next, fold the long edges inward to create a border around the whole pastry shell. Then fold the shorter ends. In between folds, lightly brush the sides of the dough with water so that it sticks together.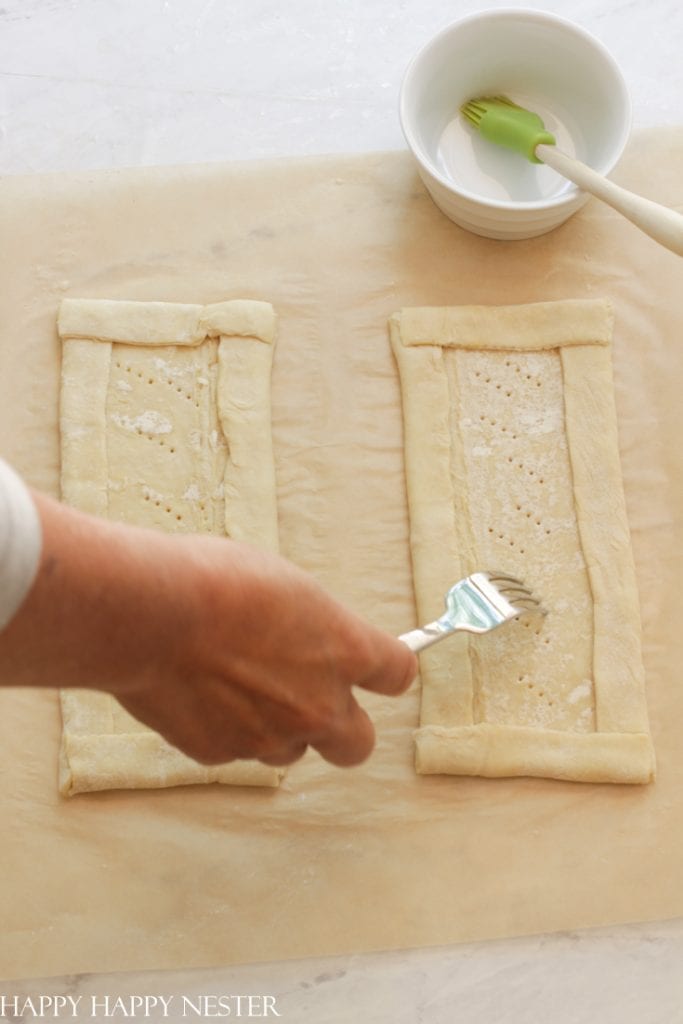 Step 4 – Score Inside Bottom
Score the inside of the tart with a fork.
Step 5 – Blind Bake Pastry
Blind baking is baking the puff pastry dough pre-baking the crust before adding the filling. I found a helpful post about blind baking. I suggest lining the puff pastry with aluminum foil and fill it with sugar to blind bake your pastry.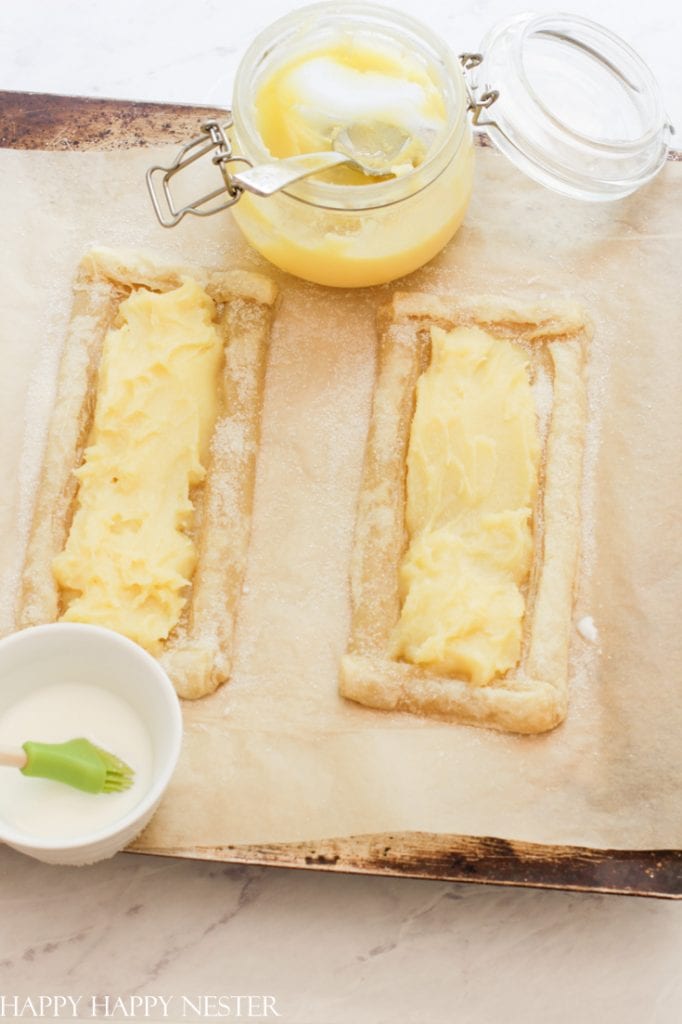 Step 6 – Add Lemon Curd
After blind baking the crust for 10 minutes, pull it out of the oven. Remove the tin foil and sugar and add lemon curd to the middle. Place back into the oven for another 15-20 minutes.
Step 7 – Top with Buttercream or Whipping Cream
This step is optional. Besides topping with buttercream, whipping cream, you can also place a dollop of ice cream on top.
What is the difference between puff pastry and phyllo dough?
Puff pastry is fine layers of dough that also have layers of butter. The butter and dough, when baked, puff up to a light flakey crust. It usually comes frozen in sheets that are the thickness of pie dough.
Phyllo dough of filo is a Greek term for leaf. It is made up of superfine thin layers with almost no fat. Usually, bakers brush melted butter in between phyllo dough sheets. Thus, unlike puff pastry, it doesn't have the rich light buttery taste of puff pastry.
Lemon Tart
This is an easy Lemon Tart Puff Pastry Recipe that is like a bakery-made dessert. Use homemade lemon curd and a delicious phyllo dough crust.
Ingredients
1

sheet

Puff Pastry Dough

1

cup

lemon curd

tin foil

parchment paper

milk

small amount for glazing pastry dough
Instructions
Take the frozen puff pastry out of the packaging and allow it to thaw for at least 30 minutes.

Place pastry on a parchment lined baking sheet.

With a knife, slice the sheet of puff pastry in half lengthwise.

On all four corners, cut a small ½ inch box. Please refer to the above photo.

To form the sides of the tart, fold the long ends first. Then, folding the sides over towards the middle. Brush with water before folding so that the dough sticks in place. Then fold the short sides folding on top of the dough.

Once the sides are all folded, score the middle of the tart with a fork.

Prepare the dough for blind baking. Line the bottom and sides with tin foil and fill with sugar.

Bake for 10 minutes at 350°.

Once out of the oven, remove the tin foil and sugar from the pastry dough. Next place the lemon curd in the middle. Return the lemon tart to the oven.

Bake for another 15-20 minutes.

Cool on rack and top with whip cream, buttercream, or powdered sugar.
Nutrition
Serving:
1
g
|
Calories:
263
kcal
|
Carbohydrates:
31
g
|
Protein:
3
g
|
Fat:
14
g
|
Saturated Fat:
5
g
|
Polyunsaturated Fat:
1
g
|
Monounsaturated Fat:
7
g
|
Trans Fat:
1
g
|
Sodium:
161
mg
|
Potassium:
19
mg
|
Fiber:
1
g
|
Sugar:
17
g
|
Vitamin A:
1
IU
|
Calcium:
3
mg
|
Iron:
1
mg
I've always wanted to combine puff pastry dough with my lemon curd. And finally, I got around to baking this lemon tart puff pastry.
I'm so happy with this light summery dessert. My husband loves this lemony pastry with a cup of coffee. He always enjoys all my desserts and is my biggest fan!
I hope you have a chance to try this recipe.
Happy baking,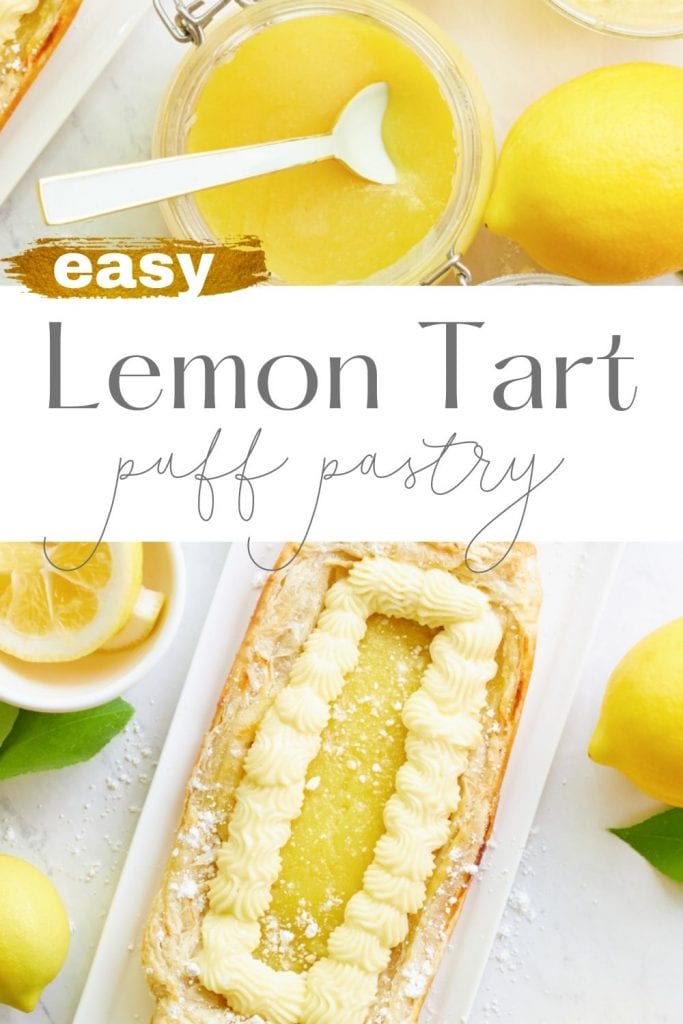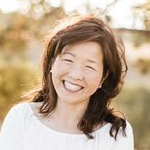 Latest posts by Janine Waite
(see all)