Well, I recently made some lemon curd and thought it would go nicely with my Pavlova Recipe. So, today, I baked some mini nests for Easter and topped it with my homemade English Lemon Curd and cute Cadbury chocolate eggs. The results are adorable and super easy to make.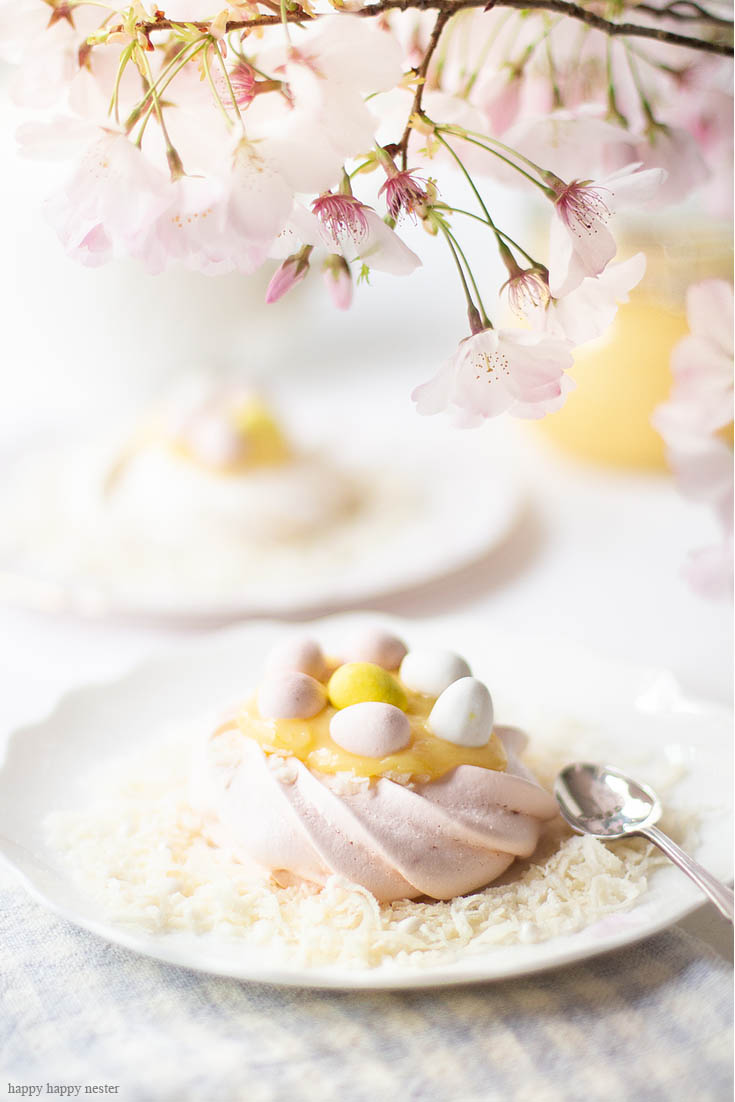 I'm Obsessed with Mini Nests
I know Easter is just around the corner so I thought I should make a few of these cute spring nests. I originally planned on covering a wreath of them but then my friend mentioned she wanted a good meringue recipe. So, I changed my post to meringue rather than the decorated wreath.
Well, maybe this summer I make a pavlova wreath!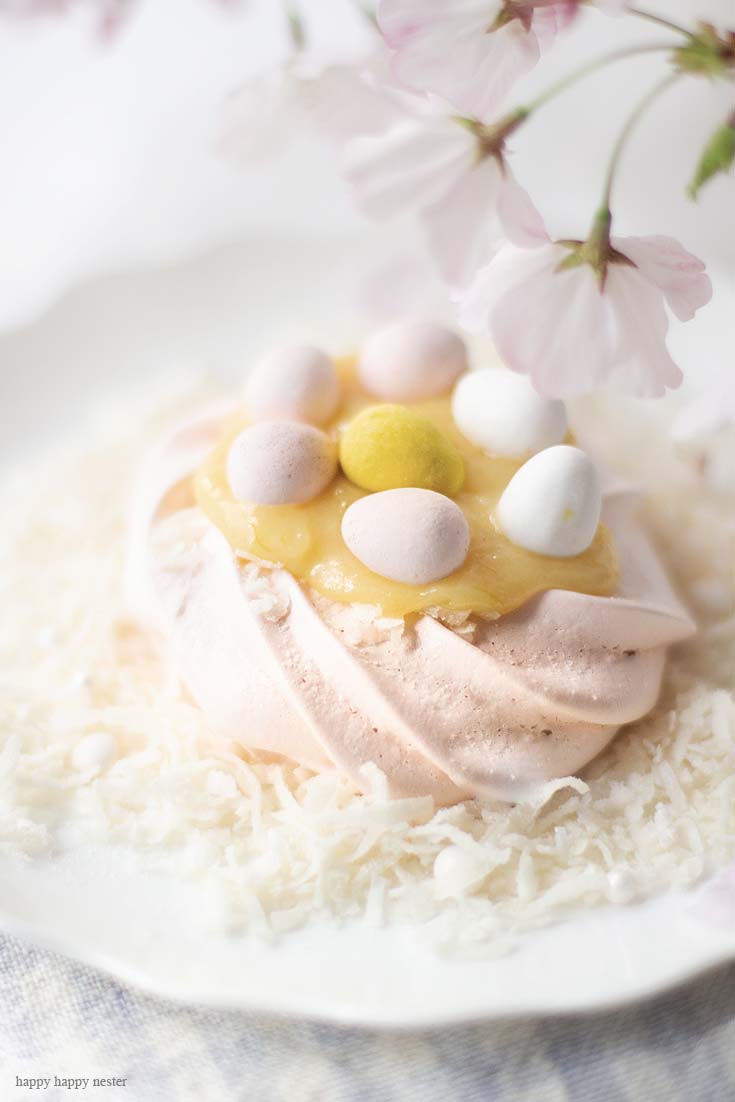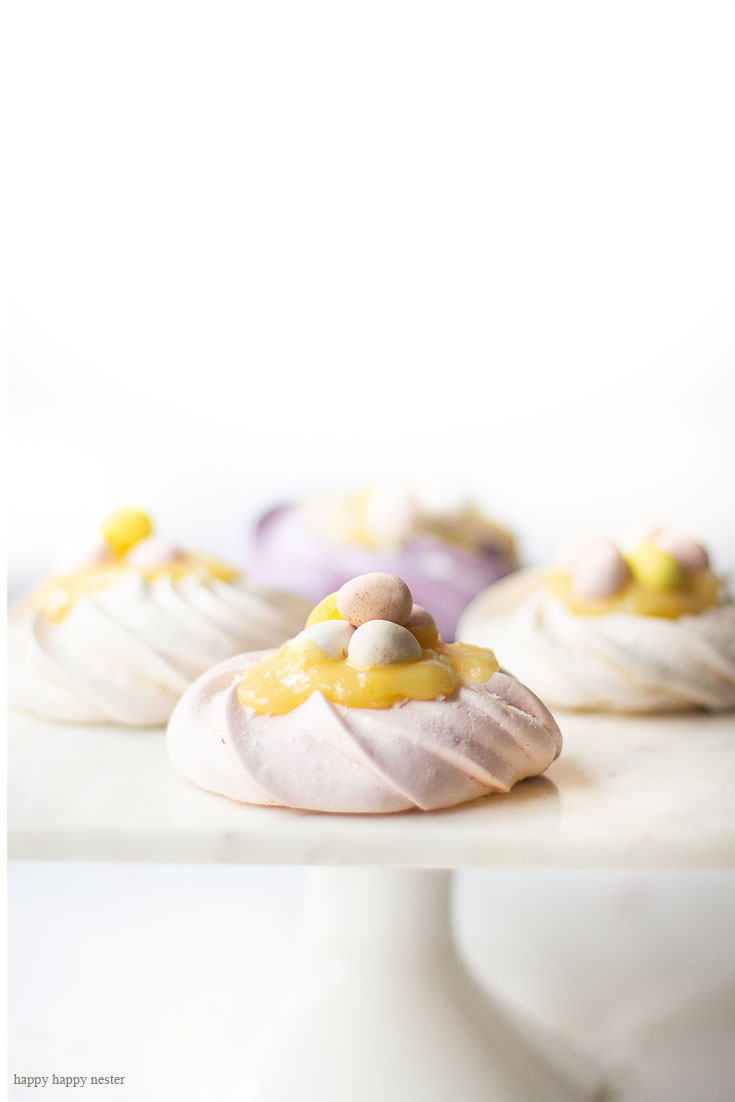 These little nests are so easy to make and they totally make me smile.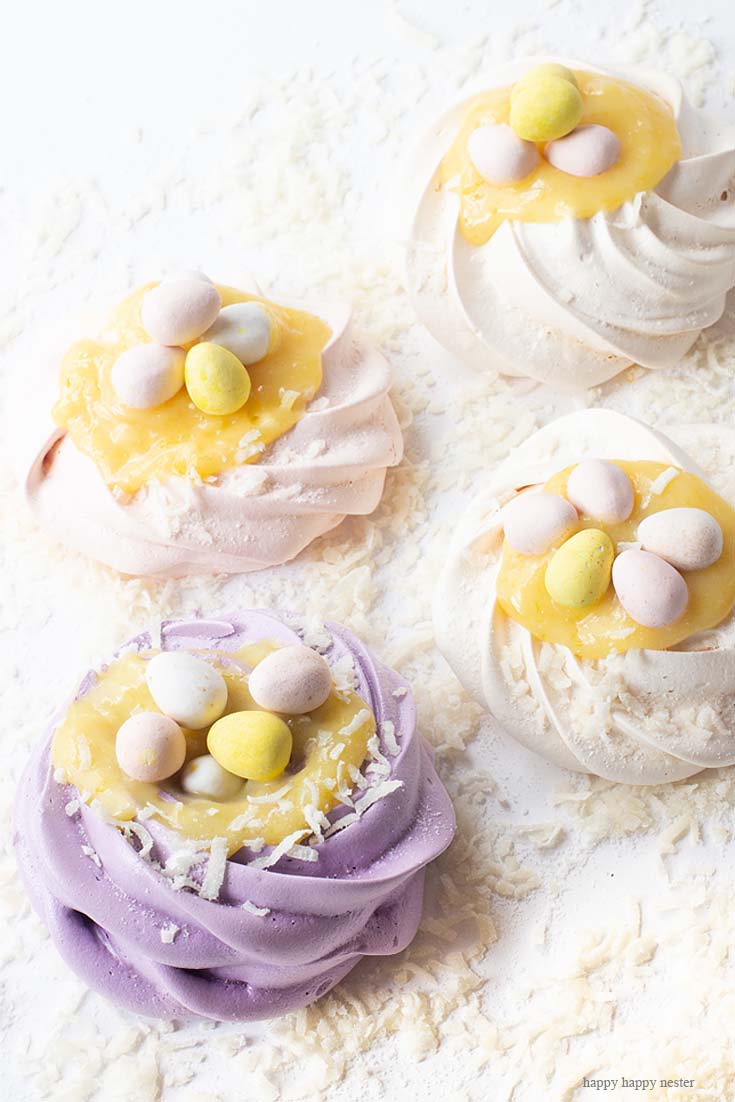 I Did Learn a Few Things Meringue!
1. Vanilla Extract dyes my meringue.
If you add vanilla the extract creates a beige meringue, this makes total sense. But, the vanilla also reacted to the food dye. My first batch came out lighter in color than the unbaked version.
2. How to tell when they are cooked.
The way to tell when they are done baking is that they should move easily off the parchment paper when you lift them. If they are sticking to the cookie sheet then they are still moist and need a few more minutes.
3. How to avoid cracks.
So, once they were done, I left them in the oven and wedged a wooden spoon in the door. This clever technique slowly cools down the oven and the nests so there isn't a drastic temperature change and thus preventing cracks. I got one little one on my meringue but I thought this is such a neat trick.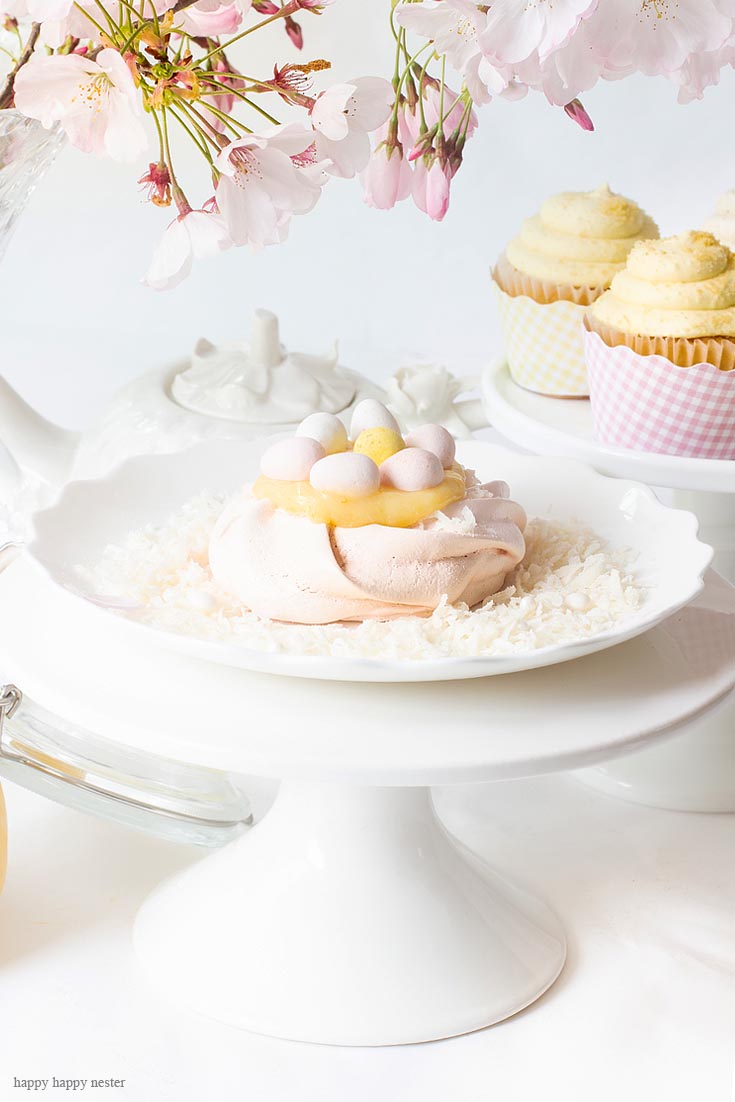 Pavlova Recipe
For the pavlova, you'll need to refer to my New Zealand Pavlova post. Once you make the meringue place it in a pastry bag with a 2D Wilton tip. This is a big tip and it creates the lovely ruffle rose type design. Start your meringue in the middle of a circle and move outwards. You'll want to place your meringue on parchment paper and I made a bunch of circles (the size I wanted my nests to be) on the paper for guidelines.
Once you piped your nests, bake in the oven at 275 degrees Fahrenheit for about 1 hour and 20 minutes.
Once cooled in the oven (read notes above) place on wire rack and decorate with lemon curd, whip cream, chocolate Easter eggs, and or fruit.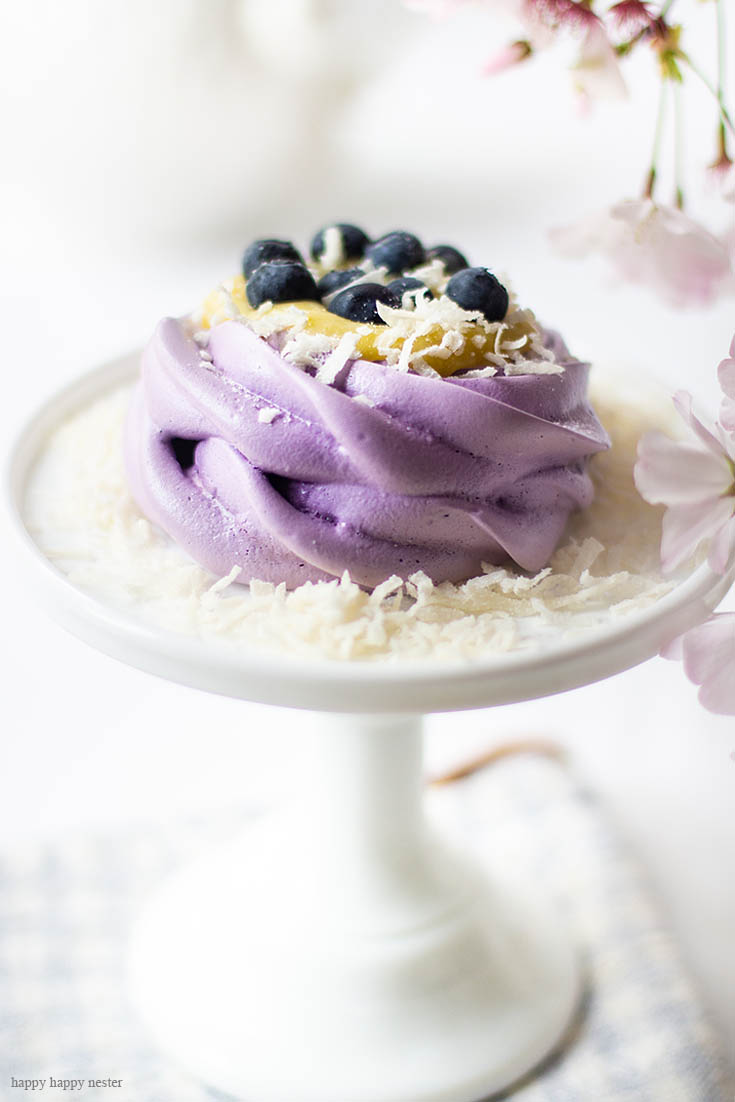 This Pavlova Recipe is so easy to make. I hope you like these mini nests for Easter. Happy Spring and thanks so much for visiting my blog.
Cheers,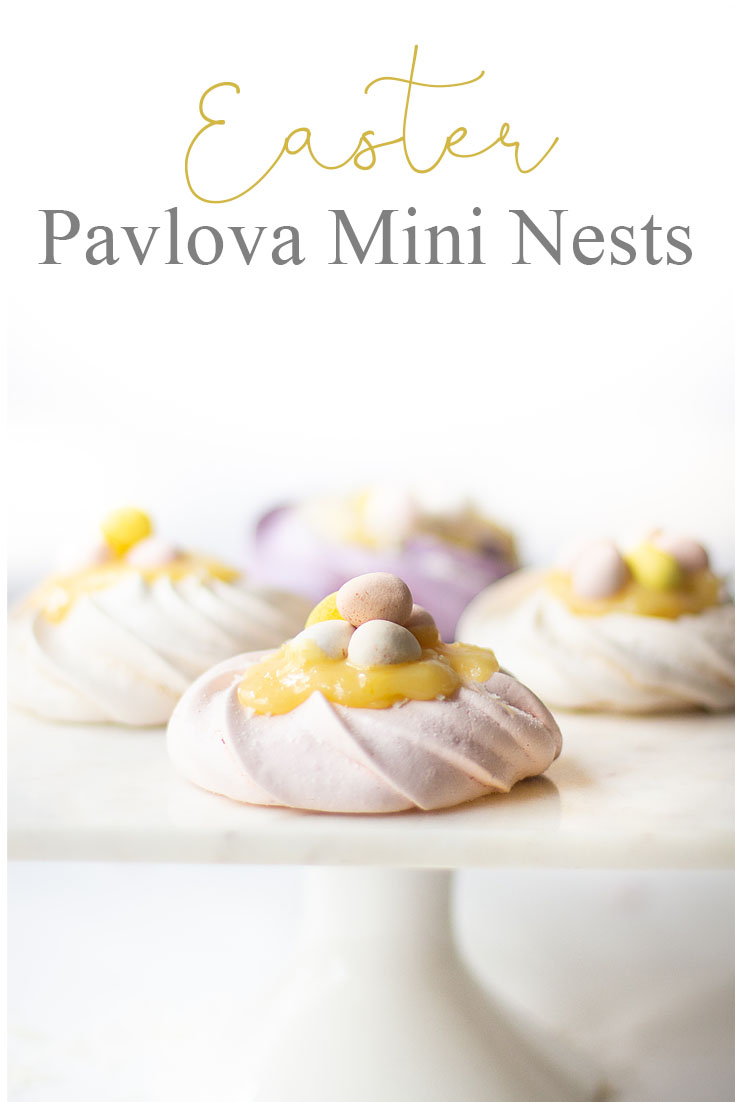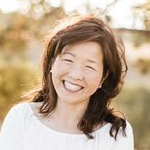 Latest posts by Janine Waite
(see all)