Join me as I share the Beautiful Flowers in My Garden today! Today's post includes not only flowers but also gardening tips and outdoor patio decor, and more.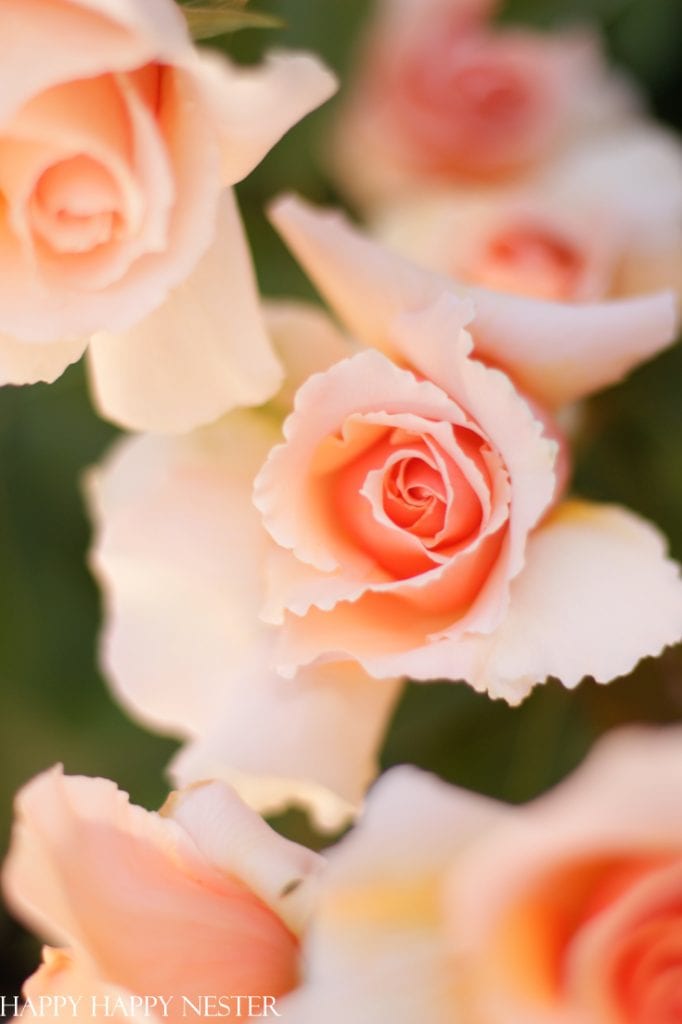 Saturday Chitchat with Janine – Volume 13
Here's a new week of flowers in my garden!
Starting in March, our weather here in the San Francisco Bay Area begins to warm up. We slowly begin to roll out our outdoor furniture, and we hang out on our patio on warm days.
Our home opens up to our backyard, and it triples the size of our living spaces. The line between outdoors and indoors gets happily blurred.
I hope to share more of our backyard with you this spring and summer since these posts do well.
Ok, find a sunny spot in your home or garden, and let's hang out for a bit on this Saturday Chitchat.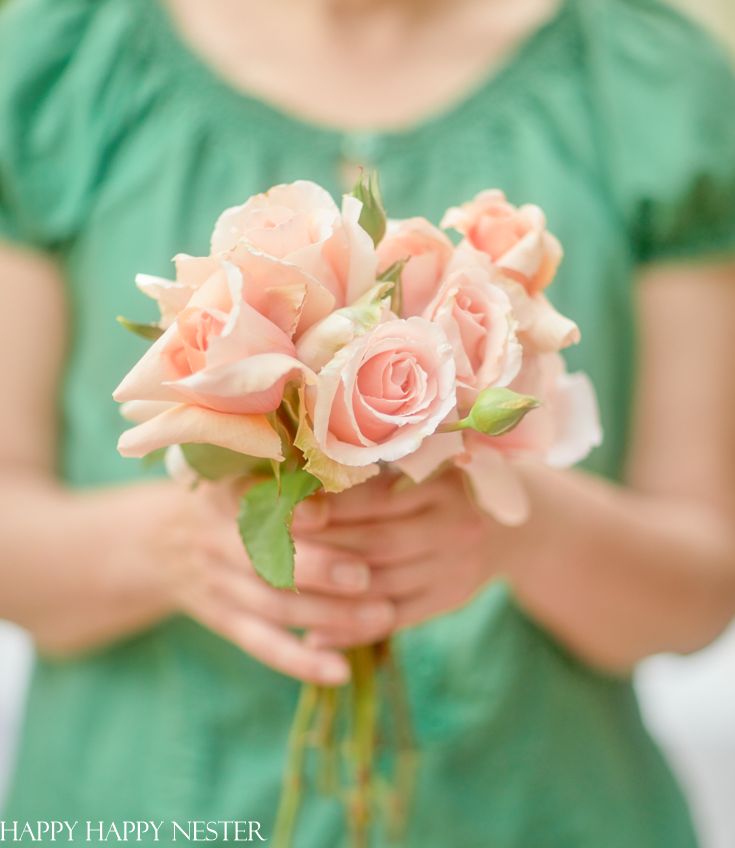 A Personal Note from Janine
When it comes to buying gifts for me, let's just say I'm not the easiest person to shop for.
Most holidays, I receive socks and the usual "mom gifts." But as Mother's Day approaches, I have a few fond memories from past years.
And one gift, in particular, stands out.
To begin, my husband honestly stresses when it comes to buying me presents. So one year, he got creative and told me to visit our local nursery, and he would then buy my favorite roses and gladly plant them for me! 
When I finally made the trip to the nursery, I was happily surprised to find a full stock of Hybrids and David Austin roses.
You wouldn't believe your eyes when I tell you there were rows and rows of gorgeous roses. And you could definitely say I was in my happy place!
For starters, I wanted roses that had beautiful blossoms along with a wonderful fragrance.
I ended up sniffing every rose in the nursery, and I came home with two roses. A beautiful yellow rose and a peach rose!
I'm sad to say that I didn't write down the name of the peach-colored rose. It's by far my favorite rose in our garden!
Why? Because the blossoms last long, the rose is super hardy and is able to withstand diseases.
Roses are the plant that keeps on giving all spring and summer long. They are perfect for the garden, gorgeous to admire and overall a lovely gift for a special mom.
My husband sure knows now what gifts are the best for me on Mother's Day!

---
Beautiful Flowers in My Garden
This Week's Inspiration – Flowers
*The following posts contains affiliate links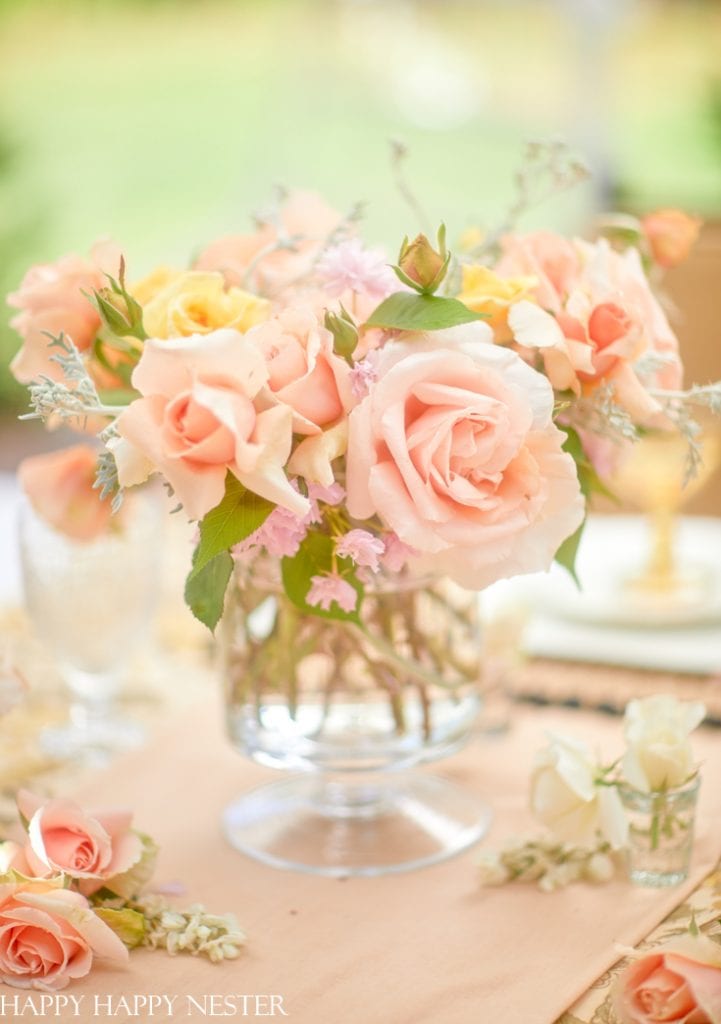 A SIMPLE FLOWER ARRANGEMENT
I have always loved flowers, whether it's gardens full of blooms or flower arrangements used for decoration.
Real or faux, I love them! One of my hobbies has been creating flower arrangements as the centerpiece for our table. In this post, I share my DIY Flower Arrangement with you. Everything that went into making this beautiful bundle of blooms! 
Here is an easy step to help you get started to create this flower arrangement. Cut your roses at an angle and place them in water immediately to keep them looking fresh. I would recommend placing them in a flower preservative solution. To help out, I have a post that explores the different ways to make flowers last longer.
This is one of my favorite DIY Flower Arrangements because it's simple to create. And it's a perfect centerpiece for the table when having friends and family over! Come on over to the blog to learn more about this floral bouquet and the process behind the creation!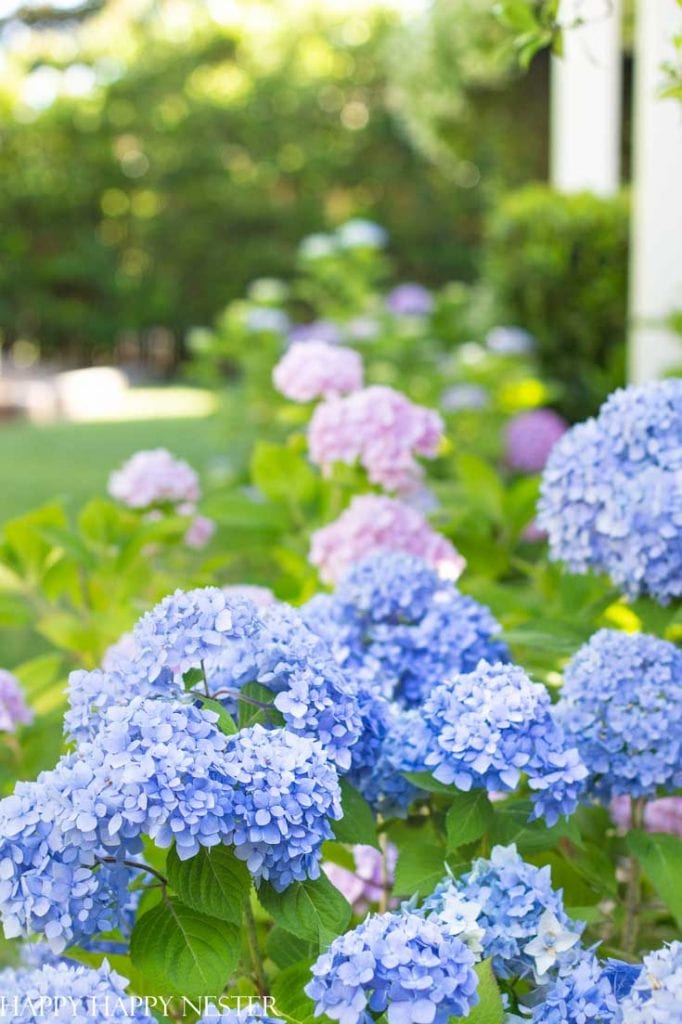 HOW TO START A HYDRANGEA PLANT
Like you, I have always been a fan of flowers whether they are blooming in a field or in my own backyard.
Over on this post, I share how to start your very own Hydrangea Plant from cut flowers. This process was so amazing, and the outcome was even better. I mean, who doesn't love a bunch of blooming hydrangeas in their yard?
In this blog post, I include the crucial steps needed to complete this experiment and the simple supplies you will need by your side to start! To say the least, I was pleasantly surprised to see the results of this project I conducted a while back. 
Join me in creating a beautiful backyard full of blooming flowers known as Hydrangeas that start from cut flowers! You wouldn't believe a single plant can bloom from another flower, let alone a cut flower. Well, I am here to prove you wrong!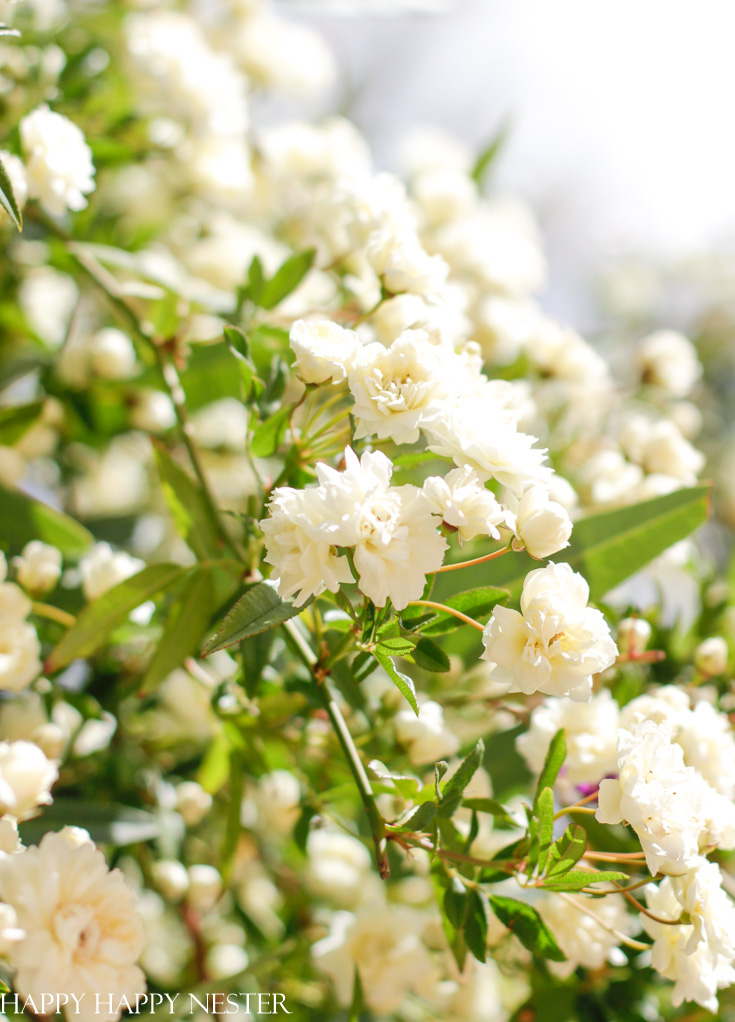 GROWING LADY BANKS ROSES
Have you ever heard of a climbing rose? It's quite an impressive rose bush. When I first spied a Lady Banks Climbing Rose, I knew I had to have this plant in my backyard!
If you're not familiar with this plant, it's a vigorous climbing rose. It comes in white and yellow and has a slightly sweet scent which adds to the beauty. Not only is it beautiful, but it's also thornless, which makes it easy to care for!
In the blog post, I have included the basics about what a Lady Banks Climbing Rose is, and I also answered some frequently asked questions you may have been wondering about this magnificent plant. Check it out!
---
This Week's – Boutique of the Week (Outdoor Pillows)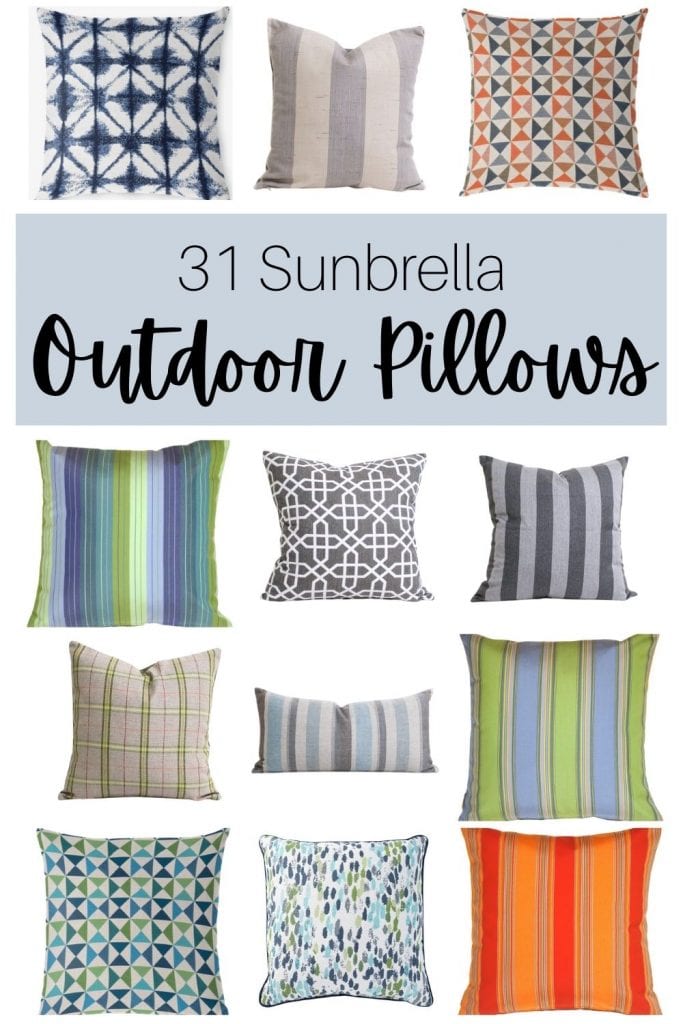 31 BEAUTIFUL OUTDOOR PILLOWS
It's almost summertime, and you know what that means… time to get outside underneath the warm sun to hang out with friends and family!
And if you're like me, you want to enjoy your time outside and be in a comfortable place. I have some of the best outdoor Sunbrella Pillows to help you find the level of comfort while hanging out in the summer sun!
It has always been a struggle to find a comfortable pillow that also fits my outdoor furniture style. So, for you, I have included 31 different options of Sunbrella pillows so you can mix and match and find your perfect pillow!
Check out the post over on the blog about some of the best outdoor pillows for your backyard, and get a head start on outdoor summer events to enjoy with loved ones!
---
My Favorite Things – Outdoor Decor
*The following post contains affiliate links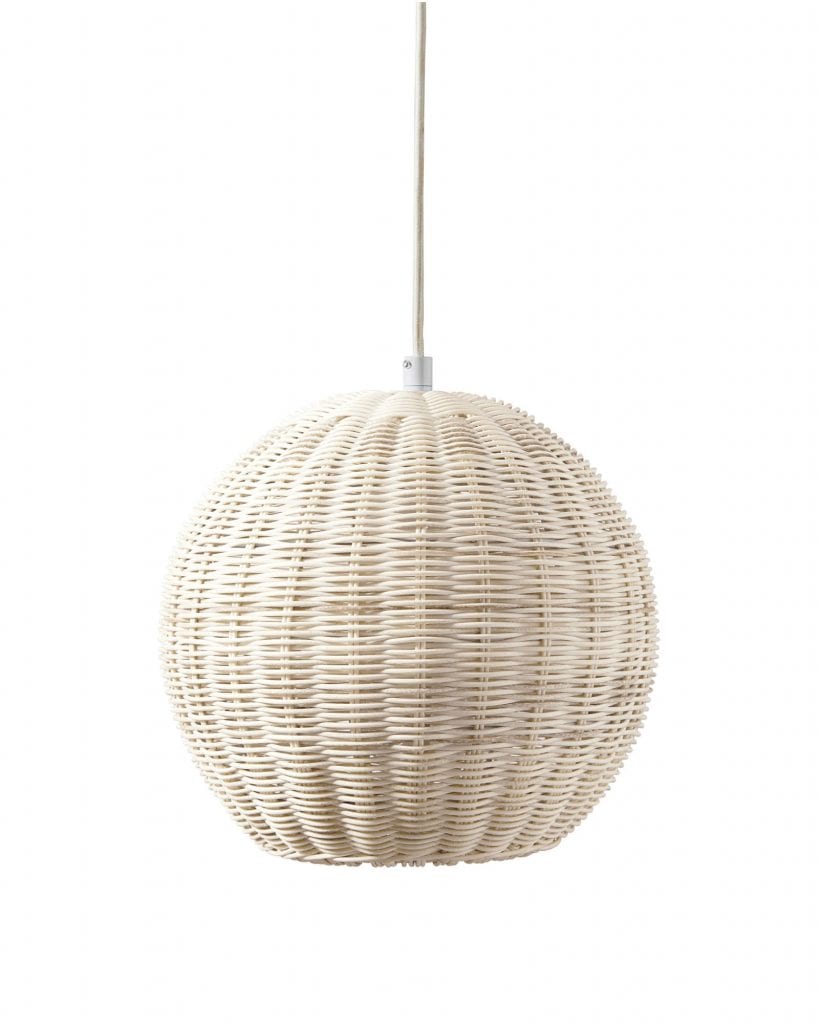 We recently moved our table under our patio and we love the new location.
We did need to add a sun sail on top of the patio, and we added these outdoor lamps. I've always wanted more light over our outdoor table, but it wasn't easy trying to figure out what to do with the extension cord with an umbrella.
So, our lamps hang right over the table, and the extra light is excellent. I promise to write a blog post about these lamps. There aren't many options out there for outdoor lighting. I almost made my own with some baskets, but I decided this was a more straightforward solution.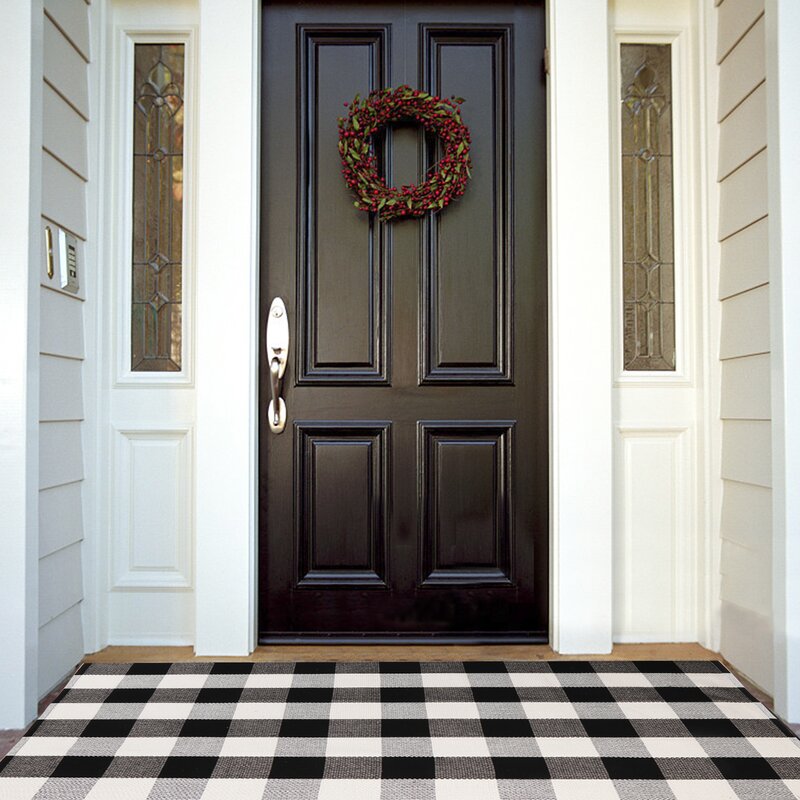 I love this outdoor rug so much that I bought three of them. We have one outside under our outdoor table. I also have one inside at our front door.
They hold up to dirt and traffic and are perfect for indoors and outdoors. The price is reasonable, and the black and white buffalo check design is so fun.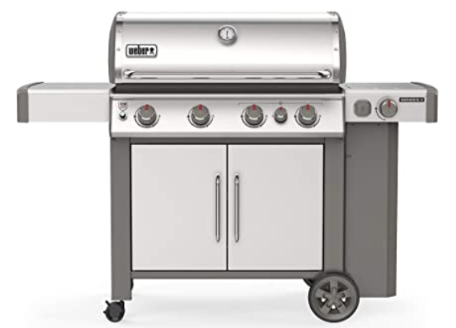 When we moved into our current home eleven years ago, we bought a new BBQ. We decided to invest in a good BBQ, so we purchased this Weber Genesis.
Well, eleven years later, it is still going strong. Since our winters are mild here in California, we leave it out in our backyard under a covered area.
It hasn't rusted and still does a wonderful job cooking our dinners. Every spring, we clean it out and get it ready for our summer grilling.
---
Outdoor Posts for the Week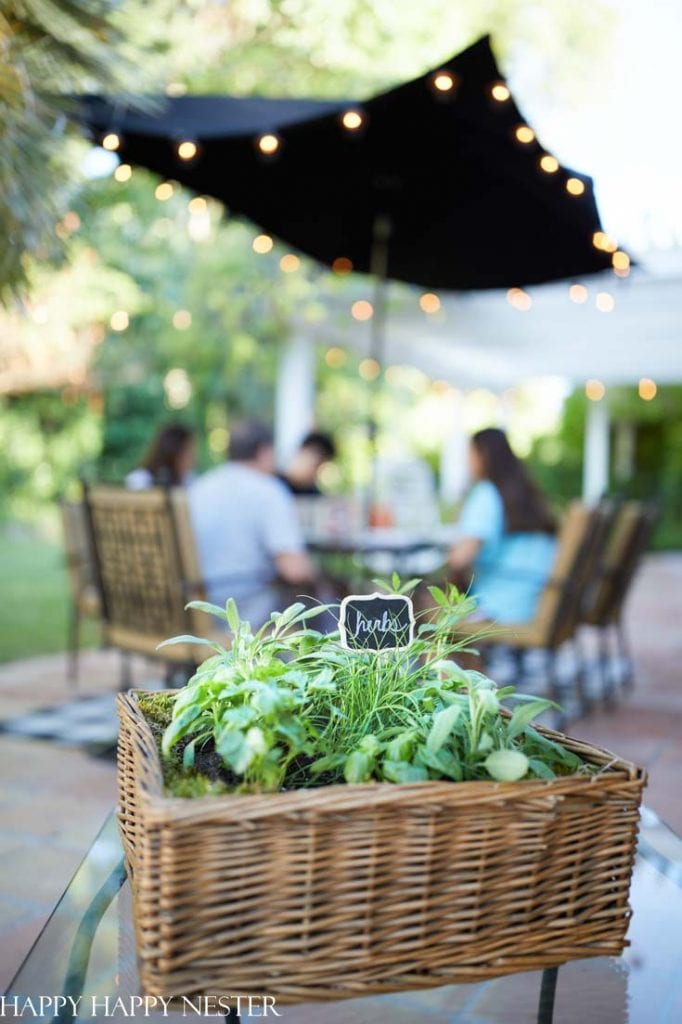 GOT FRESH HERBS?
If you have an old basket sitting around in the garage or in storage that you don't have use for anymore, then this project is for you! In this blog post, I show you how to create a herb garden in a basket! 
I love growing and having my herbs in the garden when it comes to cooking because I pick them out of the yard whenever I need them instead of making the drive to the store, so in the end, I am saving money and gas!
I have shared the basic steps of getting started when it comes to creating a herb garden, so feel free to stop by and check this out over on the blog to start growing fresh herbs in your backyard!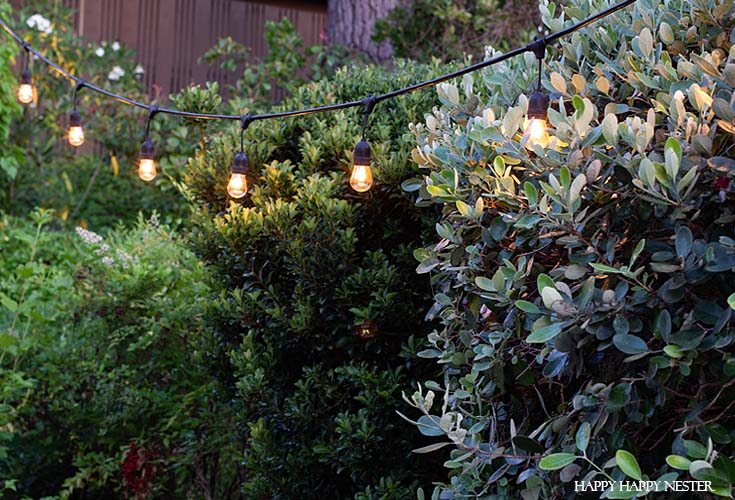 HOW TO HANG OUTDOOR LIGHTS
My husband had fun hanging lights all over our backyard. When we turn them on, the whole backyard is so pretty!
I captured his process for installing his lights. He sunk wooden poles in cement and place no rust hangers on the poles. Every project he works on is always so thorough and not temporary. It is a helpful project, if you are thinking of stringing lights this summer.
Here is the post, How to Hang Outdoor String LIghts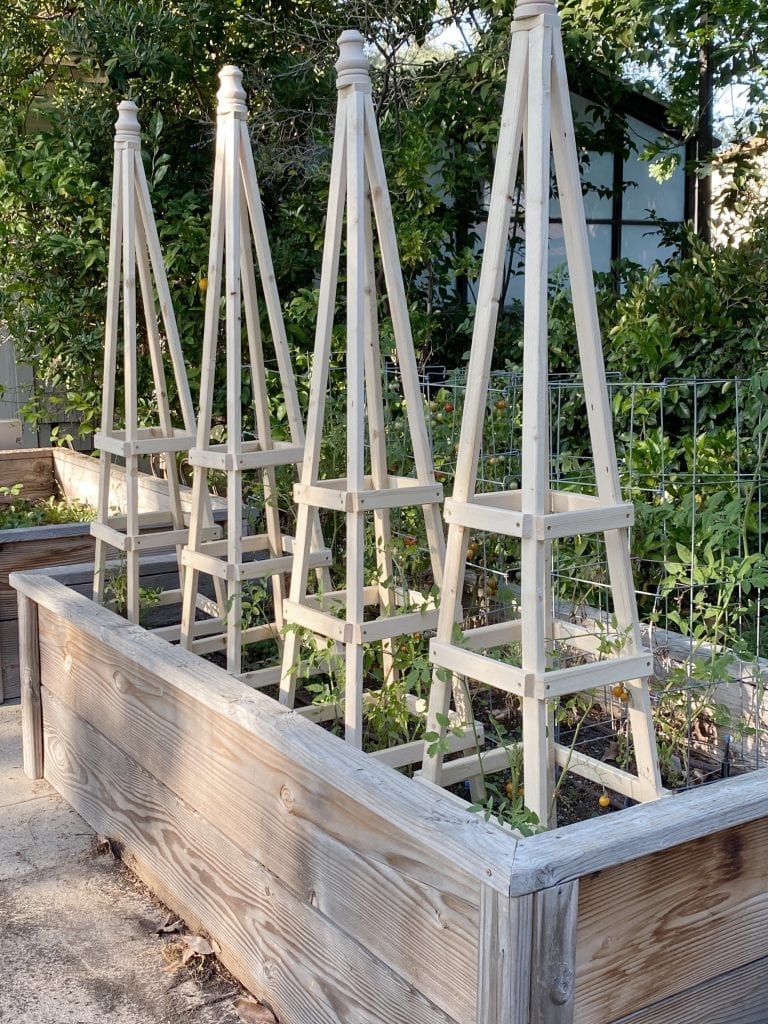 TOMATO CAGES DIY
Who doesn't love an inexpensive and simple DIY project? Well, I do, and this is one of my lovely friends' DIY that I have been dying to try! My dear friend, Leslie, has shared how to make tomato cages!
In this post, she includes the supplies you need to get started and chats about the simple steps on how to create these cages! This project is efficient and will help your tomatoes look fresh and ripe, and obviously tasty!
Hop on over today to see Leslie's blog post about how to create tomato cages that are easy and cheap! She shares the whole process from start to finish, and honestly, it's making me want to create an entire garden full of these tomato cages! 
---
Trending Over On The Blog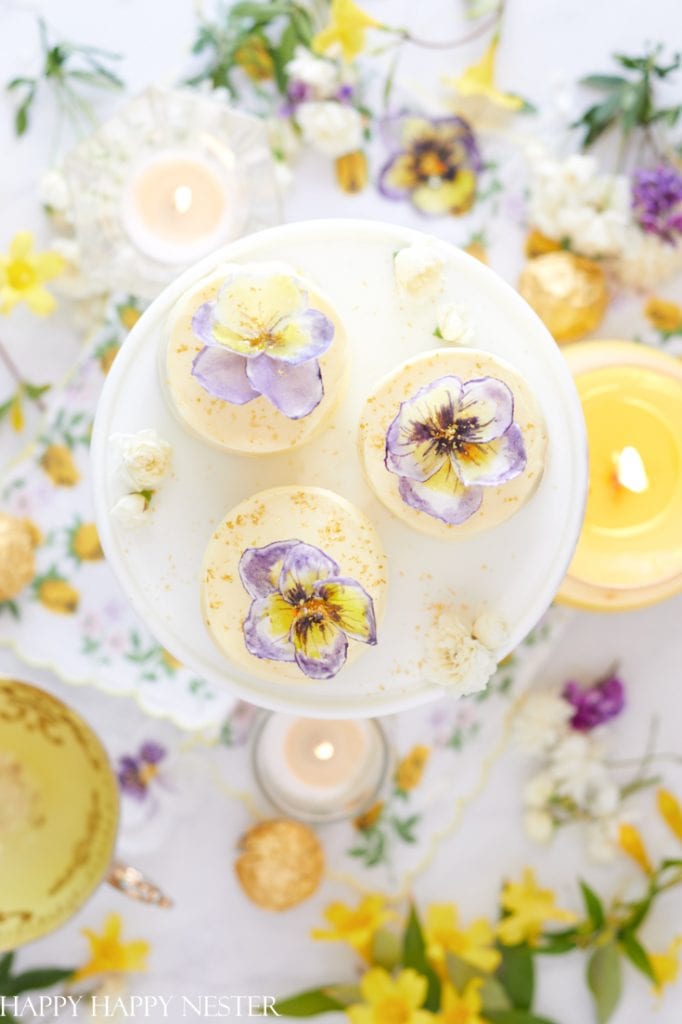 WAFER PAPER FLOWERS DIY
Love to bake but not so much decorate that cake? To help, I have an easy Wafer Paper Flowers Tutorial for you to get started on decorating your favorite desserts! 
In this tutorial, I answer some frequently asked questions that other people have asked so you're not alone.
I also include all the supplies you will need to create these lovely flowers along with step by step directions!
Come on over to the post: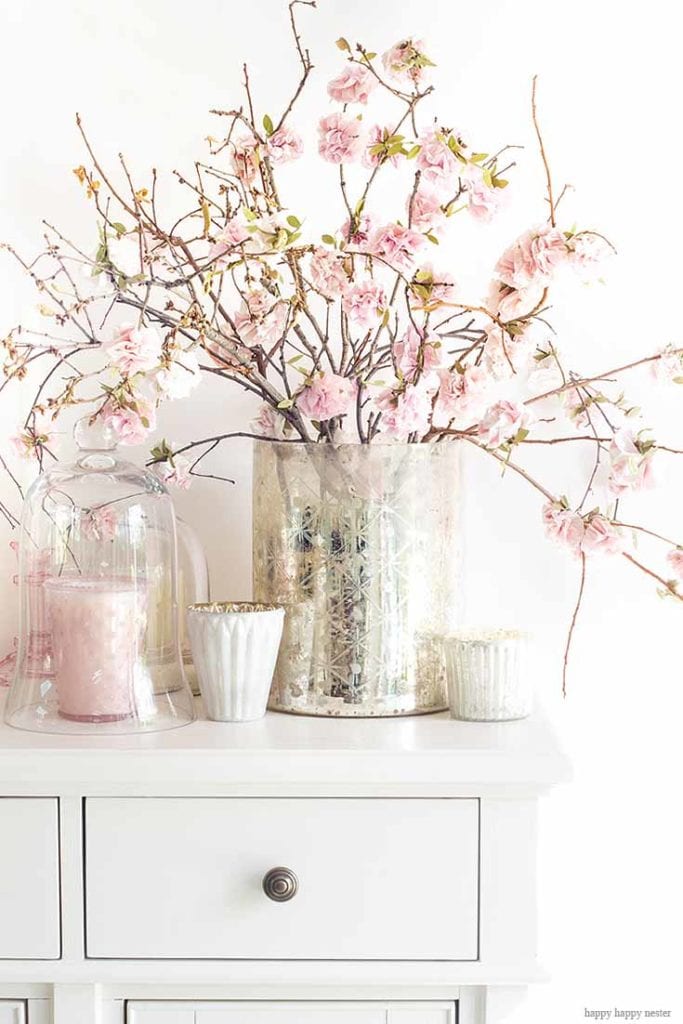 PAPER FLOWERS TUTORIAL
Wouldn't it be so nice if our flowers didn't die on us and stayed fresh looking year-round? In this post, I have a DIY Paper Flowers Tutorial that will help solve that issue!
Inspired by our spring blossom, I decided to create my own cherry blossom branches and you'll never guess out of what… tissue paper!
For this post, I have included the simple supplies you will need along with an easy step by step process!
Not only do I help you step by step, I also answer some frequently asked questions, so come on over and check it out!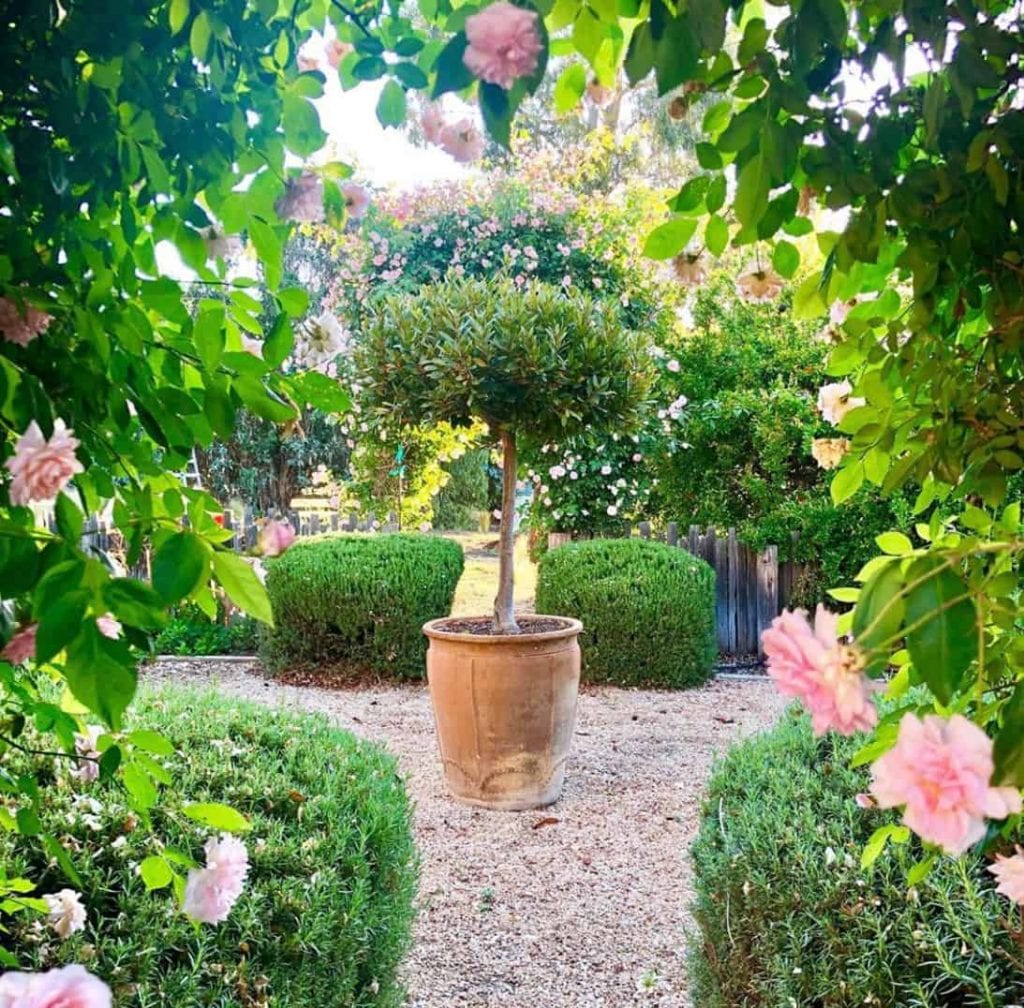 15 CONTAINER GARDEN IDEAS
Summer is around the corner and you know what that means…time to get outside!
Time to start those fresh gardens full of herbs, vegetables, or blooms that you have been putting off all year!
For this blog post, I have rounded up 15 container gardening ideas for you to start your dream garden! 
Out of these 15 options, feel free to mix and match baskets with pots and more!
---
Look What's Cooking!
EASY AND DELICIOUS CHARCUTERIE BOARDS
It took me a while to make a charcuterie board let alone know how to spell and pronounce it!
Once I made a board packed full of delicious nuts, cheese, rustic crackers, chocolates, and more, my family devoured the lunch. These boards are so fun to create, and your family and friends will love nibbling on their favorite foods!
This is one of the boards I captured for a blog post. And here is the link to the post, the best ever charcuterie board.
---
This Week's Tips – Refresh Your Outdoors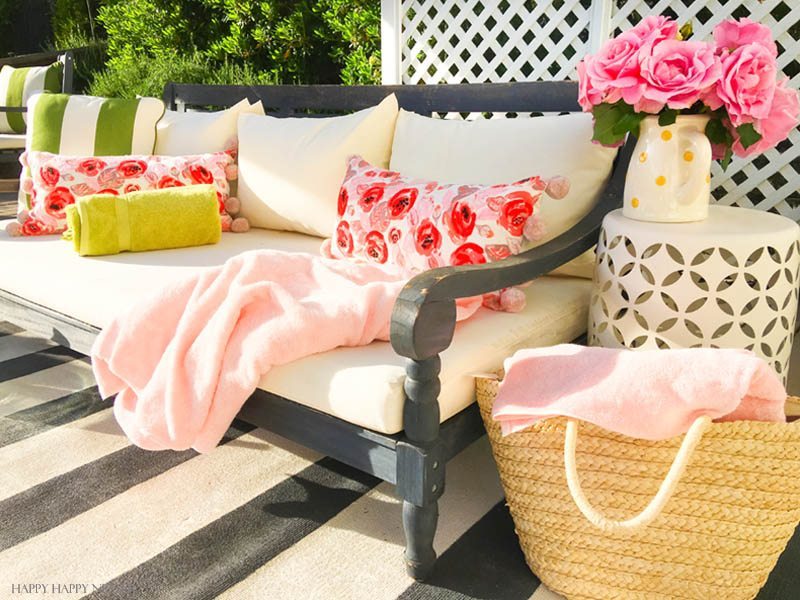 REFRESH AN OUTDOOR SPACE
Having a difficult time on where to start when it comes to creating a fun outdoor space to share with family and friends? Well, I am here to help you out! Over on the blog, I have shared seven outdoor scenarios that will help inspire you to create your dream backyard!
Each DIY backyard idea is from a dear friend of mine, and each of them will help you transform your current backyard or help you start fresh in creating your idea of outdoor perfection!
Check out these 7 simple DIY Backyard Ideas, and I promise you will find the perfect design for your outdoor oasis!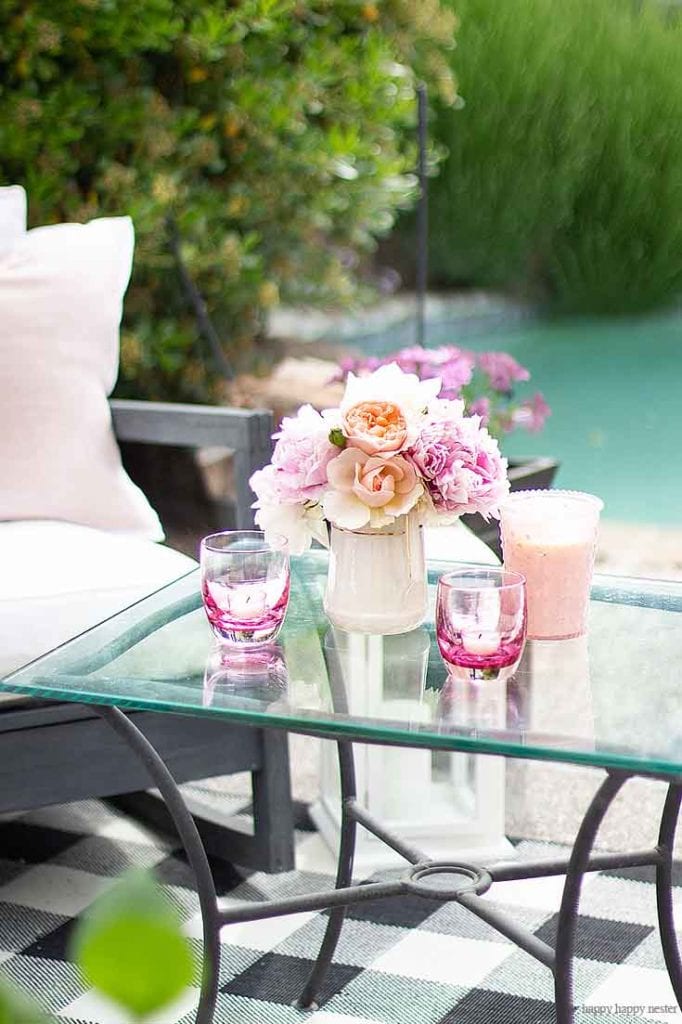 CREATE A COZY OUTDOOR SPACE
Have you always wanted to create your dream outdoor space? You're in luck because for this post I have included multiple tips and tricks to help you get started!
Join me and a lovely group of bloggers/great friends and together we are sharing all of our home decor ideas for outside!
First things first, it can be a struggle to even think about where to start, so with my 9 tips, I am here to help you begin your outdoor design dream!
All my life, I have wanted to create a relaxing and entertaining space to spend time with family and friends during the seasons, so here's my short story.
Moving from rainy Seattle to sunny California, my Husband and I were destined to create a fun and cozy outdoor living space.
After 10 plus years of living in this beautiful area, I can definitely say we have created our outdoor oasis and we are able to enjoy time outside in the sweet summer evenings!
Hopefully you'll feel inspired!
---
Out in the Garden
My head is so distracted with patio ideas. Here are a few things that are inspiring me right now.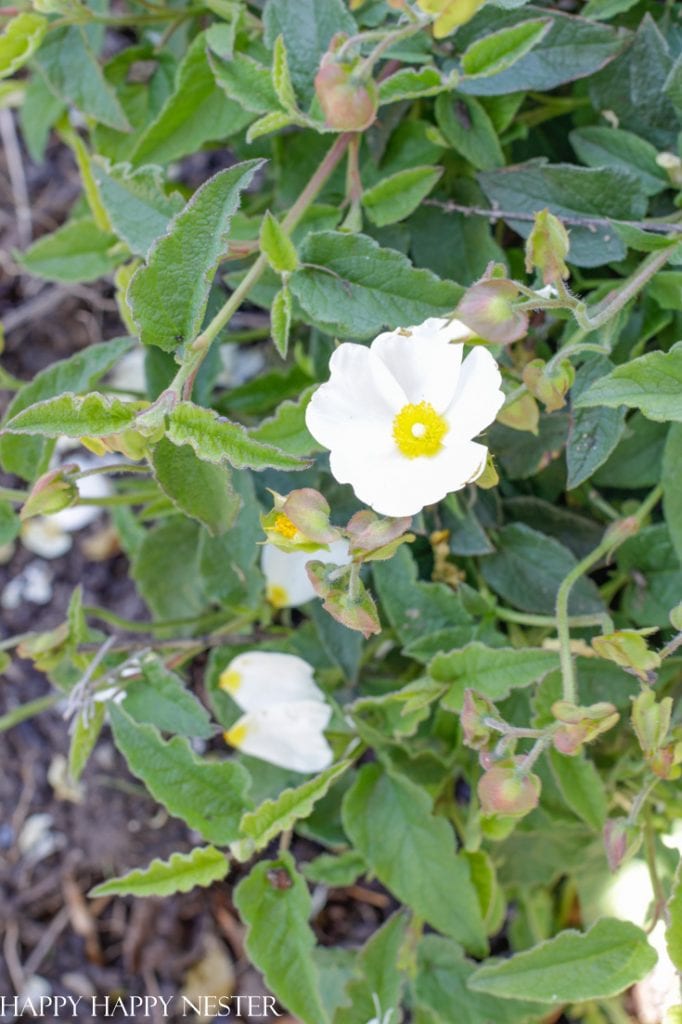 ROCK ROSES
Our in our garden our lavender needs replacing.
But before we pic a new bush, we need to find something that deer don't eat. Yes, these deer love to munch on our plants and they love roses. But, I spied my neighbors big patch of rock roses that were pristine and untouched.
So, I quickly visited our local Ace Hardware and bought this rock rose. The cool thing about them is not only do the deer, not like them, but they are drought resistant. And the way that our spring is shaping up, we are in a serious drought scenario. So this is the perfect plant for us!
So, a double win!
If you have dry sandy soil, then this plant is perfect. They are hardy in Zones 8-11. And in our mild climate, they are evergreen and keep their leaves year-round.
I have a feeling that these pretty bushes may take over our front yard!
---
This wraps up this week's Saturday Chitchat Flowers in my garden post.
Thanks so much for hanging out with me and I hope you're healthy and enjoying spring.
Happy Weekend to you and your family,

Catch up on Saturday Chitchats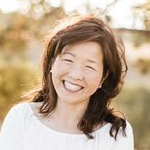 Latest posts by Janine Waite
(see all)