Easter Ideas for Home is today's topic. We'll include crafts, recipes, and home decor. Spring and Easter have arrived and I love all the pretty colors and decorations.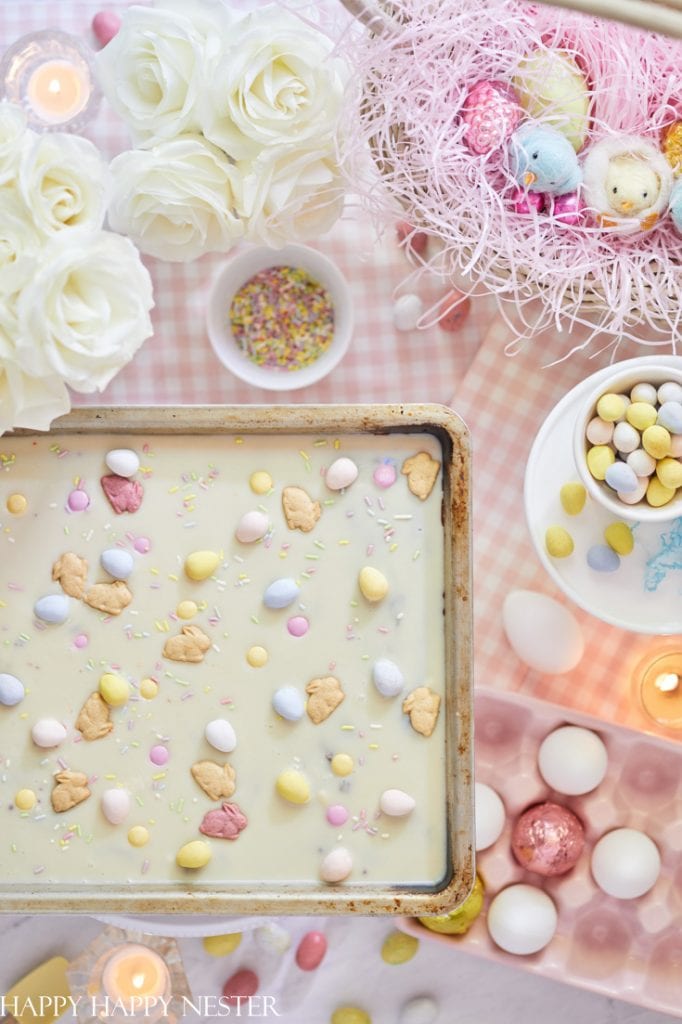 My Latest Obsessions: Easter Ideas for the Home
Saturday Chitchat with Janine – Volume 8
Welcome to my Saturday Chitchat!
How is your week going? Did Daylight Savings go smoothly for you? It's strange, but sometimes it feels like this year is going quickly, and then it also feels like it's dragging. I'm not sure how those two things exist together in my world.
Maybe since we are still staying close to home, it has slowed life down in some respects.
But, today is our day to talk and join as a community.
So, grab a cup of coffee or tea and let's chat!
A Personal Note from Janine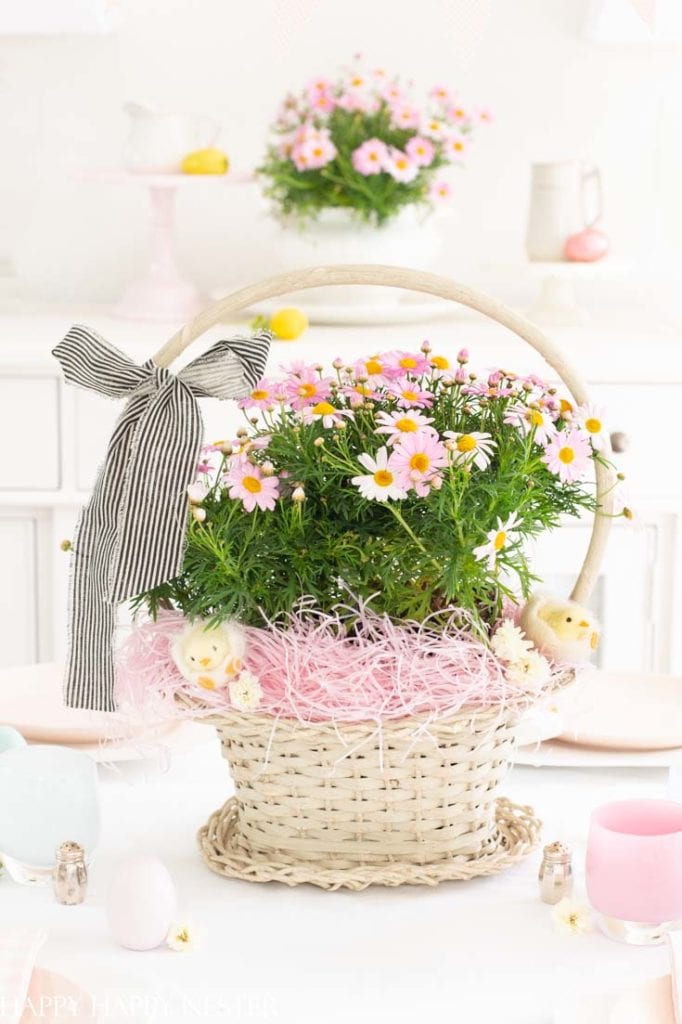 I know the past 12 months have been difficult for our nation and the world. Before all this hit, I lost my mom. She was a huge part of my life! Not a day goes by that I don't think of her. I wish she was still around so I could thank her for all that she taught me.
She was like Martha Stewart in her time. She encouraged me in everything I pursued. She supported me with all my projects and always bought the supplies I needed. When I was a little girl, I always had some Easter ideas that I wanted to make.
My mom subscribed to Sunset Magazine, and I would paw through that until the pages were worn. These were the days before Pinterest, Instagram, Google, and even the internet. So magazines and books were our only source of inspiration.
When I was around 14 years old, I dyed eggs with onion skins, beets, and cabbage. I also placed leaves on the white eggs and tied them with nylons. I was a pretty productive kid, and if I had started my blog back then, it would be jam-packed with projects.
Fast forward many years later, I'm still that little girl with all kinds of projects. My husband first met me while I was standing on top of a dining room table decorating a friend's chandelier with holiday decorations.
Today he laughs and says I haven't changed one bit from that 21-year-old he met.
You see, I'm happiest when I'm creating. Yeah, I have a difficult time relaxing. Crafting and baking are my relaxations.
So, you can imagine that I have a lot in store for you today!
Thanks so much for joining me on this new Saturday Chitchat!
---
This Week's Inspiration – Crafts on the Blog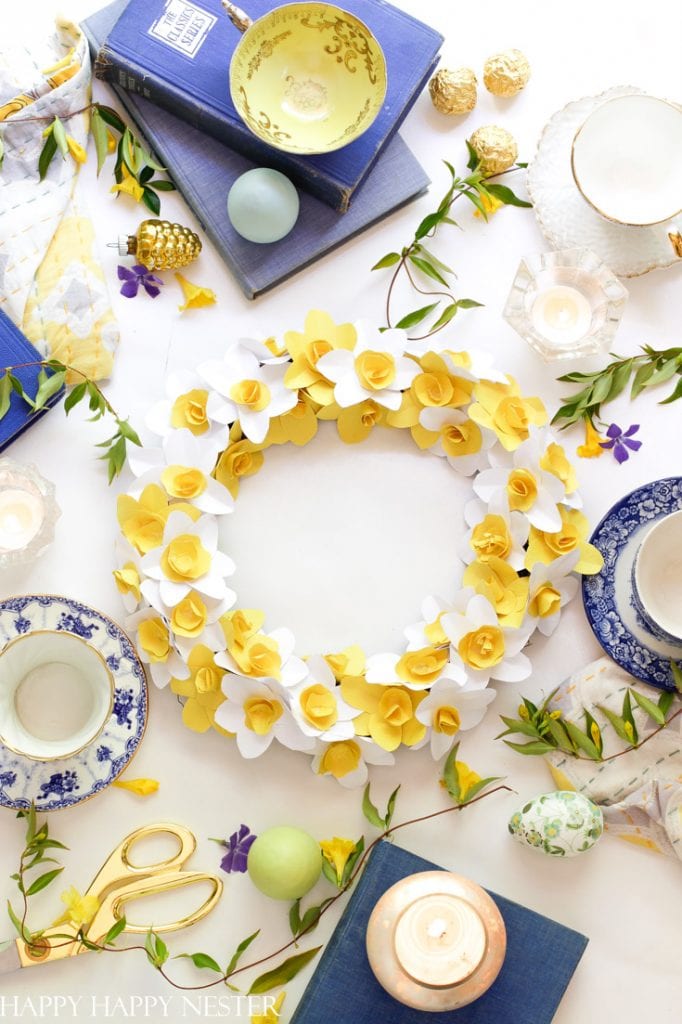 Paper Daffodil Wreath
There is nothing quite cheerful as Daffodils. Ok, maybe daisies are happy too. For this project, I wanted to make paper flowers out of construction paper, and I also wanted to add them to a wreath.
I know some of you may be panicking, but I cut out about 5-6 at a time when I made the flowers.
Over on this construction paper post, I provide the template for the flower. So, all you need is some construction paper, scissors, glue, and a grapevine wreath, and you're on your way to crafting this fun spring wreath.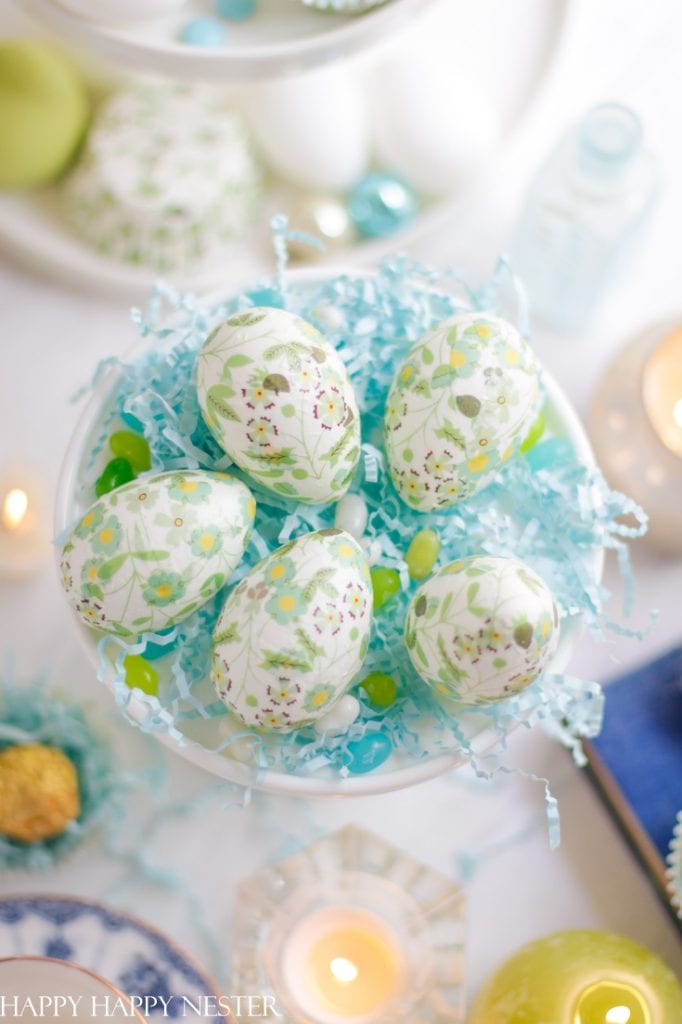 Decoupage Easter Eggs
If you missed this fun post, hop on over to see how to make these decoupage Easter eggs with cupcake liners.
Once you make them, they will last for many more years. Display them in a bowl or a basket and enjoy this fun spring decoration that's pretty inexpensive to make.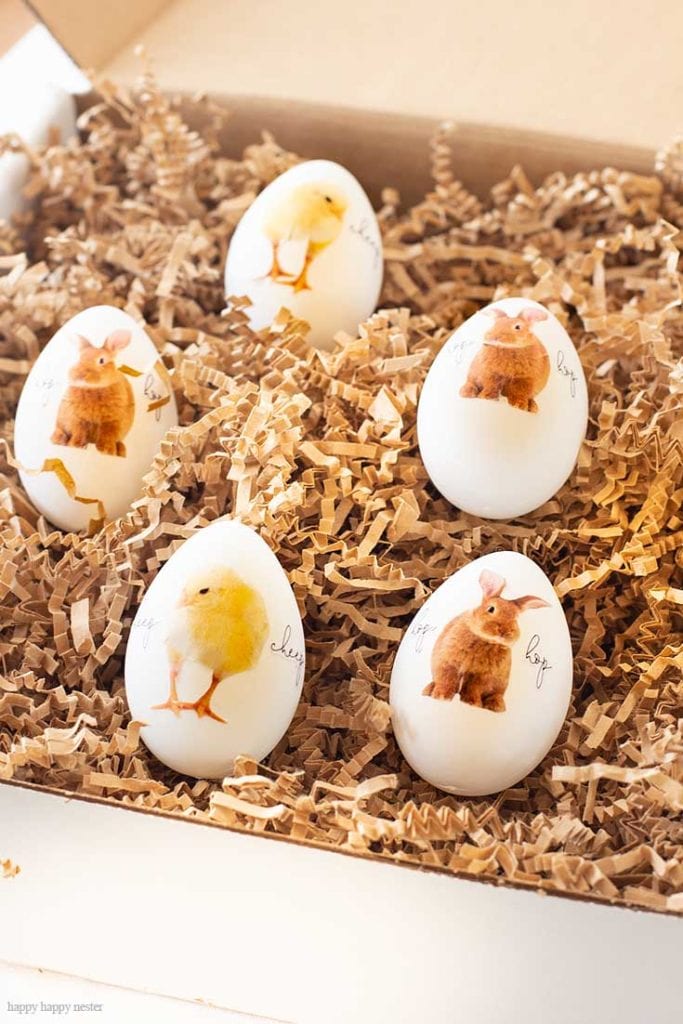 Easter Chicks and Bunnies
These Easter eggs are just the cutest thing around!
Print out the image and paste them on either faux eggs or a hard-boiled egg. They will make you smile every time you spy on them.
I hope you have a chance to make this cute Easter project.
---
This Week's – Boutique of the Week (Easter Eggs)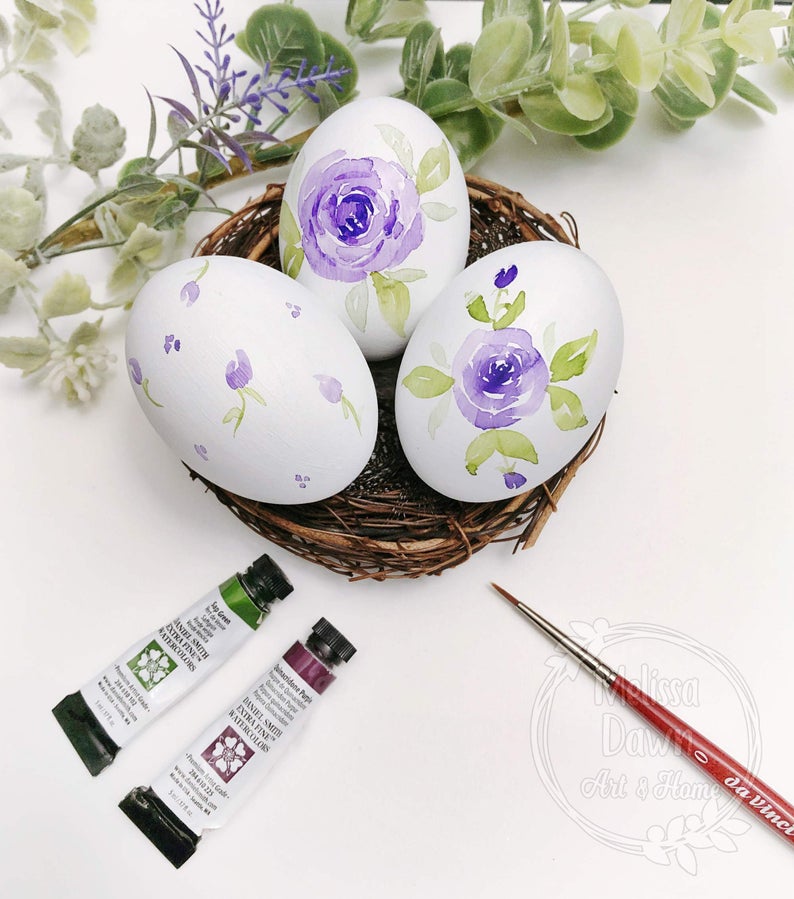 Pretty Easter Eggs
This Wednesday, we shared some cute Decorative Easter Eggs for the Boutique of the Week.
We found such a nice variety of styles. Eggs decorated with fabric, watercolor, paper and more.
Everything is coming up eggs around here.
---
My Favorite Things – Easter Decor
*The following post contains affiliate links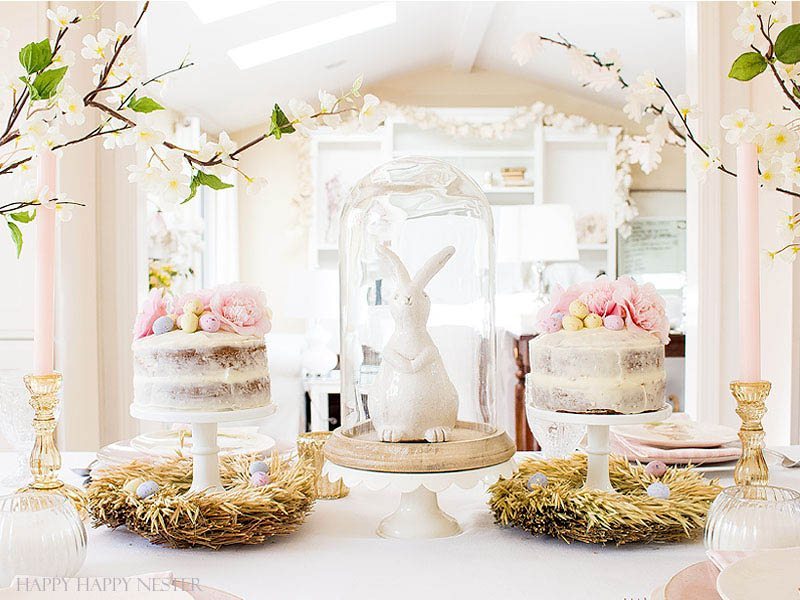 This our Easter Table from a couple of years ago. I always love looking at this cute tablescape.
Unfortunately, Pottery Barn no longer carries these bunnies, but they do have some that are just as cute. I love to decorate with figurines instead of flowers since it means less work for me. This bunny makes quite a grand statement on this festive table!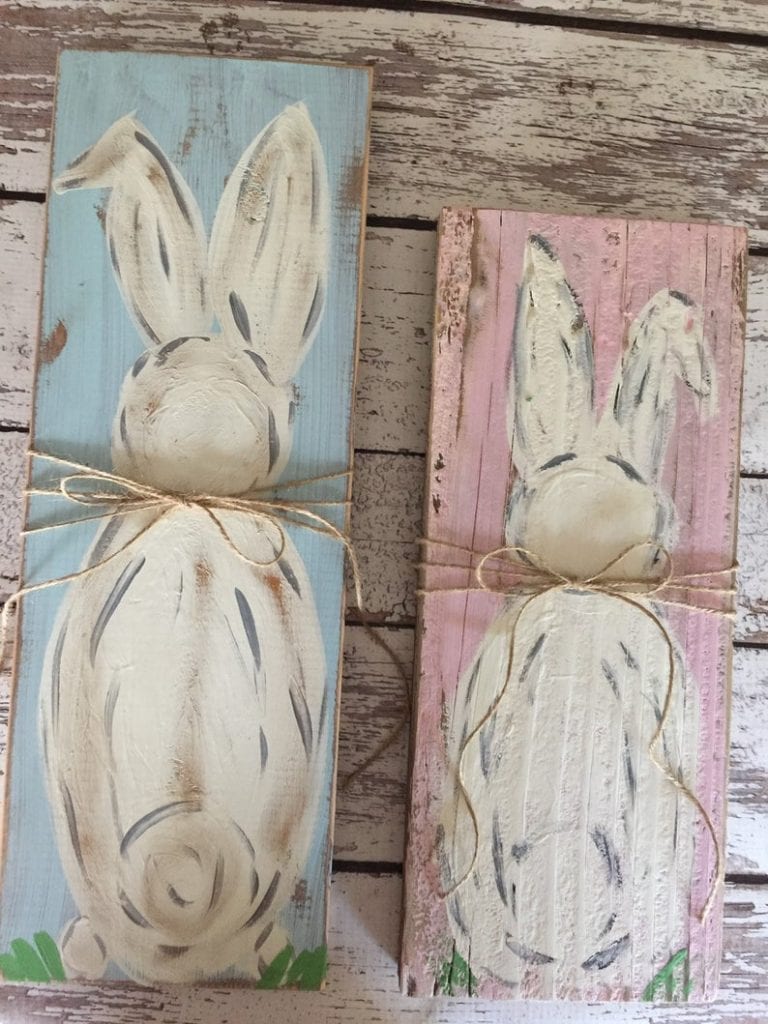 And since we are speaking of bunnies, what do you think of these two? These wooden bunnies are unique and so adorable. I just had to share them with you.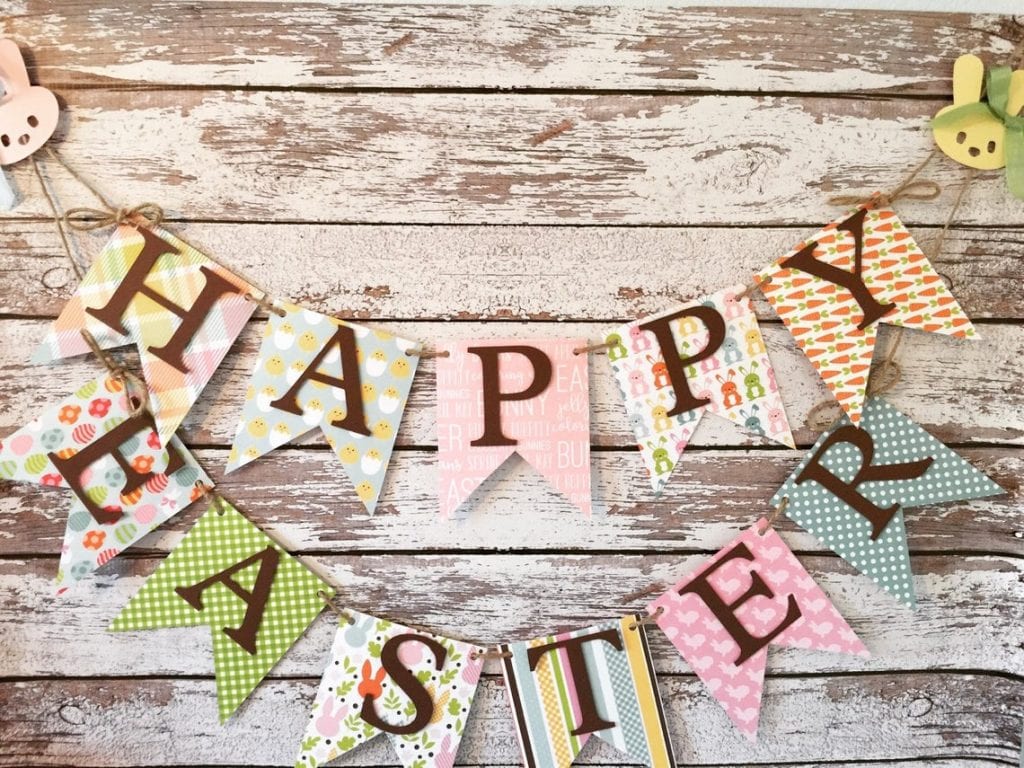 This banner goes nicely with the wooden bunnies. If you don't have the time to make one, then purchase this one. You get the look of a pretty handmade craft, and you didn't have to make it.
---
Recipes for the Week – Desserts to Bake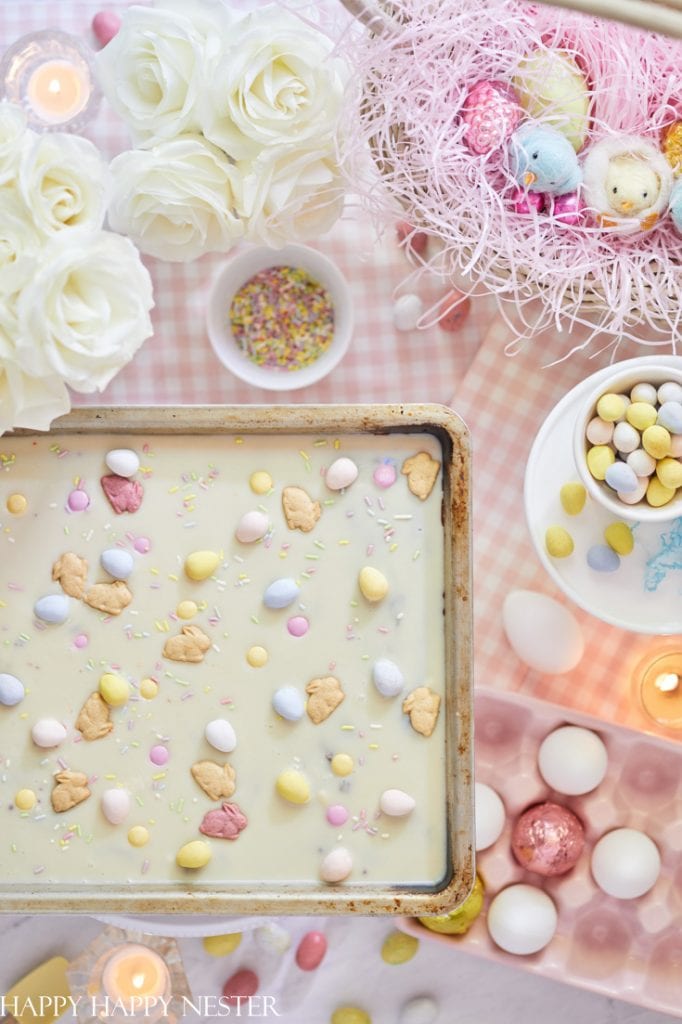 Cute Bunny Bark Recipe
My daughter has asked me to make this Easter Chocolate Bark for a long time. So, I finally made it! Hooray!
I finally figured out how to melt the white chocolate. All these years, I ruined bag after bag of candy melts. The chocolate went from semi-melted to rock hard. I threw out bag after bag of these candies. But, I finally had a major win. So, check out my helpful melting tips over on the blog post.
I'm always happy to help and share when it comes to baking!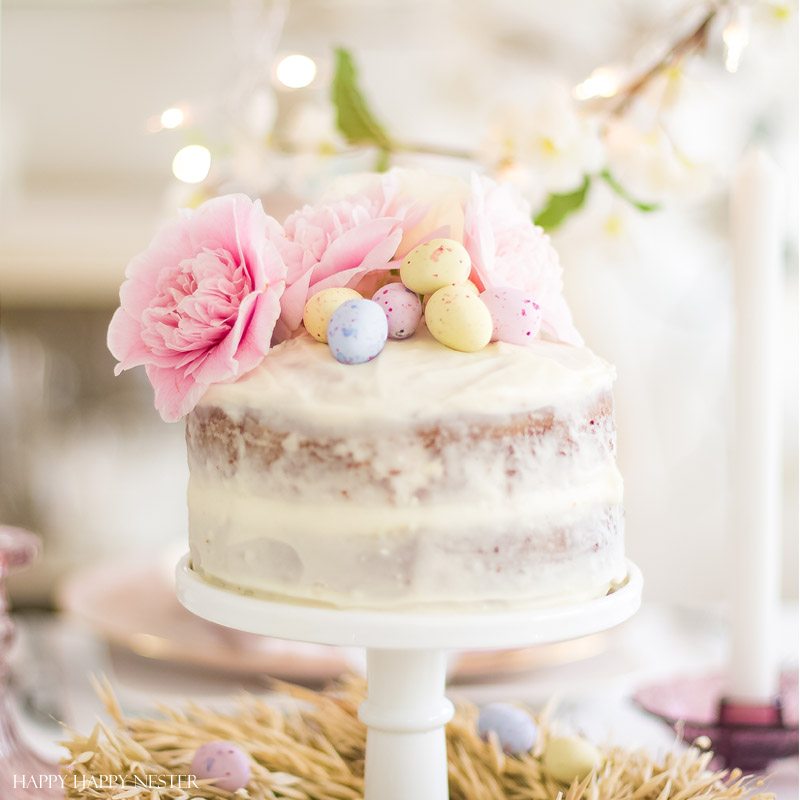 The Best Carrot Cake Recipe
I'm baking this cake this weekend. Well, that is if I can get my hands on some carrots. Yup, on my last grocery order, they were all out of carrots at the store!
But, this Carrot Cake recipe is from the old department store called Broadway. I love this recipe and how it's such a moist cake. Your family will love this recipe.
I have many more desserts over here. Here is a link to them.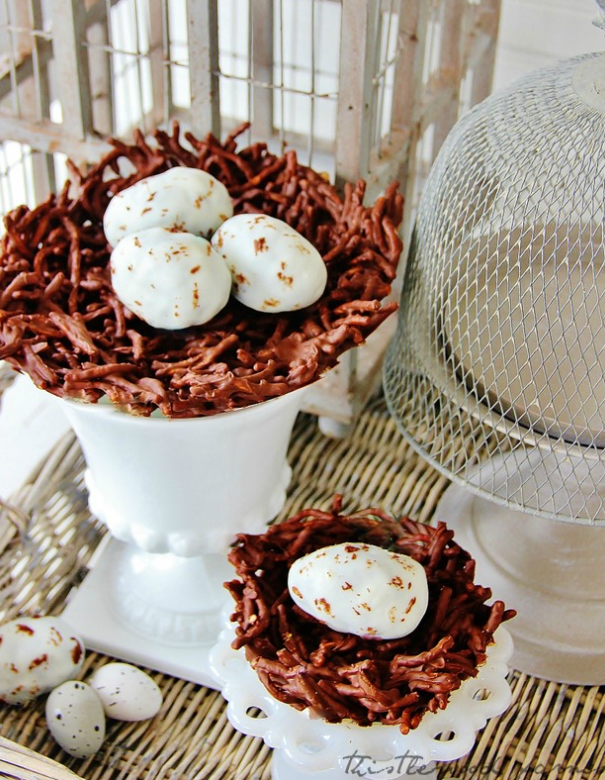 Easter Egg Cake Pops
This recipe is from KariAnne from Thistlewood Farms. Oh my goodness, these fun Egg Cakepops are so adorable. I so want to make them tomorrow!
What a cute idea and they look so cool in the chocolate nests! I even bought a can of chow mein noodles!
Maybe I'll try this recipe in the next couple of days!
---
Crafts for the Week – Weekend Craft Projects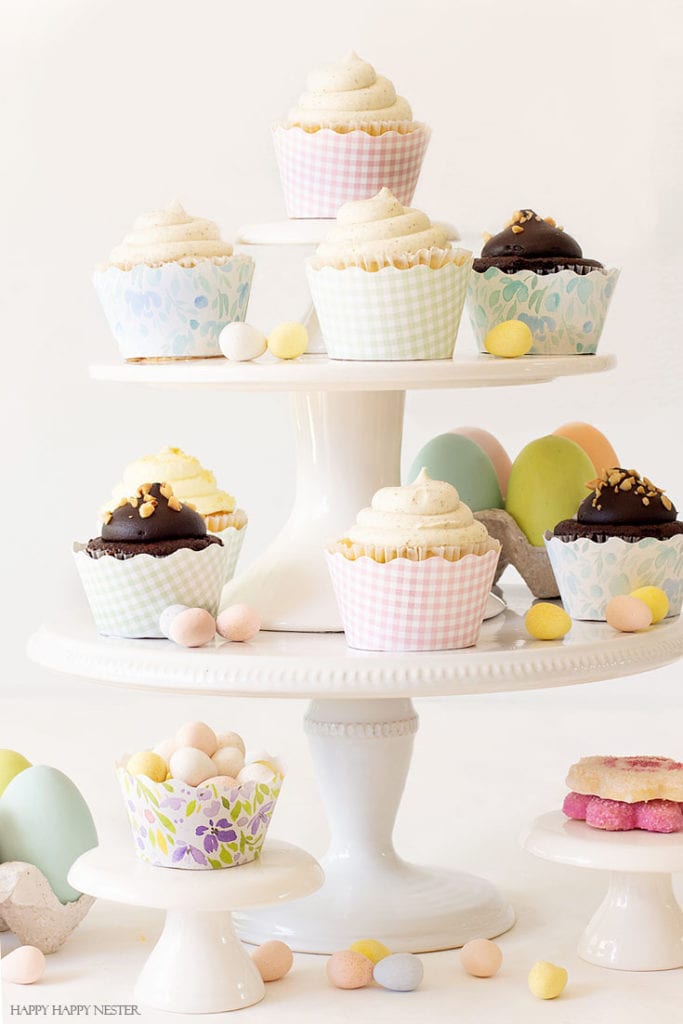 Spring Cupcake Liner Printables
If you are busy making spring cupcakes, then you'll want these adorable cupcake liners.
Download, print and cut out the paper liners. The prints are so cute and look so springy. I hope you have a chance to use these five different printables.
I plan to make another set of them in the next couple of days. So stay tuned!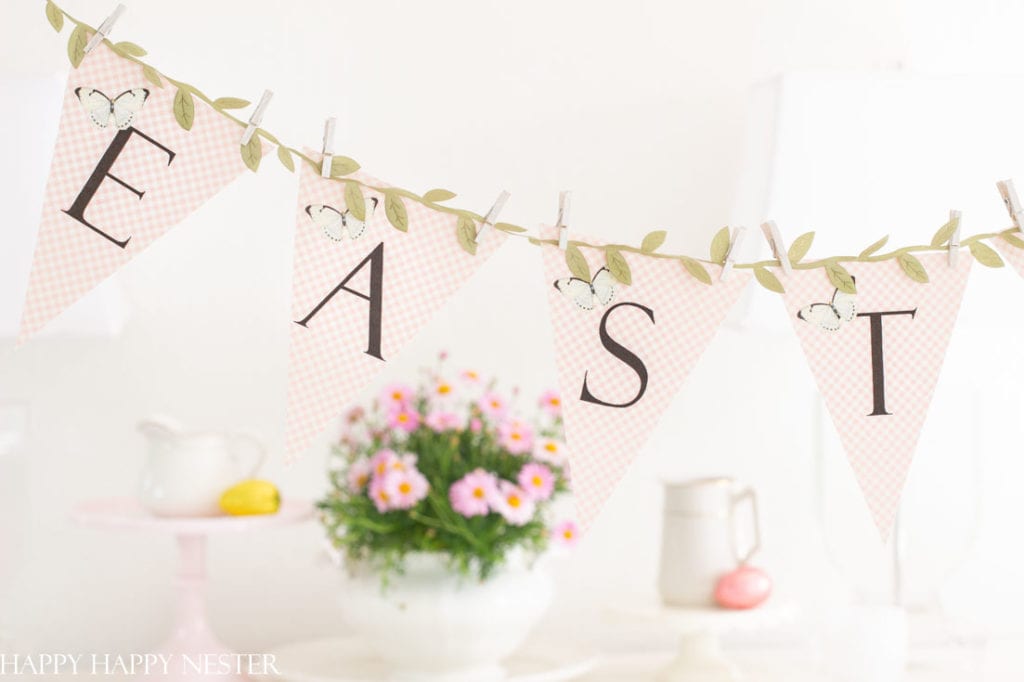 Easter Banner DIY
This is a pretty banner that you can print at home. It is such an easy project, print, cut, and attach to a cute garden ribbon, and you're done.
Here is the Easter Banner DIY post. To download the image, fill out the form. And since you already subscribe to the newsletter, you'll not be signed up twice. You only can have one subscription to our blog.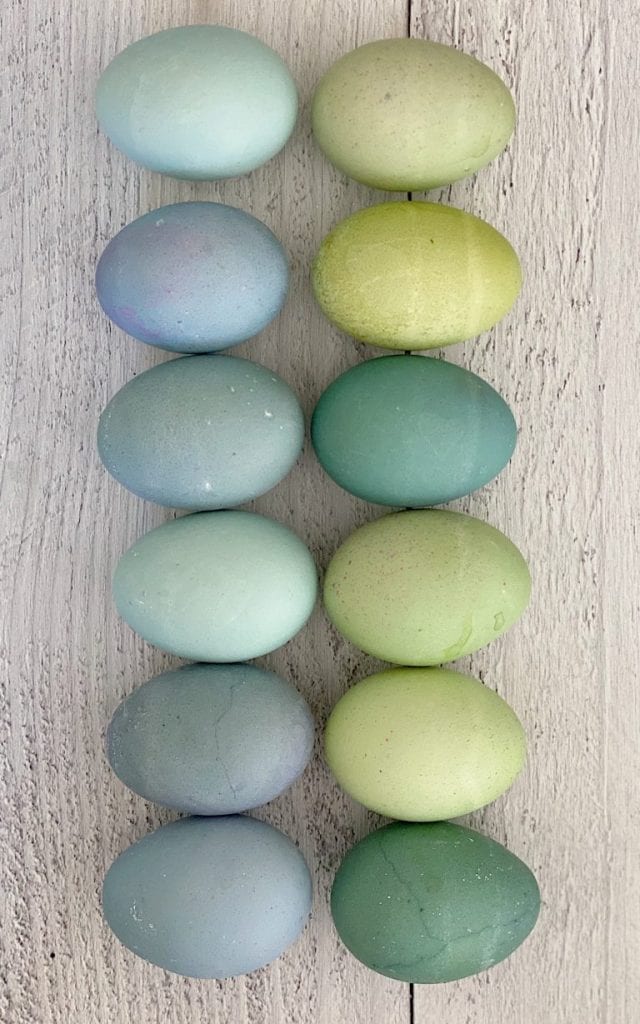 Beautiful Dyed Easter Eggs
Leslie from My 100 Year Old Home did it again. These beautiful dyed Easter eggs look like the Martha Stewart Araucana chicken eggs.
I hope you have a chance to check out this great post!
---
Helpful Spring Tips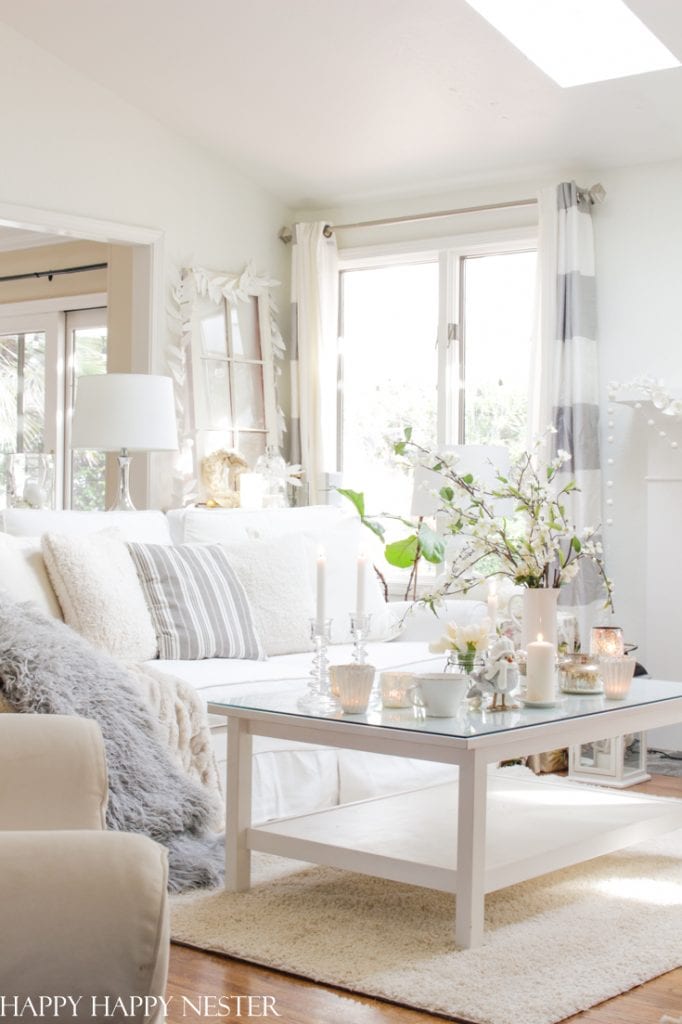 Add a Second Drape to Your Windows
This is a photo from my winter decor, but I wanted to point out a little trick. Throughout the year, I'll add some other drapes to the white ones. This introduces a change of color and style with a small investment of money.
I buy these accent drapes from Target! They always have some fun new drapes with each season. It's an easy style change!
Here is the link to our winter decorating ideas post.
And here is a link to Target's drapes!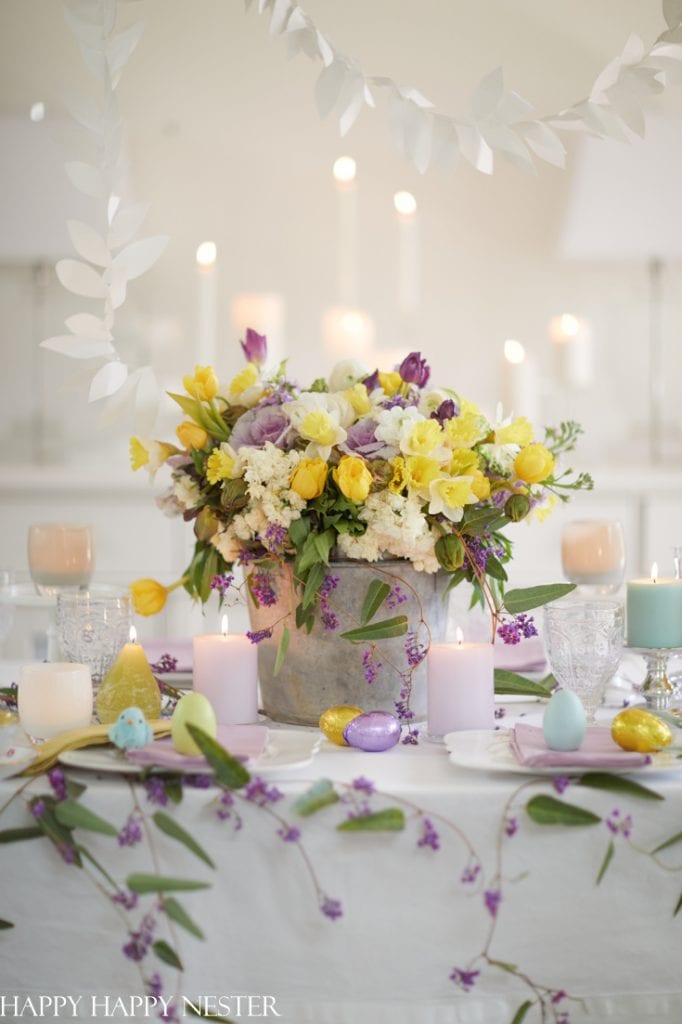 A Tin Pail is Perfect for Flowers
If I mentioned this before, forgive me. I sometimes repeat myself. But, I love this old pail of mine. I recently arranged my spring flowers in it for my spring table.
When choosing my vases I love to pick things that are a tiny bit unusual. If you look at all my floral arrangements you'll see that it's one of favorite containers.
This shop has a nice collection of the tins.
Look What We are Cooking for Dinner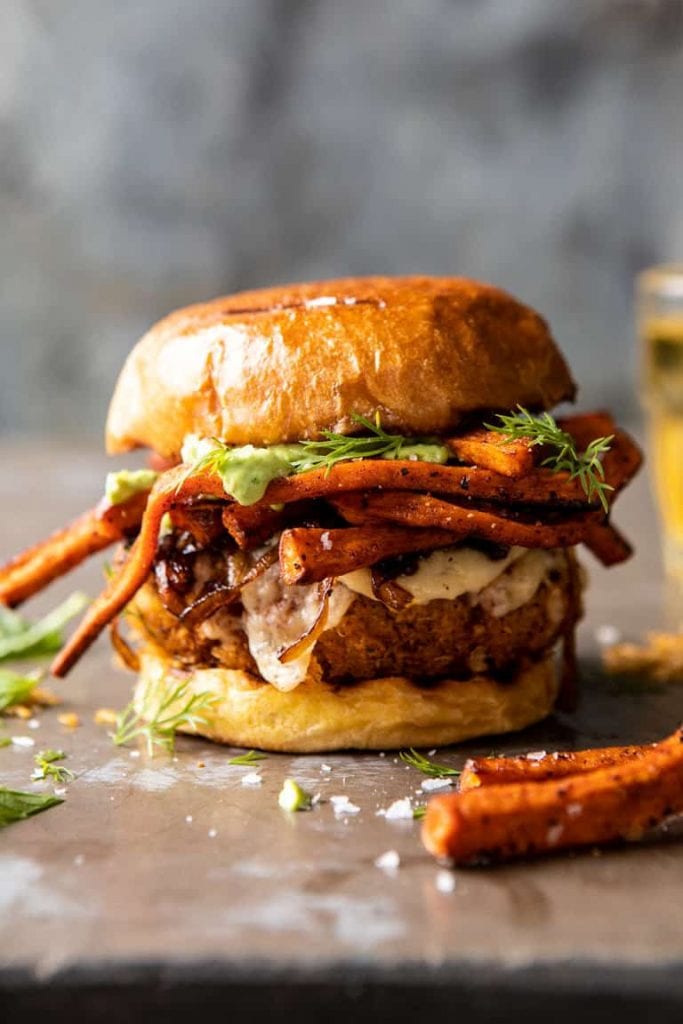 Crispy Quinoa Burger
There are a few positive things that have happened around here since quarantining. One of them is that I'm planning our meals for each week. This organizing of dinners was a bit spotty a year ago.
But, now, with our grocery deliveries, I'm a bit more strategic with ordering food. I have a menu that I post on our fridge, and the family holds me to my schedule.
So, today I'm making these Quinoa Burgers from Half Baked Harvest. I make something new each week, and so far, I'm enjoying Teagan's blog. We all love the new recipes that I've made. I have a feeling this one will not disappoint us!
I'll let you know how it turns out.
Other Obsessions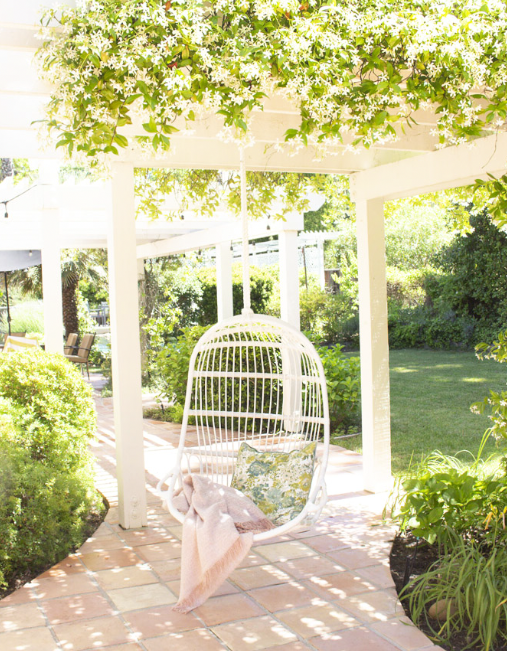 Dreaming of a New Patio
Every spring my husband and I emerge from our home and we talk about working on our backyard.
For years, we have wanted to replace our terra cotta tile. It looks pretty and light in this photo, but in person it's a bright orange that kind of screams at us.
So, I'm looking into finding a contractor for the flooring. We took a trip to a rockery shop, and we agreed on the same large porcelain pavers. I'll keep you posted on our progress, and hopefully, we will actually tackle a portion of our big project this fall.
If you are interested in our deck remodel hop on over to the post.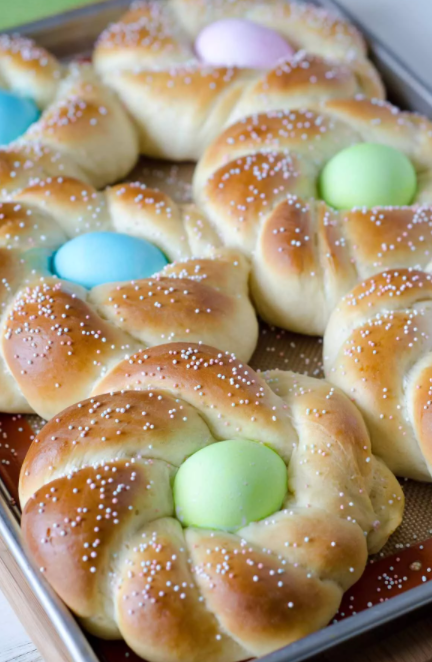 Italian Easter Bread
I'm a tiny bit obsessed with bread making. I'm so obsessed that I even joined a local bread-making group. I love viewing everyone's amazing loaves of bread. I still need to start my sourdough starter.
But in the meantime, I thought I would share this gorgeous Italian Easter Bread from Seeded at the Table. I love how the bread is twisted, and the Easter egg is nested in the middle. What a great tradition!
Out in the Garden
My head is so distracted with gardening ideas. Here are a few things that are inspiring me right now.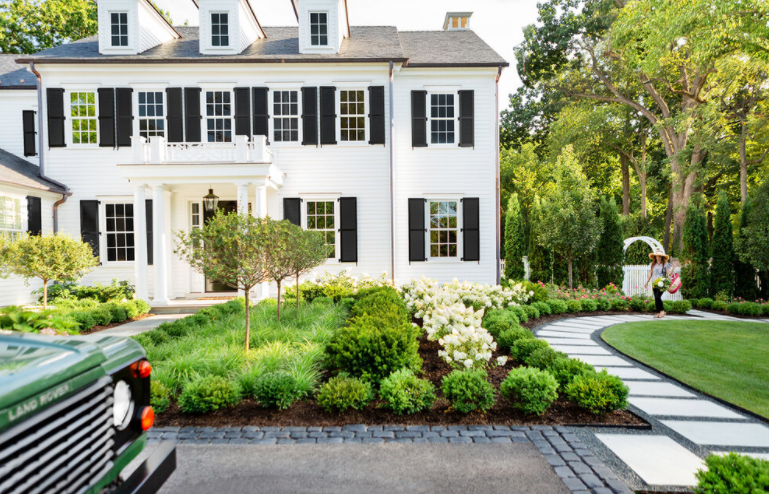 Garden Inspirations
Our flower garden in the front yard is a bit of a mess. We have tried so many plants in the space only to be sorely disappointed.
The area is pretty shady, and the soil is horrible, and the deer and slugs love to munch on everything that we plant. This spring, we will tackle this part of our yard again with new inspirations. I hope to talk my husband into filling part of the area with hostas. And this photo is what inspired me.
We need to fill the area we a lot of the same plants. I love the English garden look, but right now, ours looks more like a hodgepodge of plants that aren't working!
Here is a look at one of my garden container projects. I will start planting a few things in my outdoor pots.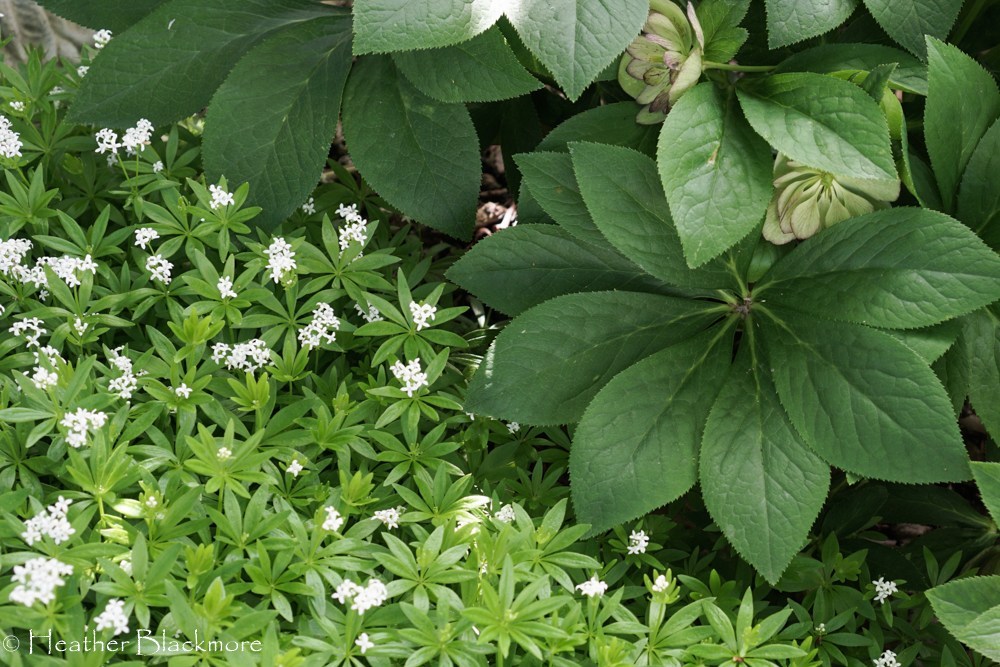 Plants for Shade and Dry Soil
We have struggled with our front yard the whole time we have owned our little bungalow-styled home. Our garden is shady, and the soil is dry. Between those factors and that the deer and slugs love to munch on everything we plant, we are at our wit's end.
But every spring, we have garden fever and amnesia about past plantings. I found this wonderful blog, Here She Goes, and this photo is from a post called Plants for Dry Shade. So, I will order a bunch of these plants. I especially love the Sweet Woodruff.
Now I can envision our front flower beds. We will line the walkway with Hosta and then place Sweet Woodruff inside the contained beds! I love this idea.
Well, happy planning your garden while spring approaches!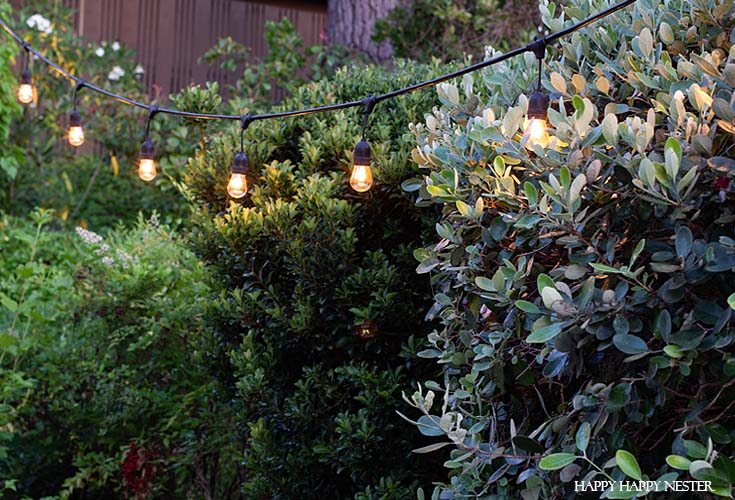 How to Install Outdoor Lights
A couple of years ago, my husband installed some poles and hung our outdoor lights from them. He wanted me to post, How to Hang Outdoor Lights, so I shared it shortly after completing the project. And now this post is popular on the web.
So, he sunk the poles in holes filled with cement. When he works on a project, he rarely takes shortcuts. Whatever he installs will last a long time. So, if you are planning on some pretty outdoor lights, check out our light tutorial.
I haven't told him, but I'm hoping to add more to our backyard!
---
Well, I hope you enjoyed this post that is mostly about Easter Ideas! Until next week, have a wonderful weekend!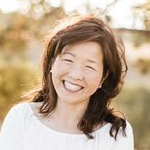 Latest posts by Janine Waite
(see all)