Do you need 9 Unique Easter Egg Ideas? I'm always trying to find something different to do with eggs, and I think today I finally found something super cute and easy to make.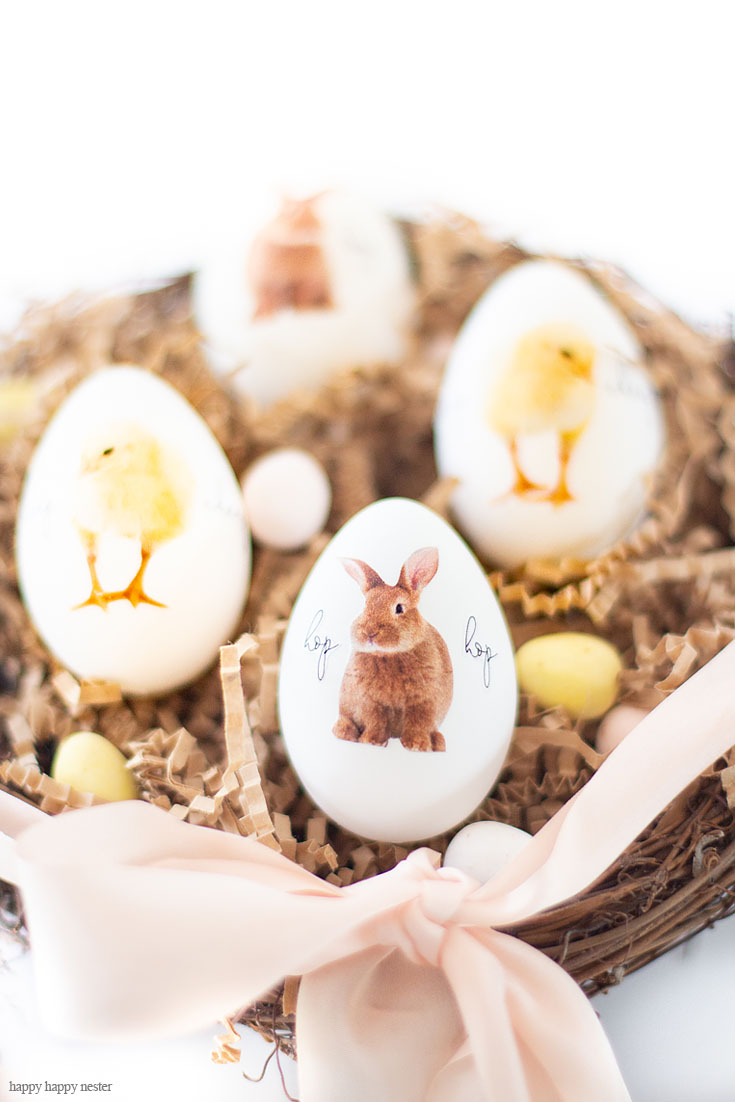 For this project, I veered away from my typical flower theme and jumped into spring chicks and bunnies. So, I did initially plan on putting flowers on the eggs, but these cute animals kept calling my name. I couldn't resist. So, what better way to celebrate spring than with baby bunnies and chicks!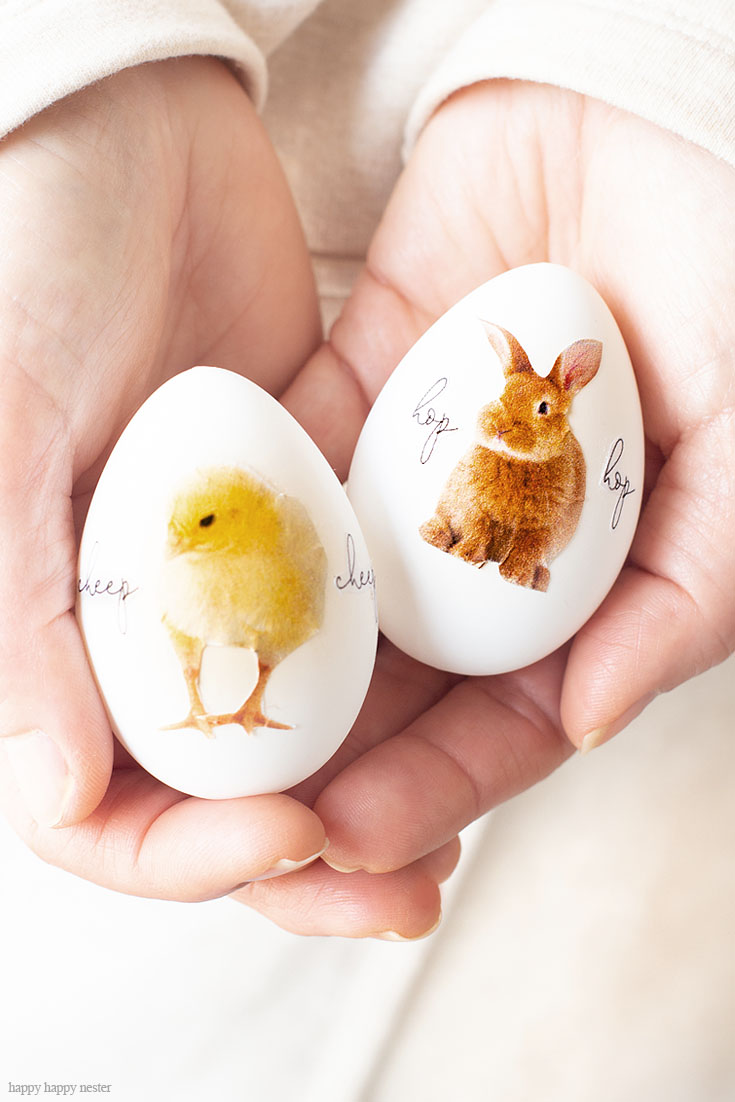 I've also joined a couple of my friends, and we are sharing our 9 unique Easter egg ideas in this blog link up. I love this group of talented bloggers, and I'm certain you'll be blown away with their fabulous Easter eggs designs!
9 Unique Easter Egg Ideas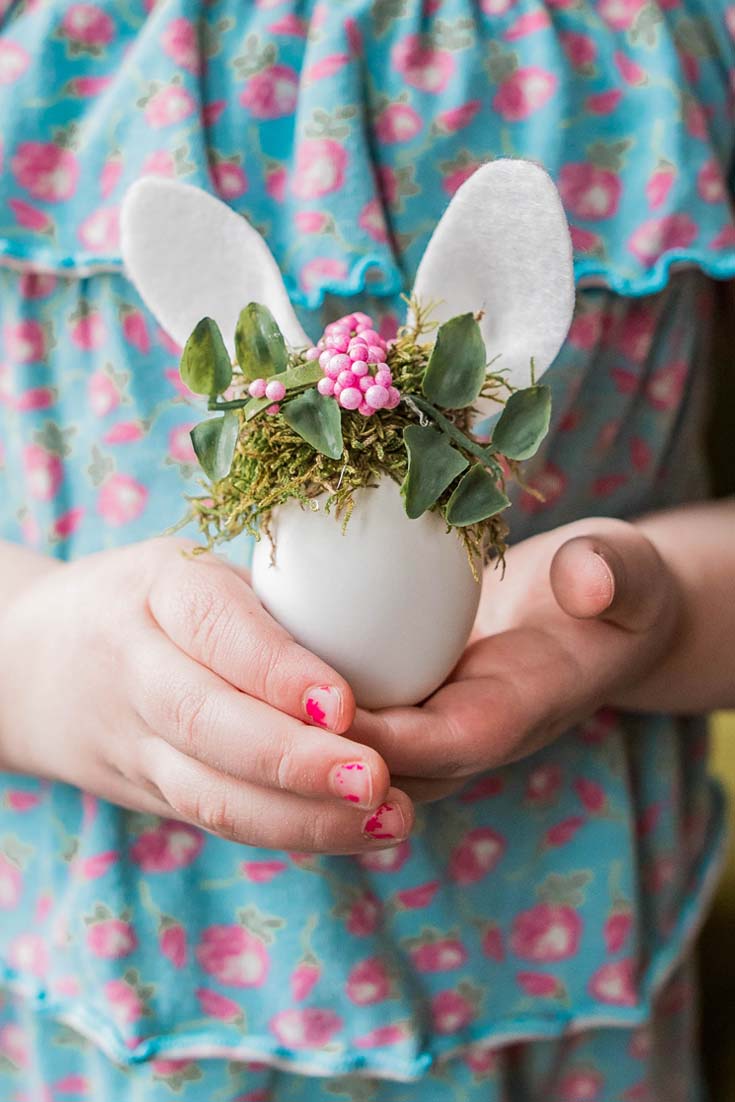 I so love this project from Christina, and I loved that her little daughter is holding these precious Easter bunny eggs with tiny floral crowns.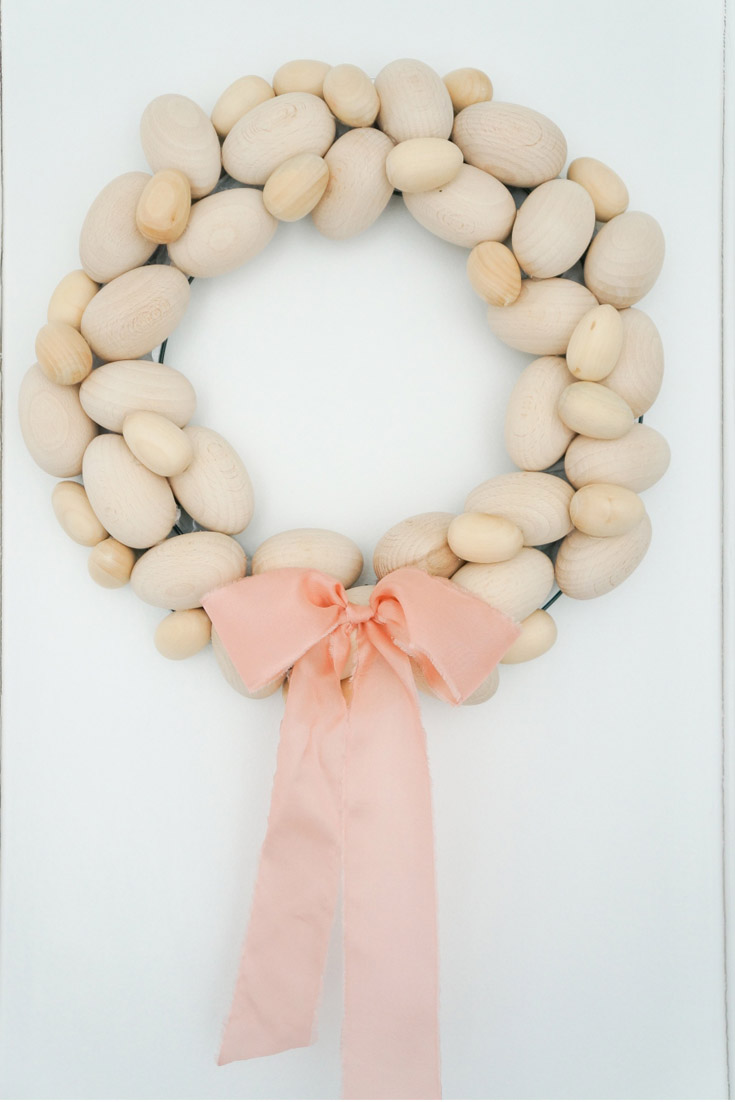 I so want to make an egg wreath and ideas keep popping up in my head. Jackie created this Wooden egg wreath, and it is so beautiful in her Massachusett's home.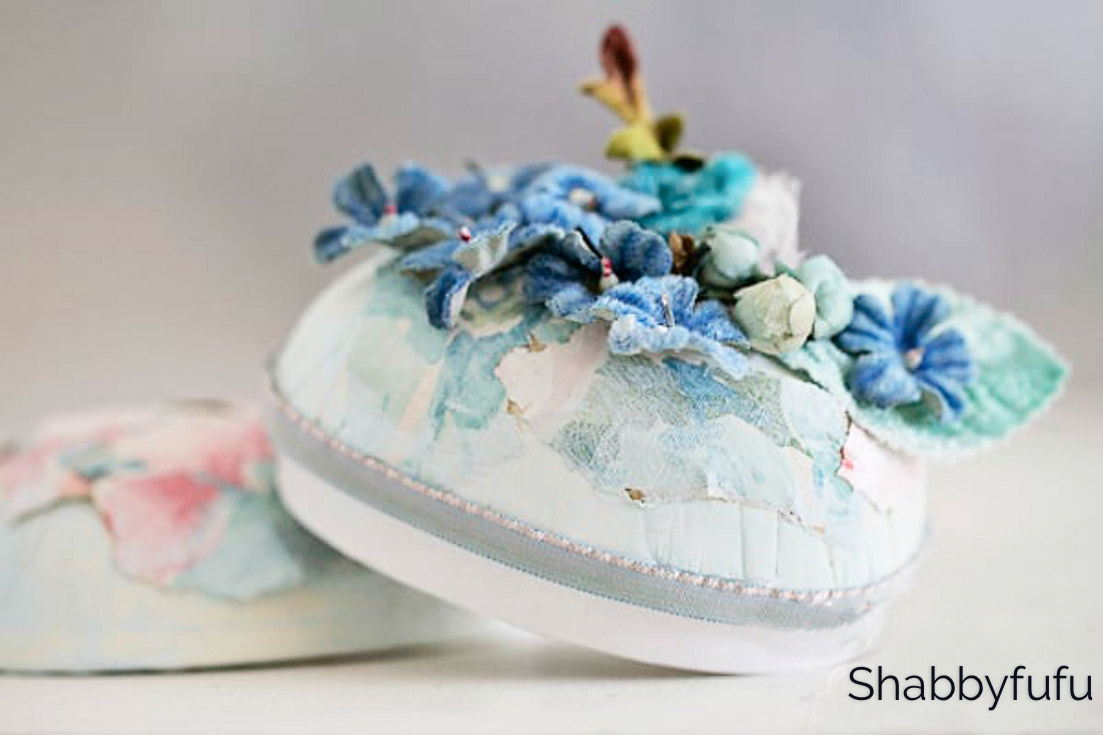 Janet ceases to amaze me with her gorgeous home and style. Her Easter Crafts – Vintage Flowers Easter Eggs are so unique since I have never seen anything like them. And don't you love the velvet vintage flowers on top?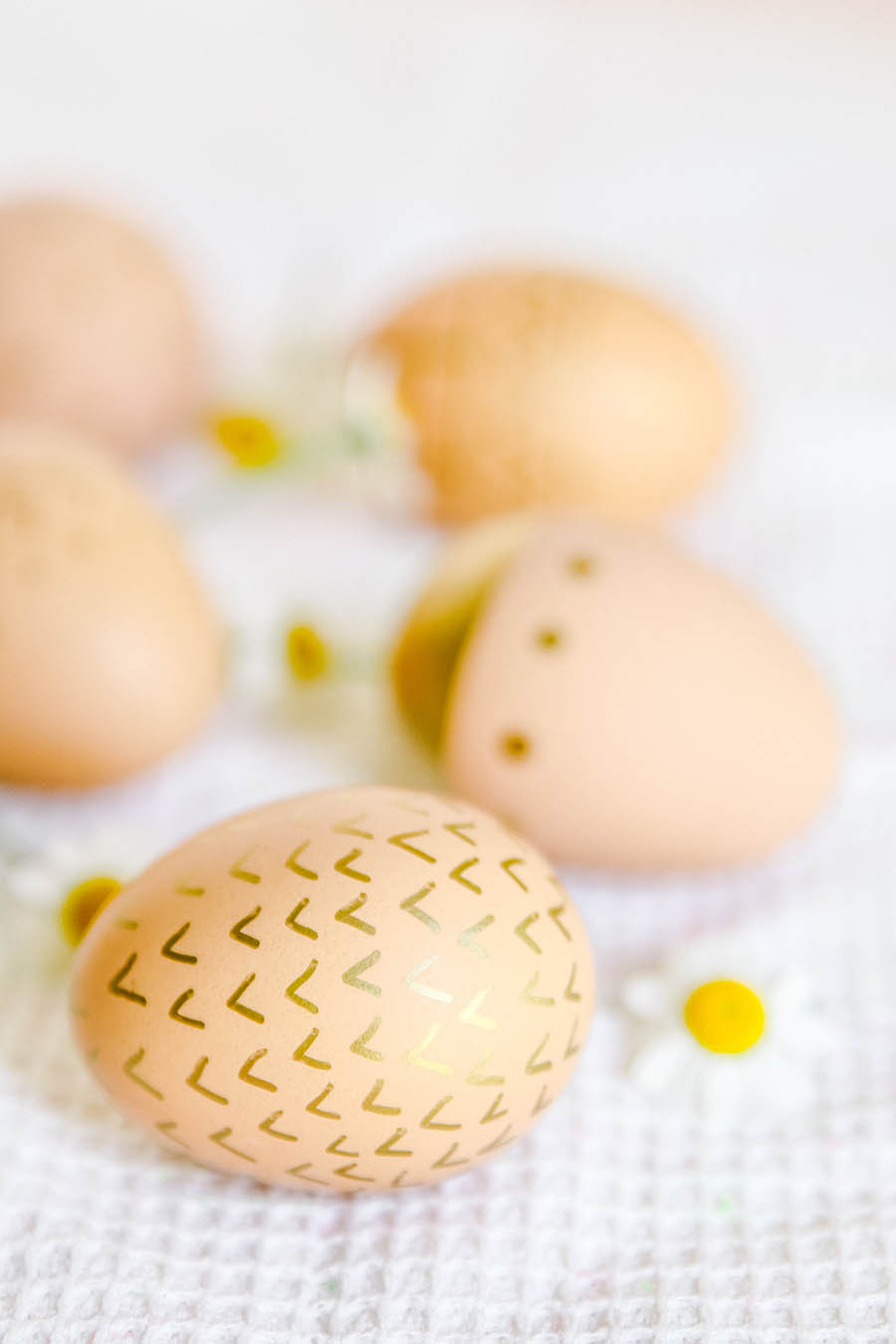 Ok, I'm so going to make Ashley's Decorating Brown Eggs for Easter I love that she used brown eggs with the gold sharpie pen. It is a super pretty combination.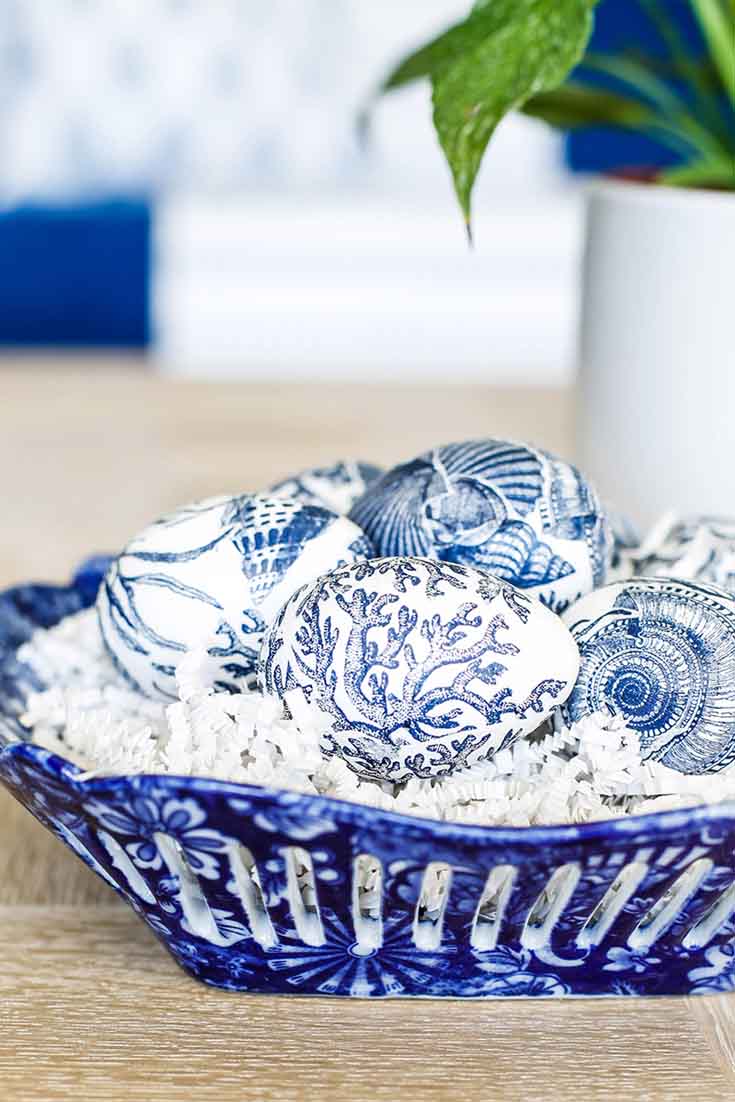 Tana's eggs look like something I saw on the recent Pottery Barn catalog. I love her blue and white easter egg decoupage decorating idea I've always wanted to try this decoupage project.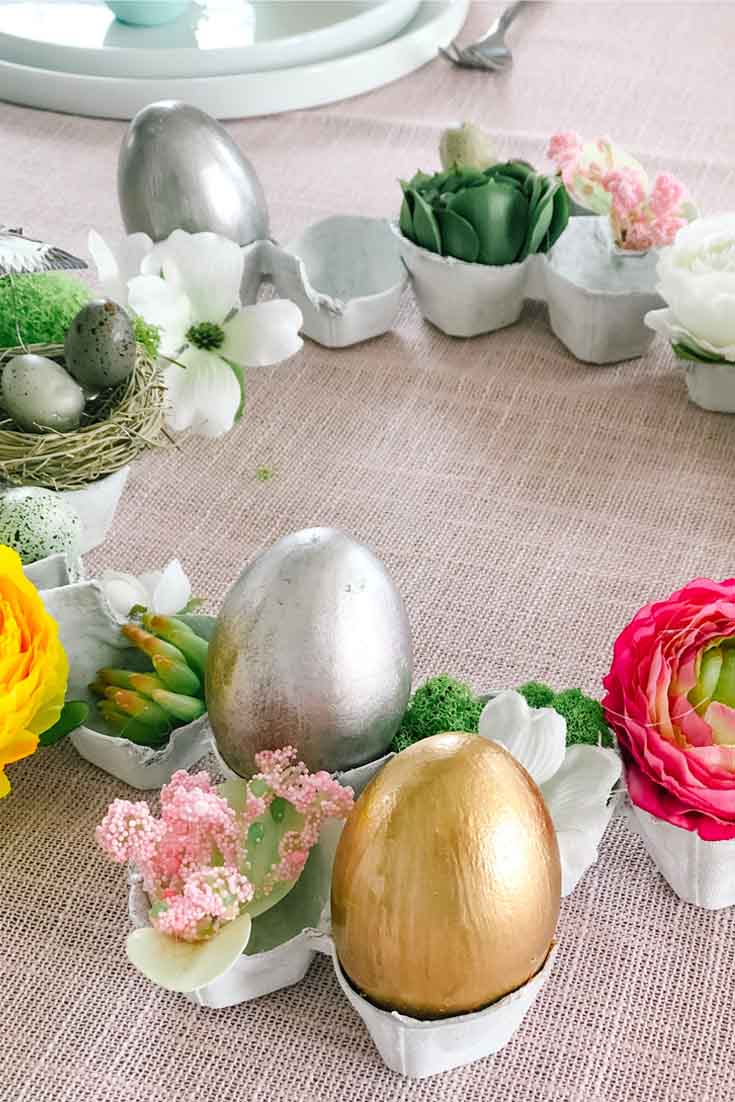 Jen's DIY Gilded Easter Eggs Carton Wreath is such a clever idea! I love that she made a cute wreath out of egg cartons! Now I'll be saving some of our egg cartons for more projects!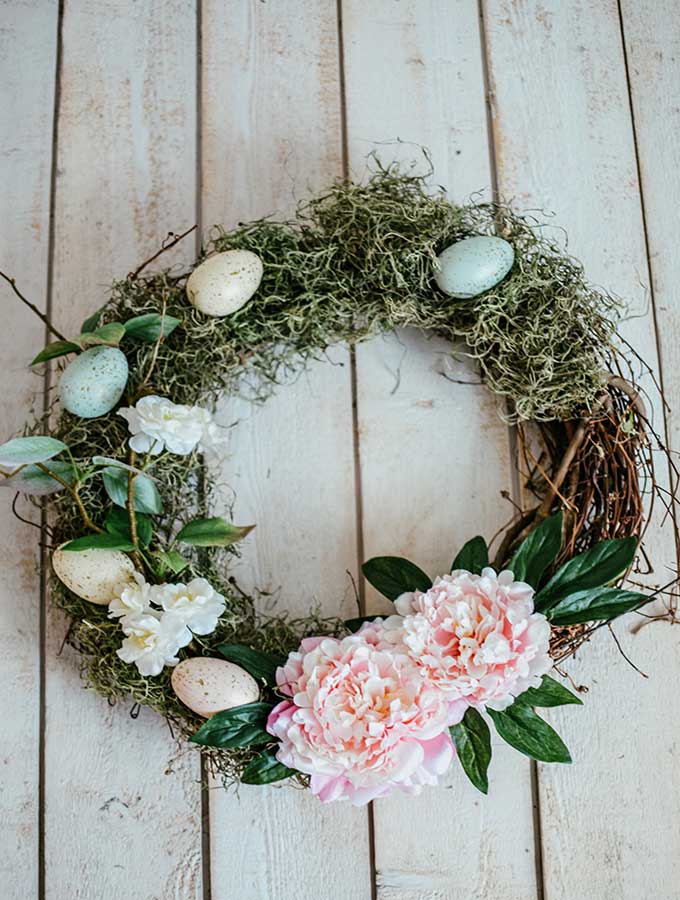 Of course, Rhonda amazes me with all her great ideas and crafts! She is a creative machine that never stops! Her beautiful Easter egg wreath is to die for!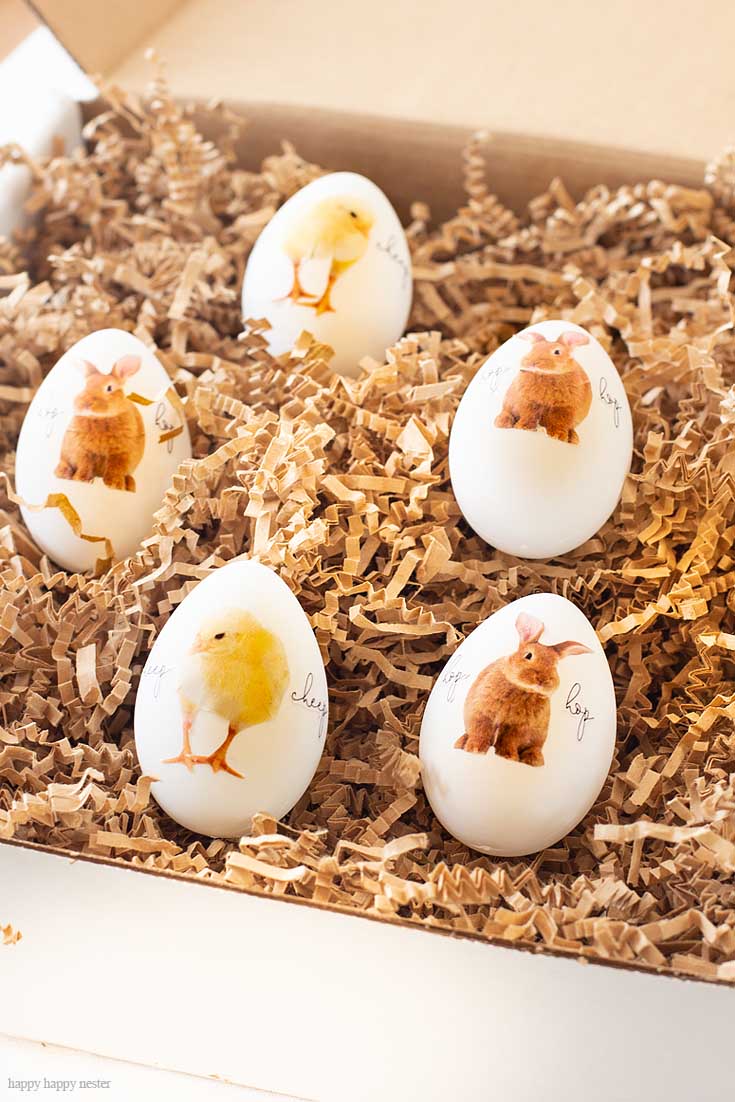 Ok, now back to the regularly scheduled programming. Do you dye your eggs for Easter? I remember as a girl dyeing them with actual food. Gosh, I think I was in high school at the time, and I remember imprinting leaves on them too. I was a crafty person through my childhood, and I guess we never change.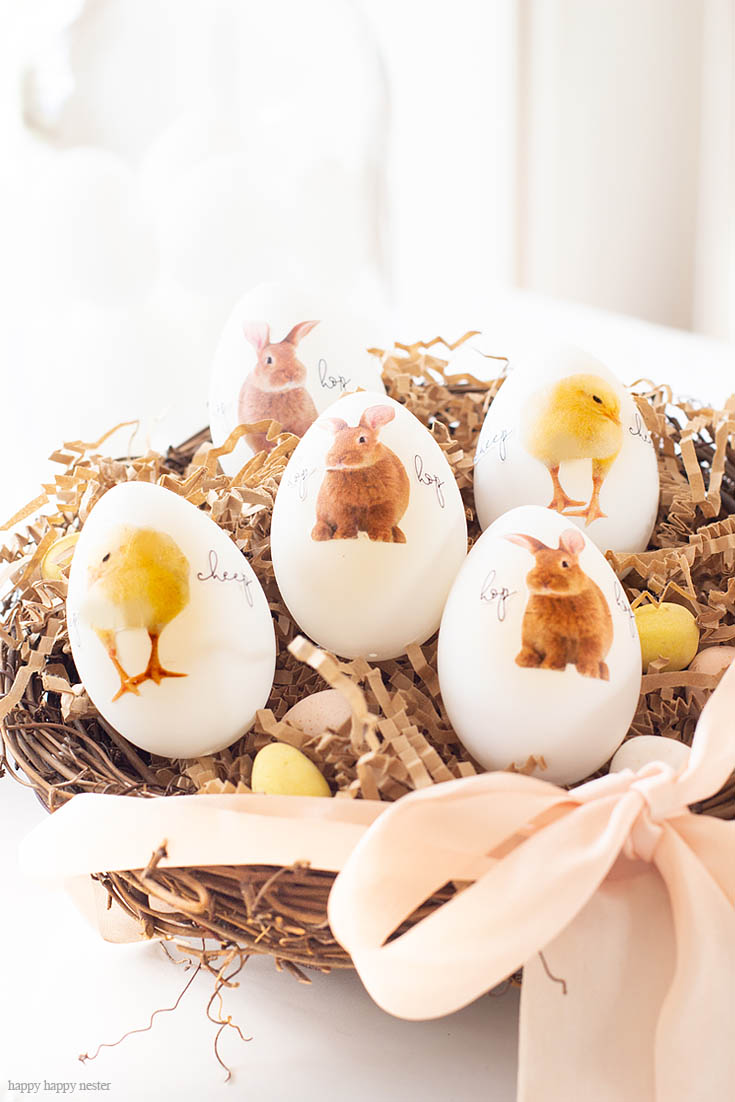 Well, today I didn't dye my eggs, but instead, I just created these adorable spring chick and bunny eggs. They so make me smile, and I had to share them with you!
Bunny and Chicks Easter Egg Craft
Easter Egg Supplies
Printable (Fill out the form below to receive your free Bunnies and Chicks Printable)
Download your free Bunnies and Chicks Printable HERE: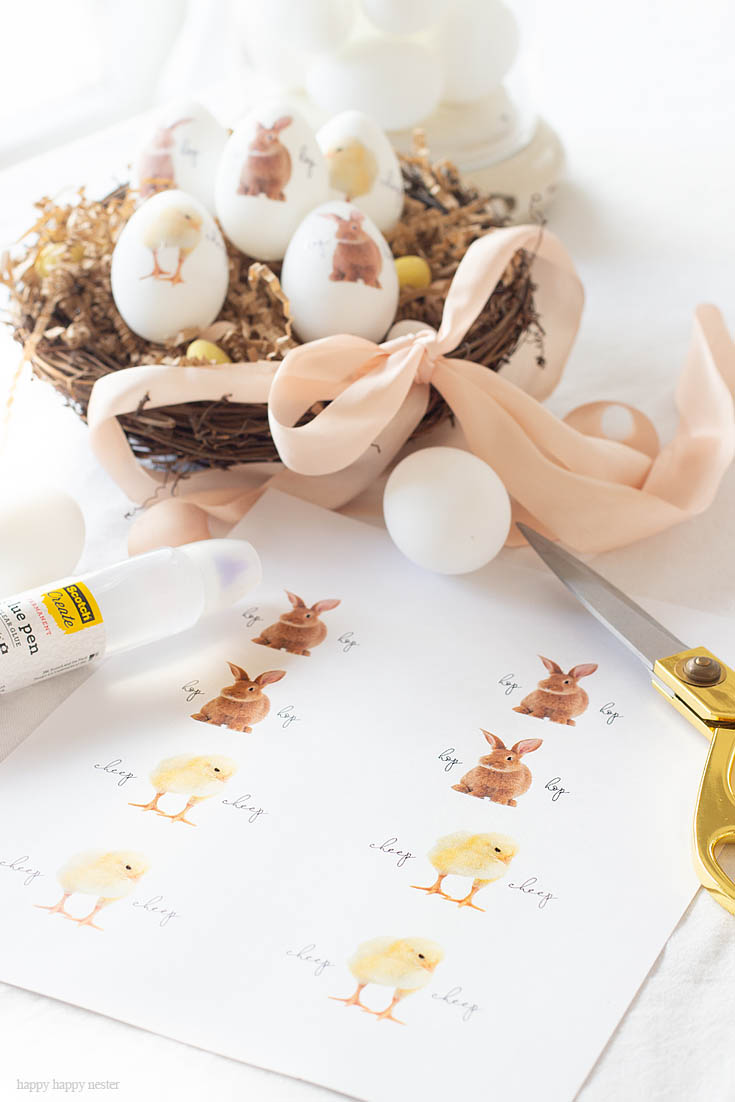 Easter Egg Directions
1. Print out the images.
2. Cut out the bunnies and chicks with scissors. Try and get as close to the images.
3. Cut out the words as well. This step is optional.
4. Glue the back fo the images and place them on the front of each egg.
5. Glue the words on each side of the image.
6. You can place two bunnies on each egg or just one.
That's it! I don't think I have ever published a project this easy before! My projects always take a gazillion steps, so maybe I'm turning a new leaf!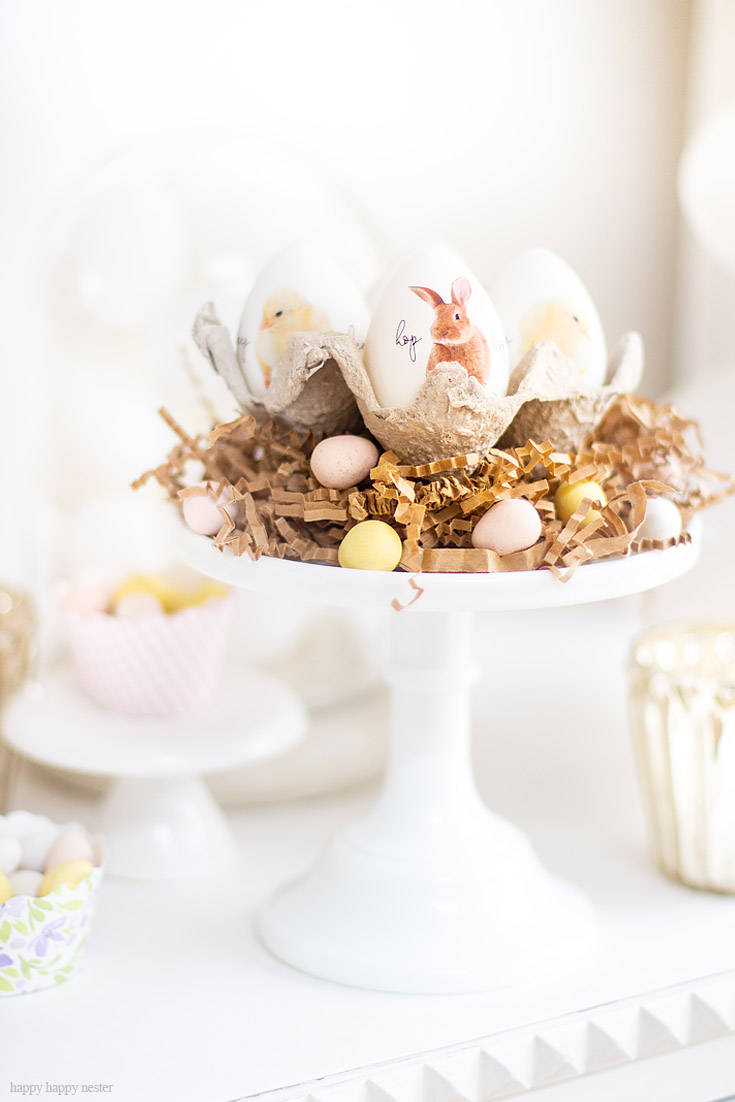 In this photo, you can see the adorable cupcakes wrappers, which are super quick and easy to make. Also, you can make them for Easter, or some spring get together.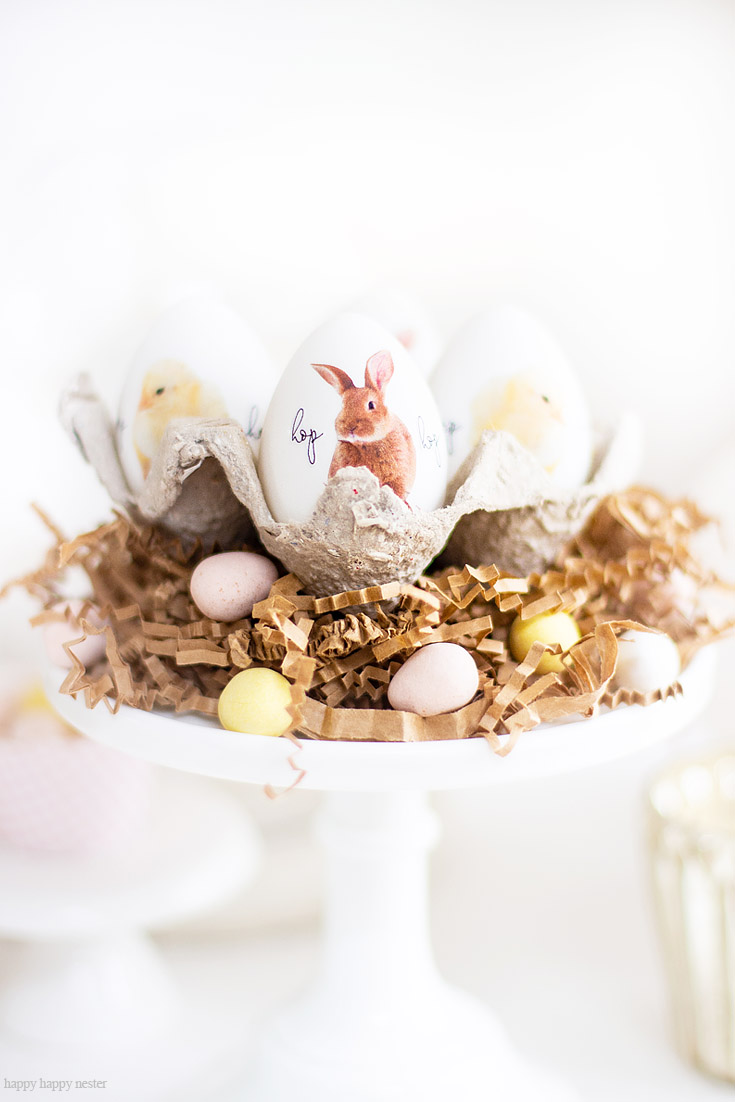 This craft is one of my easier projects so you should like making this one. My friends are so happy that you joined us for our 9 unique Easter egg ideas. I feel that we created some fresh and new ways to decorate eggs. If you need a fun spring cake with edible eggs, check out my Easter Tablescape it has a cute carrot cake with eggs on it. Ok, happy crafting until next time.
Cheers,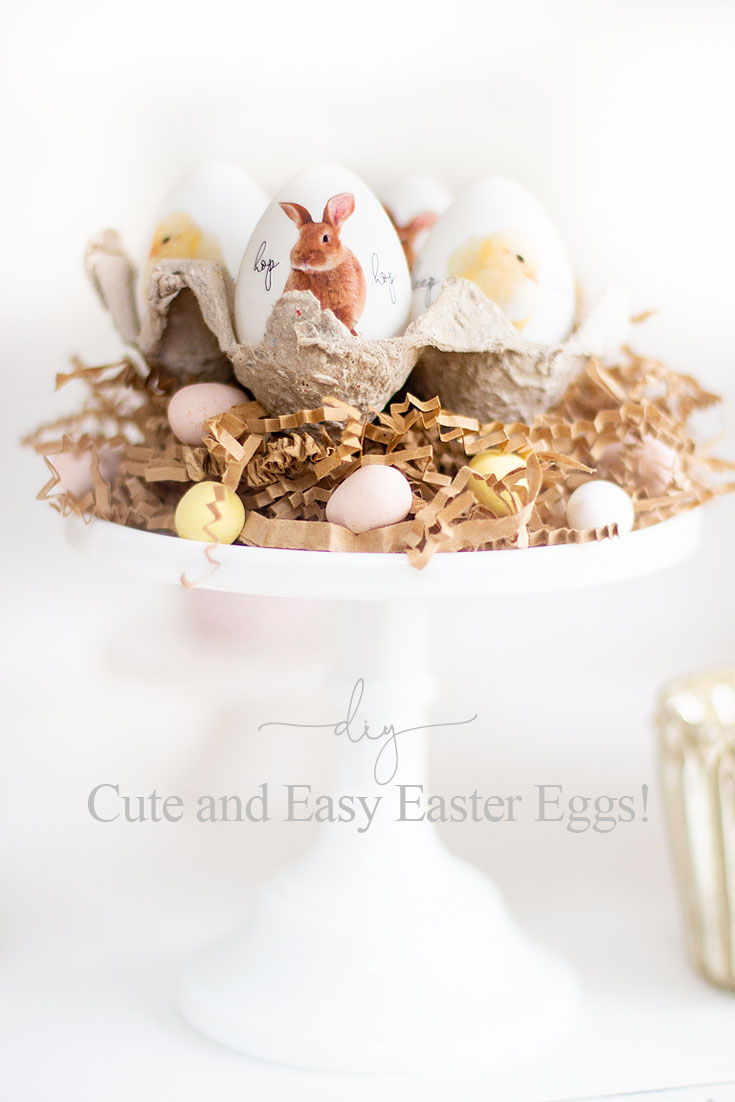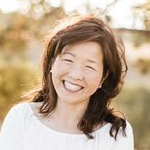 Latest posts by Janine Waite
(see all)