Fun Easter Basket Ideas is today's distraction. And I am here to add a bit of cheer to your day and week.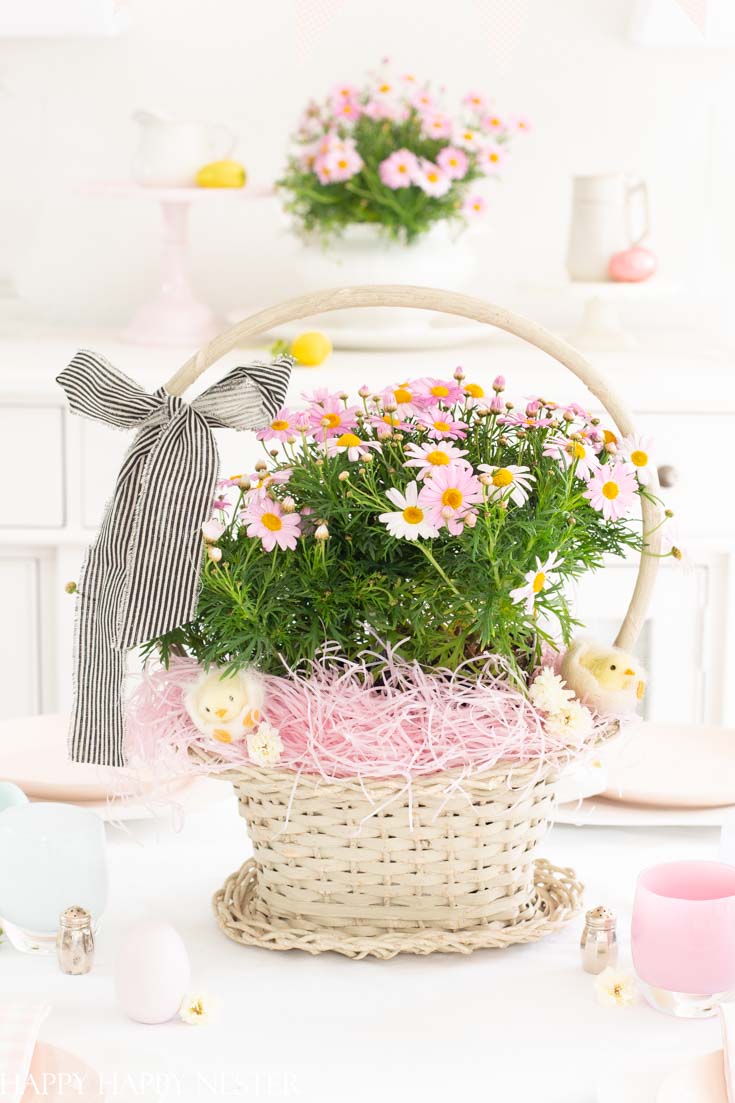 Well, despite our Shelter in Place mandate, I'm virtually surrounded by my blogging friends who are publishing their Easter baskets ideas today. Our posts will be a breath of fresh air to your day and week.
I'm a bit surprised that I'm getting any work done these days since my whole family is home and we are all stuck together 24/7. Also, because of the Shelter in Place, my shopping excursions have come to a complete stop. Yikes, I didn't have the luxury of adding something new to my basket. Well, luckily I have quite a few baskets in storage.
Anywho, I'm peachy and I'm totally happy with the cute results.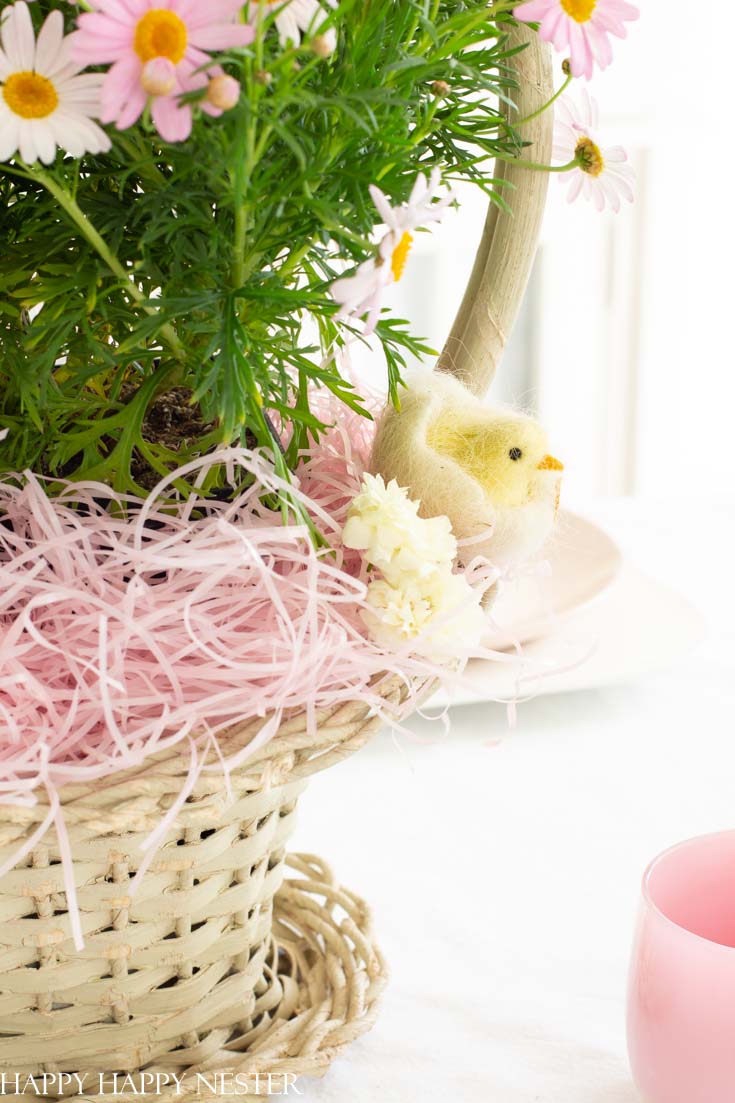 You're in luck since I found most everything online. I did take a small trip to our Ace Hardware for the live daisies, but I think the faux is a better idea. The cute basket that I used is an old item from the company Harry and David. When I bought it at the Alameda Antique Fair, the vendor told me it was an antique. When I got home, I glanced at the label on the bottom, which clearly said, Harry and David. Oh well, I probably paid too much for this newish basket but it is super adorable. If you like this look, I did find one online that is a close second.
But, before we dig into some Easter basket ideas, here are some other posts that might interest you!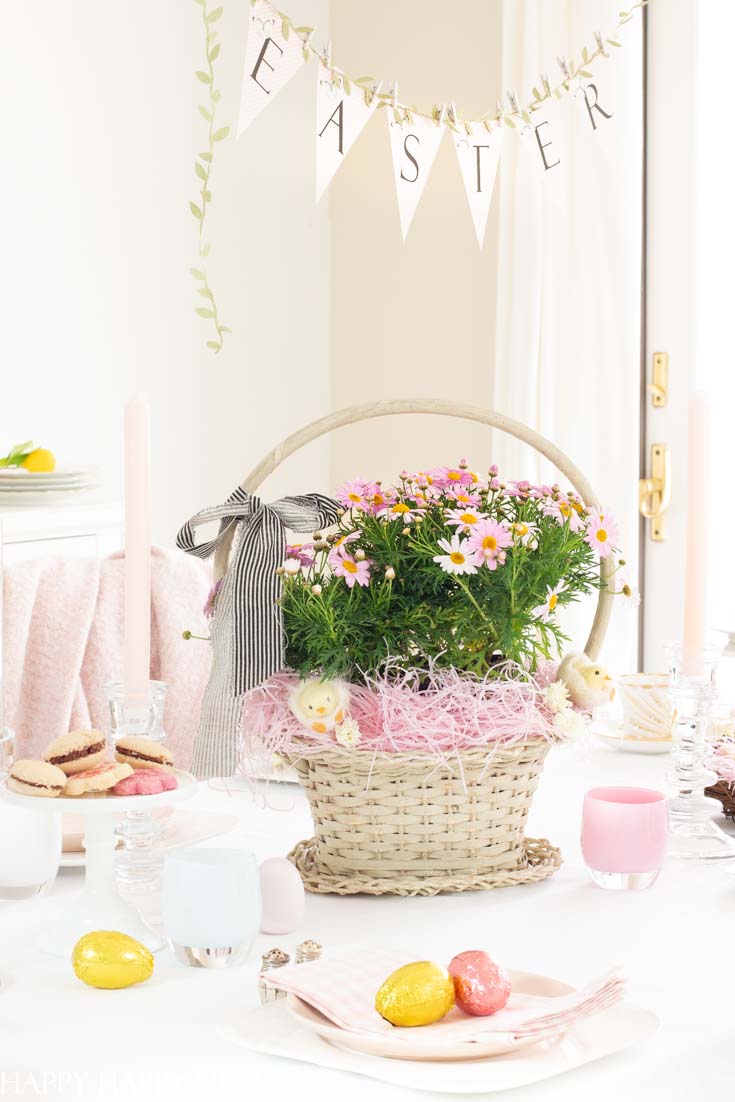 Here is what you'll need for your Easter Basket
Artificial Daisies, Here is another faux daisy
a selection of white Easter baskets
Directions
1. Place the daisies in the basket.
2. Surround the plant and fill the basket with the pink Easter grass.
3. Place the cute wool chicks in the grass.
4. Place the ribbon on the basket handle and make a pretty bow.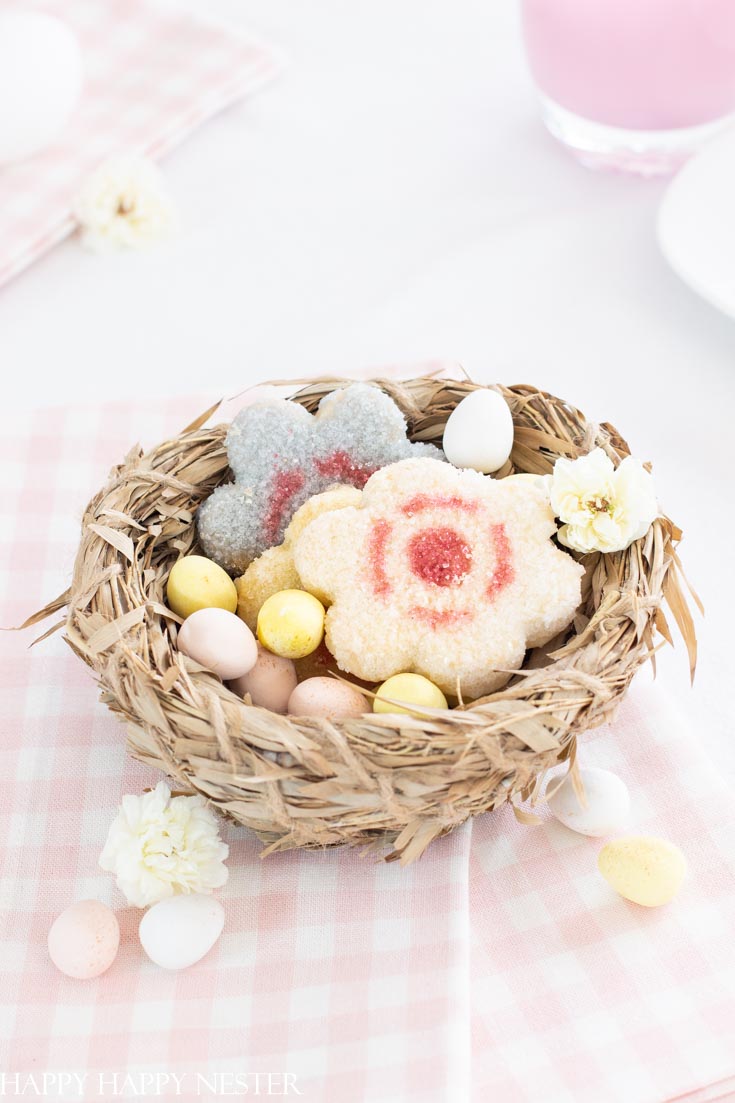 I love this great community of friends. I am so thankful that you visited me today. At times I wish we could all have a fun workshop together but travel and distance keep us from doing that. But, I do have a private Facebook group that shares projects. And if you are interested in our membership group we would love for you to join. I do a live project every week, lots of craft projects and giveaways. You get first access to all my printables and other goodies.
Well, this post on fun Easter basket ideas was fun to create. Thanks, again for your visit!
Cheers,

Check Out These 11 Easter Basket Ideas

Jelly Bean Bunnies – Finding Lovely | Fun Easter Basket Ideas – Happy Happy Nester | Painted Easter Cookie Gift – Craftberry Bush | Easter Basket Ideas – Art of Everyday Living

Simple DIY Easter Basket Idea – She Gave It A Go | DIY Raffia Pom Pom Easter Basket – My Sweet Savannah | Easter Basket Garland with Scrap Fabric – The DIY Mommy | DIY Floral Easter Basket – Zevy Joy

Googly Eyed Easter Bunny Basket – Cassie Bustamante | Neighbor Gift Basket – A Blue Nest | Easter Basket For The Creative – Tatertots and Jello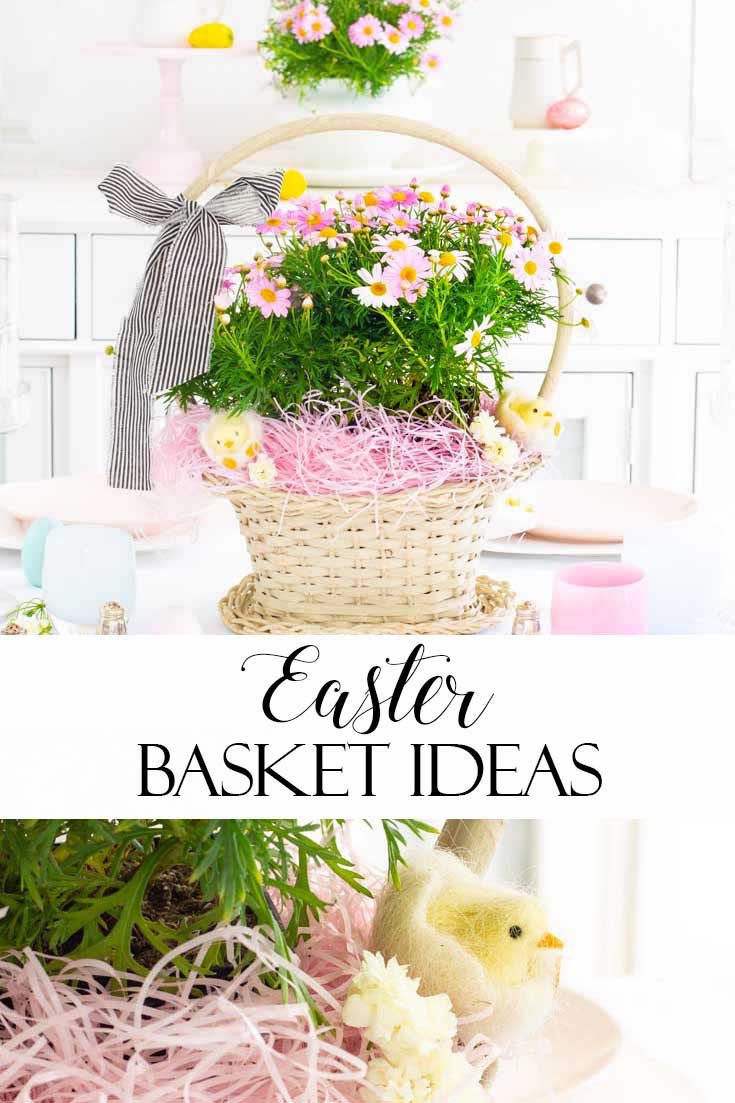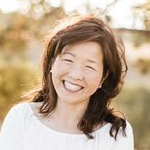 Latest posts by Janine Waite
(see all)