Is your after Christmas decor in need of some Winter Decorating Ideas? I recently cleared out all the holiday decorations and was left with an empty living room. I got busy and played around with my January winter decorating. And today, I'm sharing my updated winter look.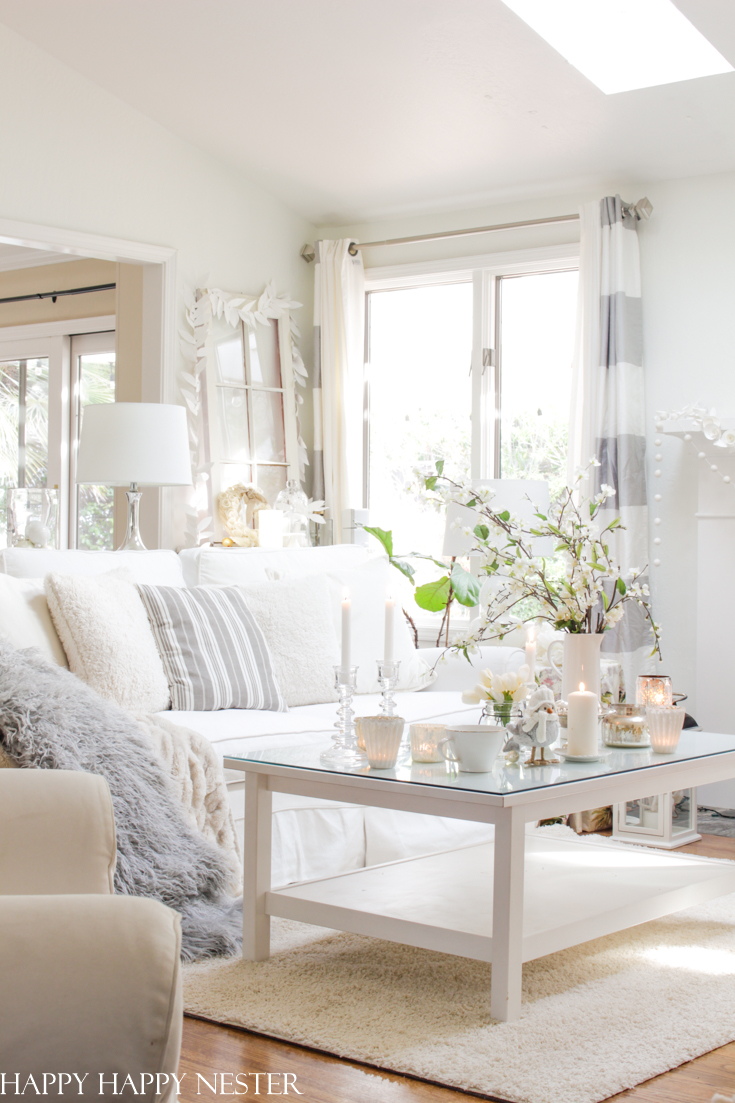 I admit that after the holidays, I jump right into Valentine's and spring decor. I get antsy and want a cheerful and colorful home. But, this year, I paused for a bit and embraced January. I am happily surprised with the results, and I am enjoying the bright wintery view.
Today, you'll get a peek into my living room, but also seven of my blogging friend's winter home decor. It's so fun that we all tackle the winter decorating from so many different directions and styles.
So after Christmas, I had every intention of leaving a few of my snowflakes and white trees around. But, I became a crazy woman on a mission in the frenzy of taking down the decorations.
My motto morphed into, packed up everything!
And what was left was a white living room. I could hear my son give a big sigh of relief. He loves simple, clean decor.
But I couldn't stop there. 🙂 I added a few elements, and when I was done, I sat back and enjoyed this fresh new palette.
Let's take a look at what accents I used in our living room.
Winter Decorating Ideas
WHITE GARLANDS
So, whenever you have all white, you can place all kinds of things together that normally wouldn't belong side by side. I found this out in my holiday decor.
Well, I grabbed my Rosette Paper Garland and draped it on the mantel. I love its romantic style. I initially had my fluffy pom-pom garland, but it was a bit off white and drew too much attention. So instead, I added the white wool ball garland. Don't you think it adds a bit of playfulness to the mantel?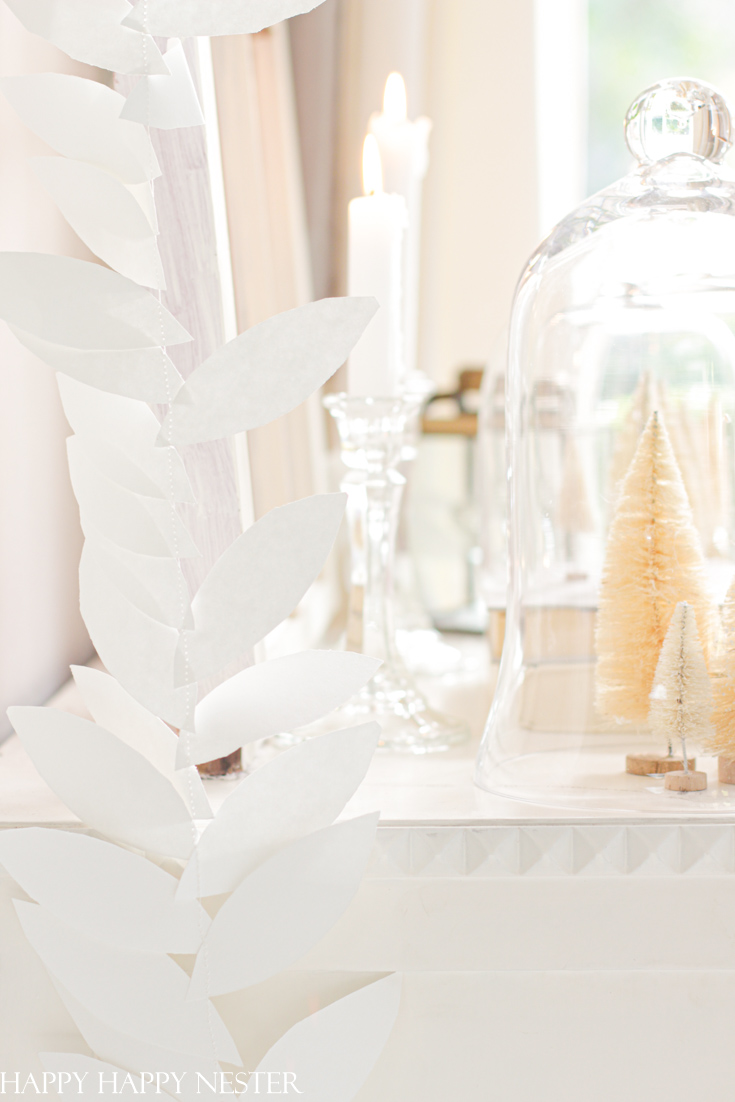 Here is another one of my handmade paper garlands. I made one over the holidays, and I draped it in this corner of the room. It adds texture and drama to an otherwise quiet spot.
WHITE WREATHS
My husband spied my decorating and loved that I kept almost everything on the mantel white. The art teacher in him applauded me that I forced the eye to move up to the cream-colored wreath. Since it is beige, it pops out among the white decorations.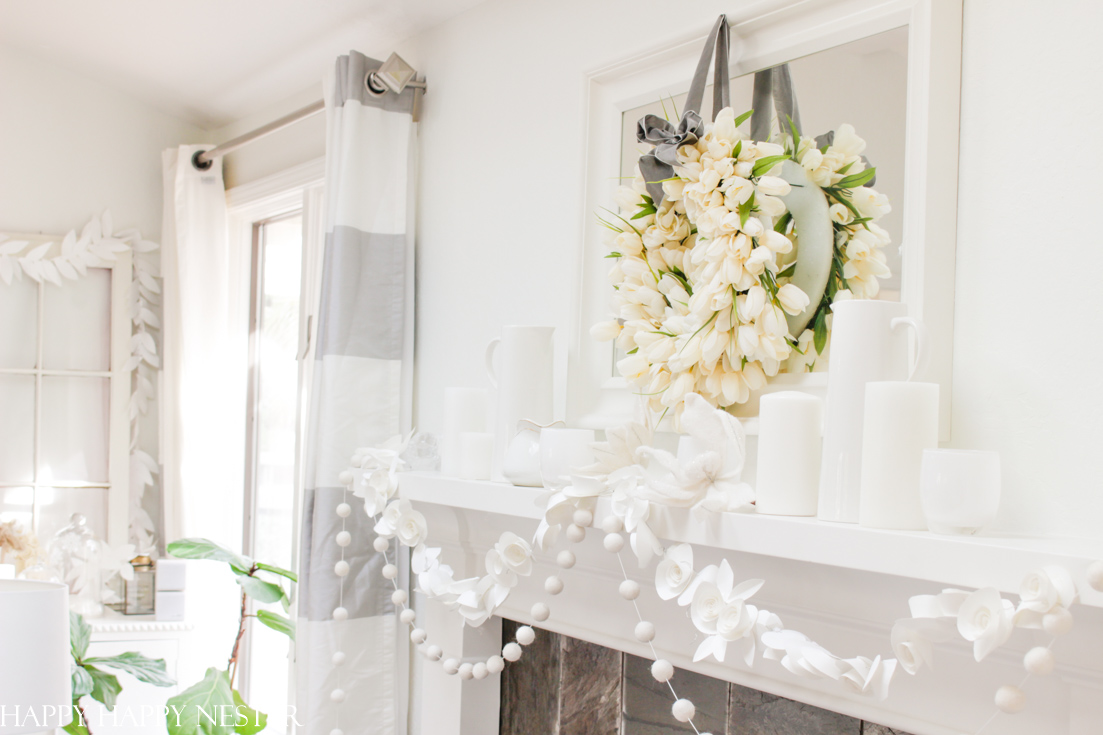 I have a few white and beige wreaths that I have made. But this Tulip Wreath fit the bill for this winter mantel. Its buttery color gives it a romantic vibe, which is perfect among the sea of white decor. I have to tell you that his wreath is easy and fun to make even though it looks rather complicated and sophisticated.
WHITE CANDLES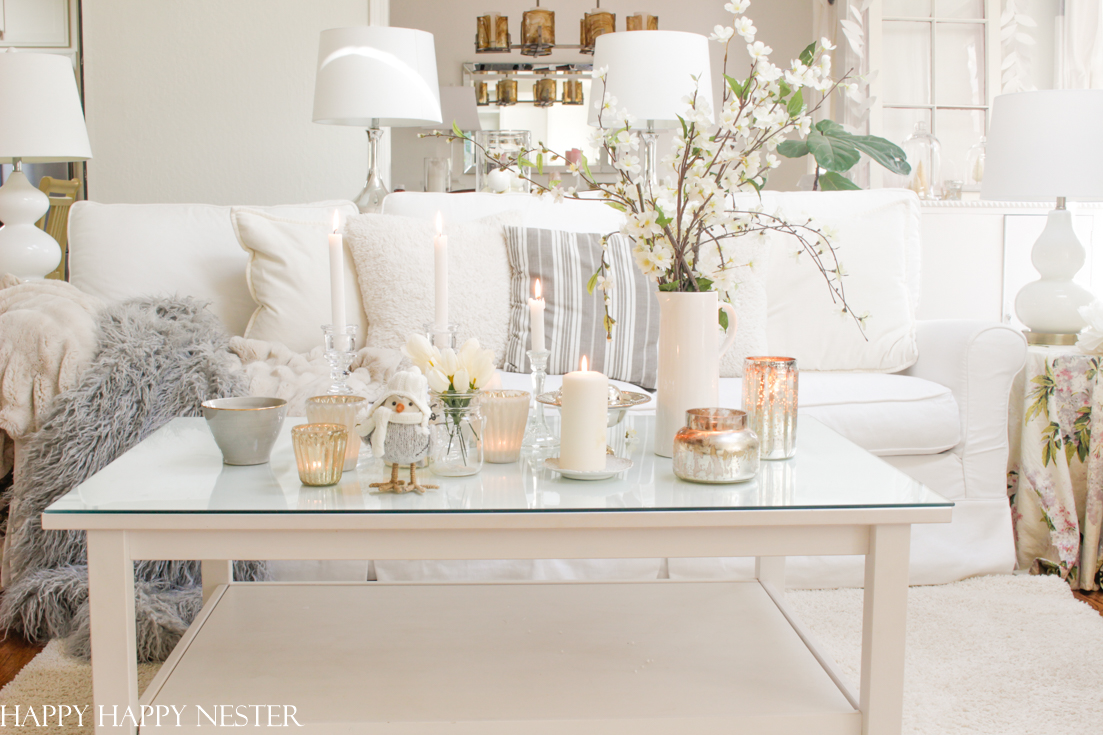 I have a cabinet full of white pillar candles, candlesticks, and candle holders. And this supply (I love this shop for my candles) came in handy this time since I'm not shopping in stores during our statewide lockdown.
Yeah, I happy to say that I spent no money on this post of winter decorating ideas. It was difficult not to buy fresh flowers, but I used some of the faux white flowers that I always have on hand. Hooray!
A BIT OF CHRISTMAS DECORATIONS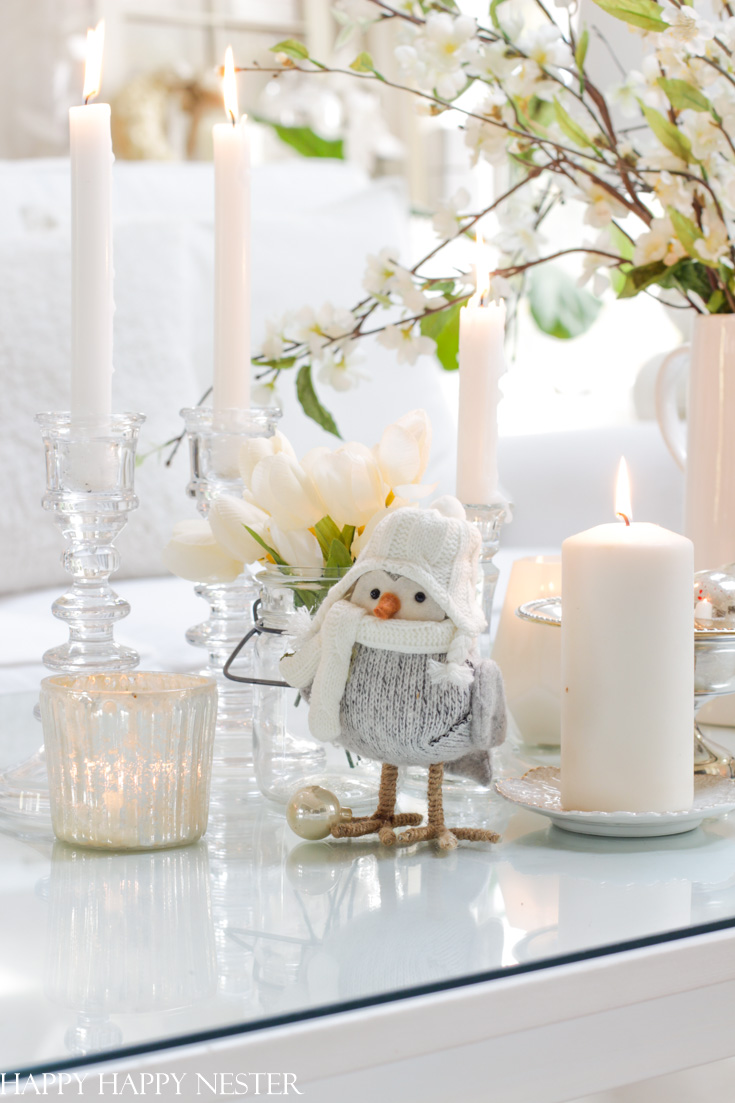 Oh, I lied. I did rummage through my holiday decorations and pulled out this cute winter bird. And, of course, I keep my silver and pink Christmas ornaments out all year round for some extra sparkle.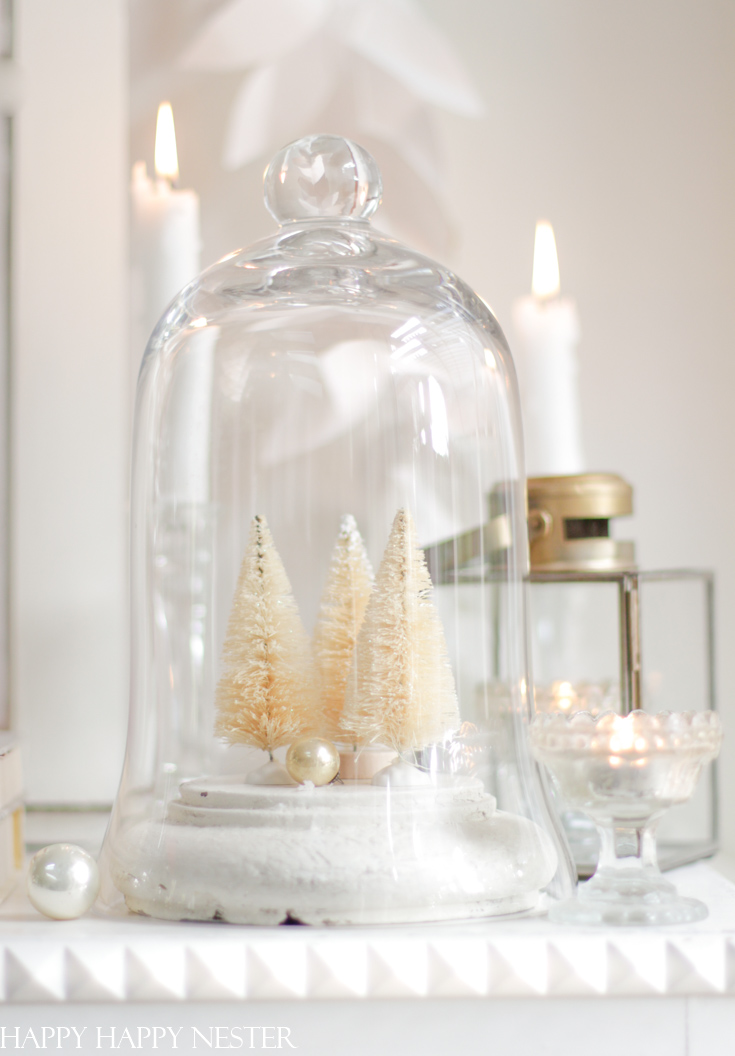 These sisal bottle brush trees are adorable. They add a bit of fun to winter decorating after Christmas. The trees provide a fun transition from Christmas, winter, and spring.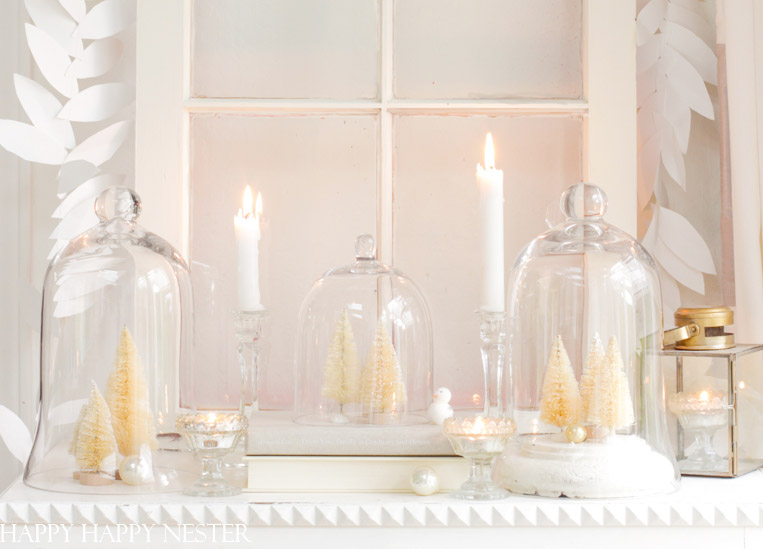 And I dug out my bottle brush trees from my packed up Christmas decor. I have no pride!
NEUTRAL COLOR PALETTE
Here are the colors I focused on when decorating our winter living room:
Warm White
Gray
Silver
Gold
Lime Green
Warm White – After I purged my holiday decorations, I was left with a mostly white room. I tried adding a bit of light pink, but it didn't quite feel right for winter. So, I pulled out all my white candles, vases, pitchers, and votives and began placing them on the mantel and coffee table. I left out any white accents that leaned to the blue spectrum.
Gray – I dragged out my fun gray and white striped drapes (they no longer carry my drapes, but these are similar) and just added them to my white drapes. Enjoy changing your drapes with the seasons.
Silver – Silver echoes the gray in the room, and it's a shiny version. Adding a bit of sparkle is a good thing.
Gold – A lighter version of gold is found in the buttery tulip wreath, mercury candle holders, and the bottle brush trees. Gold adds inviting warmth to a room.
Lime Green – I added a touch of spring green. It's fresh and happy, which we all need these short days of winter.
I'm currently sitting on the sofa writing this post, and I'm scanning the decor. And I'm quite happy that I invested the time into creating a fresh look for our living room. It's warm, light, and cozy, and very positive and cheerful. Just what I need during these difficult days of the pandemic.
Cheers and Happy New Year to you all!

My Friend's Winter Decorating

DIY Giant Wooden Winter Snowflake // Tatertots & Jello
Winter Decorating Ideas in the Living Room // My 100 Year Old Home
Cozy Winter Decor My Way // Twelve On Main
Simple Ways to Add Warmth to Your Home // Lemon Grove Lane

Cozy, Scandi Inspired Faux Fur Stool Upcycle // The DIY Mommy
How I Decorate After Christmas // Modern Glam
8 Winter Decorating Ideas // Happy Happy Nester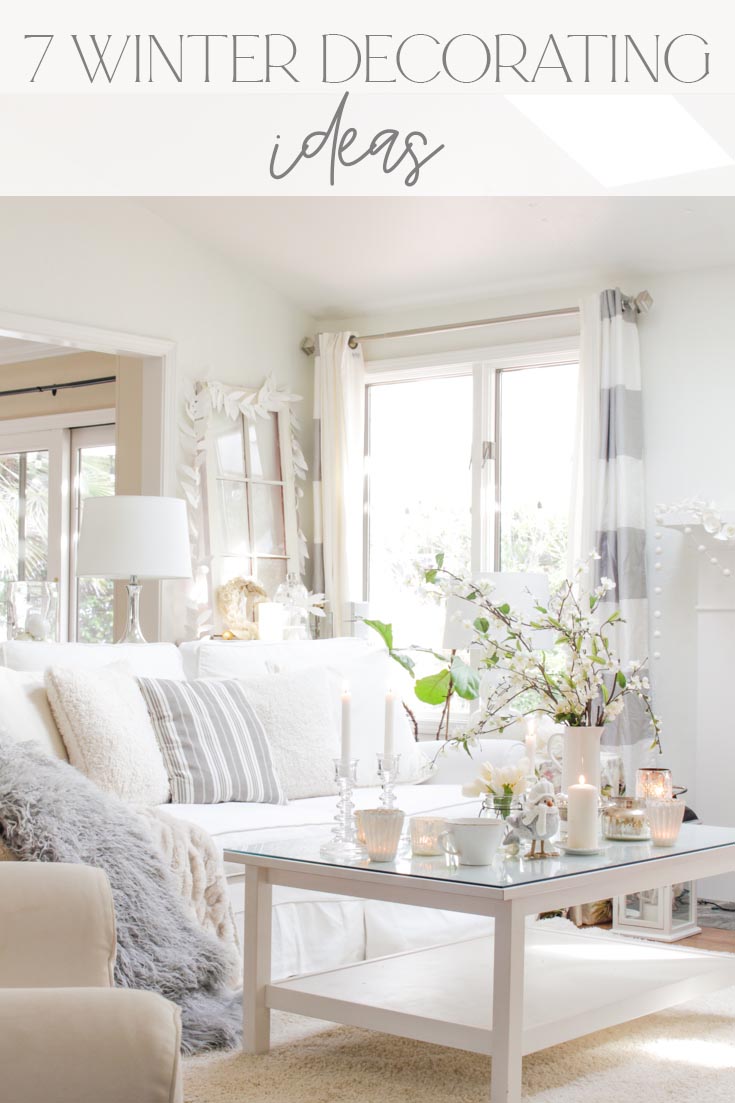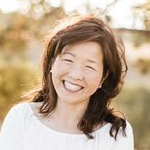 Latest posts by Janine Waite
(see all)