I'm so into the Christmas movie Elf, and as most of you know, I'm obsessed with everything paper. So, it made sense this year that I try Decorating Like the Movie Elf.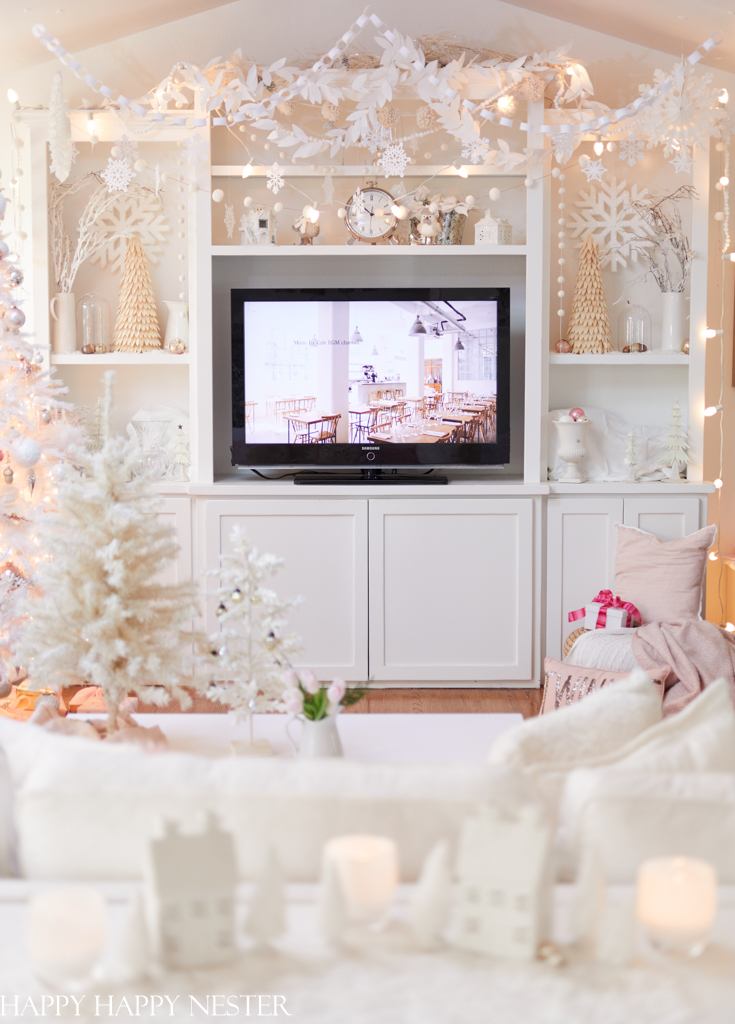 You see, every year when I start decorating our home for the holidays, my husband calls me Buddy the Elf.
One year, I decorated our living room with some paper book leaf garlands, and last year I decorated our mantel with a paper leaf garland. If you look closely, you can see it on my entertainment center at the top.
So, this year I embraced the paper decor and created a frosty forest in our living room.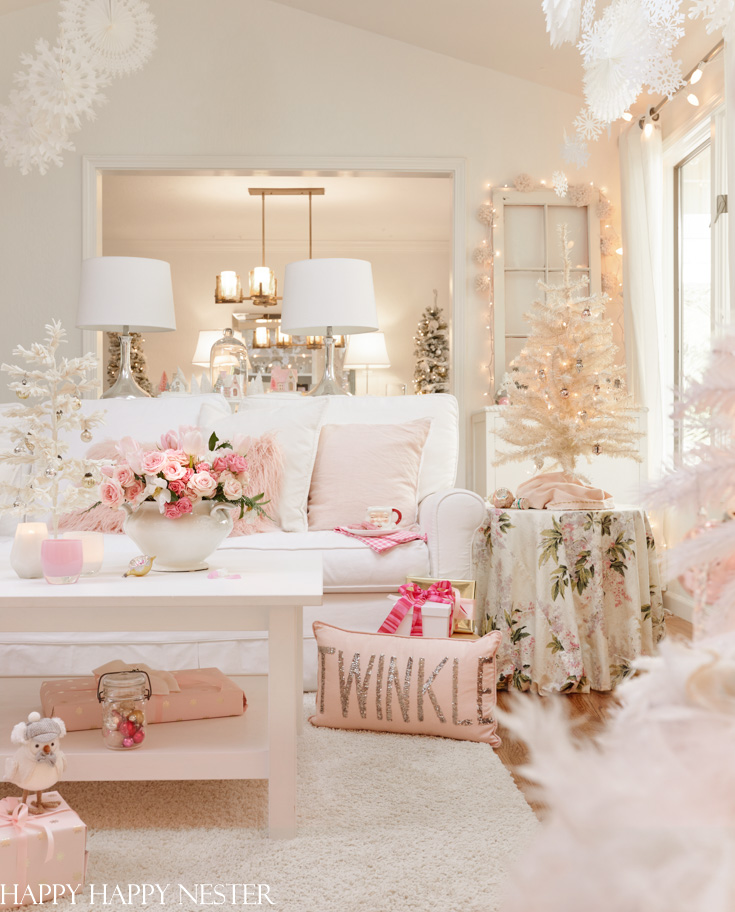 About a month ago, my daughter and I watched the movie Elf for a little inspiration. I had my cellphone ready for taking photos of all the scenes of the paper wonderland.
Studying all the paper decorations is my idea of heaven.
I got busy and began creating all the various elements I needed to decorating like the movie Elf!
But, before we dig into the details, I want to mention that my friends and I are a part of a Holiday Bloggers Best Series. We are all featuring one room in our home and sharing it over two days, Thursday and Friday. So make sure to check out the links at the bottom of this post.
*The following post contains affiliate links
The Elements to Decorating Like the Movie Elf
Let's take a look at all my crazy shenanigans that went into styling our living room.
COLOR CHOICE
I had a false start in the color department.
Let me backtrack a bit. My original idea was to copy some of the scenes in the Elf movie. I noticed that the sets had lots of white paper, gold, and light blue. And I love how these colors accentuate the icy, snowy snowflakes. I wanted to use the blue, but I worried I couldn't pull it off, so I thought red would be fine.
My first attempt at the living room decor was red and white. And as you know, I'm not very passionate about the color red. And maybe it showed in my decorating. Now that I think about it, the color red doesn't embody an icy, wintery style.
Now, fast-forward to weeks later.
I decided to decorate with white and place a couple of splashes of pink. I did consciously let the white dominate the room since it creates cohesiveness rather than chaos. All the layers and textures are the keys to decorating like the movie Elf. In this case, more is better.
GARLANDS
If you have watched the movie Elf, you may have noticed all the wonderful paper garlands. Well, I got busy creating a ton of playful holiday decor.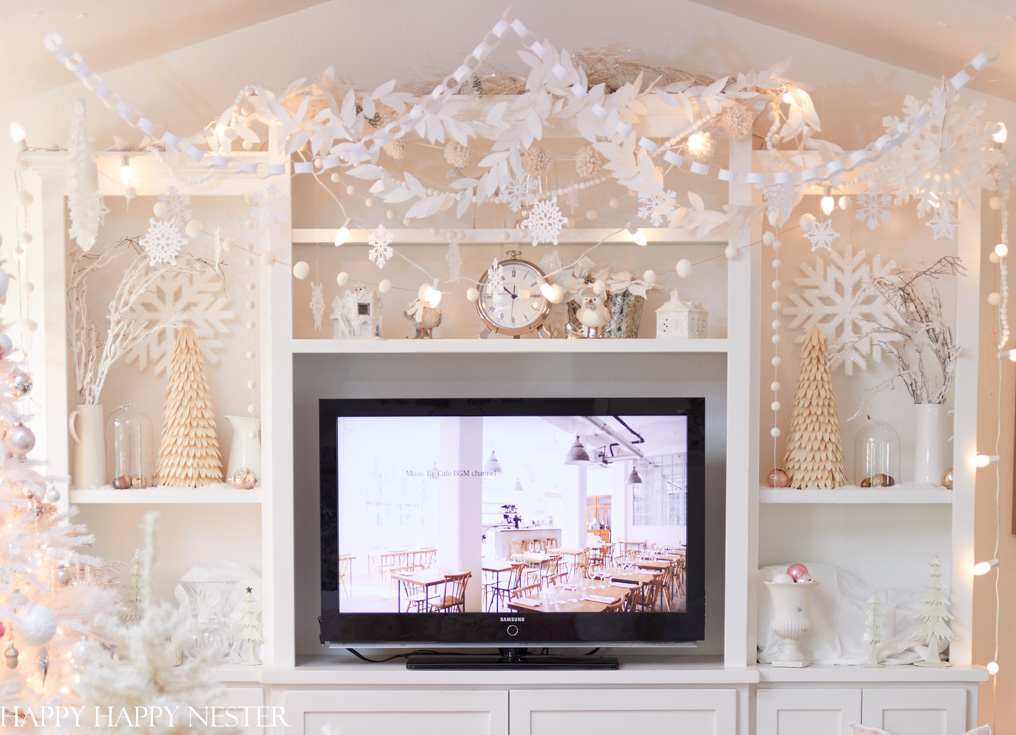 Paper Chains
My daughter made these for me. It did cross my mind that I should cut them out on my Cricut machine but in the end, I decided my handy dandy old-fashion paper cutter would be more efficient. So each link measures 1 inch in width and 5 1/2 inches in length. Your 8.5″ x 11″ computer paper should be vertical and then cut your strips. Next, we made our chains and just used a small piece of tape to secure the links together. Make them as long as you need them to be.
Paper Leaf Garland
I love this white leaf garland and I feel the haphazardness of draping them adds to the fun. You can find this tutorial here.
Snowball Garland
For this garland, I got the idea to take the family indoor snowballs and string them together. I was delighted at how easy this project turned out, and I love how cute they are. Here are the snowball garland post and all the details.
Wool Ball Garland
Alas. I didn't make this garland and I bought it from an Etsy shop. I totally wanted to buy some colorful ones, but I knew that I needed to stick to a white theme.
SNOWFLAKES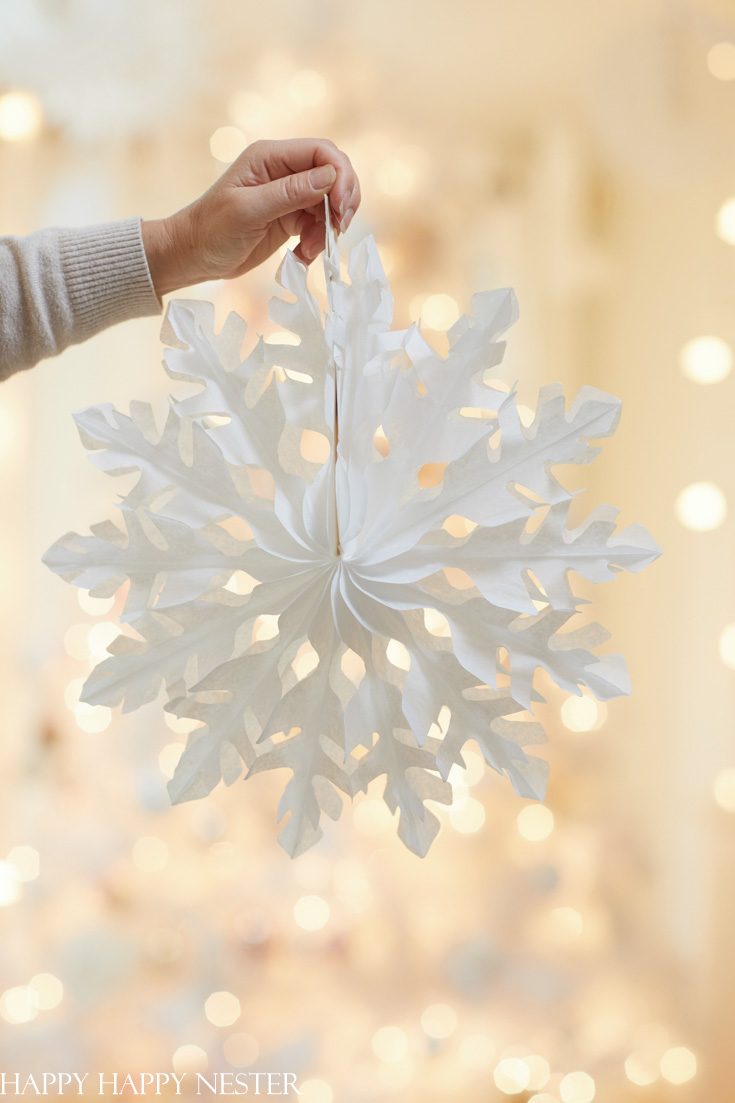 Tissue Paper Snowflakes
I always loved these honeycomb-style snowflakes. I bought them long ago, and I pull them out every Christmas. I plan to buy more since next year I'll add more of them to the living room. I can never have enough snowflakes. But if I were truly decorating like the movie Elf, I would make these snowflakes by hand!
Paper Snowflakes
I'm going to write another tutorial on making paper snowflakes in the Cricut machine. But for now, you can buy them over on Etsy. I bought some and I'm pleased with how they look. And since the shop I bought them from is taking a break, here is another link with more snowflake options.
Old Fashioned Christmas Lights
As a little girl, we had these old fashion lights. I spied strings of them in the Elf movie, so I decided early on that I would decorate with them. I happened to have some extra strings of outdoor lights, and I bought the ceramic white bulbs and just changed them out with the new ones. If you don't have a white cord, then here is the link to a string of them.
Just a little note, these bulbs are C9 in size, and they have a specific cord that houses these bulbs.
OTHER WINTER DETAILS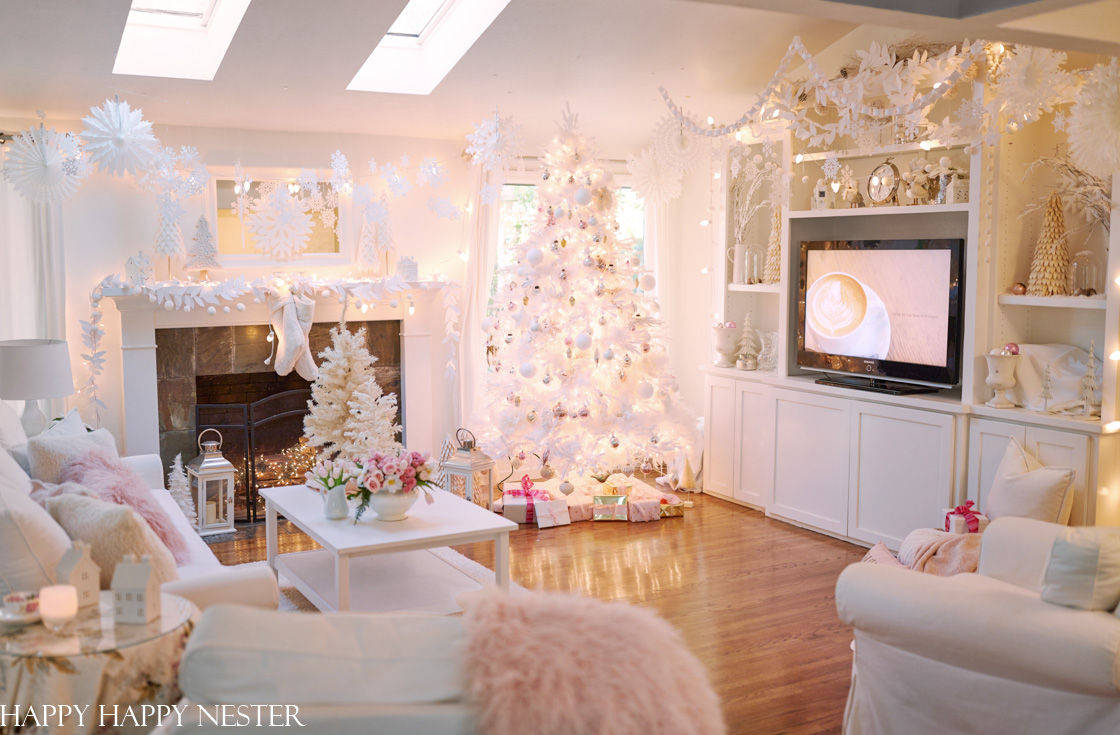 Fake Snow
In the movie Elf, they place white stuffing around the set to imitate snow. When I used the white pillow stuffing, I noticed that it had a pretty blue hue to the material. So, I opted to sprinkle the fake snow on my shelves and mantel. Yup, we have a light dusting if things get moved, but I do not have to dust the upside to all of it!
Trees
This where I added my own touches to my holiday decor. Here is my vintage tree. I wish I had bought its twin at the Alameda Antique Faire. But, alas, I have this one glorious tree. I have looked everywhere for another tree like this, but come up empty-handed.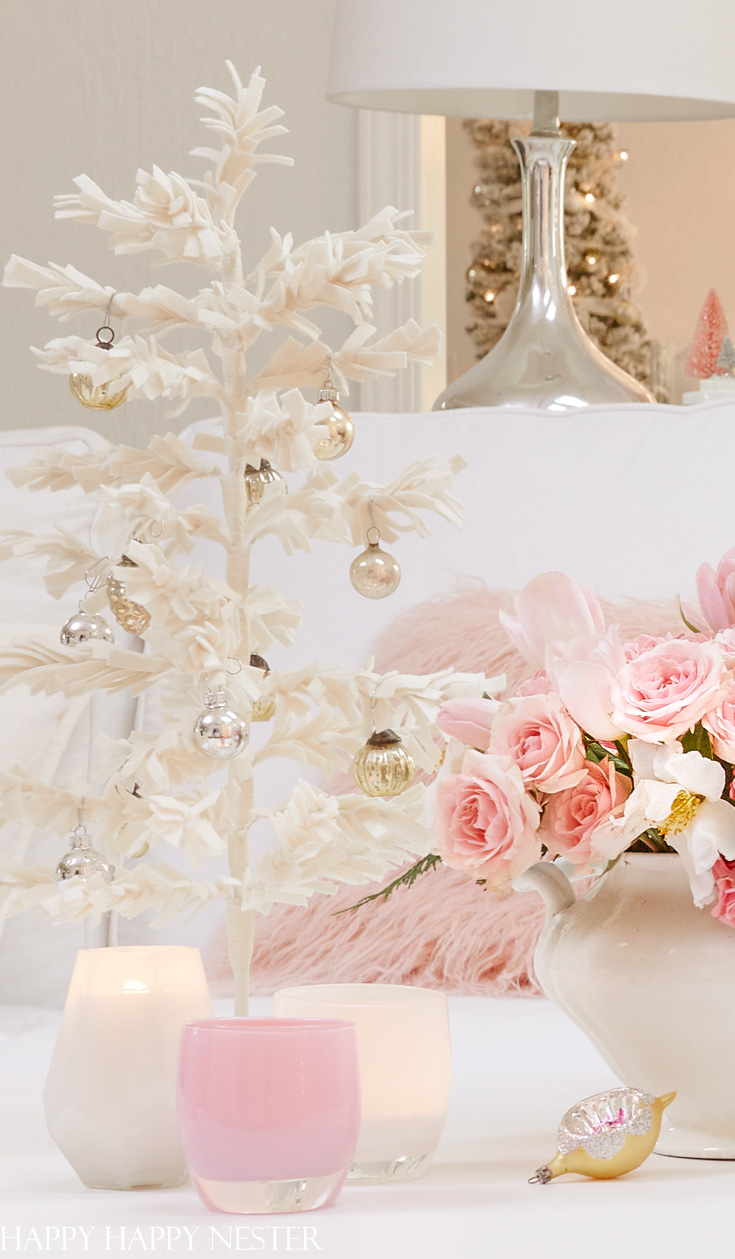 I created this wool tree this fall. It is from a kit that I bought on Etsy. I did purchase two kits, but I haven't had the time to build it. Maybe next year, I'll complete it, and you'll see it appear on my holiday tour.
Flowers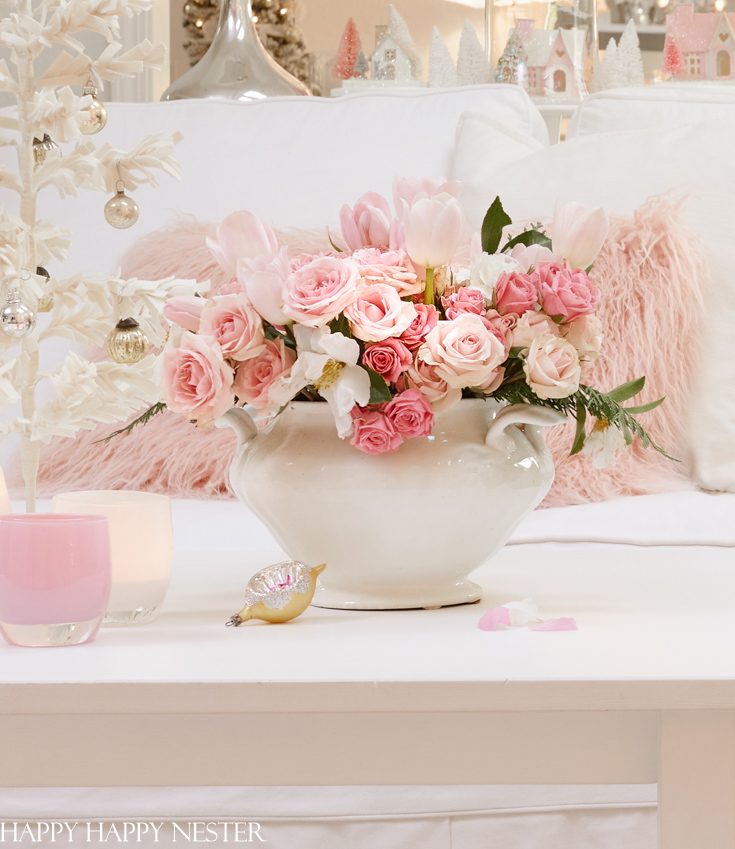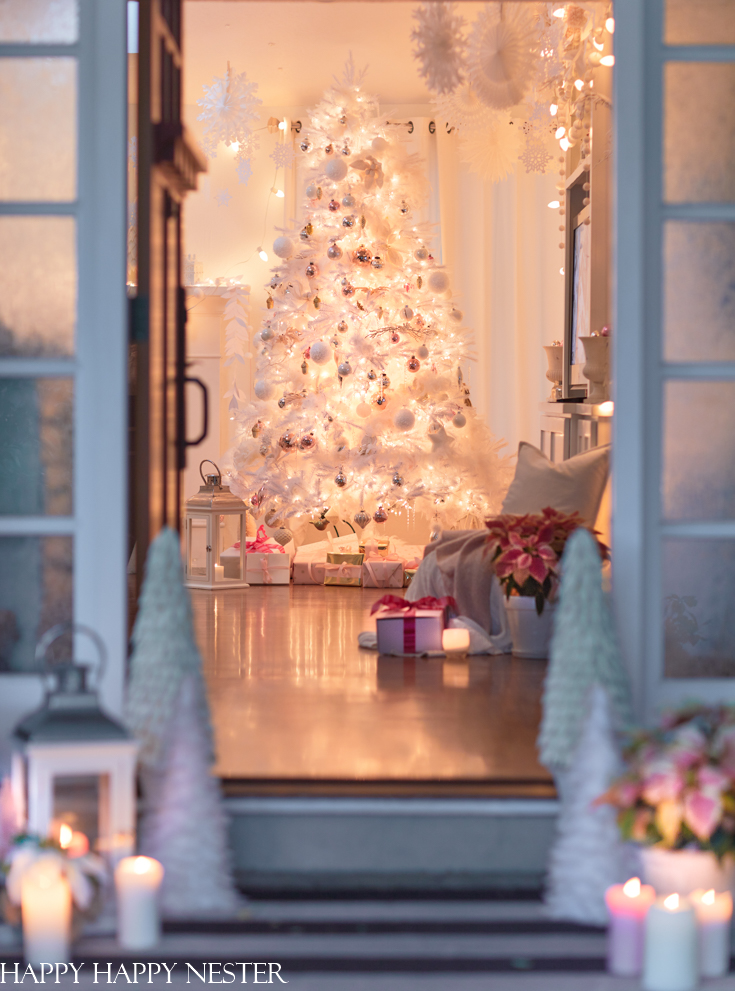 Every time I walk into the house and spy my living room, I smile and get a warm fuzziness inside. My husband and daughter admire and enjoy our cozy living room. I can't wait to tackle our bedroom with more snowflakes and garlands. Thanks for your visit and make sure to check out my private Nester's Circle where we love to craft.
Until next time, stay safe and healthy and enjoy this time with your family.
Cheers,

22 Beautiful Holiday Home Tours
Sharing Thursday…

Cozy Christmas Kitchen // Modern Glam
A Pink Gingerbread Christmas Home Tour // The Ginger Home
Christmas Home Tour Part 2 // Finding Lovely
Christmas Kitchen Decorating Ideas // Jennifer Maune

Mid Century Modern Christmas Styling // Grace In My Space
Elegant and Cozy Christmas Bedroom // Styled With Lace
Flocked Christmas Tree Decorating Ideas // Maison de Pax
Decorating Ideas For Your Bedroom // My Sweet Savannah

Rustic Copper and Gold Christmas Decorating Ideas // Sanctuary Home Decor
Christmas Touches In The Kitchen // Sincerely, Marie
Minimal Kitchen and Dining Room Christmas Decor // Inspiration For Moms
and Sharing Friday…

Decorating LIke the Movie Elf // Happy Happy Nester
Our Home at Christmastime // Lemon Grove Lane
Modern Cozy Scandinavian Style Christmas // Your Marketing BFF
Hygge Scandinavian Christmas Bedroom // Hallstrom Home

Cozy Christmas Living Room Decor // My 100 Year Old Home
Blue, Burgundy and Brown Christmas Living Room // A Blue Nest
Christmas Decorating Ideas for the Kitchen // The Happy Housie
Farmhouse Christmas Tour // Thistlewood Farms

Christmas House Tour // Craftberry Bush
Cozy Christmastime // Dreaming of Homemaking
Cozy Christmas Living Room Decor // Twelve on Main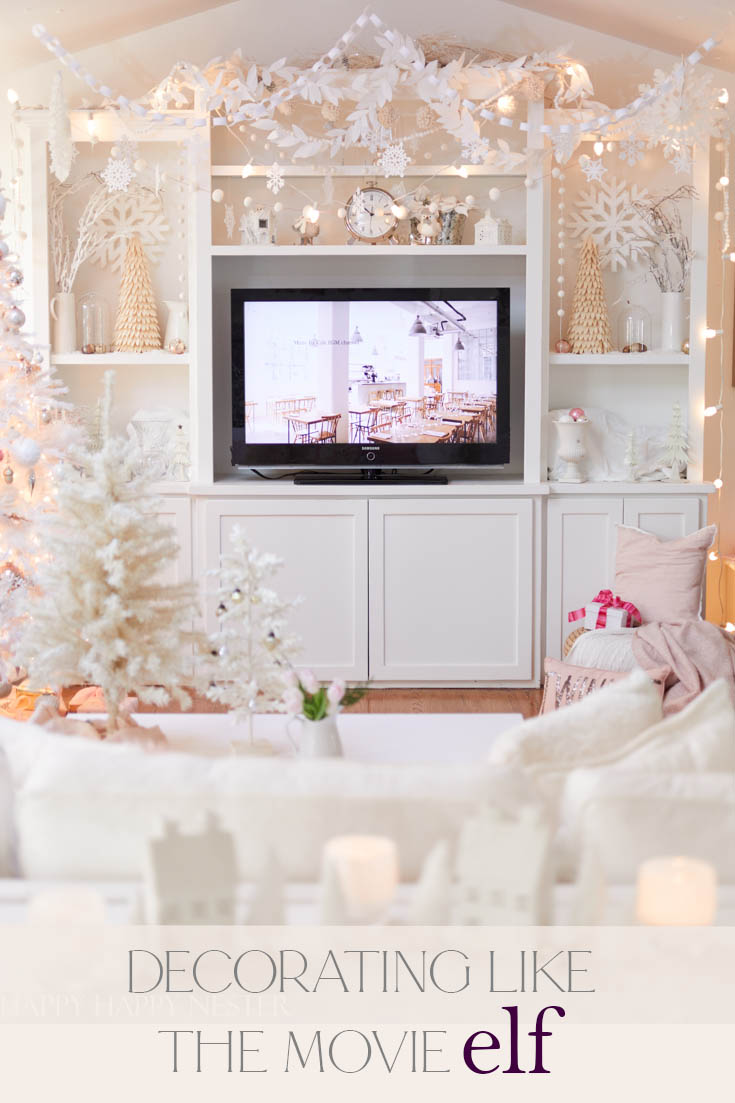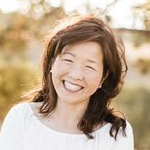 Latest posts by Janine Waite
(see all)