This year we have a Red and White Christmas Tree in our cozy living room. I love how this color combination resembles striped candy canes and is so fresh and festive. I added some paper snowflakes around the tree and added red and white striped ribbon for added accents. Learn how I created this bright and merry Christmas tree.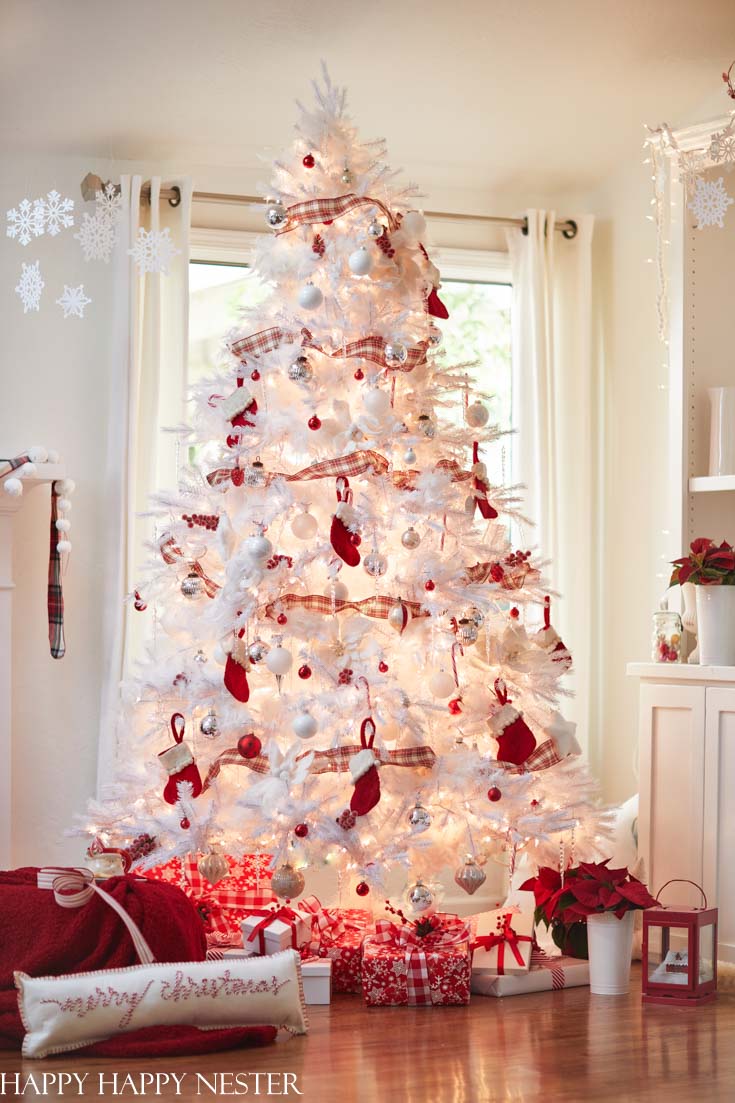 But, decorating with red can be tricky, so let's look at how to style a tree with this bright holiday color. As you can see, I love the crisp look of red and white.
This is my favorite time of the year. Anyone else? There's so much to love about this season such as driving by houses full of Christmas lights, warm seasonal drinks, and lots of baking.
Well, come on in and join my Christmas Tree Tour! If you have followed me for a while you know that I have quite a few Christmas tours from many years of decorating. Here are a few from my past:
Easy Ideas for Christmas Decorations
Let's get this tree tour started. So, grab a hot cocoa and enjoy this post.
How to Style a Red and White Christmas Tree
I have to admit that I've shied away from decorating our tree in red. I feel to pull red off in decorating is a difficult task. I did have a brave moment a couple of years ago, and you can view that red and white holiday tour.
But, when trying to decide on my holiday decorations, I had a little conversation with myself. There is a reason that most stores and magazines showcase red in their photos. A vast majority of the population must love red. So, I semi took the plunge since I eliminated the green and chose red and white as my theme this year.
My one comfort while embarking on this new journey is how red stands out so nicely against white. I quickly realized that I love red and white candy canes, and that is my inspiration.
Ok, let's go over all the elements I considered in styling my tree.
WHITE TREE
*The following post contains affiliate links
Alright, here's the moment we have all been waiting for. Everyone always asks, where is your tree from? So, here is my answer.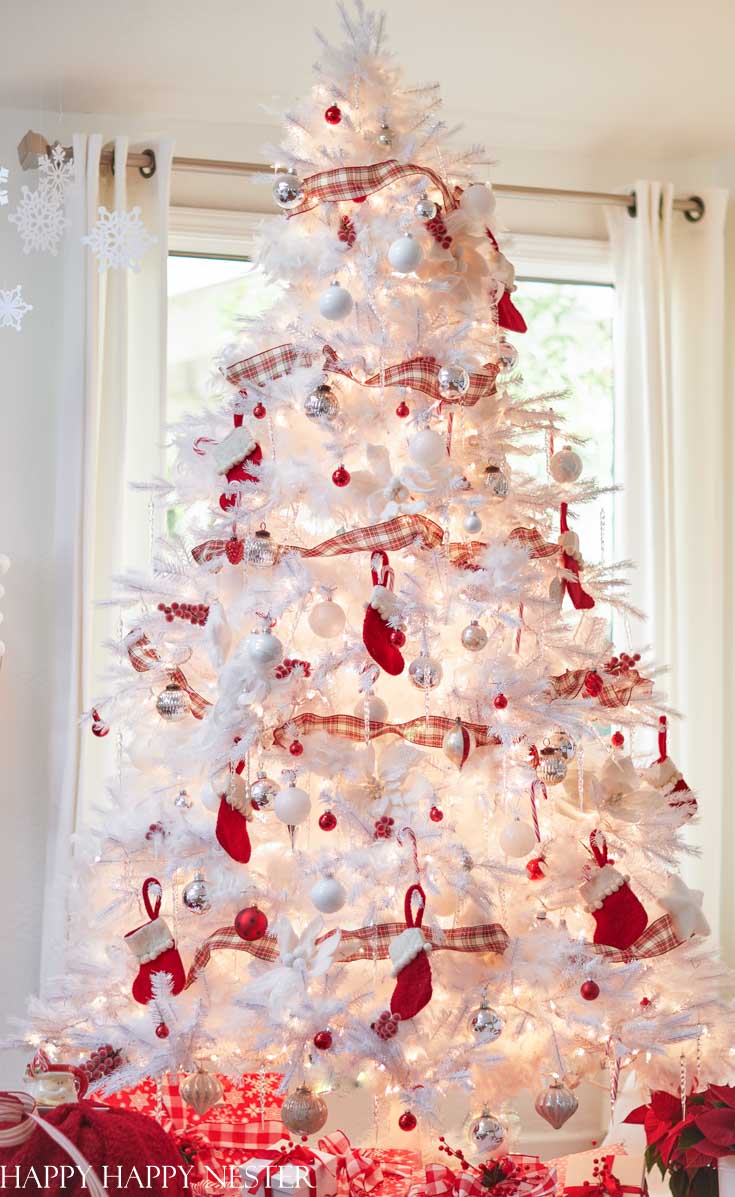 My faux all-white tree is from King of Christmas, but unfortunately, they no longer carry my tree. But, here are a few over on Amazon.
I'm not too fond that my tree is a bit on the blue side, so I took off all the LED lights and replaced them with incandescent twinkle lights. Here is the link to the lights I bought. Just FYI, it takes a lot of time and lights to string a tree. 🙂
I love the all-white tree since it is the perfect background for the red and silver ornaments. I knew that a green tree would be the complementary color to red, and both colors try to dominate each other. Plus, I wanted a light and happy tree this year, and white was what I needed to pull it off.
ORNAMENTS
I think hanging ornaments is my favorite part of decorating the tree. Every time I open a box, I come across special pieces that remind me of when my kids were young or even when I was a child. Decorating my Christmas tree every year means filling a space full of family memories and good times.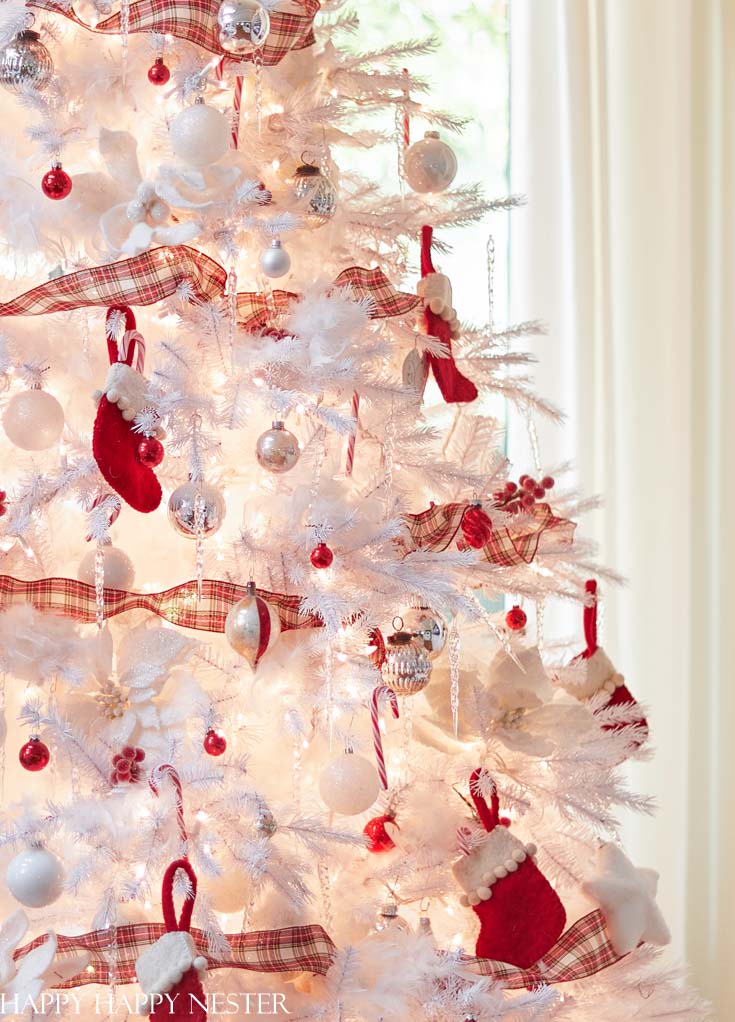 I initially tried a few red glass ornaments, and they overpowered the tree. So, I paired down to my little vintage red balls. Then I decided to use silver and white ornaments mostly. The silver adds such a nice sparkle and still stands out on the tree. The white tree and the silver are analogous colors, but the shiny silver pops!
And don't you love those adorable minis felt stockings? Here is the link to them.
As a side note, I love my plastic clear icicles. Here is the link to a few different types.
LIGHTS
I might be the only person on this planet who enjoys stringing a Christmas tree with twinkle lights. Yes, it takes time (sometimes longer than we had hoped for) but, nonetheless, the outcome is stunning. I adore the glow of twinkle lights and the cozy vibe it creates in my home.
This all-white tree came with LED lights that cast a blue hue. So, I stripped all the lights and replaced them with incandescent warm twinkle lights. My tree is like a 7-foot tree, and I used 1200 lights. I kept having to buy more lights from Amazon. It was worth the investment of time and money to restring my tree since I love the warm glow that the lights give off. Also, since my tree has a blue-white color, I always have the lights on during the day and evening.
A little note, they do make warm LED lights, and I bought some from our local Ace Hardware, but when I got them home and plugged them in, they flickered a blue color. So, I quickly returned them. They flickered so badly that they felt seizure-inducing.
So, the moral of this little note is to make sure you buy the right lights!
GARLAND
My Christmas decorating isn't complete without a garland or two. Does anyone else feel that way? Whether you're hanging garlands in your tree or on the mantle, a seasonal home needs at least one piece of fabric or greenery.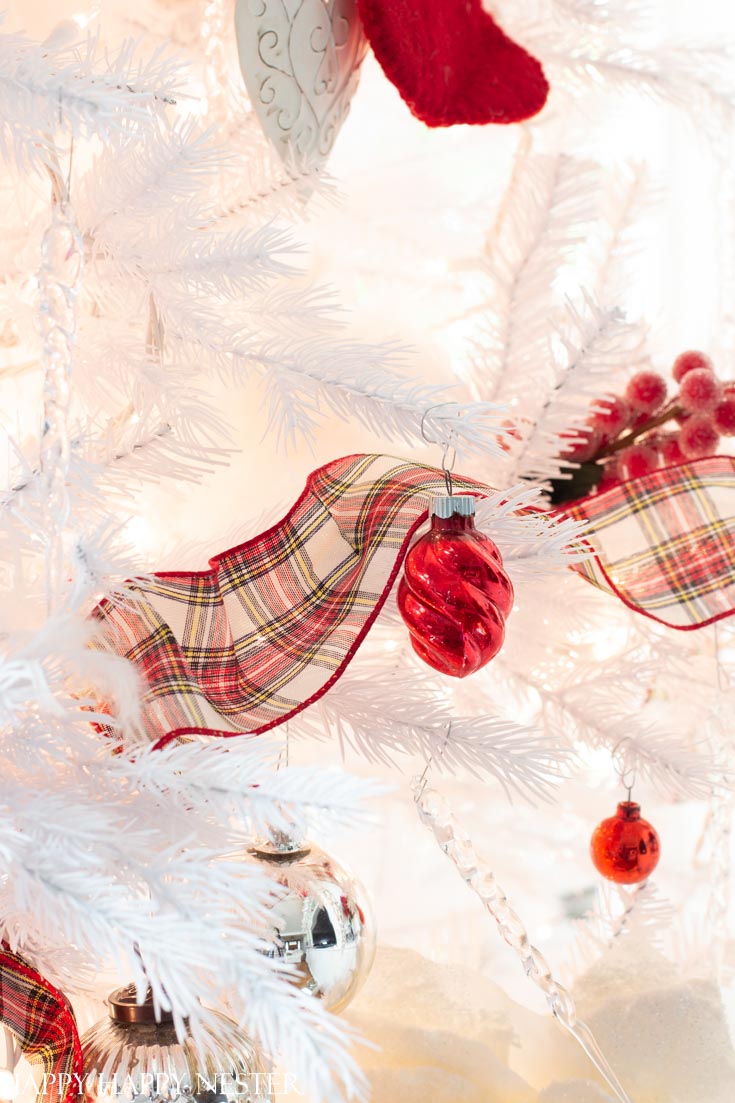 I always use a wide ribbon for a garland. I did have a lighter candy stripe ribbon, but the ribbon got lost when my brother photographed the tree. So, I quickly replaced the lighter ribbon with this darker tartan ribbon. I do love how it came out.
GIFT WRAPPING
I have always gone above and beyond when it comes to gift wrapping.
To make Christmas morning more fun, I tend to wrap presents in different wrapping along with fun patterns of ribbons and ties. In the end, I like to mix and match with my gift wrapping.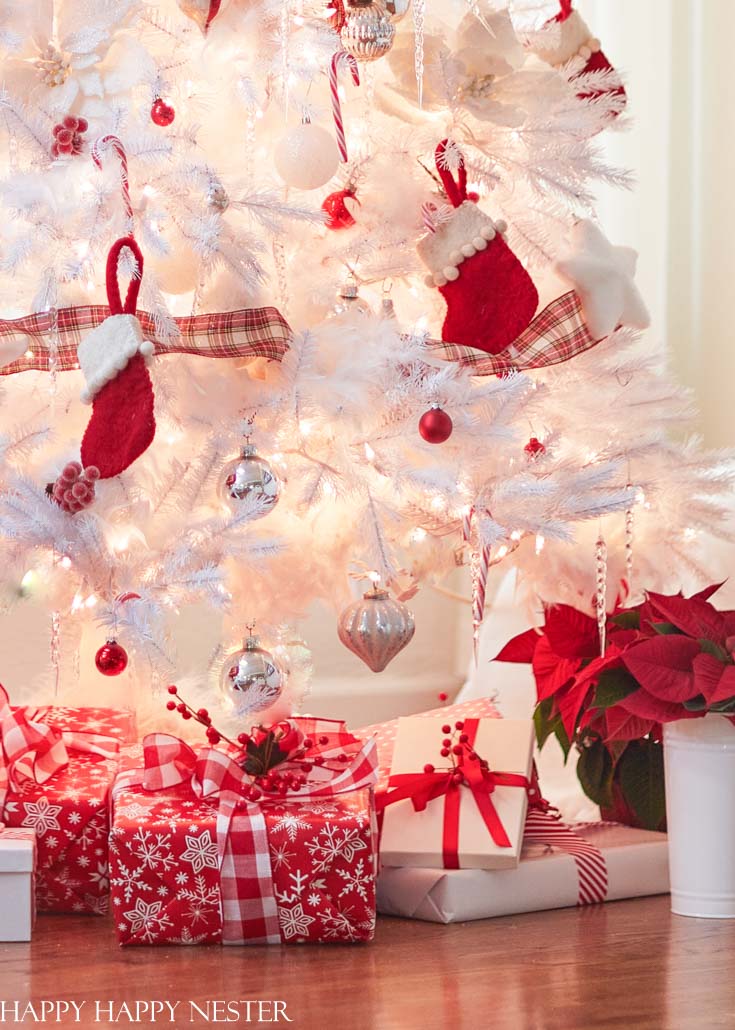 I spied this red and white wrapping paper at Michael's and had to buy it. Unfortunately, it isn't available online. So, I found a few alternatives for you. Here is a polka dot wrapping paper and the snowflake paper as well. I also love the red and white gingham ribbon.
Adding the coordinating wrapping paper finishes off a tree. It's comparable to adding lipstick to your makeup!
TREE FILLER
Now is the really fun part of decorating the tree. Time to add the filler. The best advice that I can give you is just to have fun with this part, and add as much as you like because sometimes more is better, so add what makes you happy.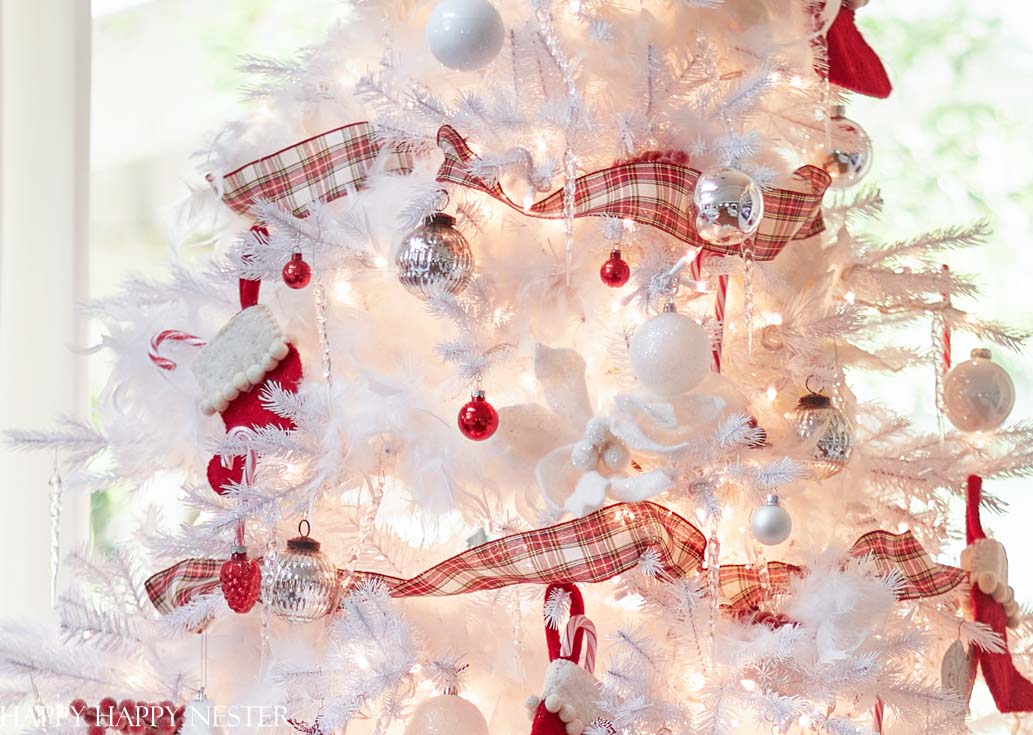 I ended up using three types of fillers.
Feather Boas – I LOVE using white feather boas. They add a snowy element to a white tree. I love to tuck them in nooks and crannies to hide wires and dark spots in the tree.
Also, white felt poinsettias. I bought these last year, and I wish I bought more of them since I can't find them online this year.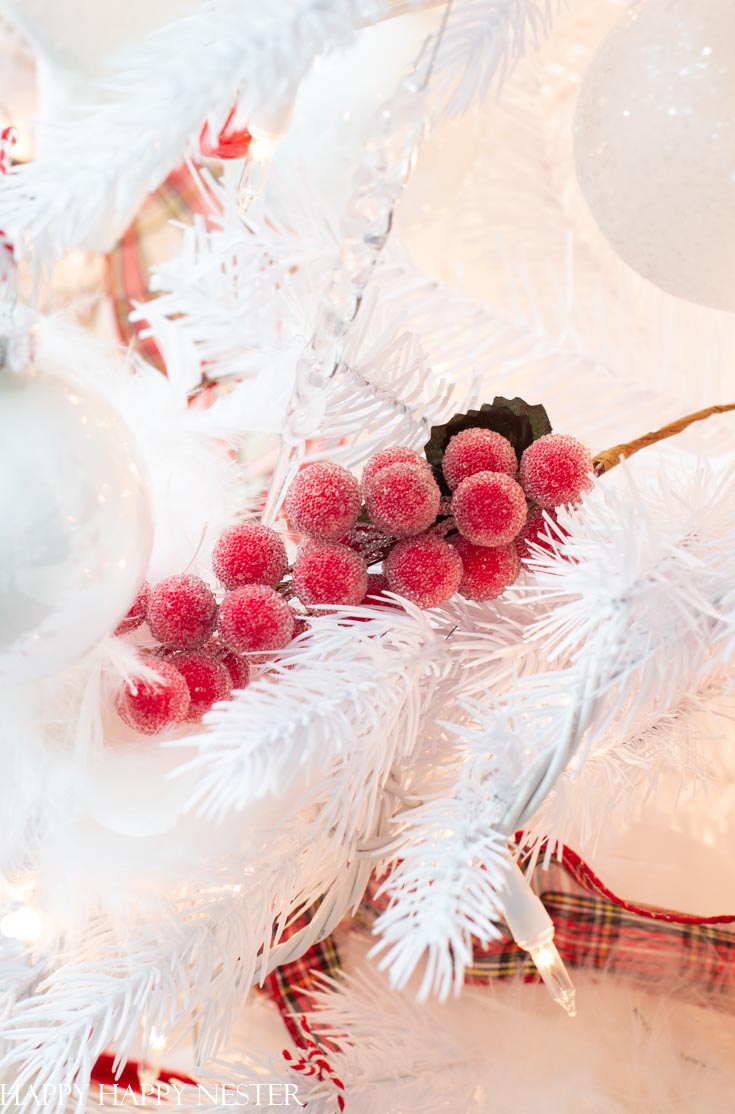 I bought these iced red berries for more red accents. The frosted detail creates a softer red, which is perfect, in my opinion.
In the end, it doesn't matter what you choose to decorate with, what matters is if it makes you happy. This is my version of what makes me happy and I hope you end up loving the final look as much as I do.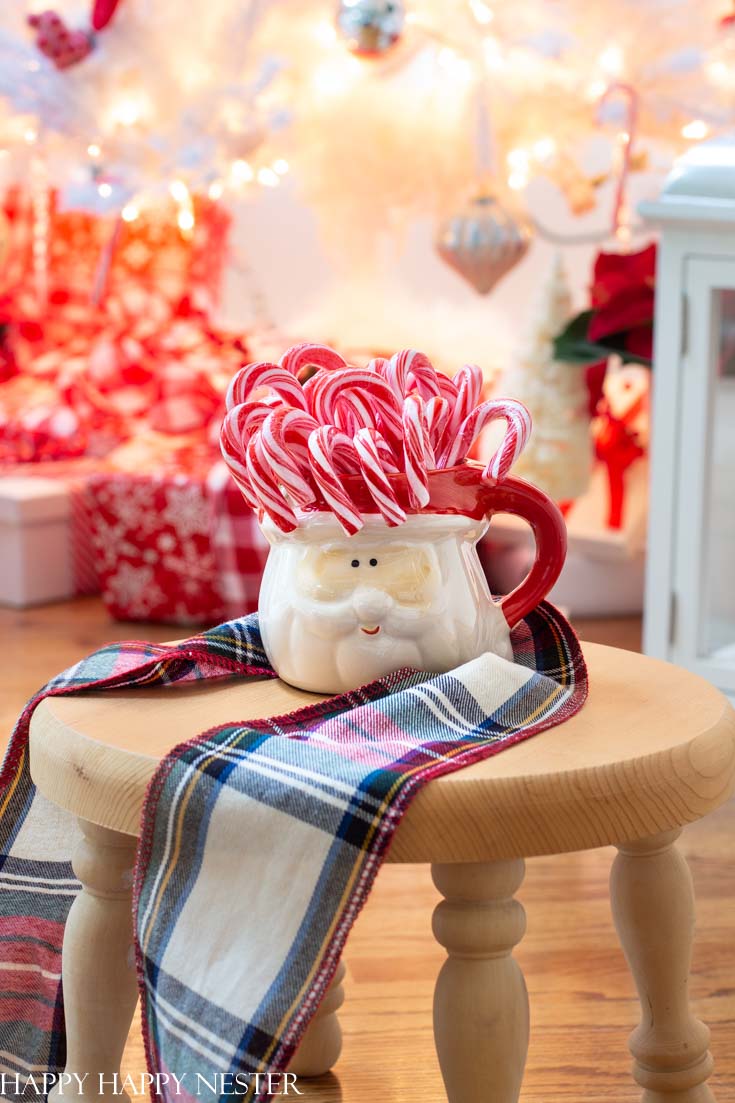 And to think that my red and white Christmas tree idea all started with candy canes' inspiration.
My husband bought three packs of them for me at the store. When he went to buy them, the clerk was like, whoa, that's a lot of candy canes! And he answered you have no idea! You see, I have so a garage full of Christmas decorations. He is such a tolerant and supportive hubby.
Here are the sources for my decorations!
Well, thanks for stopping by today. Happy Holidays to you and your family!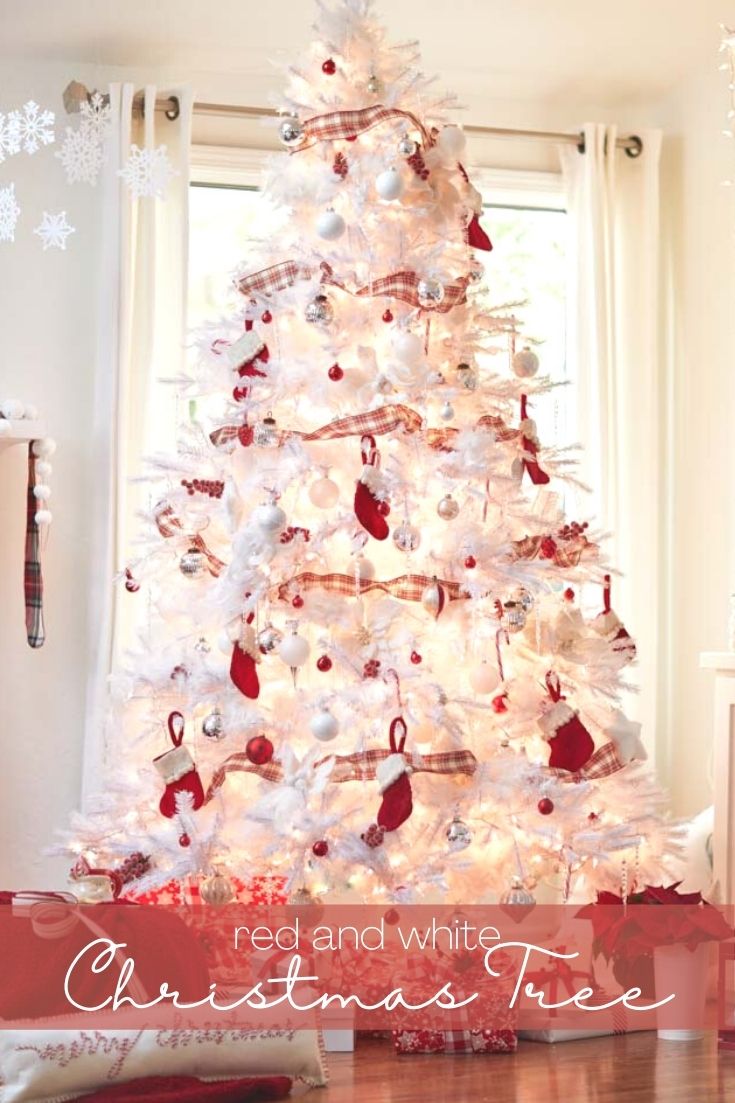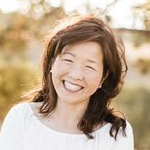 Latest posts by Janine Waite
(see all)