Our holiday home night tour will give you a much-needed break from the long dark winter nights. I love how during winter, it is the tradition to brighten our homes with twinkle lights and sparkly ornaments.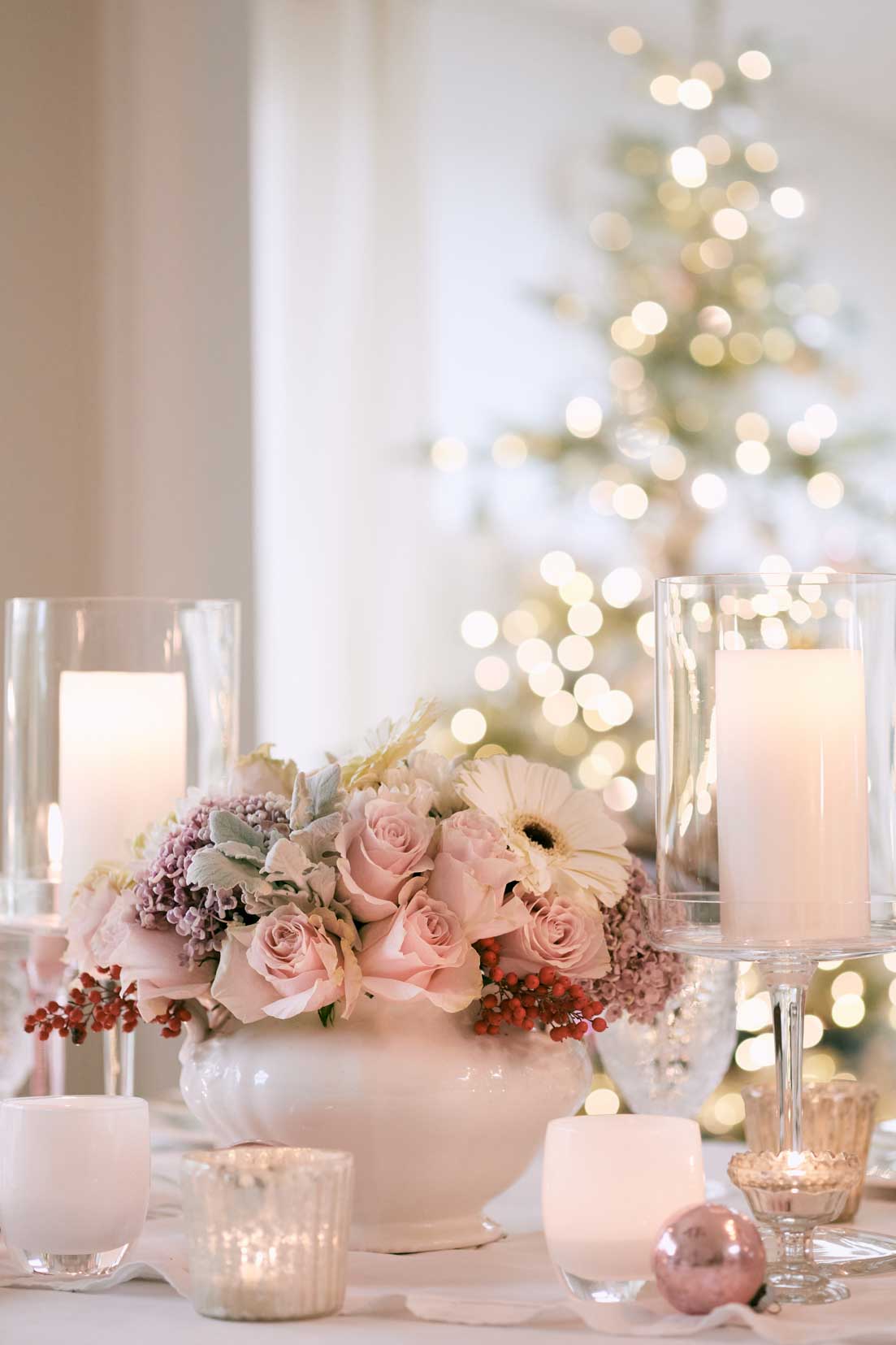 And as we approach the shortest day of the year, I fall in love with all the gorgeous Christmas lights. Well, this post is all about our glowing, sparkling lights. So, thanks for joining this talented group of bloggers on this fabulous Christmas night tour hosted and organized by Rachel Paxton!
Welcome, all of you from Kelly Elko I'm sure you had a lovely time at her beautiful home in Southern California. She is quite a great gardener. Ok, let's get this tour started!
*This post contains affiliate links
Christmas Dining Room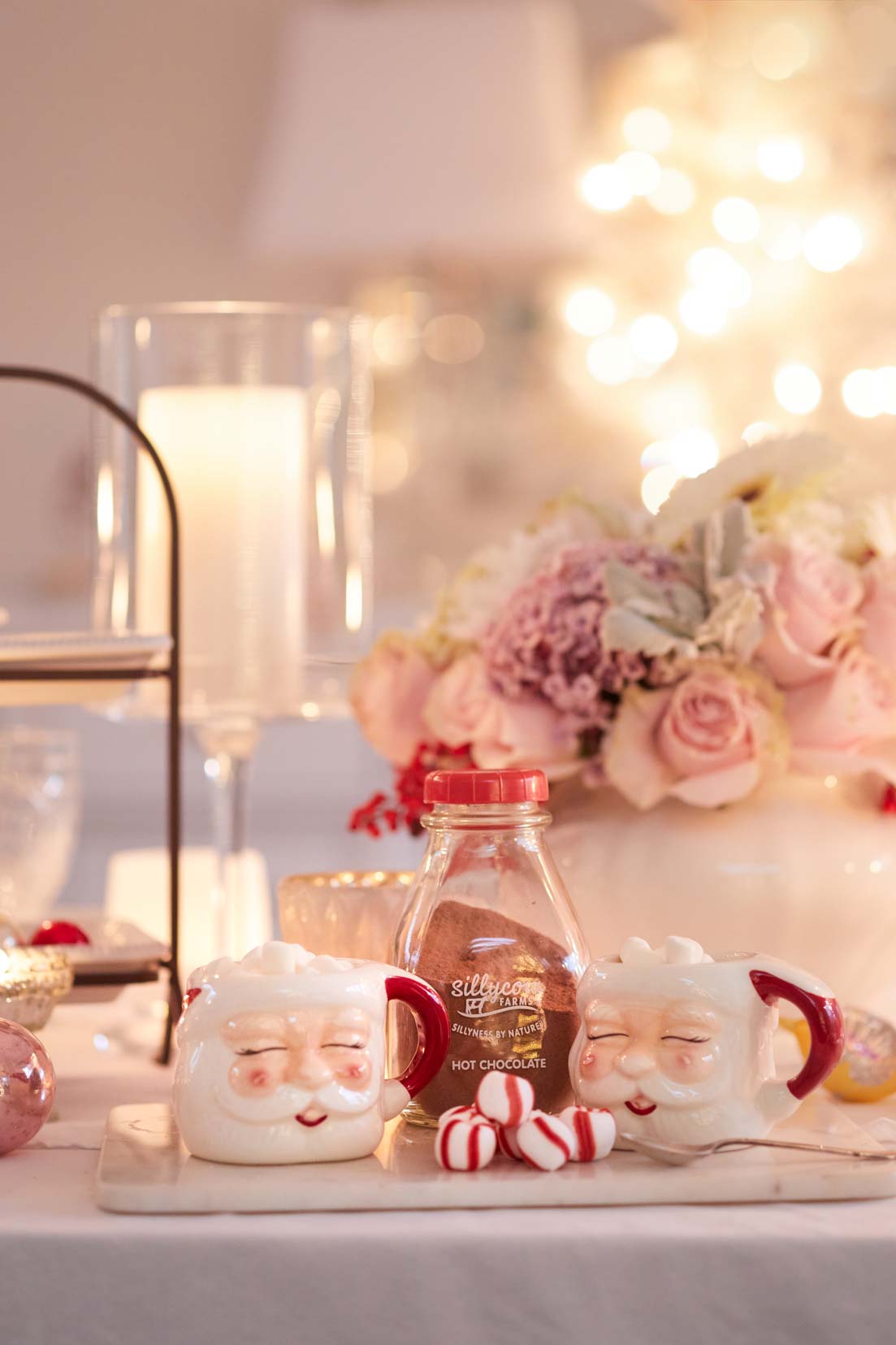 Welcome to our humble, cozy home.
So, grab a seat on a comfy sofa and drink a bit of hot cocoa from a cute Santa mug. Ok, speaking of cocoa, it isn't too late to make my lovely mason jar cocoa gift with tags!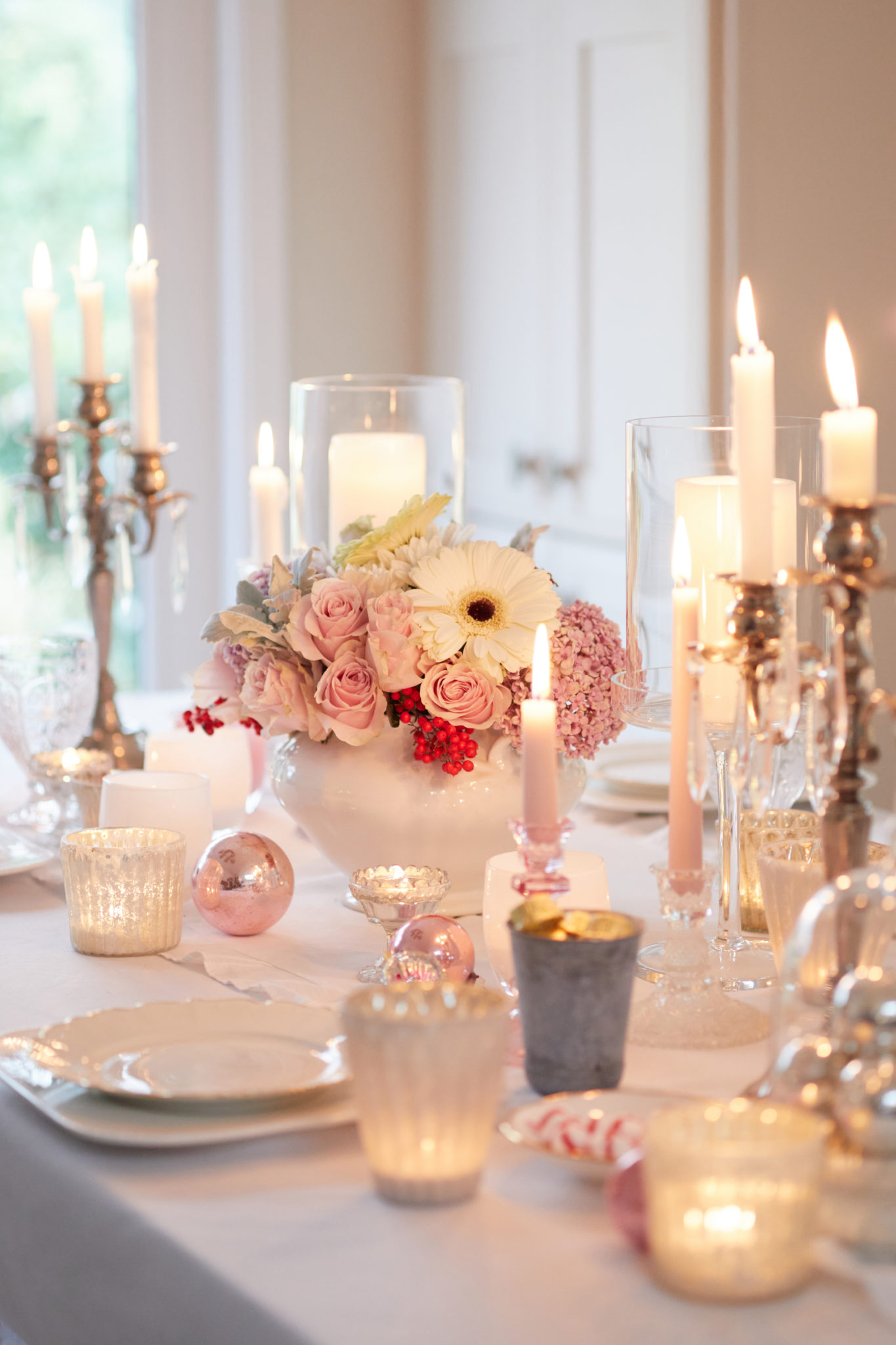 If you missed last year's post, you wouldn't want to miss the wintery front porch. Our holiday home night tour is a little different this year. I'm excited to join forces with my brother, the photographer, Mark. It has been a total joy to collaborate and hang out with him. While we work on projects, there is a lot of laughter as we remember doing this many years ago when we were just teenagers.
I can't help but feel my mom smiling down from the heavens with a smile as she watches us create our photographs.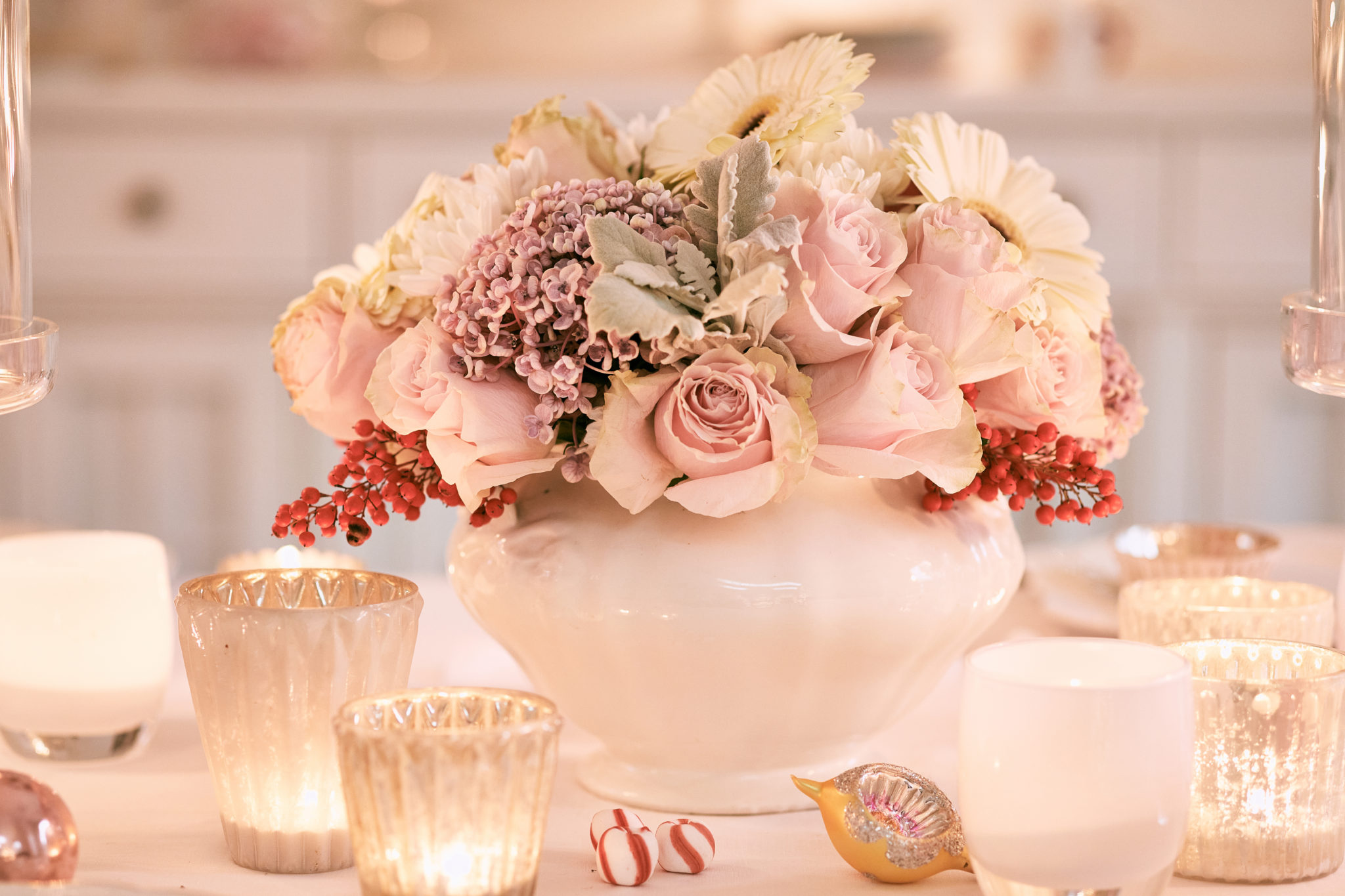 This is my latest flower bouquet. It has pale pink roses, and I added Nadina berries and dusty miller from my yard. Those old fashioned pink and purple hydrangeas are from a local flower farmer who lives in Monterey. I love to pull things from many sources, and it is refreshing to see the final results. Also, don't be afraid to be creative with your container; this is a pretty white soup tureen!
I have a gazillion posts on flower arrangements, check out this easy bouquet.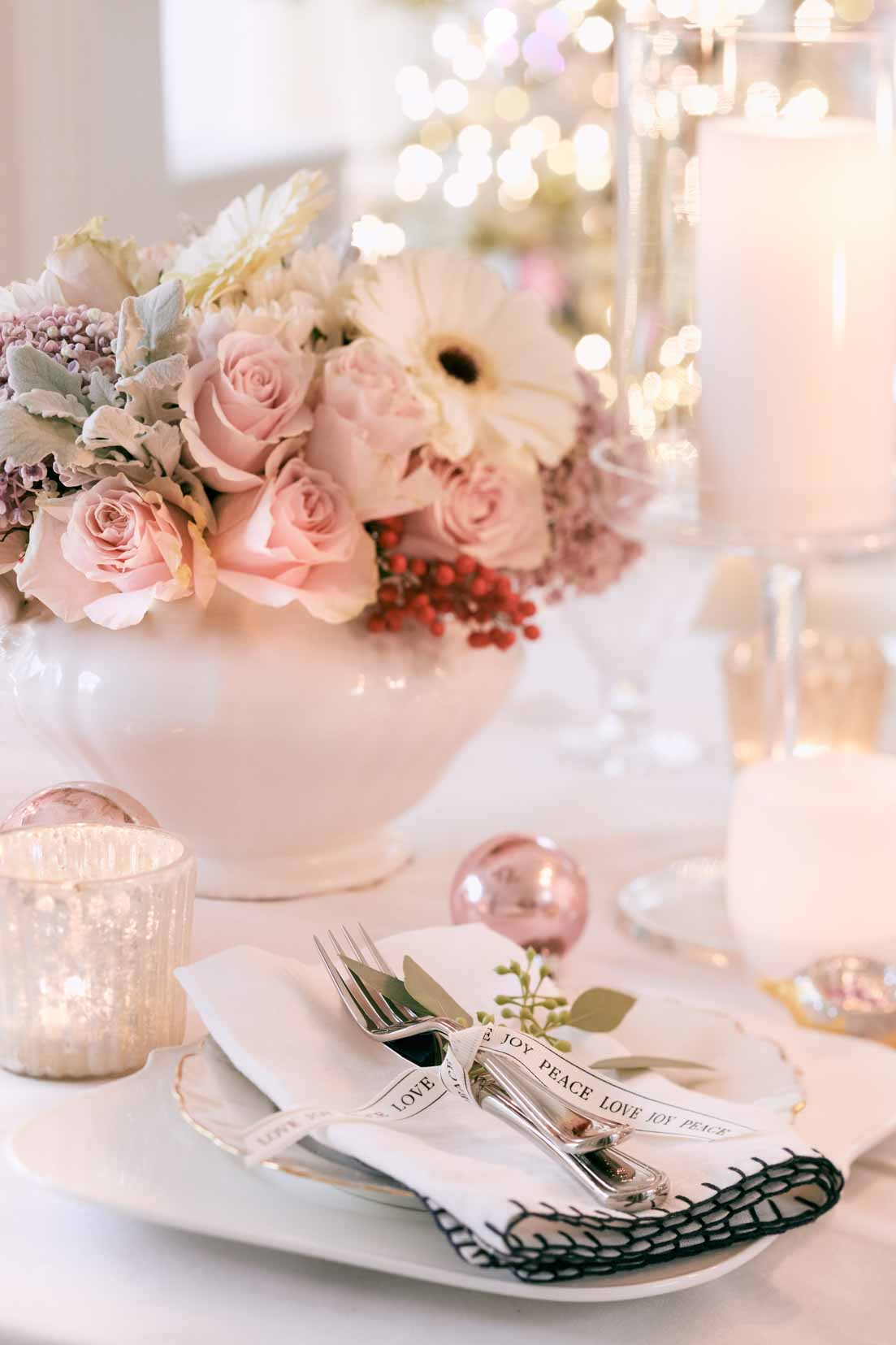 This place setting is from Williams Sonoma and is my brothers! I loved that he wanted to create this shot for you. We both love to create, and somewhere in our family DNA; there is a creative gene.
Need More Table Setting Ideas?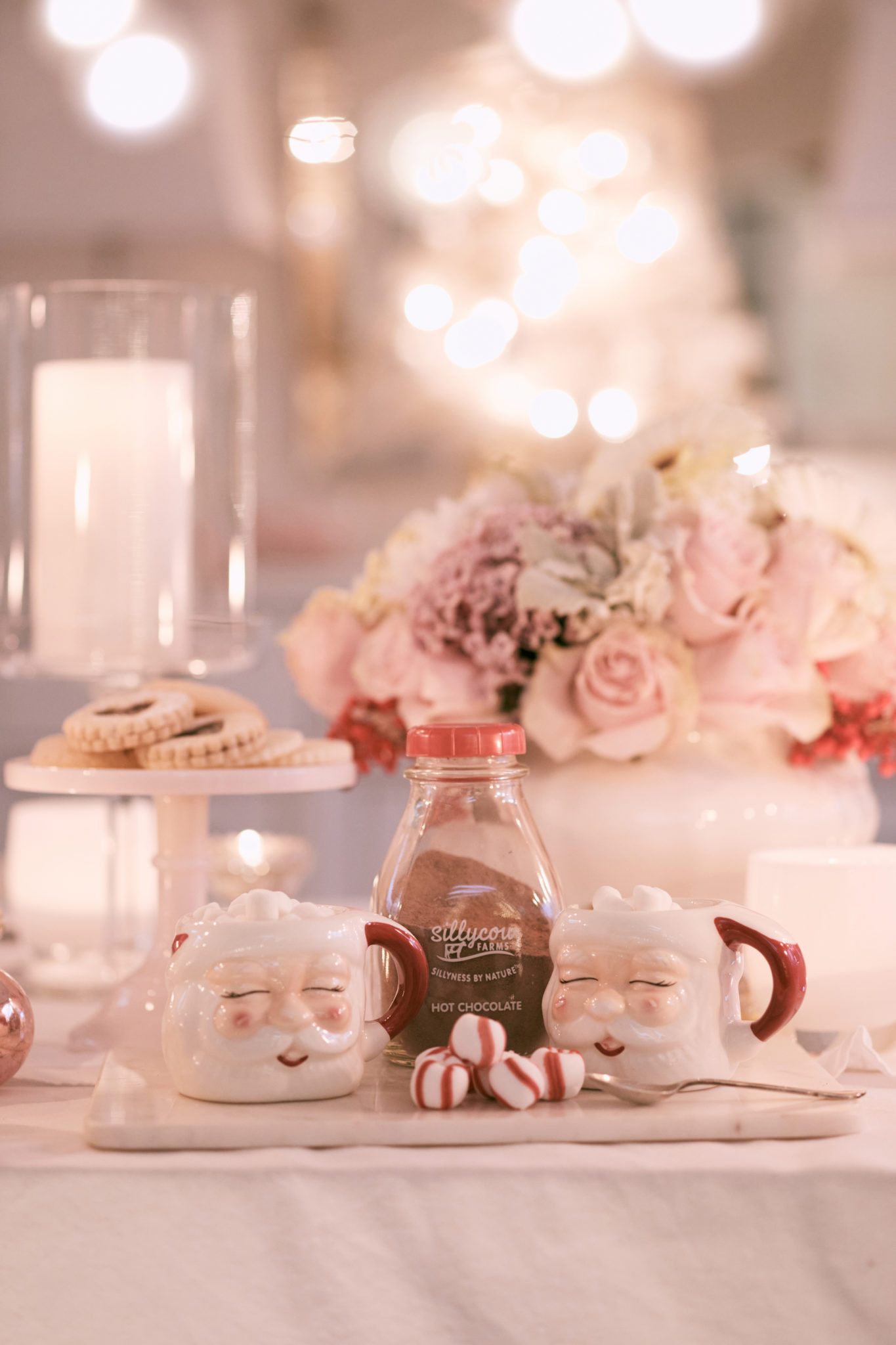 Do you need another refill of cocoa on this holiday home tour? I absolutely love these adorable Santa's Mugs. Pottery Barn has them again this season, but they do have a slightly different expression.
White Wintery Living Room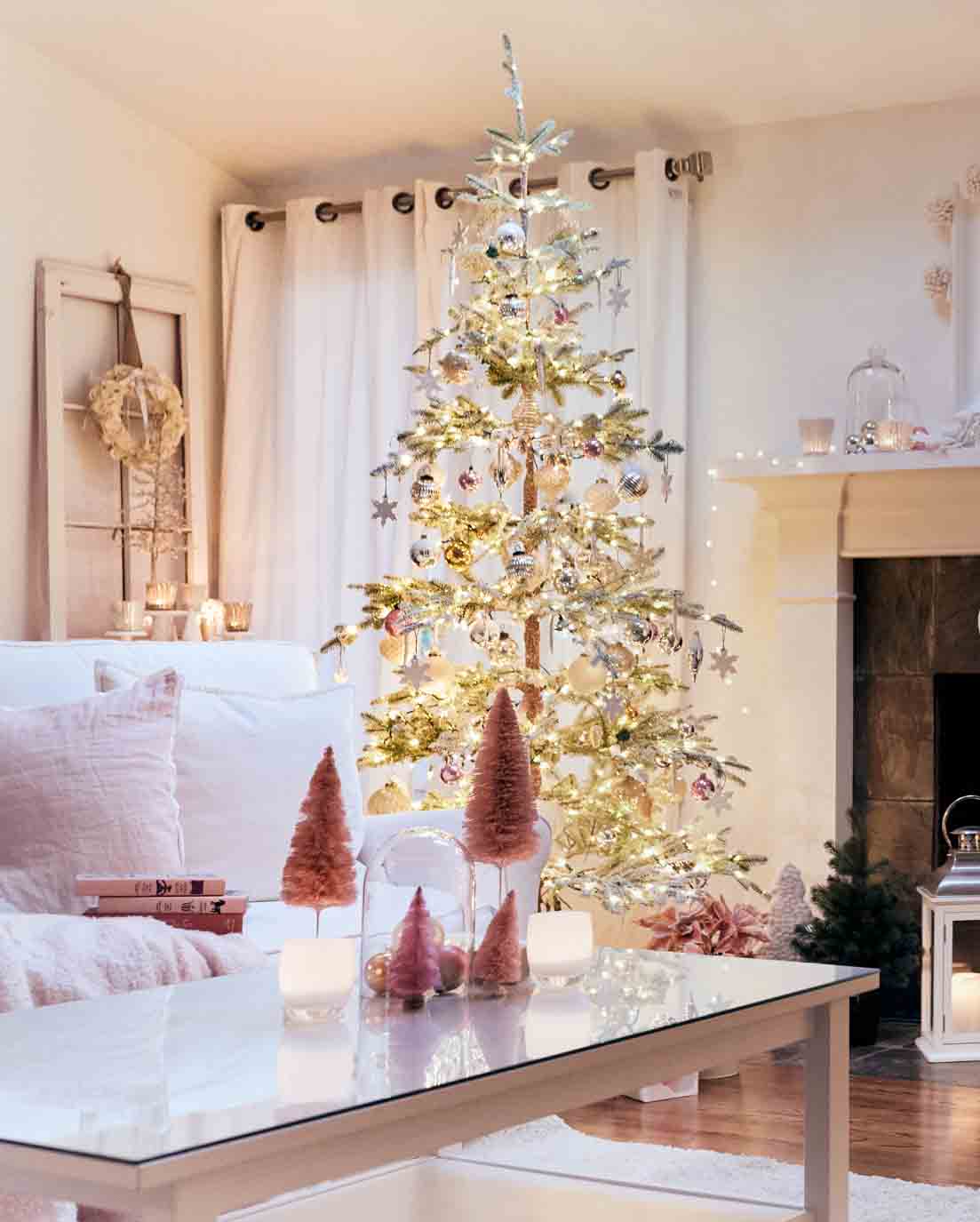 Ok, now onto my living room where we hang out in the evening watching Hallmark movies. Yes, this year, we watched our first Hallmark Holiday movie! The happy endings are what we need right now after a crazy stressful fall.
By the way, I love my trees from Balsam Hill, and if you are interested, I did a Balsam Hill Tree Review of them that you might find helpful.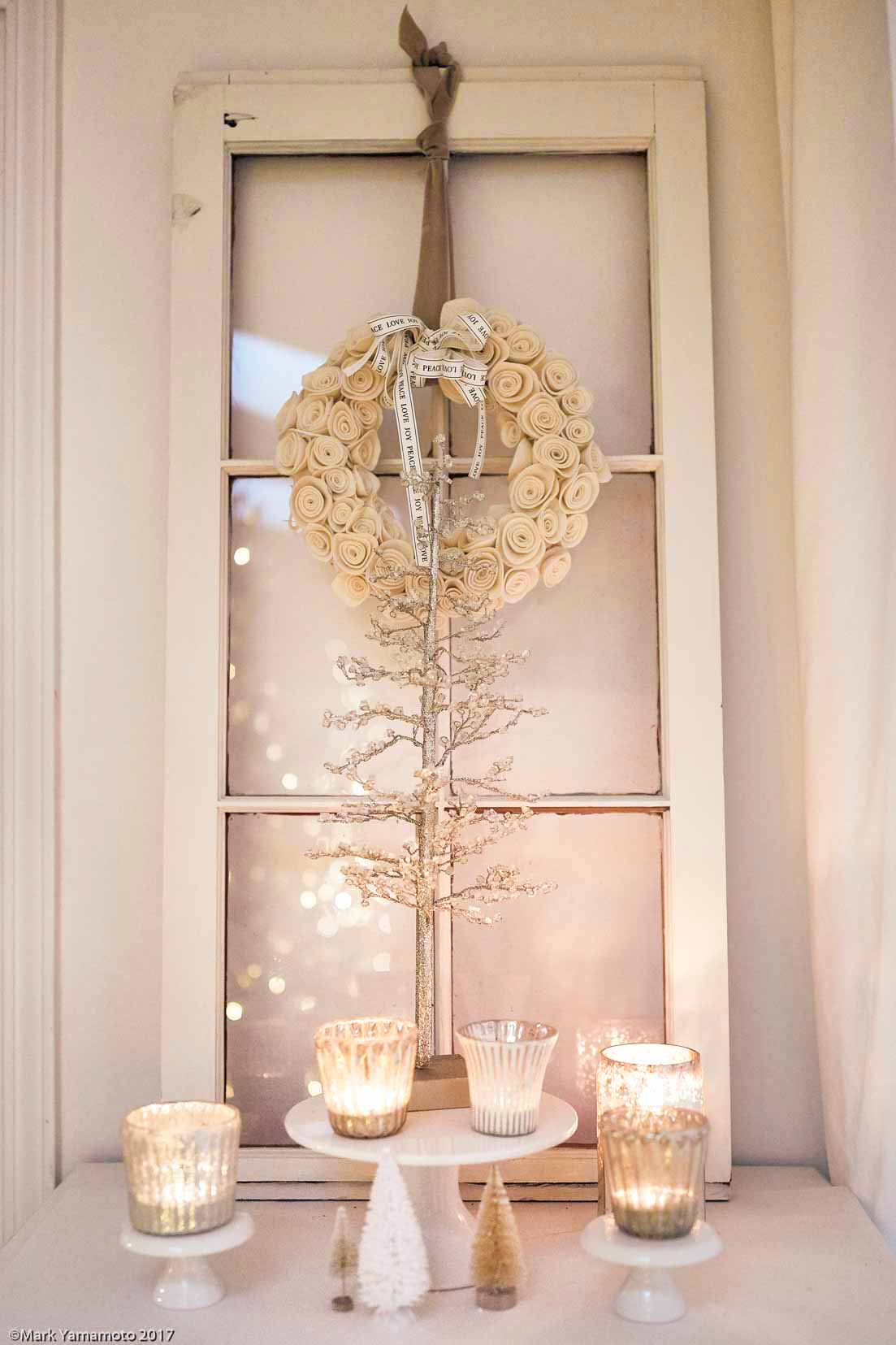 If you love making wreaths, this felt rosette wreath is super easy and so beautiful year-round.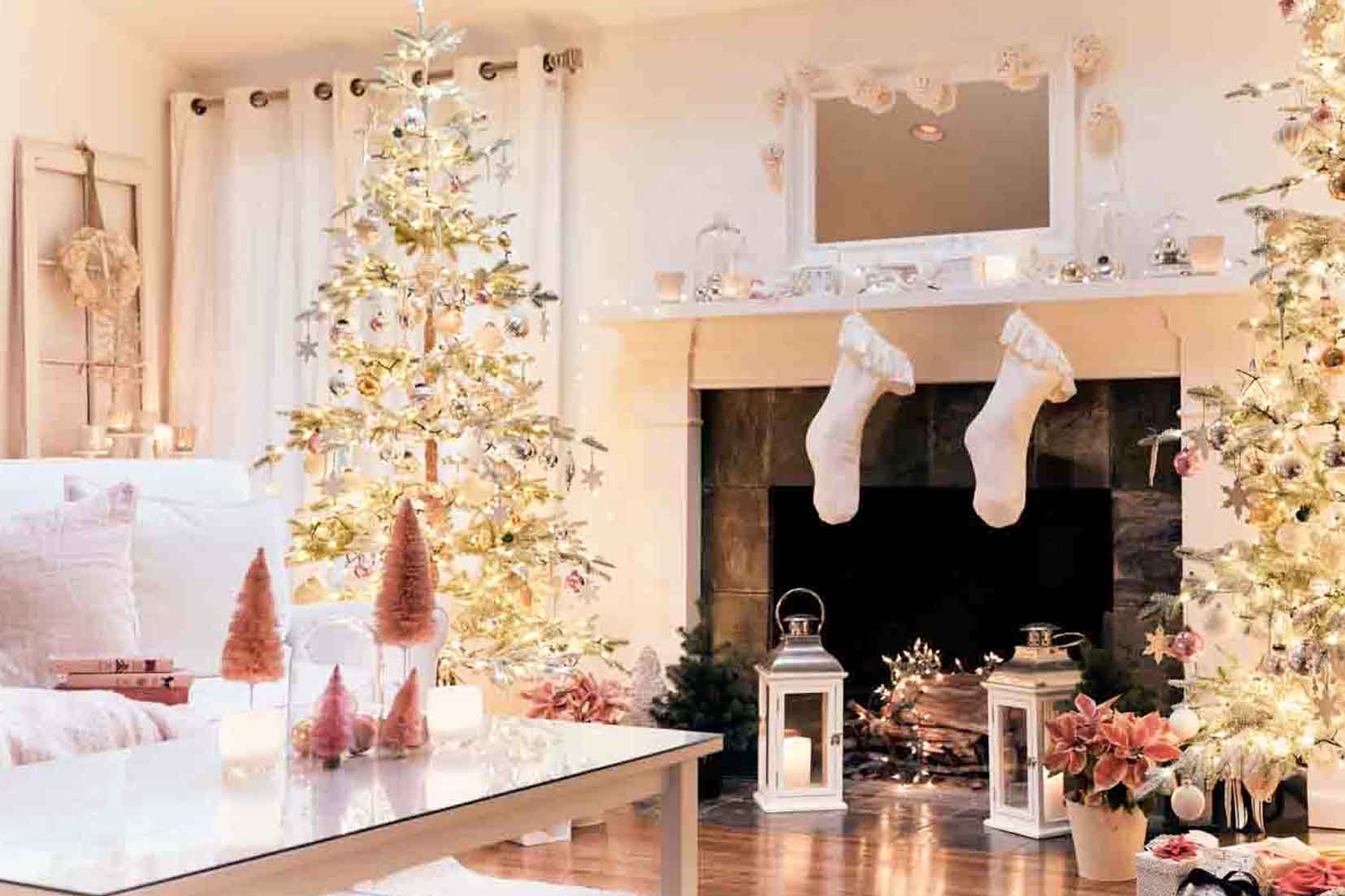 Our trees are glowing all day and all night long, and most of the time, my daughter turns them on in the morning. The cute linen stockings are from my friend, Rhonda, and you can buy them in her Etsy Shop.
Pink Christmas Bedroom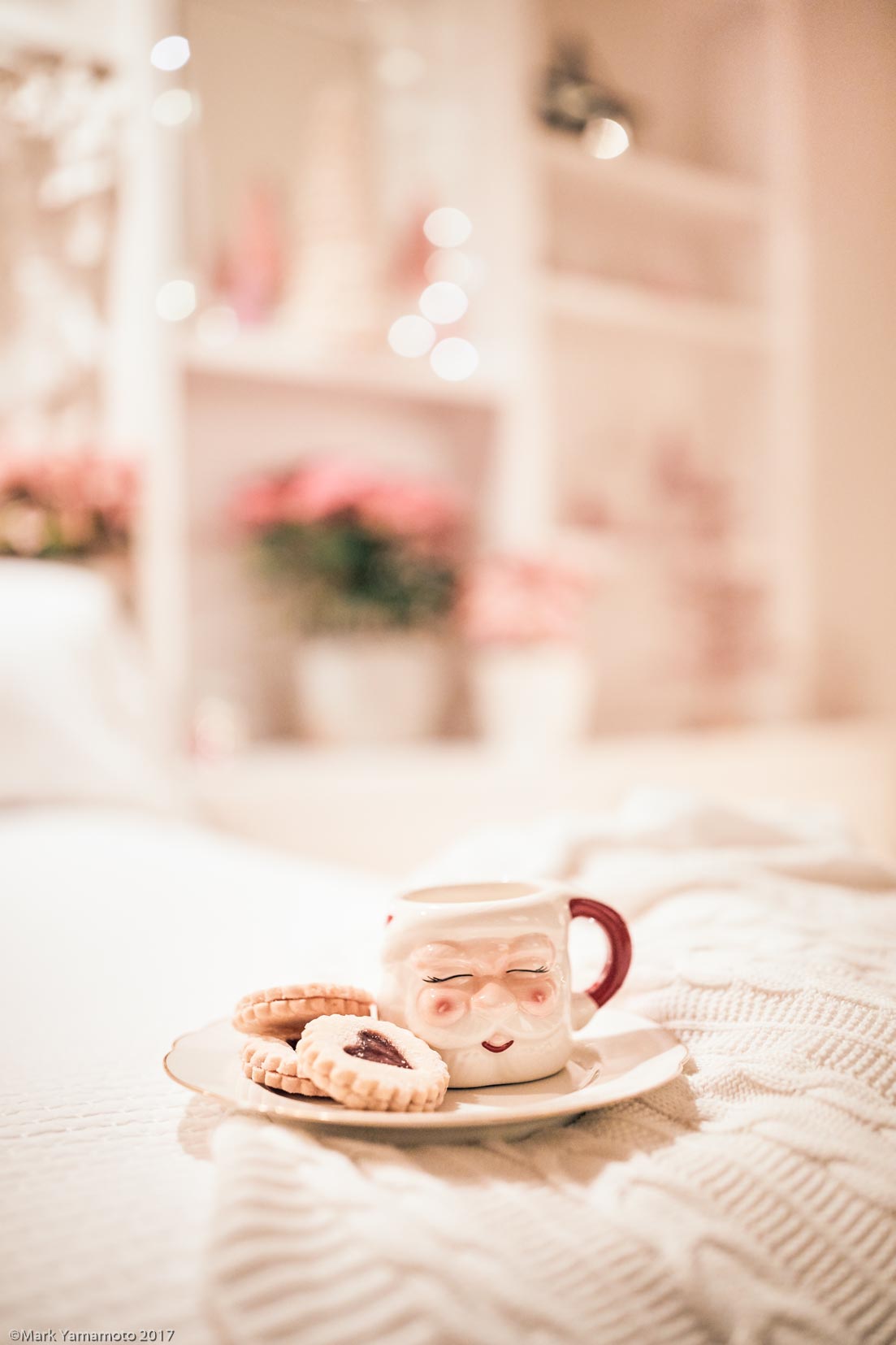 The next stop on the holiday home tour is our bedroom. As you can see, it is all decked out in pink. The pink poinsettias have such retro feel, and I placed them all over our white builtin bookshelves.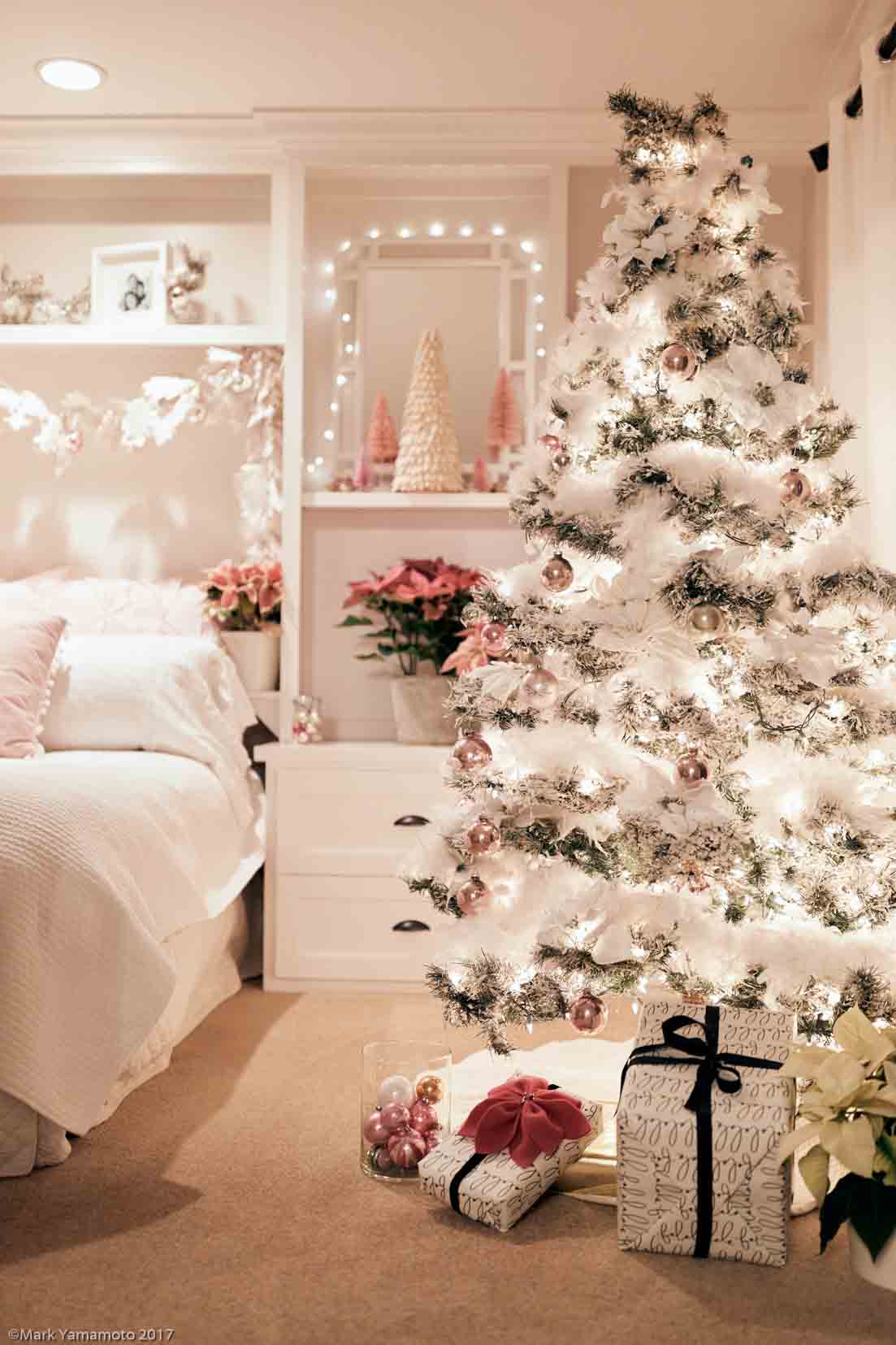 Vintage ornaments are my passion, and I have them out all year long. But, this Christmas, I placed a lot of them on our trees. Every flea market and antique store I visit, I keep my eyes open for them. I feel you can never have enough vintage ornaments. There are some great shops on Etsy that carry ornaments.
Outdoor Christmas Dining
Last stop on this holiday home night tour, our backyard.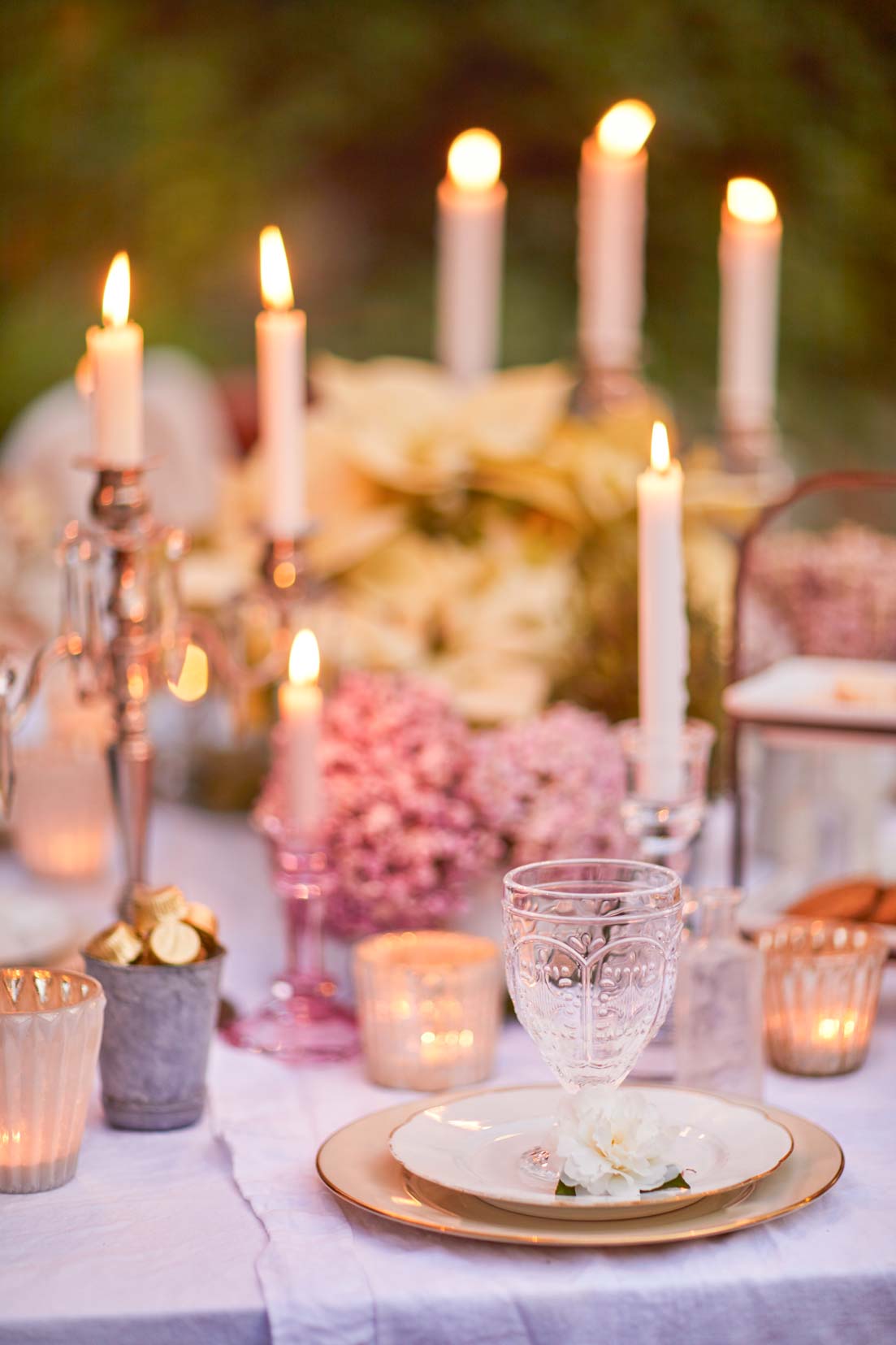 My brother and I had a blast styling and photographing this outdoor Christmas table. We did have a funny moment when a tapered candle fell over and lay on the white table cloth. I'm not sure why it didn't catch the fabric on fire, but I had enough time to swoop it up and place it back in the candelabra.
This blogging business is dangerous when styling with tipsy vintage candelabras!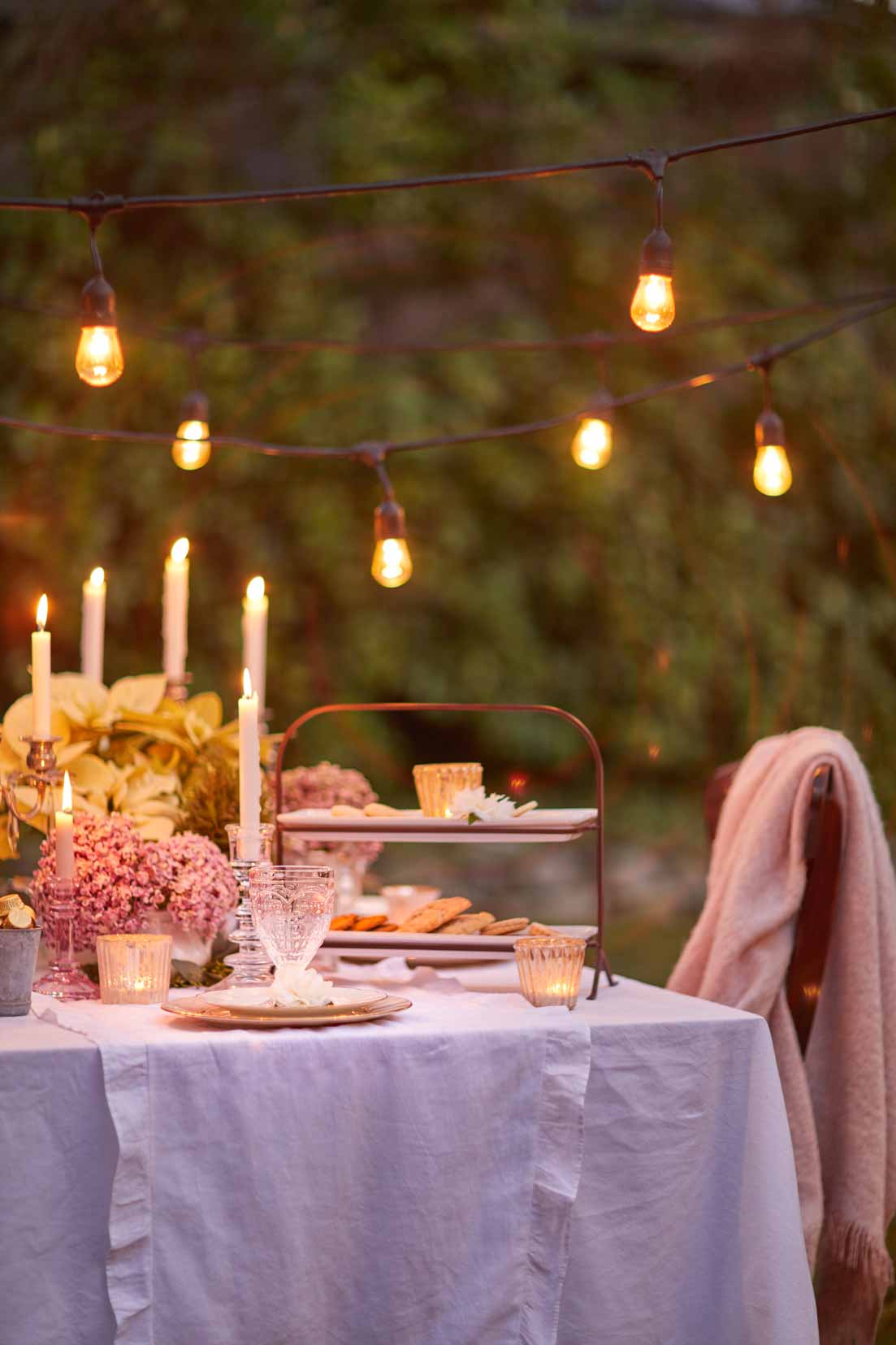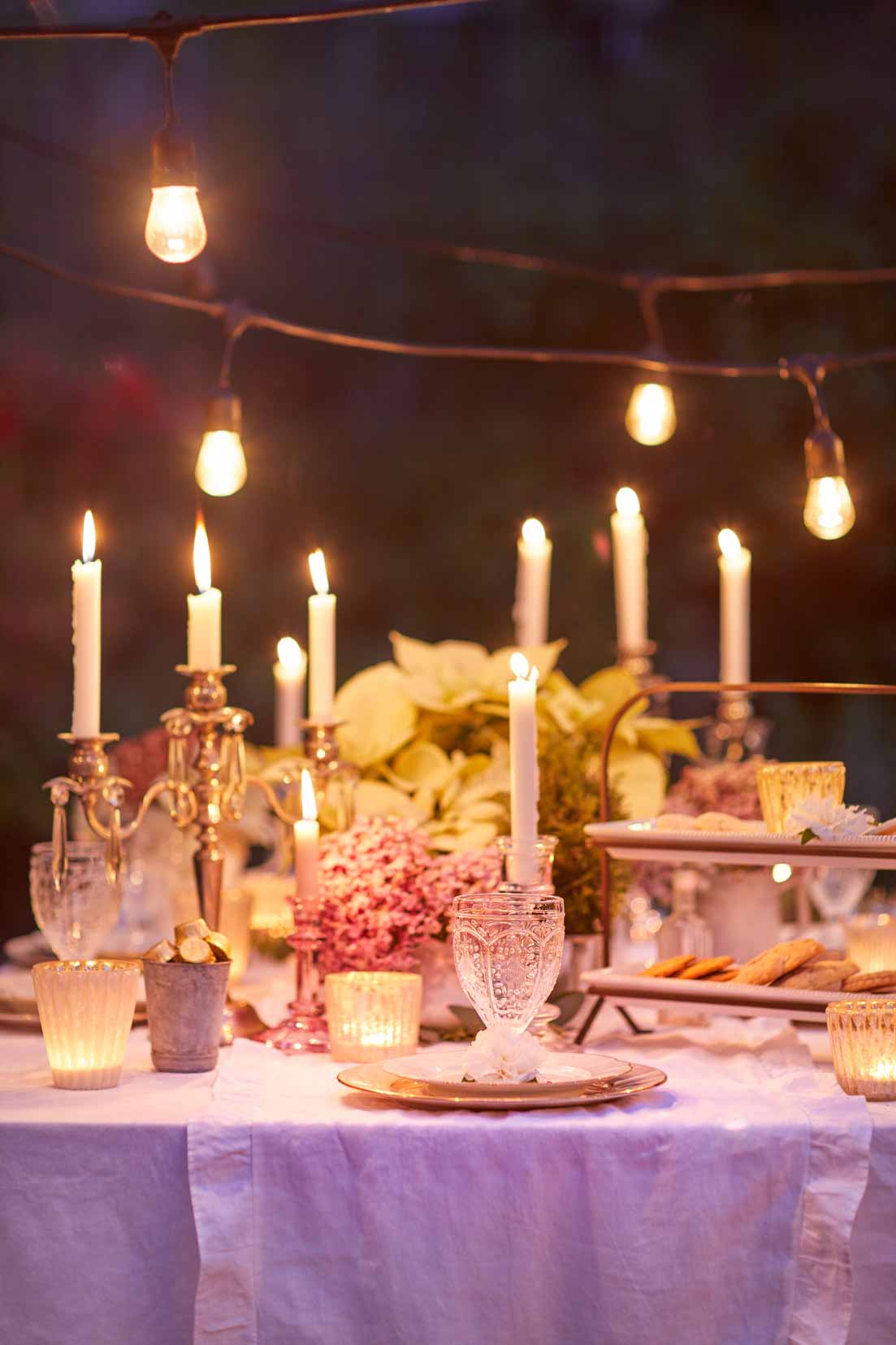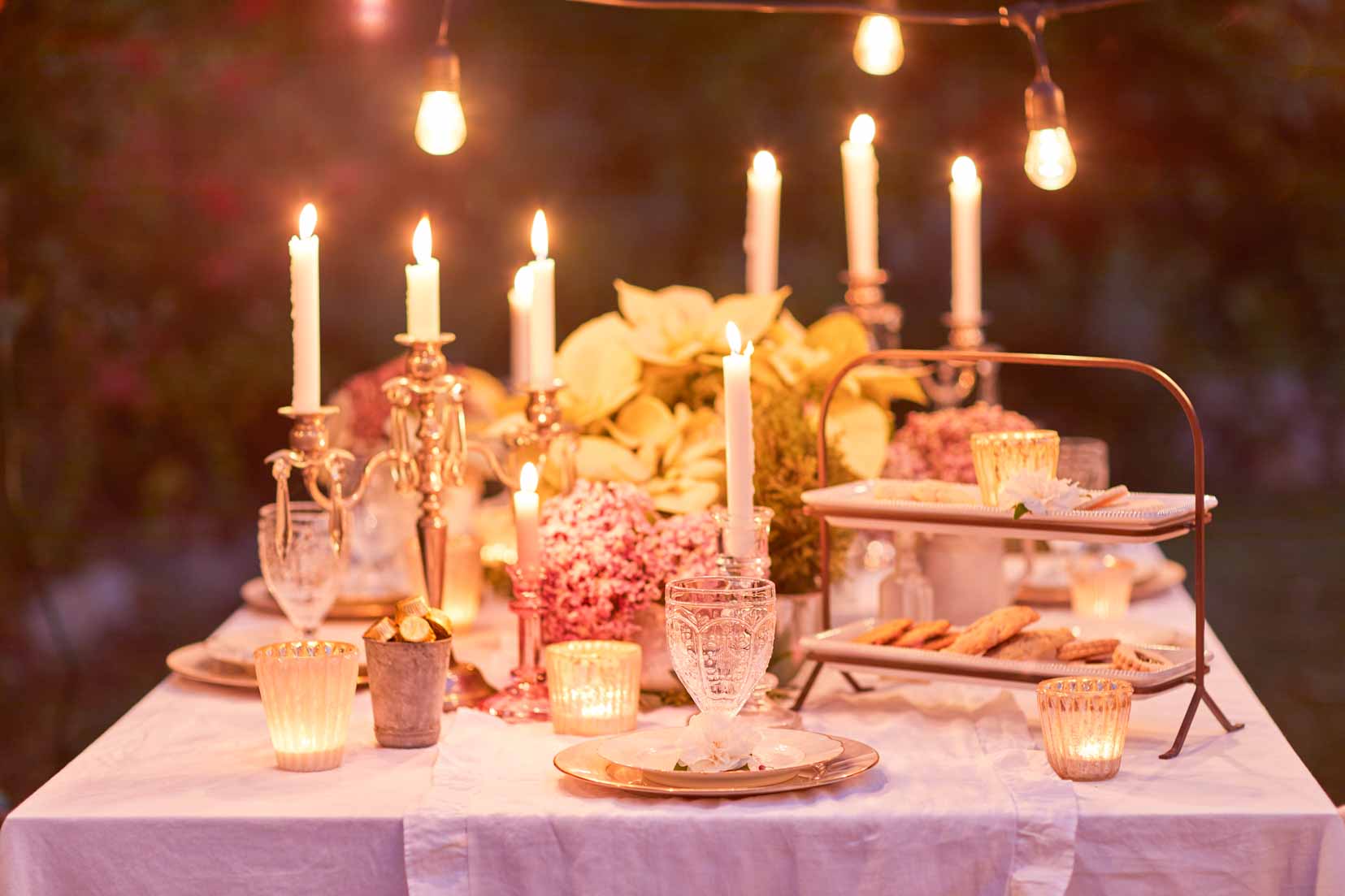 I can't wait for spring and summer to come so I can decorate our outdoor table for little gatherings. You see, this table usually has an umbrella in the middle of it and not available to decorate with a tablecloth. So now that it is in storage for winter, I was able to decorate it freely.
We plan to get another table, and so, stay tuned for more outdoor table posts!
This holiday home night tour has been such a delight to style and photograph. My wish is that you are inspired to add just a few touches of sparkle in your decor. Well, I have enjoyed this time with you, and I hope you all have a wonderful holiday! Relax and savor all your time with your families. Thanks for another wonderful year!
Now make sure to visit my dear and talented friend Kristen from Ella Claire Inspired!
Cheers,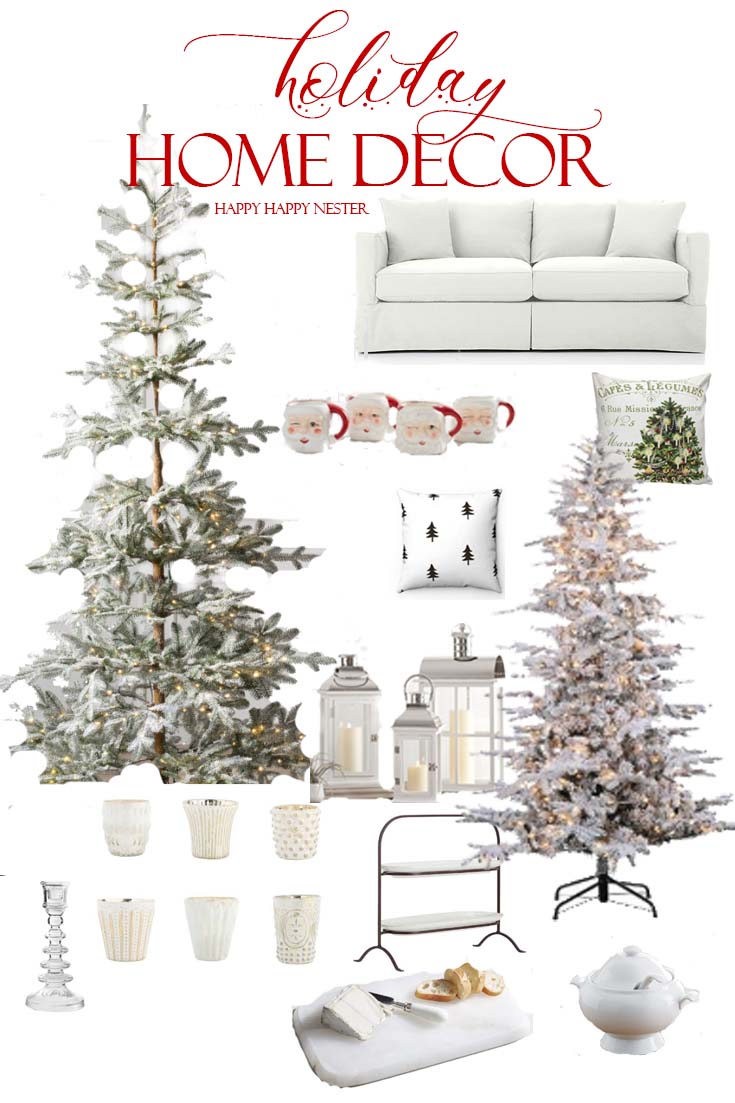 Slipcover Sofa | Balsam Hill Fir | Santa Mugs | Tree Pillow
Black Tree Pillow | Pottery Barn Lanterns | Faux Flocked Pottery Barn Tree
Glass Candlesticks | Glass Votives | Tiered Tray | Marble Tray | Soup Tureen
See more holiday homes all lit up at night…
Maison de Pax | French Country Cottage | House by Hoff | So Much Better With Age | Zevy Joy
Shades of Blue Interiors | Bless'er House | Shabbyfufu | Cherished Bliss | Maison de Cinq
At Home with The Barkers | Nina Hendrick | Two Twenty One | Thistlewood Farms | The Wood Grain Cottage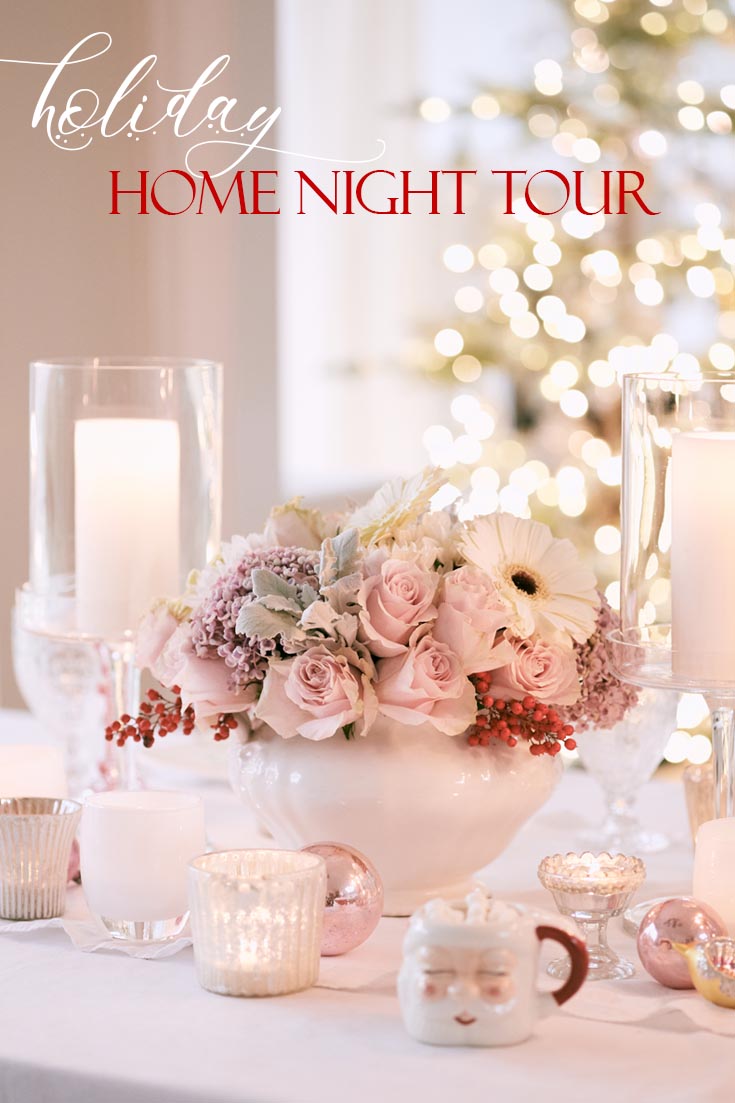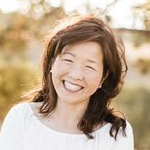 Latest posts by Janine Waite
(see all)