Happy Introductions
Today, I have a big treat. Seven of my friends and I have created another holiday tablescape blog hop. So, if you joined me from Kim and Lacey's blog, Styled with Lace, a big hello. Kim's table is fabulous and bursting with incredible inspiration. And don't miss the list of other participating bloggers at the bottom of this post.
So, let's get this party started.
A Note About the Nester
When I was young and poor, my best friend and I spied a great dining table out by our apartment dumpster. Since someone was getting rid of it, we snuck down late at night and grabbed it for our place. It is so true that other people's trash is another's treasures. So, you can say that this was my first dining room table I owned.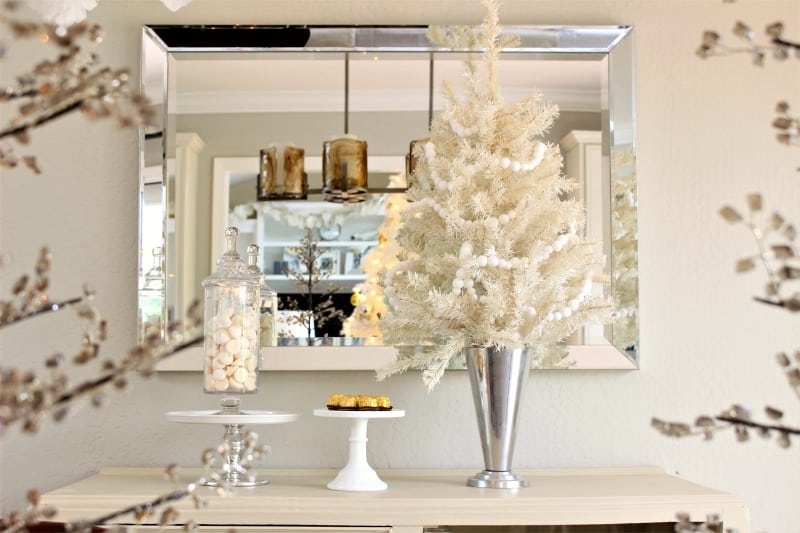 So, I have so many rich memories of my childhood, and today I'm sharing one story that involves our family's holiday dining table.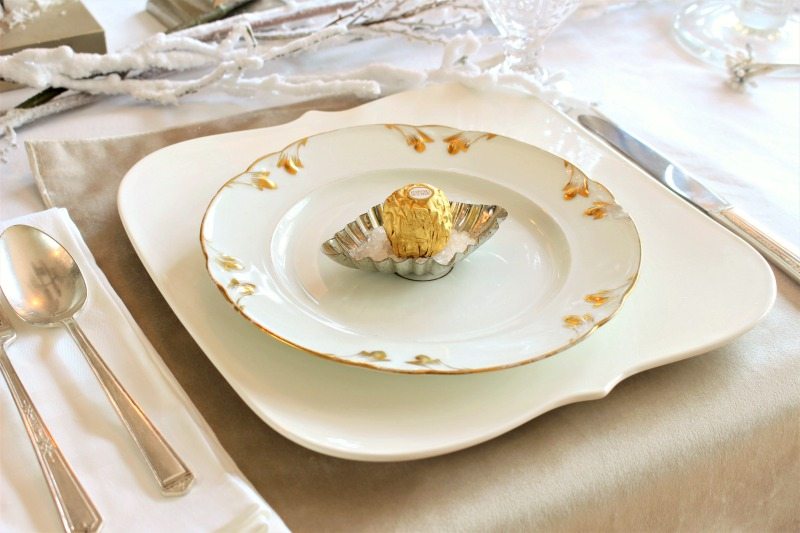 Well, here is a little back story in regards to our traditional holiday dinner.
Every year, when I was a child we dined over at my auntie and uncle's home in Long Beach, California.
Yes, I'm a Southern California girl. Crazy, right?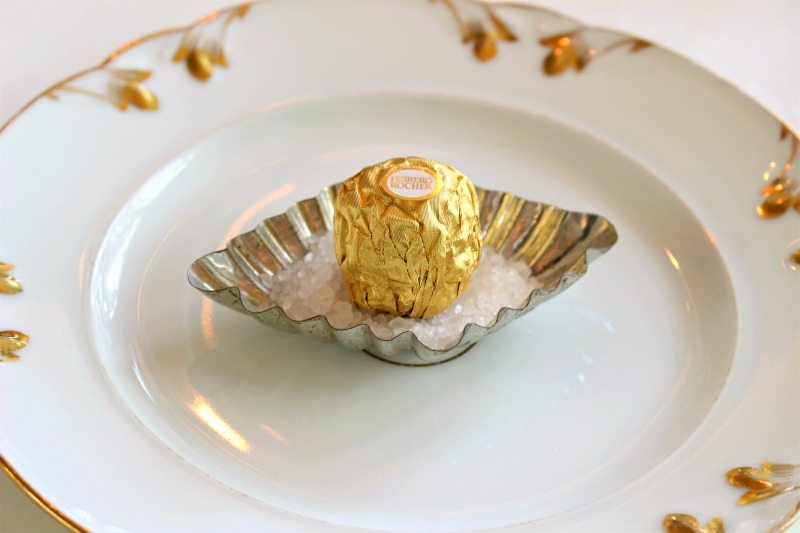 Our whole family would agree before entering their house that we would listen and be respectful to our grandma's long pre-dinner prayer. So, here's the thing, when my grandma would pray, she would start in English and quickly switch over to Japanese.
Well, her prayers were somewhat long, and during the prayer, she would stop, and there would be big moments of silence. Well, since my brothers and I had no clue what she was saying, we all assumed she was done praying. So, our whole family would look up and then to our surprise, and she would resume her long prayer. Of course, there were multiple times she would do this in her prayer.
Well, after many holiday dinners, someone started to giggle.
And let me tell you, giggling is contagious.
So, once we started this tradition, it was difficult to break the habit. Furthermore, if I sat next to my brothers, I could see their bodies shaking as they tried to hold the laughter in. Well, eventually we got so that we couldn't hold it in, and we all broke out in laughter. My grandma would continue, and it was like she didn't even hear us giggle.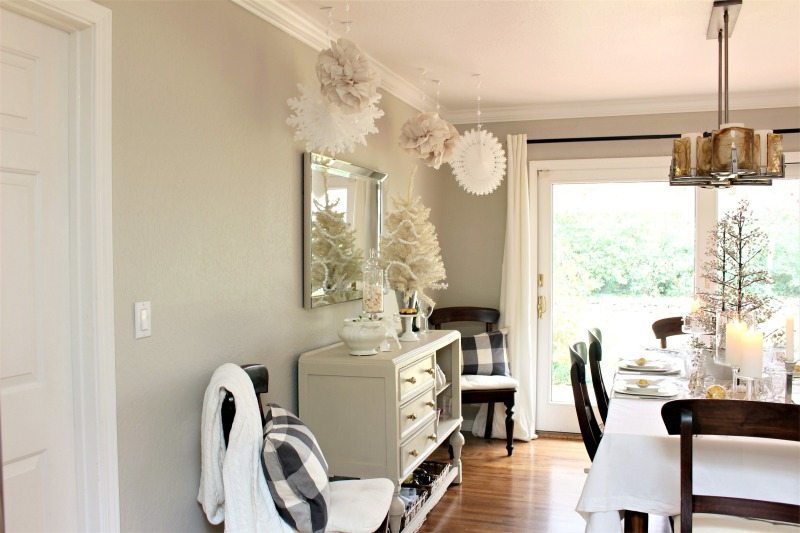 And bless her soul, she would end her prayer with a hearty, Amen. It was like she had a long private dialogue with God and when she finished, she would look up and give us this big smile.
So every holiday dinner, I can't help but think of this funny family moment and say a little prayer for my grandma!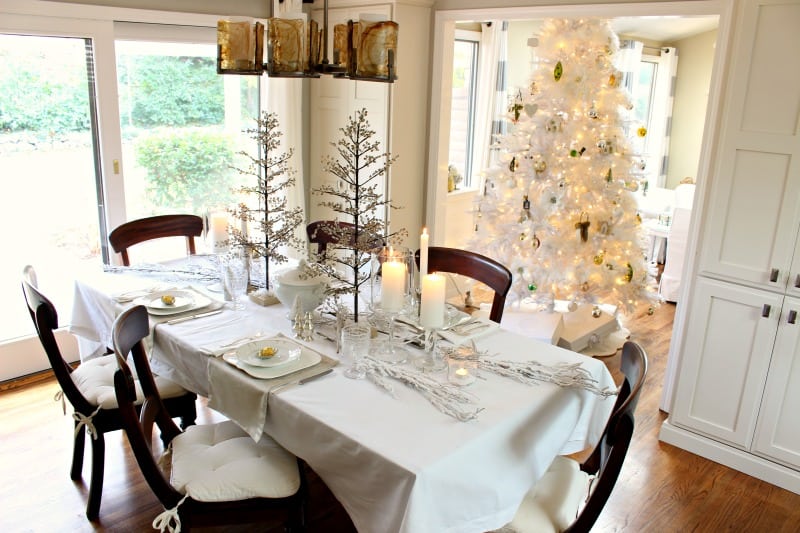 My Holiday Tablescape
So, it is official, I made the plunge into white decor! So, it wasn't an easy thing. You see, I frantically texted my dear friend, Jodie, wondering if I needed another color. I quickly thought of adding a pop of black for color, but I chickened out. Originally, I had it in my mind to go white with hints of gold and silver. So, here it is, a winter wonderland. I think my whole need for white decor is a response to the long dark days of winter.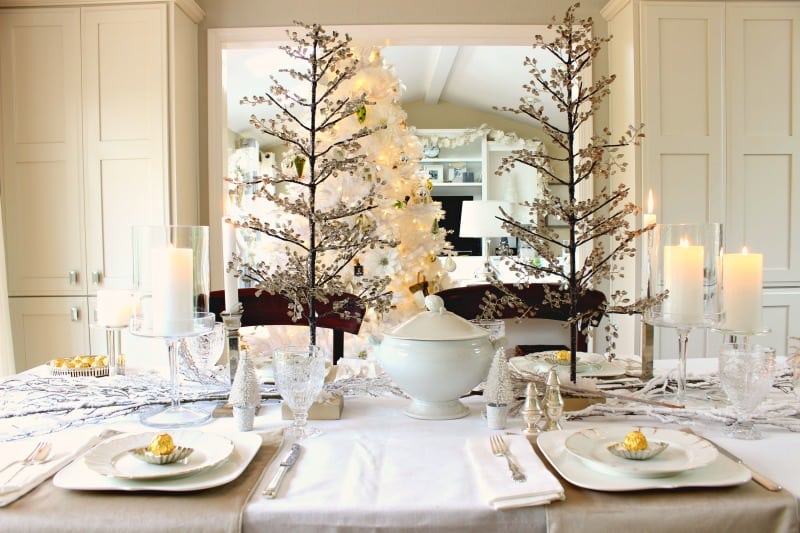 My centerpiece is the two faceted mirror glass trees from Pottery Barn. So, this year they created these smokey colored trees, and I love how they stand out and catch the sun rays. Since we have had such gray days, I happily welcome these sparkly trees on my table.
Shop this Post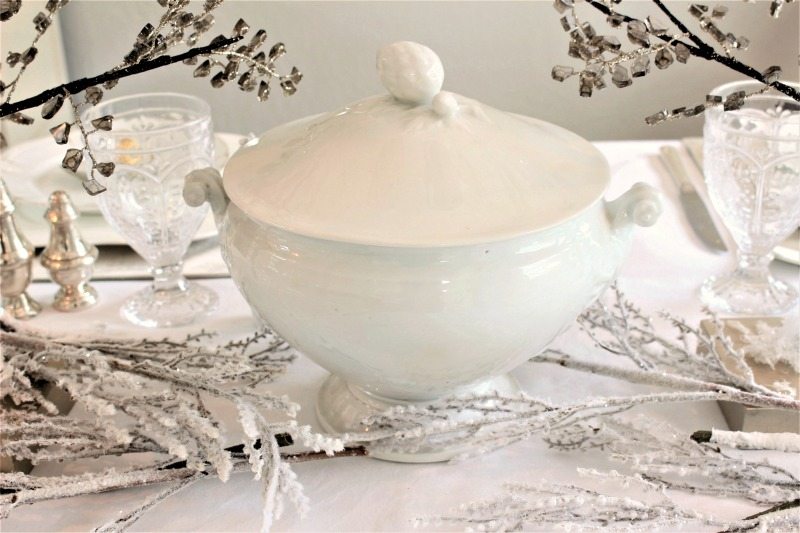 I recently found a fantastic store here in the Bay Area called Elsie Green. Most of the home decor is straight from France, and there is so much eye candy. As a result, I ended up with a few pieces like this white soup tureen. So, make sure you note the beautiful and elegant artichoke handle. By the way, they have an online shop!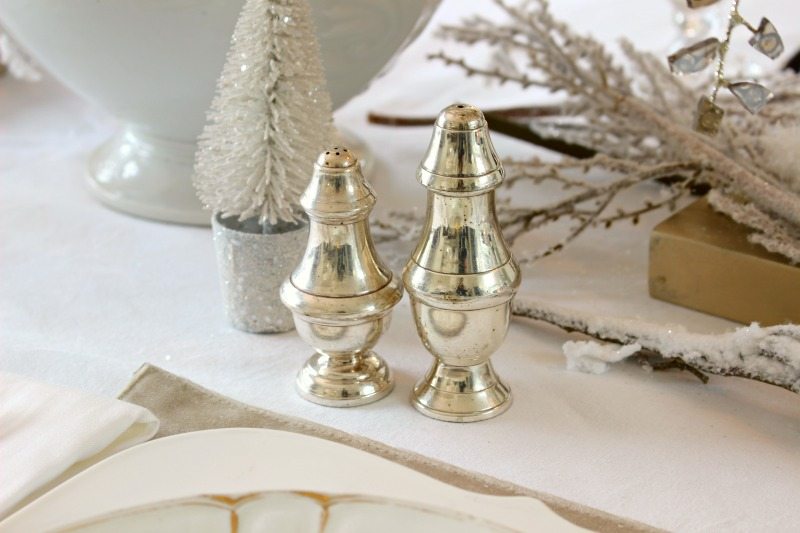 These salt and pepper shakers are from Elsie Green's as well. And the white and gold plates in the above photos are from their store as well. They create such a beautiful touch to the table and add a bit of history to the decor.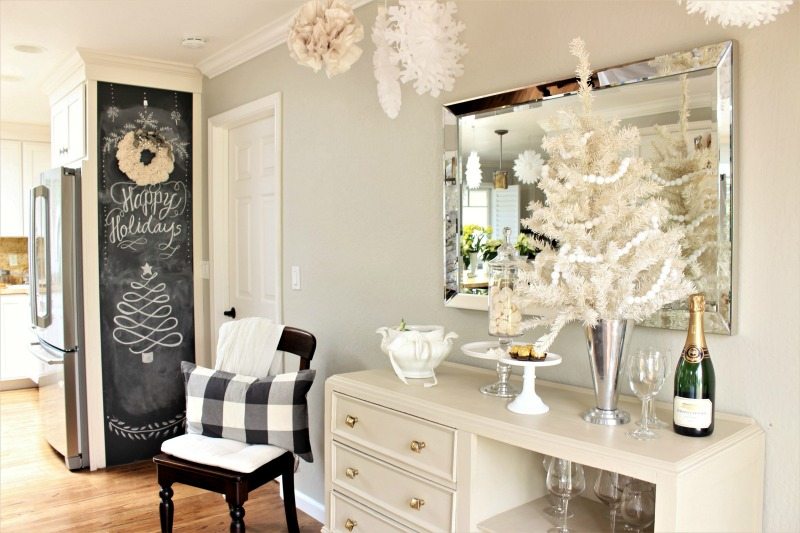 I bought my paper snowflakes from Amazon, and you can buy them here. Also, I made the paper flowers that are hanging from the ceiling. Aren't they fun and whimsical?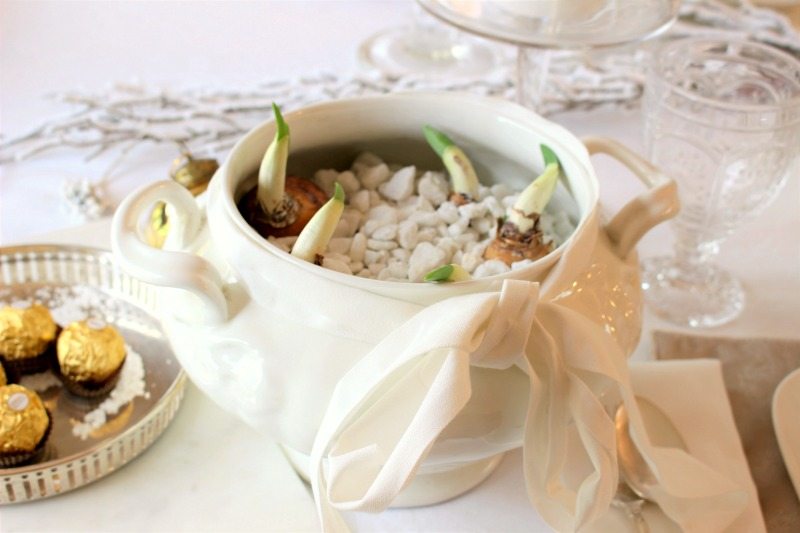 I found my old soup tureen amongst my storage, and I always plant paperwhites in it this time of year. If you want to give it a try, just add some gravel or pretty rocks in a pot and just place the bulbs in them. I kind of semi-cover them in the rocks. Just add water and watch them grow!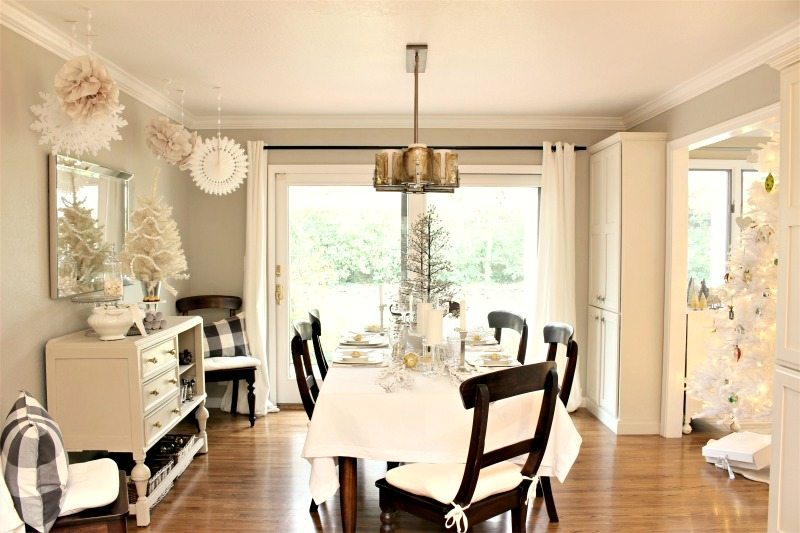 So, thank you for your sweet visit, and I hope you have time to visit my friend, Summer from She Leaves a Little Sparkle. Summer is the sweetest and such a great friend. Finally, don't forget to visit the rest of my friend's blogs. We will be back next month on the 15th for another decorating feature.
Cheers,

Seven
Gorgeous Holiday Tablescape
Blog Hop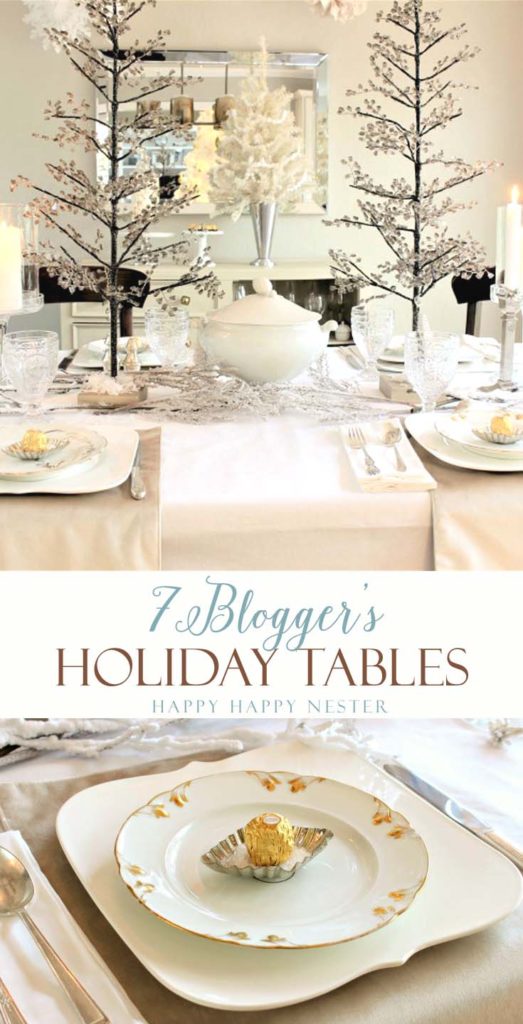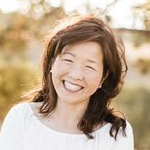 Latest posts by Janine Waite
(see all)