Let's take a look at my Easy Ideas for Christmas Decorations that I have rounded up for you.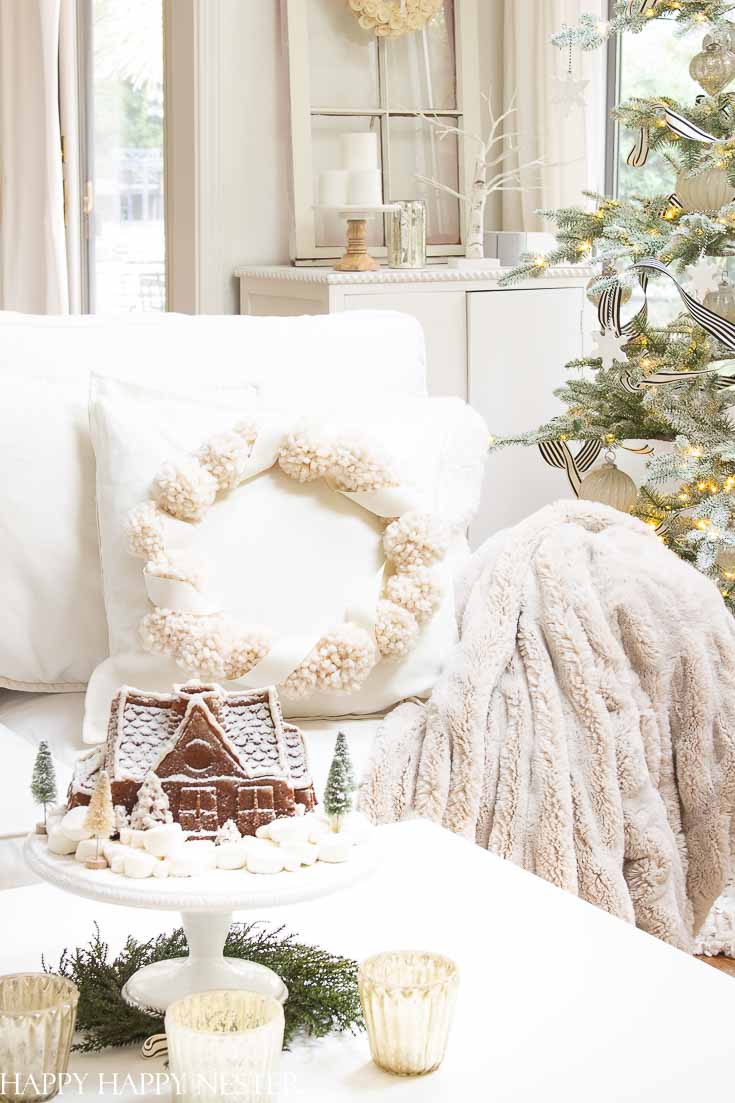 Is it crazy this time of year for you?
Well, I hope you can sit back and relax and let me and my blogging friends do some of the decorating tasks for you. Today, I'm sharing my easy ideas for Christmas decorations to inspire you.
And did I mention that Tana from Your Marketing BFF has rounded up some super talented bloggers, so you are in for a big treat today! There are more Christmas tours at the bottom of this post, so don't miss this great list.
Easy Ideas for Christmas Decorations
Ok, these are the few things that I do when decorating our small comfy cozy home for the holidays. Let's dive in and get started on my tour.
Color Themes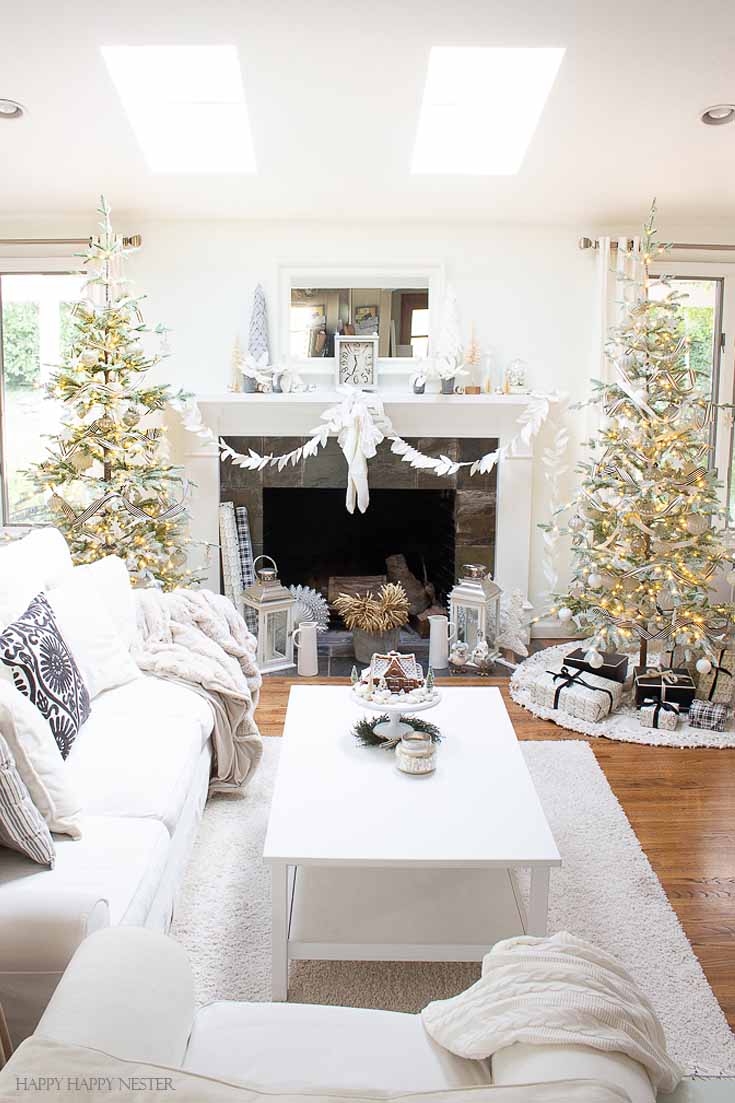 In the past, I've had a few color themes, red and white, blush, and all white. This year, I'm doing a few color themes, black and white and pink. But, underneath all my decor this year is the base color of white. I had this little conversation with myself when tackling my color scheme, and white won out!
Decorating Trees
This year, I collaborated with Balsam Hill, and I received these two Frosted Alpine Balsam Fir, and I love them. So, they gave me some beautiful mercury glass ornaments, but I decided to supplement it with some homemade ones. So keeping in the white theme, I made white clay ornaments.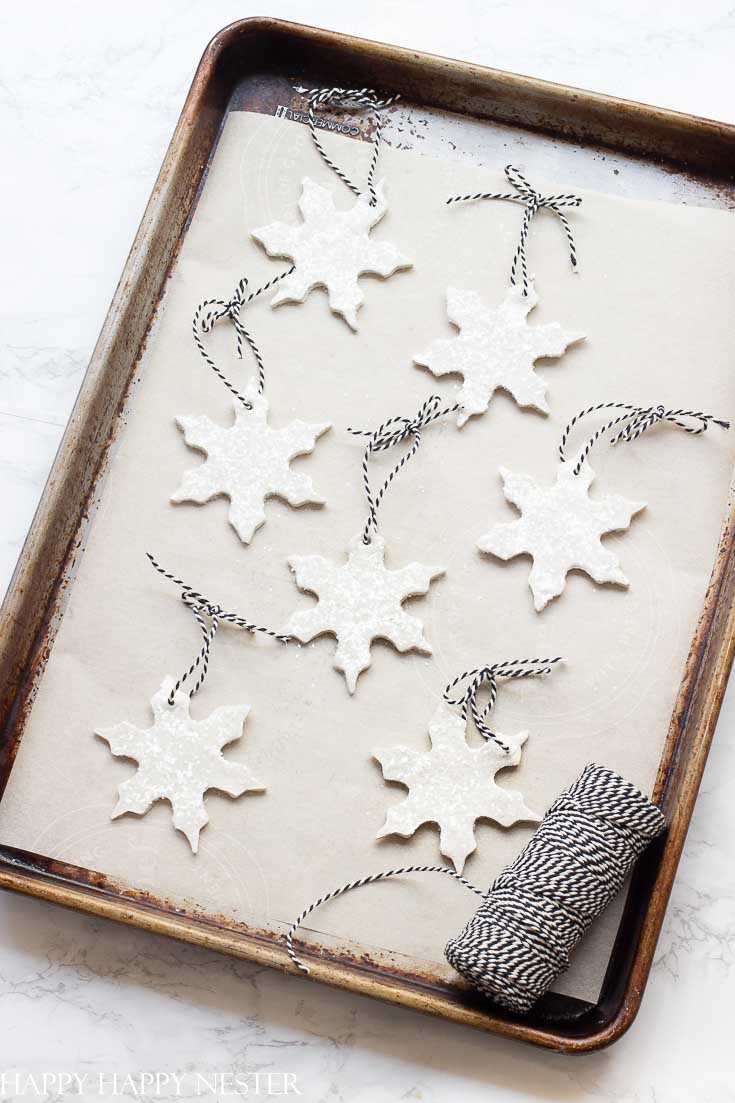 Like I said I made these ornaments. And if you like to make things, you'll want to create these easy Christmas ornament DIY made out of clay and glitter. I cut out about 30, and with just a few dollars, I finished decorating my pretty fir trees. I have a ton more ideas for Christmas decorations, so make sure to check back later this month.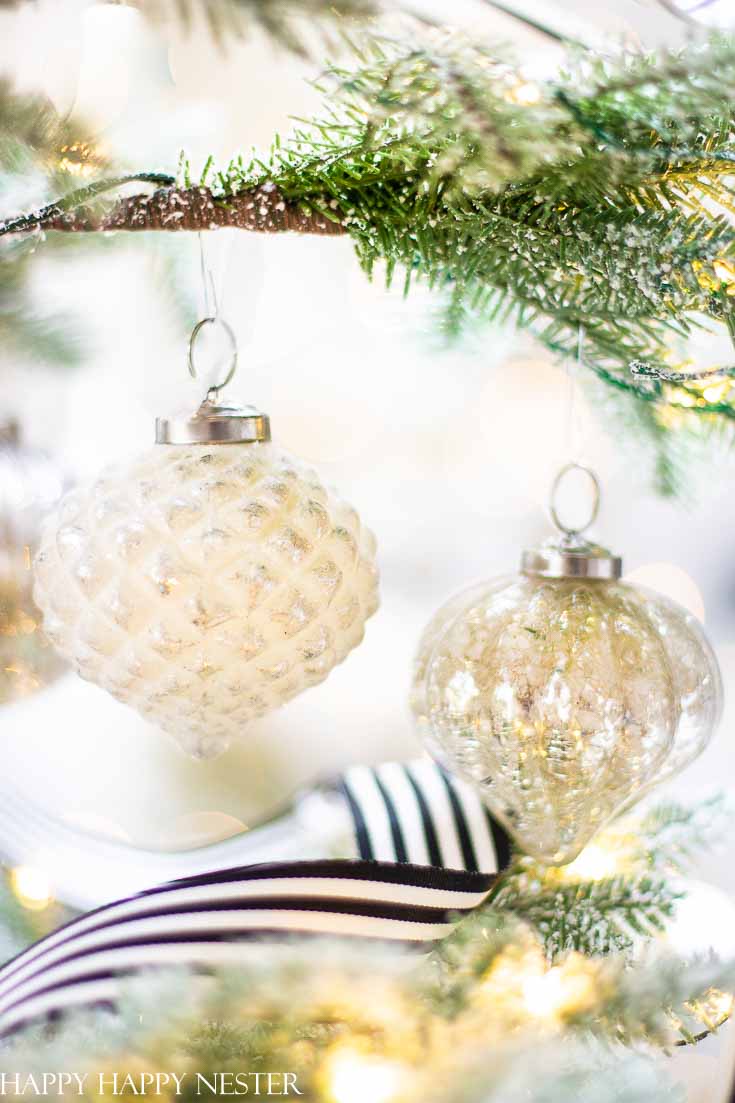 If you are interested in these trees, then you'll love reading my Balsam Hill Christmas Tree Review. I show all the details about these pretty artificial trees. And btw, these are their gorgeous mercury glass ornaments.
Styling Bookshelves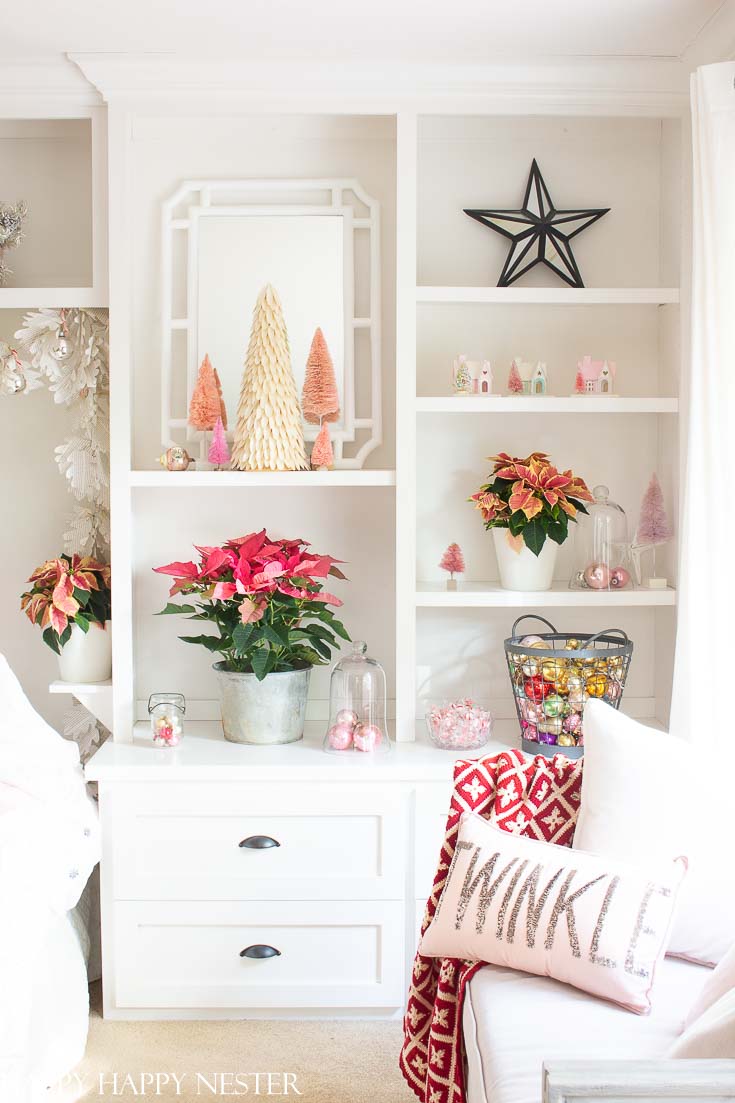 I have a lot of built-in bookshelves, and I'm slowly getting over my fear of what to place in them! When we first moved into this house, my husband quickly put all his antique books in every nook and cranny. Slowly, I took over the shelves with my seasonal decor. 🙂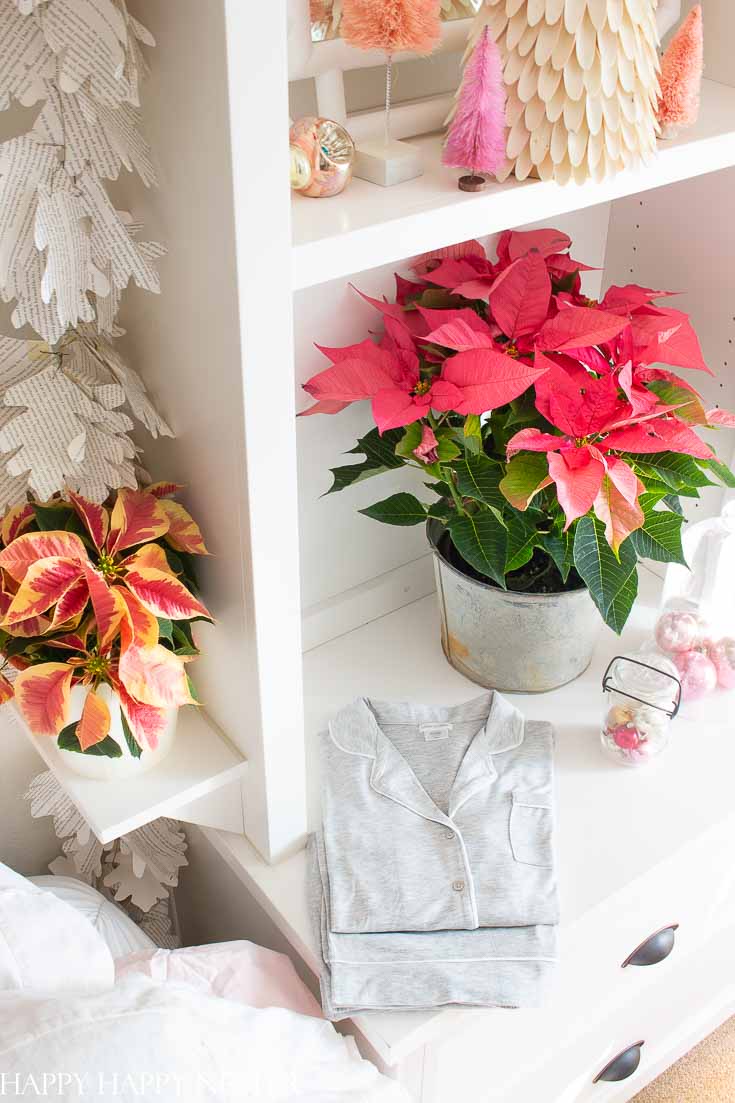 When it comes to picking out a fun Christmas item, I always buy pink or white Poinsettias. They make a pretty dramatic statement that needs little effort, just place them in a pretty pot and they are ready to go. Next, add a few cloches with sparkly ornaments and some cute sisal bottle brush trees. I have a post that shows how to dye your bottle brush trees to suit your holiday decor.
Choosing Dining Room Decor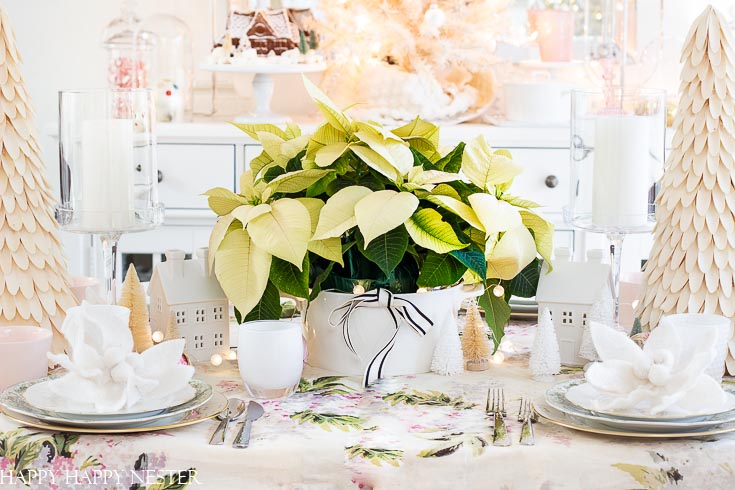 I bought this great vintage fabric at a flew market and was so excited to use it this Christmas. This light pink fabric set the stage for my dining room decor. So, find a pretty tablecloth and let it shine this year in your dining room. So, you never know where your next ideas for Christmas decorations will come from.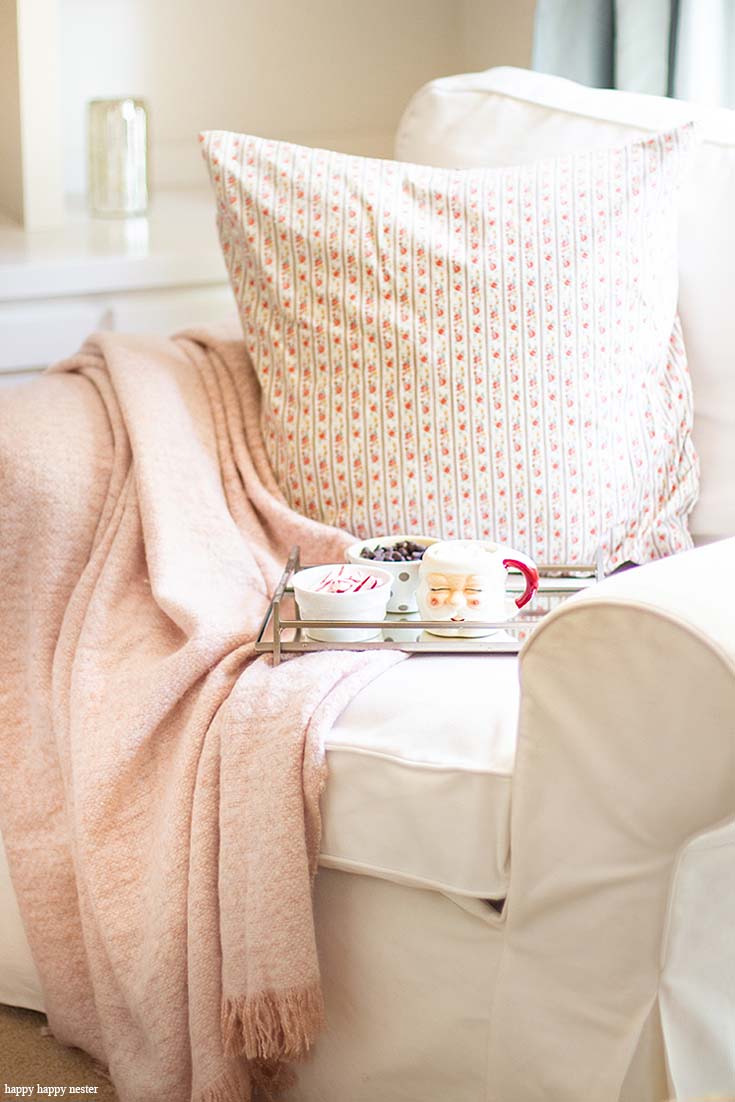 Thanks so much for joining me on my ideas for Christmas decorations post. I had so much fun sharing all my decor with you!
I hope you have a wonderful holiday season and you can take a moment and relax and enjoy your family and friends.
Cheers and Happy Holidays,

PS: If you like crafting, decorating or baking I would love to have you join us in my private membership group.
And be sure to check out all the other Christmas Home Tours below!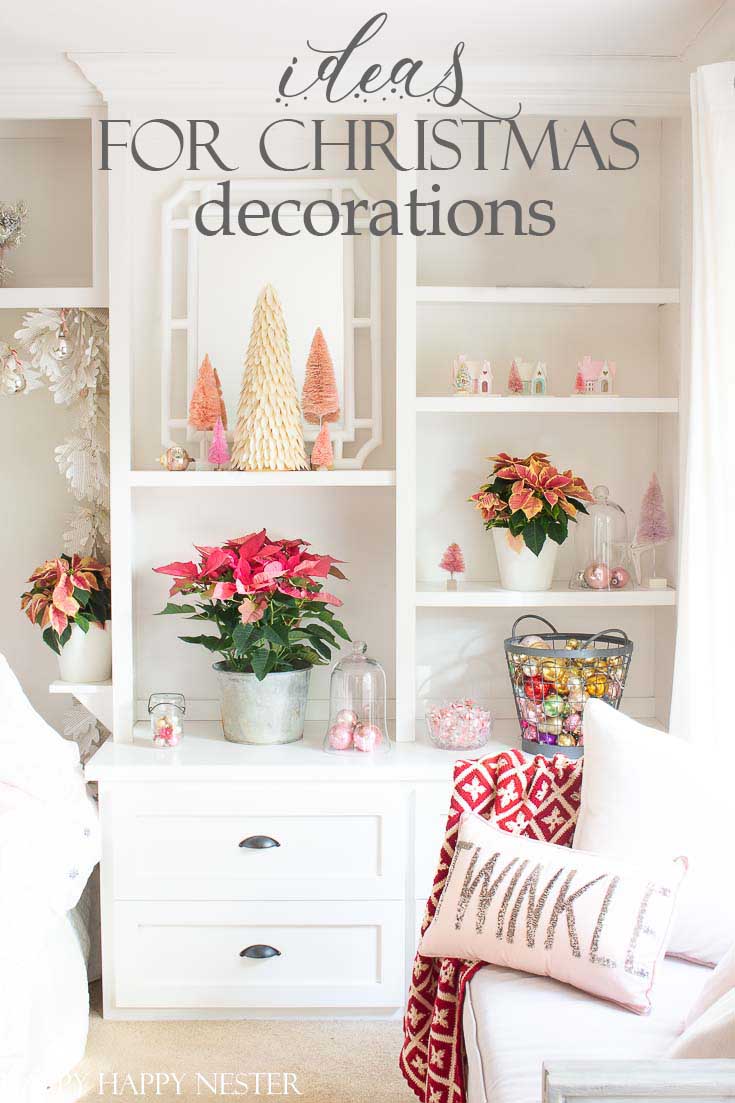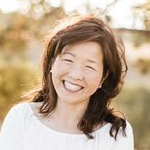 Latest posts by Janine Waite
(see all)