Happy Holidays! Let's look at my Ice Blue Christmas Decorations to see how I created my 2021 Christmas tree decorating with ice blue, green and, white decor! Today, I share all of the behind-the-scenes inspiration, and decor ideas to design this frosted forest.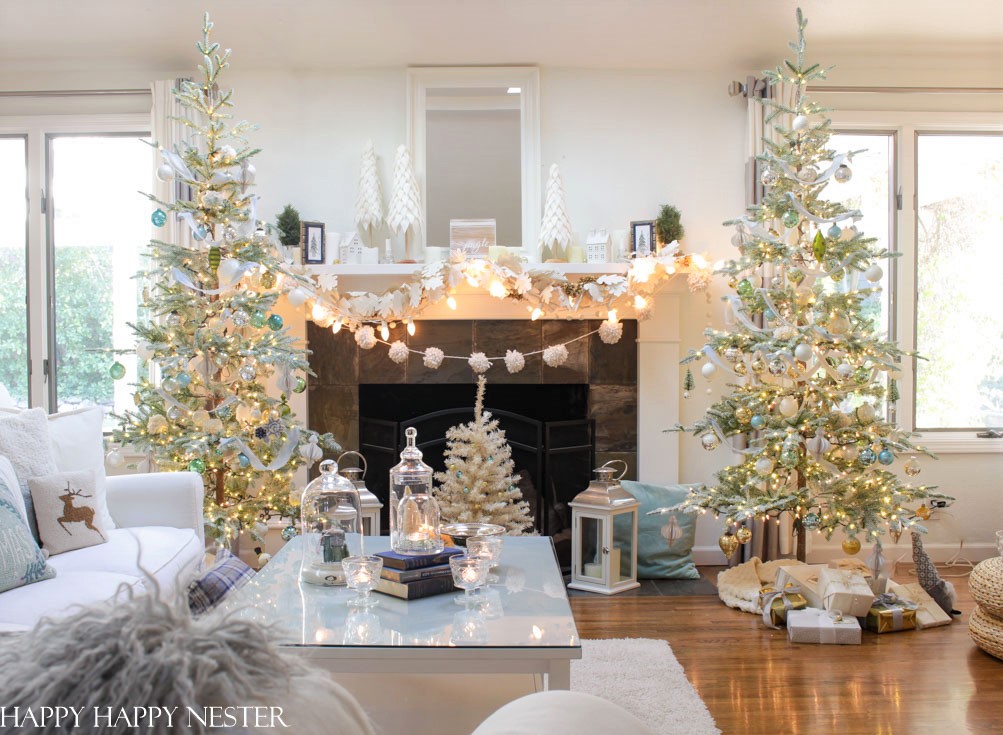 This is the first year I have ever decorated with silver and ice blue Christmas tree decorations along with hints of green. Can you believe that? I have created almost every winter wonderland except this one! So it's safe to say this year's tree quickly become a family favorite!
Every Holiday season, I become overwhelmed with Christmas shopping, baking, decorating, and writing blog posts. So this year, I decided to go easy on myself and create a minimal, simple look with blue ice Christmas decorations.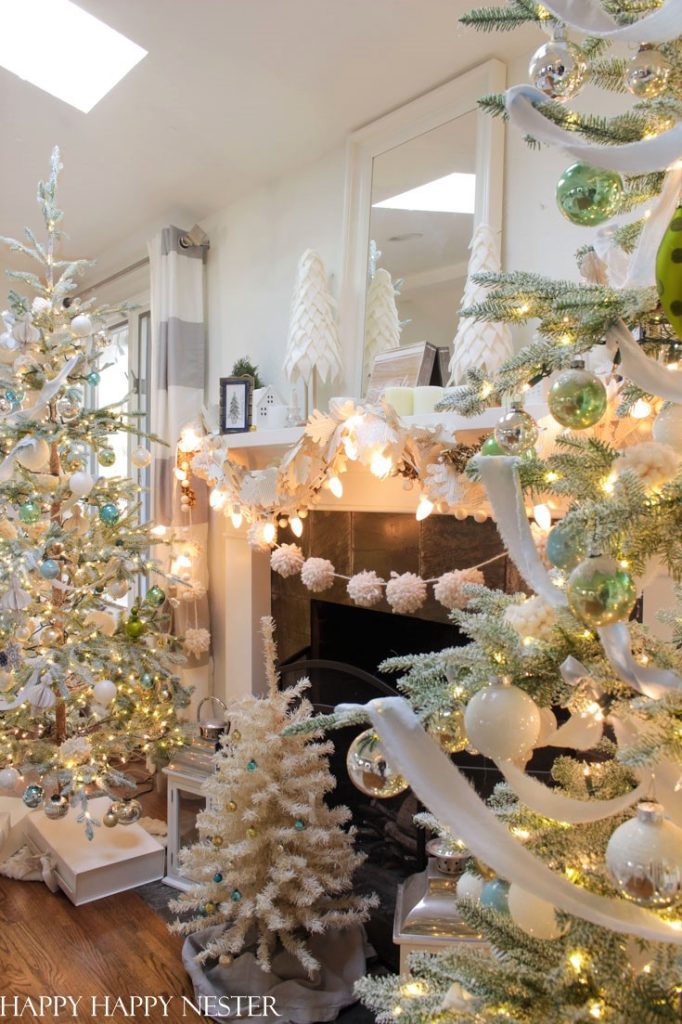 Little did I know, the more I started to decorate the living room, the more decorations I added to the point where this was no ordinary, simple tree. In the end, my living room turned into a forest fairytale!
Yes, Christmas is only days away, but there is still plenty of time to add a few ornaments there and some ribbon here, so come on and let's check out my 2021 festive look!
Either you are trying to finish up last-minute shopping, decorating, baking, you name it, OR you're done with everything and have been enjoying time with loved ones. So whether you're the first or second type of person, here are some extra Christmas inspiration and decor ideas to help you out this season or possibly next year!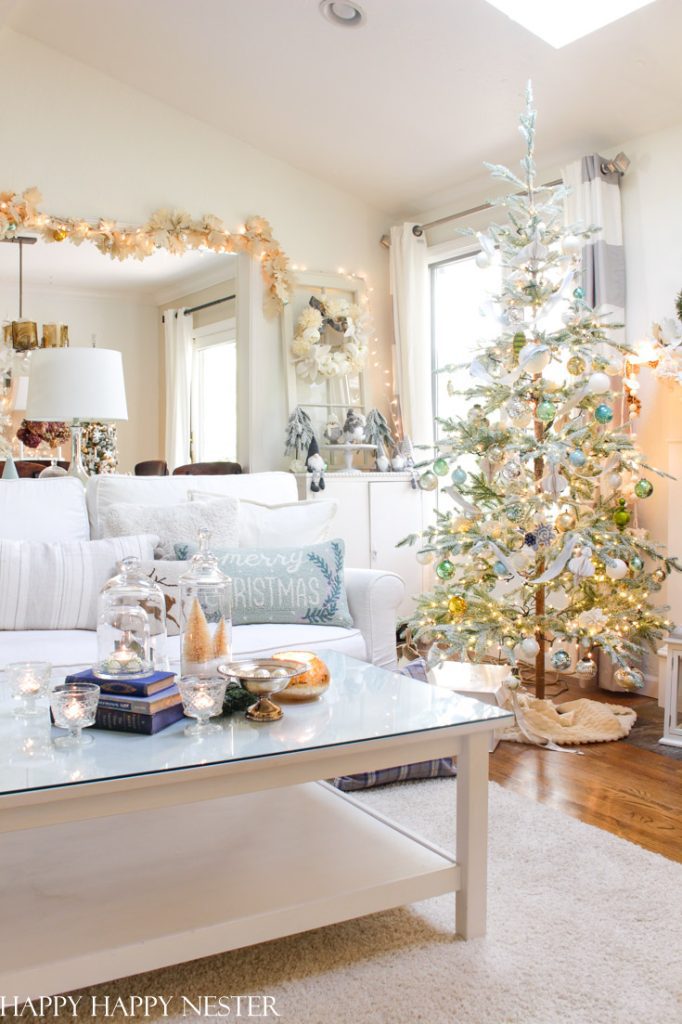 I hope to inspire you to create, design, and decorate for Christmas! Here are a few other holiday decor posts that you might find interesting:
Ice Blue Christmas Decorations
*The following post contains affiliate links
What are the Most Popular Christmas Decorations?
Here is a list of some of the most popular Christmas decorations to use to create that seasonal space you've always wanted.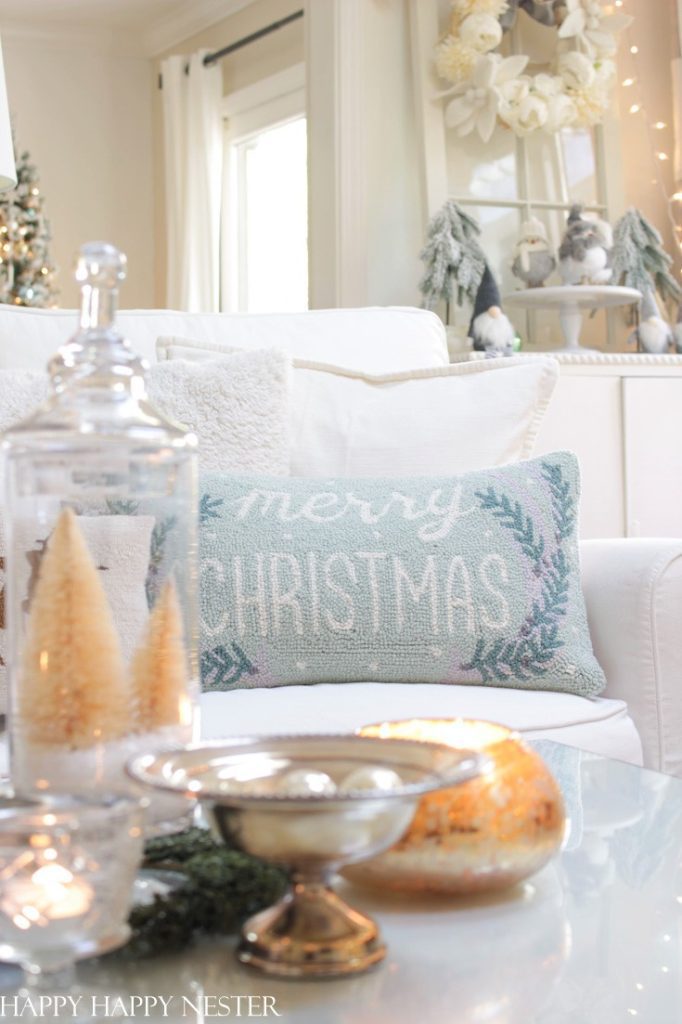 Candles
Garlands
Ribbon
Festive Pillows
Faux Fur Throws
Poinsettias
Wreaths
Twinkle Lights
Ornaments (big or small)
Tartans
Tips on How to Create this Frosted Forest with Ice Blue Christmas Decorations
Tip 1 – Choosing the Colors Blue, White, Silver and, Green
I chose these specific colors because I wanted to branch out of my usual white decor and thought this color combination would create a calming, welcoming space for friends and family. Plus, I had never made an ice blue winter wonderland scene before and thought this year was perfect for doing so!
Tip 2 – Choose Blue Decorations
One of the first steps in designing a Christmas tree is picking out the correct colored decorations. I decorated it with light blue ornaments with a vintage look for this case.
Along with using light blue ornaments, I used light turquoise decorations to create many shades of blue. I also included a few dark turquoise ornaments to add some pop!
Adding ribbon is such a gamechanger when it comes to decorating a tree. So I draped small sections of light blue ribbon throughout the tree to create a fun look!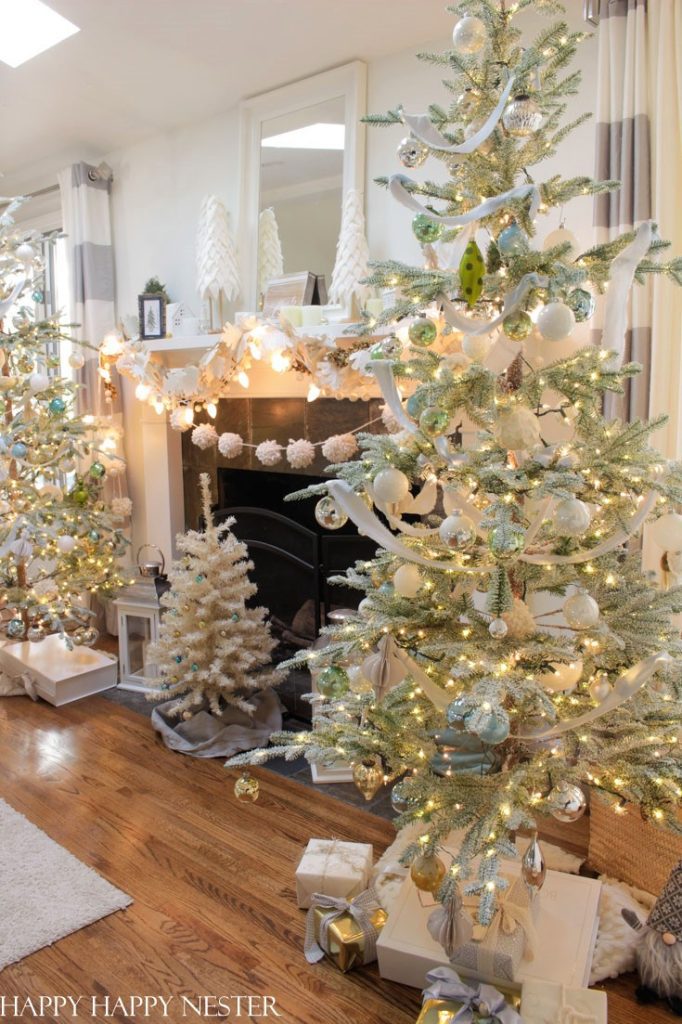 Tip 3 – Choose Silver & White Accessories
It's a given that you include white and silver ornaments along with fun trinkets such as paper ornaments too! On some of my decorations, there was glitter on them to add extra sparkle to the trees!
Silver and plain white ornaments, snowball ornaments, frosted and white fuzzy ornaments create a unique design throughout the trees!
I also hung a white pom pom and paper leaf garland on the mantle and placed some of my white fleece Christmas trees on the blog if you want to make them!


Tip 4 – Mantle Necessities
Like I mentioned before, I have a couple of garlands hanging on the mantle, along with some of my favorite fleece trees.
I also included candles. Lots and lots of candles because I think that's the secret to creating a warm and cozy space. Use candles! Most of mine are different sizes and plain colored to keep it simple.
It doesn't hurt if you add mini ornaments along with tiny bottle brush trees on the mantle to add to the cuteness!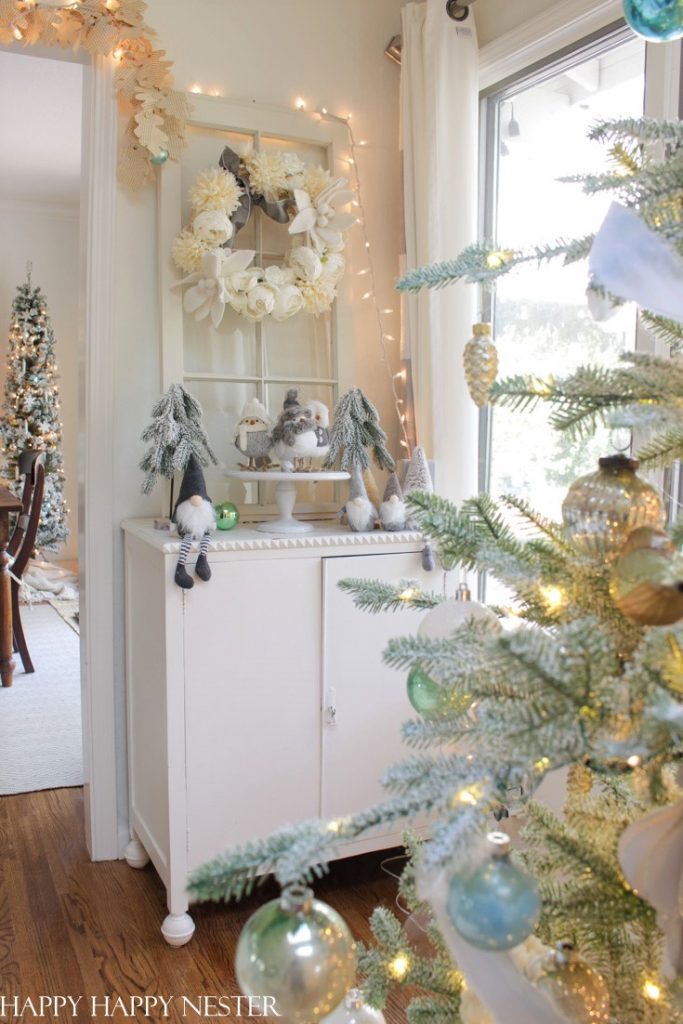 Tip 5 – Adding Cute Characters
I have been obsessed with adding miniature characters such as birds and gnomes to my decor! I think these animals add a wonderful touch of joy to the room!
Create a little scene in your holiday home and include birds, gnomes, reindeer, angels, and so much more!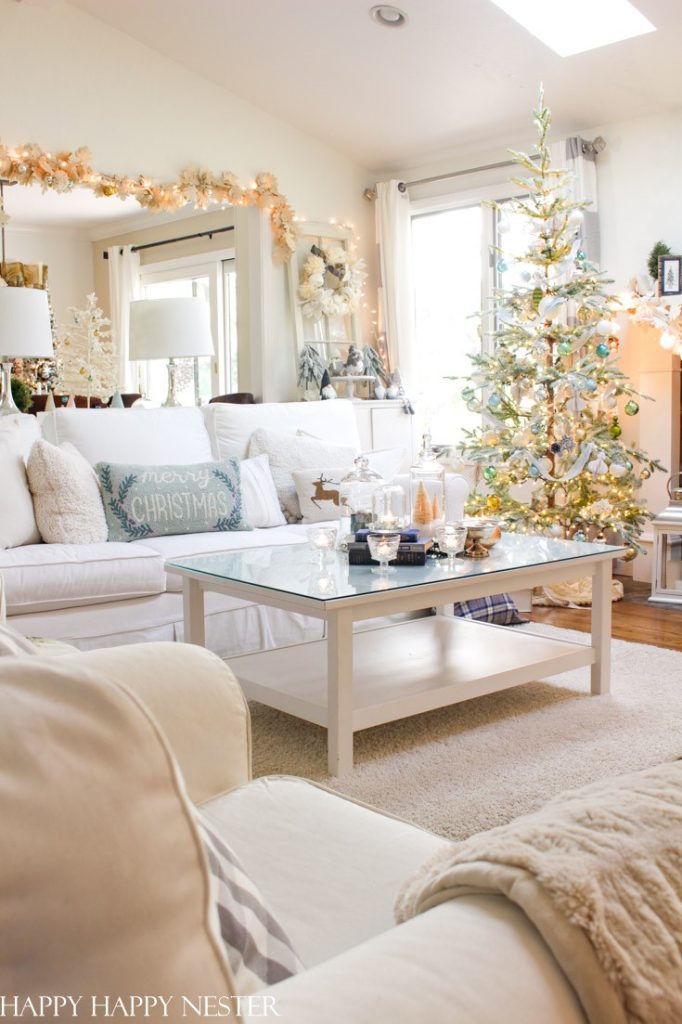 Tip 6 – Decorate with Pillows and Blankets
When creating a seasonal space for the holidays, you want it to be a place for you to kick up your feet and relax. So might as well add some festive pillows to the couch and chairs along with some fuzzy throws to cuddle with!
I have about two pillows with Christmas sayings and then a bunch of faux fur blankets because my family loves to wrap themselves with the coziness of a throw during movie nights!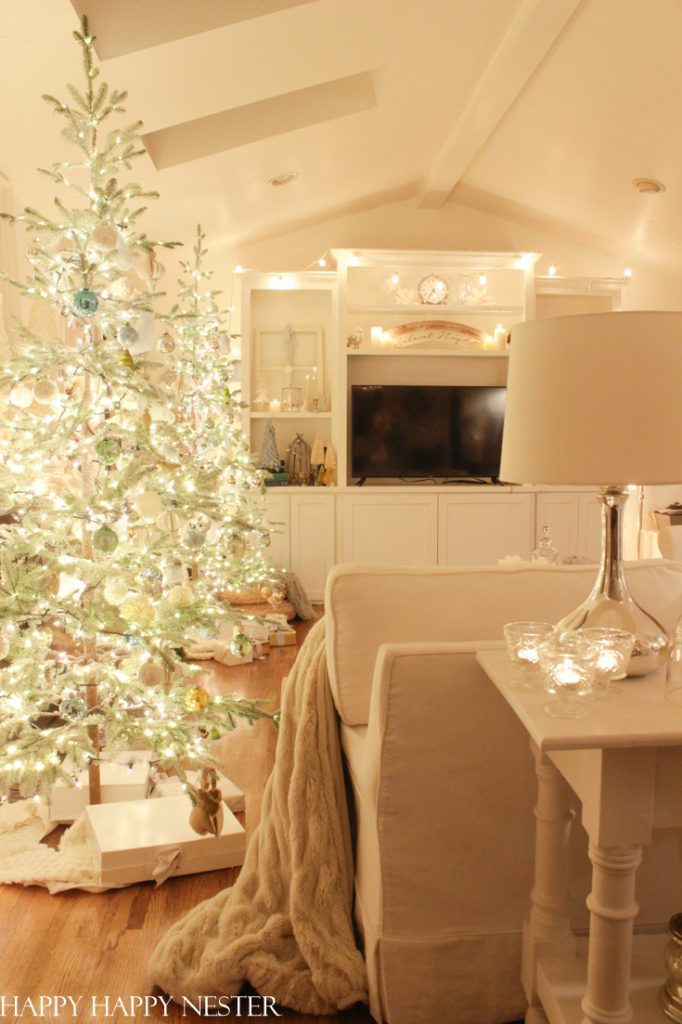 Here's a Nighttime View of Our Ice Blue Christmas Decorations! I hope you enjoyed this blog post about my tips on creating such a frosted forest. You never know, maybe you found your look for this Christmas or next year! With just a few days left until the big day, I have some last-minute shopping to do and lots of baking! So stay tuned for more Christmas posts!
Merry Christmas and Happy Holidays!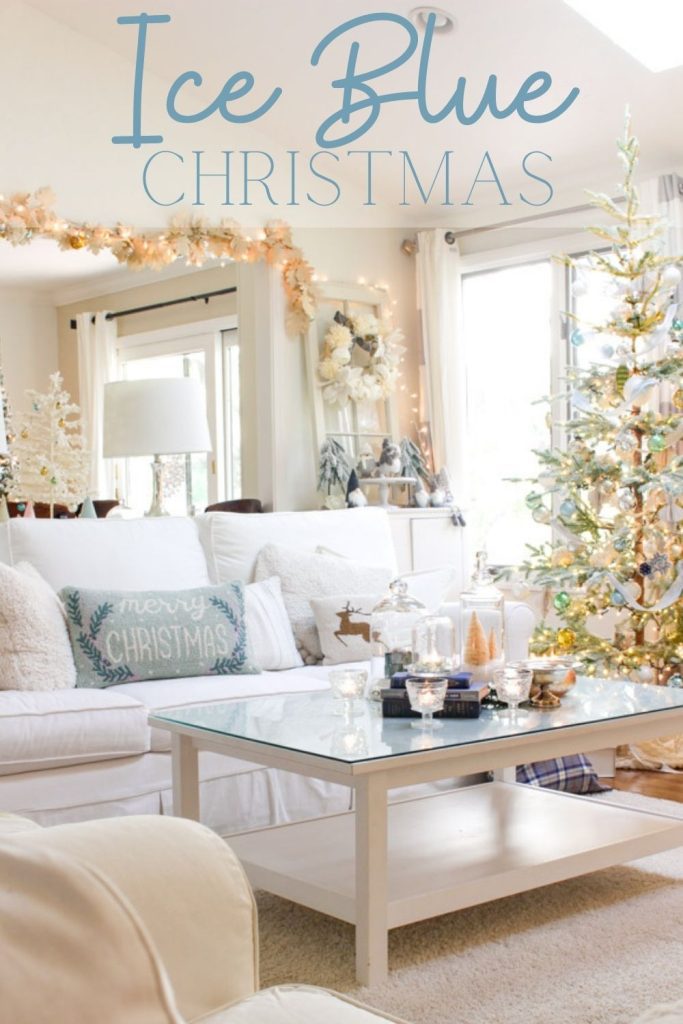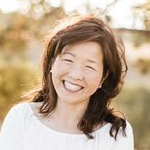 Latest posts by Janine Waite
(see all)