Our Northern California home is a sprawling ranch with low ceilings and a cozy vibe. So, it's natural to style our holiday decor with a Cottage Christmas Decor theme. Here are some ideas on how to get this look for your home. I hope you enjoy this night tour of our cozy holiday home!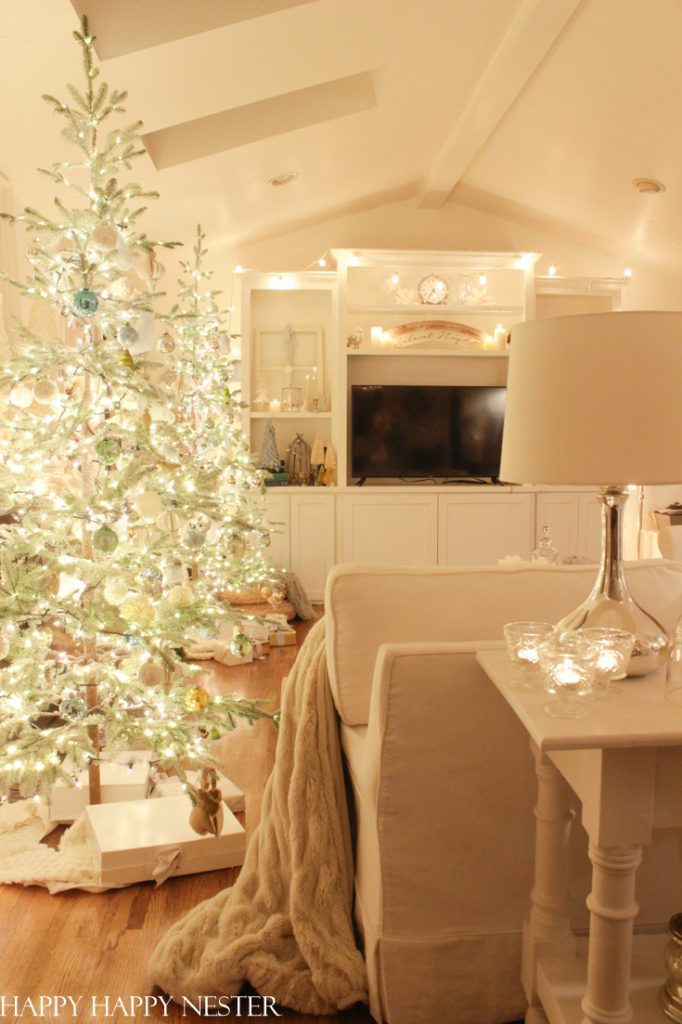 I always look forward to decorating our home for Christmas. All the added decor instills charm and warmth to an otherwise wintery cold and dark time of the year.
Every Christmas, I love all the decorations, but this year's decor has a serene calmness that is beautiful. So come along on this special night tour of our home.
I love our home and the coziness of the rooms. There is something so inviting and liveable about houses that don't have tall vaulted ceilings. We had high ceilings in our last home in Seattle, and I must admit that it did have a bit of a cold vibe.
I especially love our current California home during the holidays and the long winter nights. The bright twinkle lights give a glow that warms the room. And during the winter and the short days, I need a bit of cheering up inside.
But, before we peer into my cottage Christmas decor, I need to mention that Rachel from Maison de Pax hosts today's tour. I look forward to this delightful tour since it's specifically a night tour.
Cottage Christmas Decor
*The following post contains affiliate links
Cottage style includes comfortable furnishings, natural elements, and fresh colors. There are really no set rules about decorating with a cottage flair, but I naturally gravitate towards a specific way of decorating.
This Christmas, my decor was determined by the trees I used. You see, in the past, and I decorated our home with big faux trees, which overwhelmed our cozy home.
So let's take a look at all the different elements that I feel make up a cottage-styled home.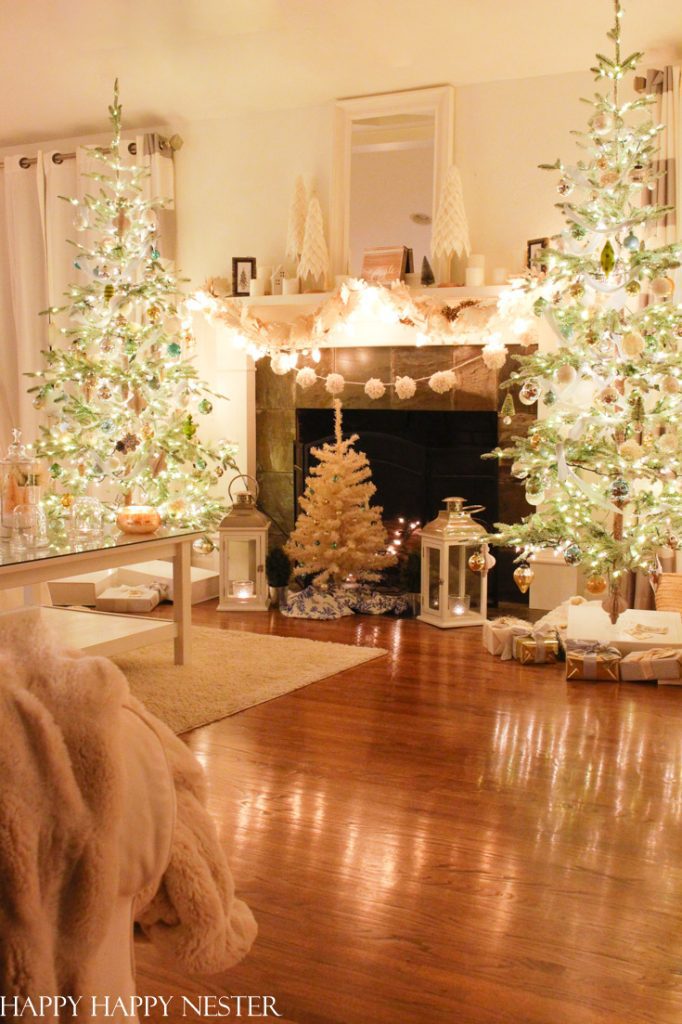 Natural Elements
Our faux trees from Balsam Hill look pretty natural. They have a small dusting of snow but are not overly flocked. I love how they set the tone for my cottage Christmas decor this year.
I usually use big faux trees that overwhelm our living room. But this year, these dainty trees fit the bill for a pretty natural style. They are so inviting and cozy!
I draped fresh balsam boughs on our front porch over the door and windows. I love this natural look. I added a festive tartan outdoor rug to warm up our porch this year.
Textiles
My ultimate goal for my cottage Christmas decor is a relaxed and comfy style.
I chose a wide range of pillows. The base of my pillows is white, and they set the stage for a few fun pillows. I love my Serena & Lily Luca pillow with its French-style stripes.
I found adorable wool hooked pillows that reminded me of my husband's New England roots. I found the little reindeer pillow at a thrift shop. I always have to add a bit of whimsy to my decor.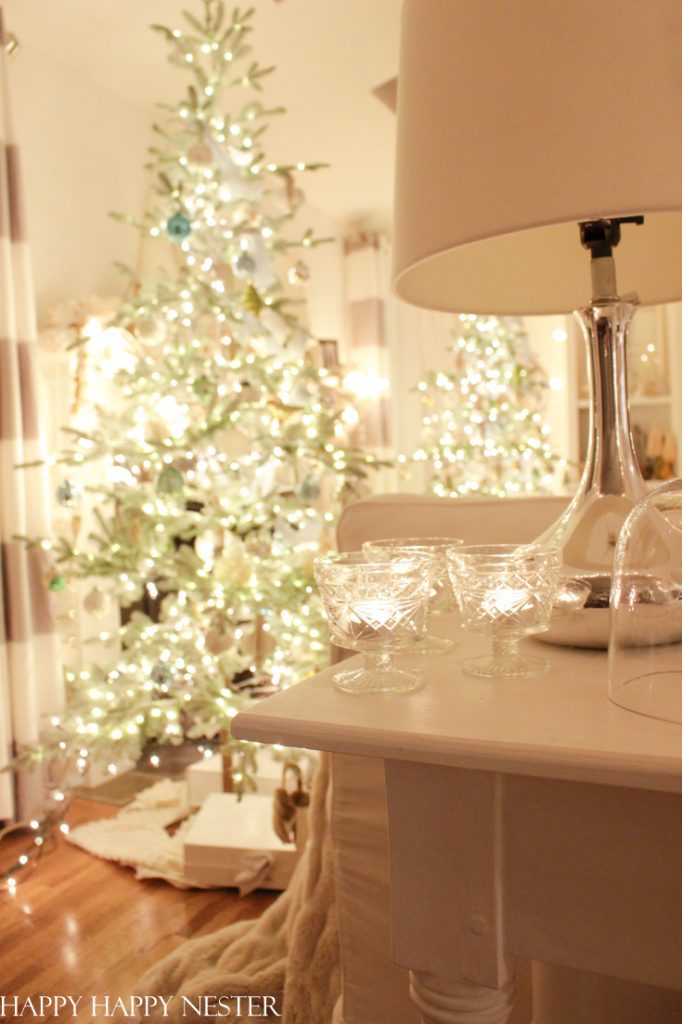 Accessories
My favorite pastime on the weekends is to visit some local antique or thrift shops. I'm always on the hunt for unusual and inexpensive holiday decor.
Recently, I found these fun little dessert glasses. It's fun to mix and match things and add an element of surprise.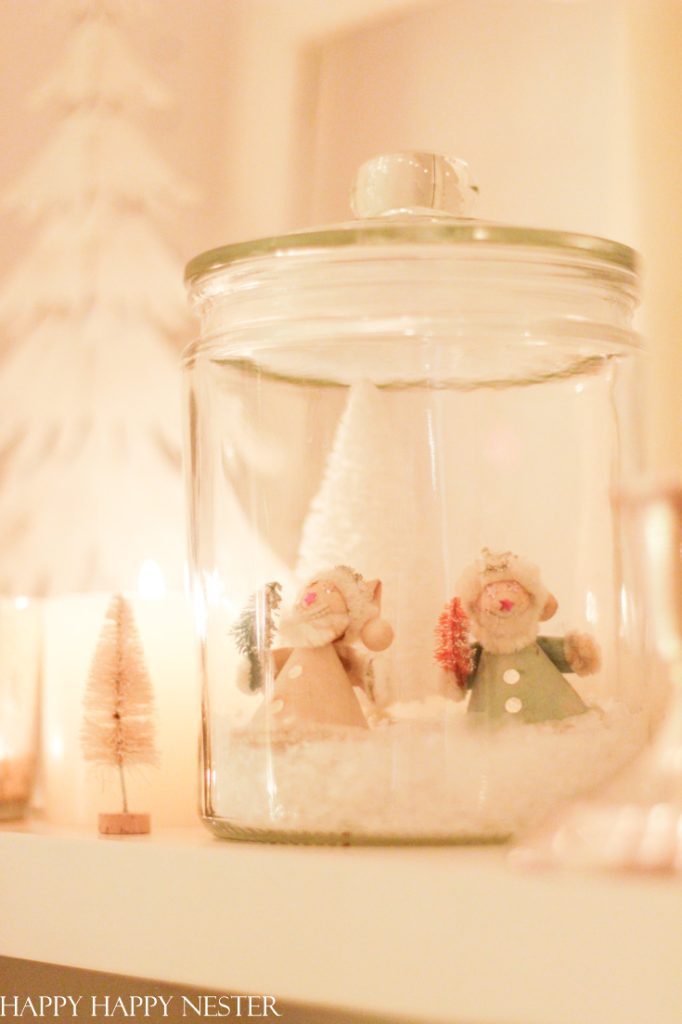 I bought these cute vintage figurines at the Alameda Antique Fair this fall. My daughter created a cute vignette in some of our glass kitchen containers.
A Backdrop of Neutral Colors
It's been a long journey of convincing my husband to change our interior walls to white. He had it in his mind that white was stark and not cozy.
Now that our home is white with white furnishing, he loves the change. In addition, it allows me to add any color to our home regarding the various seasons.
I choose mostly white decor this Christmas with light blue, silver, and gold splashes. This color combination is refreshing and captures the winter snowy vibe.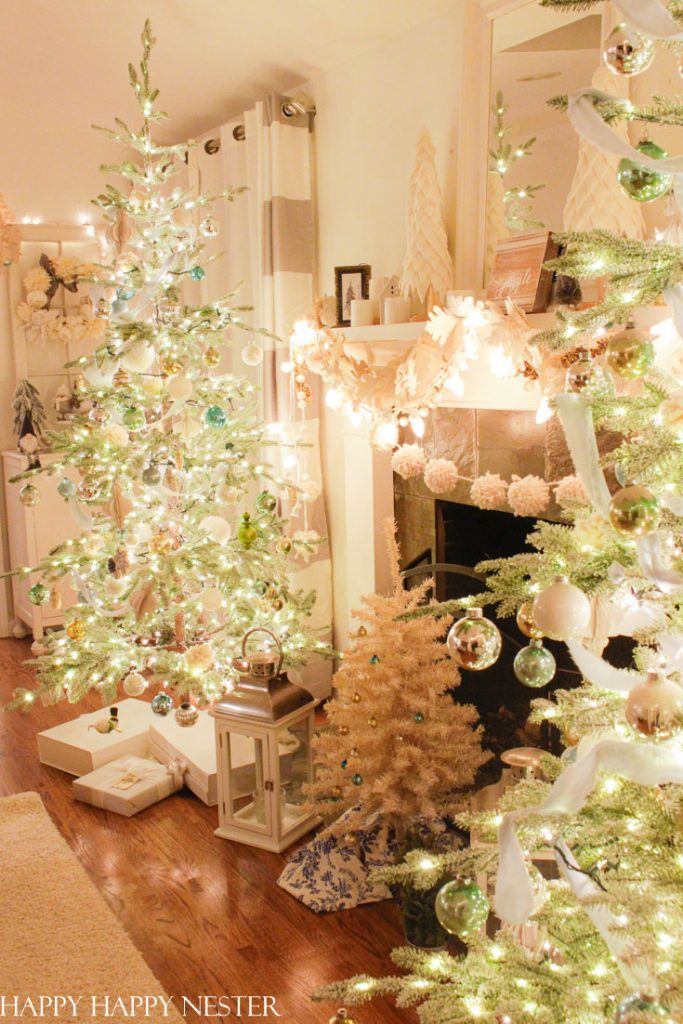 Homemade Christmas Decorations
My Christmas decor wouldn't be complete without some homemade Christmas decorations. But, you see, sometimes I can't find the exact accent for my mantel, tree, or bookshelf, so I usually get crafty.
Making your own decor means you get a custom piece that no one else has, and it fits perfectly with your home.
I love to make garlands since not many home decor stores carry them.
Leaf Garland – My book, leaf garland, made out of the pages from a hardback book, is my favorite for holiday decorating. It has a cottage and vintage style that warms up anything furniture.
Pom-Pom Garland – I also love adding my pom-pom garland. Both these DIY accents have a really homey, cozy vibe.
Fleece Trees – I added my adorable fleece cone trees to our mantel, which cozies up the room.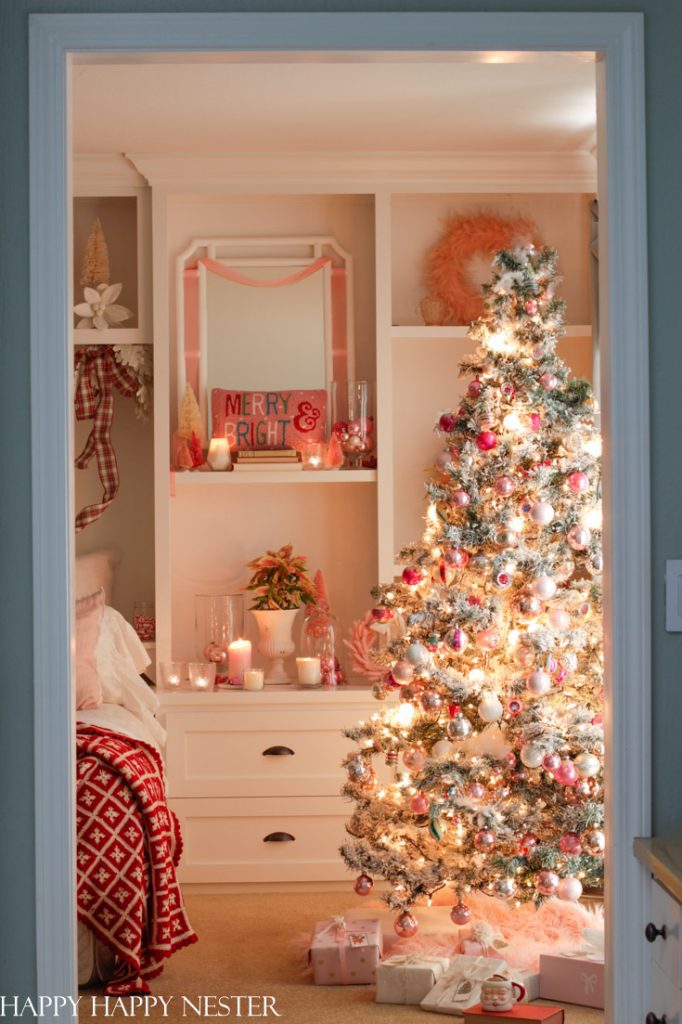 Layering of Decor
I gravitate towards a layering decor. I've concluded that it's my natural bend, and now I embrace this style. In my mind, the more layers, textures, colors, the cozier the decorations become.
This is my bedroom holiday decor this year. I found this year that the more ornaments on a branch, the better. So my cute little faux tree is jam-packed with all the cherished vintage ornaments that I've collected over the years.
And by the way, this photo is among the nominations for Cottages and Bungalow's Christmas tree competition. So if you feel inclined to vote for me, here is the voting link.
---
Thanks so much for your visit. And welcome to any new readers!
Happy Holidays to you and your family!



Join my friends and me on our Holiday Night Tours!
Maison de Pax | French Country Cottage | Bless'er House | Nina Hendrick
Rooms for Rent | At Home With The Barkers | Maison de Cinq | Finding Silver Pennies
Thistlewood Farms | Happy Happy Nester | Julie Blanner | The Happy Housie
…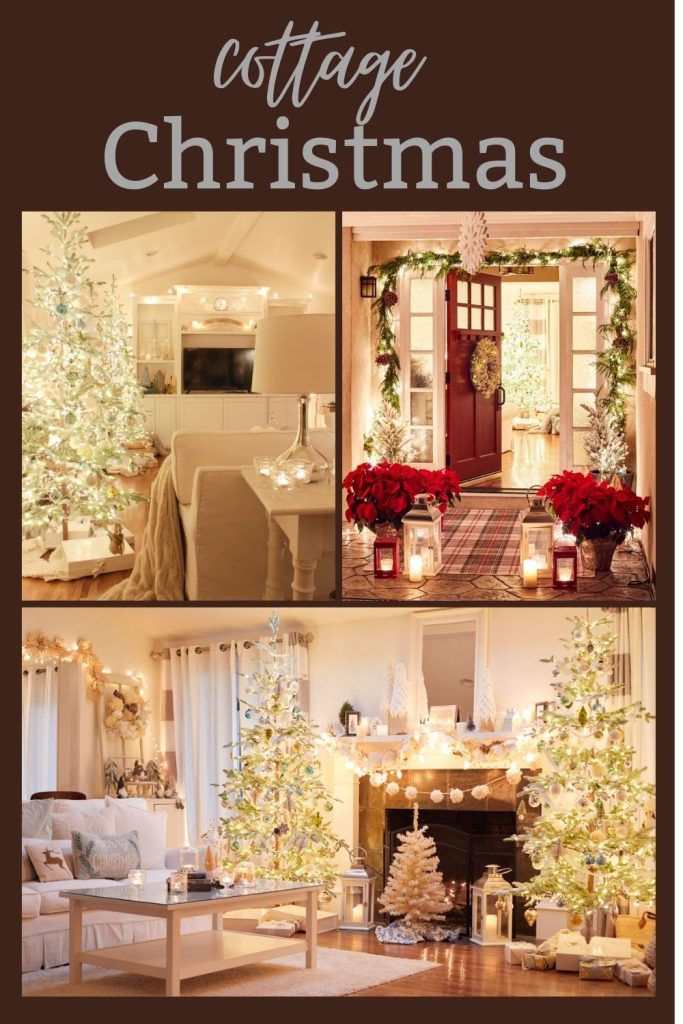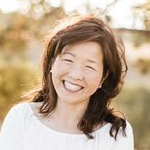 Latest posts by Janine Waite
(see all)