Who's excited to finally see my Pink Theme Christmas Tree? I'm thrilled to show you! Today, I share my best tips and tricks on how I decorate my tree, what accessories I use, and overall how to create this winter fairytale.
Here's the back story behind this pink winter wonderland. One year, I decided to branch out from my usual white decor and go pink instead. Yes, it was a risky move because pink is a very different color from the traditional red and green shades for the holiday season.
But it's safe to say I was overjoyed with the outcome that I decided to decorate my bedroom with pink decorations for future Christmas's!
Whether you're just starting to take down all of those boxes of ornaments or you're planning on what you want your seasonal space to look like, here are some helpful words of advice that will go a long way when it comes to decorating a tree and creating that memorable scene.
So, take a break from the holiday shopping, baking, and creating, and take a look at my pink theme Christmas tree!
I'm still surprised my husband hasn't said anything about the overflowing amount of pinkness around him every time he enters our bedroom. It's almost as if he prefers the pink decorations instead of my white farmhouse look!
Who else has a partner or friend that supports you nonstop? That's my husband for me. And today, you could say both of us are excited to give you our holiday bedroom tour!
Before I answer all of your thoughts, questions, and concerns, I wanted to add that today's post is part of a three-day series encompassing a Christmas tree. The first day was all about a chic DIY Christmas Diorama Ornament. Yesterday included Free Printable Vintage Christmas Tags for Gifts. And today's is all about my Pink Theme Christmas Tree!
How to Decorate a Christmas Tree
Fluffing the Tree
First things first, once you set up your tree, you should fluff it for more volume. Fluffing a Christmas tree means pulling out the bent branches and spreading them out as much as possible to properly ensure the tree looks as full and lifelike as possible.
Depending on the size of your tree, it will take longer to fluff if you have a larger-sized Christmas tree, so make sure you have the time to do this first step.
String Lights
Time to add the glow! Yes, string lights can be a hassle and sometimes frustrating, but in the end, the glow of twinkle lights is worth it. So nowhere you start stringing, here are some life-saving tips that I have mastered over the many years of decorating.
Decide where to secure the lights first
Choose to cross or not to cross
Don't rush
These three tips have saved me so much time, along with many headaches. As much as this step is time-consuming, I always love the outcome. I think it creates such a calming and cozy feel in the room.
With my pink theme Christmas tree, the popular LED cast a blue hue on the tree, which I wasn't happy about, so I ended up stringing my lights. Plus, I also added some big globe lights for a pop of white.
Placement of Ornaments
If you have more than one color of ornaments, don't be afraid to use them all! In this case, more is better! When you finally have your desired ornaments, it's now time to place them on the tree.
So start with pink decorations and put them in a balanced configuration. Then place the white and silver accessories to compliment the pink.
You might have to step back and look at the tree from aways to see where your subsequent ornament placement should be because you don't want to put similar ornaments right next to one another. However, if you end up placing ornaments close together, it will look crowded, confusing, and unflattering.
And lastly, it's time for the final ornaments. These last ornaments are also known as your unique ornaments, the ones that are a traditional piece or a family heirloom to add. These are your show stopper ornaments!
Multiple Ornaments on The Same Branch
While placing your ornaments, have fun with them and layer some of them! Here's a trick: place your prettiest ornaments in the front, so they are the first accessory everyone sees as they admire your Christmas tree!
You'll need lots of decorations to layer, so make sure you have enough; otherwise, it will look uneven.
I used my vintage pink ornaments to create my pink theme Christmas tree because I love the look.
Fun fact, I collect vintage ornaments all year round, so if I need to decorate a tree on the spot, I'm prepared!
I know these sorts of pieces aren't everyone's first choice for decorating, but if you want to create a look like mine, you will need vintage accessories.
Size of Ornaments Matter
Believe it or not, the size of your ornaments matters! So for this pink theme Christmas tree, I ended up placing the more miniature ornaments on the upper part of the tree and then worked my way down from there with medium to large-sized decorations.
Like I've mentioned before, you might have to step back and look at your tree throughout the process of placing your ornaments based on size because sometimes the tree can become uneven with small and large ornaments next to one another.
Find the Resources about Pink Theme Christmas Tree
*post contains affiliate links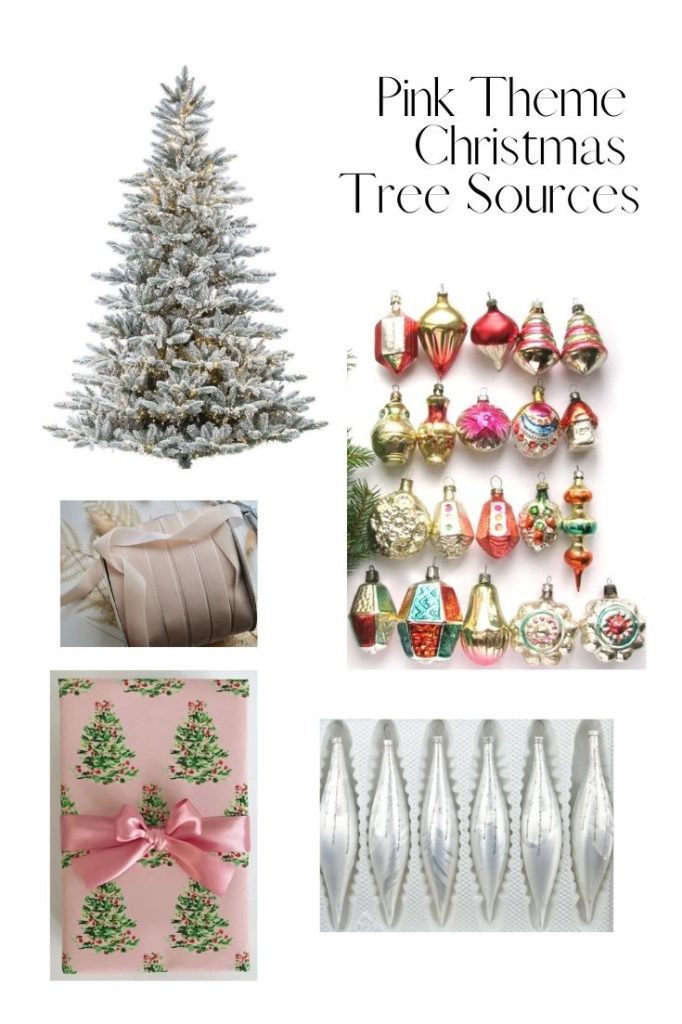 Sources: vintage ornaments l flocked Christmas tree l silver ornaments l gift wrap l ribbon
Extra Tips
Bonus! Here are a few extra tips and tricks to creating my pink theme Christmas tree!
Build a theme by choosing the colors of your decorations, ornaments, elements before your start decorating. For example, a Christmas tree to look professionally decorated needs a piece that ties everything together.
Get inspiration from Christmas decorating blogs, home décor sites, or Pinterest. But, of course, I always look to Instagram and magazines for inspiration! After that, create a mood board to set the direction on how to style the tree. Also, this helps you determine what decorations you need.
Choose a tree that is a bit open in between branches, so more space allows you to pack in the ornaments. This way, it will look busy in the best way possible with gorgeous embellishments. The decor should overwhelm the viewer with amazement!
Before stringing your lights, always make sure they work! No one likes to spend 45 minutes decorating a tree and then find out, in the end, their bulbs are dead.
If you are having trouble filling space, try adding picks of organic elements, feathers, and other decorations to create more variety to your tree! Trust me. Your tree will look more impressive than before with a few extra pieces.
Surrounding Decorations
I decorated our whole bedroom to complement our vintage tree.
The Bookshelf contains glass vases of vintage ornaments as well as pink bottle brush trees.
Books My daughter and I found a bunch of red and pink old books in our personal library. And we also bought a few at our local thrift store.
Presents I wrapped some presents in some coordinating colors. I also designed some vintage themed Christmas tags for the gifts.
Hopefully, you found some inspiration to create your own pink theme Christmas tree or have discovered some new tips and tricks!
Looking for MORE Christmas Trees? Here are my favorites!
Thanks again for stopping by my pink theme Christmas tree post! I hope you have a healthy, safe, and peaceful holiday season.
Cheers,
Don't Miss These Stunning Christmas Trees!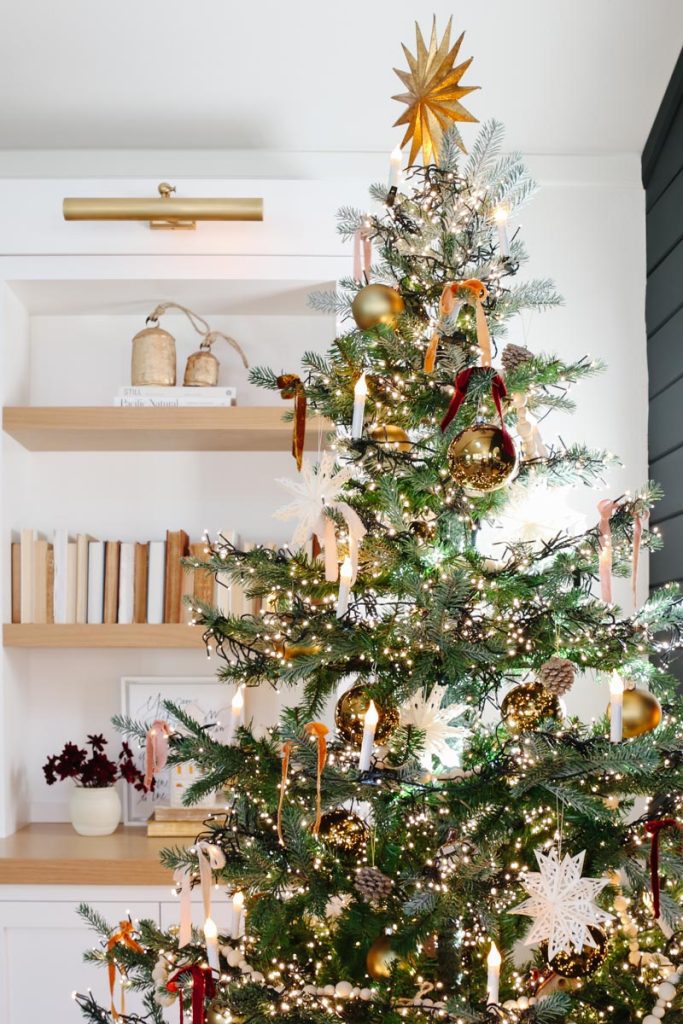 Christmas Tree Decorated with Candle Lights | Modern Glam
Old World meets modern with my Christmas tree this year decorated with candle lights. See all the details.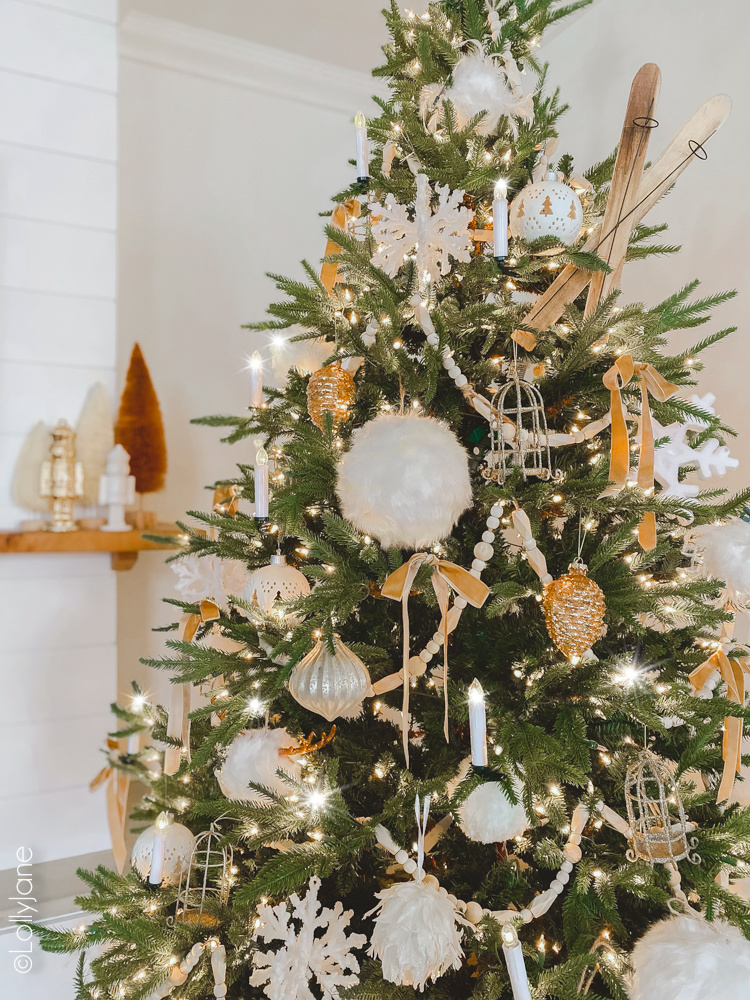 Christmas Tree Decorating Ideas | Lolly Jane
Decorate your Christmas tree in just a few steps with these simple ideas! Trimming the tree doesn't need to cost a lot of money or take a lot of time!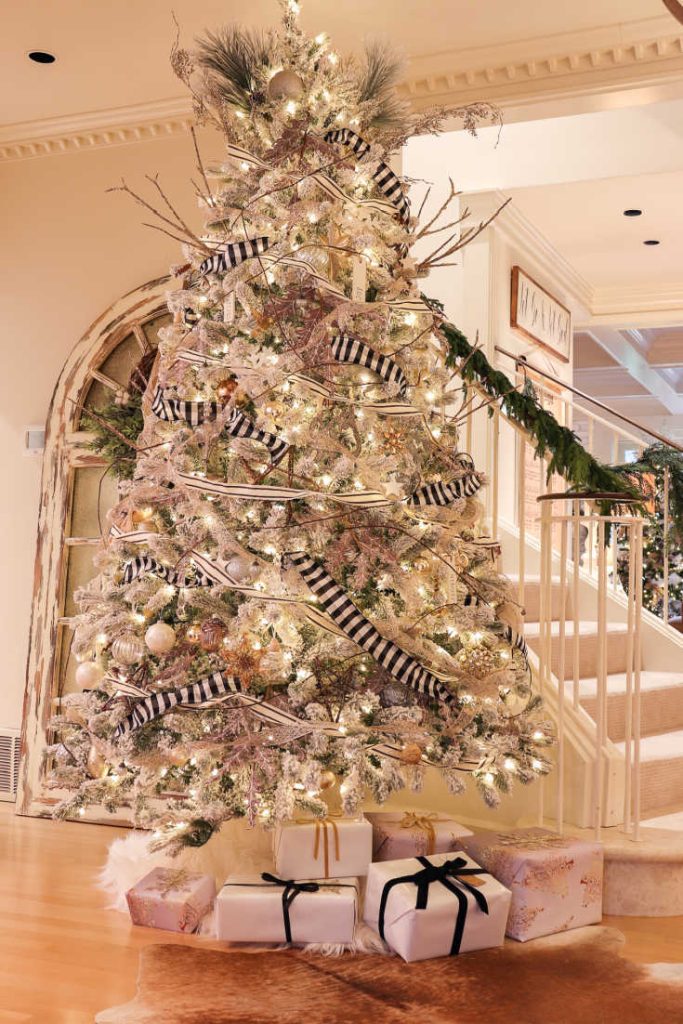 6 Easy Ways to Achieve an Irresistibly Festive White Christmas Tree | The Design Twins
Dreaming of a white Christmas tree? Our best insider tips, strategies, & sources to easily create a stunning white Christmas tree you'll love!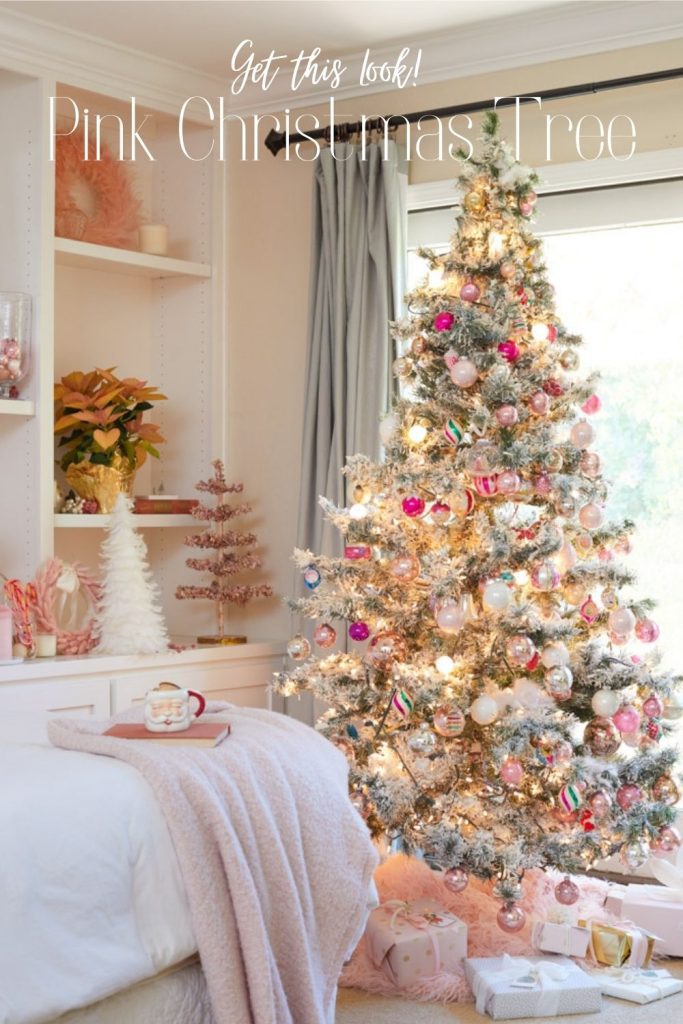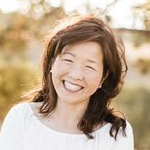 Latest posts by Janine Waite
(see all)