For some strange reason, during the holidays I always decorate our master bedroom in an Easy vintage Christmas bedroom decor. My guess is that vintage and pink are my go-to styles and what makes me happiest.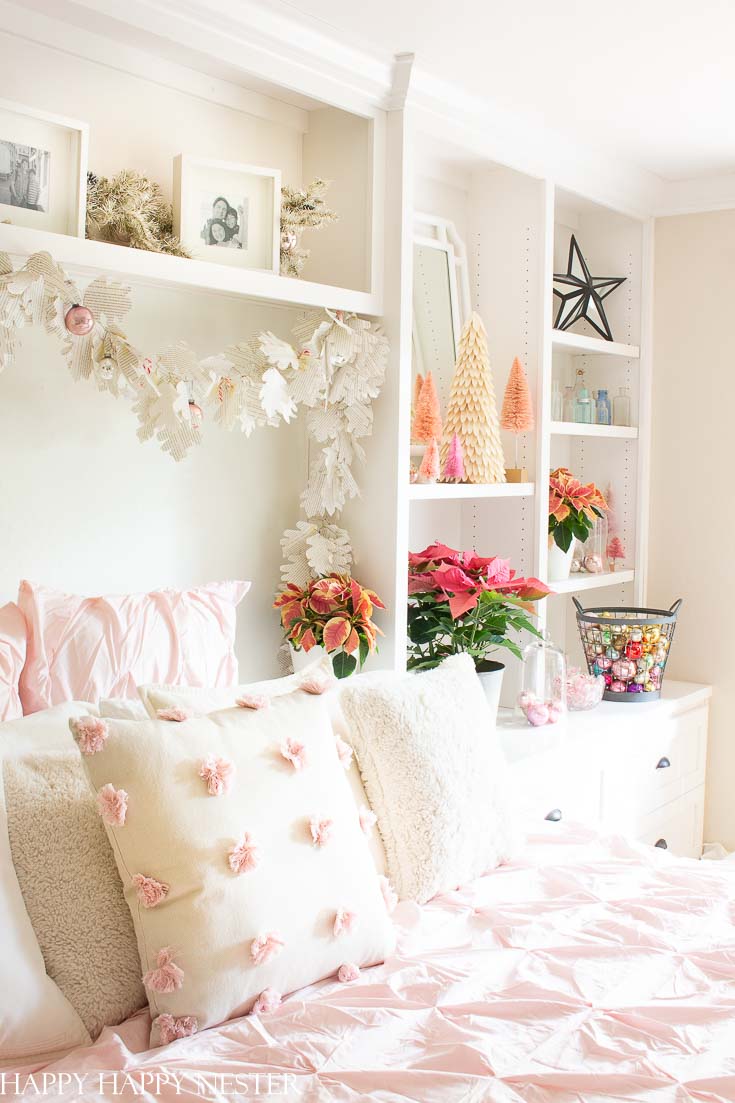 *This post is sponsored by Crane & Canopy but the opinions are all my own
The color pink just makes my heart skip a beat. It strikes a happy cord within my soul and with the dark days of winter, I need all the ray of sunshine I can get.
This post about my easy vintage Christmas bedroom decor is part of a wonderful tour. I'm tickled pink to be collaborating with a few of these bloggers who I started blogging with years ago. It's so nice to have such great friends in this blogging industry.
Grab Your Vintage Decor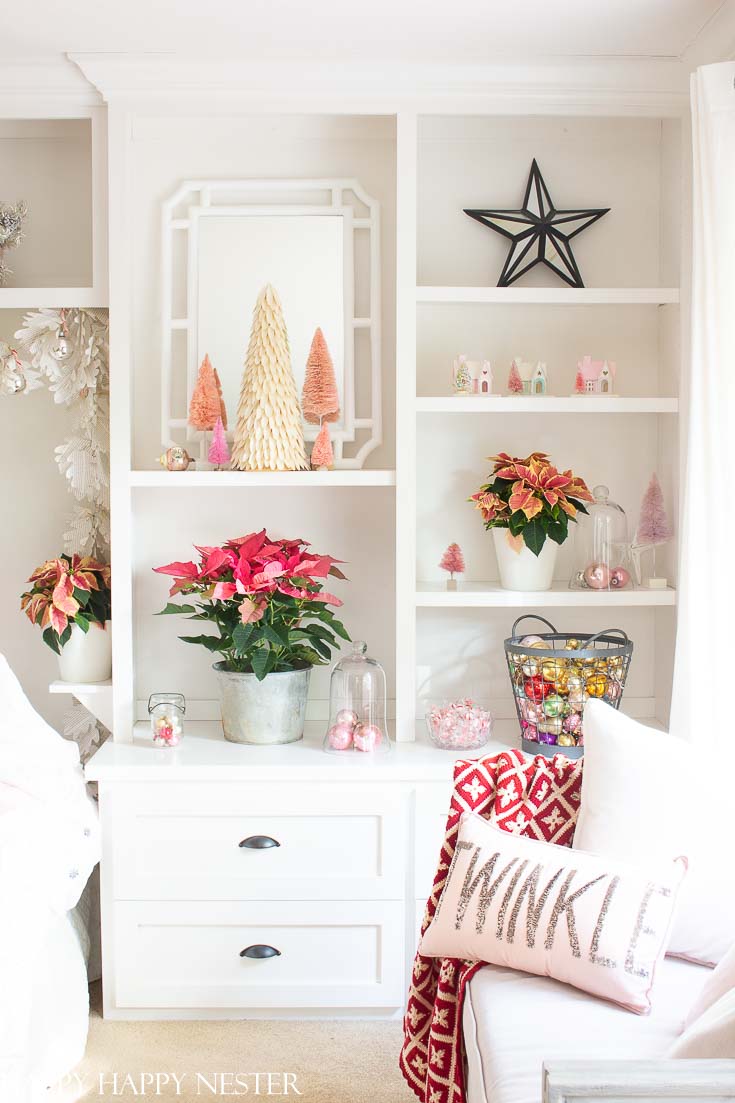 Add Old Ornaments
I collect vintage ornaments all year round. If we are in a thrift shop or at an antique fair, I will beeline for the vintage ornaments. The best find is when you buy them for 50 cents apiece or a box of them for $2.99. Gotta love those deals. You can find shops on Etsy if you want to shop online. Here are some resources: Granny's Box Shop, Old Box
Display Putz Houses
These adorable little houses sitting on my shelves are new, but the old versions have been around since the early and mid-20th Century. I must say that they fascinate me with their amazing little architectural details. They are the perfect addition to creating an easy vintage Christmas bedroom decor.
I bought my Putz houses from, Tinsel & Whiskey
Use Granny Square Throws
Yes, my grandma made this wonderful blanket for our family. I've always loved it and whenever I bring it out of storage, I always think of her. I enjoy how they instantly cozy up our home. And yes, I had a memory of the little granny square slippers she crochet for my brother and me. We would spray furniture polish on our stone floor and then pretend to ice skate with our cute slippers.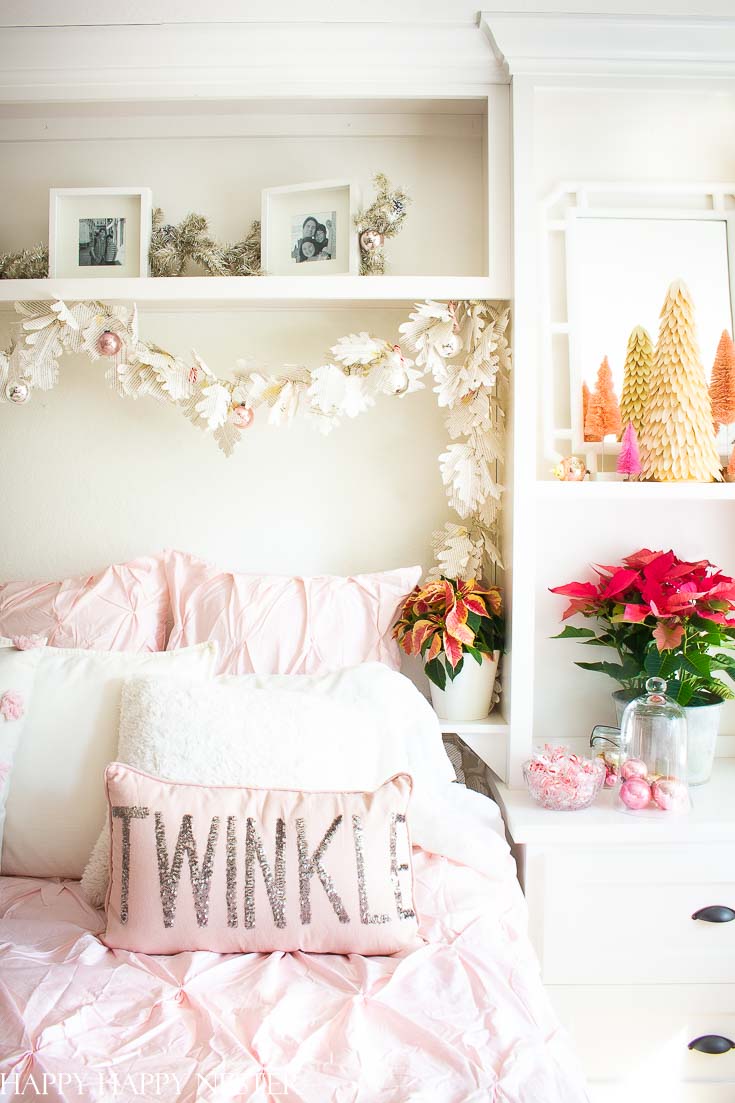 Retro Duvet and Pillows
My easy vintage Christmas bedroom decor wouldn't be complete without a beautiful duvet cover. The pintuck ruffles feel a bit vintage and are the perfect style to add to our bedroom. This beautiful set is available at Crane & Canopy. I adore the Euro pillows which happily pop up in the sea of bed pillows.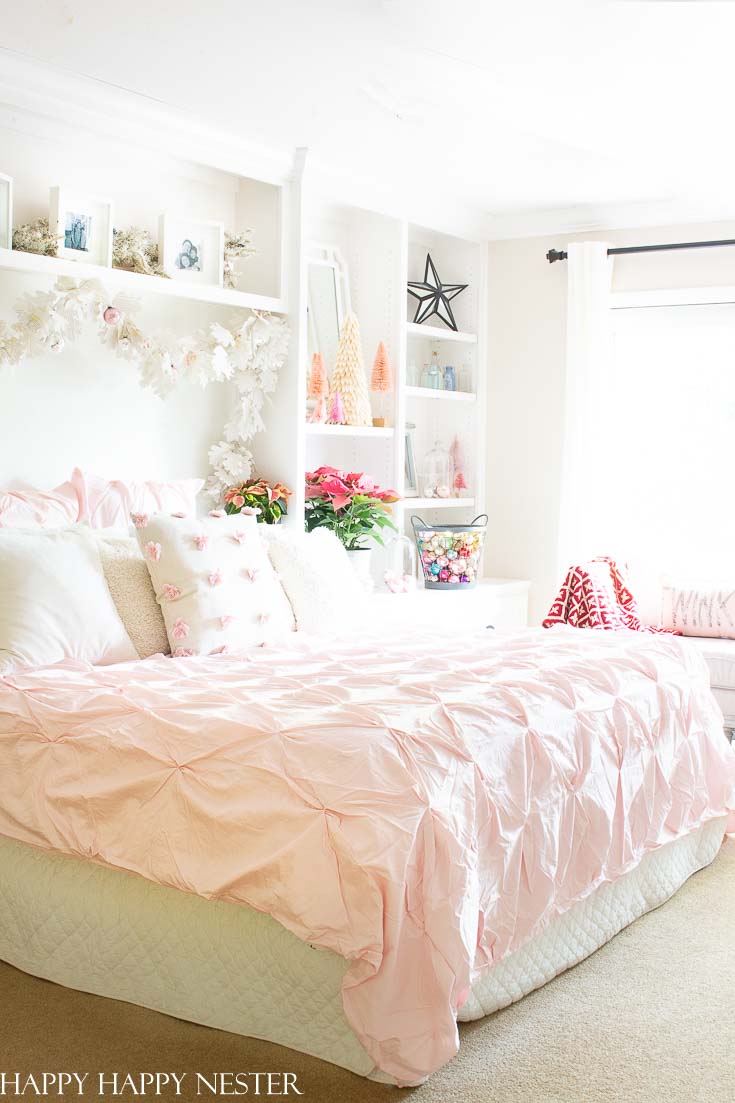 Make and Hang an Old Book Page Leaf Garland
Of course, I added my book pages leaf garland to our easy vintage Christmas bedroom decor. The weathered book pages have an old feel with an organic twist. I enjoy falling asleep to these leaves hanging above my head, it's like I'm sleeping outdoors in a secret garden.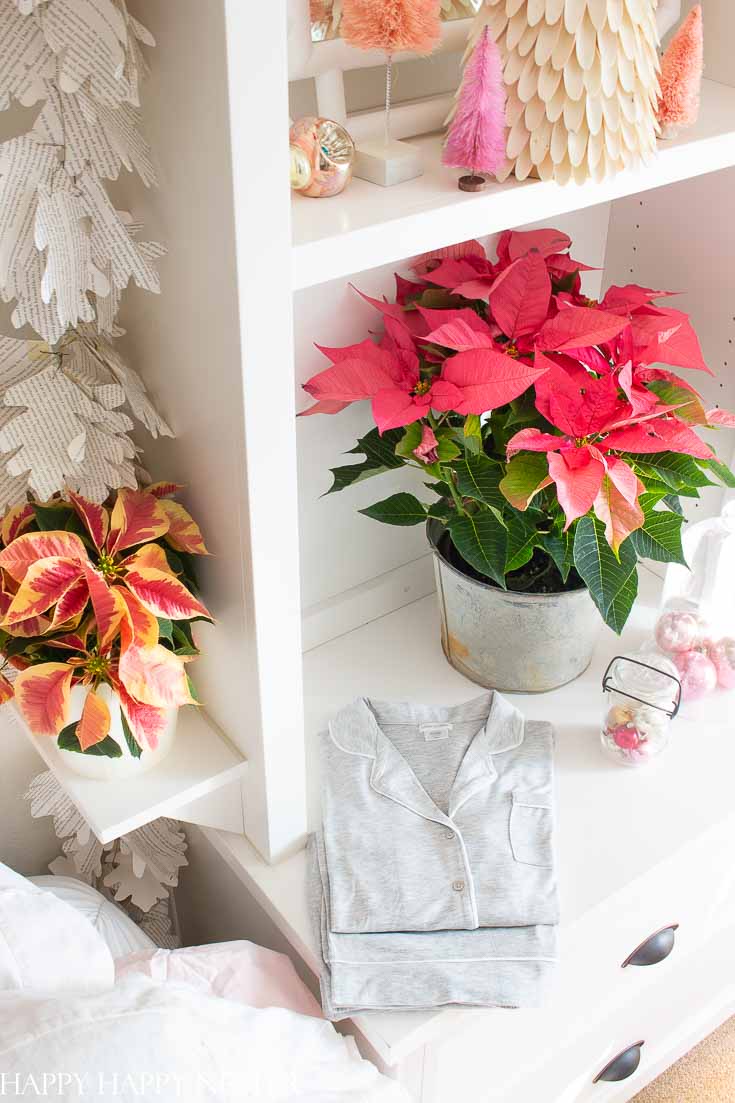 I couldn't leave out this extra soft and luxurious pajama set from Crane & Canopy. In fact, I love them so much that I'm wearing them as I'm writing this post. They are seriously so soft that you'll love wearing them all the time like me. I just don't know how they made the fabric so extra soft!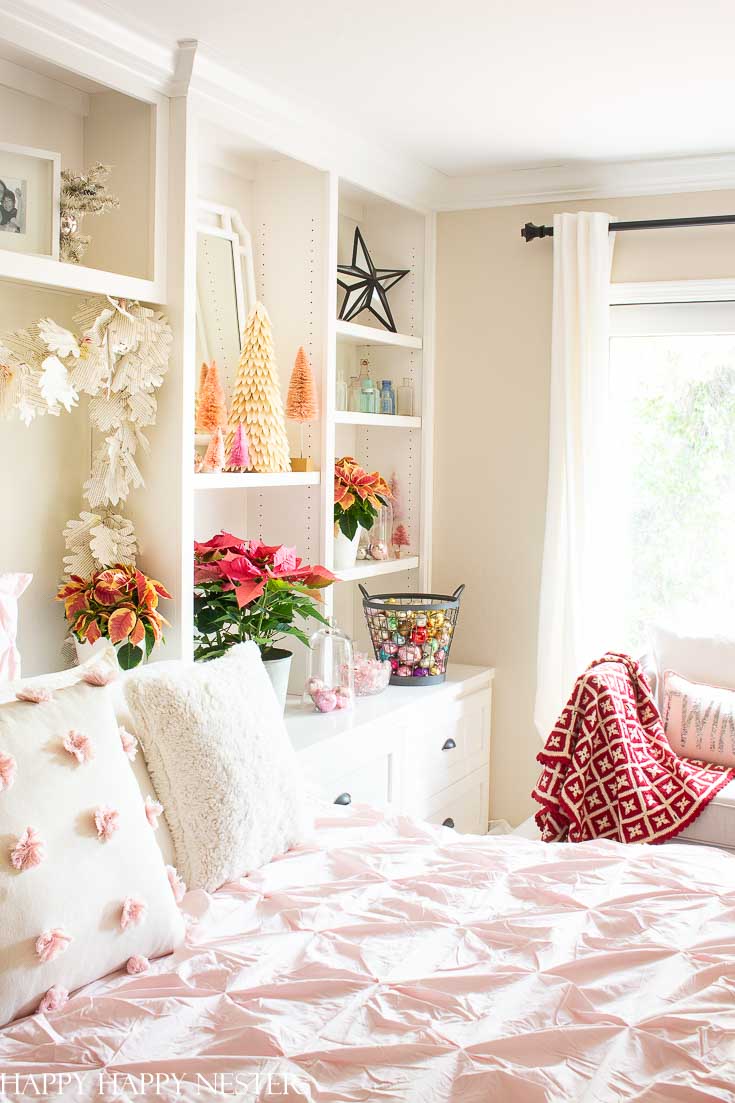 Thanks so so much for visiting my easy vintage Christmas bedroom decor blog post. I loved sharing my happy pink bedroom with you. Last year, I posted my Christmas bedroom and it was definitely another cheerful room. It will also appear on the Country Living website this holiday season.
Ok, I better bid you goodbye,
Cheers,

PS: PS: If you like crafting, decorating or baking I would love to have you join us in my private membership group.
Check Out My Friends Fabulous Holiday Bedrooms!
Ginny, Maple Creek Market
https://www.maplecreekmarket.com/single-post/2019/12/05/Santa-Claus-is-Coming-to-Town
Camila Pavone, Effortless Style
https://blog.effortless-style.com/2019/12/holiday-bedroom-decor-with-a-colorful-twist/
Janine, Happy Happy Nester
https://happyhappynester.com/easy-vintage-christmas-bedroom-decor/
Yuni, Love Your Abode
https://www.loveyourabode.com/home-tour/a-merry-and-bright-master-bedroom/
Sara, Sincerely Sara
https://www.sincerelysarad.com/holiday-bedroom-decor-ideas/
Angela, Unexpected Elegance
https://www.unexpectedelegance.com/simple-holiday-bedroom-decor/
Amy, Crazy Chic Design
https://www.crazychicdesign.com/natural-christmas-bedroom/
Sarah,Sarasophiaproductions
https://www.sarahsofiaproductions.com/2019/12/06/how-to-add-christmas-decor-to-the-bedroom/
Jewel, Jeweled Interiors
https://jeweledinteriors.com/2019/12/master-bedroom-christmas-tree/
Oscar, Oscar Bravo Home
https://www.oscarbravohome.com/2019/12/christmas-bedroom-blog-hop.html
Amie, MemeHill
https://www.memehill.com/a-christmas-surprise-decorating-a-teens-bedroom-tree/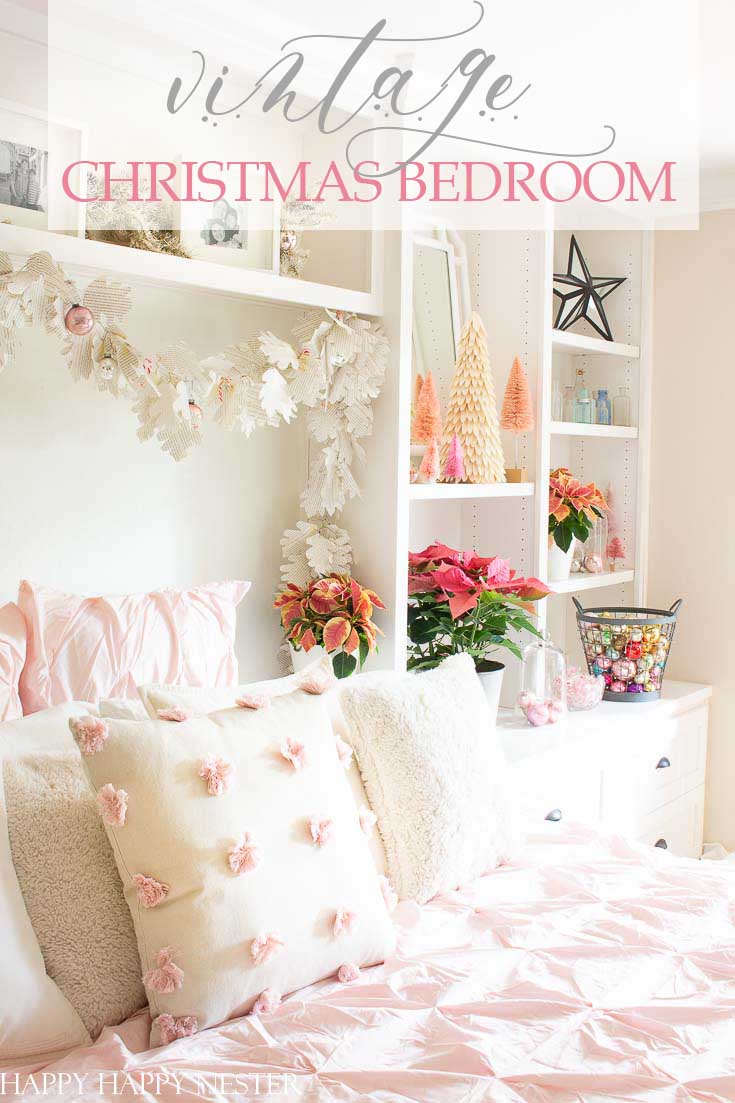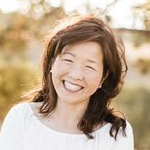 Latest posts by Janine Waite
(see all)