A warm welcome to this year's home tour! Today, I'm sharing 9 Simple Ways to Add Holiday Cheer to a Bedroom. I know that you're thinking, does anyone decorate their bedrooms for Christmas? Well, our bedroom is my oasis at the end of a busy day, and it always makes me smile when I lie beneath my cute Christmas lights over our bed.
Isn't that the best way to end a day?
*The following post contains affiliate links for your convenience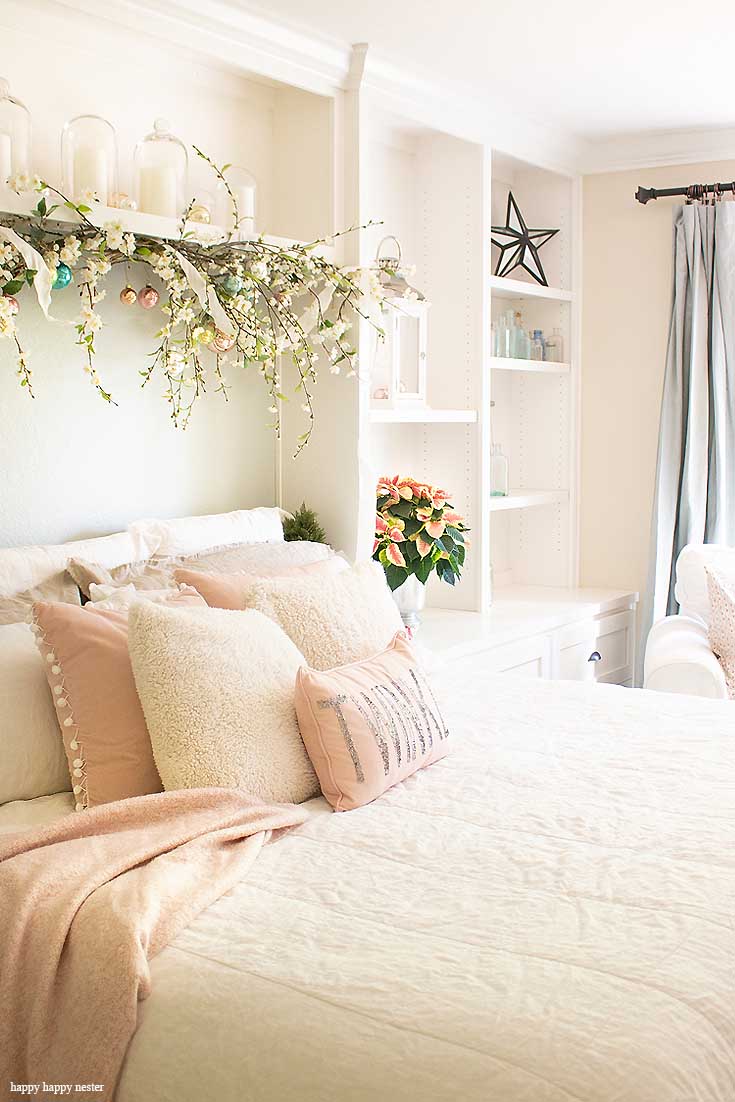 I'm not one to fuss too much with home decor, so my way of decorating is very doable. My husband calls my style a "Zen Design with a Touch of English Cottage!" I think he is spot on about my decorating style and I trust you like my holiday bedroom.
If you are visiting for the first time and you like my style, then you need to stick around and check out some more post!
Alright, let's get started on how you can style your bedroom.
9 Simple Ways to Add Holiday Cheer to a Bedroom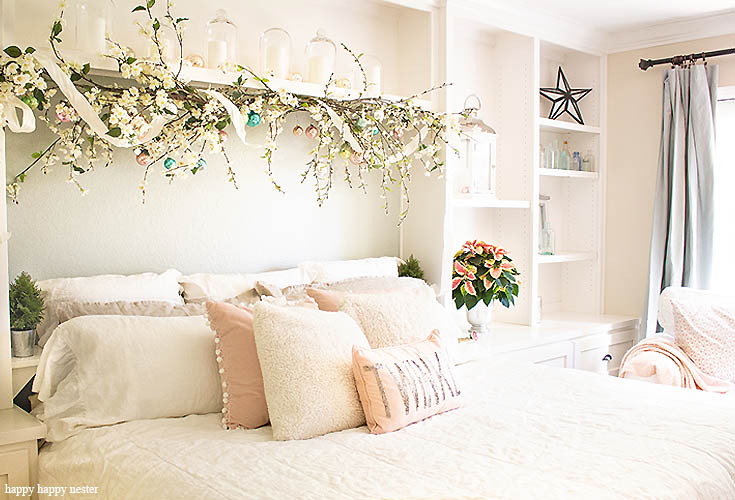 1. Add Some Decor Above Your Bed
This is a fun way to bring in some seasonal decor into your bedroom. If you have a headboard or a shelf, add either some garland or twinkle lights.
This year I placed the apple blossoms above our bed in the springtime. When I installed them, I used little hooks that I screwed into the backside of our shelves. I had to make sure that the faux branches were secure and not going to fall on us while we were sleeping.
Well, I have to say that I enjoyed this cute garden theme, so I decided to keep it around and attach some pretty ornaments to it for the winter. The results are what you see in the above photo. Oh yeah, I also wove some gorgeous cream ribbon in with the branches as an accent. I was amazed at how little it took to snazzy it up.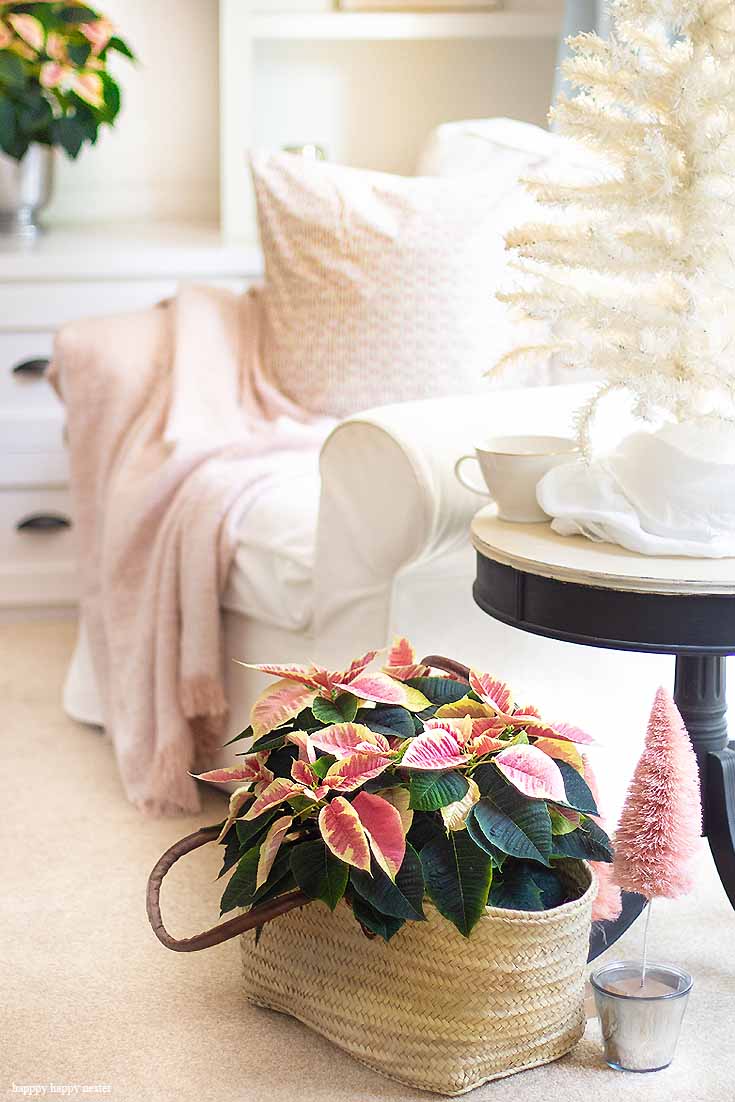 2. Add Poinsettias or Some Greenery
These are easy things to add and they are instant game changers. Last year, I placed white poinsettias and a fresh cedar garland above our bed. So, I was happy to bring in these pretty vintage looking pink poinsettias. I went a bit crazy, and I also have some in my living room as well.
3. Add Ornaments
Some other simple ways to add holiday cheer to a bedroom is to hang the ornaments around your room. Another way to display them is to place them in glass containers to add a bit of sparkle and color. The bright and sparkly decor is fun during these dreary winter nights.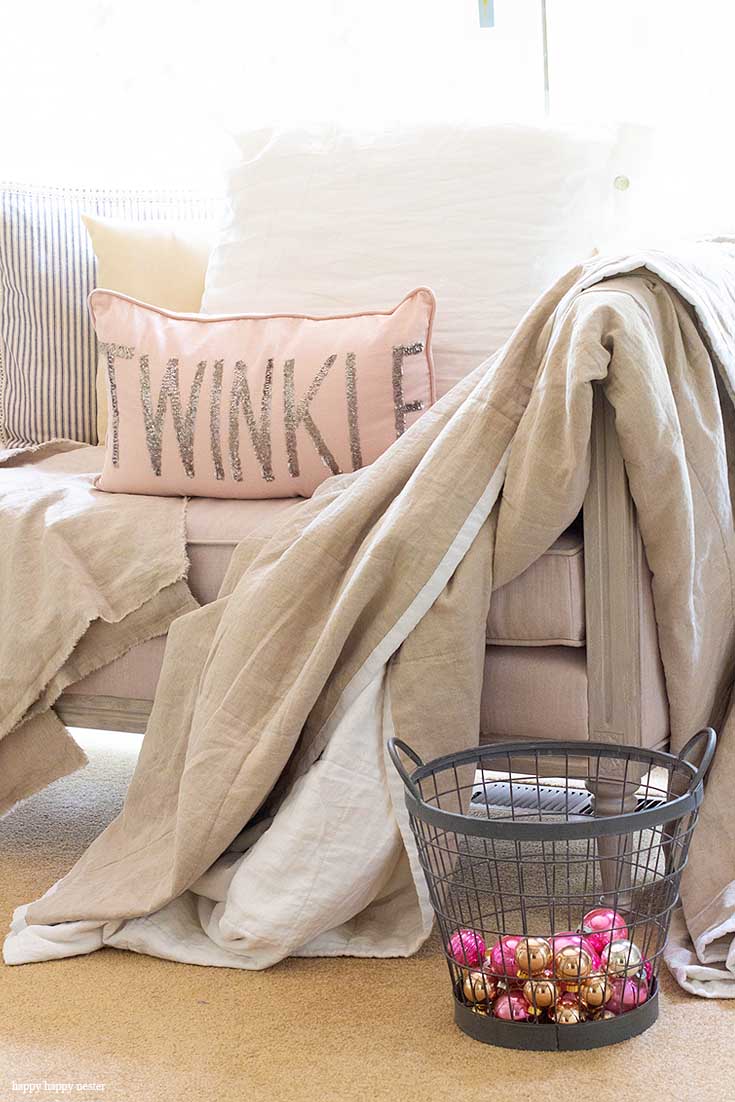 4. Use Some Pretty Linen
I love my Belgian Linen from Hallstrom Home. I have Rhonda's gorgeous reversible bedspread, two white shams, king size pillow shams, and the beautiful white euro shams. Hallstrom Home has the prettiest linen, and I love how they are super luxurious. It is so much fun to slip into a cozy nest at bedtime.
Oh yeah, if you want a 10% discount over at Hallstrom Home, make sure to use my code, HHN10.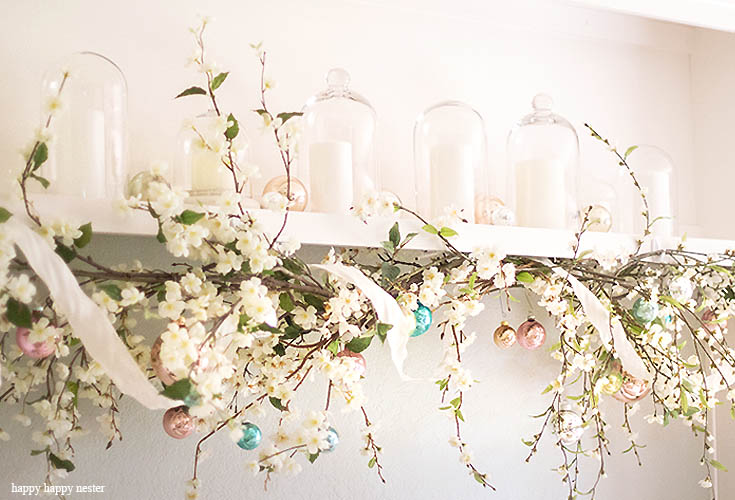 5. Add Glass Cloches
I have collected these glass cloches over the years, and I love how you can place seasonal things in them. In our bedroom, they are housing white candles above our bed. But, if I have some extra time this month, I plan to add a little snowy winter scene in one of them.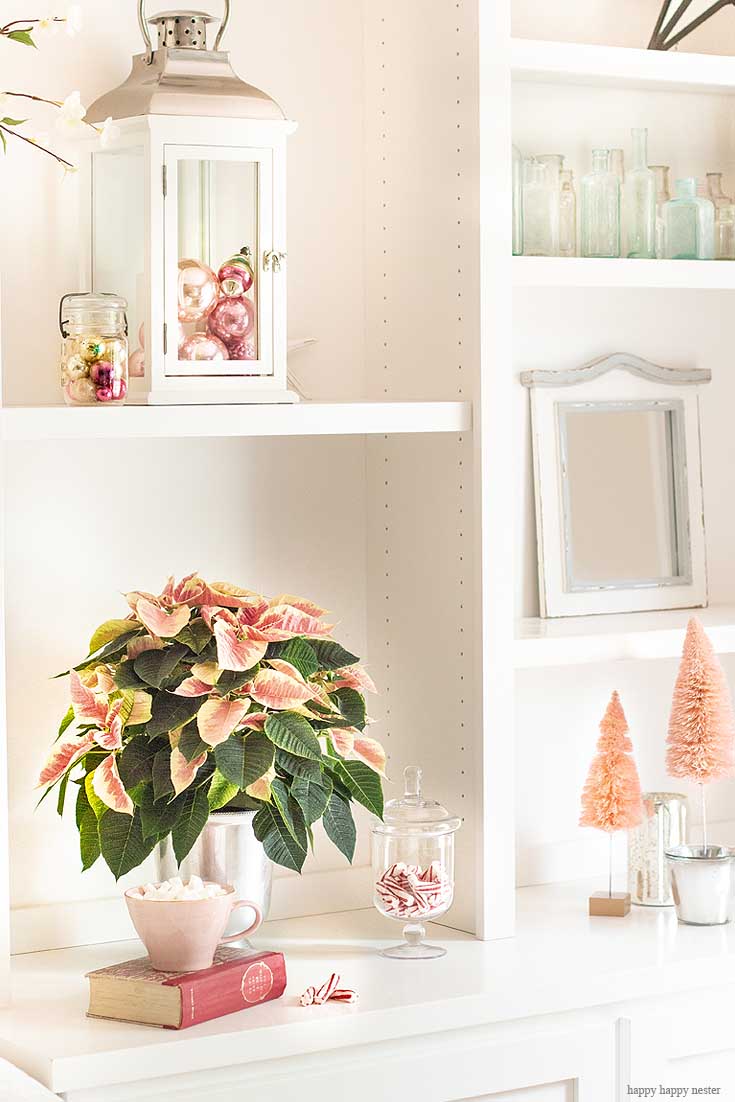 6. Add Lanterns and Candles
I love my Pottery Barn white lanterns. They quite often are moved around the house since they go with all my decor. They make such a big statement since they are pretty large lanterns. I highly recommend that you invest in a pair. Adding white lanterns is some simple ways to add holiday cheer to a bedroom.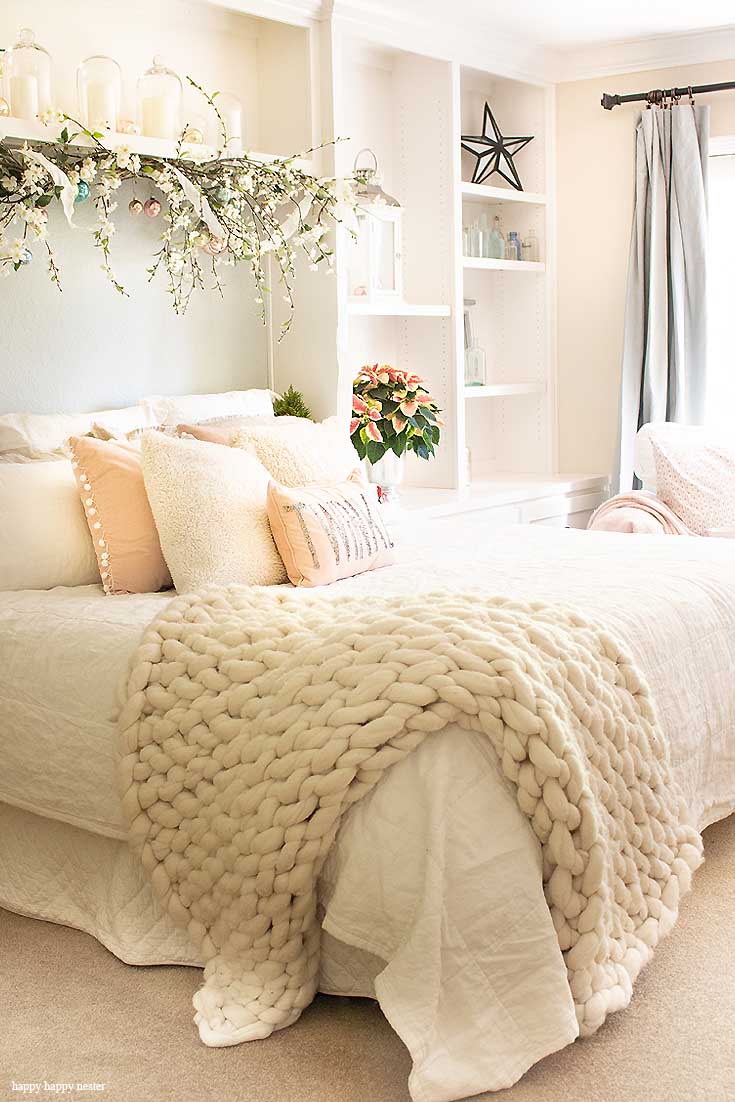 7. Add Throws
Blankets instantly add coziness and warmth to a room. And if you want some pops of color purchase ones with a pretty accent color. I have this chunky knit throw out year round. And if you have seen my post, how to make a chunky knit throw diy you'll probably want to arm knit one this winter. But, if you find you don't have any time to make one maybe instead you should buy one through Becozi. Did you know you can receive a 10% discount if you use my code: JAN10
I also have a ton of different blankets kicking around our home and during the winter months, we fight over them. My son recently came home from college and quickly snatched my faux fur Pottery Barn throw. I think I know what I'm getting him for Christmas this year!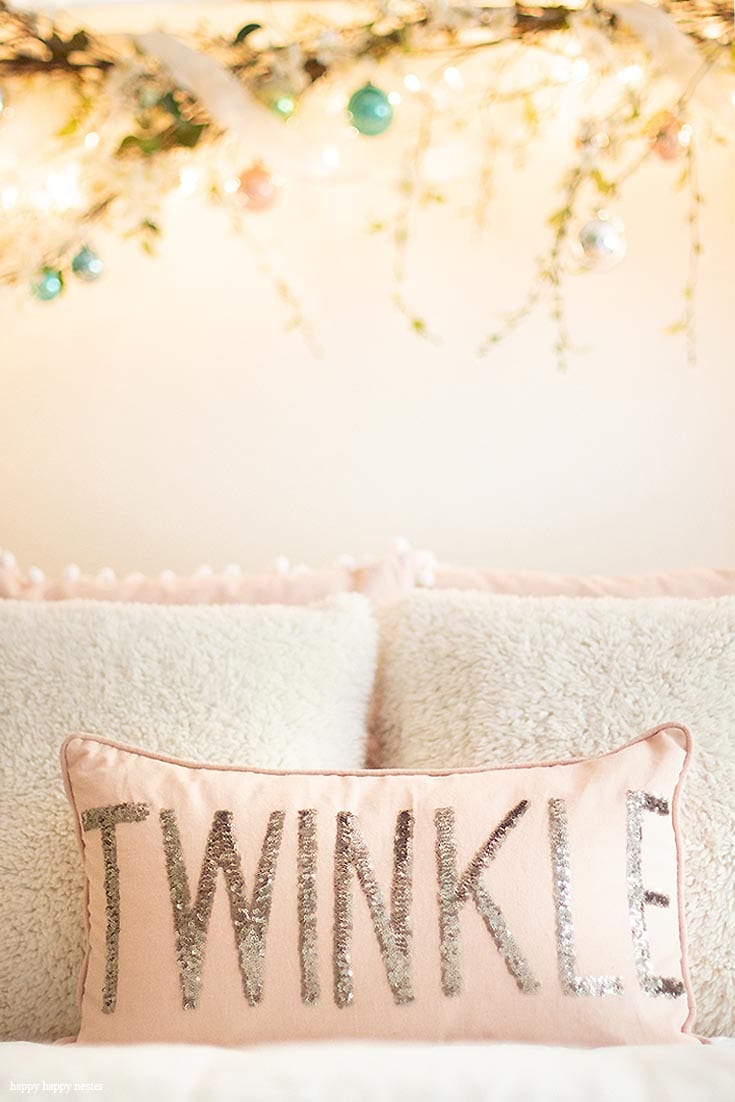 8. Don't Forget Some Twinkle lights
We always have twinkle lights above our bed. There is something about them at night that I find them to be quite magical. They cast a beautiful glow that is just so pretty. Don't you love these simple ways to add holiday cheer to a bedroom?
9. Add A Tree
This photo is from a couple of Christmases ago. I love this tree since it is a smaller tree and fits so nicely in our smallish home. This year it is in our living room in my blog post, A Cottage Christmas Home Tour. And can you believe that I found it on Craigslist for a whopping $30? What a great deal!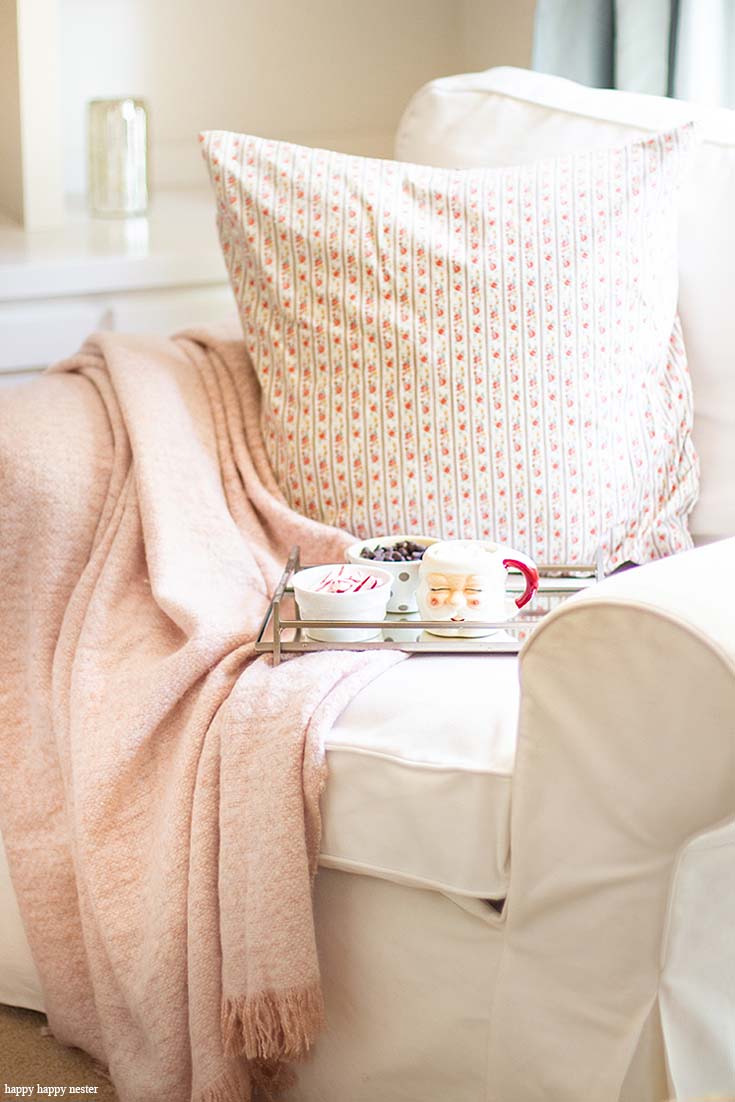 But, before you go, I thought you might be interested in some of my other holiday blog posts.

Shop My Favorite Winter Throws
My Prince Flock King of Christmas Tree Review
Black and White Cottage Christmas Mantel
Merry and Bright Holiday Gift Tags Printable
Well, this concludes my 9 Simple Ways to Add Holiday Cheer to a Bedroom. I expect you are now ready to tackle your bedroom with all your holiday decor. Make sure to report back to me in the blog comments since I love hearing about your home and projects.
Again, thanks so much for your lovely visit and if you have more time, please visit my friend's holiday homes. I'm always amazed at how everyone decorates their house with their unique style. I hope you find that our tour has something for everyone's tastes.
Happy Holidays!
Cheers,

Holiday Decor Inspiration
Wednesday's tour:
Modern Glam | Blush and Copper Christmas
My 100 Year Old Home | Kitchen Christmas Decor
The Design Twins | Christmas Home
Simple Cozy Charm | A Cozy Change
2 Ladies and a Chair | Christmas Decor Cozy Christmas Tree
Meme Hill | Traditional Christmas Red
Thursday's Tour:
Happy Happy Nester | Simple Ways to Add Holiday Cheer to a Bedroom
The Posh Home | Modern Christmas Decor
Life is Better at Home | Rose Gold & Blush Christmas
Your Marketing BFF | Modern Winter Wonderland Christmas Home Tour
Shining on Design | Simple Holiday Styling Whimsical
Styled with Lace | Burgundy and Blush Christmas
Designs by Laila | Tis The Season to Decorate
Love Your Abode | Joy Filled Christmas
Finding Lovely | Christmas Around the Home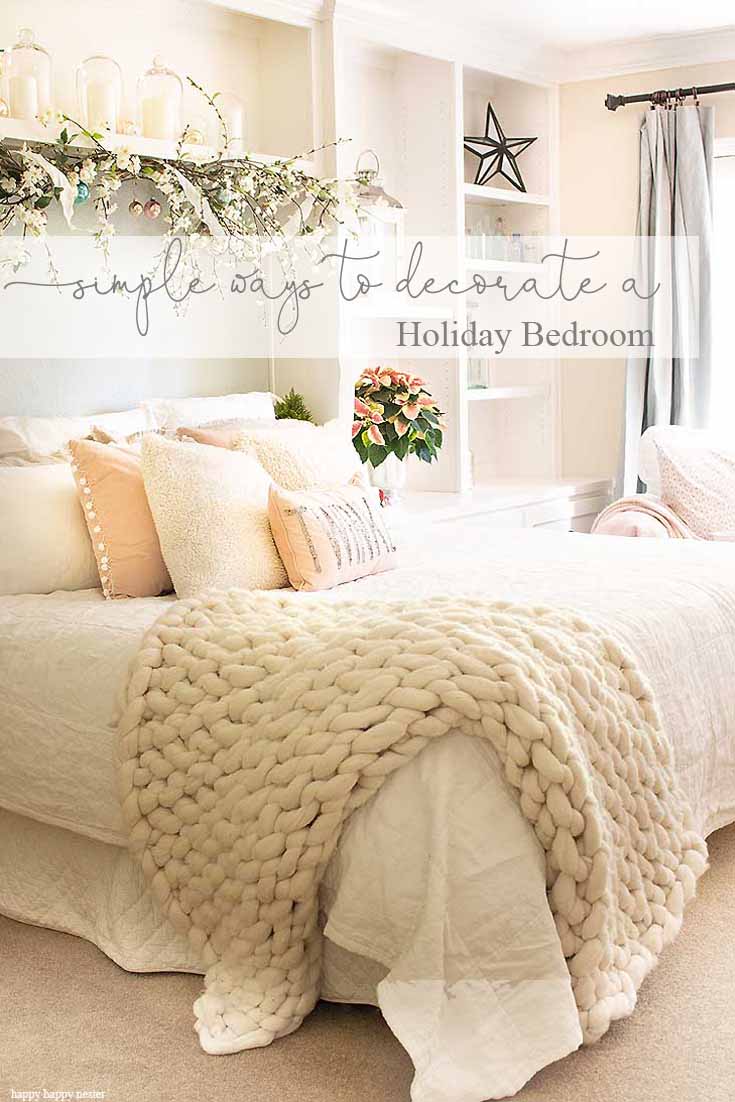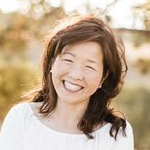 Latest posts by Janine Waite
(see all)