Today, I want to chat with you about the most frequently asked questions on how to arm knit a blanket. I recently made a beautiful 100% chunky wool throw, and every time I tackle a DIY or craft project, I must admit I do a little psychoanalysis of my personality. Seriously, I'm a strange combination of my father's traits as well as my mother's. To sum up my qualities, I'm a bit hacky with a sprinkling of spazziness combined with perfectionistic tendencies and a touch of patience.
But, if you don't have the patience to make one of these fun arm knit throw, you can purchase one already made from Larissa at BeCozi, just make sure to use my code, JAN10 for a 10% discount on your entire purchase.
I hope this makes sense!
*this post contains affiliate links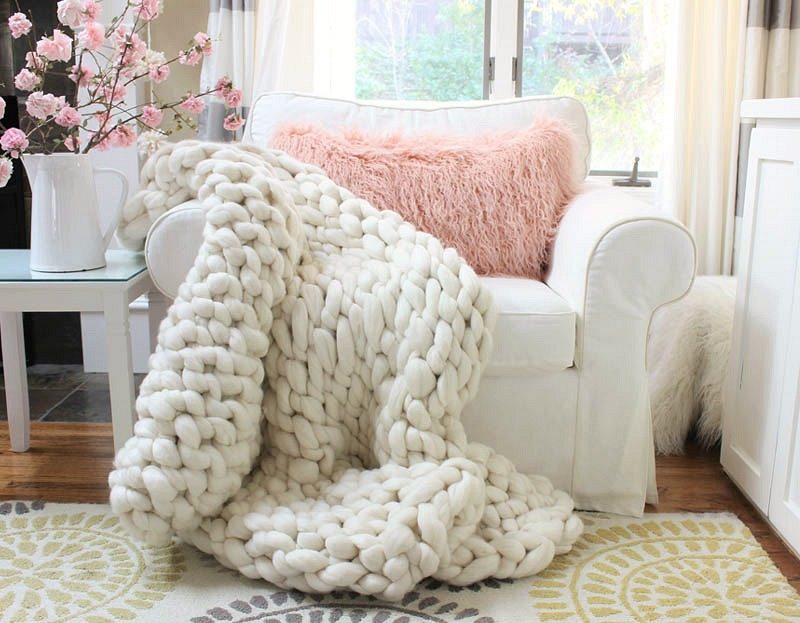 So, to shed light on my personality, my mom was a Martha Stewart type of her generation. She loved to entertain (here is her wonderful, Almond Cookie recipe), cook fabulous dinners, garden, and much more. So, with her multi-talents, she was super organized. To give you a glimpse into her personality, let's roll back the clock.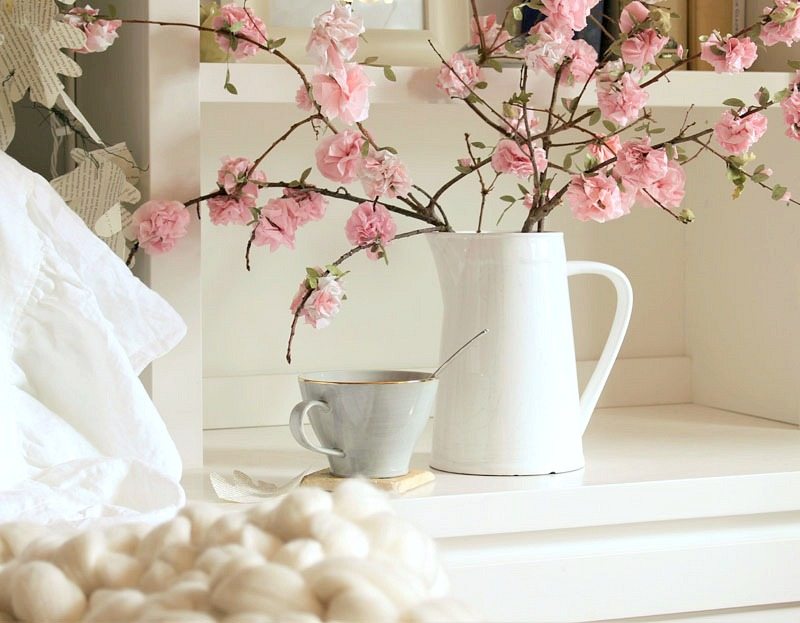 _____________________________________________________________________________________________________________________________________



_____________________________________________________________________________________________________________________________________
During the grocery coupon frenzy of the 80's, she was the mega coupon organizer. She had them trimmed perfectly and organized by expiration dates as well as categories. With her perfectionistic ways, she saved our family tons of money with her grocery budget. Although I don't clip coupons or for that matter use them, I do have this trait.
Yes, when starting this arm knitting blanket, I took apart my first couple rows and started over. I think most of you would've been happy with my first attempt!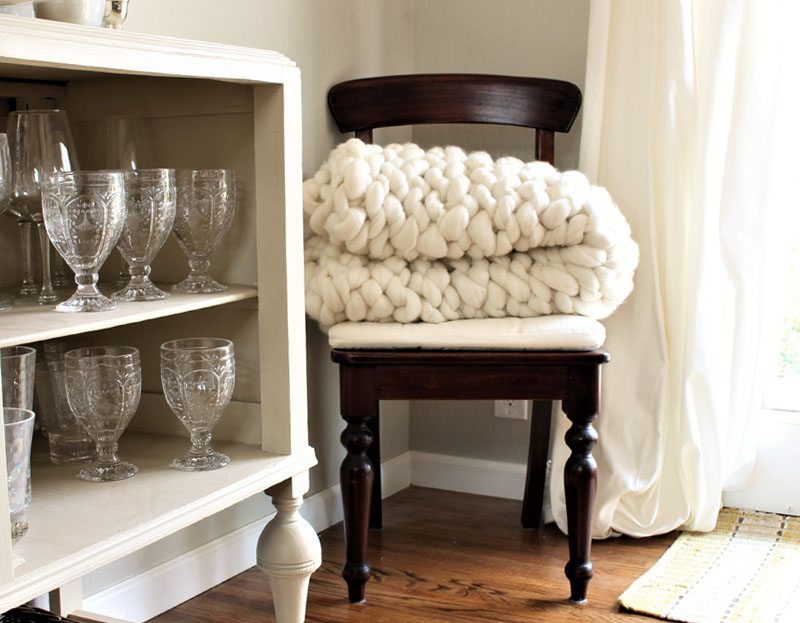 My father, on the other hand, was the King of Hack.
Oh gosh, I could go on and on with all his projects, but there was one in particular that I remember quite clearly. On one of his visits to our Seattle home, he generously bought us some great Ikea wooden storage shelves. When he proceeded to install them, he didn't attempt to get any of the angles straight.
Uh, the shelves were so caddywompus that they looked like furniture straight out of Disney's Toon Town. Do you get the picture?
I must admit that I inherited a bit of his personality quality. You see when I started making my throw, I was antsy to begin. I didn't want to take the time to unravel the skeins as the instructions said. I'm my father's daughter.
Let's just say. I learned the hard way.
Well, let's dig into this arm knitting project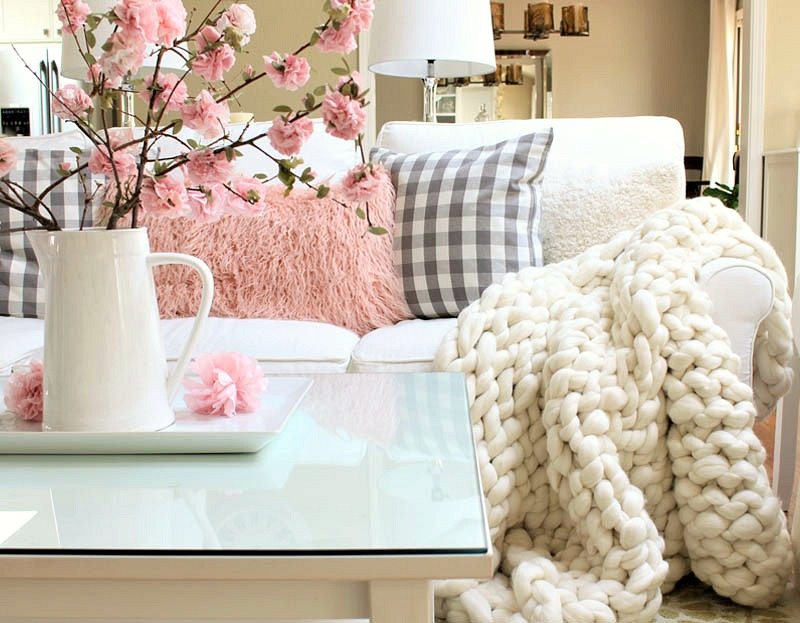 Arm Knit: Frequently Asked Questions
I recently broadcasted a live Instagram session while I arm knitted this blanket. What was interesting to me were the questions everyone asked. So, I thought it might be helpful to post them here on this blog post.
Do you need to know how to knit to
arm knit these blankets?
I didn't know how to knit, and I picked up arm knitting just fine. There is a little bit of a learning curve, but once you get familiar with the three basic stitches, casting on, knitting, and binding off, it is a breeze.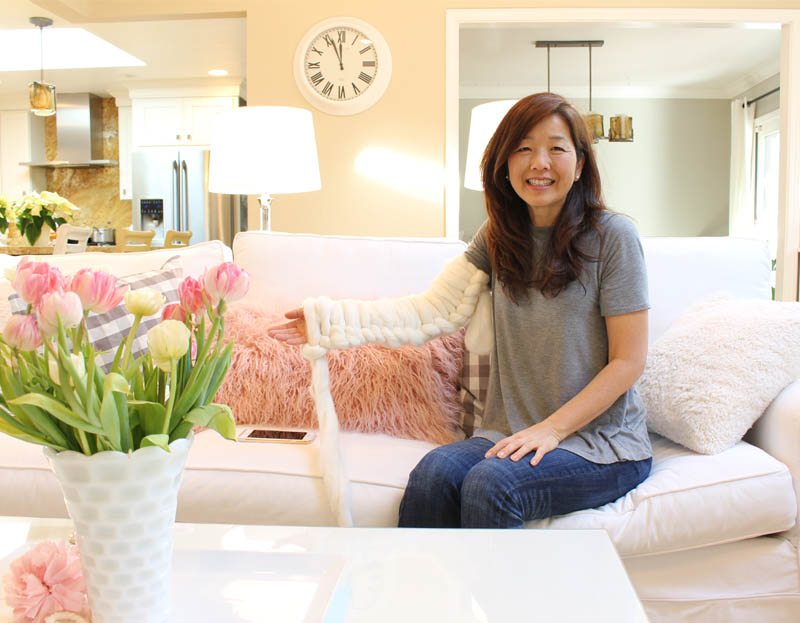 Where did you learn to arm knit?
With Pinterest available to us, learning how to arm knit is so easy. I found and watched arm knitting videos. There are few out there on the internet, but I watched my friend, Larissa from BeCozi. Her videos break the process down into a few easy steps. After watching them, you'll be on your way to knitting these wonderful chunky throws within minutes.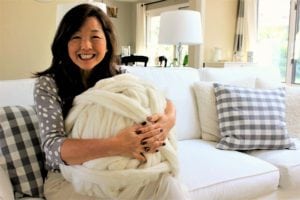 Where do you buy the yarn?
My yarn is from, BeCozi who carries several colors wool yarn and they ship internationally. The yarn I used is Natural Wool, and I love it. To receive a generous discount of 10% off your whole order, make sure to use the code JAN10 when ordering.
How much does the yarn cost?
Depending on the color the cost is $64/2 pounds.
How much yarn do I need to buy?
How much yarn you need to buy depends on the size of your project. I had 7 pounds of yarn, and my blanket turned out 45″ x 60″ which is a perfect size throw.
Also, there is some variation in size if you are a tight or loose knitter.
The yarns are a bit different based on the dying process. My wool is the "Natural Wool" color, and it does not go thru a dye process and as a result it's pretty fluffy.
Here is helpful Chart
One Loop Infinity Scarf, 3 stitches wide – 0.5 – 0.75 pounds
Straight Scarf, 6 feet – 1 pound
Pet Beds – 2 – 4 pounds depending on size
Baby Blanket, 29×35 – 2.5 pounds
Lap Throw, 35×50 – 3.5 – 5 pounds
Large Throw, 40×60 – 7-9 pounds
Twin Bed Cover, 45×80 – 11-14 pounds
Full Bed Cover, 70×83 – 15 – 17 pounds
Queen Bed Cover, 76×88 – 19 – 21 pounds
King Bed Cover, 22 – 25 pounds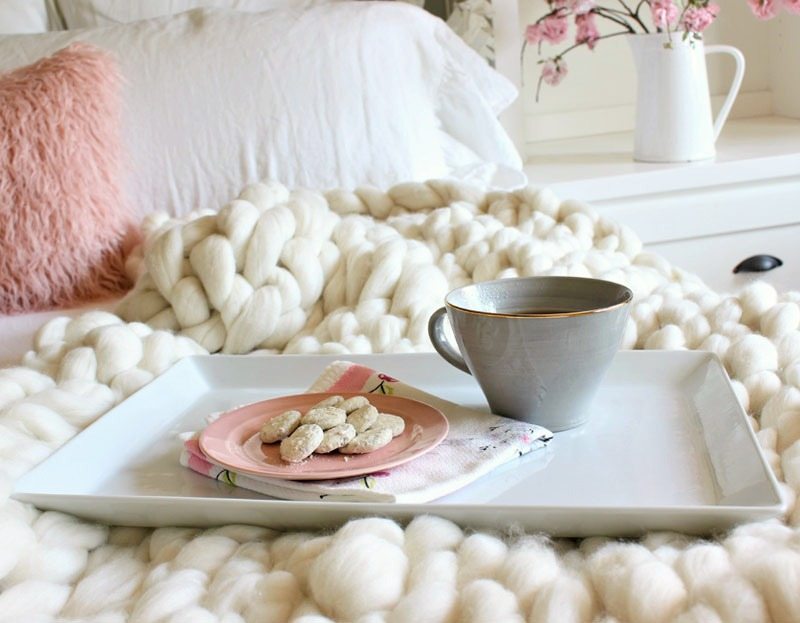 How long does this project take to make?
So, our my first blanket took about three hours to make and probably four if you include viewing a more complicated video. Now that I found an easier casting on technique, I'm certain that I would only have to watch the tutorial a couple of times rather than many! 🙂 This wool blanket is my second arm knit throw project, and it took about an hour and a half and about 20 minutes to unravel the skeins of yarn.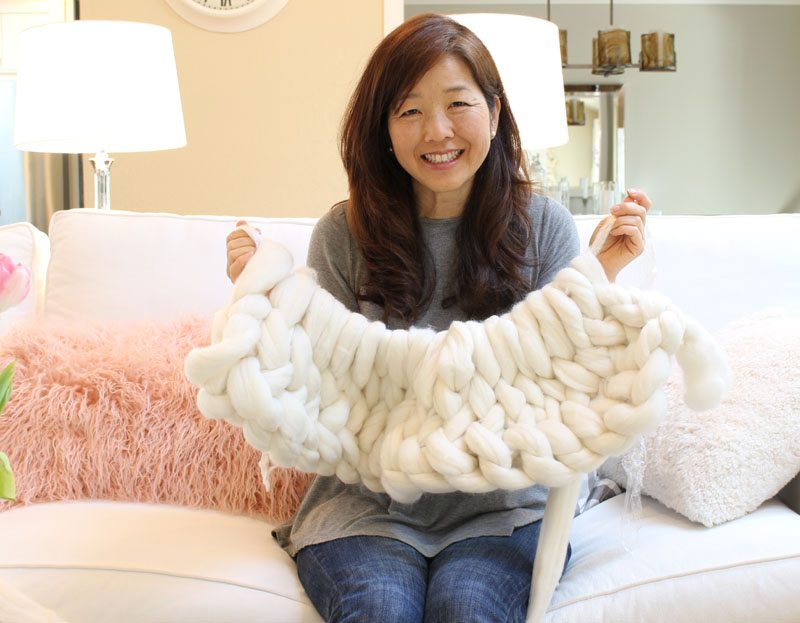 What happens if you need to go to the bathroom?
Well, I must admit, I tried to make sure I didn't drink too much coffee or tea before starting my project. But, if nature calls, there is a simple solution.
First, make sure to get all your stitches onto one arm. Then grab a long piece of saran wrap with the arm holding all the stitches. Gently, pull off the loops off your arm and onto the plastic wrap. Every loop is transferred to it and off your arms. Then tie the two ends of saran wrap together, this prevents the stitches from slipping off.
When you start up again, just place the loops back on the same arm, and you are ready to begin where you left off. And finally, make sure the back of the blanket is facing out, and your working yarn is also.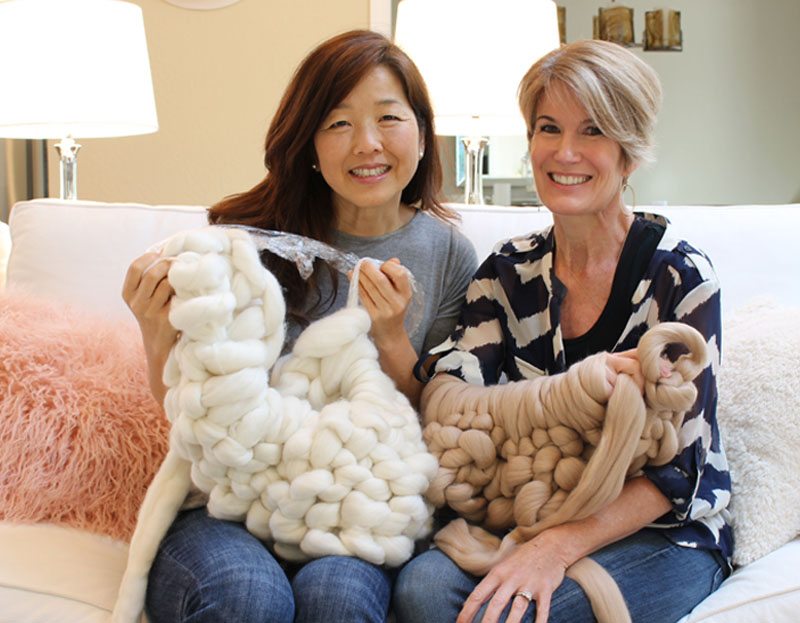 I don't think I can make this blanket?
If I can do this project, then you can too. It isn't terribly complicated, and I have supplied you with all the resources. But, if you still don't have the confidence, here is a fun idea. Plan a girl's night of arm knitting. Set aside a time for this great project and invite some close friends over to your home. I feel the more, the merrier and seriously, the more minds watching the videos, the better. And if you serve wine to your knitting friends, definitely drink white wine!
When making each of my chunky throws, I had a date with my friend, Jodie from The Design Twins. I don't think I would've attempted this project without a friend encouraging me on. By the way, Jodie has more photos, and her blog post is informative and impressive!
Cheers,