Cozy Beautiful Blankets for Fall and Winter are the best defense against cold nights. This collection of blankets includes 23 unique warm throws that you and your family will love.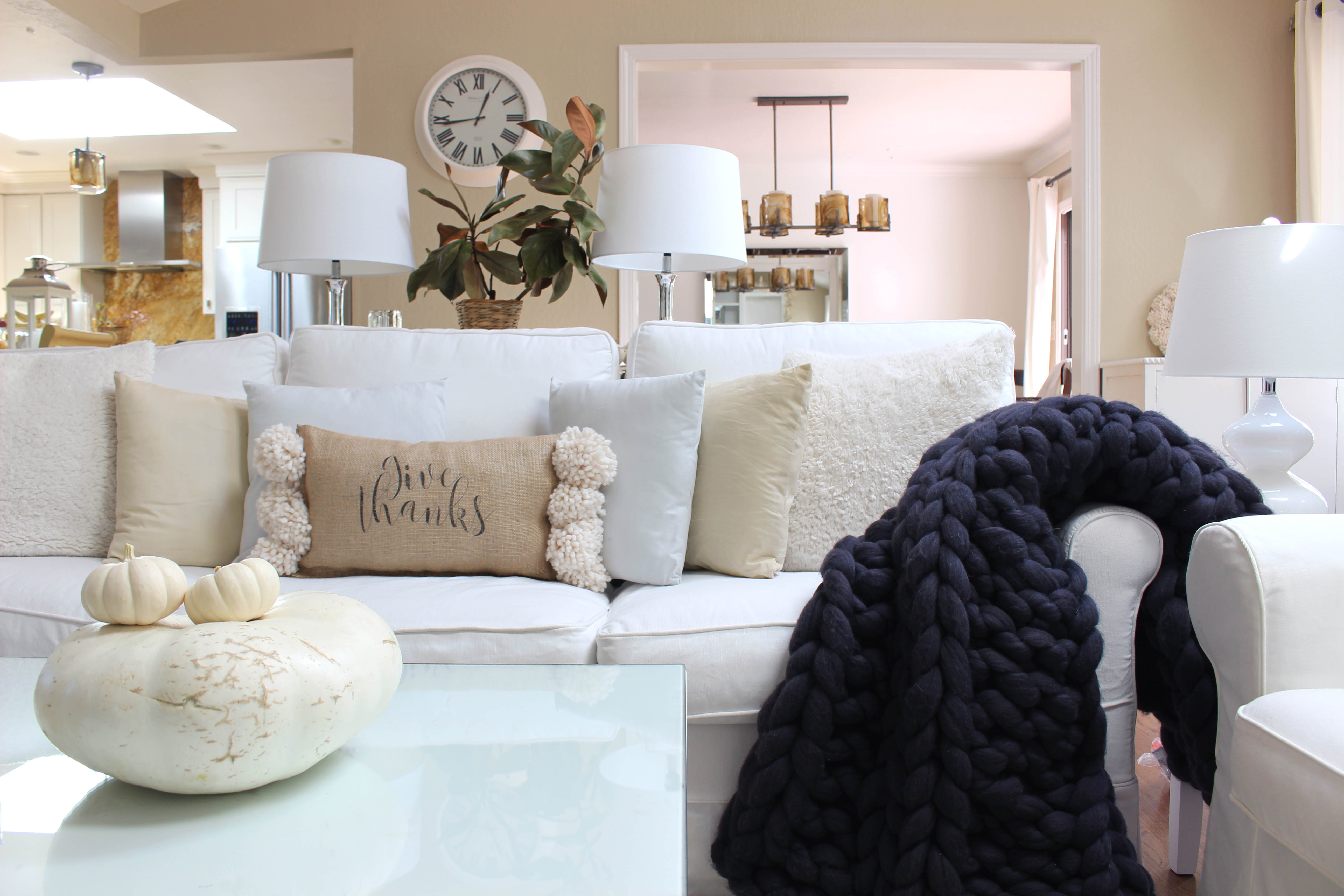 My family loves warm, soft blankets. When we all gather in the living room, we all have our favorite blankets.
*This post contains affiliate links.
Since buying our white slipcover sofa, I have been obsessed with throw blankets. To keep the couch pristine and stain-free, we always place a soft fuzzy blanket down on the cushions. We have a nice collection of blankets around for this exact purpose.
Yup, the hubby was concerned about the white sofa, and you can read more on this post about my Crate & Barrel Sofa review.
But let's get back to today's post.
Cozy Beautiful Blankets
There are quite a few styles of throws, so let's take a look at the various kinds.
Warm Wool Blankets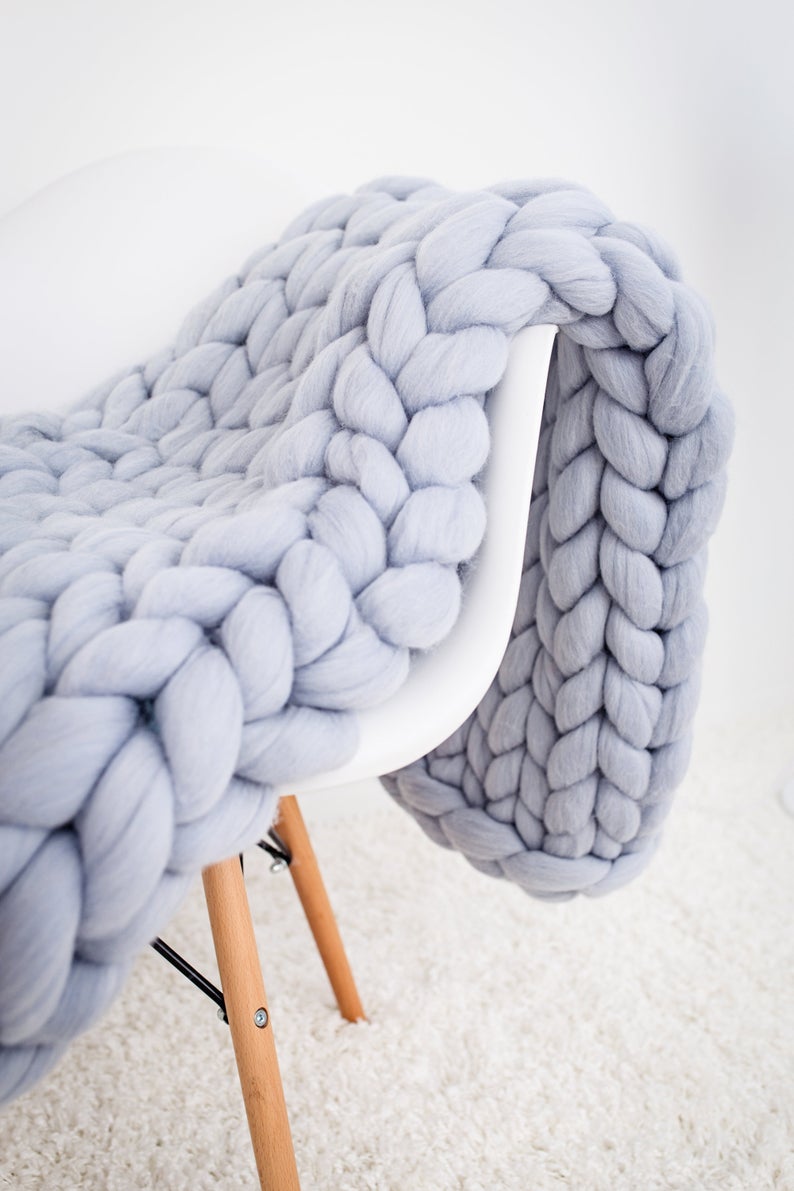 These wool blankets are super soft and warm. I own a few, and my family loves them. If you buy one, make sure to use my code: JAN10 for a 10% discount on your blanket. If you are interested in an arm knitting project, I also have a blog post on how to arm knit a chunky wool throw.
A Note About These Wool Blankets
Bronte Moon is an Etsy shop that sells these beautiful blankets, and here is a little bit of background. Also, they have a fantastic blog, Bronte Moon, that you might enjoy.
These traditional Tartan throws are manufactured from 100% Merino Lambswool an ultrafine wool from the Merino species of sheep. Taken from the first shearing of the lamb when it is typically around seven months old Merino wool is much finer than many other species from 15-20 microns (a human hair is around 40 microns). This is why the Merino Lambswool makes for a super-soft luxurious feel, ideal for scarves, throws and other items worn close to the skin.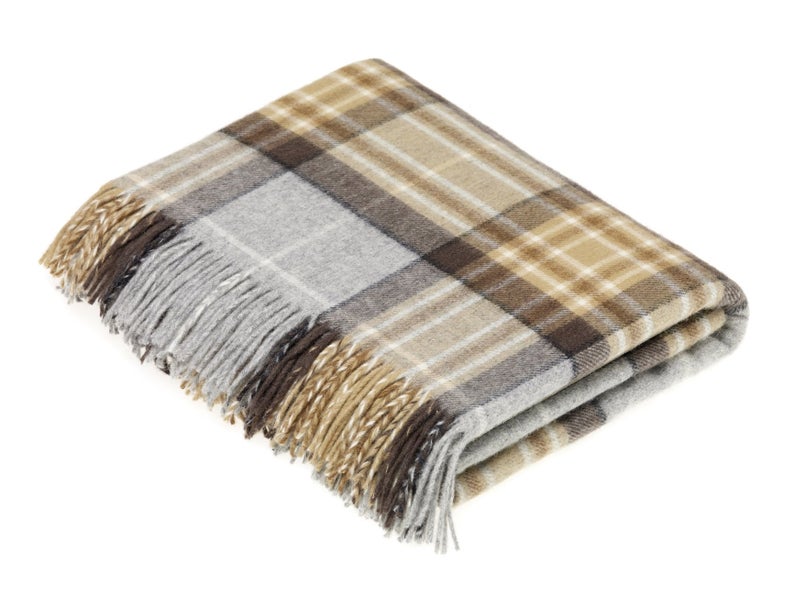 2. McKellar Tartan Lambswool Blanket
Bronte Moon's Wool blankets are so gorgeous. This cozy, beautiful blanket is the perfect accent for a sofa or a bed.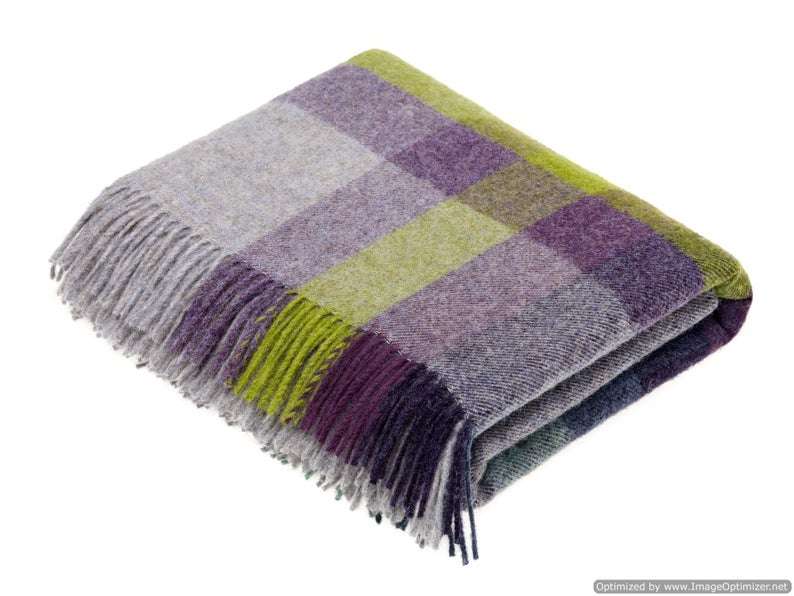 3. Purple and Grey Shetland Pure Wool Blanket
The wool for this blanket is from Shetland Sheep in the pure natural countryside of New Zealand. This top quality Pure New Wool is then transported to Abraham Moon's historical mill situated in the heart of the English Yorkshire Dales.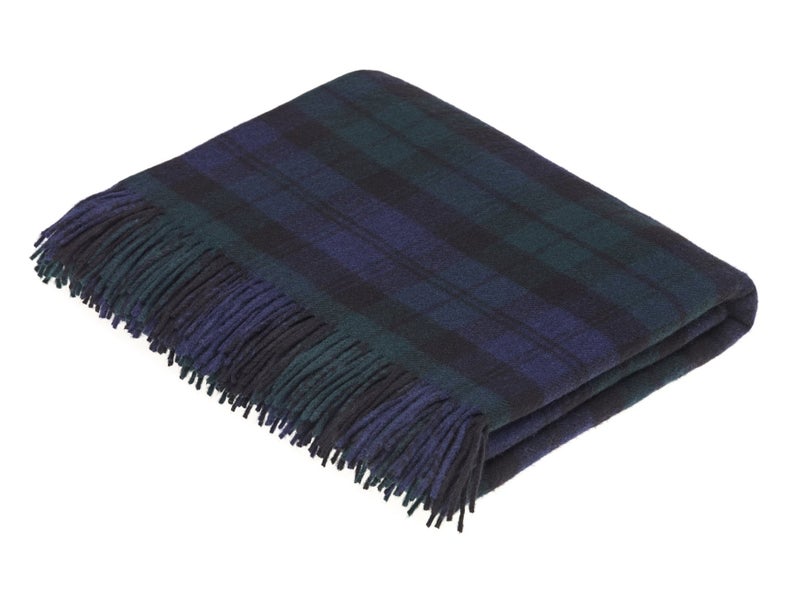 4. Campbell Black Watch Tartan Plaid Throw
If you are Scottish by heritage or love Scotland, a Tartan throw is for you.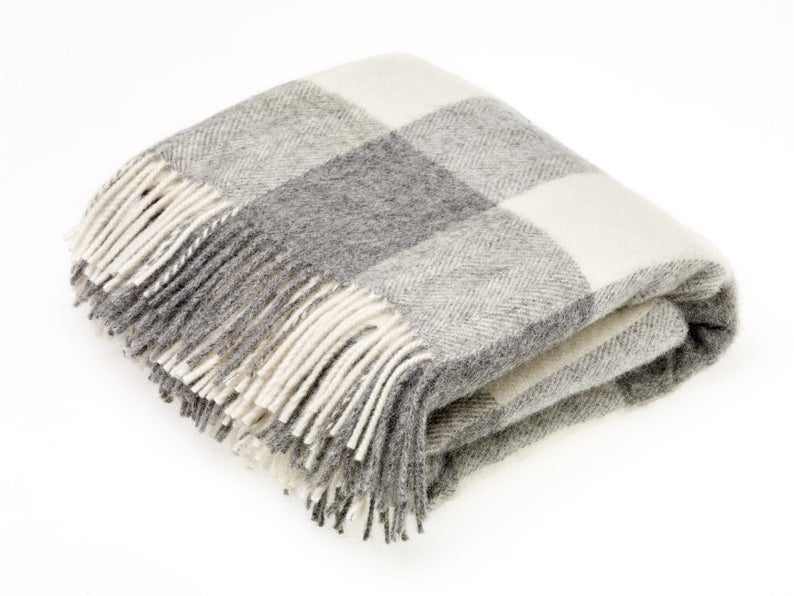 5. Checkerboard Grey Wool Blanket
This blanket's stunning design is produced with un-dyed natural Pure New Wool. This blanket is extra special as there is only a limited supply of un-dyed wool available each year.
Gorgeous Knitted Throws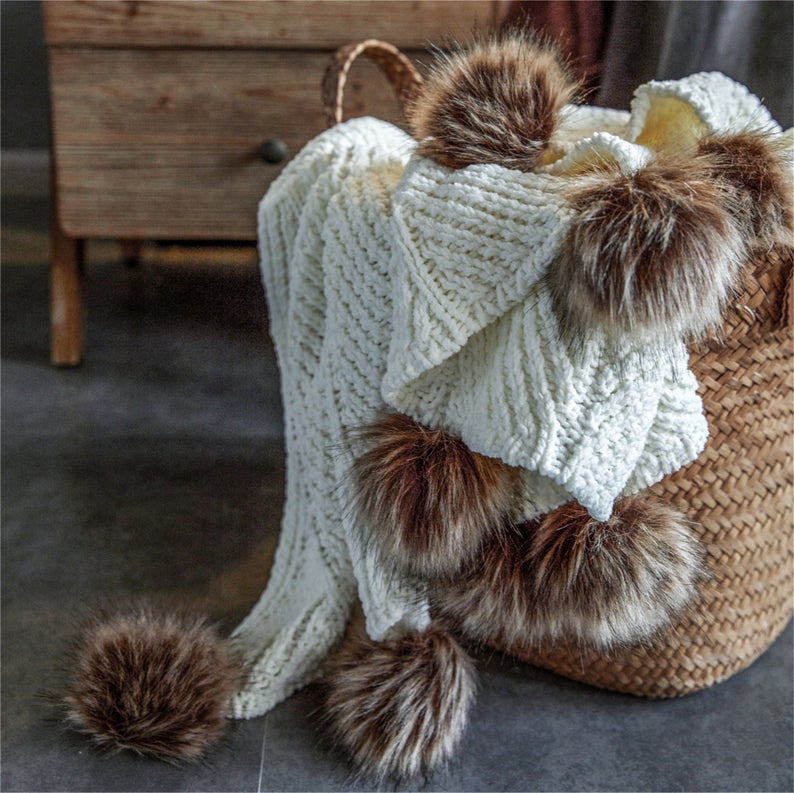 6. Ivory Chenille Knitted Throw Blanket
This blanket makes a great gift for your mom, wife, sister, grandmother, or anyone else you think might need it. These cozy, beautiful blankets are great for birthdays, Christmas, housewarming, and much more.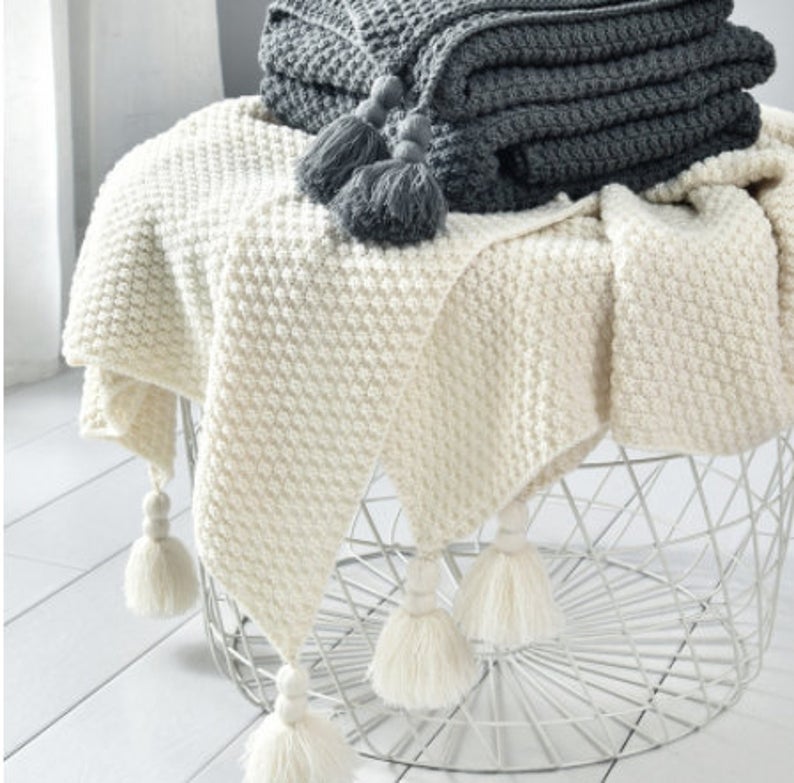 7. Nordic Knitted Blanket Throw Quilt Warm Grey
Convenient double-sided use. The yarn is acrylic and is soft and comfortable. This blanket gives you a warm, soft, and comfortable feeling.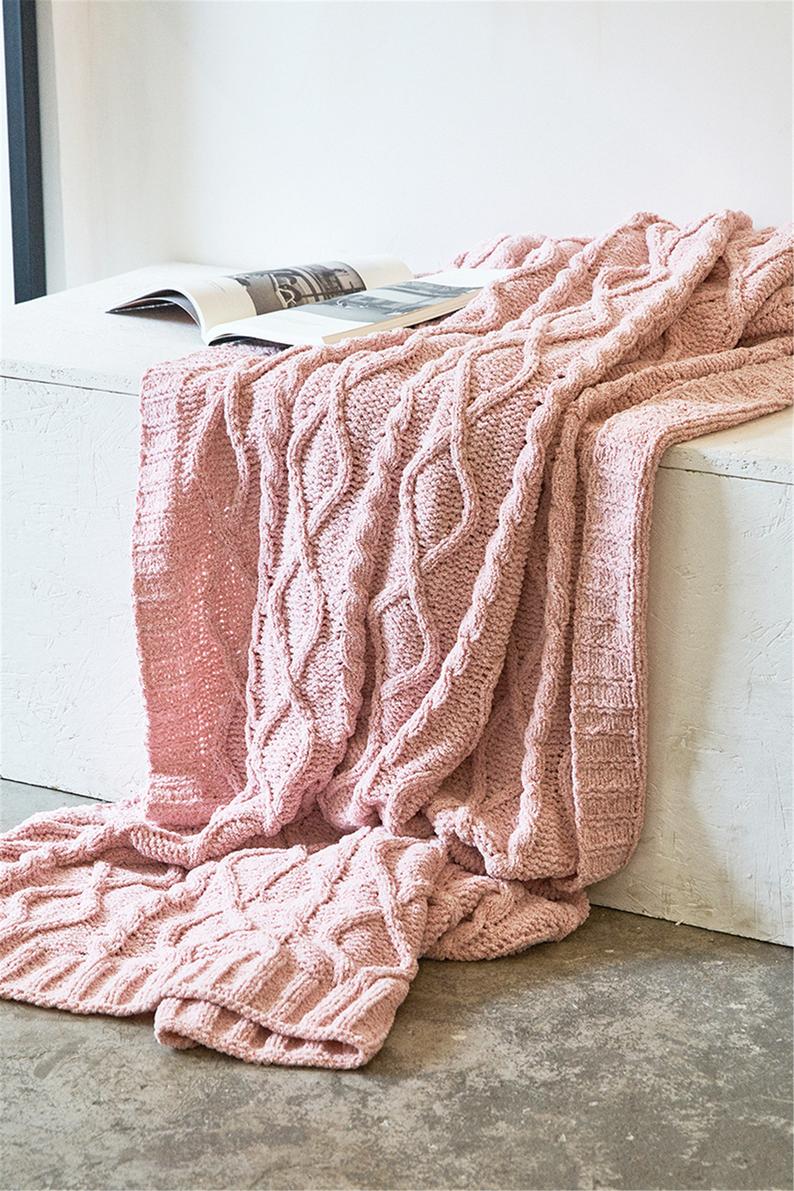 8. Knitted Pink Chenille Throw
This soft pink chenille knitted blanket is the perfect companion on a cold winter evening. Cozy up with it on the sofa and add a bit of warmth to your time watching a movie.
9. Chenille Grey Throw with Pom Poms
There is nothing quite as cute and playful as these fuzzy grey pom-poms! What a cute blanket.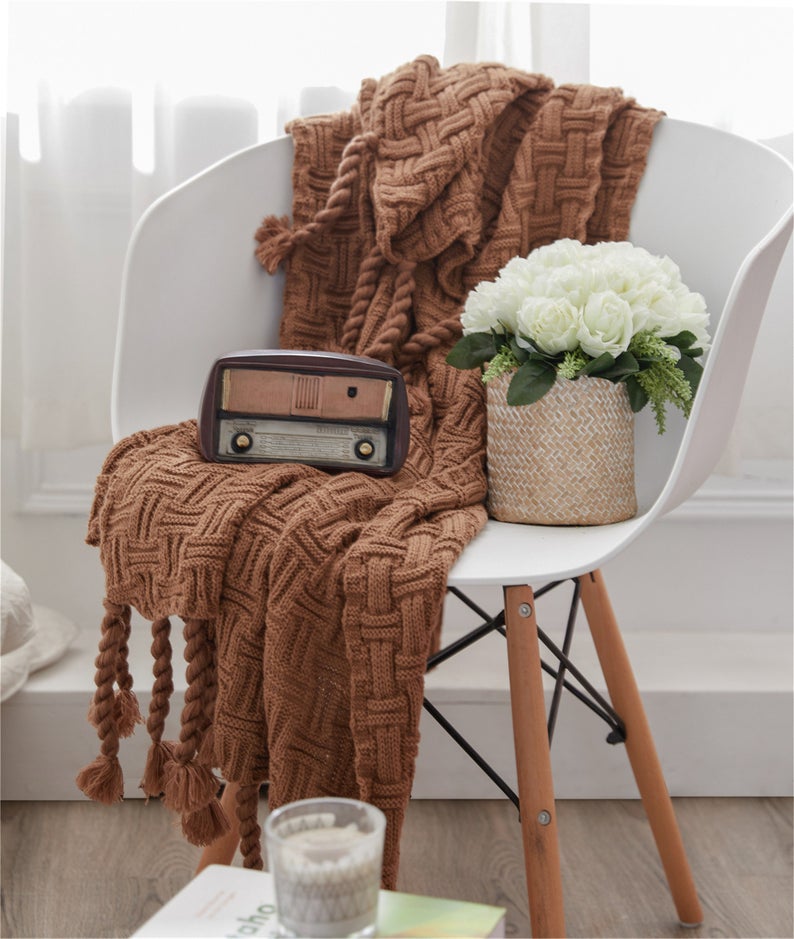 10. Geometric Shaped Coffee Colored Knitted Blanket
This stunning blanket has a modern design that is a gorgeous home decor accent.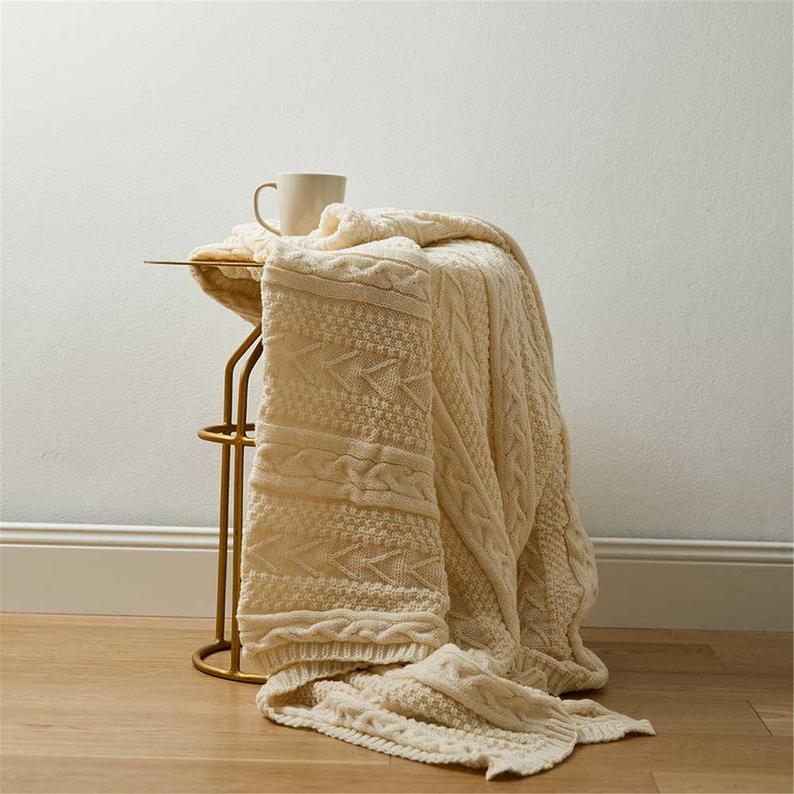 Retro V-Shaped Knitted Throw is a classically styled blanket. I own an off white cable knit blanket similar to this one, and it goes so nicely with all my decor.
Fuzzy Soft Fleece Throws
12. Knit Sherpa Fleece Blanket
This cozy-soft, cable knit, Sherpa lined blanket is 50″ x 60″ and comes with a personalized laser engraved leatherette patch. When you order one of these lovely warm blankets, you can choose the blanket color and leatherette patch color.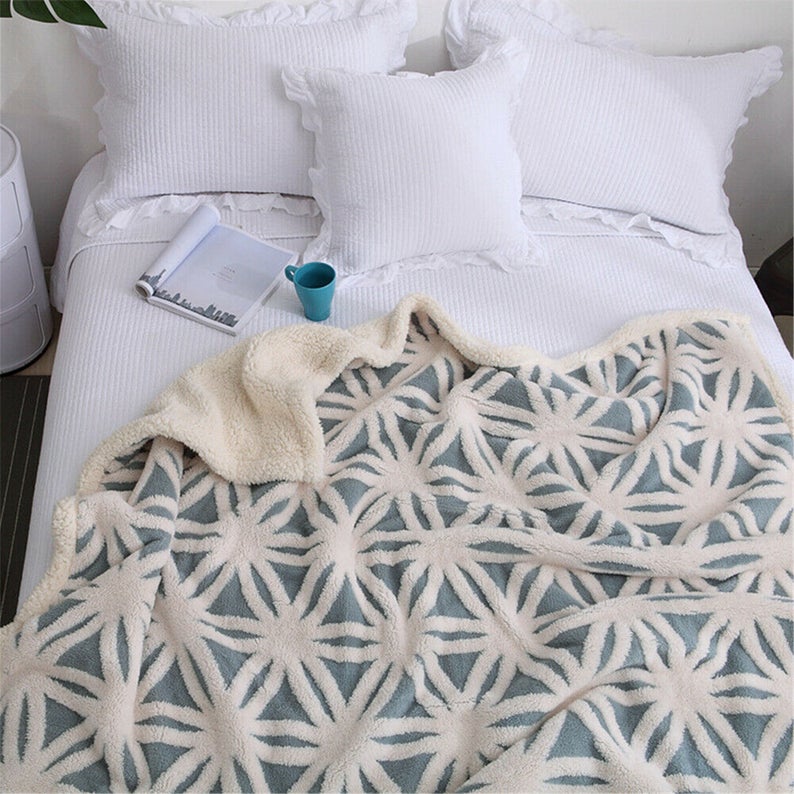 13. Cute Sherpa Fleece Blanket
It is made of high-grade microfiber polyester, which is super soft, durable, and warm. It's warm and soft that can be used throughout the year.
Faux Fur Throws
14. Faux Fur Blanket
This faux fur blanket has a cute buffalo check fabric. It is a perfect addition to our long cold fall and winter evenings.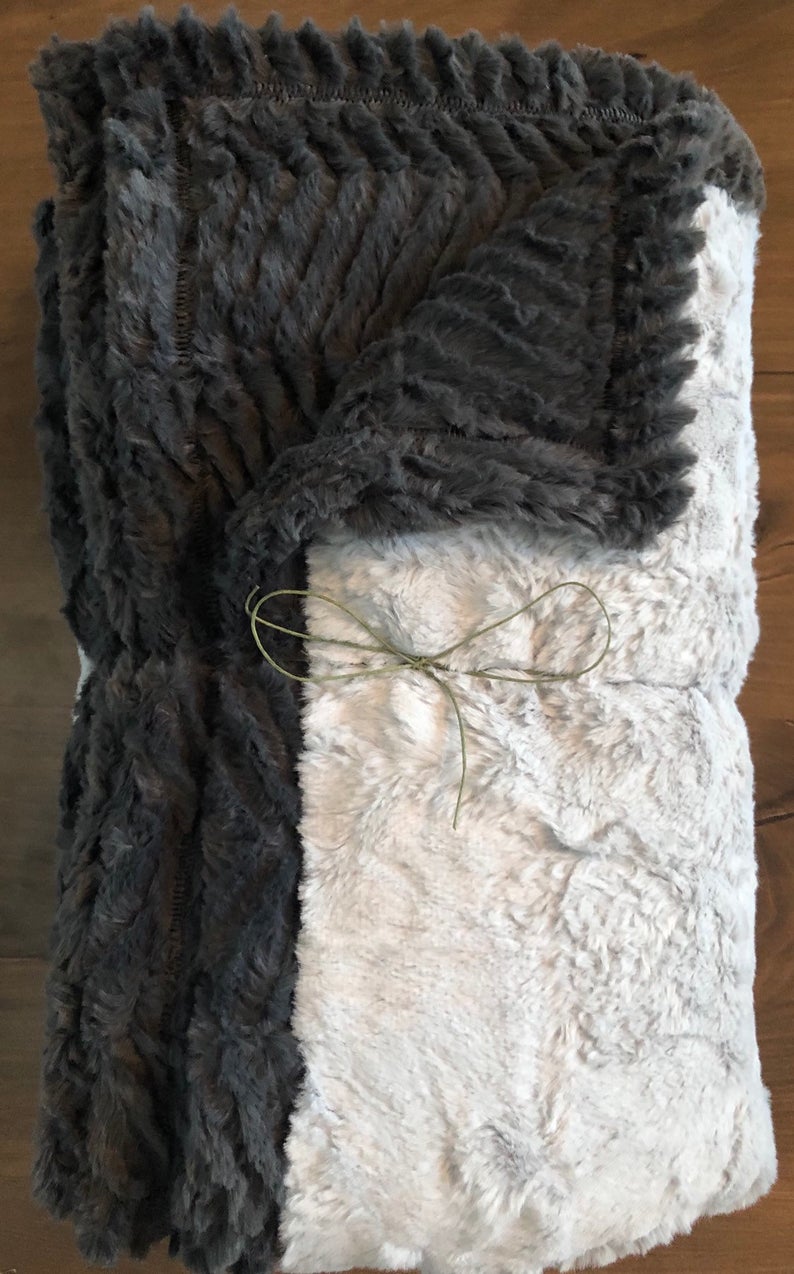 15. Grey and Light Blue Faux Fur Blanket
Soft and cozy Minky blankets! This super cute blanket will be something your loved ones will enjoy for years to come! It comes in a ton of sizes to meet your family needs!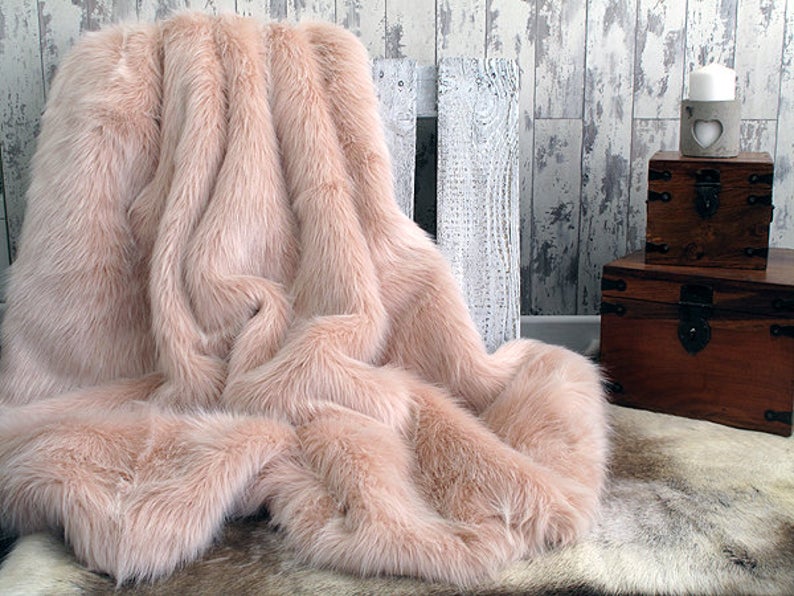 16. Luxurious Faux Fur Light Pink Throw
The salmony-pink faux fur has a high-density fur and is snuggly warm, and a lovely pale pastel pink color.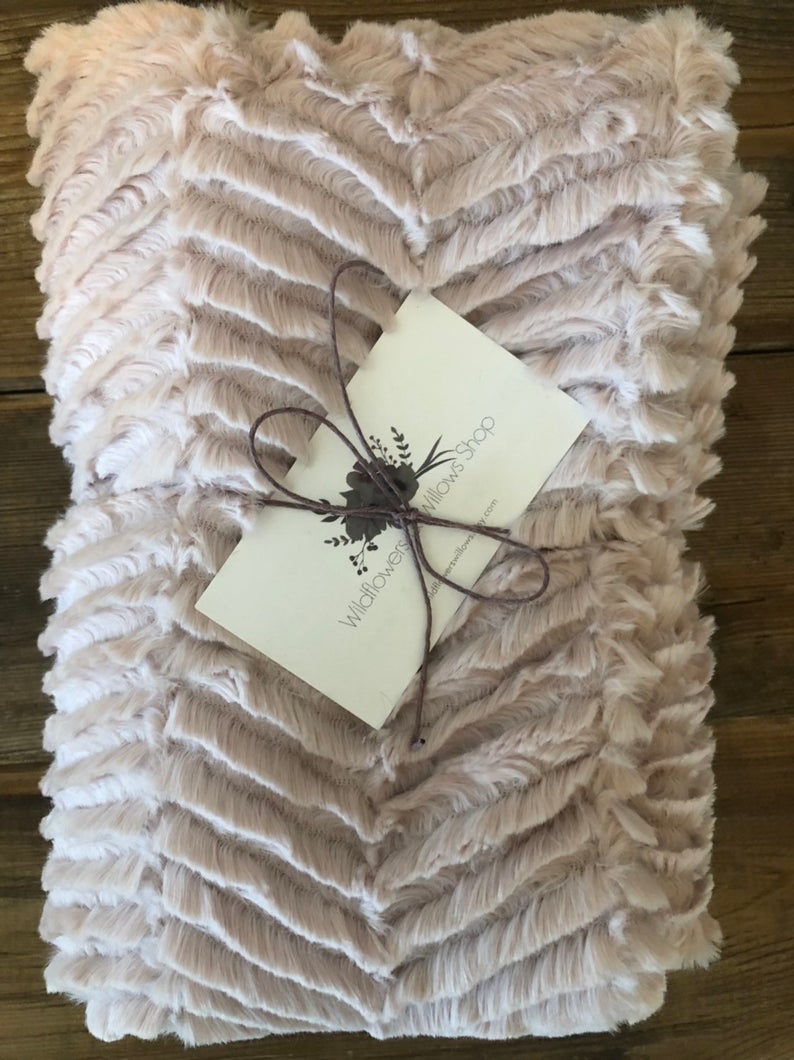 17. Zig Zag Rosewater Minky Blanket
Soft and cozy Minky blankets! This super cute blanket will be something your loved ones will enjoy for years to come!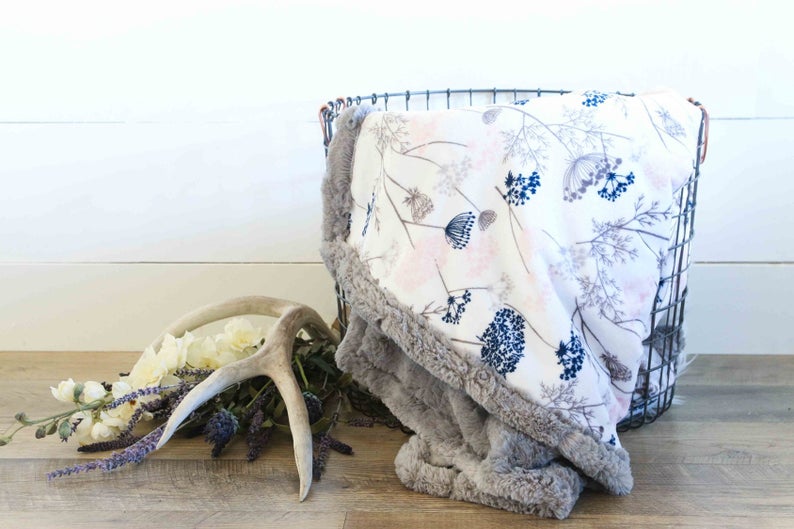 Soft and cozy Minky blankets! Custom blankets, you choose the color option for the back. This super cute print is so beautiful and unique.
All-Cotton Turkish Blankets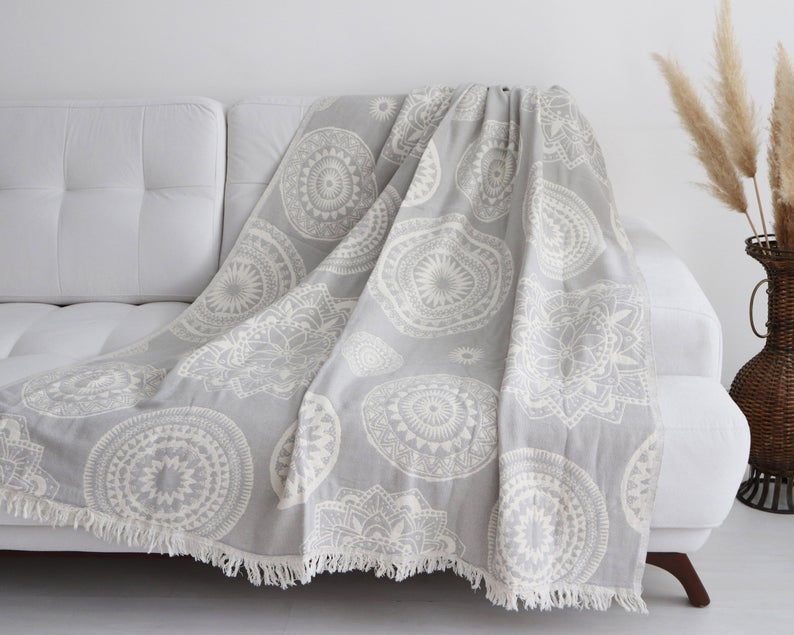 19. Light Grey Boho Cotton Blanket
This boho throw blanket is mad 100% natural cotton, and the weaving style is one of a kind.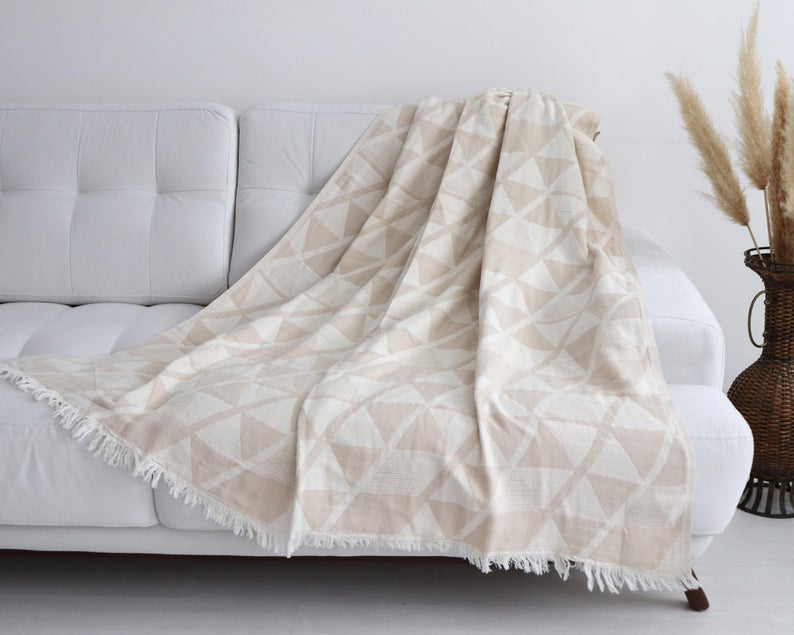 This couch throw blanket has a relatively thick fabric, which will keep your warm but not leave you full of sweat. It is the perfect throw blanket to use all year round.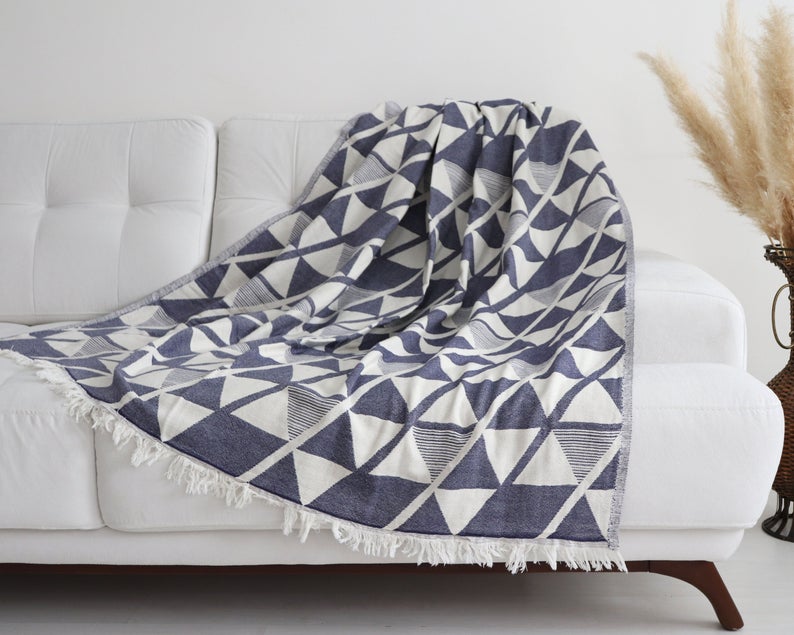 This boho throw blanket is 100% natural cotton. The modern design is quite a unique and bold accent.
Luxurious Soft Silk Velvet Throws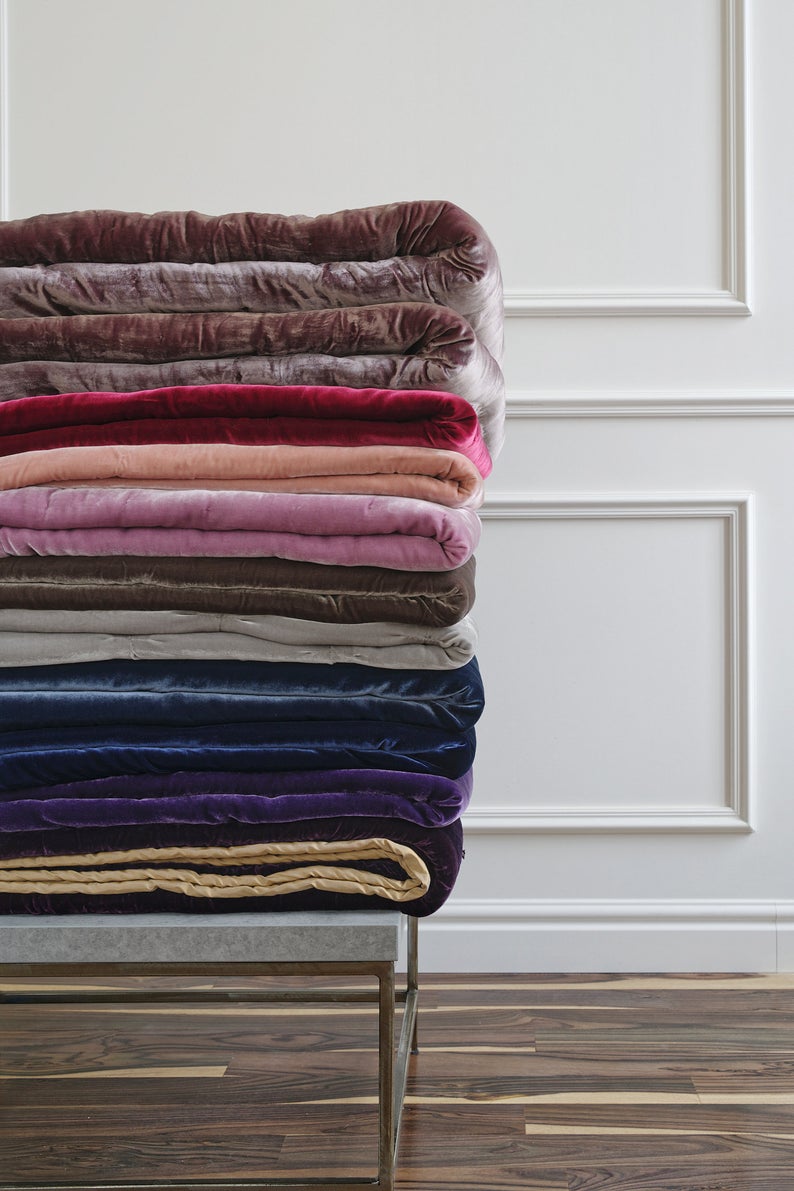 This velvet throw is a modern quilted blanket. It combines silk velvet and a silk backside. It is a super, luxurious blanket.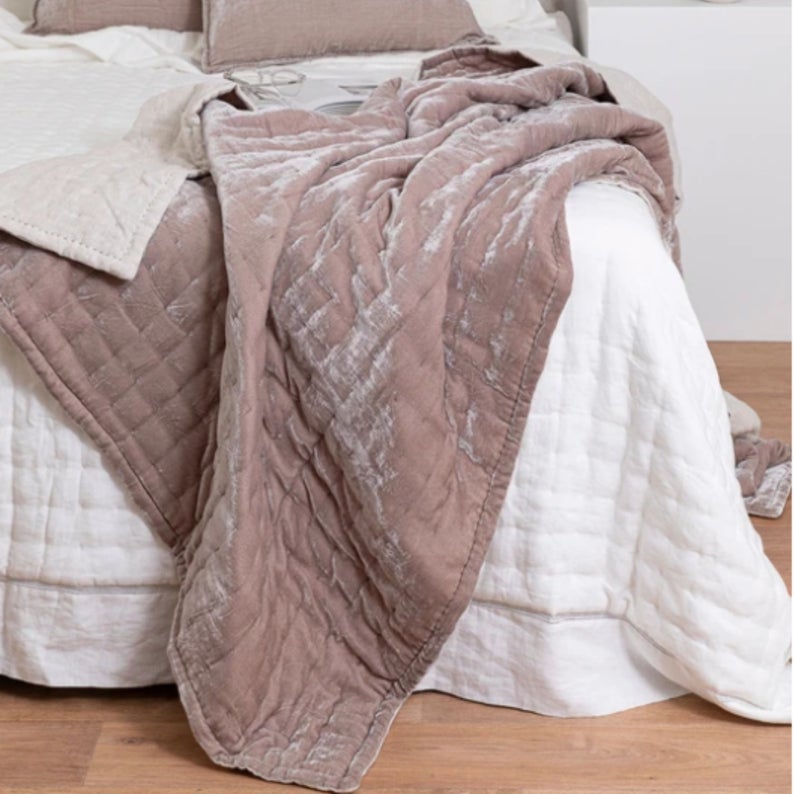 23. Handstitched Velvet Blanket
This gorgeous velvet blanket is handmade with 100% Natural Finest Silk Velvet. And this blanket is not only luxurious but beautiful as well.
Here are some other Boutique of the Week Posts that might interest you!
So, cozy, beautiful blankets are my obsession. I may have as many throws as I do pillows. But, I feel that my family embraces all the home decor since we fight over them every evening.
Well, thanks for dropping by, and I hope you liked this pretty collection of blankets.
Cheers,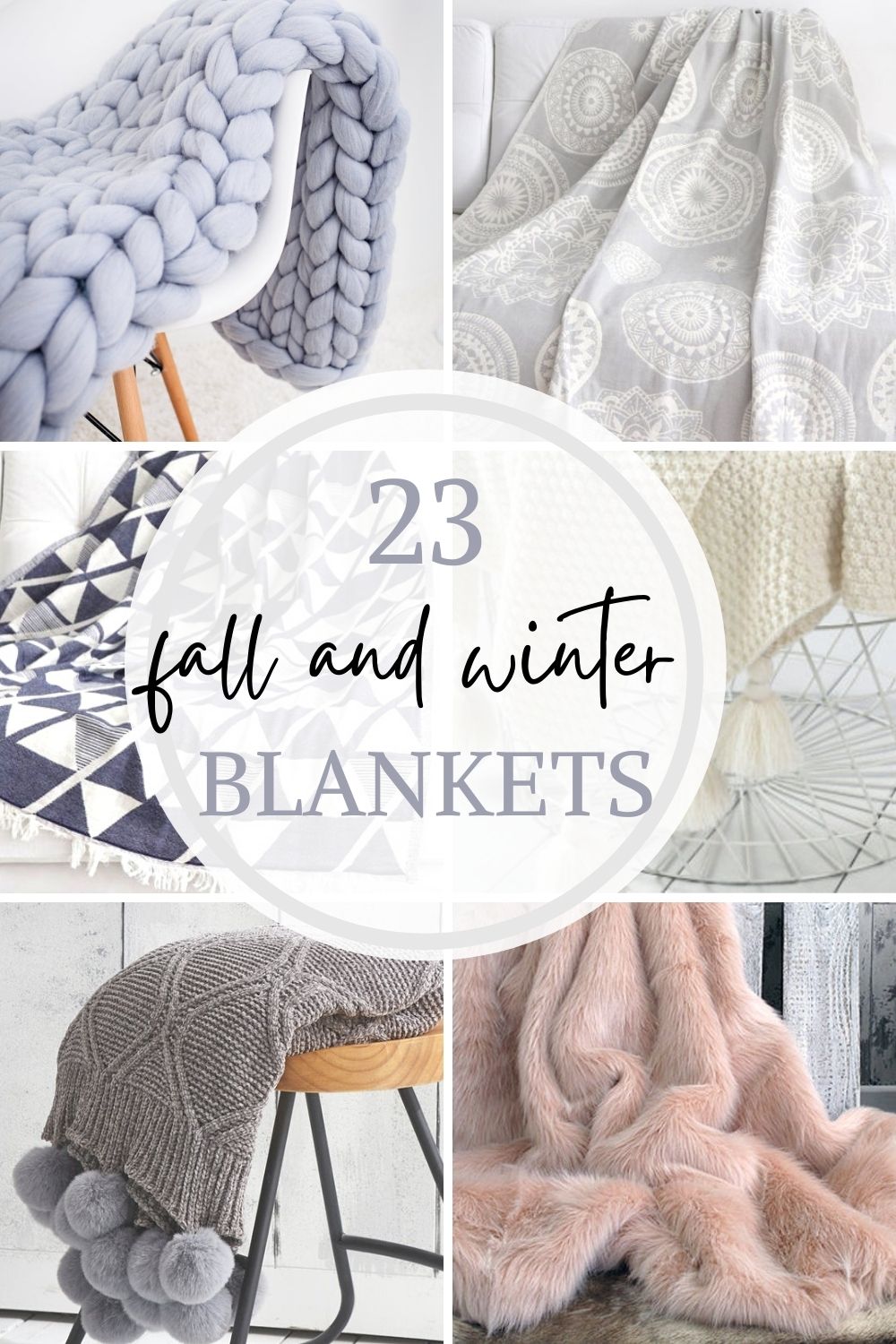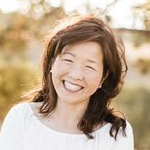 Latest posts by Janine Waite
(see all)