Let's get in the holiday spirit with this Winter Wonderland Decorating Ideas collection.
Here are festive wreaths, desserts, and decor ideas from my home to yours.
It's time to start preparing for Christmas, whether you're ready or not.
Thanksgiving is next, but we all know what's after. It's Christmas.
Are you ready for holiday music blaring in shop speakers? Christmas drinks from Starbucks? Last-minute shopping and decorating?
I'm here to help inspire you and others to craft, create and decorate your home into a winter wonderland.
Saturday Chitchat with Janine – Volume 93
Hello everyone!
I've been ready for Thanksgiving and have already started decorating for Christmas.
Believe it or not, I have five trees set up, lit, and decorated. I know, I'm crazy!
When it comes to blogging, I always have to be one holiday ahead 😉
Whether you're ready or not, here are some festive ideas to transform your home for the holiday season!
Personal Note from Janine
This photo is from two years ago.
Yes, there are a ton of paper snowflakes and chains that I made.
I wanted to create a winter wonderland similar to Buddy the Elf in the popular holiday movie! The photo captures a tiny bit of what I decorated but truthfully, it was more impressive in person.
So, this year I'm planning on making a video showing me installing the snowflakes. My brother will film me and I hope to wrangle my daughter to help out. Otherwise it will take a few hours if I put them up myself.
It's a pretty involved process and I bit over the top.
My husband and son have accused me of being Buddy the Elf. I have to agree that I have his energy and obsession with decorating during the holidays.
Well, stay tuned and hopefully I'll share it over here on the blog. I will for sure be sharing it on my Instagram account.
Well, I hope this post inspires your holiday decorating this weekend.
Cheers and enjoy your day!

This Week's Inspiration – Winter Wonderland Decorating Ideas
I recently made these Mini Gingerbread Houses and created a little village with them.
If you're worried about making them, they are not complicated, and you can make quite a few since they're small.
Create a little snowy village with them,, and add some mini twinkle lights!
How to Make a Vintage Ornament Wreath Without Glue
This project is a simpler version of How to Make a Vintage Ornament Wreath!
So, I came up with a new way to attach them without glue. Also, the fantastic thing about this wreath is that you can change the ornaments each year to match your holiday decor!
Ice Blue Christmas Decorations
Happy Holidays! Let's look at my Ice Blue Christmas Decorations to see how I created my 2021 Christmas tree decorating with ice blue, green,, and white decor!
Today, I share all of the behind-the-scenes inspiration and decor ideas to design this frosted forest.
Christmas Cookie Charcuterie Board
A Christmas Cookie Charcuterie Board is always a welcome treat during the holidays! Add homemade cookies and store-bought cookies along with sweet gourmet treats.
Learn how to make this easy Christmas charcuterie board dessert.
Here are some Free Printable Gift Tags for your Christmas gift wrapping. These images are authentic vintage illustrations that add to their beauty.
Line the edges with gold glitter, attach a cute ribbon and your holiday wrapping is complete.
Who's excited to finally see my Pink Theme Christmas Tree? I'm thrilled to show you!
Today, I share my best tips and tricks on decorating my tree, what accessories I use, and how to create this winter fairytale.
DIY Christmas Diorama Ornaments
I've always wanted to make some DIY Christmas Diorama Ornaments. So this year, I crafted some easy bottle brush tree ornaments.
I love any project or decor with mini-bottle brush trees, which look so cute in these plastic ornaments.
Learn How to Make a Silver Christmas Wreath in this DIY post. You can use vintage ornaments or new ones, whichever you prefer.
This silver and gold wreath is the perfect holiday accent for any decorated room. Add cute bottle brush trees to the house to bring out the retro style.
This year we have a Red and White Christmas Tree in our cozy living room. I love how this color combination resembles striped candy canes and is so fresh and festive.
I added some paper snowflakes around the tree and red and white striped ribbons for accents. Learn how I created this bright and merry Christmas tree!
Free Printable Vintage Ornaments
I'm excited to share my Free Printable Vintage Gift Tags for Christmas. These paper tags are authentic images from old holiday cards.
Download your pdf and print them at home. Make as many as you need for your gift-wrapping needs.
Christmas Cookie Recipe Twinkle Tree
So a couple of years ago, I found this incredible Christmas cookie recipe, and whenever I need to bake a cookie that keeps its shape, I use it.
And I made it again since this cookie tree requires a cookie that doesn't spread during the baking process.
Boutique of the Week – Amazon Thanksgiving Tablecloths
Amazon Thanksgiving Tablecloths
Join me, and let's look at Amazon Thanksgiving Tablecloths together to prepare for the upcoming holiday.
Runners and liners like these are some of the most accessible decorations in your home for the holidays, come on and let's start styling!
My Favorite Things – Winter Wonderland Decorating Ideas
Ten-Minute Christmas Eucalyptus Wreath
Love pomegranates? Create this DIY wreath with my friend Leslie to start decorating for Christmas!
Brown Butter Christmas M&M Cookie Bars
If you love baking and want to try a new recipe this year, join Tieghan and bake these delicious cookie bars for the festive season ahead.
Craft something new this year with Jackie's beautiful creation! Here is a candle wreath made to light up your holiday home.
What's Trending On The Blog
Christmas Tree Rice Krispie Treats
These adorable Christmas Tree Rice Krispie Treats are so easy to make.
Add crushed candy canes and Reese's peanut butter cups, and the cereal quickly transforms into a holiday dessert.
Kids love to make these fun no-bake Christmas trees during the holidays!
Felt Tabletop Christmas Tree DIY
Have you started decorating for Christmas yet? You already know I have, and one of my favorite crafts that I have made is this Felt Tabletop Christmas Tree DIY.
If you like felt, you're in luck because this tutorial will blow your mind with how easy this project is!
Meringue Tower Cake (Christmas Tree)
Here is a Meringue Tower Cake (Christmas Tree) for your holiday season. It is a sweet dessert with a slight crunch that fluffs once in your mouth.
Simple to create, easy to put together, and delicious to taste!
Check out these easy DIY Fabric Ornament Balls for Christmas. This craft project only requires a few supplies, felt, styrofoam balls, glue, scissors, and an ornament hanger.
Make them in any color that works with your holiday decorations!
Happy Holidays! Welcome to our Home for Christmas House Tour from last year. This is a view of our cozy cottage at night.
The glow from the twinkling and candle lights create such a beautiful environment. And this year, more than ever, we need a lovely winter holiday home!
This Week's Tip – Indoor Outdoor Washable Rugs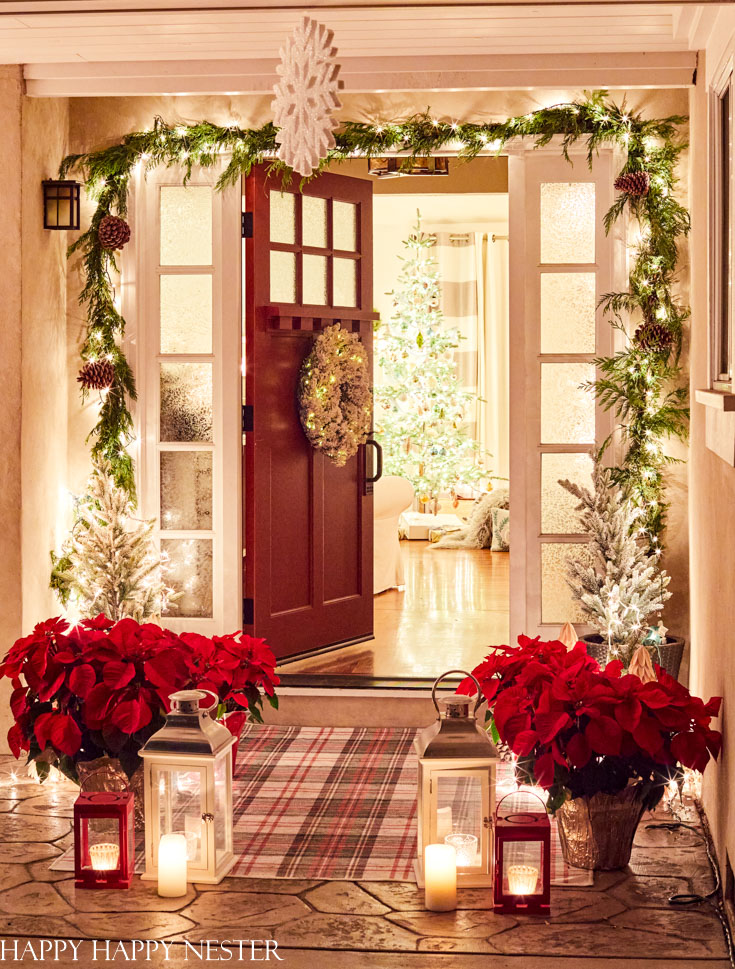 I love my red tartan washable rug! Yes, you heard correctly this rug is washable!
Our rug was on the front porch for about half the year, starting in November. It spent the winter on our porch and did get a bit muddy through the months.
I finally washed it in the spring and it came out clean and like new. It's my kind of rug, easy care and cute!
But, I do want to warn you that I bought two kitchen runners from Ruggable and I wasn't too crazy about the look. But this fun tartan is perfect for a front porch!
Latest Obsession – Vintage Plates For The Holidays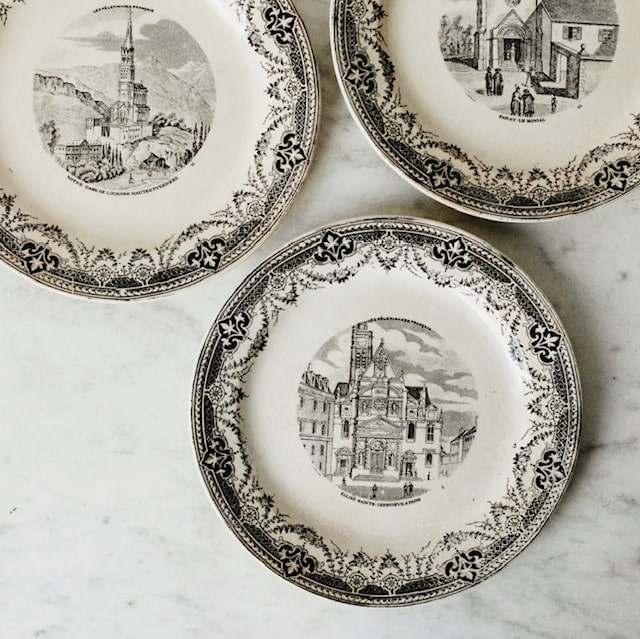 My Latest Obsession is Collecting Old Plates
Lately when I'm in an antique store or a thrift shop, I try and find some old blue plates. This year I'm using them for my holiday decorating.
I'm placing them on bookshelves and cakestands for an extra spot of color and pattern.
One of my favorite shops that these plates are from is called, Elsie Green.
What's unique about this shop is that they only carry vintage home decor from France. Every year, they shop in France and then have everything shipped in big containers. They do a booming online business and you can shop there via this link!
---
---
Hello,
How is your weekend going so far?
This weekend is about preparing for Thanksgiving, meaning coming up with recipes, last-minute touches to the decor, and cleaning the house for the guests!
Writing posts about Christmas yet prepping for Thanksgiving has been a little confusing!
Hold in there with me. Soon enough, you will see my holiday look along with everything in between.
In the meantime, I hope you're having a great weekend. Happy Thanksgiving, my friends!