The end of the year is near. Here is a collection of some of the Best Blog Posts!
Here you will find old, recent, and favorite posts from the blog about last-minute Christmas inspiration from my home to yours.
Whether you're looking for a sweet dessert, a delicious dinner idea, or a DIY craft for the house, there is that and more here in this post.
Christmas Eve tends to be a hectic day full of lots of last-minute things to do.
To help make the time fly by, I have simple ideas and holiday inspiration to make things easier!
Saturday Chitchat with Janine – Volume 98
Hello!
Merry Christmas Eve or happy holidays to everyone celebrating a special day!
Tomorrow is the big day, so collecting the best blog posts from this season and putting them on blast would be best.
As I said, I'm here for you if you need a recipe, craft, or some home decor inspo.
I got you. We're in this together.
Without further to do, check out the posts below and have a wonderful weekend, my friends!
Personal Note from Janine
Well, Christmas is one day away.
Are you ready for the festivities?
Our gifts are all wrapped, and the house is decorated and ready for the big day.
I hope you and your family are all safe and healthy. It's been a bit crazy this past week.
Let's talk about this wintery weather! Our son's flight home was canceled, so this will be the first Christmas without him. Of course, we are a bit bummed, but we will see him in February.
But all is good. We will carry on and look forward to February. The weather and the bomb cyclones won't be so dramatic in the spring.
I hope you all are safe, warm, and healthy. These wishes have taken on a new angle with all the world's crises.
Well, my love to you all, and Happy Holidays to you and your family!
Cheers,

PS: Please scroll down for free gift tag printables under the Obsession section!
This Week's Inspiration – Best Blog Posts
Winter Wonderland Decorating Ideas
Let's get in the holiday spirit with this Winter Wonderland Decorating Ideas collection.
Here are festive wreaths, desserts, and decor ideas from my home to yours.
Join me today, and let's start decorating our Christmas tree with these Holiday Favorites from the blog.
Whenever you may start, here are some ideas. If you're into crafting, baking, or decorating, there is something here for you.
Grab your Christmas Inspirations here and find new recipes, crafts, and DIYs for this year's holiday season.
Christmas is approaching faster than ever. It's time to prepare and finish in time for the holiday!
Christmas Gift Wrapping Inspiration
Become the pro gift wrapper you want to be with this collection of Christmas Gift Wrapping Inspiration.
In this post, I provide holiday tags, gift ideas, and many more to have the best Christmas.
Cute Homemade Christmas Decorations
From seasonal wreaths and printable holiday tags to all types of simple Christmas decor!
With these pieces, you will design DIY trinkets to fill your home with winter wonderfulness!
DIY Christmas Ideas Decorations
The holidays are the busiest time of the year, but with a few DIY Christmas Ideas Decorations, you'll have your home decorated in no time!
The list goes on, so come on and let's dive into the world of simple and seasonal crafts.
Cheers to seasonal decorating!
Here is a fun collection of Christmas Craft Ideas to help you create that unique space throughout your home this Winter!
Time to get baking in the kitchen with these Cookie Recipes for Christmas! Since Thanksgiving is officially over, prepare for the holidays by starting with my delicious desserts.
Believe it or not, I haven't baked many new recipes this month because I rely on my old desserts to save the season. After all, they are that delicious!
It's about that time to put up your tree and start decorating! Who's excited? Before you begin, here is some Christmas Tree Inspiration to guide you in creating your own winter wonderland.
Everyone needs a little tip or trick here and there when it comes to picking out ornaments, buying a tree, or even figuring out what colors you want to design with.
Here are some Easy Christmas Treat Recipes to bake for your friends and family!
From cookies and cakes to delicious desserts, you won't be able to pass them up this holiday season.
Boutique of the Week – Cute Christmas Outfits
Merry Christmas! Check out the festive fashion trends with this collection of Cute Christmas Outfits.
Here you'll find the perfect pair of everything for your holiday parties!
My Favorite Things – Best Blog Posts
Netflix Just Released Its Holiday Movie Schedule—and You're Going to Want to Watch Them All
Follow Martha Stewart and dive into some of the best holiday movies for Christmastime!
Get into the festive holiday with this Christmas Pomegranate Punch created by Tieghan!
How to Hang Stockings on a Fireplace
Learn how to hang stockings on a fireplace safely and securely to add a festive touch to your Christmas mantel with Better Homes & Gardens.
The Best Christmas Brunch Recipes
Christmas brunch. It's such a great meal. Join Leslie and check out some amazing Christmas Brunch recipes today.
What's Trending On The Blog
Easy Paper Bag Snowflakes Tutorial
These Easy Paper Bag Snowflakes are all the rage on social media. I designed a snowflake that is super simple to make and still is as beautiful as the ornate ones.
Not only is this craft simple it's pretty inexpensive as well.
These are the cutest Snowflake Toilet Paper Rolls and are so easy and inexpensive.
This holiday craft project is simple to create; you only need a couple of toilet paper rolls, metal washi tape, glitter, and hot glue.
I love baking cookies and gifting them to friends and neighbors this time of year. So, I came up with a cute but Cheap DIY Cookie Packaging solution.
Just print out my pretty labels and attach them to a canvas bag. Place your homemade cookies in it; you have the cutest care package for the holidays!
Christmas Tree Charcuterie Board
This easy and fun Christmas Tree Charcuterie Board is perfect for a holiday party. Place your favorite nuts, fruits, cheeses, and meats on your board, along with rosemary sprigs.
Use a cutting board or a charcuterie shaped like a tree to display your savory food.
I recently made these Mini Gingerbread Houses and created a little village with them. If you're worried about making them, they are not complicated, and you can make quite a few since they're small.
Create a little snowy village with them and add some mini twinkle lights!
This Week's Tip – Organizing Your Ornaments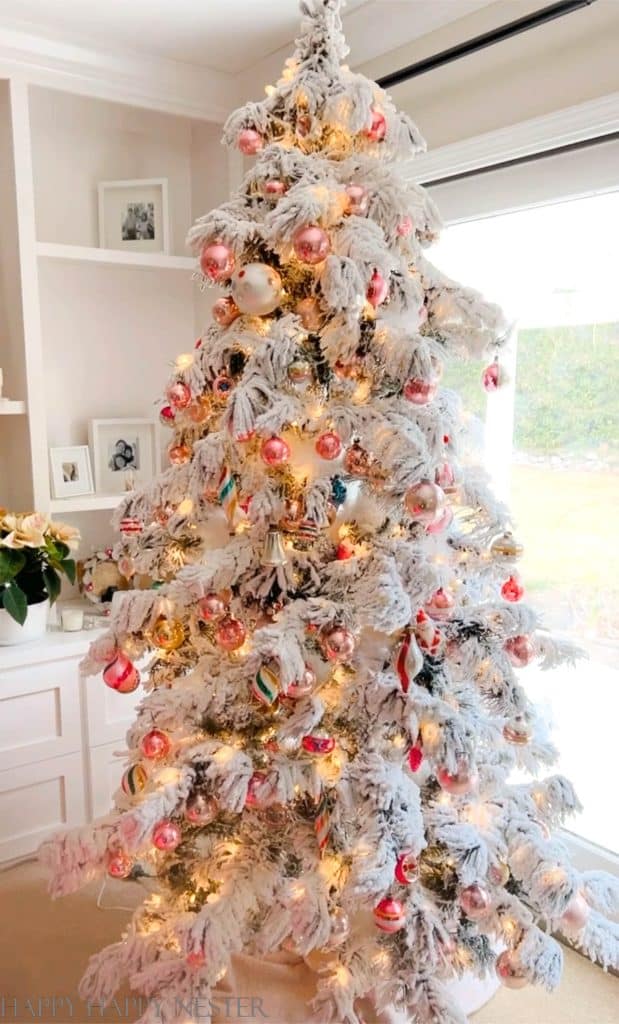 Ornaments Organizing
I recently placed all my ornaments from each tree in their storage boxes. I'm not sure why I never thought to do this.
So, when I open the boxes next year, I will have everything ready to put on the tree. The ornaments, and garland are all placed together in one labeled box.
This little tip saves me so much time and energy!
Latest Obsession – More Gift Tags
Free Gift Tags
As promised last week, here are my new gift tags for your holiday wrapping!
I love designing tags, and it's an obsession of mine. I hope you enjoy these free tags this year!
FYI, when printing your tags, I recommend printing them on nice cardstock paper. Also, check off the box for a high-quality image if your printer has advanced settings.
Here's the LINK for the tags!
Happy wrapping and gifting!
---
Hello everyone!
I want to say I hope every one of you is having a good weekend celebrating with loved ones!
I hope you found a recipe, craft, or home decor idea for the special day.
Thanks again for all the kindness and positivity on this platform. It is much appreciated by yours truly 🙂
Merry Christmas, my friends!
I'll see you on the blog!