Season's greetings! Here is a Cute Homemade Christmas Decorations collection for you to create and craft for this upcoming winter season!
From seasonal wreaths and printable holiday tags to all types of simple Christmas decor! With these pieces, you will design DIY trinkets to fill your home with winter wonderfulness!
This weekend is Halloween, but I wanted to give you a head start on planning for the holidays. Now is the time that the stores are stocking the shelves with all things Christmas. Get it before it's gone!
But in the meantime, here are some simple yet stunning decorations for you to fill your home with. No matter your winter wonderland vision this year, I guarantee there is something here for everyone.
As for me, I'll be decorating my home and continuing to create and craft more DIY pieces for you to enjoy! Stay tuned!
*This post contains affiliate links
Saturday Chitchat with Janine – Volume 38
Happy Saturday!
Hooray for the weekend. Who's excited for Halloween?
Even though I still have my Halloween porch decor out, I am starting to decorate for the holidays inside. I know, I know, you must think I'm crazy to start decorating for Christmas in October.
That's the life of a blogger.
But don't worry. This weekend I will be spending time with family and friends while handing out candy to the local trick or treaters!
Though, while you are waiting for the nighttime festivities, check out my collection of cute homemade Christmas decorations to find holiday inspiration.
Have a spooky Saturday and Sunday!
A Personal Note from Janine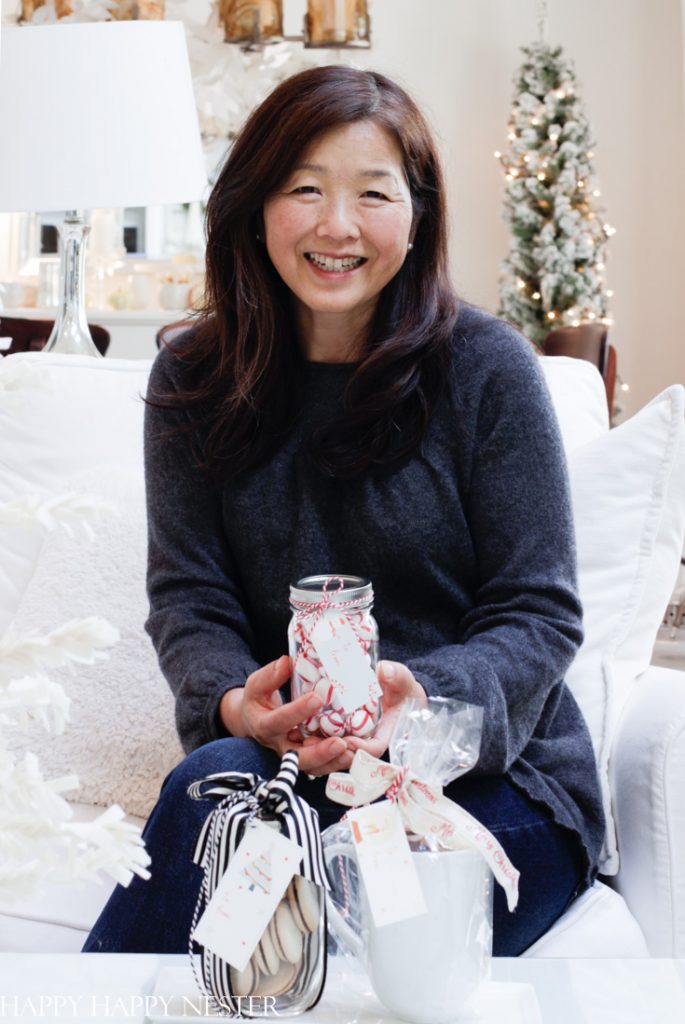 Happy Friday, Friends!
I remember as a little girl being super excited for the holidays. I have four older brothers who, quite frankly, didn't even notice all the holiday decorations or festivities.
Despite being the only girl in our family, I made up for it all on my own. So probably around November, I began bugging my dad for a Christmas tree. While watching his football games on TV, I would prod him to take me down to our neighbor's nursery to buy a tree. But he wouldn't budge, and I had to wait patiently.
Finally, the magical day would arrive, and he would take my brother Mark and me to pick a tree. I remember the smell of the trees and all the beautiful Silver Tip Noble trees. We eventually found one that we liked, and then we let our neighbor know which one we wanted to be delivered. Yup, my dad would have the tree delivered, which meant I had to wait even longer!
Once home, we covered it with gobs of tinsel and fun kid ornaments. Of course, we had the bubble lights, which my brother and I would stare at forever! These lights easily entertained us.
Well, now I don't have to wait for my dad to put up our tree. And I quietly get them up before Halloween. Oh, my dad would be mortified if he was still around.
But, I would be happy to put up my tree later if I could have my dad around to help me. I have missed him every Christmas since he passed away in December 2007.
Sorry to end on a sad note. I hope you hug your loved ones this year and have a wonderful holiday season.
Cheers,

This Week's Inspiration – Cute Homemade Christmas Decorations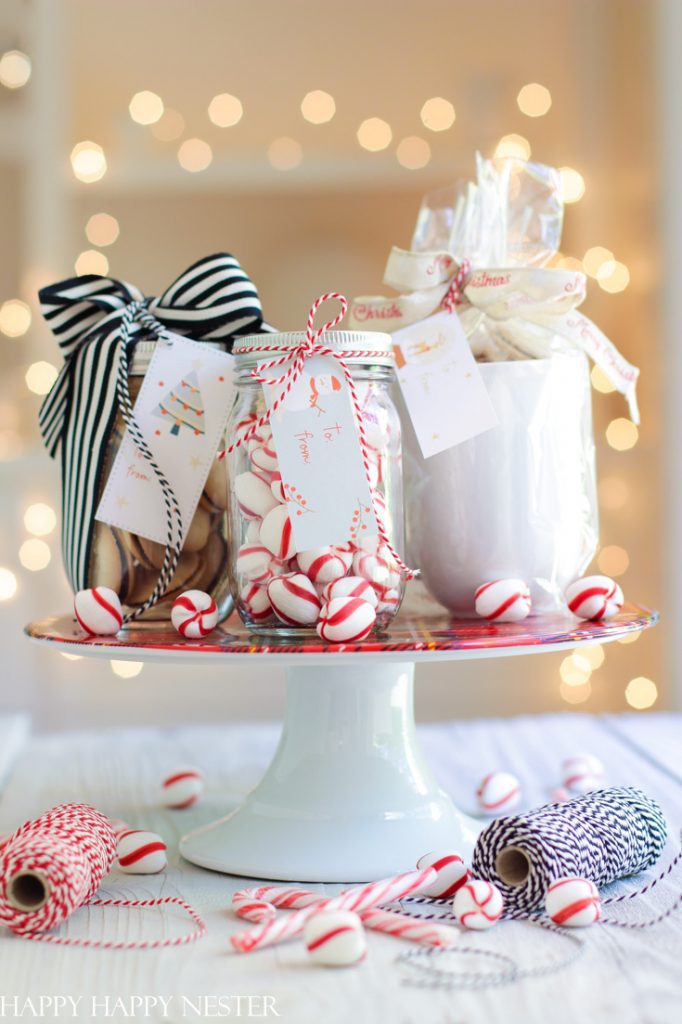 Printable Holiday Gift Tags (Free)
This holiday season is all about giving back to the special people in my life. Every year, I create gift kits using my printable holiday gift tags that just so happen to be free and other supplies, including mason jars, ribbons, mugs, and more!
Save some time this Christmas by downloading and printing these printable holiday gift tags at home and visit your local Walmart store to retrieve the rest of the supplies needed to create thoughtful, heartwarming gift boxes.
In this post, I am sharing some ways to package these gift boxes and how you can have fun gifting to fellow friends, neighbors, and family this season.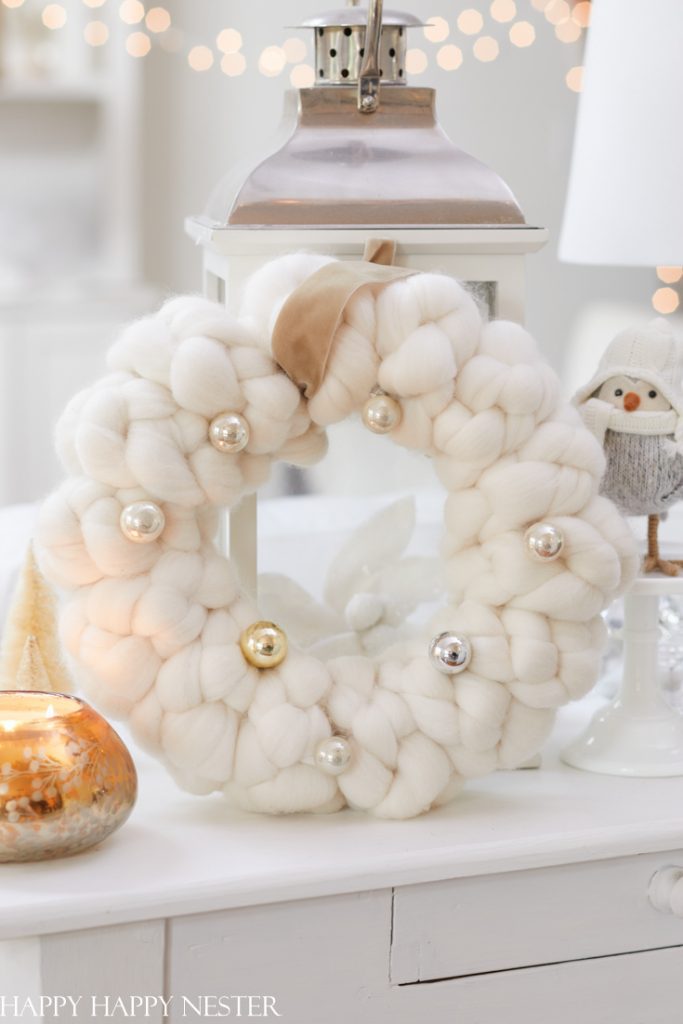 Yarn Wreath DIY With Ornaments
Here is one of my newest cute homemade Christmas decorations, and I am obsessed with the final product! It's a DIY wreath made out of yarn with festive ornaments.
My goal is to provide seasonal crafts, and this one is my favorite because of the easy process was and how this type of wreath will create an elegant look on any door or in any room for the holidays!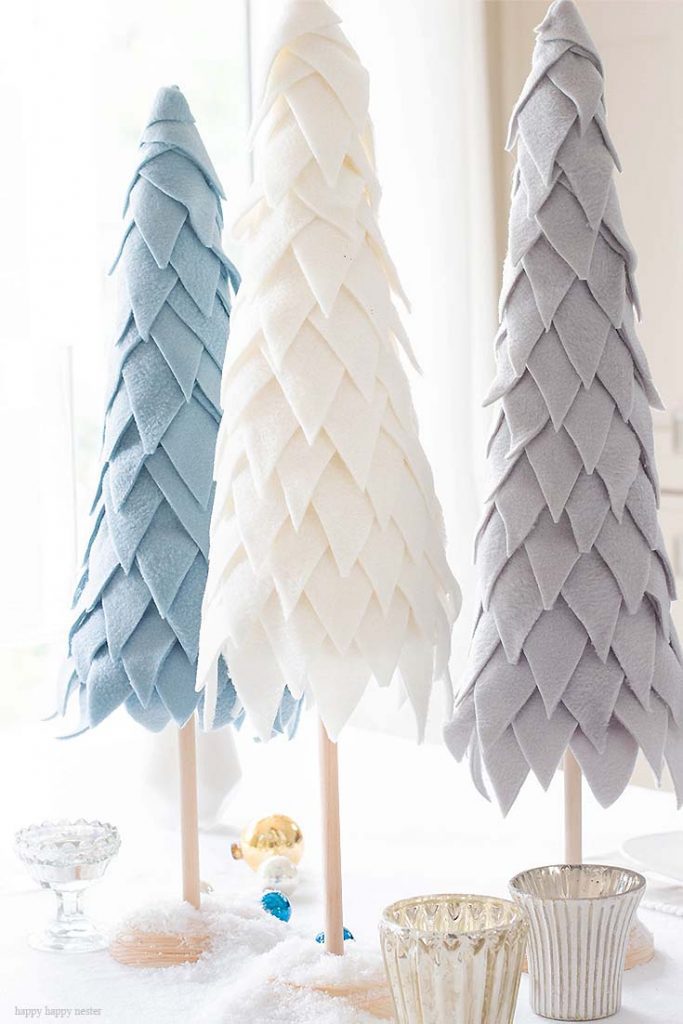 How to Make a Fleece Cone Christmas Tree
Every time I post these, you guys go crazy with this craft. So in honor of creating cute homemade Christmas decorations, here are another one of my favorites.
As you know, I'm obsessed with anything that feels related, so today, I am sharing my tutorial on how to make these fleece cone Christmas trees!
These trees are whimsical and elegant, all wrapped into one craft that is 100% worth it.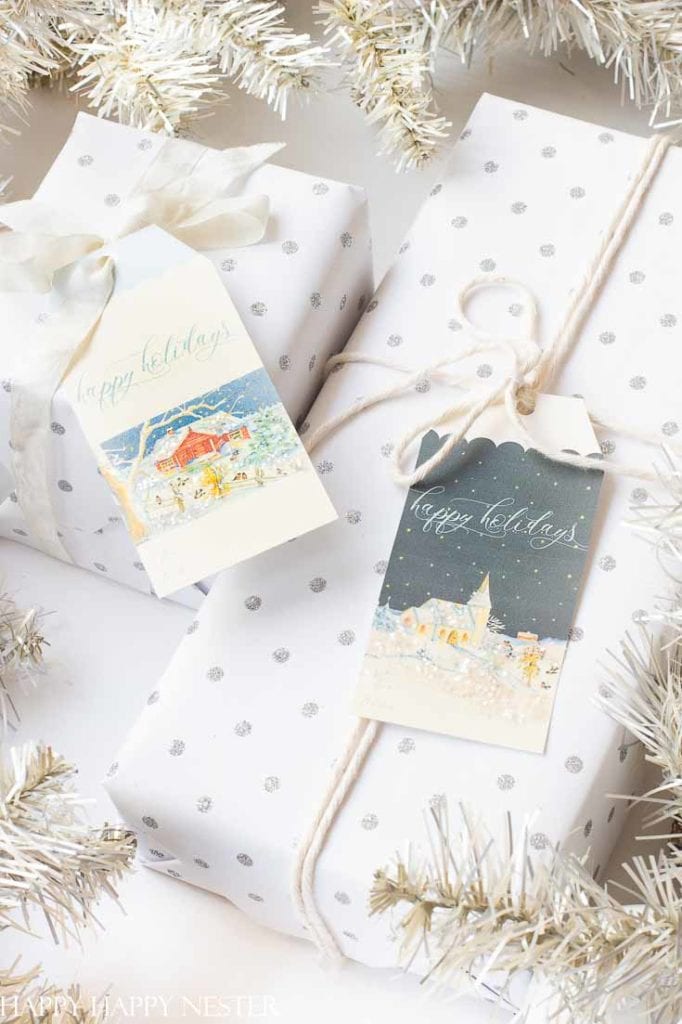 Even though my house tends to look modern, I have a knack for vintage decorations. And as you know, I design my own Christmas gift tags to attach to gift boxes.
One year, I designed vintage tags and I ended up loving the look. So if you love vintage decor or vintage-styled pieces, these should be the first craft on your mind.
Also, I should mention that these Christmas gift tags are actually free. So you can download them for free and also print them at no cost.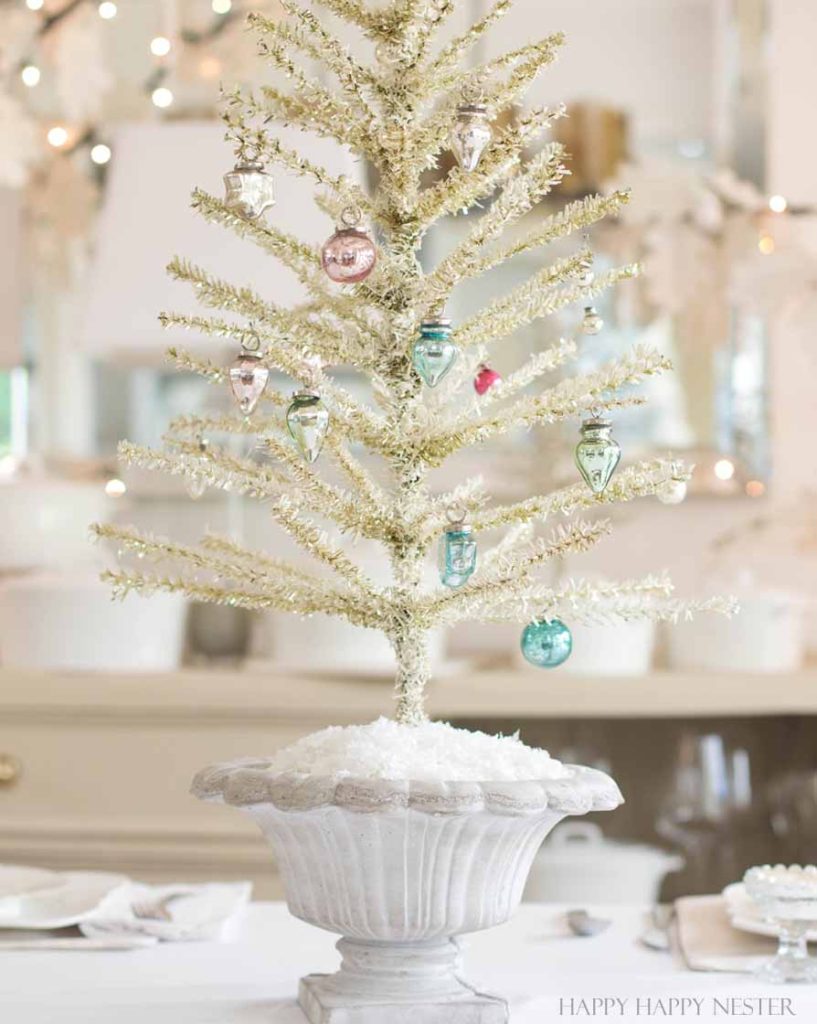 Out of all of my cute homemade Christmas decorations, this one is festive for the upcoming season and 100% worth it.
Plus this craft is also super fun because you can decorate this tinsel tree with your own ornaments to keep the Christmas traditions going every year.
Keep in mind, this is more of a vintage decoration for the holidays, but you can always spice it up and add a twist of your own!
---
This Week's – Boutique of the Week (Simple Christmas Decor)
*The following post contains affiliate links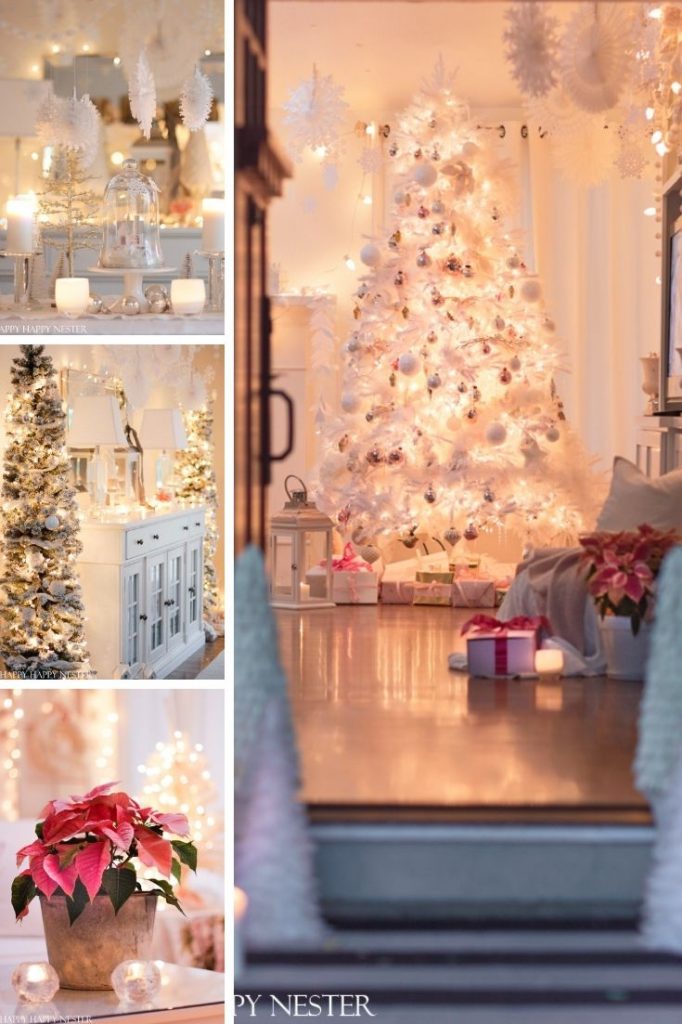 Boutique of the Week – Simple Christmas Decor
By the time Halloween and Thanksgiving arrive, I am already thinking about Christmas. But you know what they say, it's never too early to start listening to holiday music, so why not start decorating too?
Today I'm sharing Simple Christmas Decors such as holiday accents, tree accessories, and light show decorations that helped create my winter wonderland from a past Christmas.
Hopefully, this Christmas, we will spread cheer by inspiring one another to create and decorate a space like no other. I am here to motivate you to make that unique, unforgettable space in your home!
Check out these simple Christmas decor pieces to get a sense of what you want your home to look like this year!
---
My Favorite Things – Faux Christmas Trees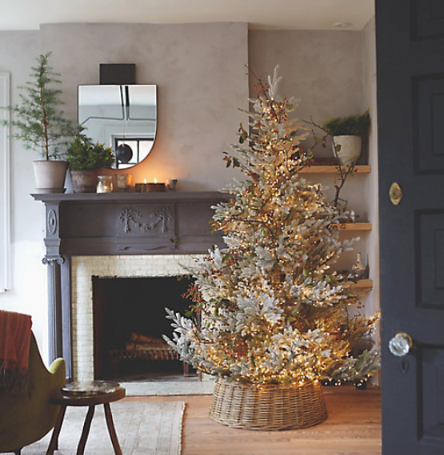 Faux Snowy Pre-Lit Norway Spruce Tree
Who doesn't love the look of a spruce tree? I sure do, especially this one because it's slightly covered in snow and pre-lit with glowing twinkle lights.
Topped with a heavy dusting of snow and 900 LEDs for a glowingly magical look in the holiday home, this faux Norway Spruce is modeled after a real specimen, for a strikingly natural appearance.
Every hinged tree includes a built-in metal stand and LEDs that can switch between warm white and color.
All in all, it's a great tree to place within your home to create a cozy space.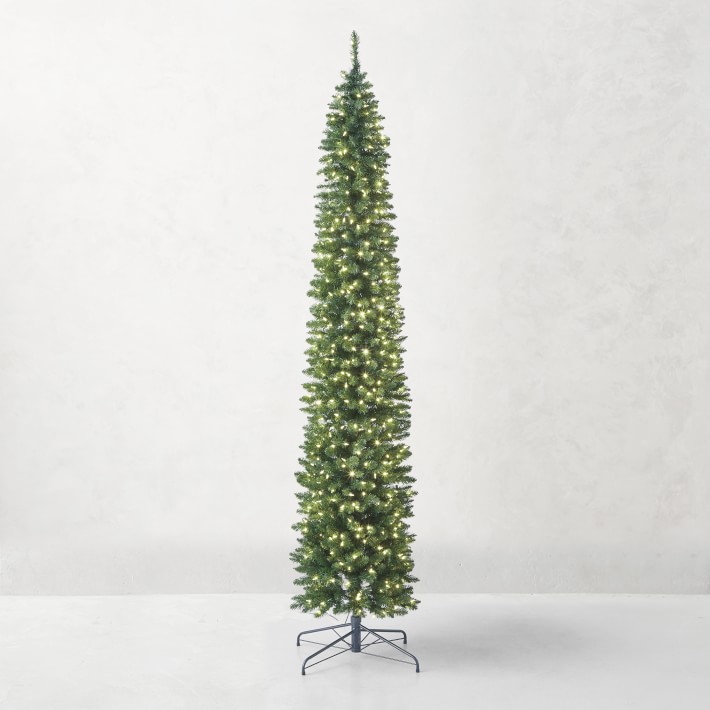 Even though I love giant Christmas trees, I am a fan of pencil trees like this one. And for this particular tree, I have gotten a ton of questions about it, so I decided to link it here for you all.
This eye-catching empire pencil tree is an elegant representation of the tallest trees in the coniferous forest. The faux tree has a slim silhouette that makes it perfect for small spaces and holiday displays.
Enjoy the tree in a range of sizes from 6'–12′, with clear or multicolored LED lights.
Seriously, these trees are perfect for placing in your dining room or the corner of every bedroom in the house.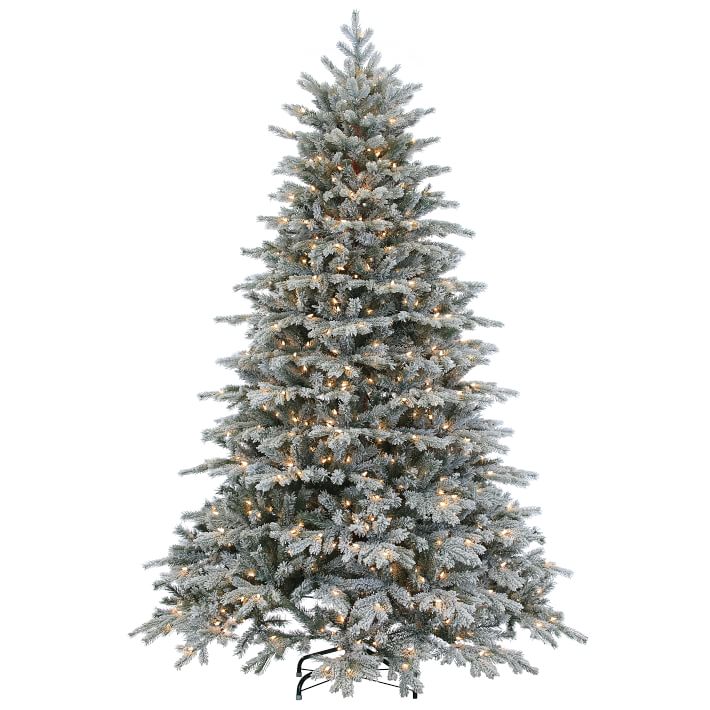 Pre-Lit Flocked Vermont Spruce Artificial Christmas Tree
This tree is flocked and pre-lit, so no need to worry about spending hours putting lights on the tree.
Make your holidays a lasting memory with a tree that becomes the centerpiece of your celebrations. With its remarkably authentic look, this towering pre-lit Flocked Natural Cut Vermont Spruce brings a festive winter-wonderland feel to your home.
Add your treasured ornaments and possibly some of my cute homemade Christmas decorations to create that picture-perfect winter wonderland!
Fresh Blue Ridge Mountain Christmas Tree
You guys know that when I talk about something from one of my favorite stores, you know I love the product. So here are some of my favorite Christmas trees from Williams Sonoma.
These Fraser fir trees are grown on a family-owned farm in the heart of North Carolina's the Blue Ridge Mountains, where cool temperatures and ample rainfall ensure the trees remain fresh and retain their needles throughout the Christmas season.
The majestic Fraser fir variety is prized for its sturdy limbs, piney aroma, and uniform pyramid shape. To ensure impeccable freshness, these trees are shipped straight to your doorstep within 48 hours of harvesting.
Are you looking for trees fast? Check out these beautiful trees today!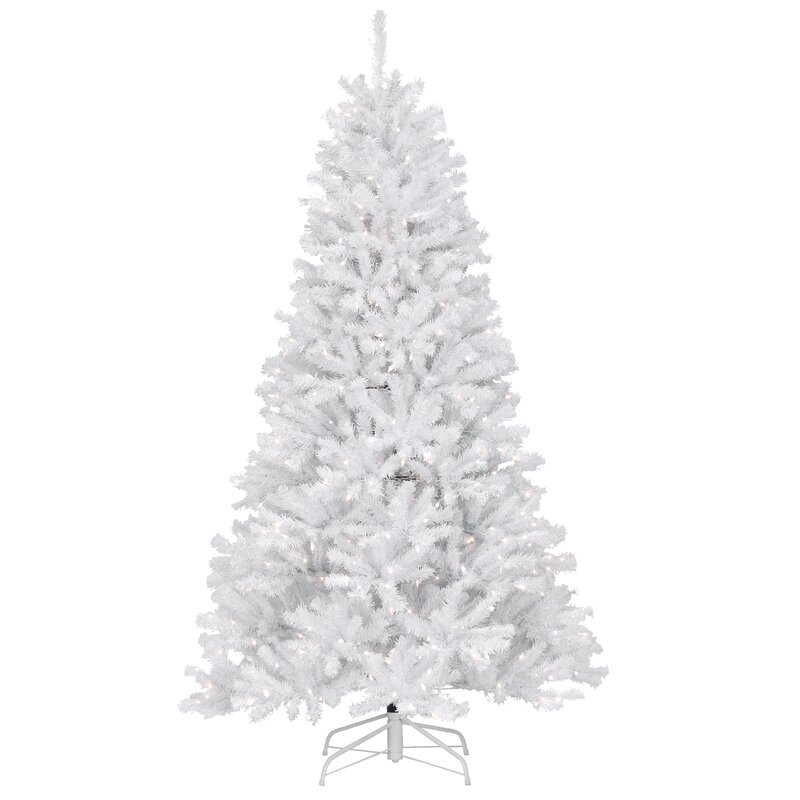 For all of those people who love white trees as much as I do, I have the perfect tree for you.
This product is an attractive alternative to the traditional green holiday tree. It offers a slightly thinner profile that may be a better fit for areas where floor space is limited.
This product remains lit even if a bulb burns out. This four-section tree features hinged branches for ease of assembly. The sturdy folding metal tree stand is included.
It's honestly the best tree you can buy plus if you're planning on creating a white Christmas this season, I definitely recommend this artificial tree.
---
Tree Decorations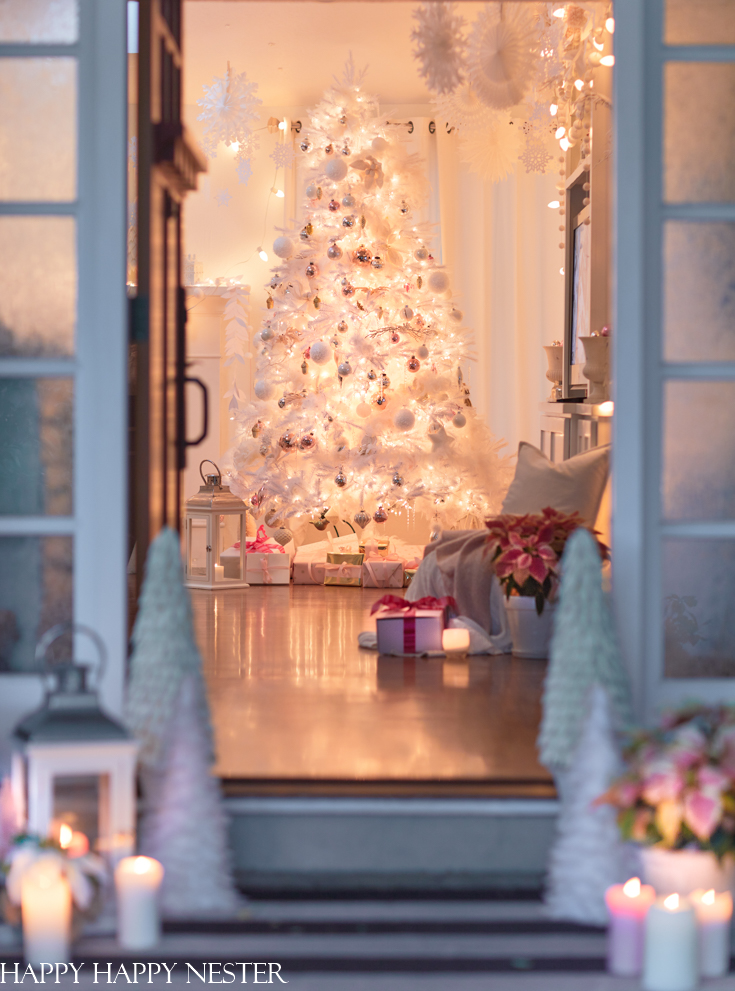 Okay, this might be my favorite Christmas home tour yet. It's full of twinkle lights, a stunning glow, and lots and lots of Christmas decor.
I believe everyone deserves to have a beautiful winter holiday home, and hopefully, this house tour inspires to create just that!
If you've always wondered what my home looks like during the holidays, take a look at this post and find out.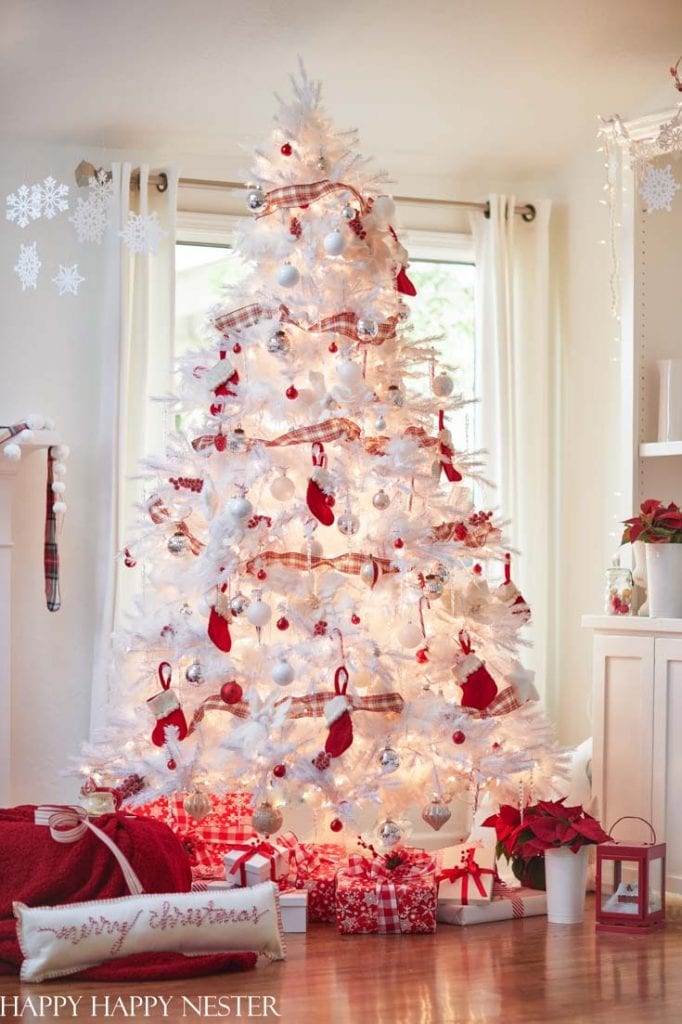 A lot of you must be wondering, where is the traditional red Christmas color? Well, here it is. Here is my red and white Christmas tree.
I rarely include the color red, but when I created this a couple of years ago, I went crazy with the color.
Decorating with this color can sometimes be tricky. Some people add too much, and others add too little. In this post, I let you in on all of my tips and tricks on designing a winter scene with just the right amount of red.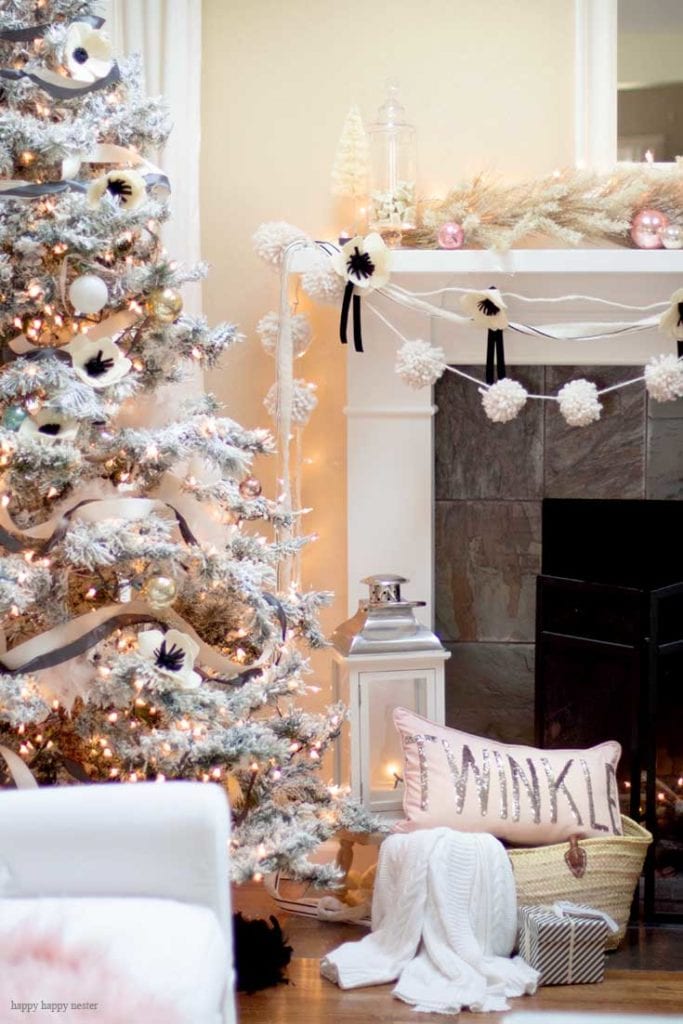 Black and White Cottage Christmas
Every year, I always find myself creating a new look for Christmas. A couple of years ago, I came up with a black and white cottage Christmas look, and believe it or not, and it ended up looking better than I pictured.
In this post, I let you in on a home tour of my living room and mantle space, where I talk about every piece of decor I used to set the scene.
I am hoping this post will give you some inspiration for your own space at home.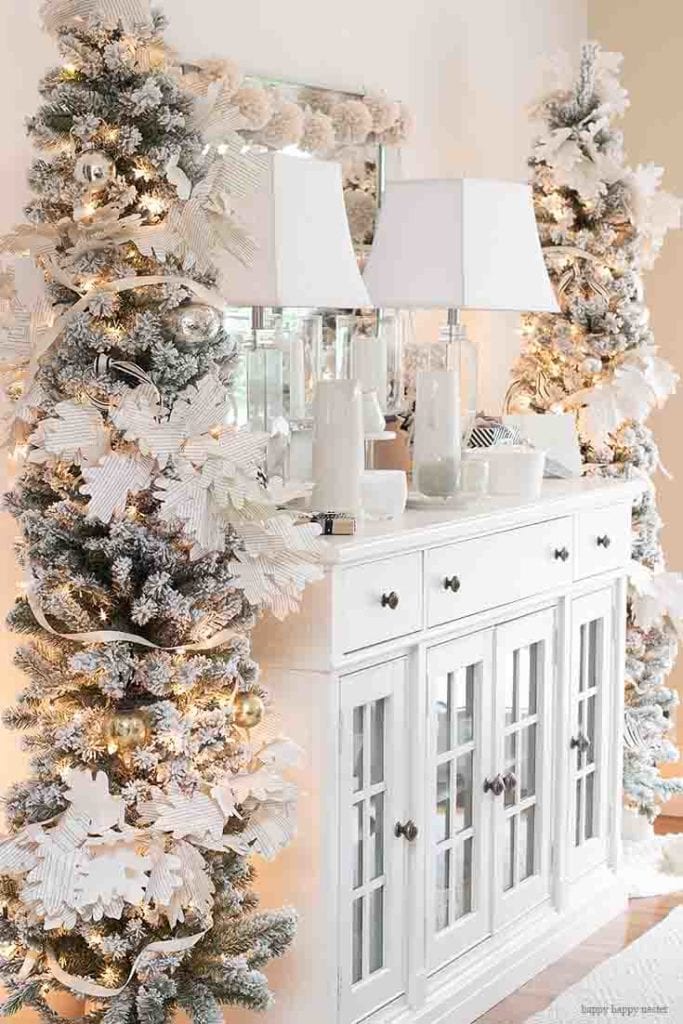 How to Choose a Flocked Christmas Tree
Lately, I have been getting many questions and comments about my flocked trees in the dining room. Here is a blog post that will answer everything you've been wondering.
Finding a flocked tree that works with your existing Christmas decor can be a struggle. To help, I include which artificial trees are the best for your home and where you can find these trees.
Seriously, if you've ever asked yourself anything about a flocked tree, check out this post. I guarantee it will help you out this season.
---
Trending Over On The Blog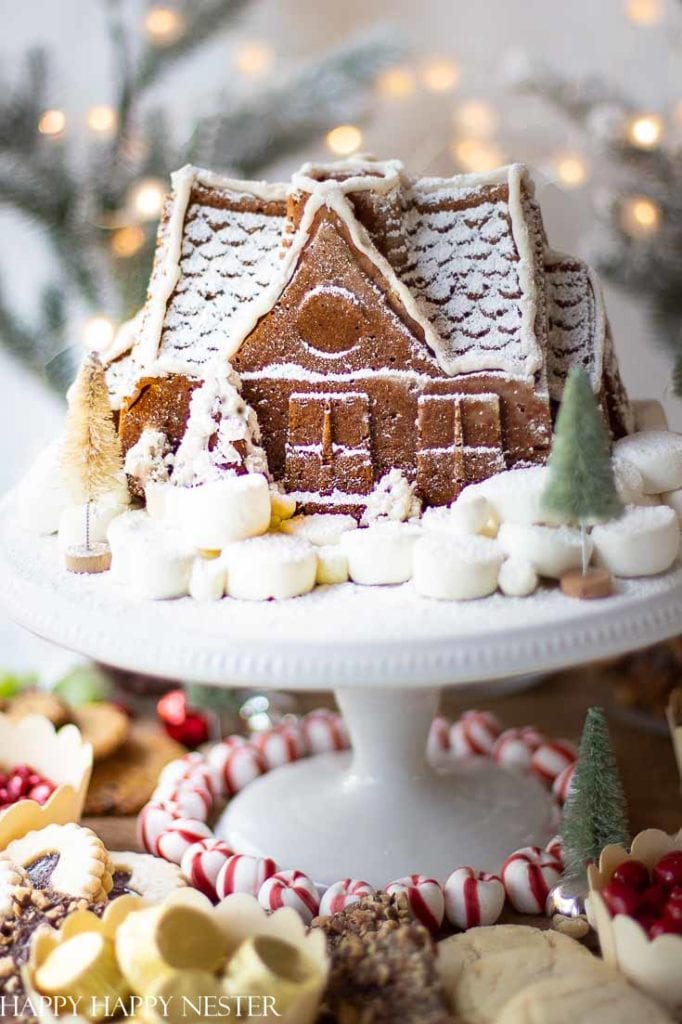 Christmas Dessert Charcuterie Board
If you have been following my blog since the beginning, then you know I have created a couple of charcuterie boards. So since we are heading into the Christmas season, I thought this dessert board seemed fitting for the occasion, so here you go!
Yes, I am a sucker for all desserts sweet. So, when creating this charcuterie board, it was hard not to eat these delicious treats!
If you're looking for a fun way to showcase your traditional desserts this season, check out how to create my Christmas dessert charcuterie board.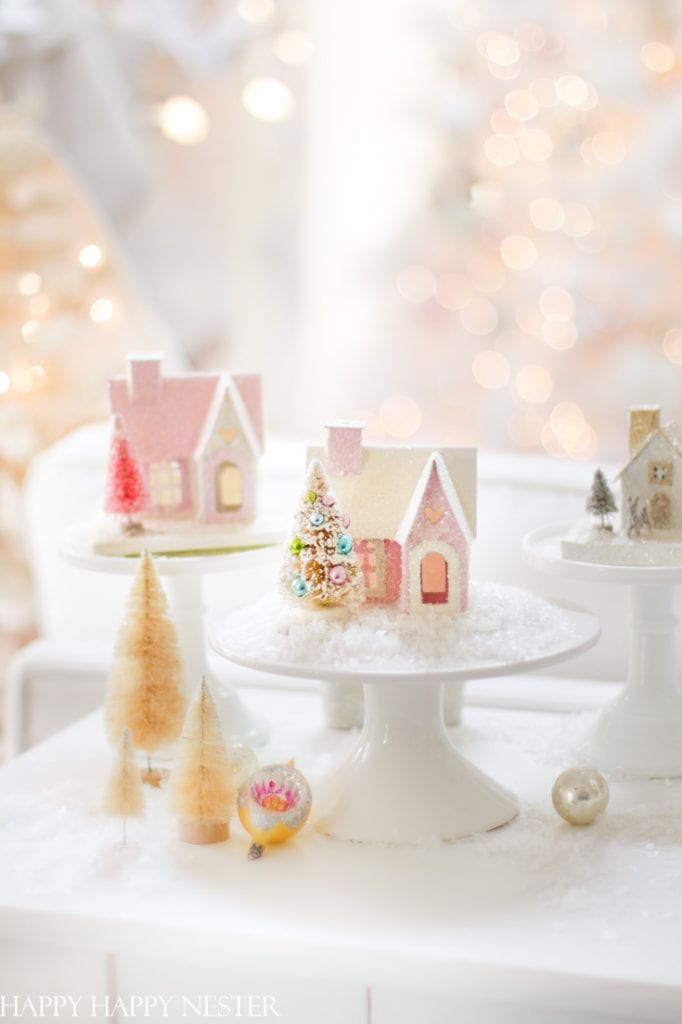 Okay, this post is the one that I have been waiting to share again this season. These houses are cute homemade Christmas decorations that I happen to use every year.
If your style is more cutesy than others, check out these mini houses because they are the definition of adorable.
There are so many ways to style with these houses! For instance, you can place them on a wreath, cake stand, mantle, table, and more. The possibilities are endless.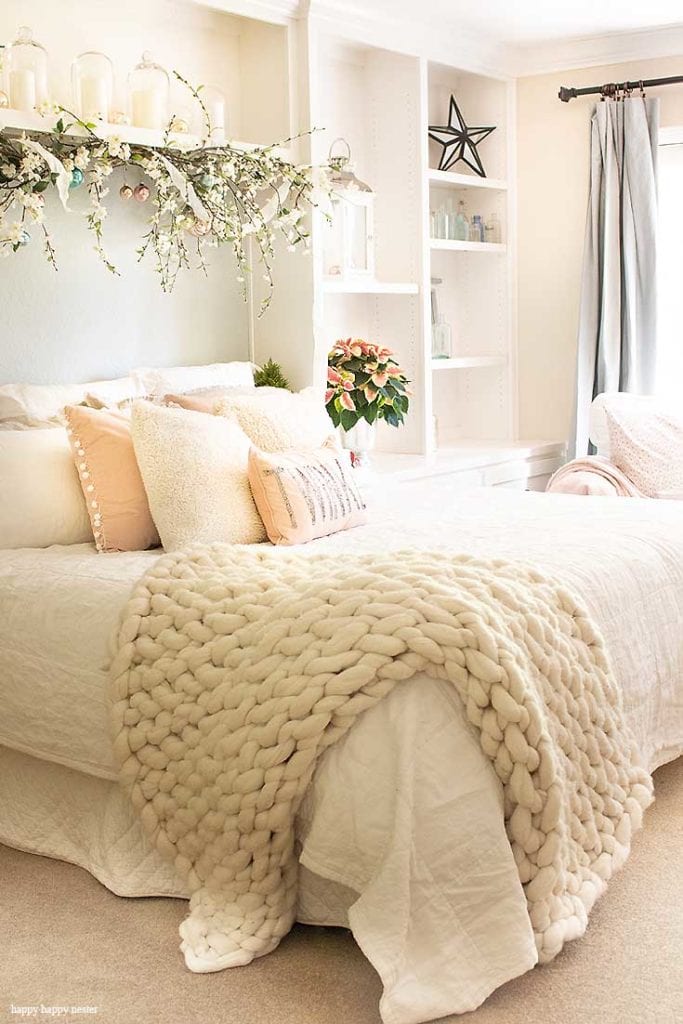 Since the weather is starting to cool down and days are getting shorter, that calls for more snuggle time. And the best time to snuggle in with one of these chunky throws.
This chunky arm knit throw is one of my favorite cute homemade Christmas decorations. It's simple to create, soft to snuggle with, and looks perfect as decor.
Start making your throws and teach others how to create their blankets like this to have warmer winters.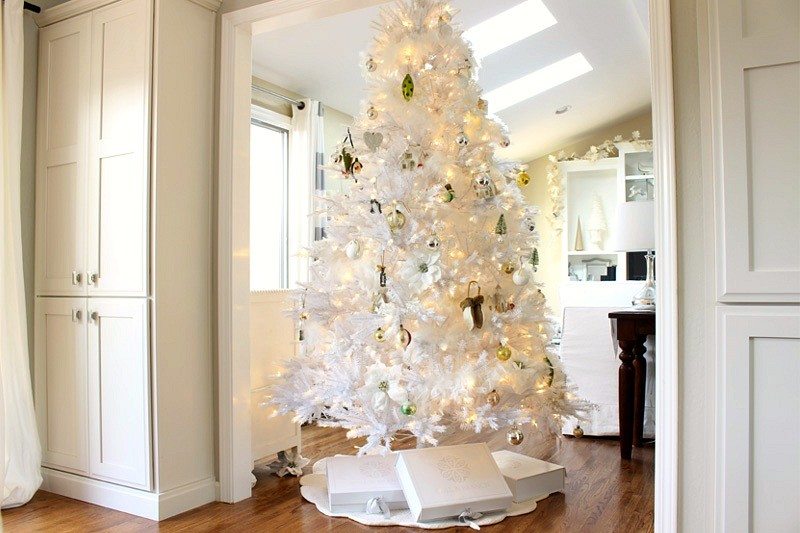 Holiday Blog Tour White Christmas
Here is a white Christmas home tour from a long time ago, basically when I first started my blog. This post holds a special place in my heart.
I give you one of those grand tours of my home, including every tree, piece of decor, and more that went into creating this winter wonderland.
This will also inspire you to decorate your own home this season. Trust me. If you like flocked trees, silver ornaments, and neutral decor, then you will love this home tour!
---
This Week's Tip – Groupon Holiday Cards Discount
Have You Ever Tried Groupon For Your Cards?
My dear friend, Tana from Your Marketing BFF, told me about these great deals on Groupon. So, for years I've bought their money-saving holiday card discounts. You'll be so happy that you can save so much money on your cards this year.
So right now, there are two deals, one for Shutterfly and the other is for Photo Affections.
Photo Affections deal saves you around 75% on cards. So for 40 custom cards, you pay $19.99, but this doesn't include shipping. But I found even with the shipping, and I saved a ton of money! Of course, they have savings of up to 100 cards.
And the card quality is right up there with all the other companies. I've used this great deal to print graduation cards since the agreement is on Groupon year-round.
The Shutterfly deal saves you 49%, and for 25 cards, you'll pay $32.38. They only have savings of up to 50 cards, but you can work around this by buying two Groupon deals if you need 100 cards.
I already ordered mine since this time of year is so hectic for me. And another helpful tip, if you happen to be in Costco, buy your forever stamps. It's convenient, and they have holiday stamps. You save about 25 cents for 100 stamps, and I guess it's better than paying the total price.
My Latest Obsession – Vintage Ornaments
I Love Vintage Ornaments.
I have collected vintage ornaments for a couple of years, and I have primarily pink silver, and gold, and so this year, I've ordered a few pale blue ones to the mix.
If you don't have a supply of them from your family heirlooms, then you're probably wondering where to purchase them. I attend the Alameda Antique Faire in November, and I scout for any vintage ornaments I can find. But, if you don't live in the San Francisco Bay Area, you'll probably need a different source.
Try your local thrift stores for ornaments. You probably won't find the ancient ones, but maybe some are tarnished enough to fit the bill.
My next source is online, and I purchase them from shops over on Etsy and eBay. I have bought a fair share of my ornaments online, and it's so convenient, and I'm happy to support small businesses.
I have my glass vases and bowls filled with sparkly ornaments. They add such a nice pop of color and twinkle during the holidays.
---
Hello, everyone! Happy Halloweekend! I hope you have a great start to your weekend festivities. Hopefully, you were able to take your mind off of skeletons and ghosts for a moment and take a look at these cute homemade Christmas decorations! Now is the time to start planning for the holidays, but in the meantime, eat lots of candy and watch scary movies!
Have a great weekend, and stay tuned for more recipes, crafts, decor, and more!
Cheers,

Catch up on Saturday Chitchats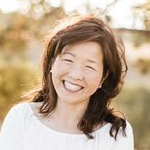 Latest posts by Janine Waite
(see all)