Here is a collection of Fall Leaf Craft Ideas! These crafts will help inspire you to create stylish fall decor for your home. I include my recent craft ideas for the fall, DIY fall decor, my favorites, what's trending on the blog, and lots more!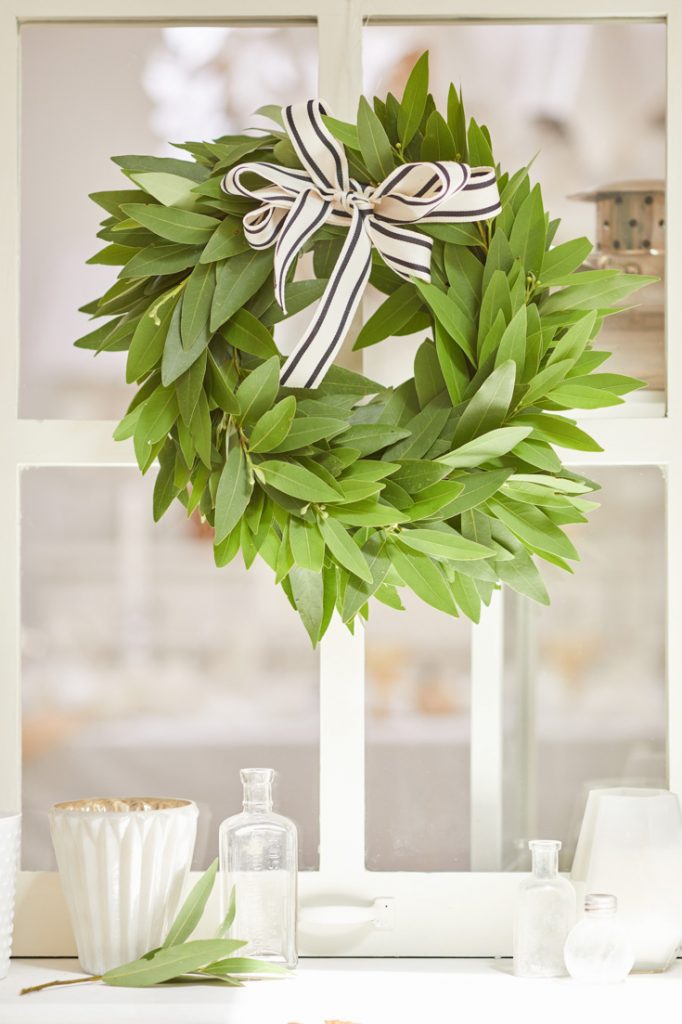 This Fall, it's all about inventing a welcoming space, whether that's overflowing the couch with fall pillows or creating a wreath for every room in the house!
Style your home with these wonderful DIYs and begin this season with warm and cozy vibes!
So if you love fall-styled everything, then you're in the right place! Check out these fun crafts and projects to get started today!
Saturday Chitchat with Janine – Volume 32
Hooray for the weekend!
Pumpkin spice and everything nice, right? Sounds good to me! These days I am embracing the cheesy fall sayings while making simple yet stunning decor for this season!
Whether it's adding a pumpkin or two on the porch or changing out your pillows on the couch, here are some easy crafts to add when it comes to decorating for fall!
In all seriousness, when Fall comes around, I am just here for the pumpkin pie. But for now, the decor will do!
Here are my favorite fall decor pieces that I hope you will love and become inspired to create. Without further ado, check out this collection of fall leaf craft ideas to start decorating today, and have a great weekend!
Happy Saturday!
Cheers,

A Personal Note from Janine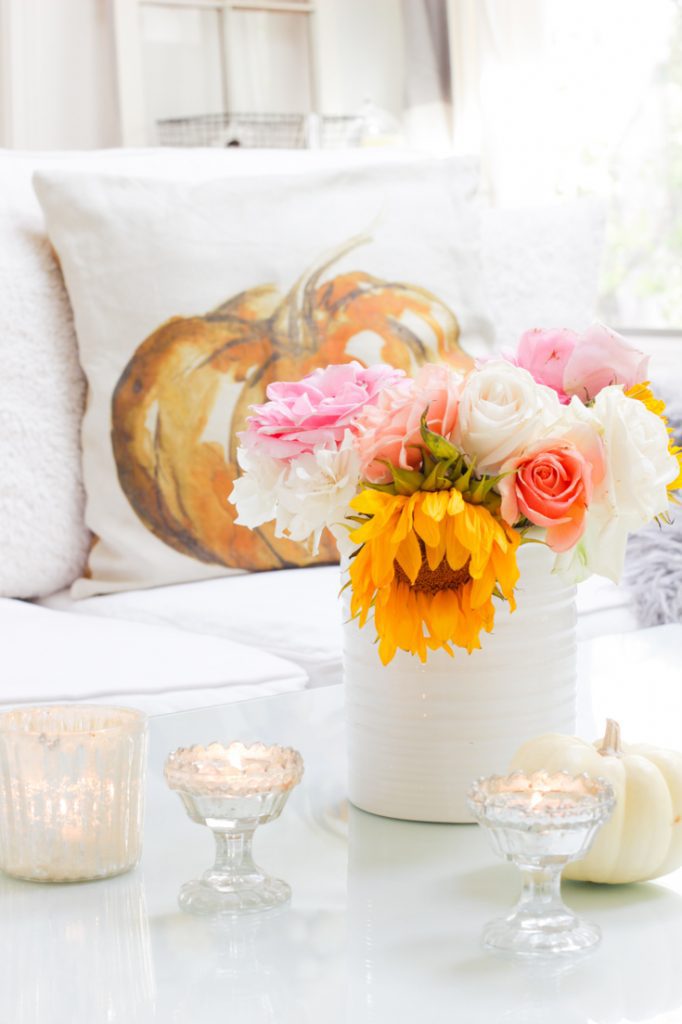 Now that the weather is beginning to cool, this means we start to enjoy our blankets, candles, and pillows.
Rather than sitting out on our patio during the summer evenings, we head indoors. My focus turns to our living room.
My favorite time of the day is in the evening when dinner is over and the kitchen is cleaned. My husband and I hang out in his gigantic bean bag chair and me on the comfy sofa.
This is our relaxing time of the day, and we love watching movies or a fun tv series. And I look forward to cozying up on our sofa with my faux fur blanket and soft sherpa pillows.
It's my happy place.
So, I thought it would be fun to share this spot in our living room with you. So, I just snapped my sofa with my cute pumpkin pillow. I always bring this classic pillow out every fall.
Well, this week is all about fall and leaves. I hope you have a moment to hang out and check out all the fun projects! Oh, and btw, there are some pretty fall leaf pillows in the Boutique of the Week post.
Ok, happy weekend to you all!
Cheers,

This Week's Inspiration -Fall Crafting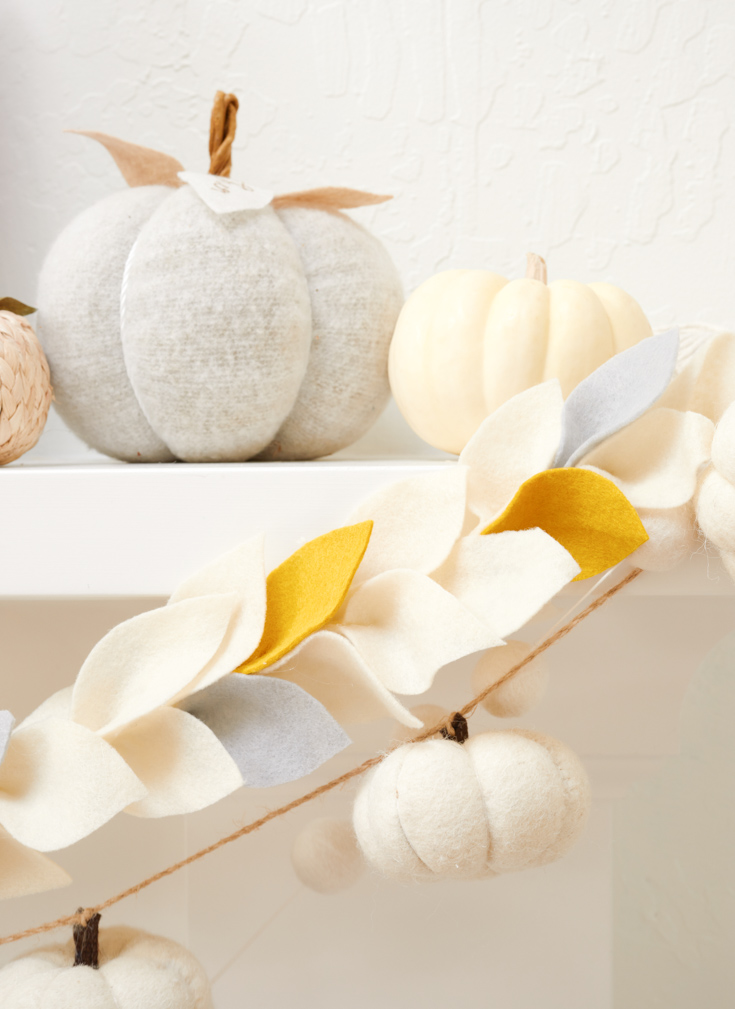 As we begin to spend more time indoors, this time of year screams for decor. I love to decorate with garlands, so I got busy and made this fun felt project.
I love any felt decor. Felt draws me in with its inviting and cozy look, and this garland is the definition of a welcoming, warm look! It's one of the many easy fall craft projects I have created.
If you're looking for a stylish and simple piece of decor to create in your free time, here it is! Check out this post to add more decor to the heart of your home!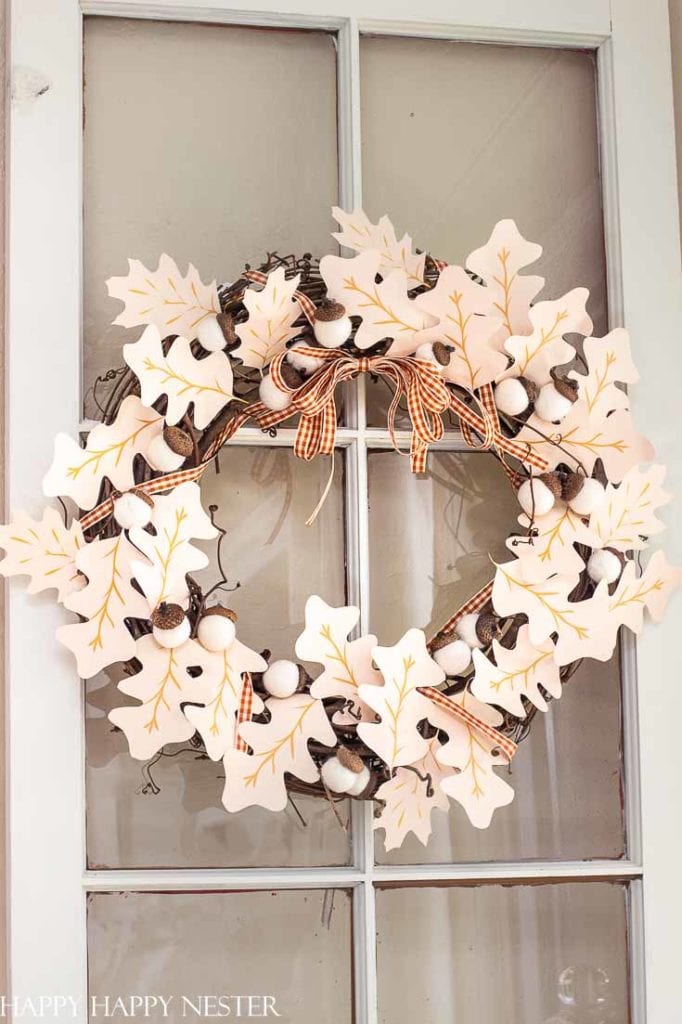 I'm super psyched to share with you this post on fall leaf craft ideas! I love making wreaths, and my favorite is making paper wreaths that are easy and inexpensive to create!
This wreath will create a warm and cozy look to your home while also surpassing the fall vibes! It's a great craft to create when huddled inside in the cold weather.
So if you're looking for a fall wreath that is simple yet stunning, check out one of my favorite easy fall craft projects to start decorating today!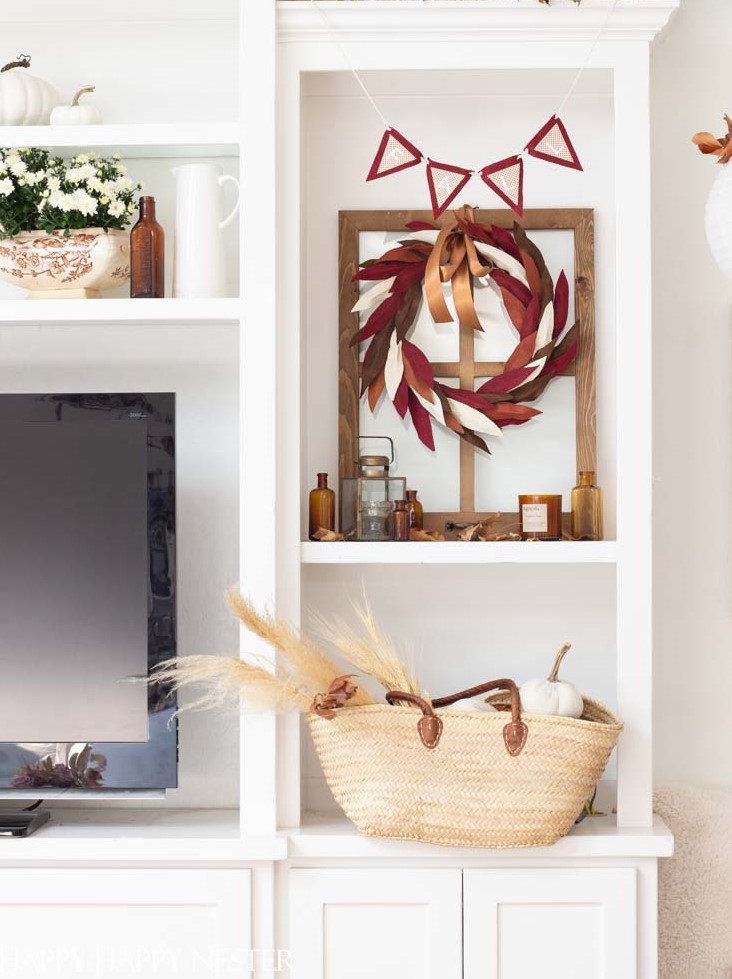 If you don't know by now, I enjoy using felt in my decor. It's simple and stylish, which sounds great to me! Whether creating a garland or something like this fall wreath, felt is the way to go!
This wreath is full of fall colors and will definitely make your home feel cozy! It can be hung on the front door, in the kitchen, living room, you name it!
That is what's fun about wreaths, and you can decorate them in every room! So check out this simple project to create a stunning wreath!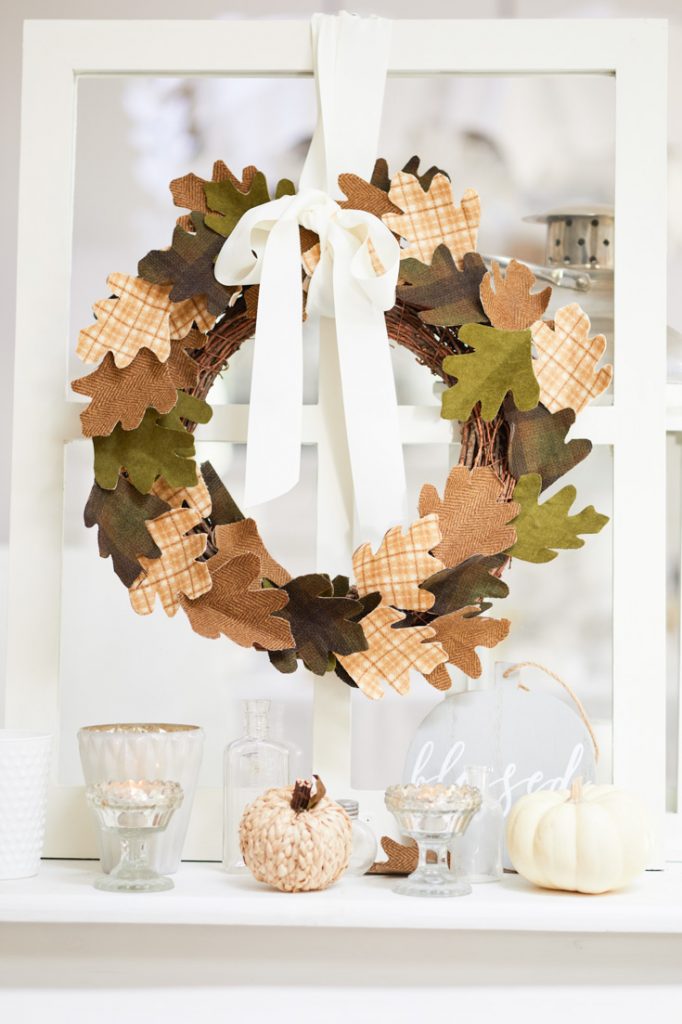 This unique DIY Fall Leaf Wreath is made of pretty plaid flannel fabric. Place the leaves on a grapevine wreath and add it to your fall home decor!
I've always loved fall leaves, so I added some paper leaves covered with pretty flannel plaid fabric. They are warm and inviting, and they are a fun fall accent.
If you need a fall garland then, you're in luck. Just attach the leaves to a thick wire with a glue gun, and you're in business!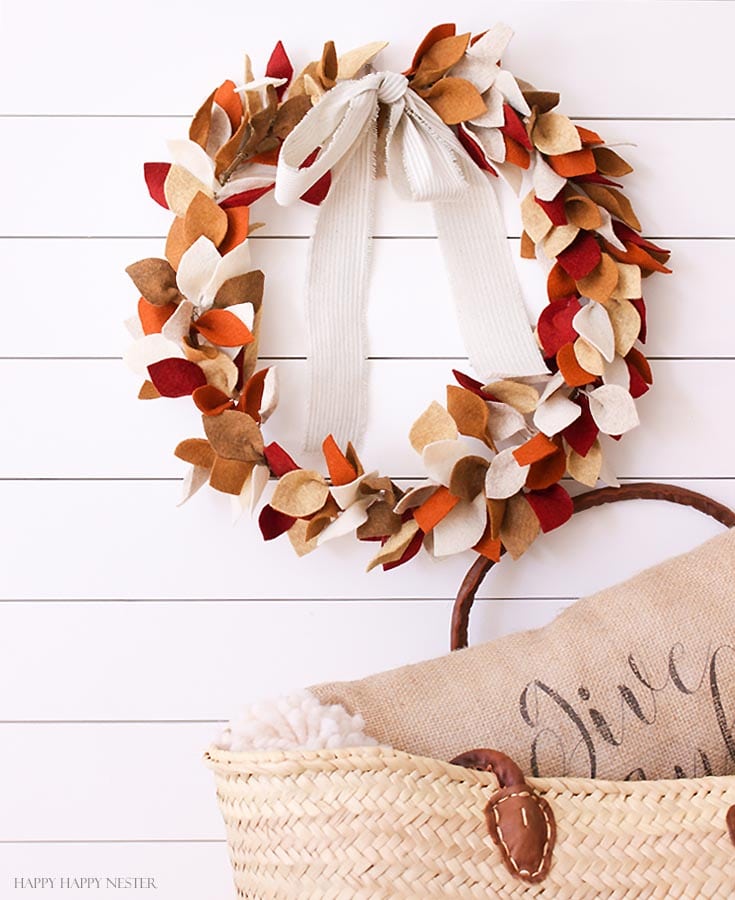 How To Make a Beautiful Felt Leaf Wreath For Fall
In need of a simple wreath? Here is one of my favorite fall leaf craft ideas on the blog because it is simple yet stunning.
It's perfect for the front porch, in the window, or inside! Either way, it will definitely make a statement within your home!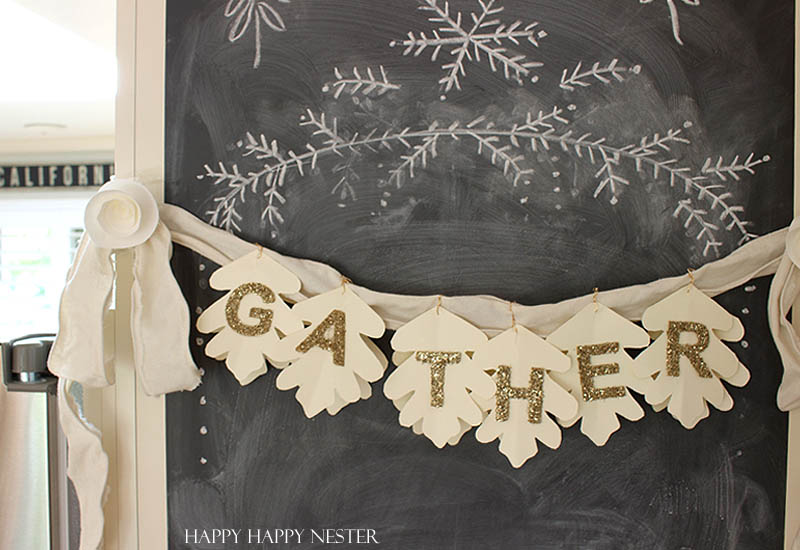 Make Sure to Welcome Fall in with this Cute Leaf Garland
This wreath is an oldie but a goodie. It's one of my first fall leaf craft ideas on the blog! I love this garland because of how simple it is. Seriously, this DIY is so easy!
If your style is more casual, then this craft is perfect for you. It's minimal but will make a statement within the heart of your home.
So if you want to create an easy yet beautiful piece of decor, check this out! You won't be disappointed.
---
This Week's – Boutique of the Week (Fall Pillows)
*The following post contains affiliate links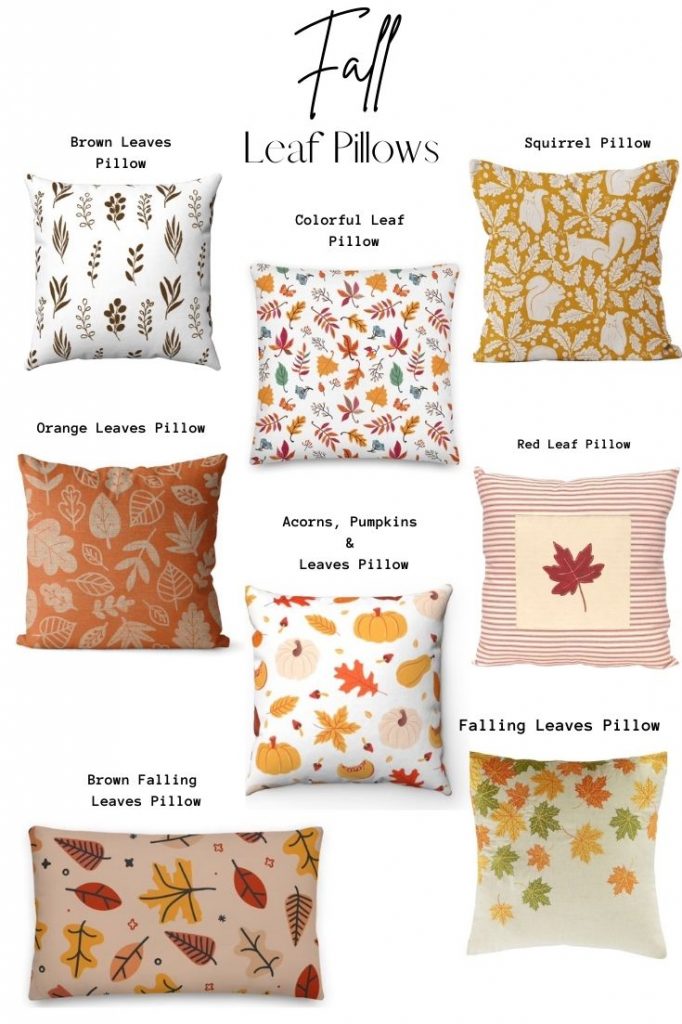 Fall is almost here, and it's time to decorate indoors! So in honor of sweater weather, falling leaves, and pumpkin patches, here is a Fall Leaf Pillow selection to style your home with welcoming and warm vibes!
It's refreshing to change up your decor once in a while, especially when the seasons change. So as summer is drifting away and Fall is arriving, I say it's about time we spice it up!
With this fall leaf pillow collection, you will transform your oasis into a new look! Regardless of your style, there is something here for everyone!
---
My Favorite Things – Fall Crafts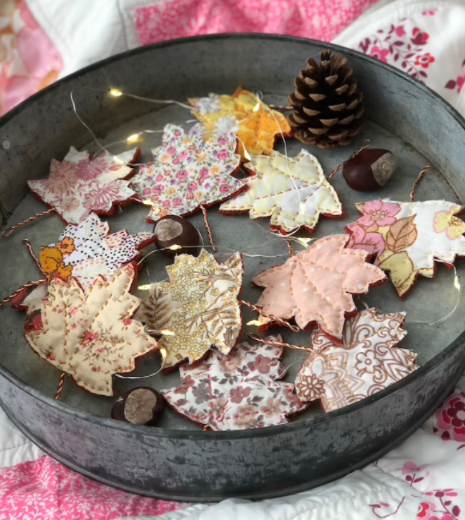 These adorable vintage fabric leaves are strung on a garland of lights to make a cozy, hygge decoration for your home during Autumn, Halloween, and Thanksgiving!
Once made, your leaves garland can be strung up above a bed, on the mantle, along the banister, or simply in a bowl or vase for some twinkly cozy night decor.
They are also a charming addition as a pretty alternative to Halloween decorations. And if you are hosting a Thanksgiving dinner, you can use them to decorate your table!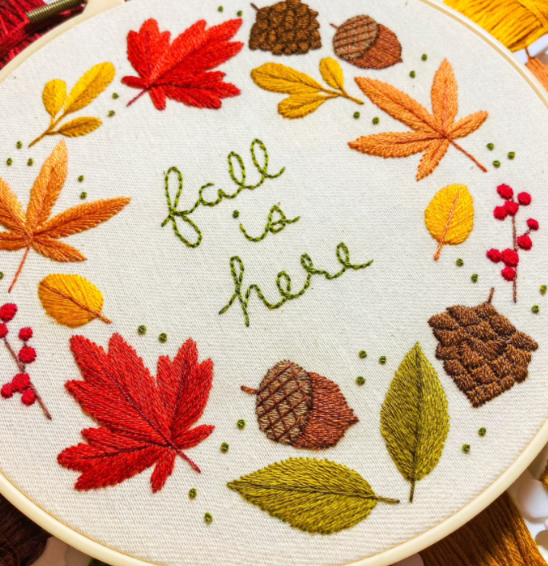 This is a digital PDF embroidery pattern of a simple fall wreath filled with acorns, pinecones, berries, and colorful fall leaves. 🙂
If you are looking to get into embroidery, this is the pattern for you! It comes with photo guides and steps to help you execute a beautiful finished project.
I absolutely love fall, and I hope you do too! If you want to become an embroidering pro or have been doing these crafts for years, this is one of the easy fall craft projects out there! Check it out!
---
Fall Projects from Friends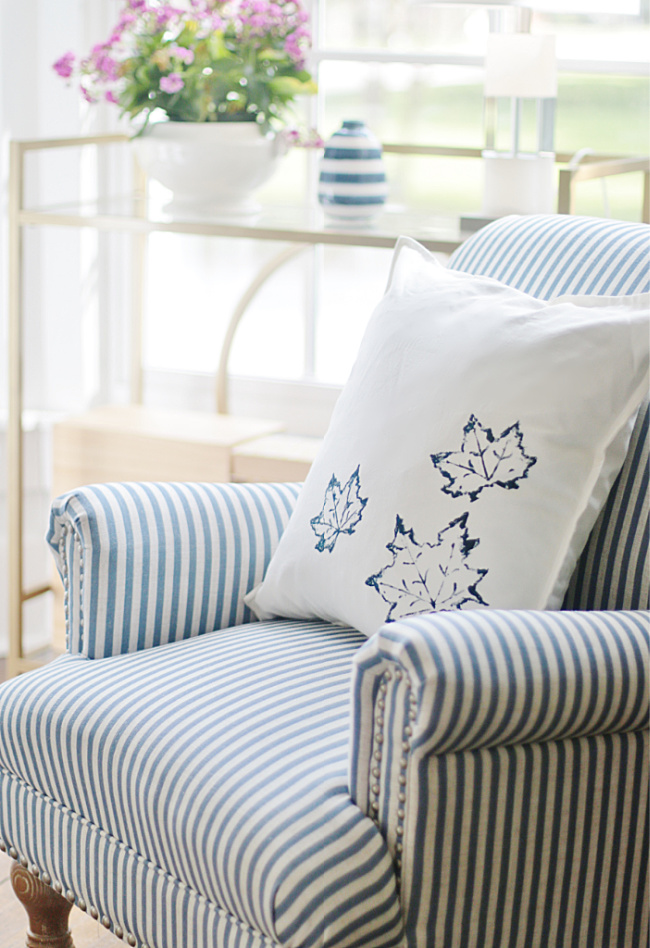 Here is a simple tutorial on making a DIY Leaf Pillow from a dear friend, KariAnne, ThistlewoodFarms!
When I think of fall, I think of falling leaves and pillows. Now you can create something with both, this beautiful leaf pillow! Seriously, this piece of decor is perfect for the fall season!
If you're looking for a simple and easy fall craft, check out KariAnne's gorgeous DIY leaf pillow!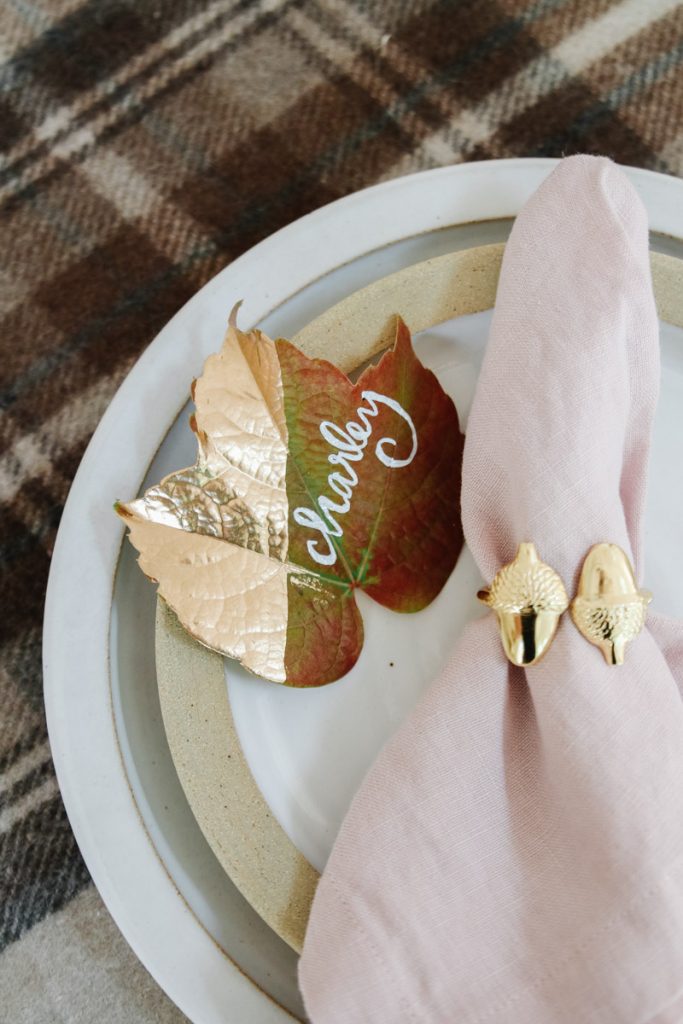 Gold Dipped Leaf Place Cards for Your Fall Table
Want to dress up your fall table with a fun DIY? These gold-dipped fall leaf place cards are simple to make with a little paint and some leaves from the backyard!
This cute project is one of the fall leaf craft ideas from my good friend, Ashley, from Modern Glam! She is so talented and has amazing decor, especially for fall, so check her out!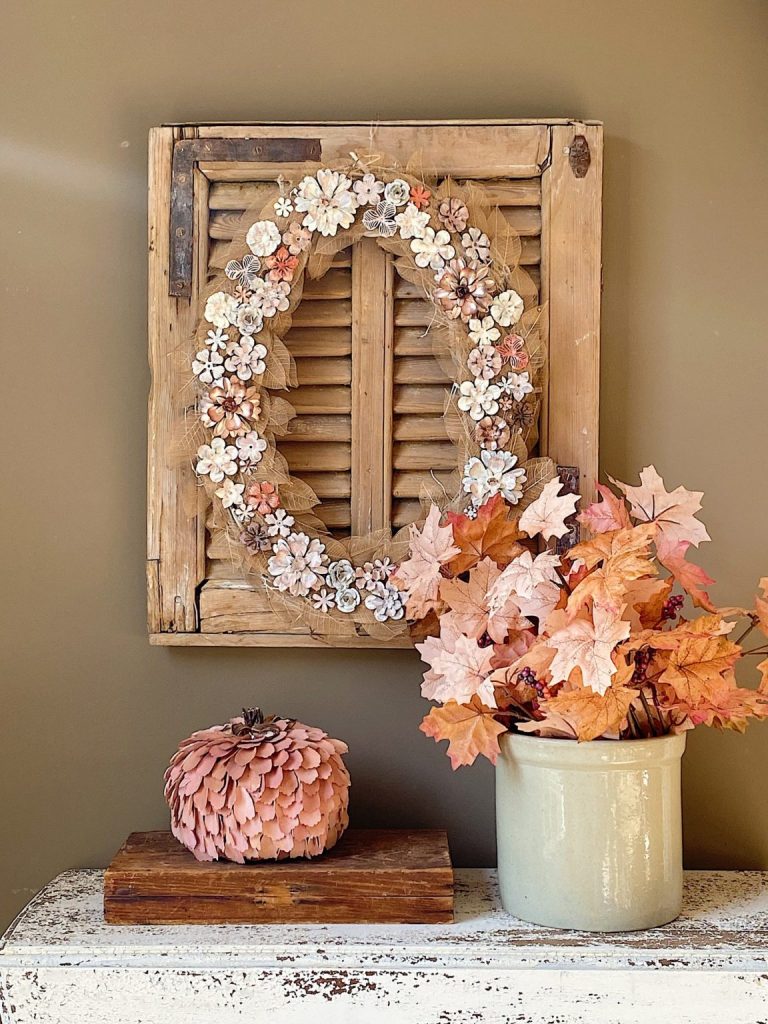 Fall Metal and Leaf Wreath DIY
Here is one of the many easy fall craft projects for fall from my good friend, Leslie, from My100YearOldHome! This wreath is a metal and leaf DIY project!
It's no surprise that this is a beautiful wreath. Leslie is amazing at creating. Even more so, she is great at creating simple yet stunning decor such as this wreath!
If you agree, check out Leslie's post about how to create this wonderful fall metal and leaf wreath DIY!
---
Trending Over On The Blog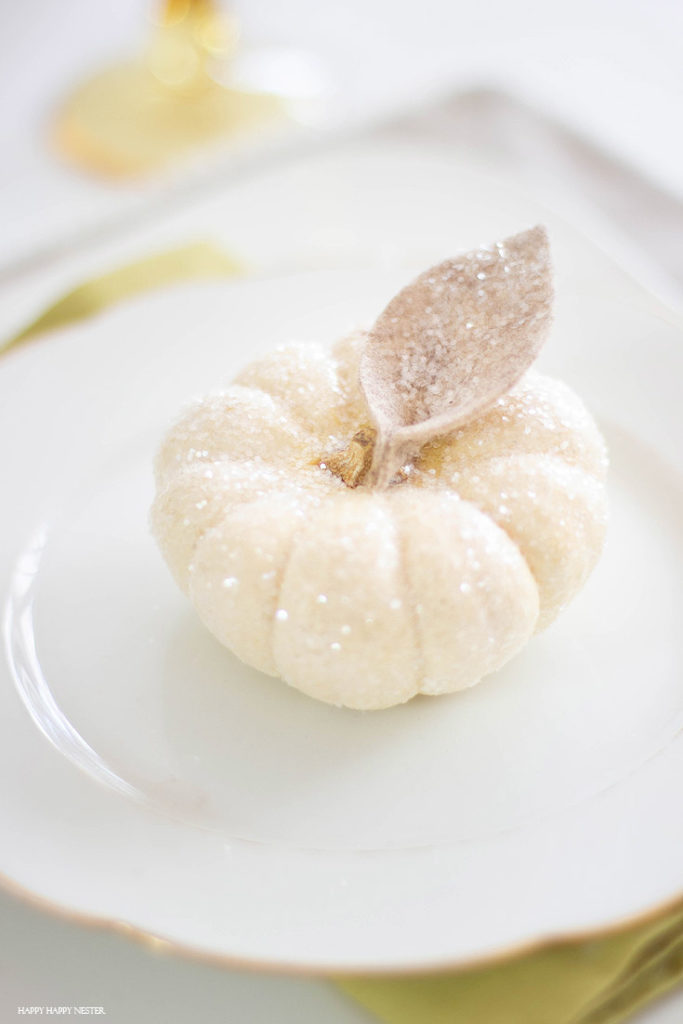 How to make glitter pumpkins is surprisingly easy. Like most of my craft projects, you'll enjoy creating these cute pumpkins!
And I promise that this project will only take you a couple of minutes to make. Soon you will be obsessed with these fun glittery pumpkins, and they will take over your home.
Once you know how to make these glitter pumpkins, you'll find many ways to decorate with them. Their sparkly appearance makes them feel so magical as fall decor!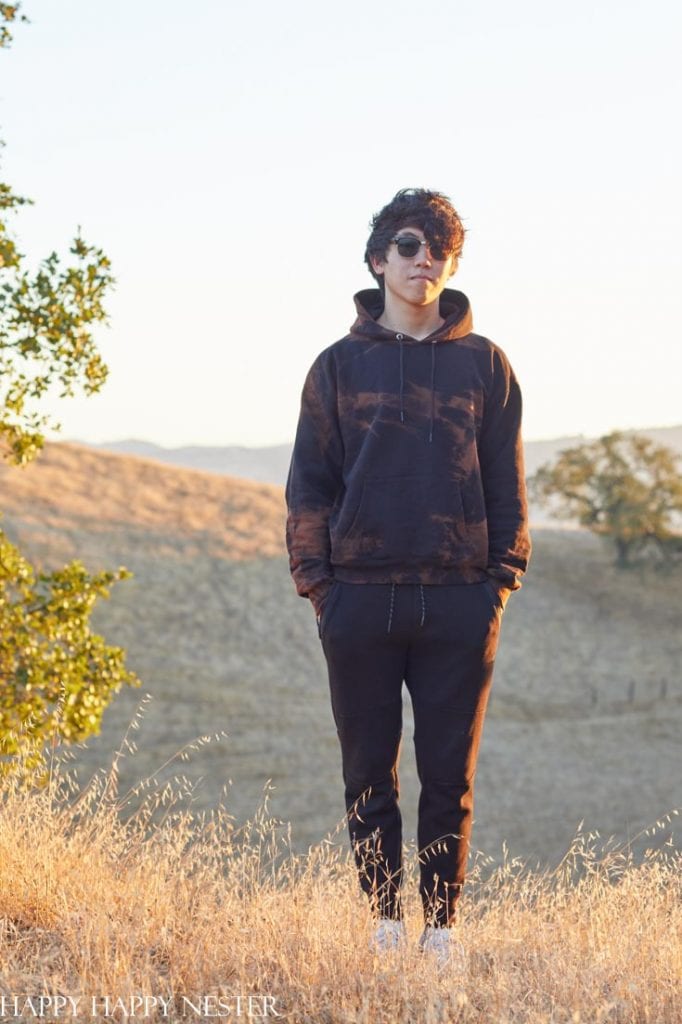 How to Tie Dye a Sweatshirt with Bleach
My kiddos are on Tik Tok, and all the kids are sharing these cool sweatshirts. So we got busy and came up with this post on "How to Tie Dye a Sweatshirt with Bleach," The results are this unique and stylish sweatshirt that looks expensive!
Speaking of our fashion style, our family gravitates towards comfy clothes. And what is more comfortable than a soft and warm hoodie! So, here is a new look to a black sweatshirt hoodie!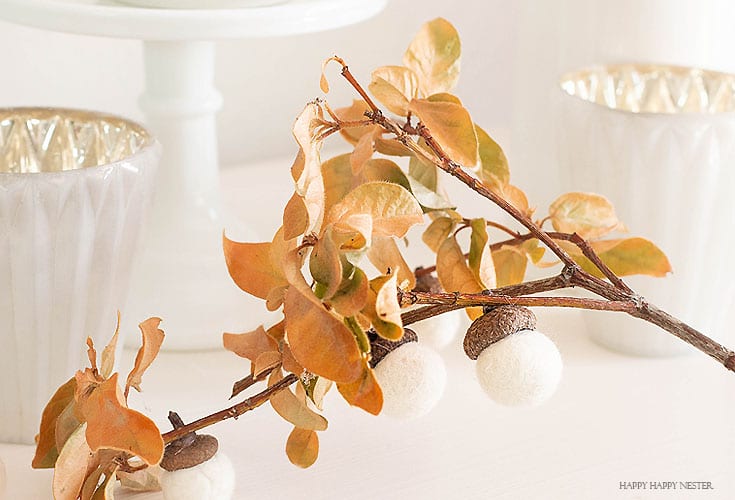 How to Make a Felt Acorn Branch
How to make a felt acorn branch is such an easy fall craft. These cute acorns are the perfect thing to snazz up an autumn table!
This cute project is one of my favorite leaf fall craft ideas because of the simple process and stunning outcome!
These cute acorn branches will look beautiful on your table. I promise that you will have the perfect centerpiece for a fall table!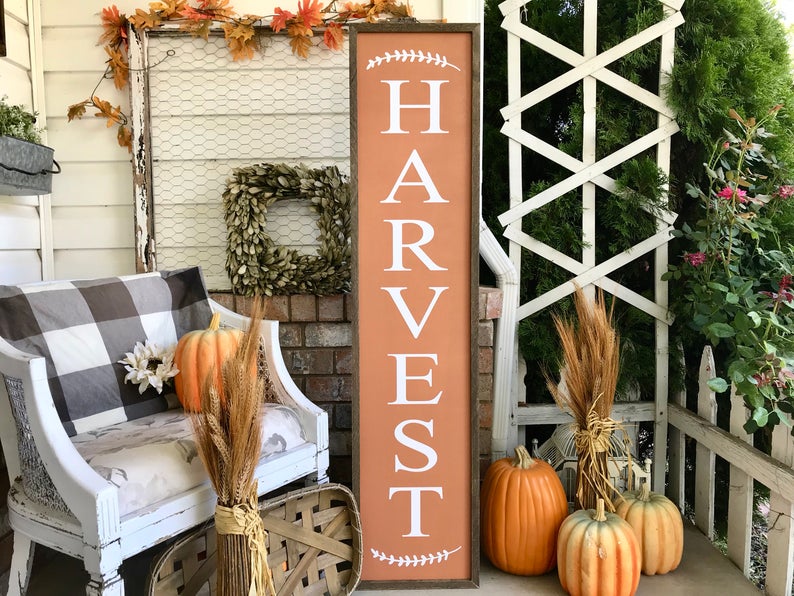 Do you need cute fall signs? I'm planning my fall decor, and I have found many fun autumn signs and banners that I think would look amazing on the front porch!
So as you know, my home decor focus is fall right now, and immediately some big statement pieces like a sign came to mind.
I stumbled upon these boutique shops with their beautiful signs and banners. Well, let's not waste any time. Check out these fall and Halloween signs!
---
This Week's Tip – The Best Faux Leaves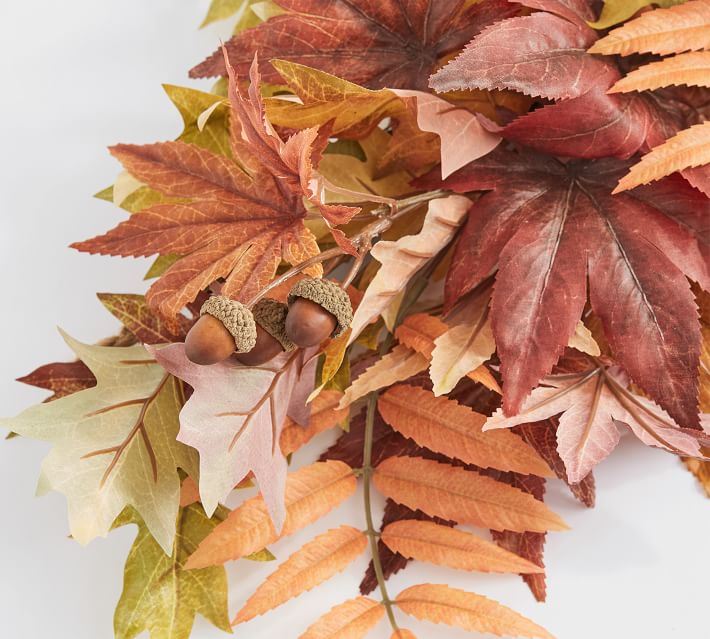 Put fall color on full display with our bright and bushy wreath and garland composed of incredibly lifelike autumn leaves.
Artisans hand place each leaf for a perfectly composed presentation of red, orange, and yellow hues, then secure them to a twig base that's ready for hanging!
---
My Latest Obsession – This Beautiful Fall Wreath!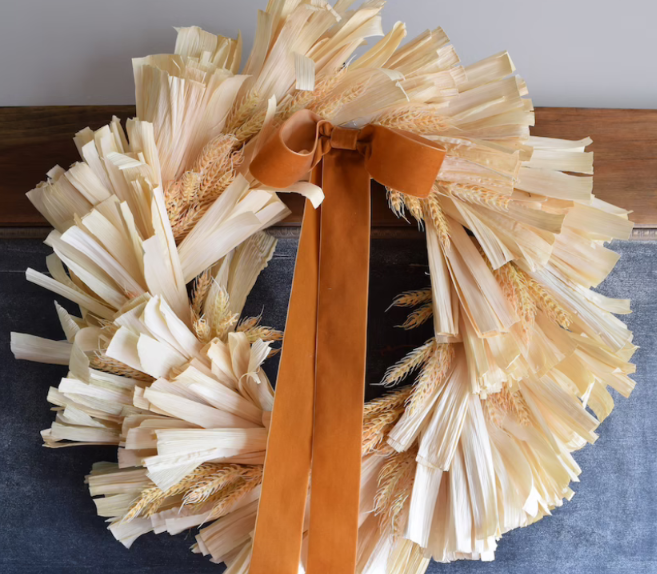 This wreath is a gorgeous way to greet your guests! It is loaded with dried corn husks and wheat sheaves with a caramel velvet bow. I still have my corn husks from last year, and I have had every intention of creating this wreath, so stay tuned!
I truly believe a wreath is a wonderful piece of decor when it comes to decorating your home for the fall season, and this wreath is perfect!
So if you want to make a wreath for this season and add some new decor to your nest, check out this craft!
---
Hello, sweet friends! Well, I'm saying goodbye until next week. It's fun to hang with you and sharing some fall leaf craft ideas! I am so excited for you to try out these crafts and become inspired to create decor! Stay tuned for next Saturday! Thanks for sticking around.
Have a relaxing weekend!

Catch up on Saturday Chitchats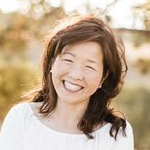 Latest posts by Janine Waite
(see all)