Summer is finally here, meaning warmer weather to eat outside! So, since we are spending most of our time hanging out on the backyard patio, here are some simple yet stunning patio ideas for outdoor living!
Summer is officially here over at our house. The temperatures are just warm enough to enjoy a meal outside during the evening so here are some lovely backyard patio ideas to help you create your dream outdoor oasis!
Saturday Chitchat with Janine – Volume 22
Welcome to this week's Saturday Chitchat!
It's finally the weekend! Let's have some fun decorating the backyard patio with today's post including some stunning decor that will transform your outdoors!
I have always enjoyed creating a fun and welcoming space to enjoy with family and friends, especially during the summer. Because who doesn't love sitting out back during a lovely evening?
I sure do!
And if you're like me, then this post is for you. It's time to either change our your patio decor with a new style or get started on creating your dream backyard!
I'm happy you're here. So, sit back, get comfy and let's hangout for a bit.
Check these posts out below and have a great Saturday!
A Personal Note from Janine
When we moved into our Northern California home, there was one flower bed full of gorgeous purple and blue hydrangeas.
And over the years, we added more to the other two flower beds. So, now we have a long row of them that surround our outdoor dining room.
For a long time, I didn't know what to plant in the adjoining area. Then, I noticed over on Instagram a lot of accounts shared big flower beds of hydrangeas.
Then the lightbulb went off in my mind. So in the three flower beds that surround one side of our patio, I'll plant hydrangeas.
Our bushes are finally mature and producing flowers, and the row of flowers is impressive and beautiful.
Now I love to have an abundance of plants for a dramatic statement. So, this spring, we planted a rose garden on our hill and chose two different white rose bushes.
We want a sea of white roses overlooking our pool. I can't wait for this area to fill in with roses and white jasmine bushes.
Well, here is to a day of backyard patio ideas!

This Week's Inspiration – Backyard Patio Ideas
In need of some quick and easy backyard patio ideas? Don't worry. I got you. Trust me, I have been decorating and styling for years to create the perfect patio, and I am happy to say that I found some great tips along the way.
In this post, I offer some tips and tricks on creating a small but stunning outdoor patio that works with any and every style!
So when it comes to wanting to make a statement or keep it simple when decorating your patio, check out these ideas to get started on creating your dream outdoor oasis today!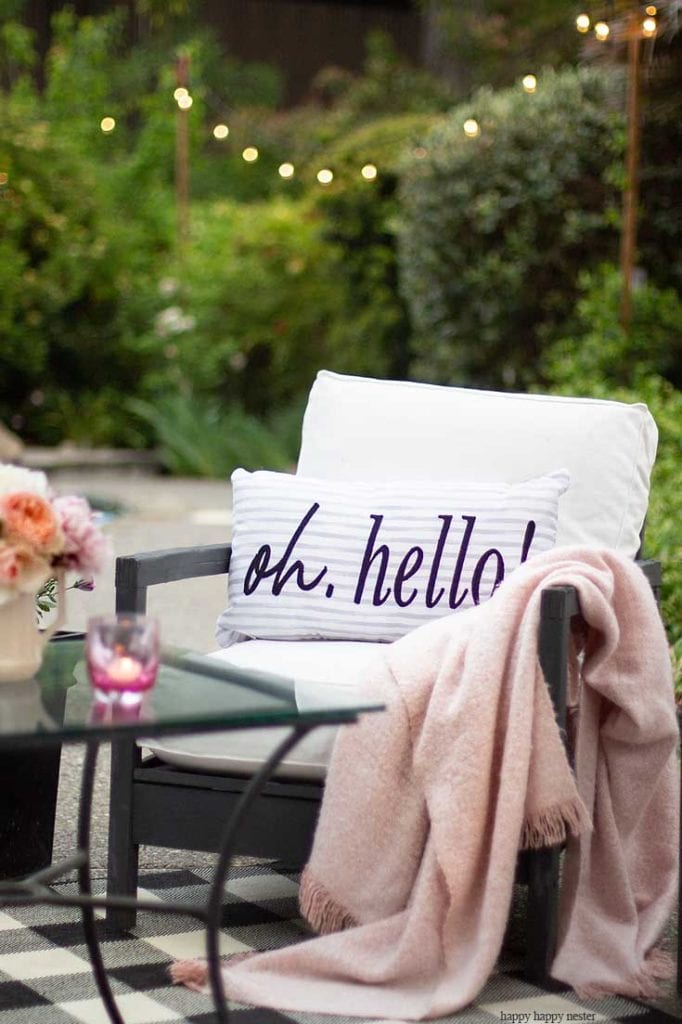 Do you need help creating an outdoor living space for summer? I'm including nine tips on creating my outdoor rooms and what elements I include when styling!
But seriously, these tips and tricks will help you succeed in creating your dream living space. This DIY includes furniture, lighting, flowers all the way to the tiny details that matter the most.
This post will inspire you to create the outside living space you have always dreamt of creating!
For those of you who are unaware, Lady Banks Rose is a vigorous climbing rose. It comes in white and yellow and has a slightly sweet scent. It is a thornless rose that is easy to care for. Prune it to train it to grow up arbors, along a fence, or any stable structure!
Despite being a novice gardener, this climbing rose has thrived along our backyard fence. It's done so well that we planted seven more bushes in our yard.
So if you've been searching for the perfect bush to decorate your backyard with, the hunt is over. This climbing rose is your winner!
Check out this winner of a bush to see why it's the best for the backyard!
---
This Week's – Boutique of the Week (Garden Decor)
*The following post contains affiliate links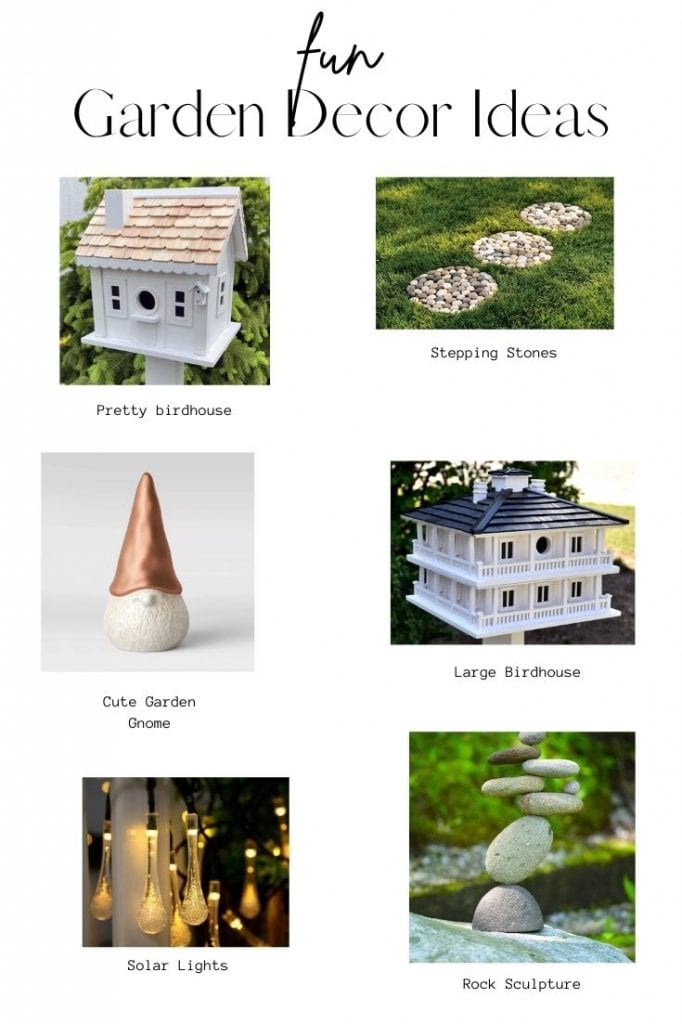 Summer is finally here, and it's time to decorate your garden with some fun decor ideas!
I have always loved decorating my yard for any occasion with decorations and pieces that make my home feel like a safe place. So, if you're also like me, then this is a great post for you!
From gnomes to wind chimes to birdhouses. This post contains some of the best simple yet stunning decorations to create your dream backyard!
---
My Favorite Things -Patio Decor
*The following post contains affiliate links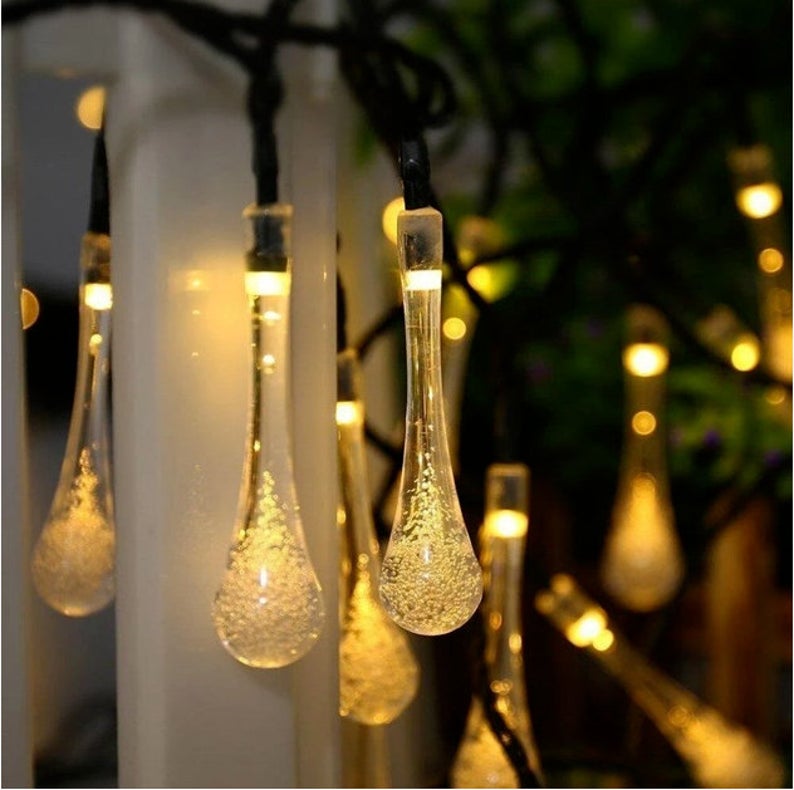 String lights always seem to make a difference, don't you agree? Whether they are dew drop-shaped, simple, or making a statement, they seem to light up space with a glow!
So if you're wanting to spend more time outside during the evening but can't see your meal, try out these string lights! Or, if you adore decorating and are looking for a new, fun look to add to your space, these string lights won't disappoint!
And did I mention these lights are solar? Check them out and create a glowing backyard patio to enjoy with friends and family!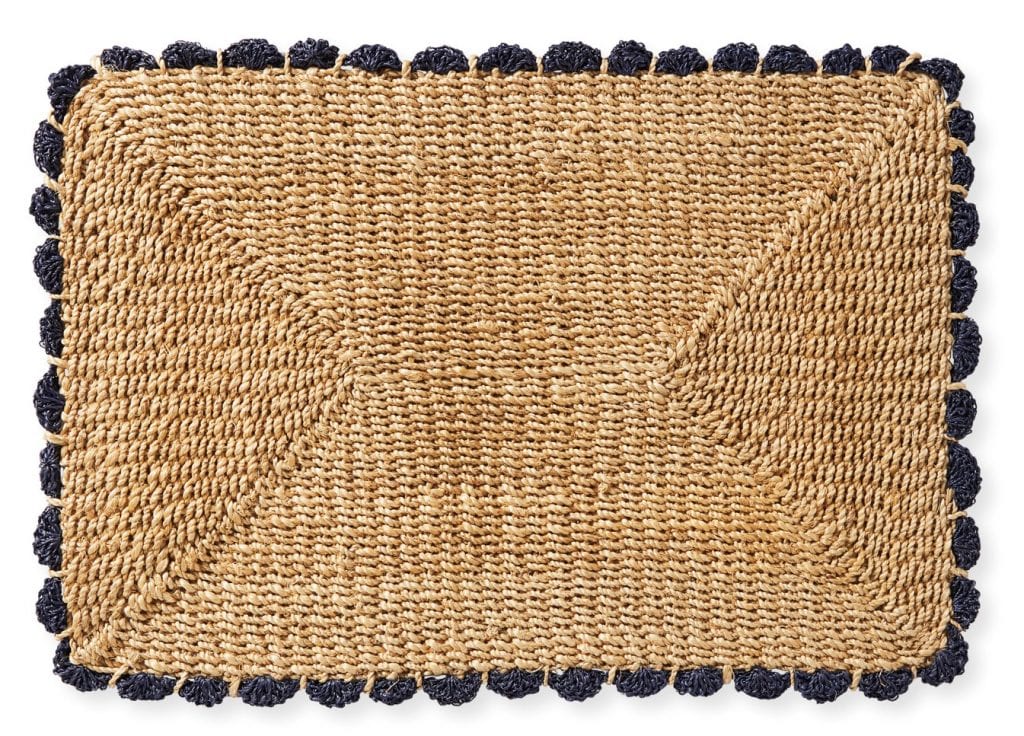 I have decided to spice up our dinner decor when eating outside, so I purchase these gorgeous outdoor placemats to enjoy while eating during these summer nights!
These placemats are durable and easy to style with any other decor you desire!
These outdoor placemats are a perfect addition to backyard patio decor when it comes to enjoying meals outside. Check them out!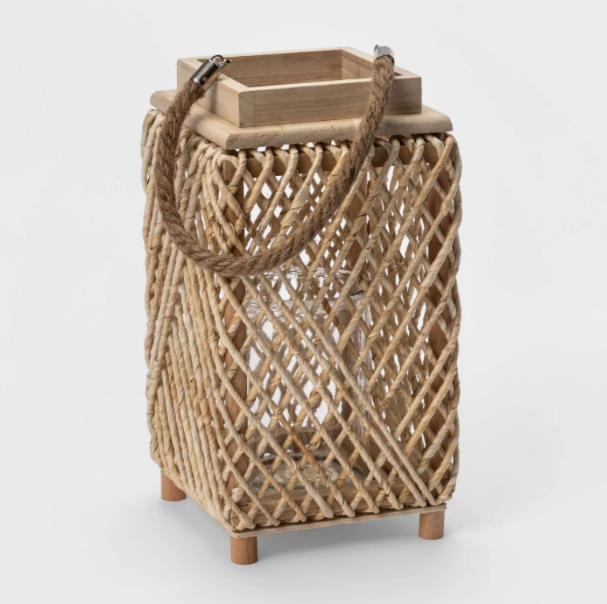 Whether you're looking for a hanging lantern or one for the ground, this should be your first choice!
But in all seriousness, this outdoor lantern is hangable, durable, made out of wood, and stylish all at the same time! With these around your backyard, they will bring a summer glow to your patio to enjoy even after dark!
Check these outdoor lanterns out if you're looking for something stylish yet durable to decorate with!
---
Patios We Are Crushing On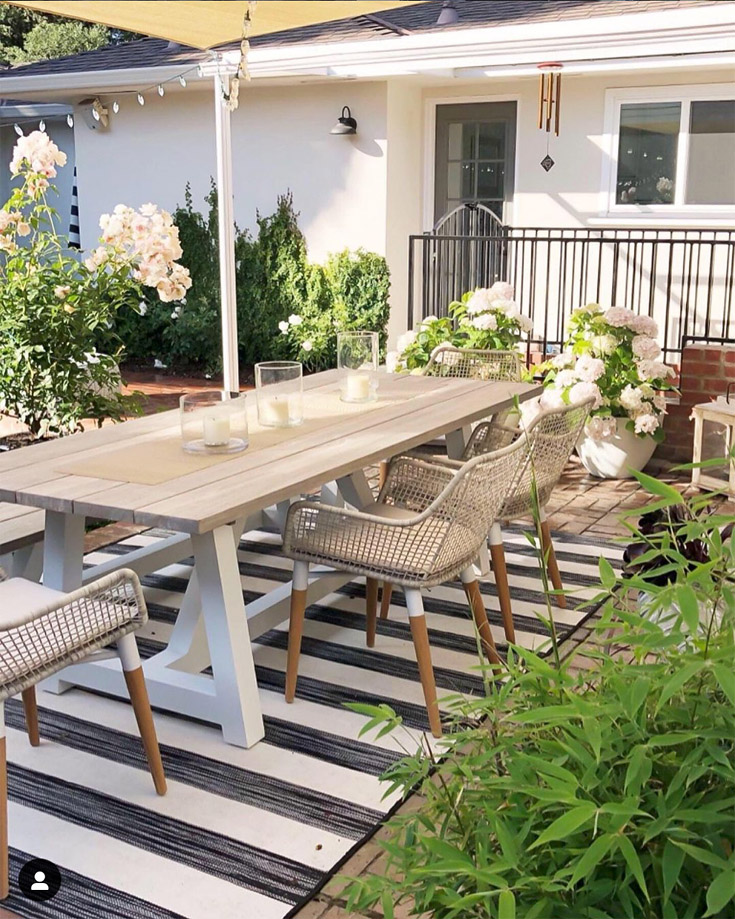 My friend Amy from Crazy Chic Design has the prettiest outdoor dining room and I am so honored to be able to share with you how she created such a beautiful space!
Her style is like no other and includes fun, stylish, and simple decor that will make a statement within your outdoor dining room!
If you're wondering how to create the perfect outdoor space for meals, drinks, or snacks, check out Amy from Crazy Chic Design to get some tips and tricks!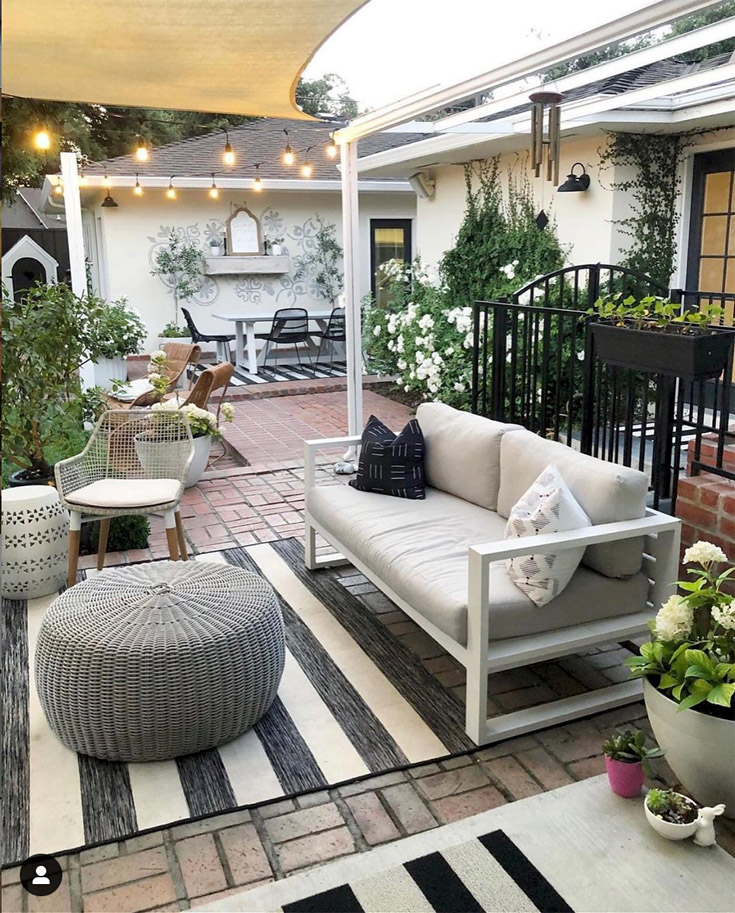 This gorgeous photo is from my Bay Area friend Amy from Crazy Chic Design. This is her outoor living room and when I tell you that it's one of the most welcoming spaces, trust me.
The combination of the colors she chose, decor and furniture help create such a wonderful living room space to enjoy time and make memories with friends and family!
So, if you've been looking for a similar look or want some helpful tips, tricks, and ideas, check out Amy from Crazy Chic Design to get started!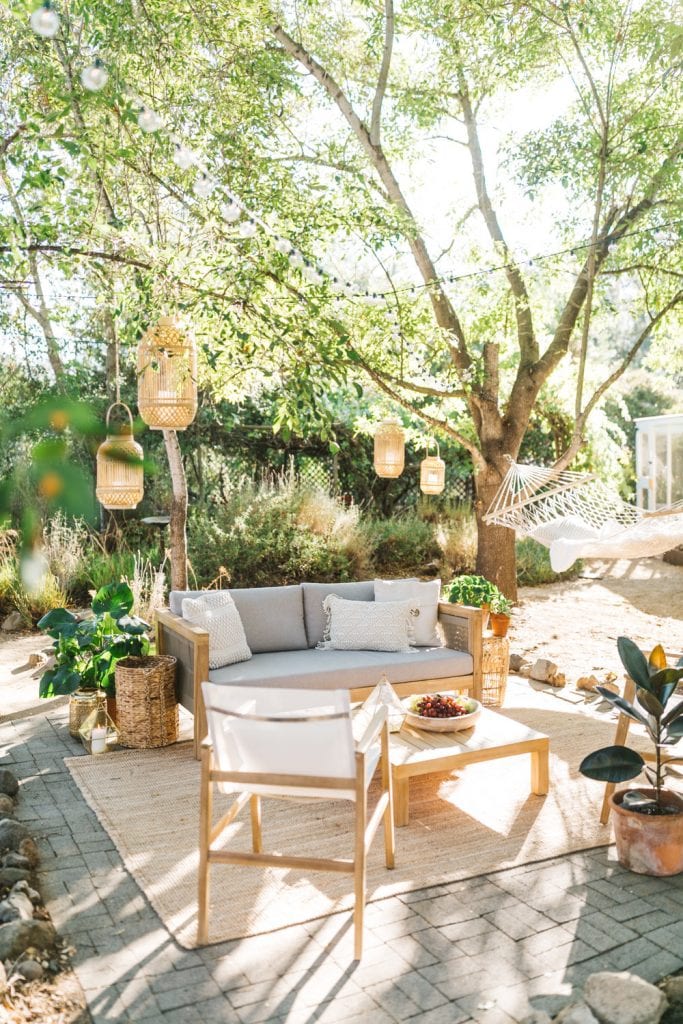 When creating a patio, you want durable, stylish and sometimes simple decor. Well, Hannah Westby has it all and I am excited to share with you all the inspiration behind this boho look!
Check out Hannah Westby's page to find your dream decor to start creating your backyard patio today!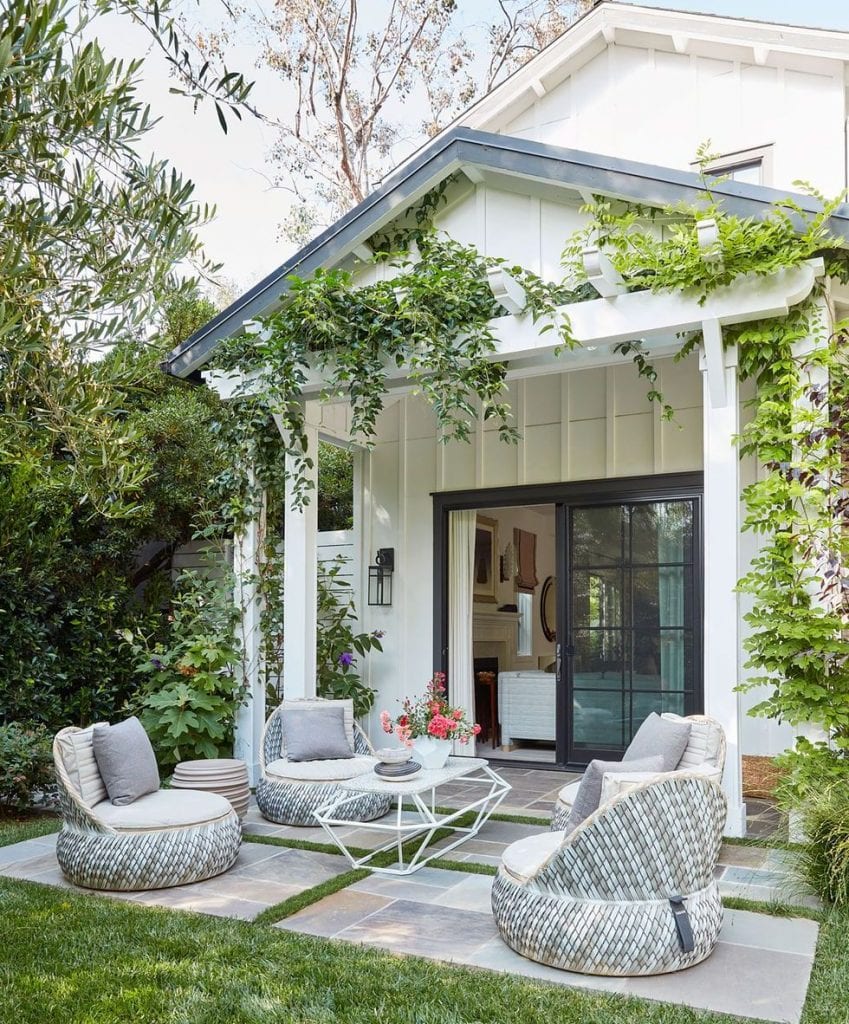 This stunning outdoor space is by Natasha Baradaran and I am thrilled to be sharing the creation and inspiration that came together to create this space!
Her choice of colors and furniture creates such a welcoming and relaxing tone that I could sit out there for hours enjoying the summer weather!
Check out this gorgeous outdoor living room by Natasha Baradaran to become inspired to create your own backyard patio!
---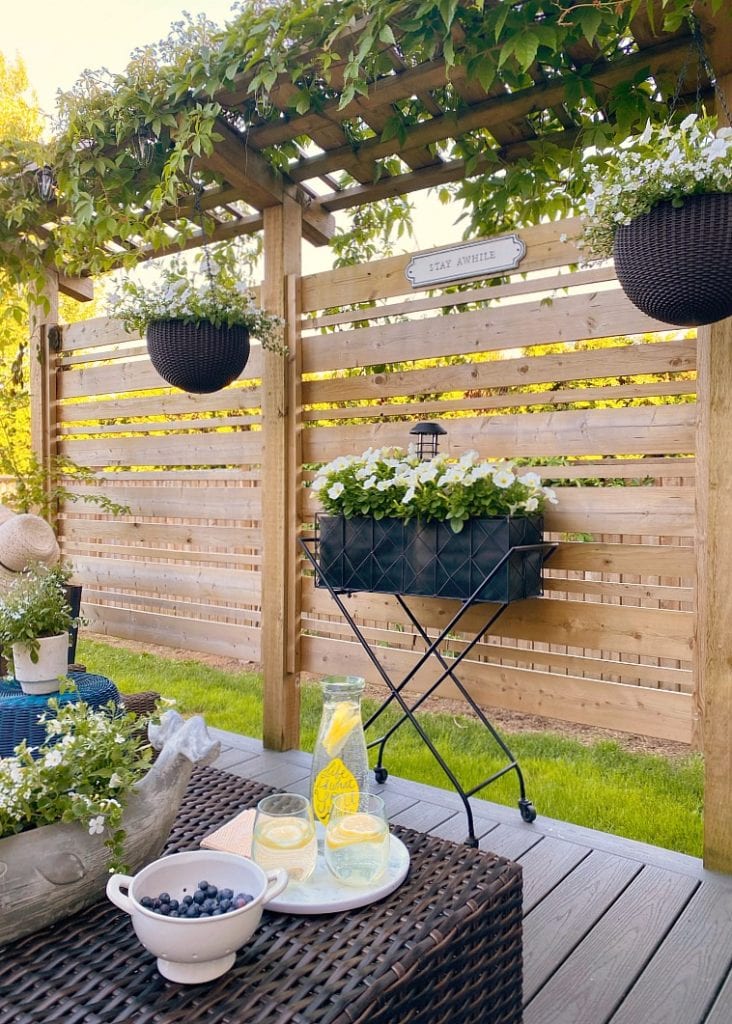 This is from Jenn from Clean and Scentsible blog and if you're wondering how to create an outdoor space including some wall decor, check out Jenn's page because she is the master of wall decor!
But seriously, her outdoor wall in her backyard is so gorgeous that it makes me want to head over there and enjoy a nice cup of lemonade.
So if you're looking to create your backyard patio along with some stylish wall decor, check out Jenn from Clean and Scentsible!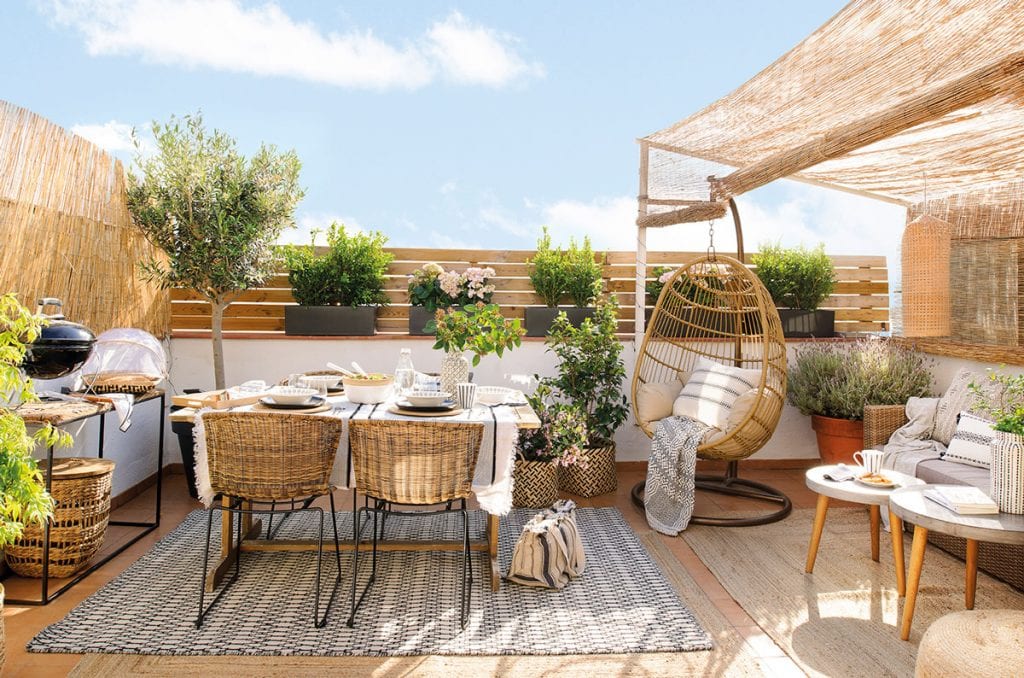 Stunning Outdoor Space
Wow! Would you take a look at this? Amazing, right? I could totally see myself enjoying summer meals, drinks, and time with family and friends while relaxing at this patio!
The combination of neutral colors along with the simple decor/furniture is one of the best ways to decorate an outdoor living space!
Just here to inspire you and give you some inspiration on how create the backyard patio of your dreams!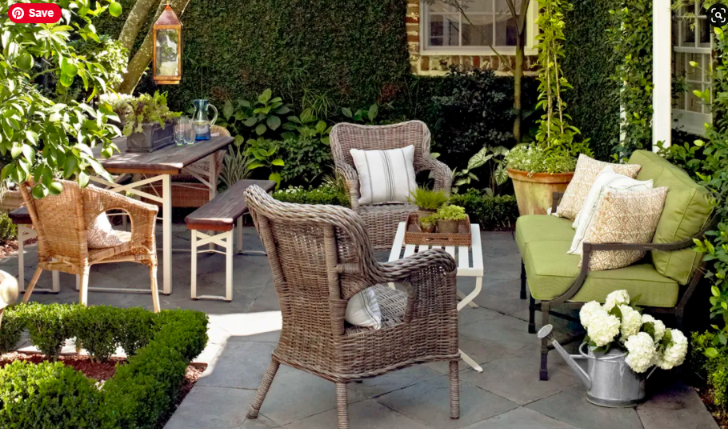 Lively and Luscious Green Patio
I just adore this photo of a backyard patio because of the greenery and freshness the photo seems to create. I don't know about you but when I see a photo of something I like, it's almost as if I can see myself in the picture and this by far is one of my favorite outdoor spaces yet!
The green furniture along with the plants, and vines helps create a "secret garden" look and makes this space more private to enjoy time with loved ones.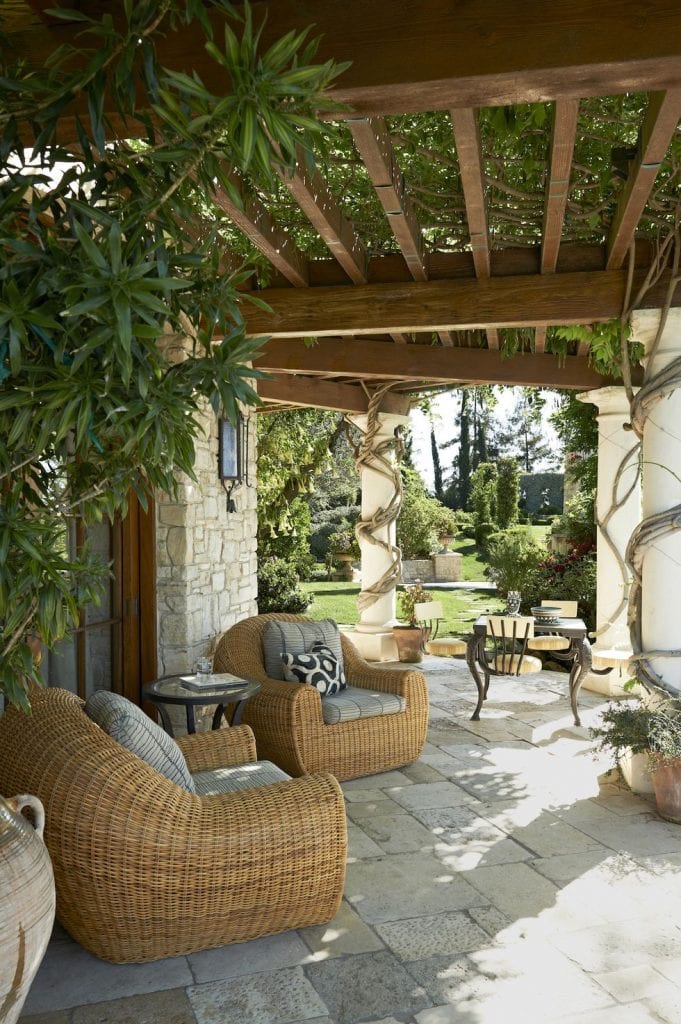 Italian Summer Look
A vacation in Italy is calling my name when looking at this. But seriously, the simplicity of colors, furniture and decor scream an Italian summer look and makes me miss our trip we took to Italy awhile ago.
For those who feel the same when looking at this photo, I hope this gives you inspiration when it comes to creating an outdoor living space!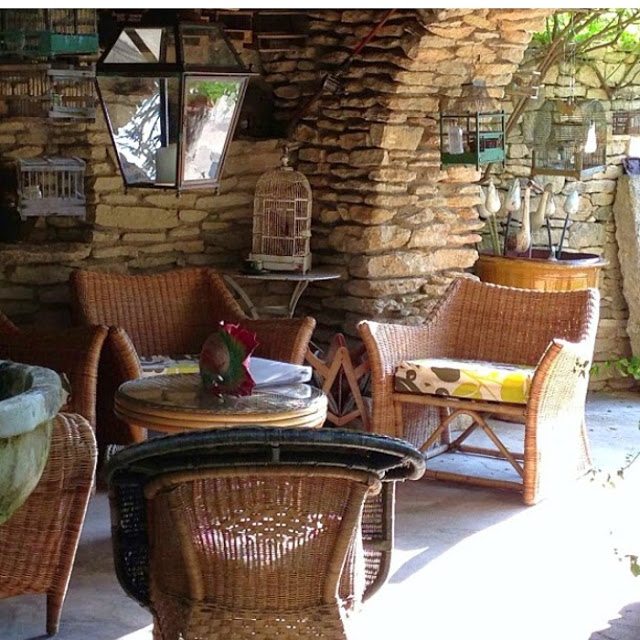 French Patio in Provence
Like I mentioned, we went to Italy for vacation years ago and this is the backyard patio of one of the house we were grateful to stay at.
I will always remember this place as being one of my favorite places along with this house too. The style was nothing like I have seen before. It was unique and fun yet simple to be able to enjoy all year long!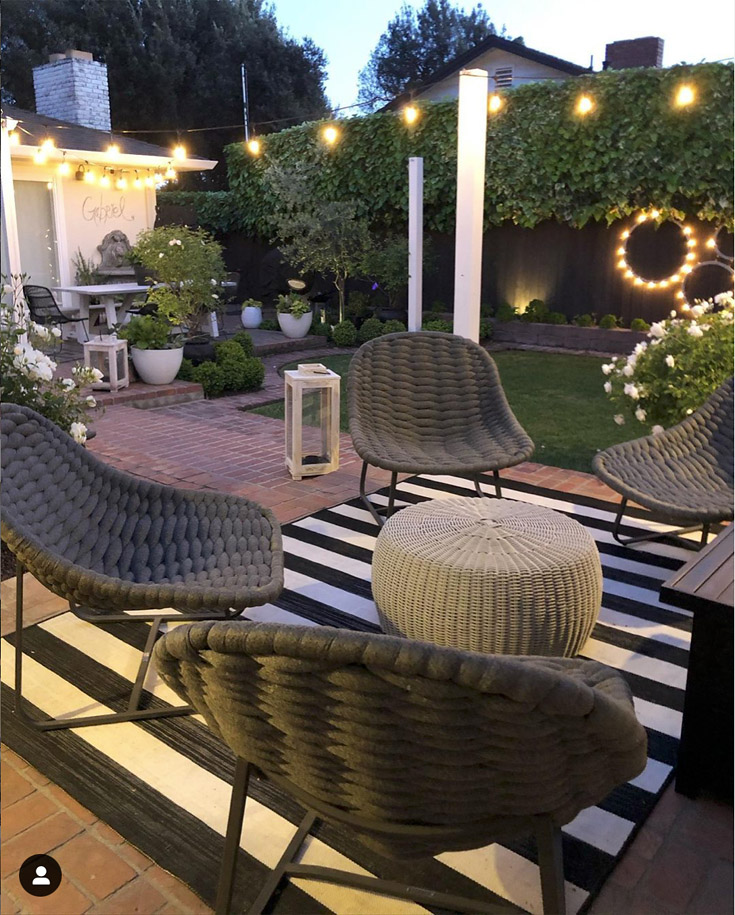 This wonderful photo is by Amy from Crazy Chic Design, and I am obsessed with her style. I mean, look at this! I have always said that string lights make such a big difference in creating a fun space, and Amy has outdone herself with this lighting!
So if you're wondering where to start on how outdoor lighting when it comes to creating a backyard patio, check out Amy from Crazy Chic Design to get inspiration!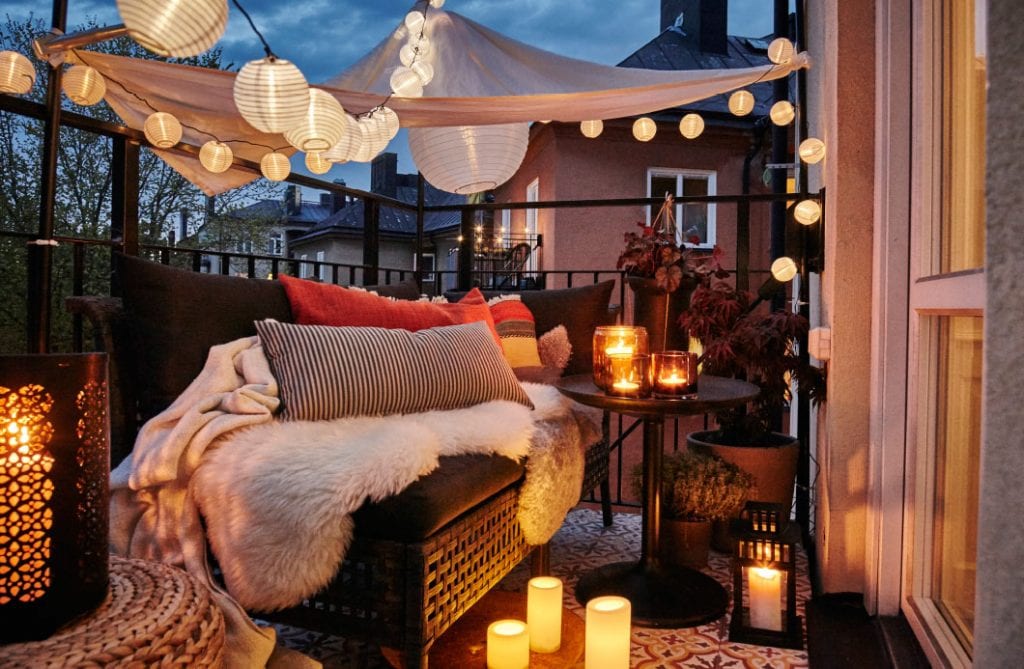 Beautifully Lit Porch
I couldn't resist sharing this photo with you all. Everything about this is perfect, the lighting, the color combinations, the furniture, you name it!
Talk about a summer evening. This is exactly what a beautifully lit summer evening looks like on the porch! So if you've been struggling to find the right decor or colors to create an outdoor space with amazing lighting, here is this photo for inspiration!
Trending Over On The Blog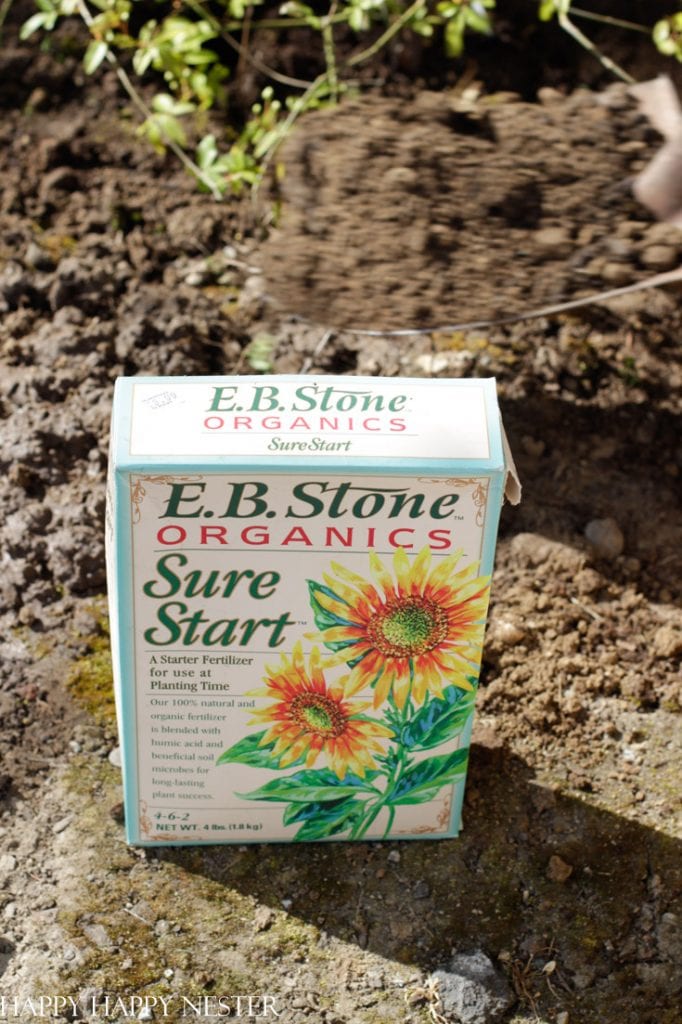 If you can grow roses in your area, they add so much beauty to a garden. We will supply you with all you need to know on how to plant a rose bush.
This is a basic tutorial on planting a bush. My husband and I have always enjoyed planting roses, and we wanted to share our simple method with you all today!
In this post, I include some tips and tricks and the basic steps on planting a rose bush! So check it out today and get planting!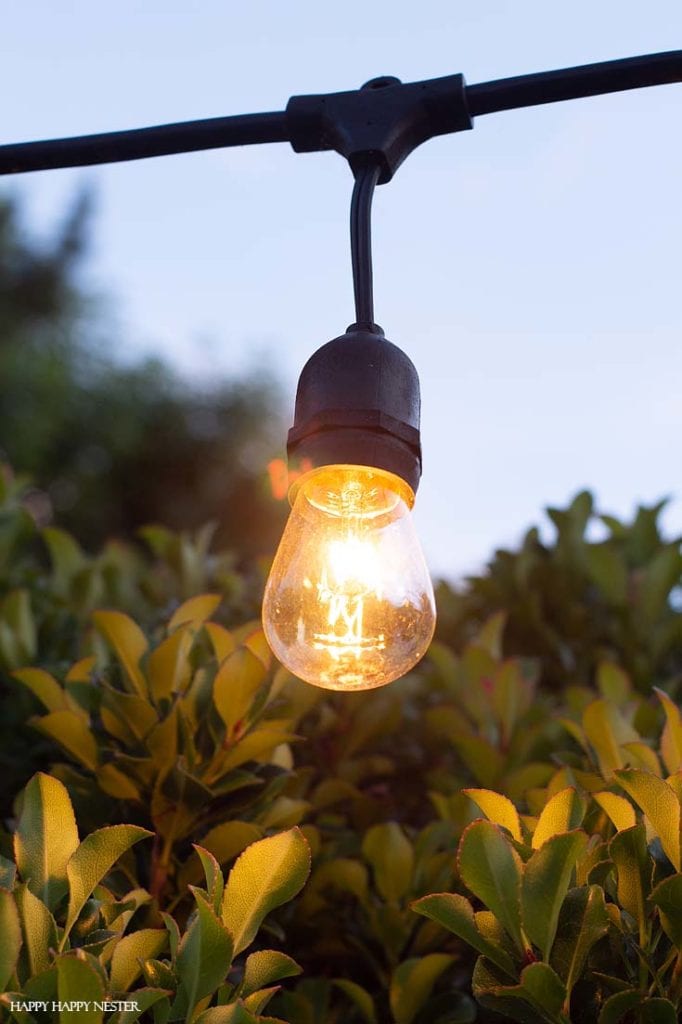 How to Hang Outdoor String Lights
When it comes to creating the perfect outdoor lighting, it can be difficult, stressful, and time-consuming. I am here to help and give you some tips on creating your own outdoor lighting source!
I include some tips and tricks on how to hang these DIY outdoor lighting sources in this post! Trust me, having light sources makes such a big difference when it comes to creating a backyard patio.
Hop on over to the blog to find out how to hang outdoor string lights to start creating your outdoor oasis!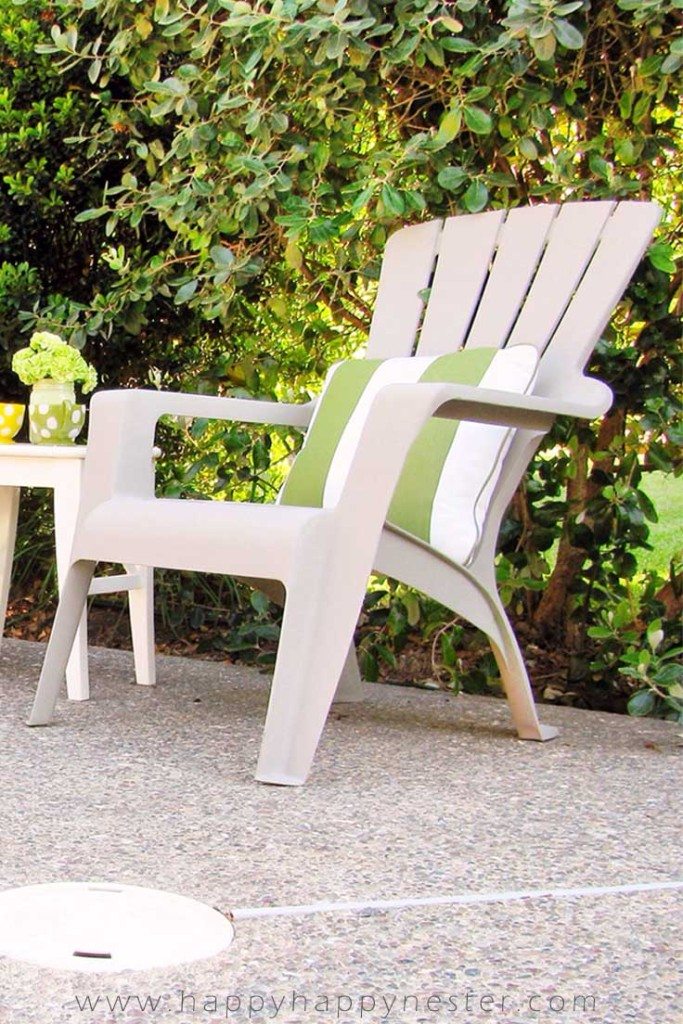 Chalk paint Outdoor Plastic Chairs
Have you always wanted to paint your plastic chairs to give them a "new life"? I decided to try it out and wallah! I can say that this project was a success!
These are now some of our favorite chairs to relax in by the pool during these hot, summer days!
Check out this fun project of mine to give your plastic furniture a new look!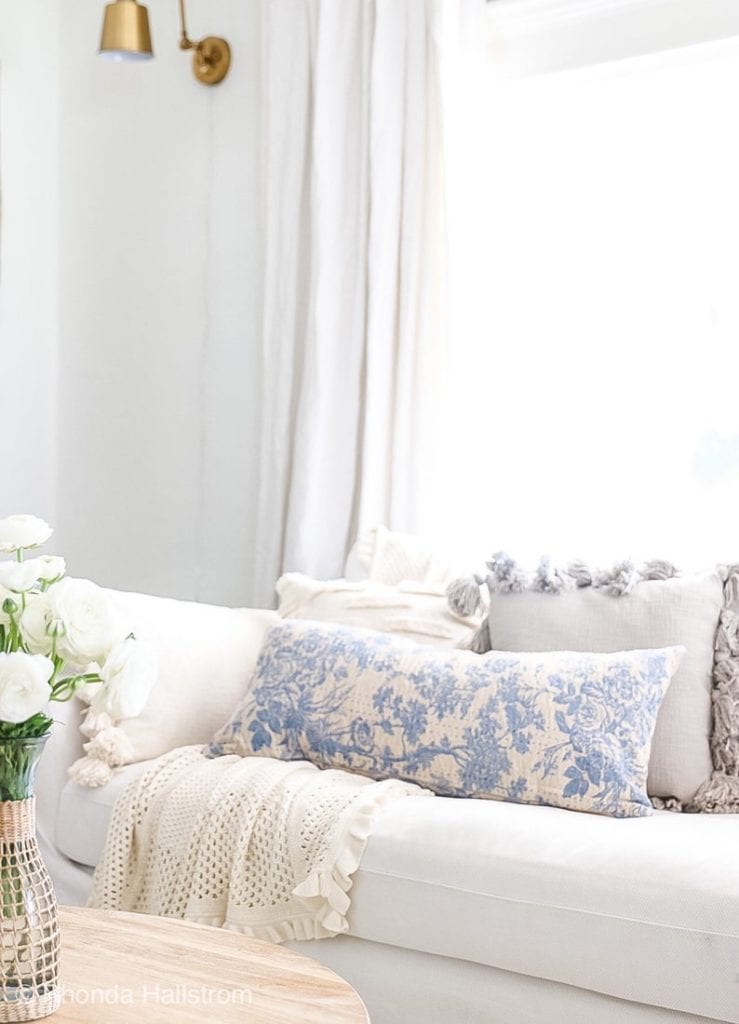 When choosing decor, you want some that you are able to use most of the year, and some that is stylish, durable and comfortable. Look no longer, because I have some of the loveliest farmhouse decor.
In this post, I present to you different places to find farmhouse decor, types of decor, and overall inspiration to help you get started on creating your dream home with the type of decor you love!
---
This Week's Tip – Sunbrella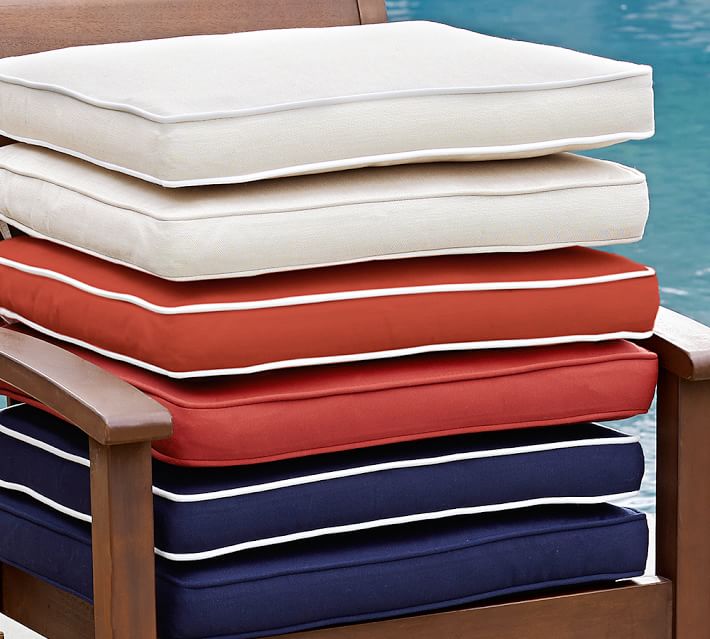 Now that you have your patio layout, it's now time to find decor, furniture and more to fill those empty spaces to complete the process!
To help you get started, here are some of the best sunbrella cushions I have ever come across. I own a bunch of these and let me tell you. They are 100% worth it because of their durability, comfort and variety of colors to choose from to match your style!
These sunbrella cushions are cute, durable, and make relaxing on the patio a whole lot more fun! Feel free to check them out!
---
Summer Project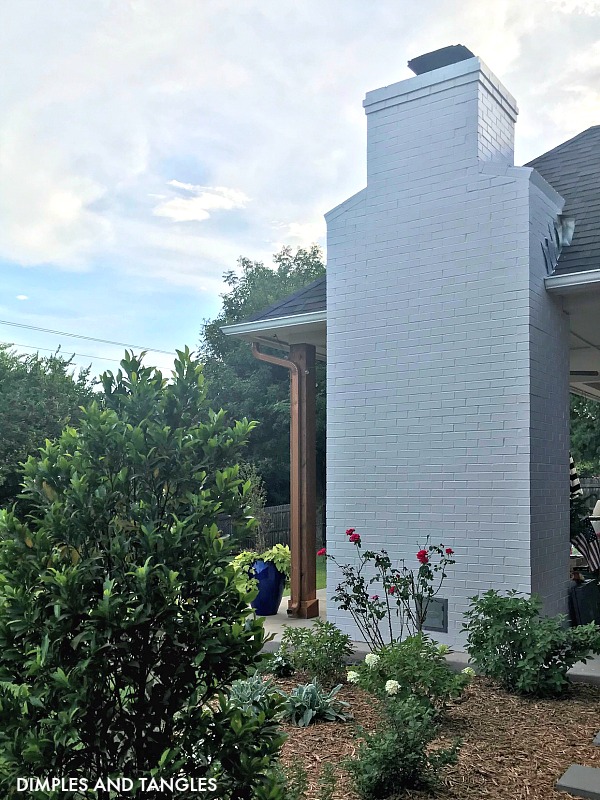 Painting Our Outdoor Brick
I have been inspired by Dimples and Tangles to paint the exterior of my brick wall chimney on the side of my house! I have been wanting to complete this project for the longest time and now I have the availability to do so!
I found her great DIY on how to paint outdoor brick and am looking forward to getting started!
If you've also been holding off painting your brick wall, join me and check out Dimples and Tangles, to get started on a summer project!
---
Well, this wraps up this week's Saturday Chitchat celebrating summer recipes!
Thanks so much for chatting with me!

Catch up on Saturday Chitchats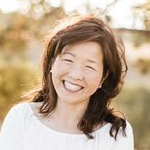 Latest posts by Janine Waite
(see all)