Since the pandemic started over 12 months ago, Baking in the Kitchen has taken over our lives. It is now one of our favorite hobbies to bake on the weekends.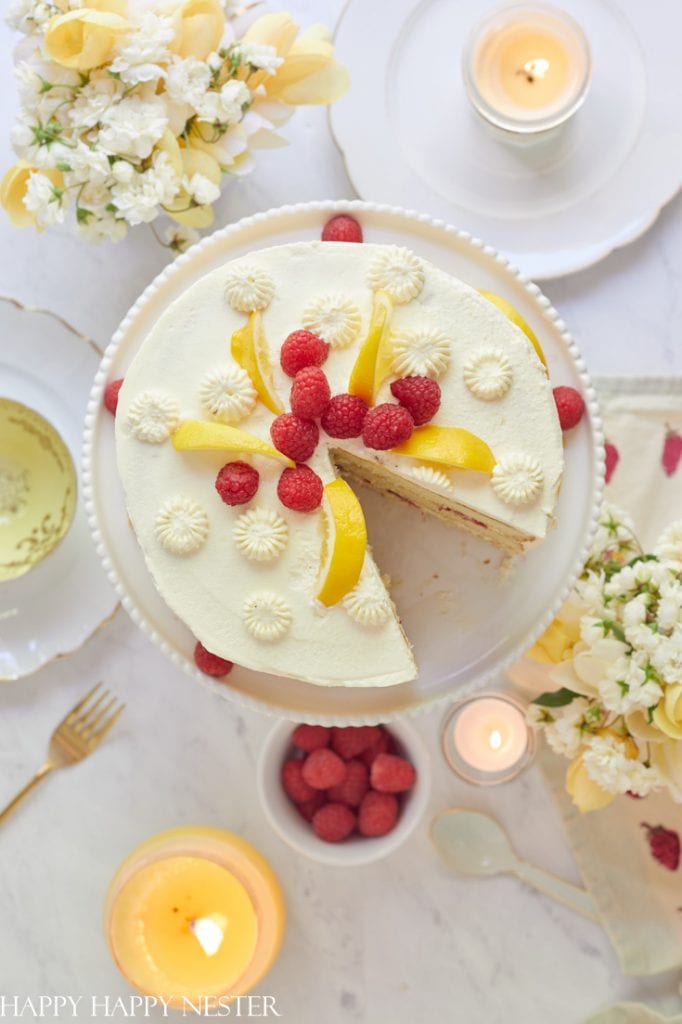 One of the things we noticed about baking and cooking 24/7 is that we are becoming better chefs. All the takeout we order is so inferior to anything we make. It's exciting to become better chefs, and I hope to inspire you to enjoy your time in the kitchen!
Saturday Chitchat with Janine – Volume 12
Here's a new week of Baking in the Kitchen Ideas!
This week is all about baking over here!
I cranked out quite a few recipes this week, and I'm excited to share them with you.
I'm always dreaming up new desserts!
So enjoy this Saturday Chitchat with a cup of coffee or tea, and let's get this show on the road.
A Personal Note from Janine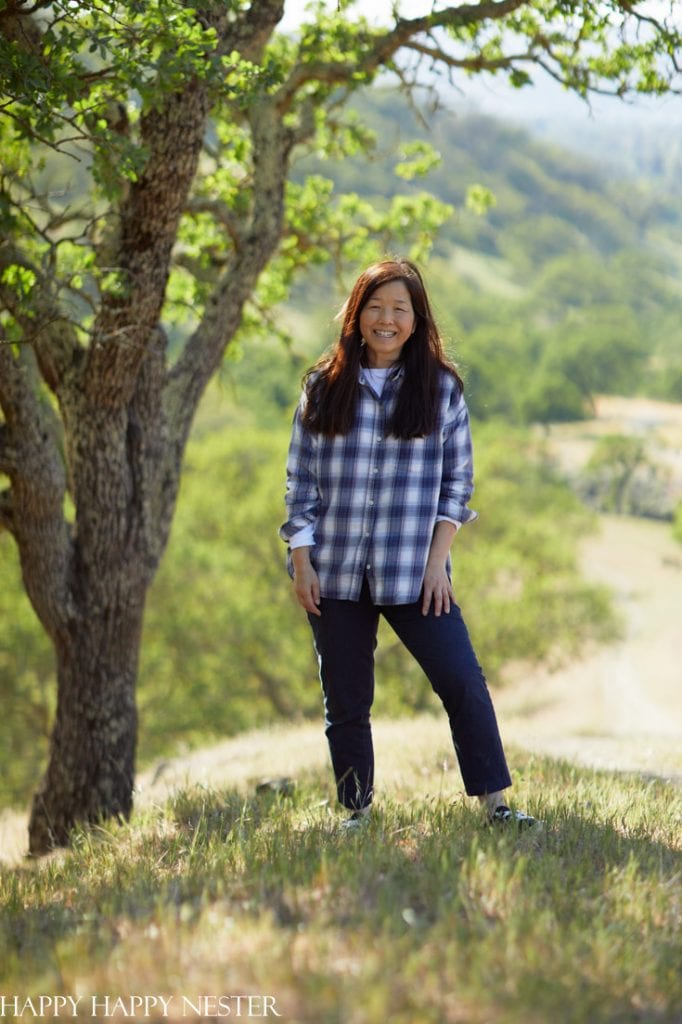 Most days, I'm either cooking or baking in the kitchen. And the desserts that I bake are so delectable that I gained a bit of weight over the last 12 months. I don't feel too bad since I think a lot of people put on some pounds.
But I know that things aren't the best when I can't fit into my loose pants. That is the worst.
Back in late December, my husband and I did the popular thing of going on a diet. We watched what we ate and made a ton more salads for dinners. Over the course of a couple of months, we did lose some weight. My pants are fitting again, hooray!
Besides the healthier eating, we workout almost everyday.
Are you wondering what I'm doing for a workout? Well, mostly when I'm not in the kitchen or blogging, I'm out in the hills of Northern California. Oh yeah, did I mention I don't like hills?
And you can't avoid hills around here. The only flat trail is the Iron Horse Trail, and it is jam-packed with bikers, strollers, roller bladders, and tons of families. And with Covid, I'm avoiding heavily populated areas.
The photo above is where we hike. Our whole family loves to hike. I do need to mention that this wasn't always the case. When the kids were young, and we took them for a hike, we never imagined that they would grow up enjoying this activity.
On the weekends, we sometimes will all go for a family hike, and it's wonderful.
So, if you want to bake a few of these scrumptious desserts, get a workout routine in place so you can burn off some of the calories.
Also, I'm happy to eat a big salad if it means I can splurge a tiny bit on a small piece of cake!
Ok, Happy Baking!

---
Baking InThe Kitchen
This Week's Inspiration – Recipes on the Blog
*The following posts contains affiliate links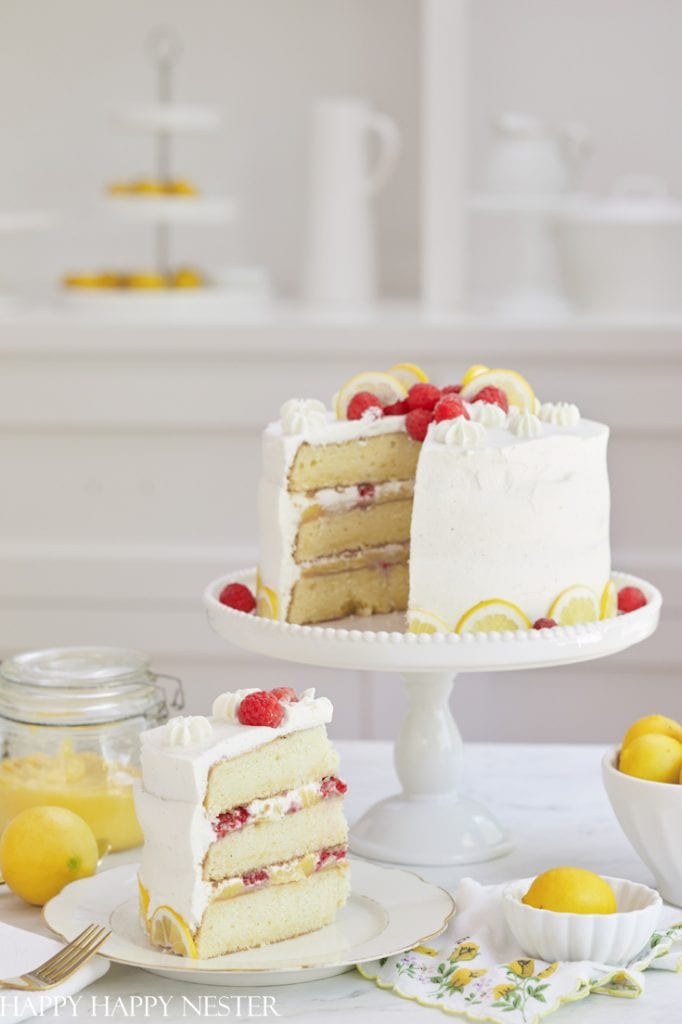 BERRY CHANTILLY CAKE RECIPE
Do you love fruit? What about fruit on a cake? If you said yes to fruit and even a bigger yes to fruit on a cake, then you are my type of friend. Yep! The fruit on the cake is surprisingly delicious and tastes like summer in one bite.
My Berry Chantilly Cake Recipe is so refreshing, to say the least, and is such a family favorite for a nice spring/summer evening.
A Fresh Berry Chantilly Cake is a white cake filled with delicious lemon curd, and to top it off with a covering of whip cream frosting and raspberries. This cake is utter perfection. One bite leaves you feeling refreshed and makes you want another slice (or two, but who's counting). 
We decided to bake this recipe because we honestly love cake, and it's always nice to discover new recipes for the family. So come on over to the blog and get a taste of summer!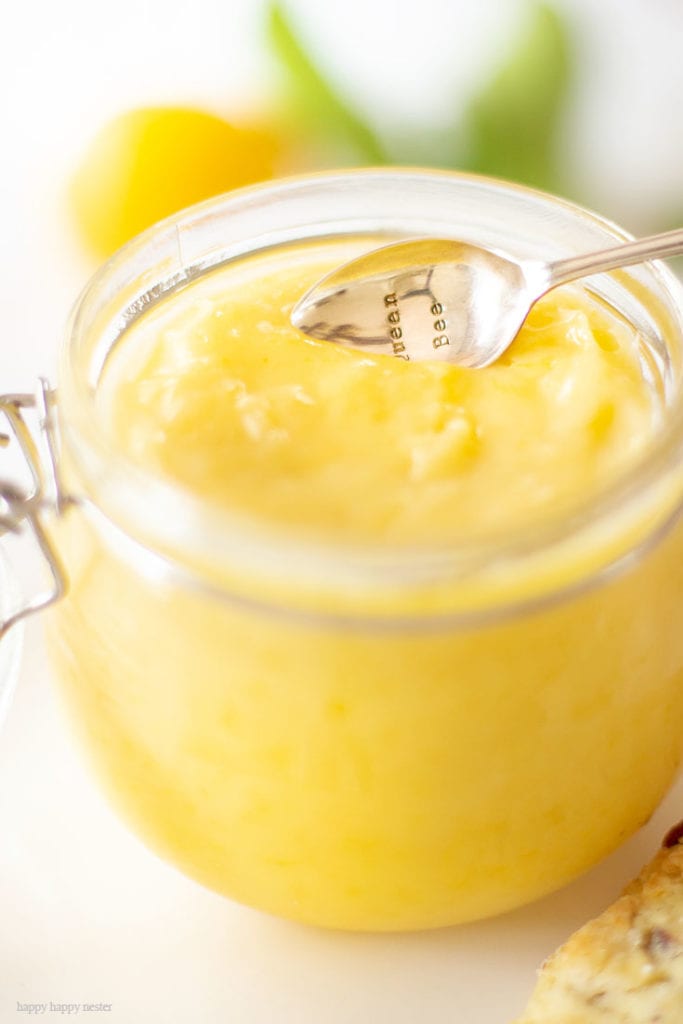 ENGLISH LEMON CURD
This English Lemon Curd Recipe is one of my all-time favorites! I love all things lemon, including cakes, cupcakes, pies, and especially this curd! 
This curd recipe is sweet but not too sweet and is rich with the taste of lemon, but not to the point where it's tart. Not only is this recipe delicious, but it's simple and easy, like 30 minutes easy! 
Come on over to the post to see how easy it is to create this Lemon Curd Recipe, and maybe you'll have a thing for all desserts lemon like me!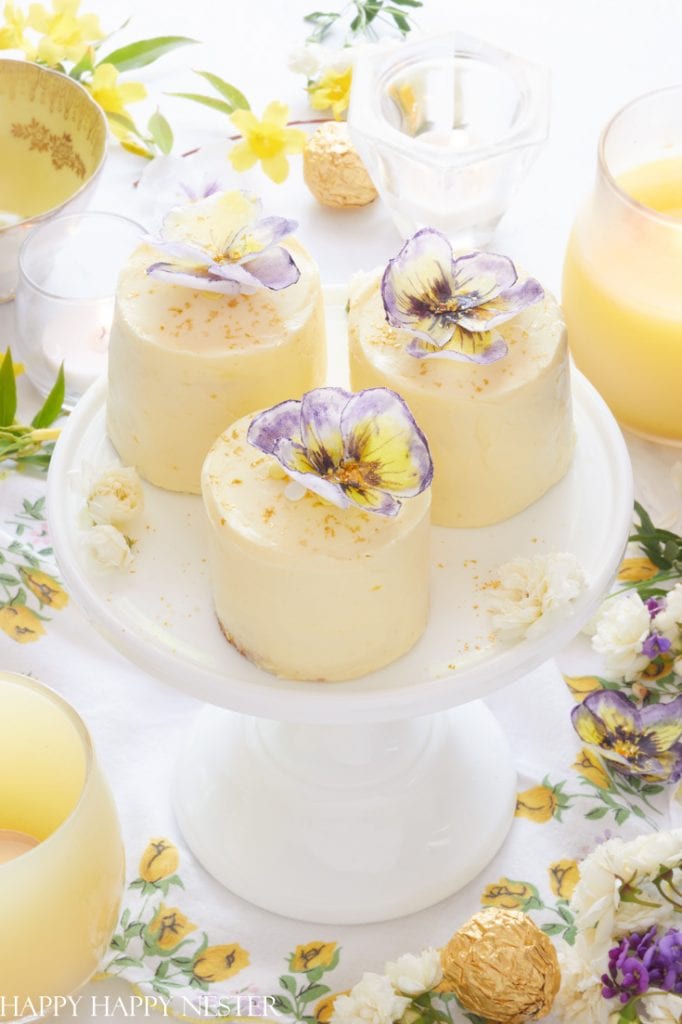 MINI LAYER CAKES
For the longest time, I have wanted to bake miniature cakes, decorate them and obviously eat them! And I finally have an easy and simple recipe for you to make some with me!
These mini layer cakes are just as adorable as you think they are and just as delightful, and this recipe is simple enough to make a few mini cakes to share with loved ones. 
So if you've wanted to create mini cakes, this is your sign to do so! Honestly, they are yummy, delicious, sweet….should I continue, or do you get the gist? Hop on over the blog to view this recipe and many others!
---
This Week's – Boutique of the Week (Baking)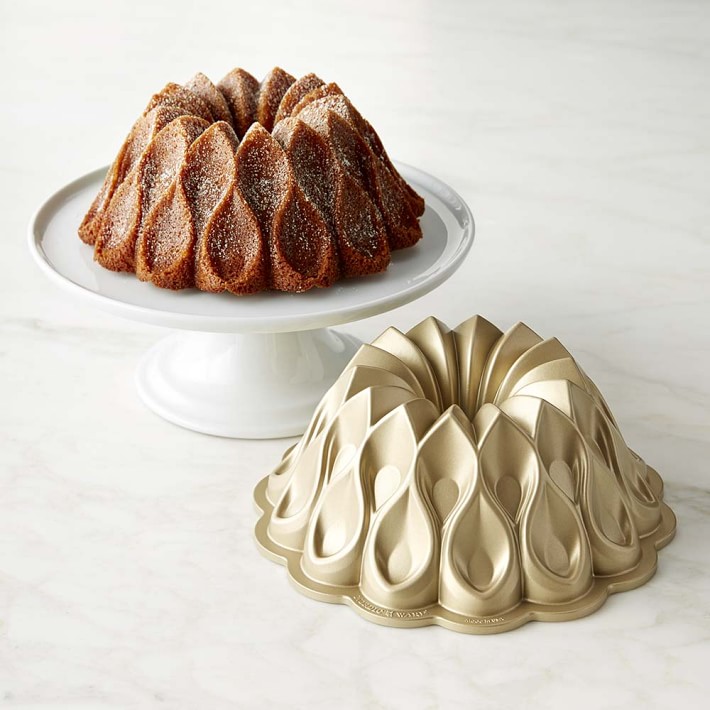 BOUTIQUE OF THE WEEK – BAKING TOOLS
If you love to bake, here are some must-need baking tools essential to have in your kitchen. Trust me, for the longest time, I had trouble finding what works best when baking in the kitchen, and I eventually found tools that I refer to as the best baking tools in the world. 
Not only are these tools useful in the kitchen, but they could be wrapped as a present for a birthday to a dear friend who also shares your love of baking or maybe even as a wedding gift to a close family member.
I think we can all agree that baking is way more fun when you have the correct appliances, right? So, come on over to the blog and spend some time with me on finding the perfect baking tools for your kitchen! 
---
My Favorite Things – Cake Stands
*The following post contains affiliate links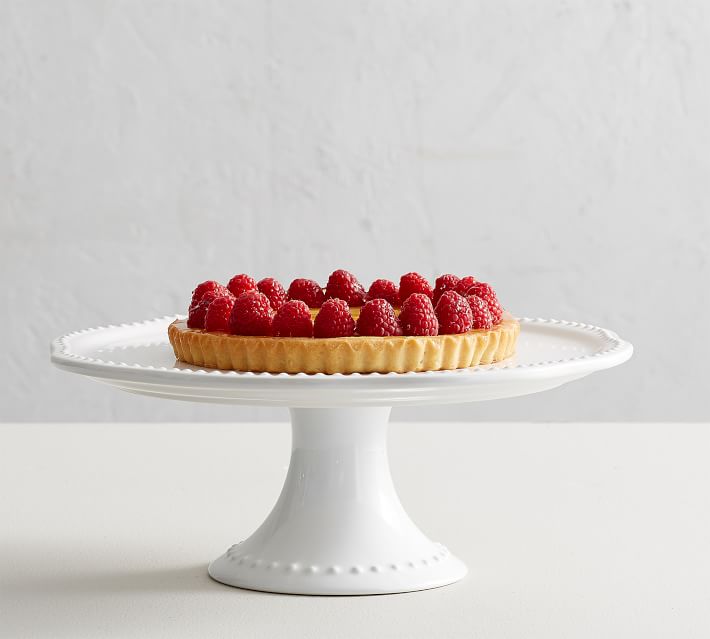 I have a cake stand very similar to this one, and I love it! If you're going to make a gorgeous cake, you should place it on a pretty cake stand.
It's all about presentation.
If you got all dressed up for a special party, you wouldn't wear sneakers? Or maybe you would.
Well, you get my point. Make sure to have a nice cake stand on hand for your gorgeous cake!
I'm obsessed with tablecloths these days!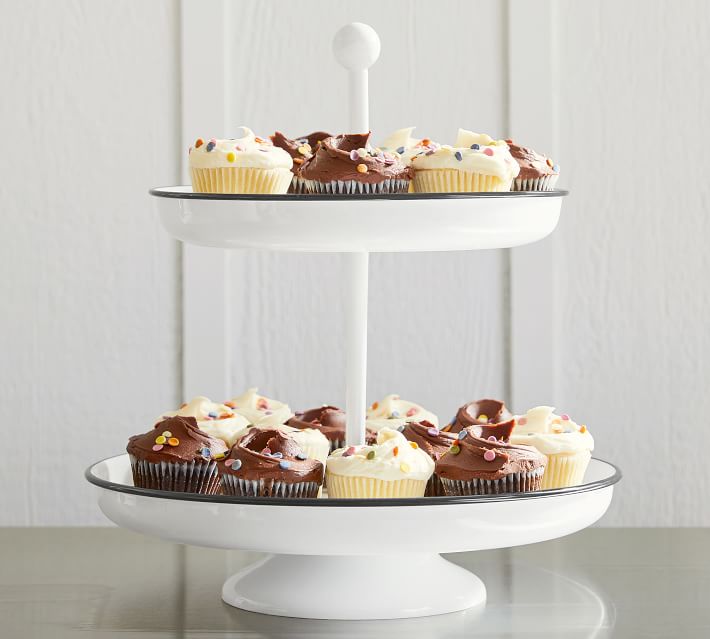 I love tiered cake stands and this farmhouse style one is so cute.
Serve your favorite cupcakes on this cute farmhouse stand. Or use this tiered tray for a seasonal display for your home decor. I can see it holding condiments for summer dining. It can make eating out on the patio so easy.
However you use this cute tray it will be pretty in any kitchen!
I bought this cake stand a couple of weeks ago, and I LOVE it! All these years, I struggled to frost my cakes. This baking gadget not only gets a smooth frosting surface, but it also does one other surprising thing.
You see, my cakes were always lopsided. I hid it from the camera, but it was there. My family was always in a hurry to eat my cakes since they look like they were going to topple over.
Well, now, with this beautiful turntable, I lay my metal spatula on the frosting in between the cake layers, and I get it even. All these years, I thought my frosting was smooth and balanced!
Yup, this rotating cake stand has changed my decorating experience to a whole new level.
---
Recipes for the Week – Breads!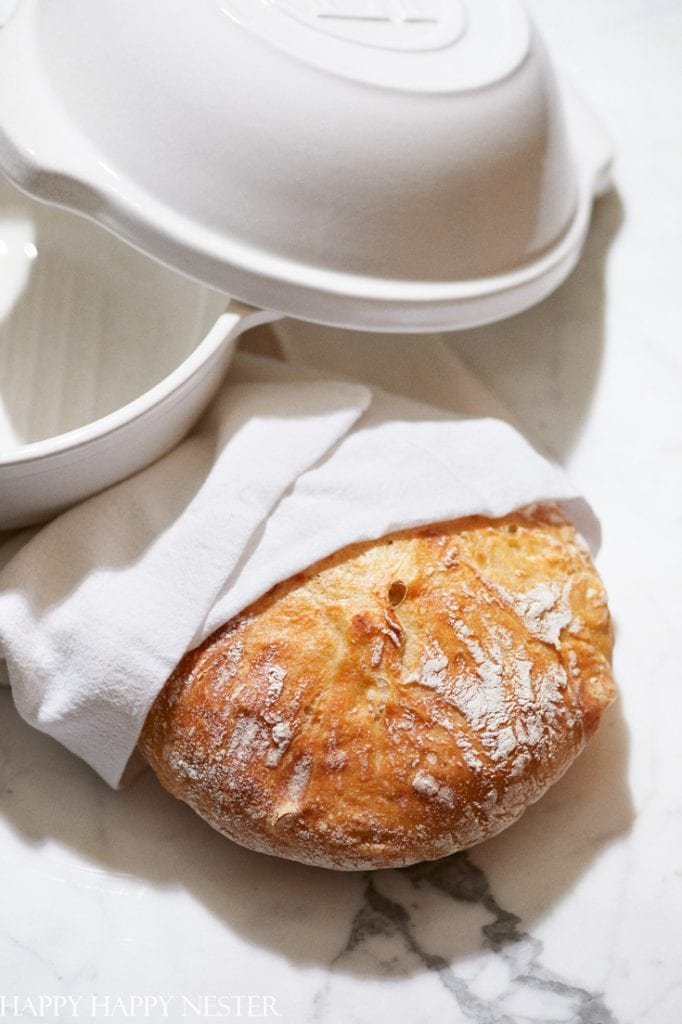 NEW YORK TIME NO-KNEAD BREAD RECIPE
There's no secret that I love bread. Not only do I love eating bread, but I thoroughly enjoy baking bread, believe it or not. For many years, I have been trying to perfect my bread recipe, and yes, I successfully found an excellent and delicious recipe that requires no kneading! 
Not only is this recipe crazy delicious, but this is no-knead bread which saves you so much time and hassles when it comes to baking a warm loaf of bread. 
I have included this New York Times No-Knead Bread recipe over on the blog with a little bit of history behind the loaf and some questions you may have that I have answered about the bread. Join me in the baking journey, and you might learn something about the bread you didn't know before!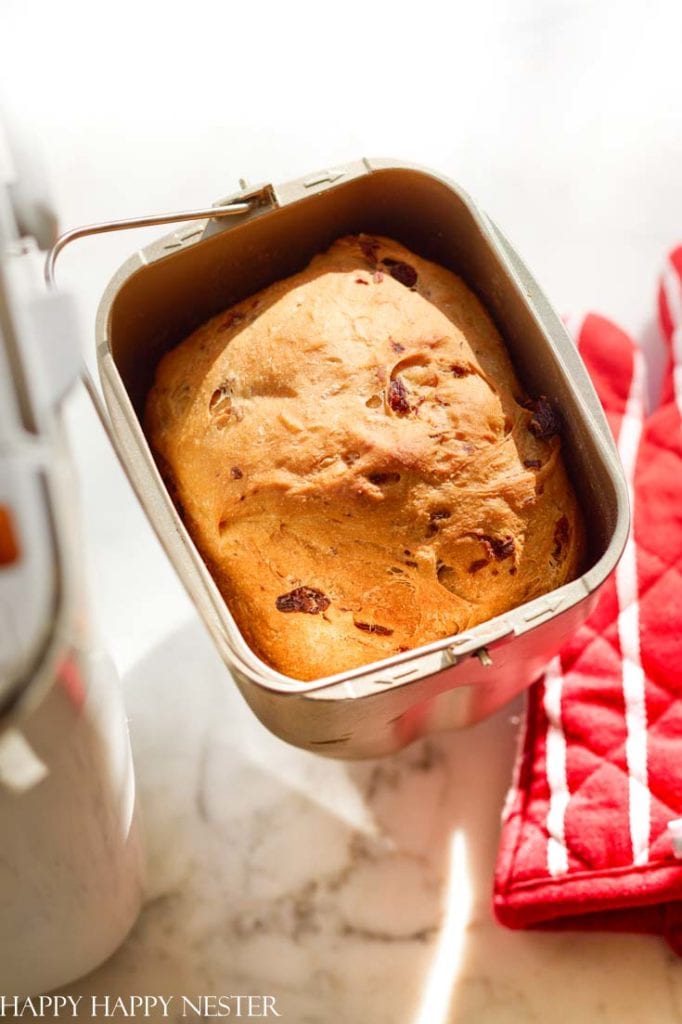 BREAD MAKER RAISIN BREAD RECIPE
If no-knead bread is not your thing and you like using your bread machine, here is the recipe.
The raisins naturally sweeten this moist and delicious bread. My brother came up with this recipe and substituted the butter with almond yogurt. So, if you want to avoid dairy, then it's easy to alter this raisin bread recipe to vegan bread.
This is a nice bread to smoother with your favorite jam, butter, or even eat it plain any way you look at it.
It's a delicious bread!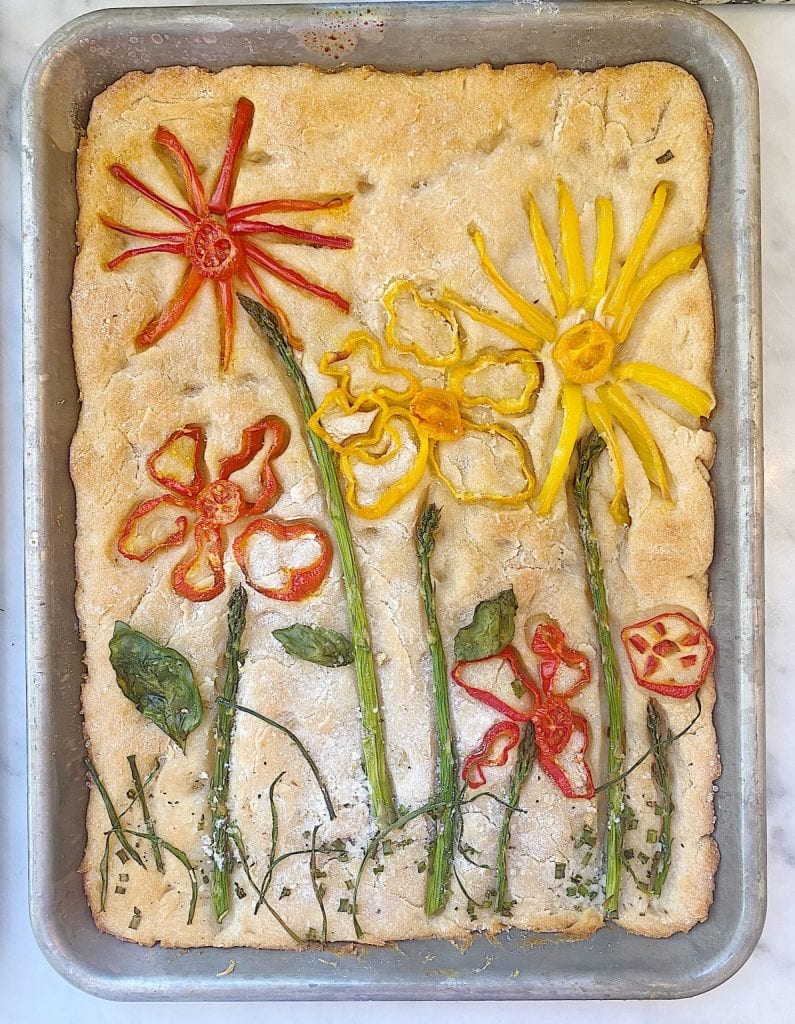 FOCACCIA BREAD ART
What's not to like about this bread creation from my dear friend, Leslie? She created such a fun focaccia bread that makes such a fun conversational piece and a lovely appetizer.
I love it when food surprises you with the unexpected.
I hope you have a chance to make this cute bread this spring or summer. It would be fun to bring it to a dinner party!
---
Trending Over On The Blog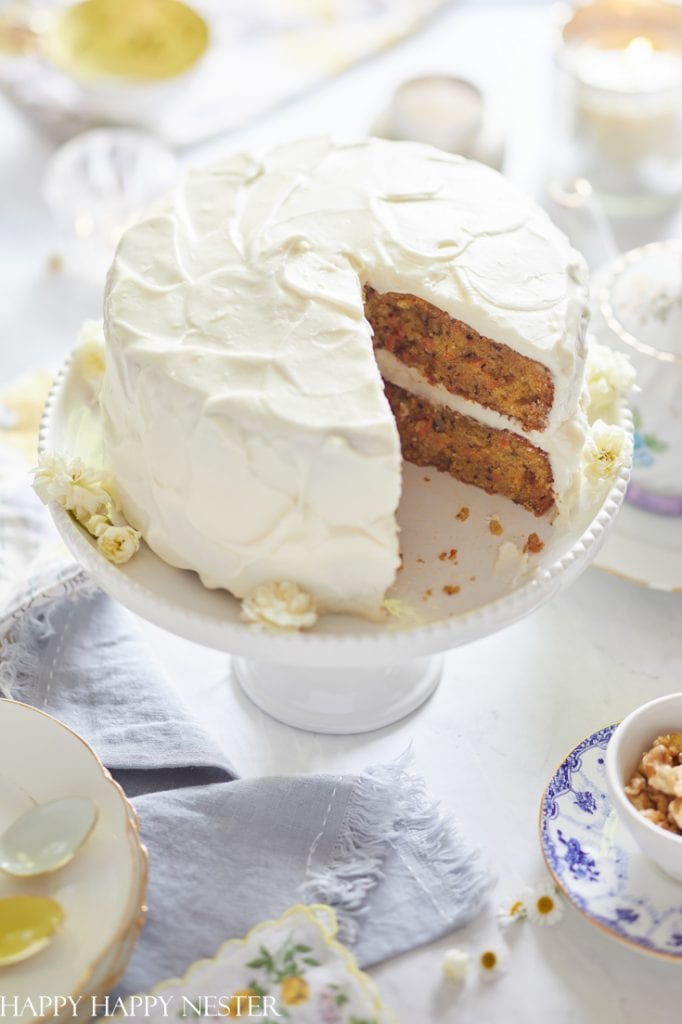 THE BEST CARROT CAKE
My good friend and neighbor asked me to make this carrot cake for her husband's birthday. She loves this cake so much!
If you need an easy cake for a family dinner, then whip up this moist and delicious cake.
One important note is that you use room temperature butter. If you bypass this critical tidbit of directions, then the frosting will be lumpy with bits of butter. It tastes fine, but it looks a bit chunky.
Otherwise this cake is simple to make!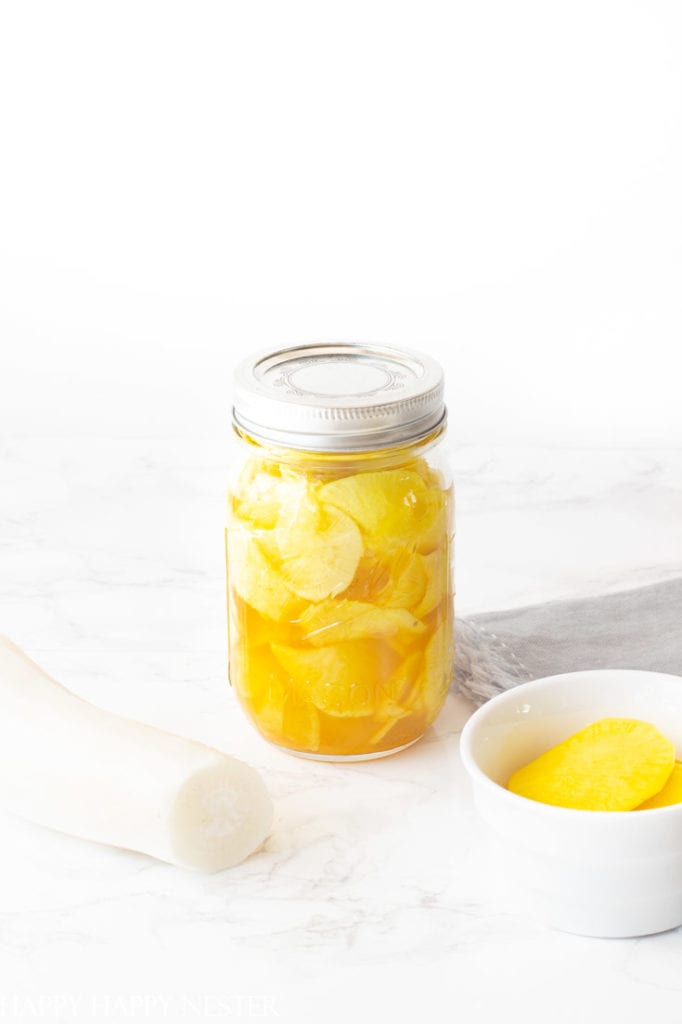 SWEET PICKLED RADISH
I'm not sure any of you know about this sweet pickled radish dish. It makes the best thing to add to short-grain rice.
And everyday, this recipe is popular over on the blog.
I love it on my rice and even as a side dish to my bento box Japanese dinner. Sometimes, when we eat at a Japanese restaurant, I crave this pickle for my rice.
My husband and I love it, but the kiddos don't like how strong the odor. It smells like pickles and radishes!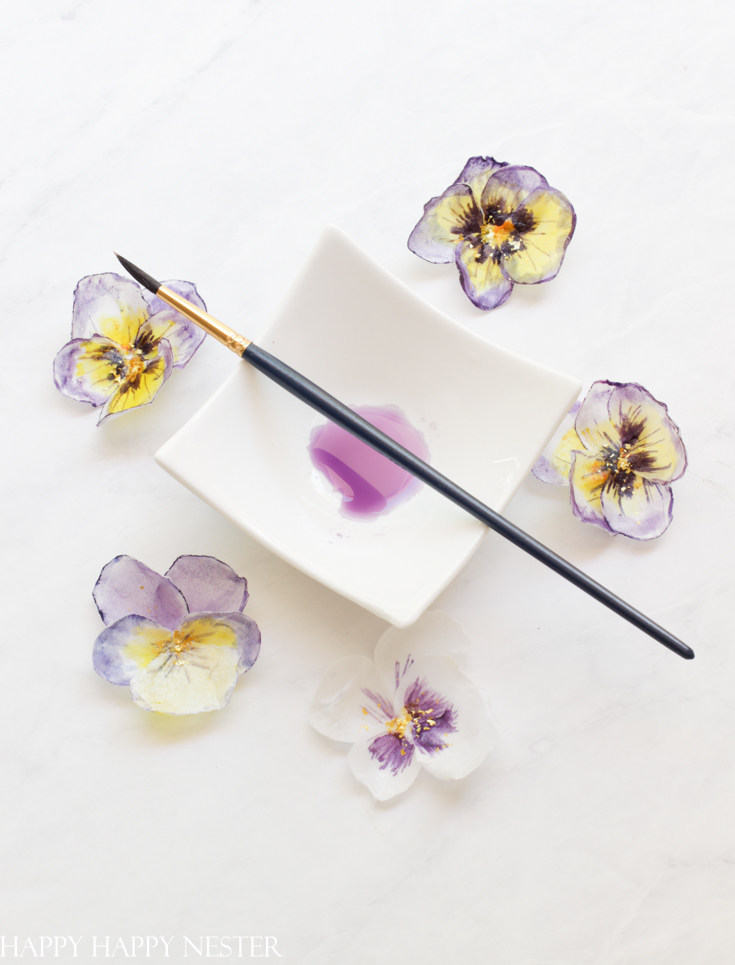 WAFER PAPER FLOWERS
These edible wafer paper flowers are so easy to create and look so pretty on homemade desserts. Or if you are too busy to bake, top them on store-bought cupcakes!
Decorate an average-looking cupcake or cake with these flowers, and immediately they look gourmet.
Bring them to a dinner party this spring or summer!
I can't wait to try making different types of flowers!
---
Look What's Cooking!
THE BEST WAY TO PREPARE SALMON
Want to know my secret to prepare salmon? Is your salmon dried out when you cook it for dinners?
You'll want to check out my easy way to cook salmon. Your family will love it, I promise!
A long time ago, I figured out preparing salmon with a crusty top without drying it out. The meat is cooked perfectly every time. If you read this helpful post, you'll always have a perfect crispy, moist fish dinner.
---
This Week's Tips – Our Kitchen Remodel
OUR KITCHEN REMODEL
When we moved into our California ranch-style home, it was totally dated. I remember the ovens an avocado green color, but this photo shows them a black. Maybe I recreated the whole space as trapped in 1972!
We lived in this state for about two years and then we overhauled the kitchen, dining room, living room and family room. We had a big project that took about five months long.
It was all worth enduring the construction while still living among the rubble. At one point I remember making meals outside and doing dishes in the laundry room.
Now, we have a dream kitchen that has lots of space for all my baking and cooking shenanigans!
You can view the kitchen remodel in this post.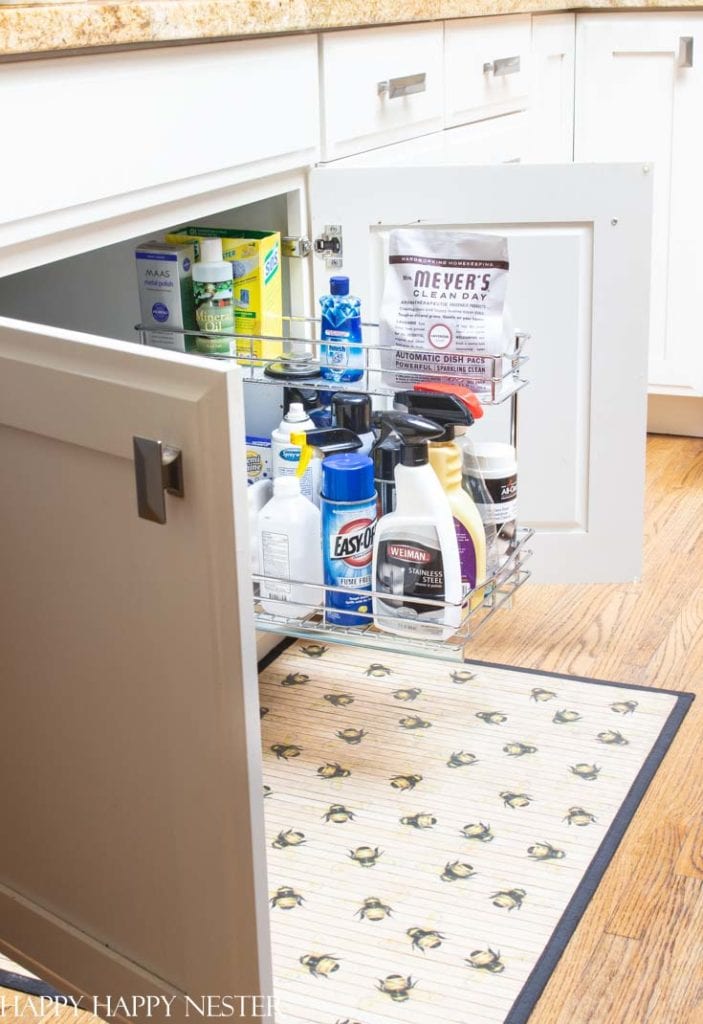 UNDER THE KITCHEN SINK
I recently tackled under our kitchen sink. You can find the post here, Organizing Under the Kitchen Sink.
This are of our kitchen was in desperate need to attention and organizing. I'm happy to report back that it is organized and has stay organized since the redo.
But, one thing that should have happened but didn't is protecting the bottom of the cabinet.
Well, the inevitable happened, and we sprung a water leak under the sink. The wood was waterlogged, and we quickly learned that we needed a drip pan to catch any stray water. Hindsight is so easy.
So, now we have a wonderful plastic shallow drip pan. Please don't make the mistake we did. I'll have to update this post!
---
Out on the Patio
My head is so distracted with patio ideas. Here are a few things that are inspiring me right now.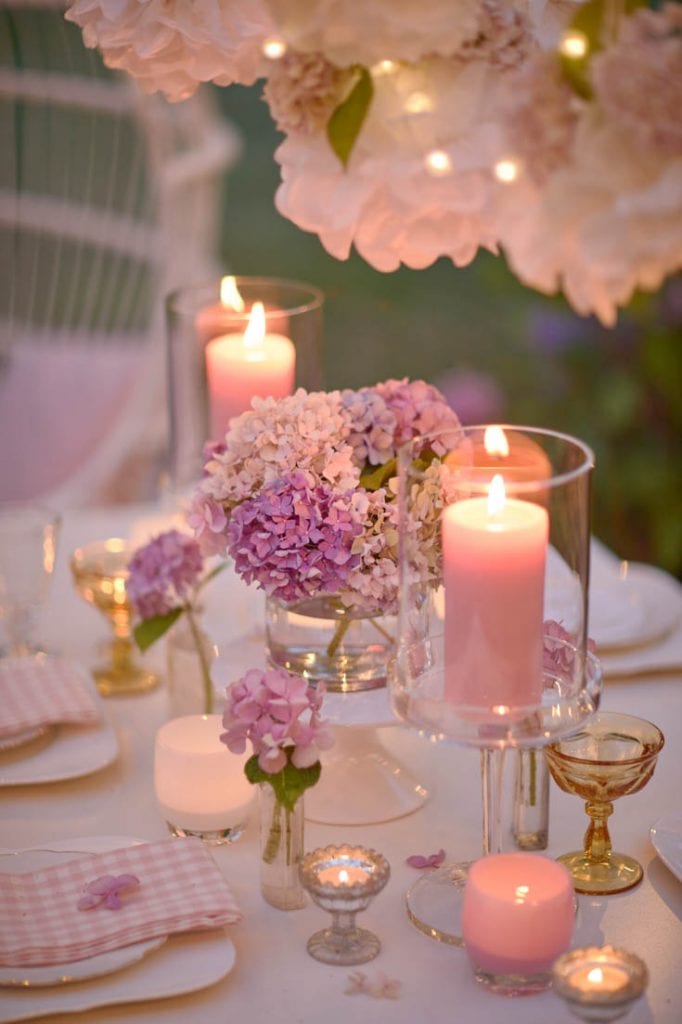 Looking Forward to Outdoor Dining
When we brought out our outdoor table from storage this spring, we decided to place it under our white patio. Uh, for years, we had it in the same spot every summer.
Now it sits beautifully under our patio, and the area feels more like a cozy outdoor room. I plan to share it soon over here on the blog.
But, my mind is dreaming up some fun summer dinners out at the table. Here is our romantic summer table from last year.
Don't be afraid to think outside the box and change things up in your home or garden!
---
This wraps up this week's Saturday Chitchat, Baking in the Kitchen.
Thanks so much for hanging out with me and I hope you're healthy and enjoying spring.
Happy Weekend to you and your family,

Catch up on Saturday Chitchats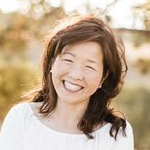 Latest posts by Janine Waite
(see all)