olIf you follow a few of these tips organizing Under the Kitchen Sink, you'll save time and frustration. A realistically organized space will stay tidy without much effort.
My kitchen, at first glance, looks organized and pretty. But, if you dig deeper, you'll find a few corners that need a little love and attention when it comes to organizing. So you see, you are not alone when it comes to a disorganized kitchen. I mean, that is why you are over here to get your kitchen streamlined and organized.
Under the Kitchen Sink Organization Ideas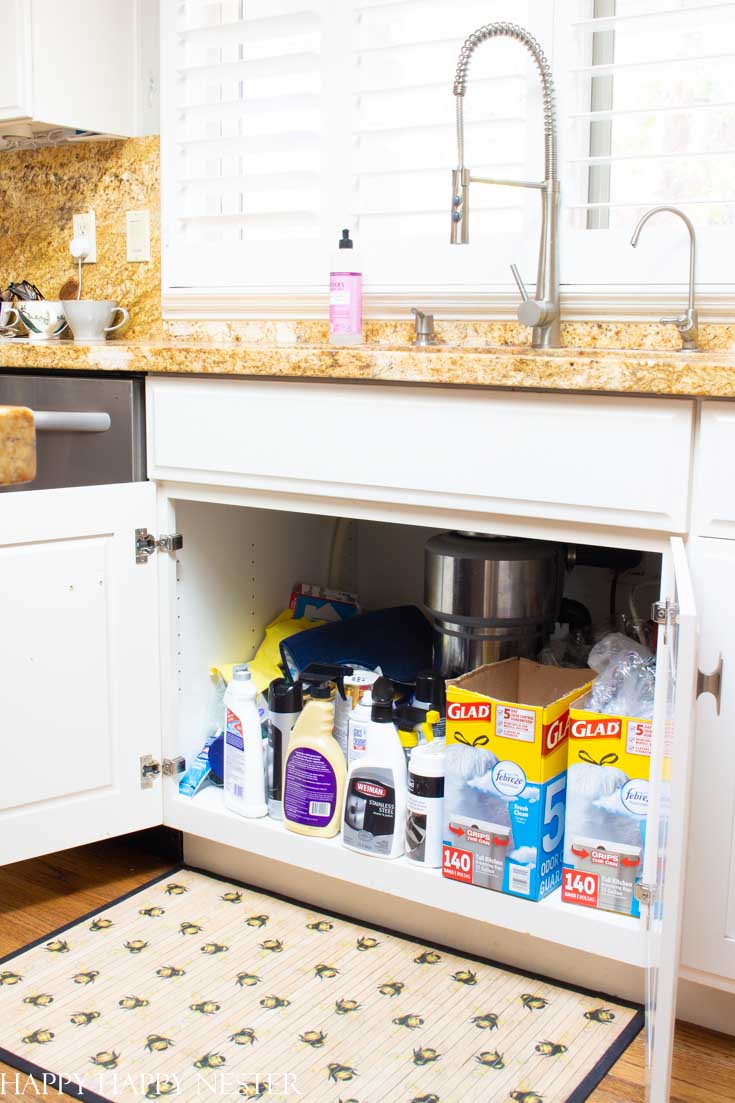 Yes, I'm sharing our real-life photos over here. Under the kitchen sink was a big old mess. Every time I opened up this cabinet, I told myself I need to organize this space. I would even mumble this when friends came over and saw this messy space. So, recently, I got motivated to make some changes. You see, with Covid-19 and Shelter in Place, we have been cooking in our kitchen a ton. And so now, glaring disorganized spaces call out my name!
Ok, let not waste any more time. Let's dive in!
How To Organize Under the Kitchen Sink
The kitchen sink is a difficult space to organize since there is quite a bit of plumbing that you have to workaround. So take notes and plan your area with plumbing included. You have to consider not only the floor space but the upper space as well. My husband and I figured out some great solutions, and today, I'm sharing these tips with you. I hope they help you bring order and efficiency to your kitchen.
Clear Everything Out of Your Cabinet
Seriously clear it all out. You will have a mess at first, but it will be so much better when you have the area under the kitchen sink organized. Trust me!
Clean All Surfaces
I was a bit worried that I had marks that I couldn't remove. Well, these fantastic Magic Erasers are crazy cool, I have no clue what is in them but they seriously they work like magic. Bottom line, make sure to always have a few around for those stubborn stains.
Sort Through Items and Toss Whatever You Don't Use
Clean spaces are kind of cathartic. It is a good idea to go through things from time to time and take inventory and purge.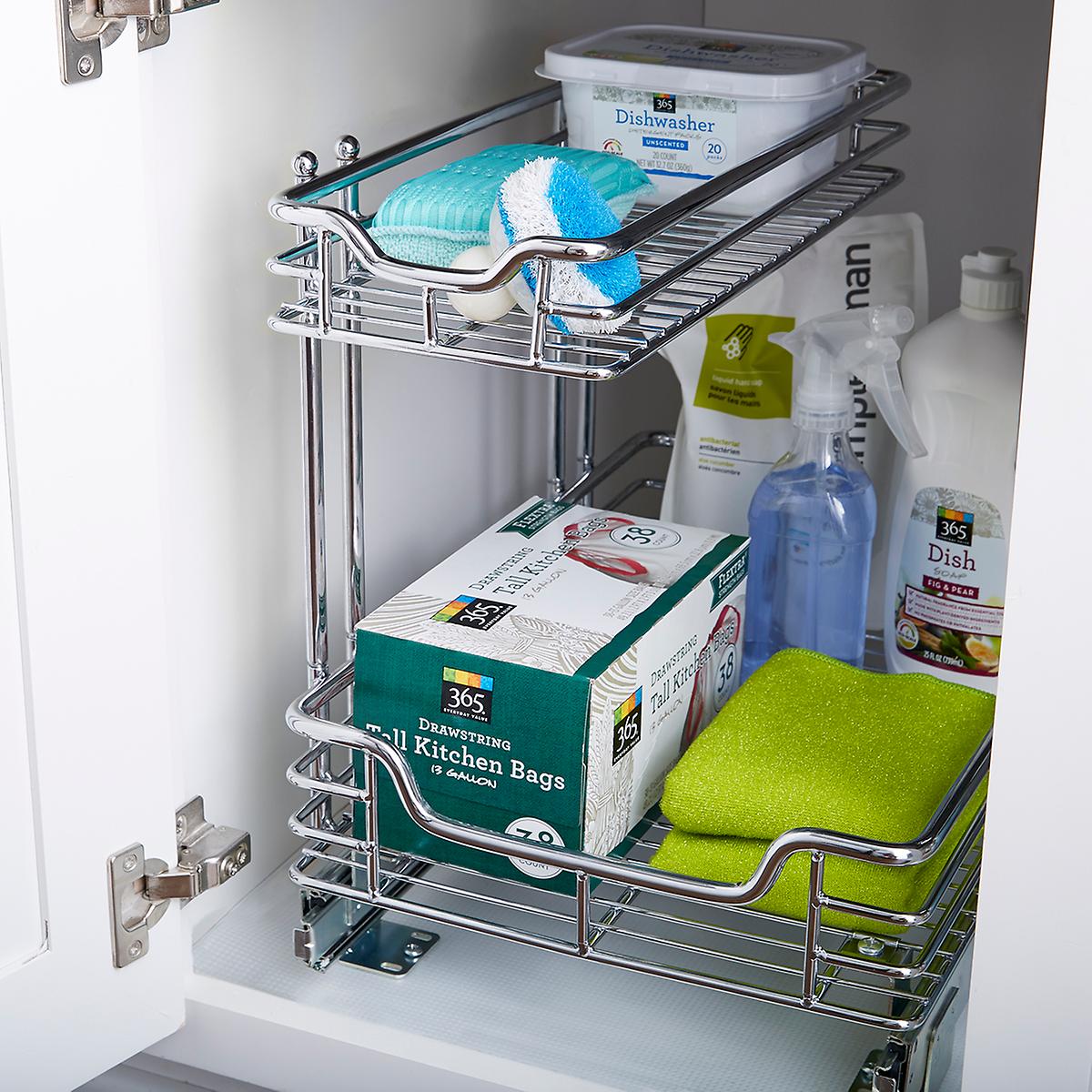 Measure and Research Carefully Under the Sink Organizers
I'm always coming up with some new organizing device that is going to change my world. So, it wasn't surprising when my husband thought that this moveable shelf was kind of a silly purchase. But after he installed it under the kitchen sink, he now admits that it was a great purchase.
Also, it is sturdy and holds a ton of supplies. The top shelf has a plastic liner for small items to prevent them from falling through the cracks.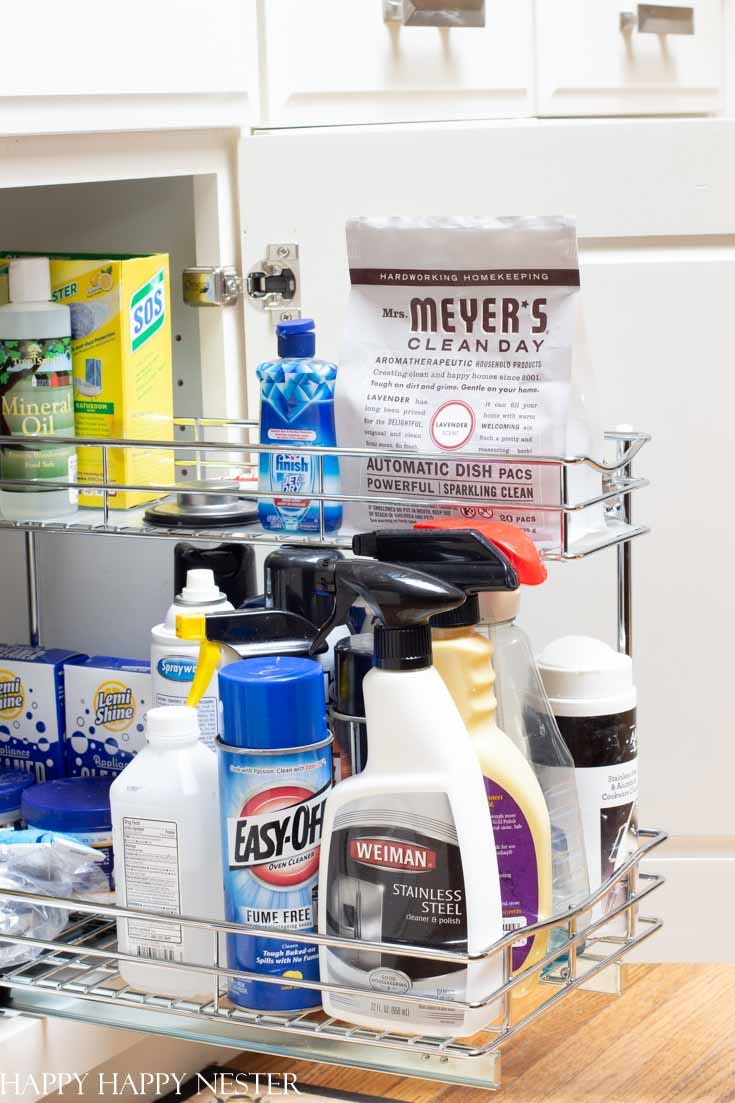 Install Moveable Shelf
My husband installed this shelf, and he only had to drill four holes. I believe it came with a template that my husband didn't even use. This Chrome Shelf barely fits in the spot under the sink since we have the plumbing for the water filter. We had to make some adjustments and place only small things on the bottom shelf. But that's fine, and we love it!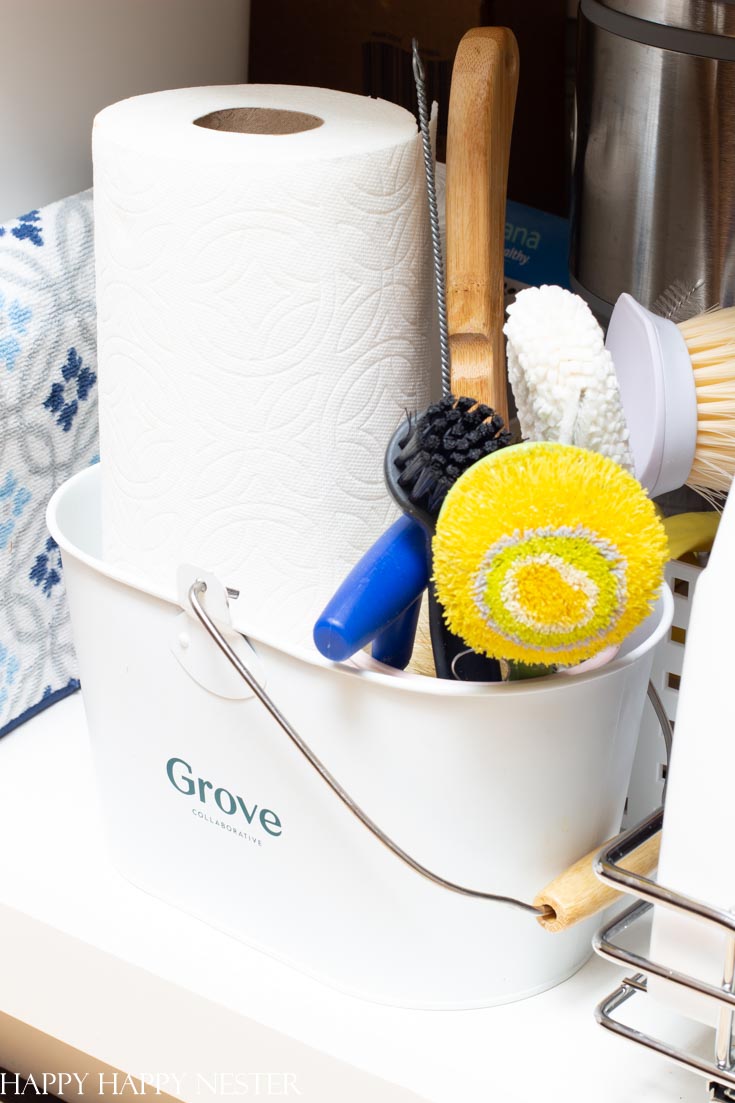 Use Totes and Containers to Hold Things
This little bucket fits perfectly under the kitchen sink. It holds those loose items and our paper towels. It is nice when organizing containers are white since they blend right in and are easy on the eyes. Well, I couldn't find the exact metal bucket like mine. I got it from Grove Collective. But, I found these stainless steel totes that would be great for organizing under the sink.
It took me a while to realize that recycling plastic bags needed a bigger container than just a small cardboard box. So, this standard plastic trash can holds are many recyclable plastic bags. I can't tell you how this has changed my organizing under the kitchen sink. Our cabinet now works, everything has a home, and that means it stays tidy.
By the way, here is the link to the trash can. Note that it comes with a neat lid. I couldn't use the cover since it didn't fit under the kitchen sink. But, I knew that the top would just be too annoying.
Arrange Essential Items in Easy to Reach Places
I found arranging highly used items out in the open is something that I have learned over the years. Organize your space with the most used things upfront and easy to reach. So, on my moveable shelf, I placed the dishwasher soap up on top and the cleaning agents right below them. Be realistic about your habits and plan and organize accordingly. That will be your most successful path.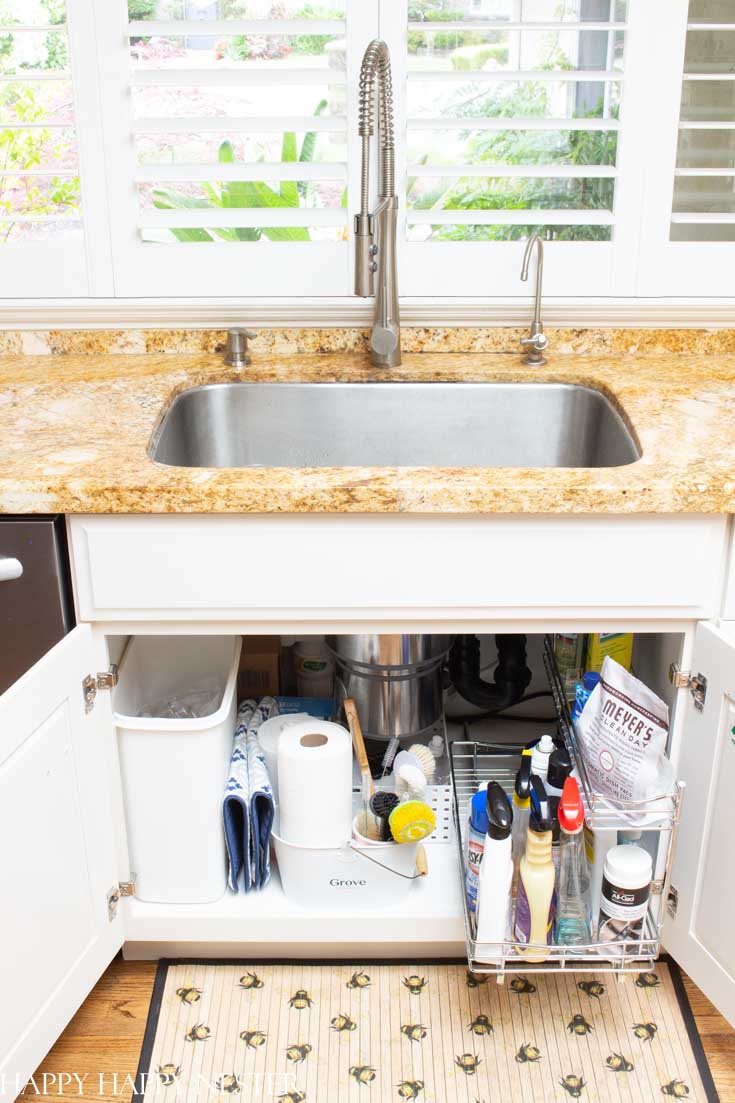 Well, here is the final under the kitchen sink shot. Yeah, I don't color coordinate things, I show my projects as is. Real-life is going on over here. This system works, and if you dropped in on any given day, this is how our sink looks! If you plan a space correctly, it will stay organized for a long time. My dear friend, Leslie from My 100 Year Old Home, has a great Kitchen Organizing Your Kitchen Pantry Post too.
Happy Organizing!

Here are few more of my organizing posts:
9 Tips for Organizing Your Kitchen
Organizing with The Container Store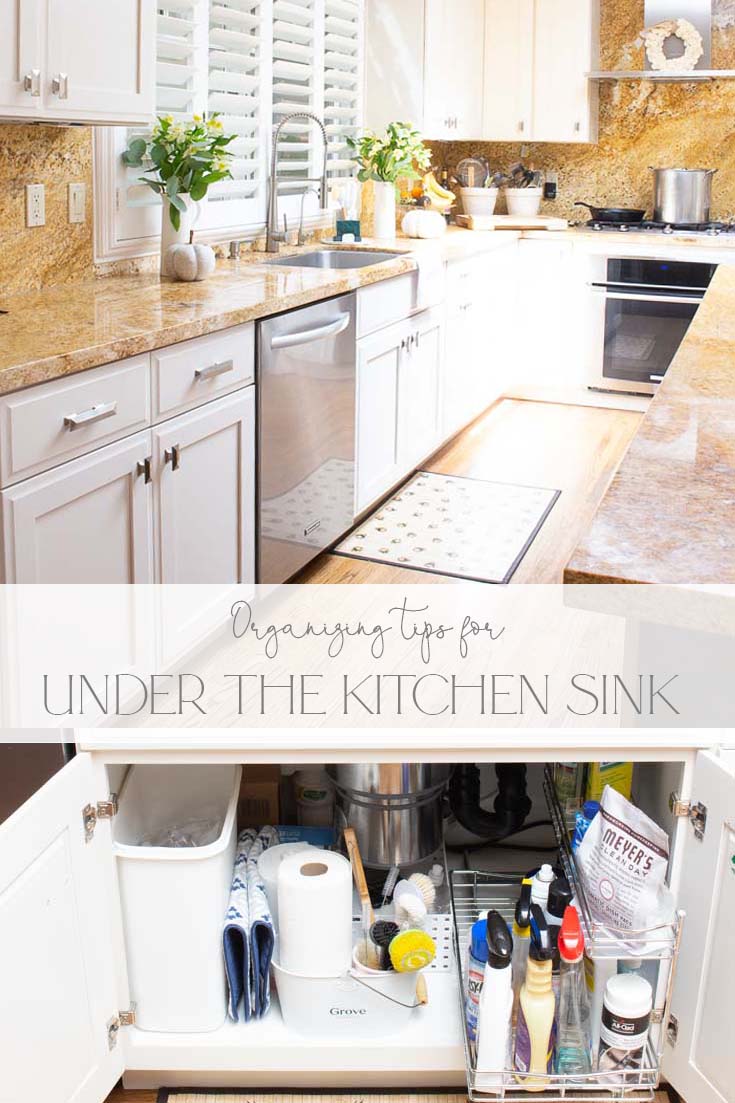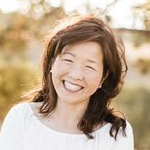 Latest posts by Janine Waite
(see all)