Organizing With Container Store Products is the key to a great kitchen.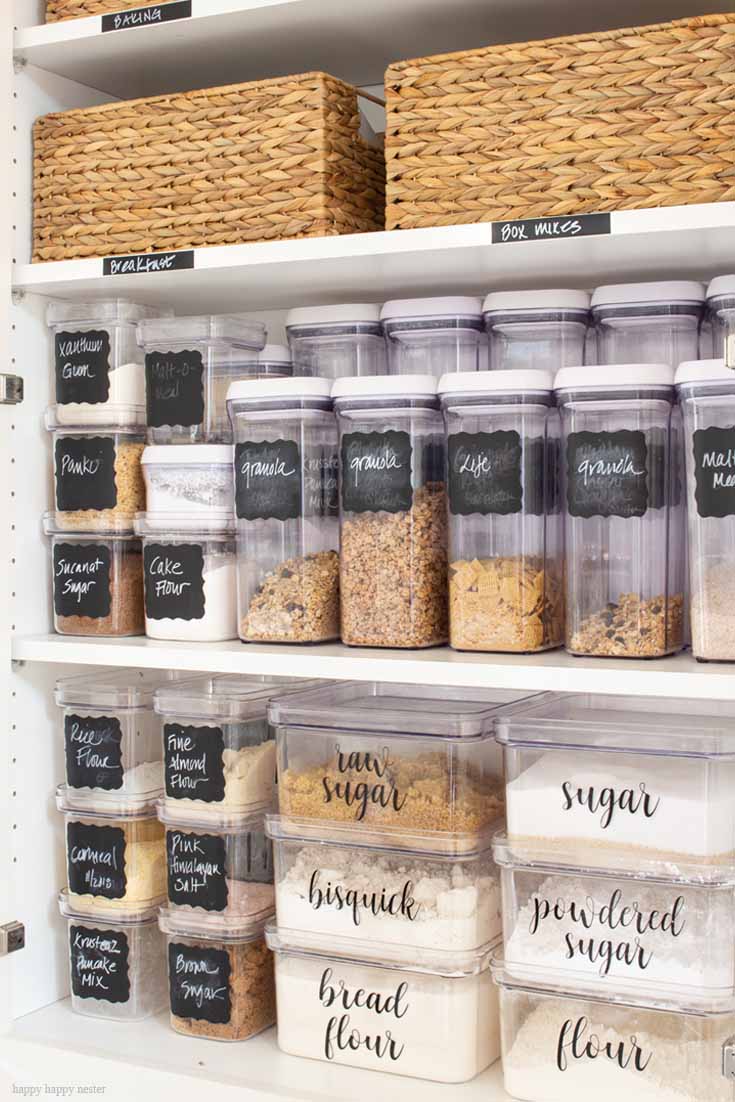 *The following post contains affiliate links
Organizing With Container Store Products
I found you can't have enough containers these days!
So, last year I organized one of my cabinets full of dried fruit, nuts, and other foods. It felt amazing to get that project done, but I still had another major one to tackle…my baking supplies. I also made these
chalkboard labels
and my friend Sam, makes beautiful
calligraphy labels
.
My flour and sugar were in disarray and needed to be organized with a system that stacked nicely. As you know The Container Store is like a candy store to anyone who likes containers!
My husband jokes that I have containers for containers.
Well, I found this nice system that each lid is designed to house another one on top. Accordingly, to The Container Store website, this system is their own product which is called Modular.
Unfortunately, they no longer carry a few of the items, but rest assure I found some similar containers. So once you figure out how many you need and how many will fit in your cabinets, just clean and fill.
Here is What I Used For My Pantry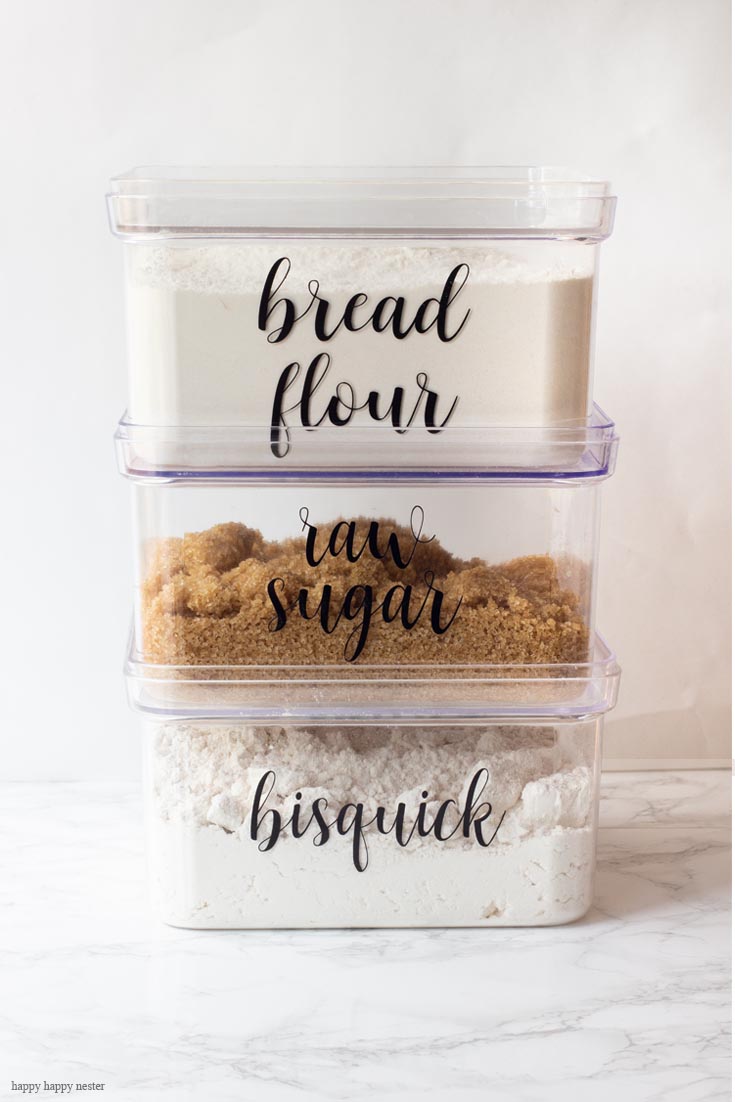 1. Containers for Baking Essentials
I actually, like this modular stackable system for my baking supplies but unfortunately The Container Store no longer carries them. In the meantime here are some comparable
containers
.
Originally, when I planned out my containers, a stacking system was the most important factor. If you choose to stack your containers you are making the most of your space.
Also, I looked for containers that had big openings, since I love to bake and when my measuring cups can't fit in the containers I get a bit frustrated.
These stackable containers have to be substantial in size so that you can fit things like your flour and sugar in them. Here are some
more containers
that will do the job.
Since brands keep changing their inventory, here are some pretty cool
bulk containers
that also come with a serving scoop built into the lid. This is so cool!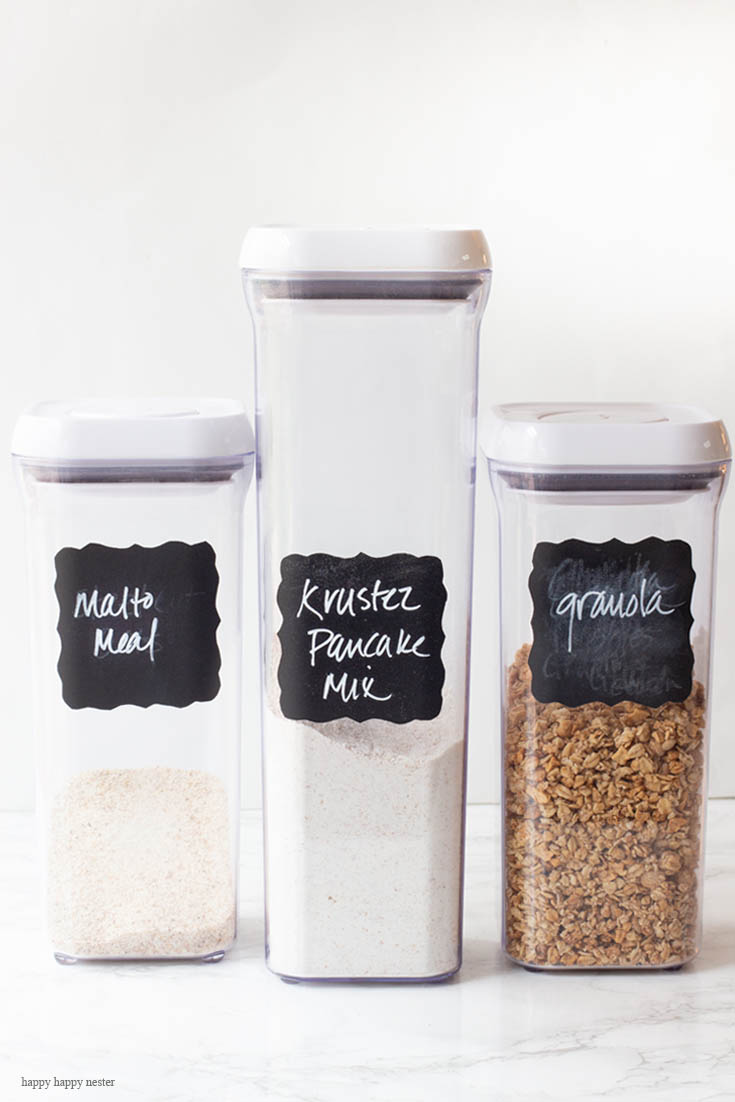 2. Containers For Cereals
I own both tall and small containers. The reason I chose these cereal containers is that they are easy to hold and pour. The taller ones can be a bit tipsy, so this
4-quart container
or this
4-quart OXO container
might work better for you.
When you organize your cereals in clear containers you have a better idea of your inventory.
Empty all your boxes and only store a few extra cereals. If you start to stockpile food, that is where you forget what you have and you waste it by not using it.
So, for example, if I know our family eats a lot of Cheerios, I'll place maybe two boxes in my containers so that I don't have any in storage and maybe I'll have one extra in storage. I won't buy any until I'm totally out. This whole system avoids throwing out old cereal.
Also, if you want to buy your labels here is a
good source
. But, if you have the time and interest to make your own labels you have to check out my
easy label tutorial
.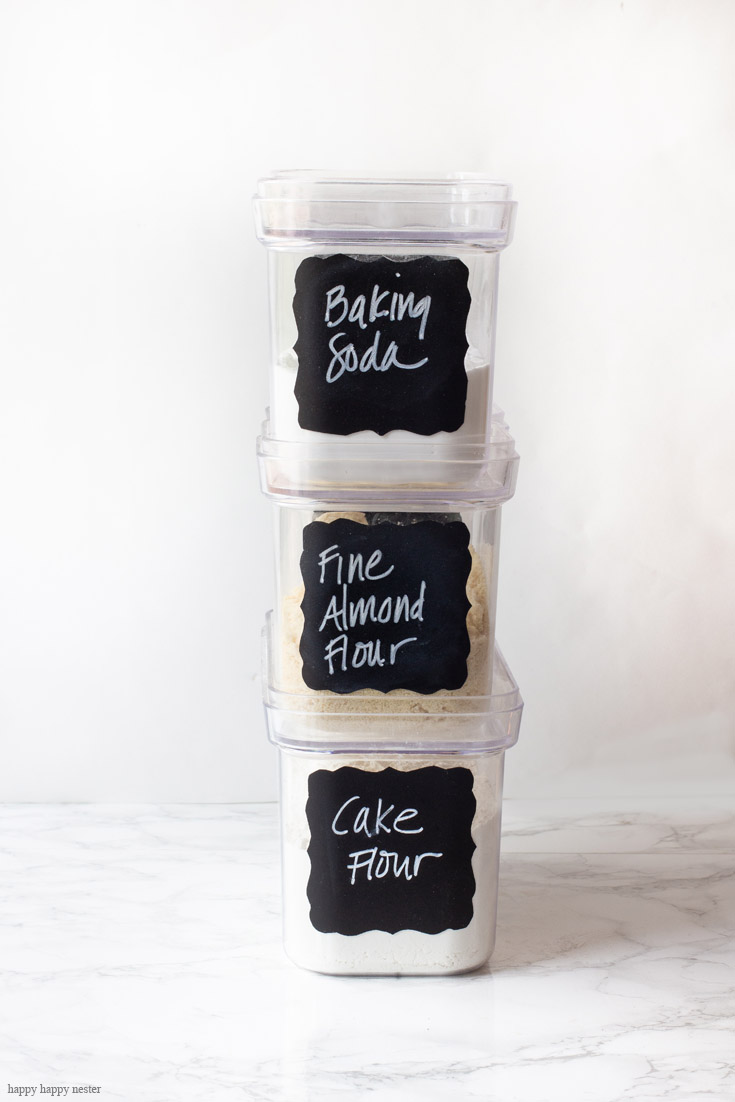 3. Smaller Containers For Baking Supplies
So these modular stackables are a bit smaller than the others but the whole system works together! Unfortunately, they no longer carry these containers so, here are some nice alternatives.
4. Containers For Box Items
I absolutely love these water hyacinths baskets.
I know Marie Kondo would not approve because they aren't clear, but I think that is why I love them.
They organize things but they are pretty in cabinets. Also, on the shelf, I placed a little sticker that says what items are in these baskets. If you look down in the post you'll see what I'm talking about.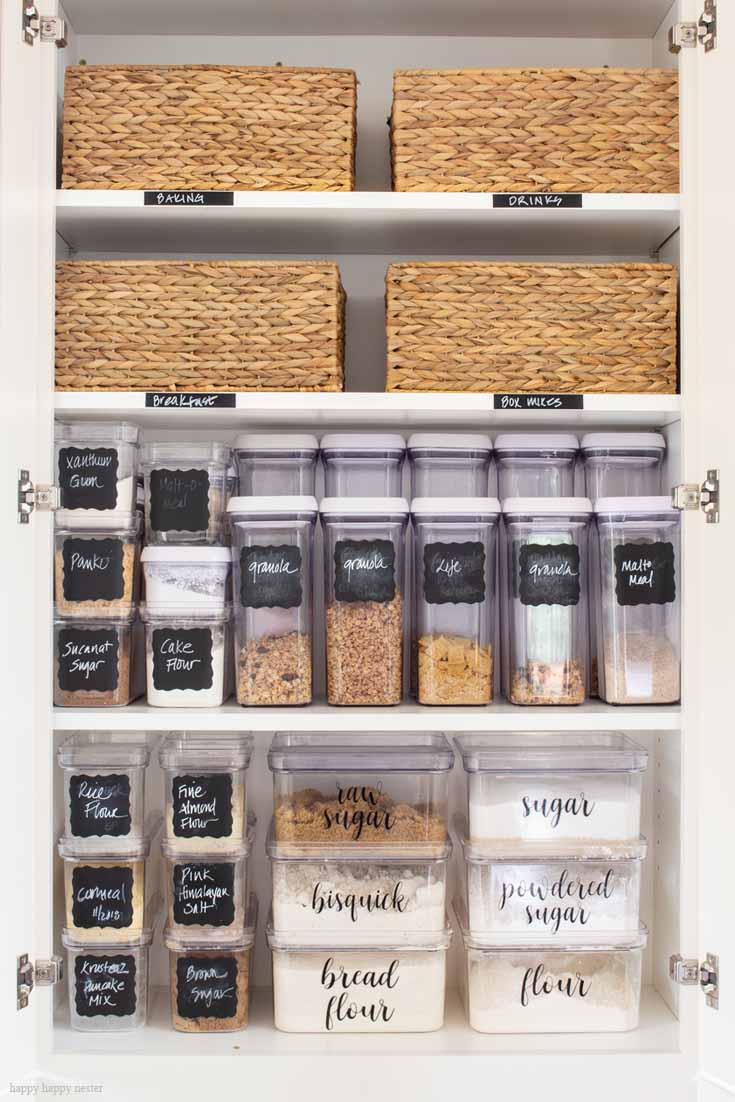 Next, you'll want to make chalk labels
So, I like to make my own labels since the stores only sell like a few labels to a package and they are all different sizes and you don't have enough to do a big project.
I have made something like 25 for this pantry.
Also, if you buy the chalkboard paper roll it is so much cheaper than buying a small package of prefab ones. It isn't too time-consuming to make your own if you cut like 3-4 sheets at a time.
You never know what else you can cover in chalkboard sticky paper.
These are the chalk pens that are more permanent than chalk and they still wipe off with a damp paper towel. Here is the link on Amazon:
chalk pen
Here are some more great organizing products!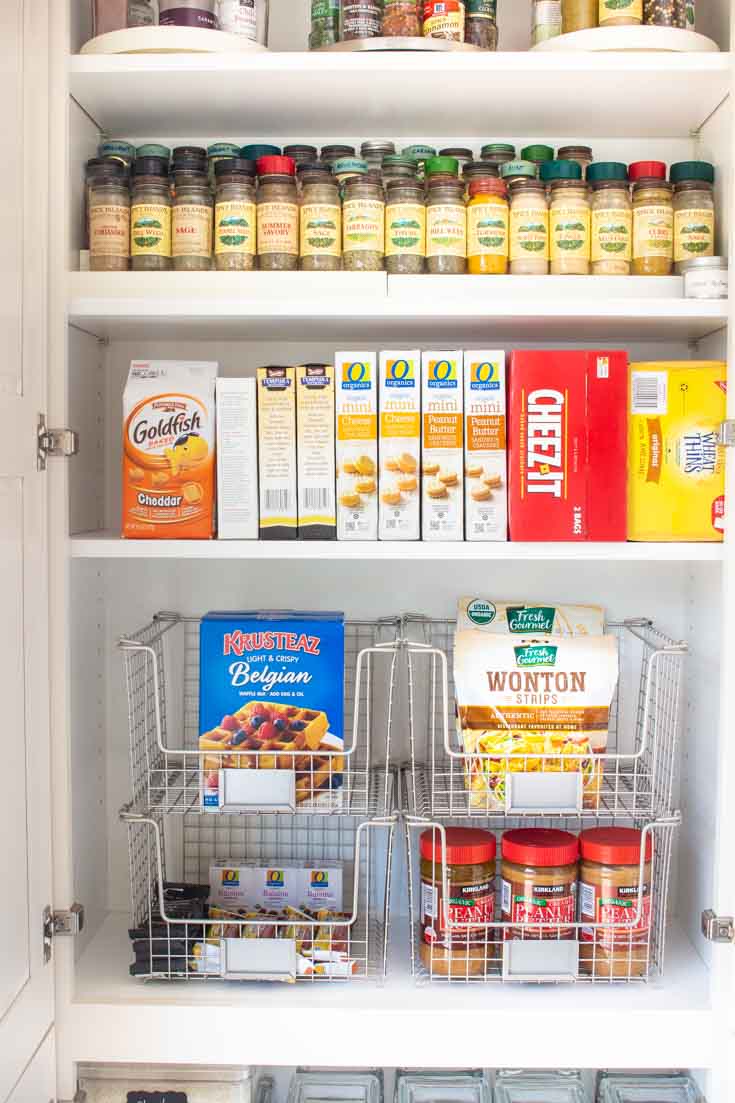 By the way, I recently worked on my other pantry organizing project. Here is a sneak peek at my
Organizing Tips
. In this post, I show my whole process of tackling my organizing projects. I think you'll find this post pretty helpful.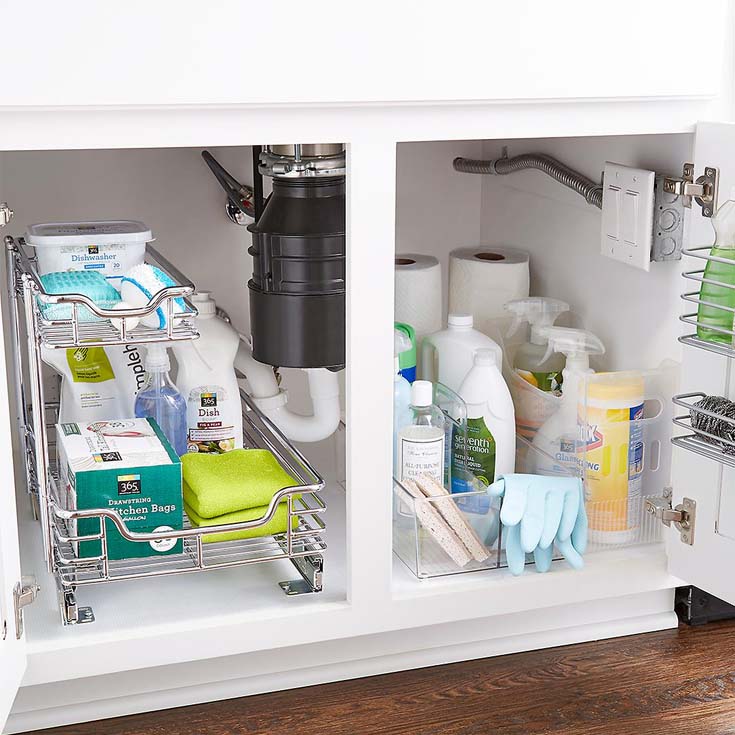 I just bought this item and I love the
pullout shelf
. The stainless steel shelf is sturdy and holds a lot of supplies since it has double shelves.
I kind of wonder why it took me so long to install something like this product. Finally, the area, under our sink is organized and awesome!
Here Are Some Alternative Options for Organizing!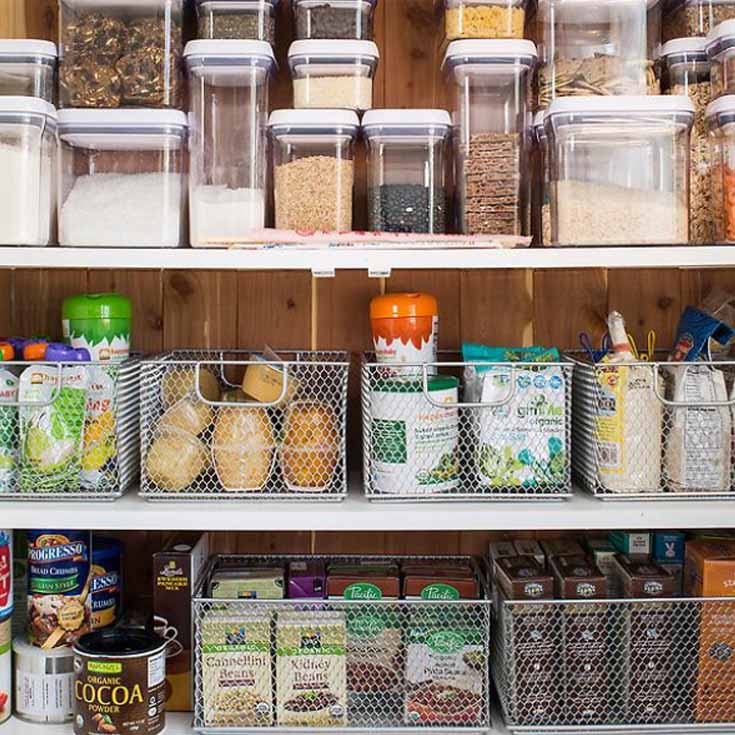 You can buy The Container Store's Organizing Pantry Starter Kit. If you don't have the time over energy maybe go with this product just to get your project started.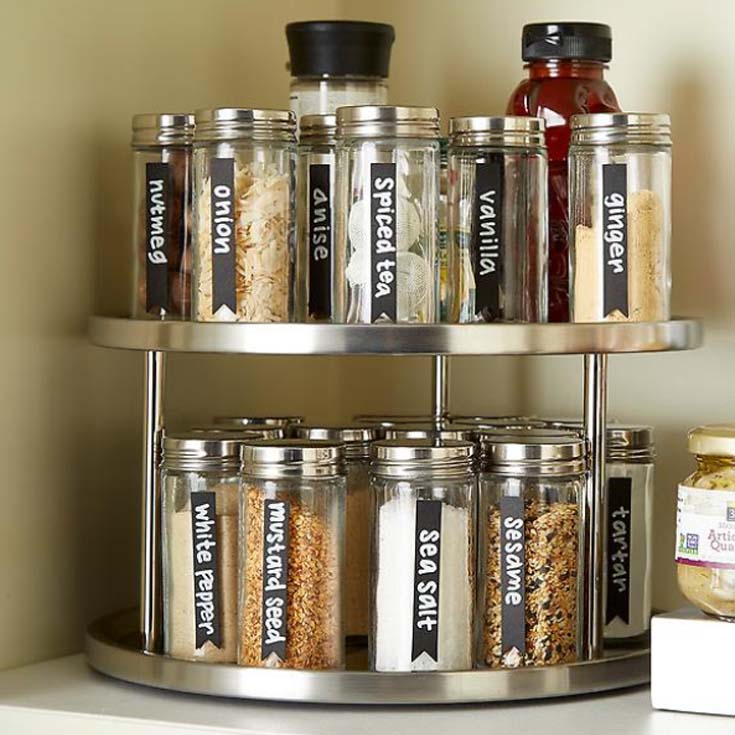 I love this pantry organizing kit, this spice rack looks perfect. I use a lot of lazy susans in my pantry.
I hope you enjoyed this post on organizing with The Container Store products.
I love the results of this project and I hope to keep organizing our kitchen. I still have a few more trouble spots and I can't wait to tackle them soon. I always have the organizational bug, so stay tuned for more projects.
Cheers,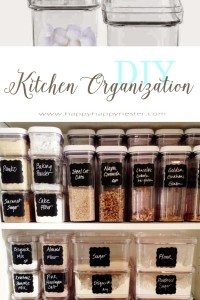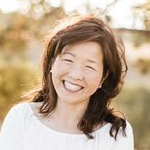 Latest posts by Janine Waite
(see all)