There are quite a few options to choose from when it comes to Spice Rack Organizing. Selecting the best spice rack organizer, containers, and labels is an overwhelming process. This post will tackle some of these issues and more.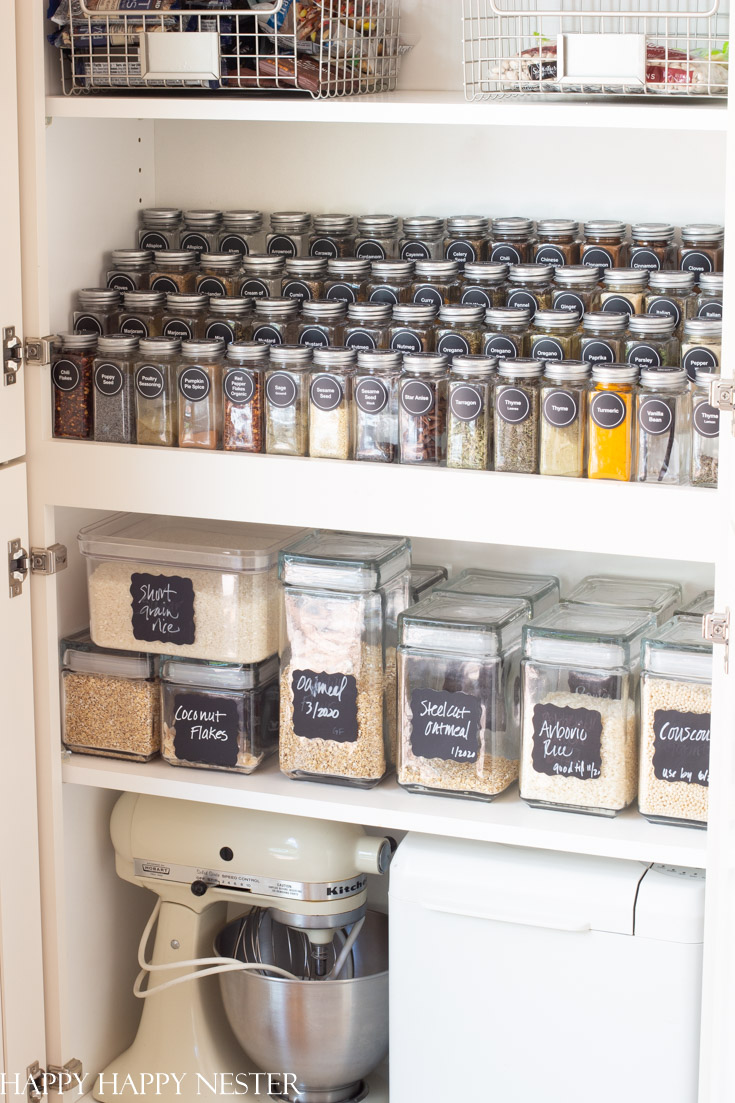 I have finally hit the jackpot in regards to my spices. It has been a long journey, and I'm super excited to share my eureka moments with you! I can honestly say that my spice rack is complete, and its location is perfect.
Since remodeling our kitchen eight years ago, I'm always rethinking and reorganizing various areas. I believe that a kitchen is in constant flux until it is organized correctly and efficiently.
When it comes to organizing, I am a woman on a mission, and I have organized our baking pantry, snack drawer, coffee station, under my kitchen sink, and now our spices. Suppose you like to receive my 5-step organizing series, then signup here. It is free and will be delivered to your email inbox.
*This post contains affiliate links
Spice Rack Organizing
Ok, back to my spices.
First off, organizing anything is an investment in time and money. Here are my issues when it comes to my spices.
I haven't spent the time addressing the reasons why my system isn't working.
And most importantly, I also haven't taken the time to solve the problems.
And I must admit that I just slapped something together when it came to my spices, and I struggled with the consequences.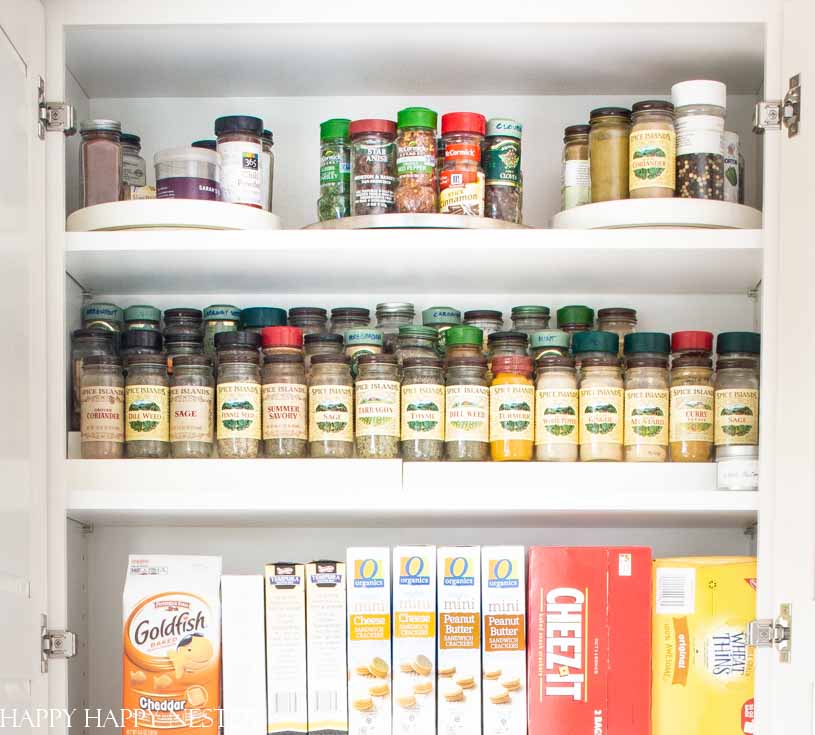 This photo is from another post, Tips for Kitchen Organizing, and I didn't address my spice rack issues.
So, finally, I spent time planning my spice rack.
I recently failed when I tried spice rack organizing, and I'll share that below under spice rack options. But seriously, I think the planning took just as much time as installing all the spices in their containers.
Planning is the key to everything! And this post will help you not make the mistakes I made.
Key Concerns When Organizing Spices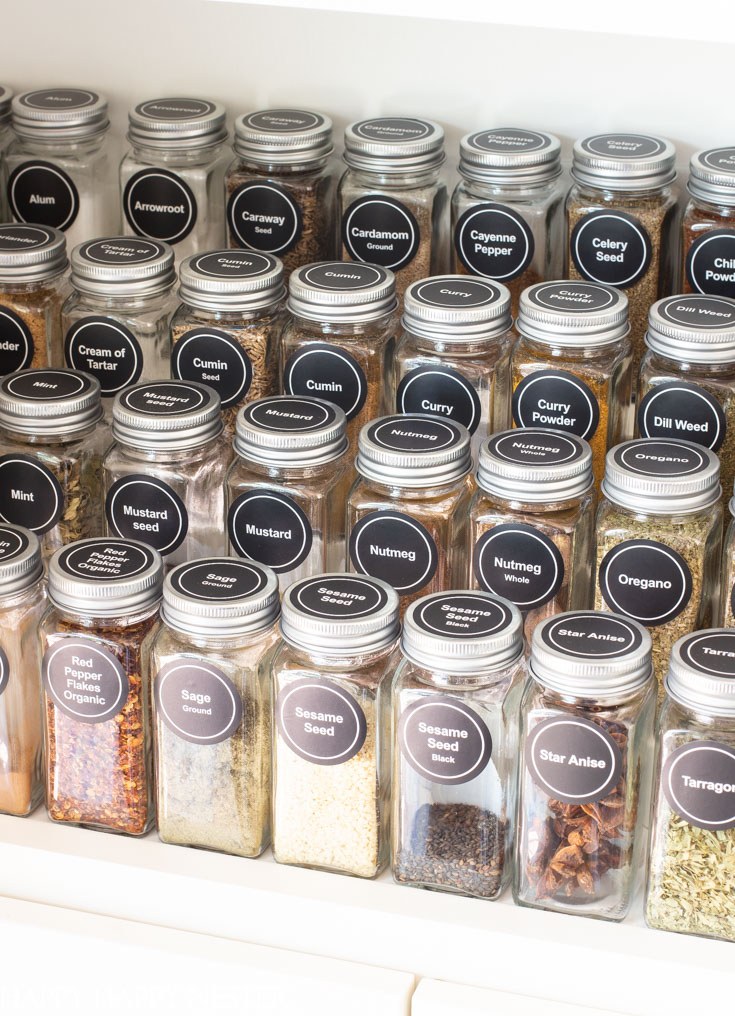 Placement of Spices
I recently had a big ah-ha moment.
Height of the Spices
You see, I always placed my spices up above eye level. Well, when you place them on the tiered shelves, there isn't enough visual clearance, and the labels aren't even visible. You can see it in my old system in the photo. I tried to write the names on the lids.
Finally, the lightbulb turned on in my brain, and I thought to myself, let's lower the location of the spices. Uh, this made a world of difference.
The height is so important when you are organizing your spice racks. Place them about a foot and a half below your eye level.
So, here is why they should be lower. You can see in between the spices to the labels and view the labels placed on the lids. It is the best way to view your spices. I'm not sure why I always insisted on putting them above my eye level.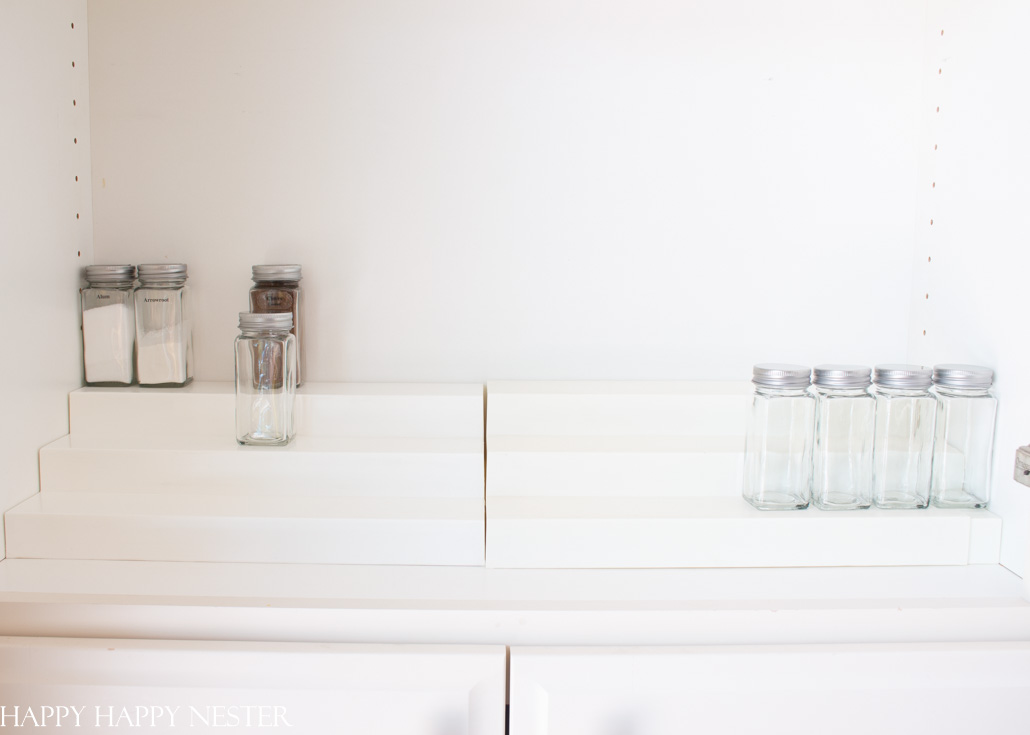 Choosing a Shelf
Recently during my planning phase, I almost bought a snazzy spice rack that rotates and has another lazy Susan within the rotating spice rack. But, I looked at it, and still, not all the spices were visible. Ultimately, I'm super happy with the following shelves!
Lazy Susan Spice Rack:
I almost bought one of these rotating racks, but I didn't like that some containers blocked others. It was super tempting since they look so cool. Also, the tray seemed a bit unwieldy when it rotated; the lazy Susan (located in the middle) turned while the larger one was rotating. So, I decided it wasn't the most efficient use of space, and I didn't buy it.
Tiered Expandable Spice Rack:
I have owned these shelves for the longest time, and they carry them at The Container Store. They expand to longer lengths, and I like that they fade away in the background. But, I've always been frustrated that the space between the shelves wasn't more prominent, so the bottles had a more significant clearance from each other. Well, as you know, I fixed that issue. I love the sleek look of these shelves and how it looks so pretty when the spices are all organized.
Pull-Down Spice Rack:
I bought the pull-down spice organizer but quickly found out my shelf wasn't deep enough. Also, we would have to bolt my rack down somehow since the weight of the shelf, when extended, puts a lot of pressure on the shelf. Ultimately, it just felt like it wasn't a great fit overall.
Well, the benefit of the pull-down shelf is that the spices are lower and more legible. I accomplished this obstacle by lowering my shelf in the pantry. Hello!
I love when one simple and obvious solution finally surfaces.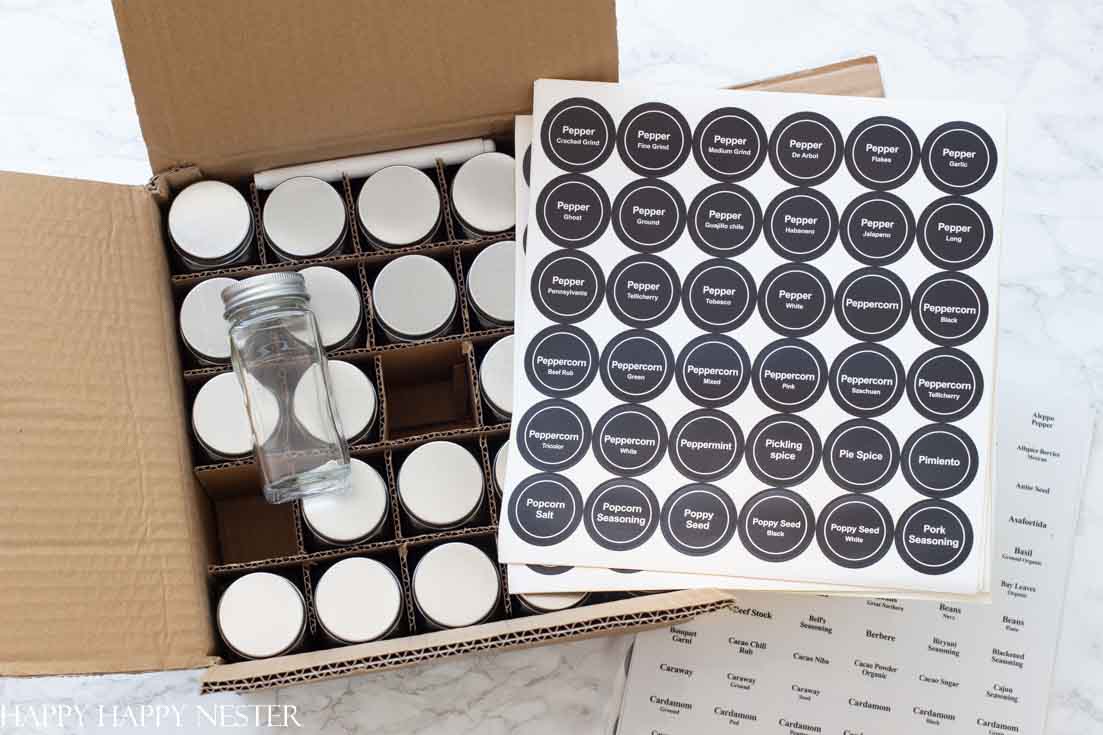 Spice Storage Jars
Up until tackling my spices, I had no clue that these spice jars existed. Once I went onto Amazon, there was a boatload of them. And most of them received excellent reviews.
Let me tell you, I LOVE these bottles, and I want to shout it from the rooftops.
You really need to buy these bottles and labels for your spice rack organizing project.
This package includes a funnel, many printed labels, blank labels, and a chalkboard pen. I can't say enough great things about these bottles and labels. The transformation of changing out your containers is so drastic that you'll never go back to just shoving your store-bought spice bottles on your shelves. Here are the things I love about them.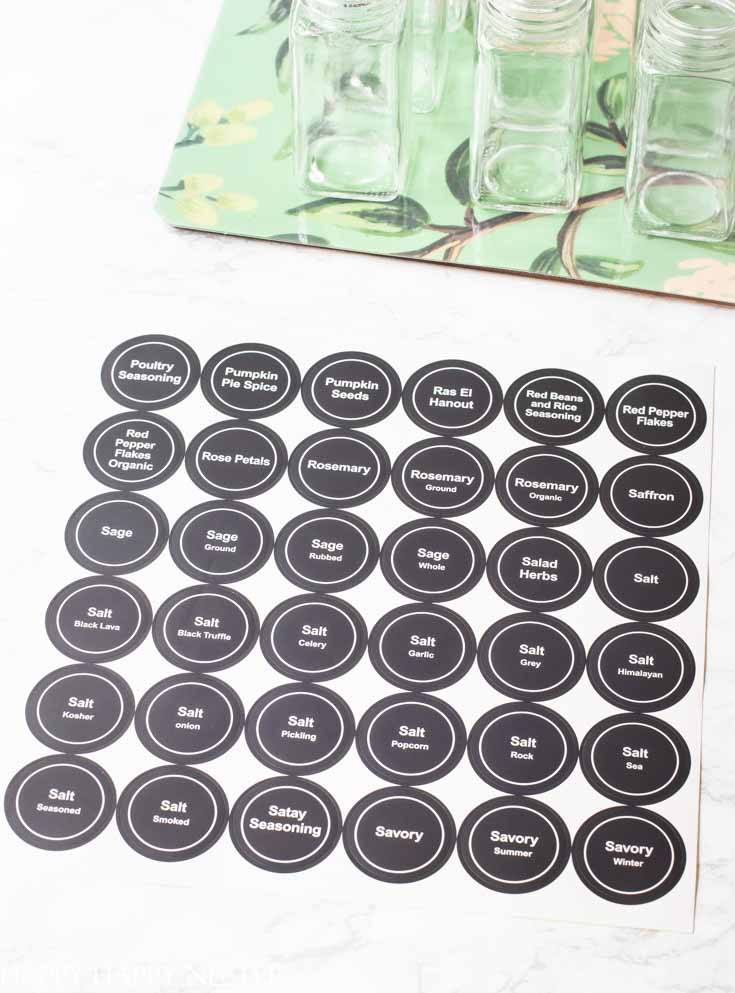 Lots of Great Spice Labels
They have almost every type of spice listed on their labels. There are so many that I haven't even heard of, which is super cool. For instance, what is Ras El Hanout?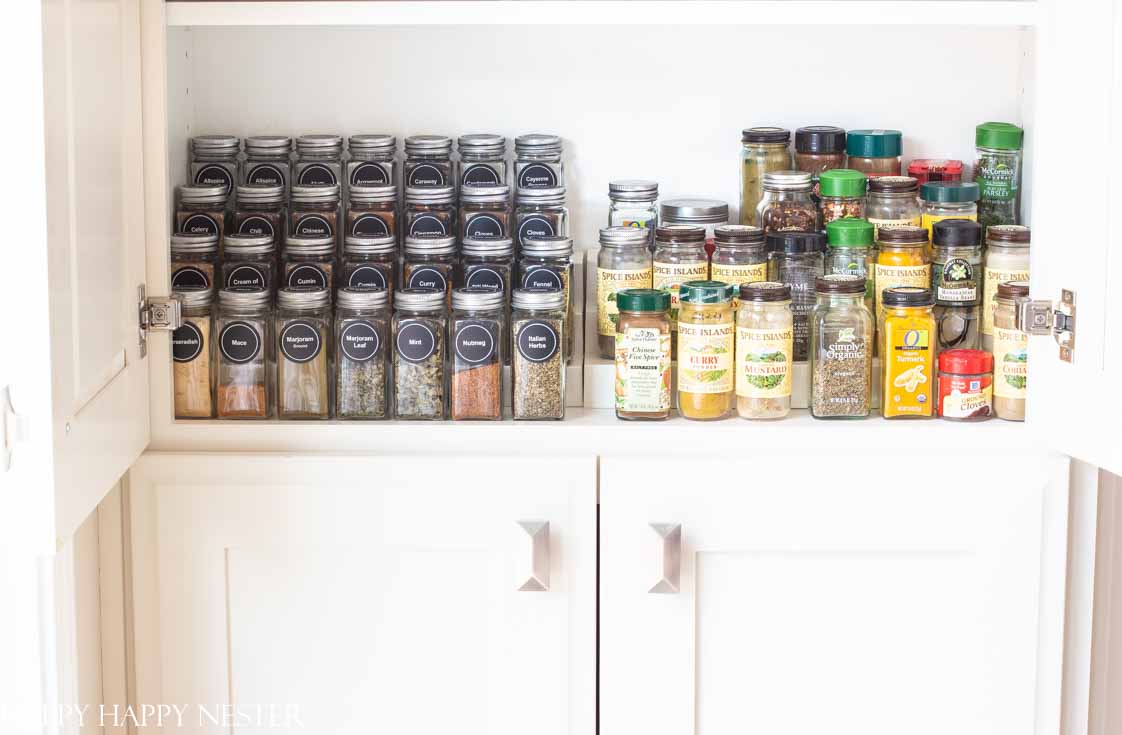 Visibility of Spices
You can see for yourself in the above photo the difference between using a uniform spice jar. My son had the idea of placing the two different jars side by side. Boy, was I wrong! I thought to have all the same jars was overkill.
Bottles are Pretty Durable
I did drop a few bottles, and they didn't break. The lids got a little dent, but nothing too horrible. This spice kit is fabulous, and it includes everything you need to organize your spices.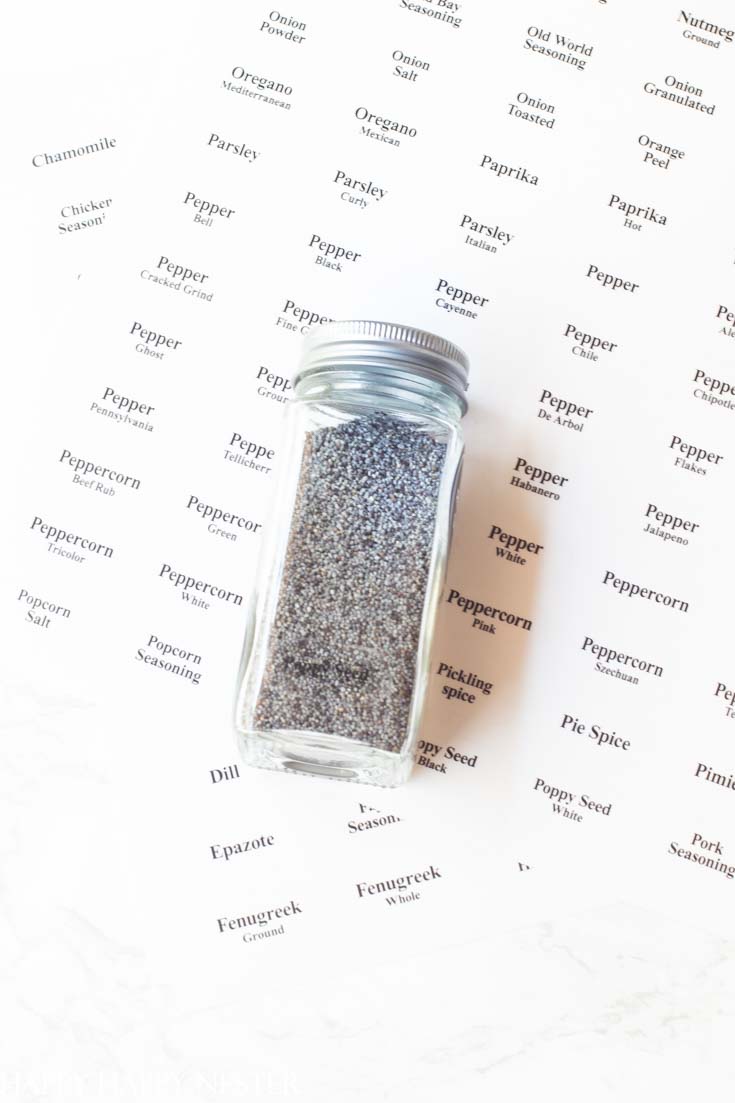 So, when organizing my spice rack, I placed the labels on the top of the lids and the front of the jars. I was able to do this since I bought two boxes of spice bottles and received two batches of labels.
The clear labels (pictured above) they planned for the front of the jars were too difficult to read when I filled the jar with spices. They should've made the front labels with black letters with a white background or vice-versa. But, I solved that problem by placing the black circle labels on the front.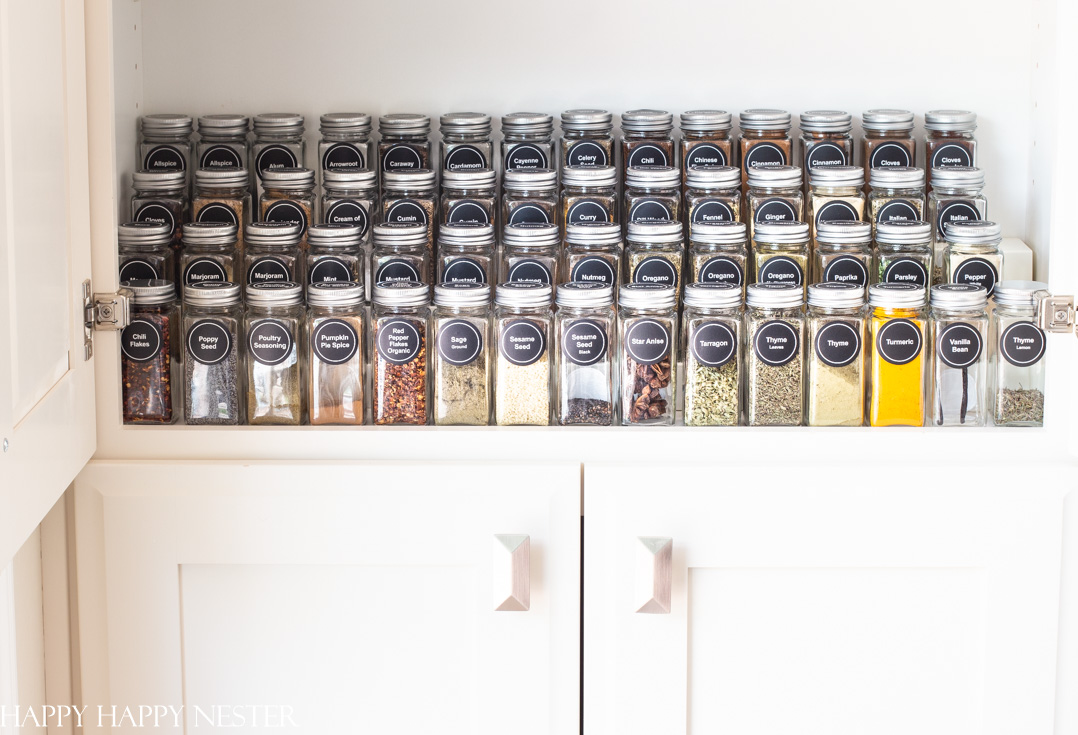 How to Organize Spices
1. Determine Where You Want to House Your Spices
I highly suggest placing them about a foot and a half lower than eye level. This way, you can see the labels on top and the front of the jars when you look down on them. Also, you can easily reach in and grab the spices, no more tiptoes!
2. Clear the Pantry Shelf
I find when organizing any area, clearing the shelf out is essential. While you have it clear, clean out the area with a damp rag or Mr. Clean sponges. I had marks on my tiered shelves, and the sponge took them right off. It was like magic. This way, you start with a fresh slate.
3. Measure Your Space
I can't stress enough how essential it is to successful spice rack organizing. Measure and know the exact measurements of your space. Also, if you have adjustable shelves, take out the shelf above the area you want to organize.
4. Throw Out Any Old Spices
I had about 20 old spices. So, once I purged everything, took inventory, I knew how many bottles I needed.
5. Calculate How Many Bottles You Need
So each tier holds seven bottles, and so my whole organizing shelf contains 28 bottles. And my space holds two-tiered organizers, so I have a total of 56 spice bottles.
6. Buy the Tiered Spice Shelves and Spice Storage Jars
Now that you know the dimensions, you can order exactly how many shelves and bottles you need. My shelves expand, so I just made sure they expanded in length to the proportion of my pantry.
7. Clean Your Bottles
I hand-washed my new spice bottles in soapy water. You can place them in the dishwasher as well. Let them air-dry overnight. I still had a few wet areas in my containers, so I set them outside in the summer weather. You don't want any moisture mixing with your spices.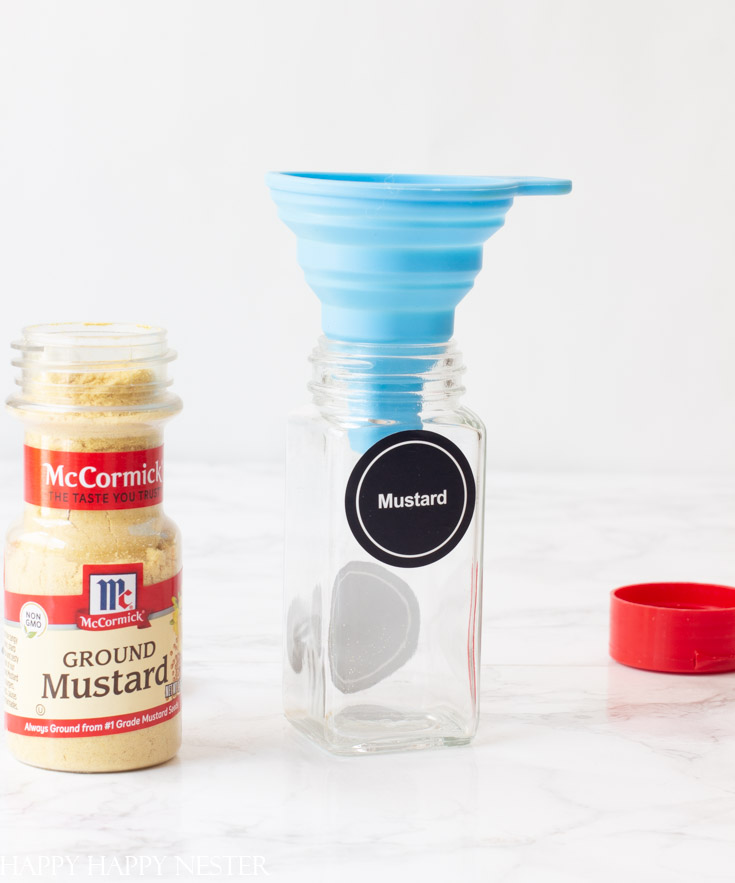 8. Transfer the Spice to the New Bottles
I placed a cookie tray down on my table and used the funnel (it came with the bottles) to transfer the spices.
Sometimes the funnel would get clogged with clumps of spices, so pinch the end to get the spices flowing again.
Also, the standard spice bottle, which holds 1.75 ounces, the contents will fit in these jars. Just a side note, you'll find that spices are pretty strong in flavor, so after using the funnel, you'll want to give a good wash before using it again.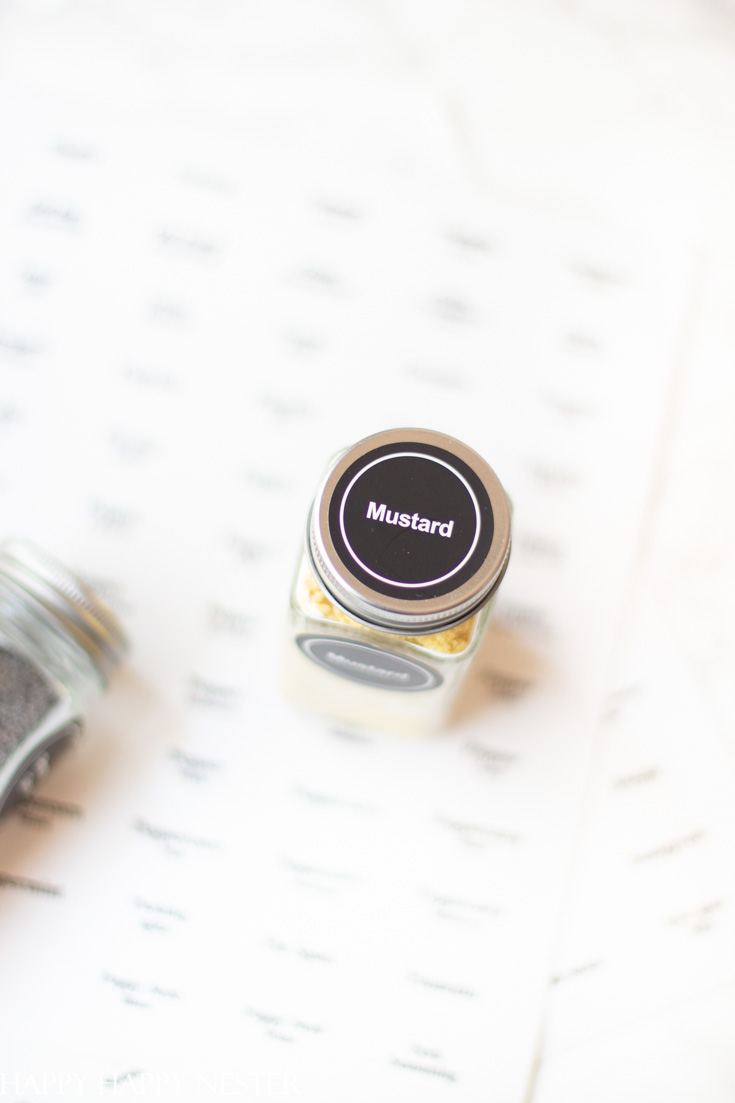 9. Place Spice Labels on Jars
So, you'll want to place the lid on your bottle before attempting the labels.
You see, the names on the labels should line up once you decide which side of the container is the front. Here is an important tip: I also found that if I don't use the flip-top lid, the cap will twist to a different location on the bottle.
I also realized that if you place one side of the label down, you can move and adjust the other side to line up straight. And you'll be relieved that the stickers can be gently pulled up and repositioned without tearing.
10. Organize the Spices in Alphabetical Order
Yes, it will be a pain to alphabetize the spices, but it is worth the effort.
When you are busy baking or cooking, you'll be so happy you did this step. I know my family thinks I'm over the top with organizing, but they love that everything is so easy to find in our kitchen. And since we are all cooking these days, it is super cool when your kitchen is well organized.
11. Allow Enough Space Above Your Top Row of Spices
So here is the thing about spice rack organizing: you want enough space above the top row of spices to grab the spice bottle physically.
Secondly, visually you want at least a minimal distance of four inches between the lid of the top spices and your next shelf in your pantry. When I looked down at my spices, I realized that the shelf above could block the view if it is too low. I hope I'm making sense here.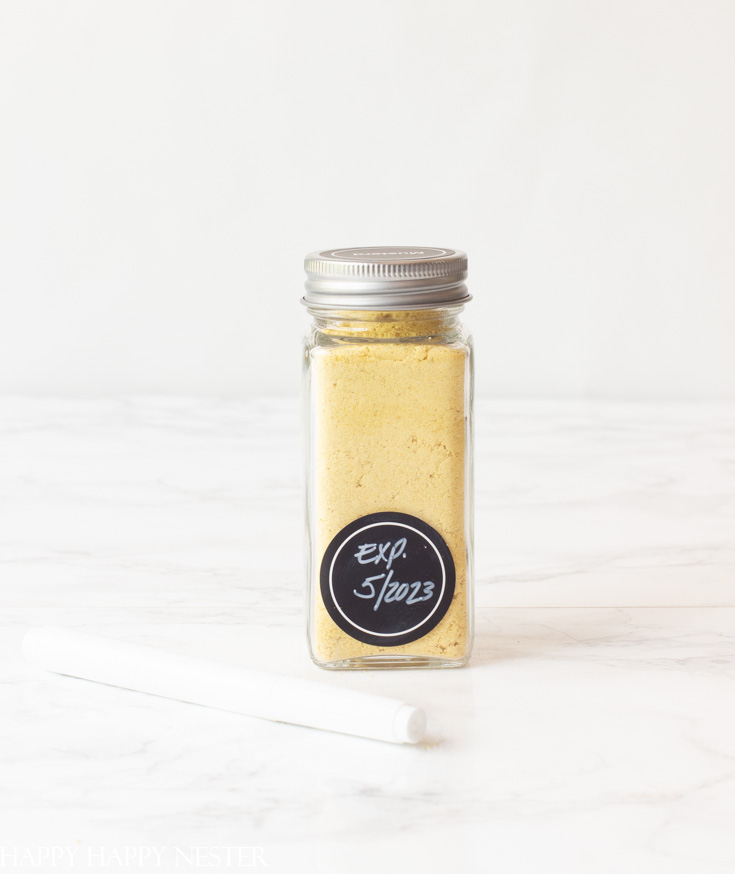 12. Label Expiration Date
The spice kit contains blank chalkboard labels. And since I had plenty of labels, I placed them on the backside of the bottles. And then, when I buy new spices, I will write the expiration date in a chalk pen.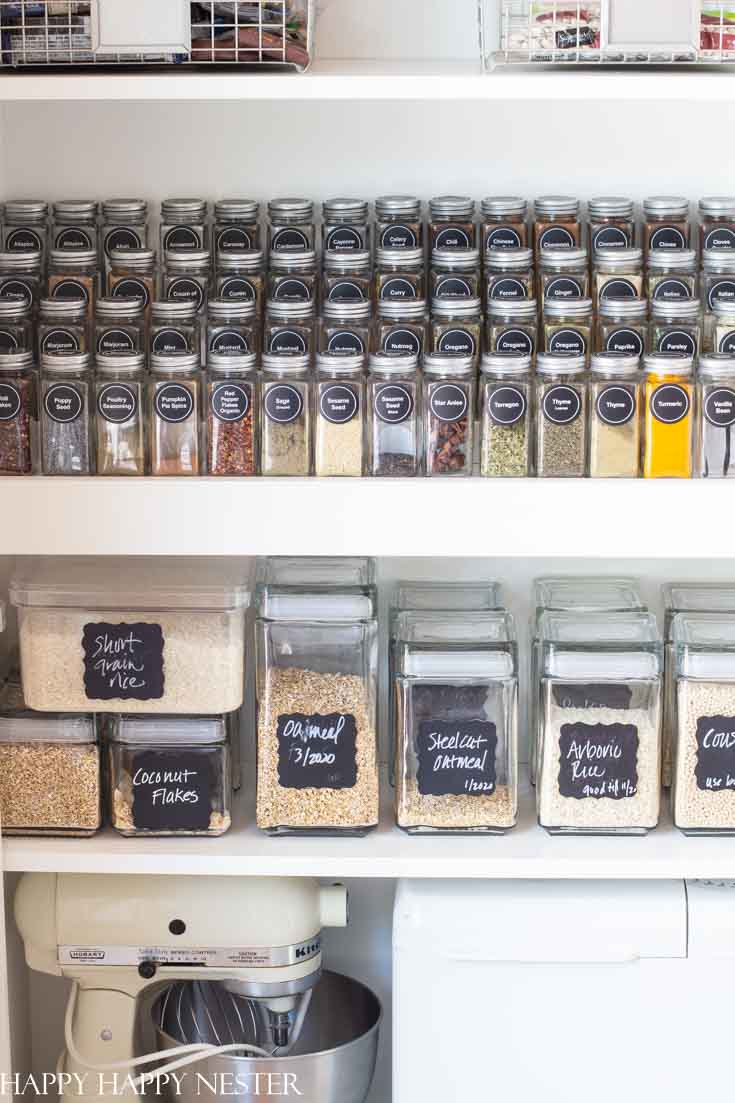 Questions You May Have About Spices
Is It Best to Store Spices in Plastic or Glass?
Plastic is porous and eventually allows air in, which damages the spices. Glass will extend the life of the spices, which is a good thing.
Do Spices Need to Be Stored in the Dark?
Light will negatively affect the flavor of your spices. So you preferably want to store them in a pantry where they will be in darkness most of the time.
I hope I didn't overwhelm you with this spice rack organizing tutorial.
You probably noticed how passionate I am about organizing our kitchen. The rest of the house is disorganized, but slowly and surely, my kitchen is a well-oiled machine.
And with all our cooking lately, I need everything to be organized nicely. My son mentioned that this project was time-consuming, but it is worth all my planning and installing spices.
I'm confident I won't have to reorganize this shelf ever. I hope that you have all the success in organizing your kitchen spices too!
Happy Organizing,

Here are more organizing posts you might find helpful: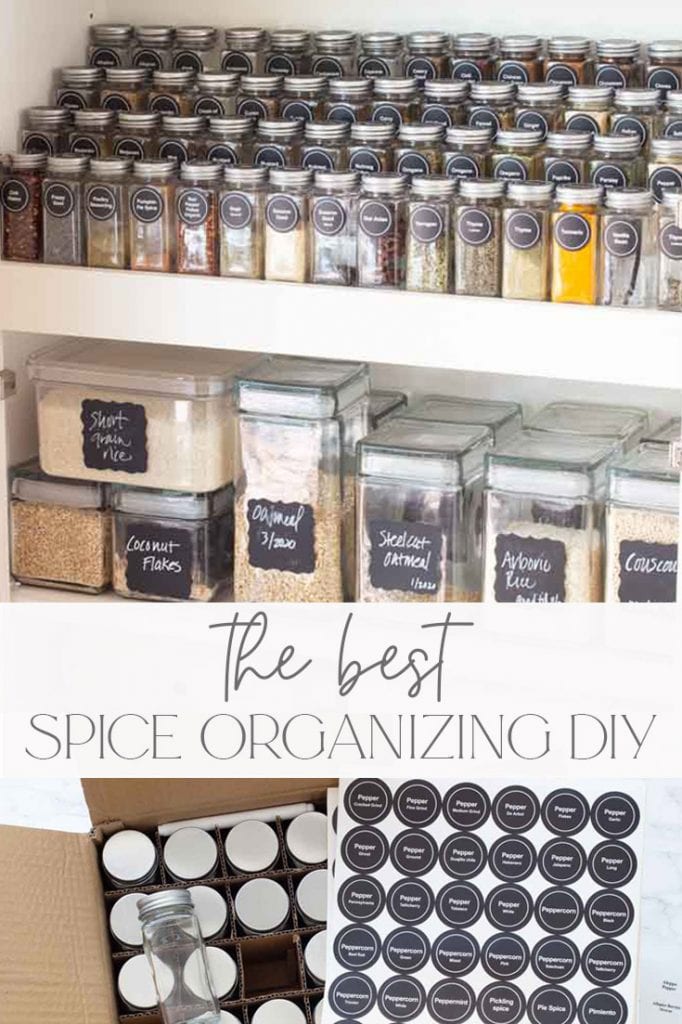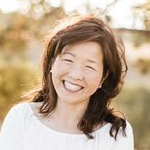 Latest posts by Janine Waite
(see all)