How many of you need to organize your coffee station?
Are you ready to organize and get your life in order?
If by some miracle you get this project done, perhaps you can tackle my kitchen cabinet organizing post too.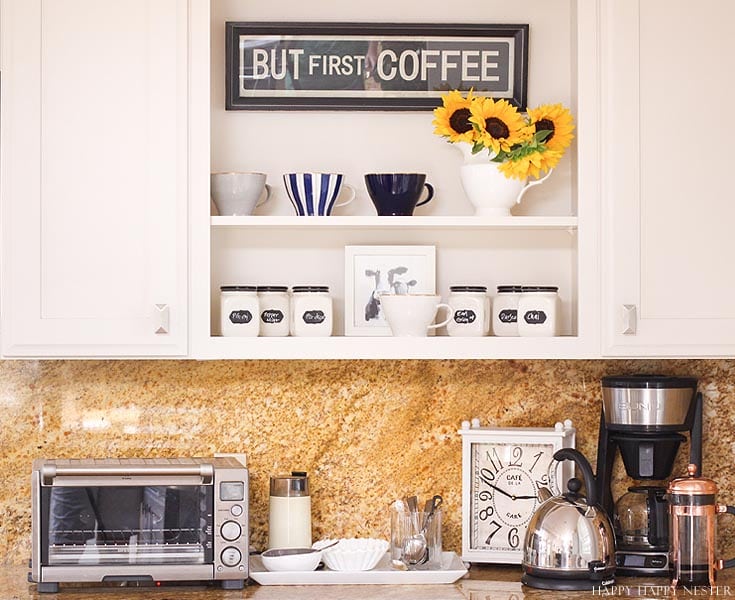 Our coffee station needed a bit of love.
You see, I must have had a gazillion different teas and coffee bags. My drawers and baskets were overflowing.
My cup runneth over and not in a good way.
I'm a tad embarrassed.
But, first, do you have a moment for a cute story?
A funny little story!
On one of our trips to England deep in the Cotswold countryside, my husband stood at the bar in an English pub.
He scanned the beers on tap for what seemed like hours, and finally out of frustration, he asked the blokes in the bar, what was their favorite beer?
Well, you would've thought that a rugby brawl had erupted right there. Quickly they all started arguing over their choice of beer.
*The following post contains affiliate links
I know this is a roundabout way to my point, but don't you think that coffee is now getting like this?
Americans take it so seriously, and I feel that it has become as popular as beer and wine. Starbucks now has reserve coffee shops, for the more mature palate.
So, in our home, we have five ways of brewing coffee! I have a review of my husband's favorite Bunn coffee maker, and my son loves his Illy coffee maker and also his snazzy Copper Bodum French Press. And as for me, I like to use the easy single serving pour over.
But, you know what all this means, right?
A huge amount of coffee equipment.
And did I mention our coffee station looks more like a war zone?
So, let's dig into how I finally organized our coffee station.
6 Helpful Tips to Organize Your Coffee Station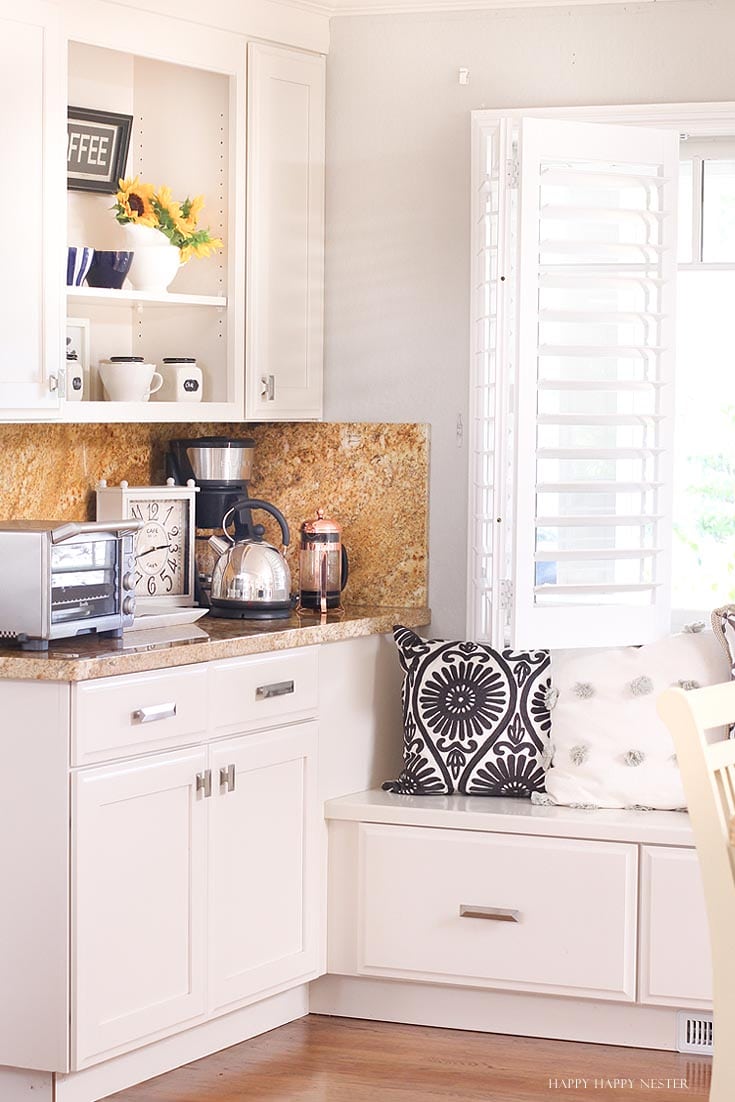 1. When I set up our kitchen, I placed the coffee station away from the main flow of traffic.
As much as I would love to have it near a faucet, I didn't want it located in our prepping area.
Btw, this area didn't always look like this. It was originally an unused breakfast nook. Take a look at our big kitchen remodel.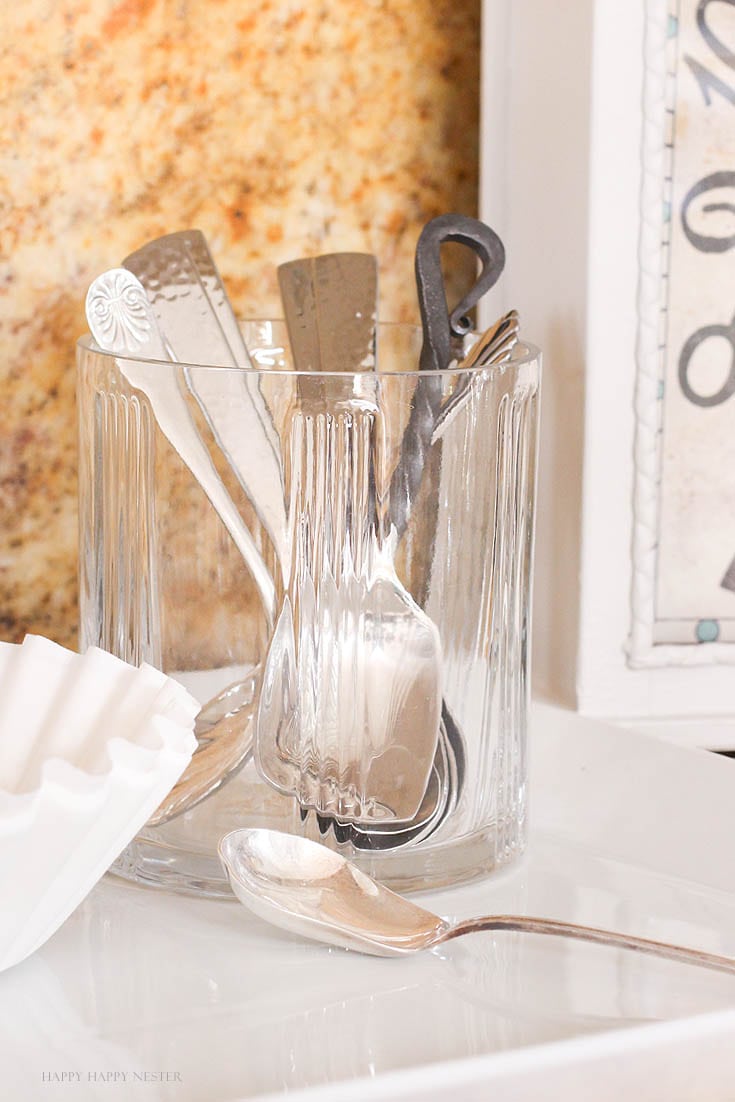 2. I now place a supply of spoons in our coffee station.
It is super helpful to have them right there. I'm all about eliminating traffic to the kitchen island workstation.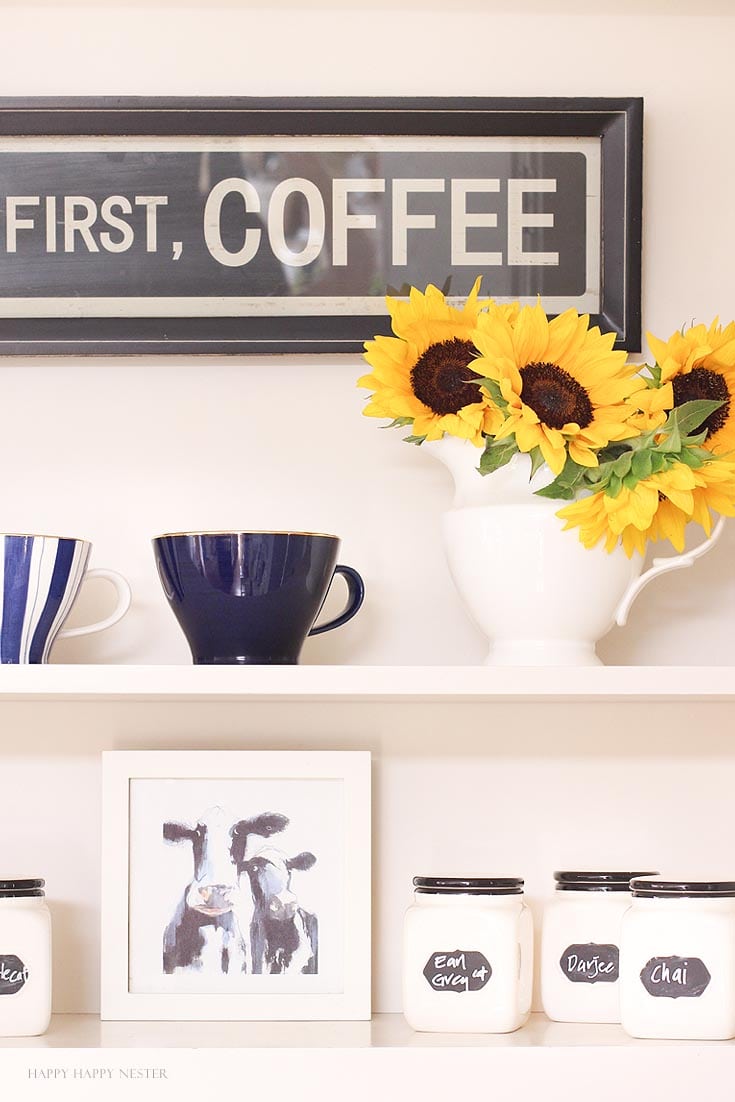 3. I arranged our favorite teas in the cutest containers and marked them.
I find when you organize your kitchen it gives you an excellent view of what food items you have in stock.
And oh boy, I need to stop overstocking our cupboards!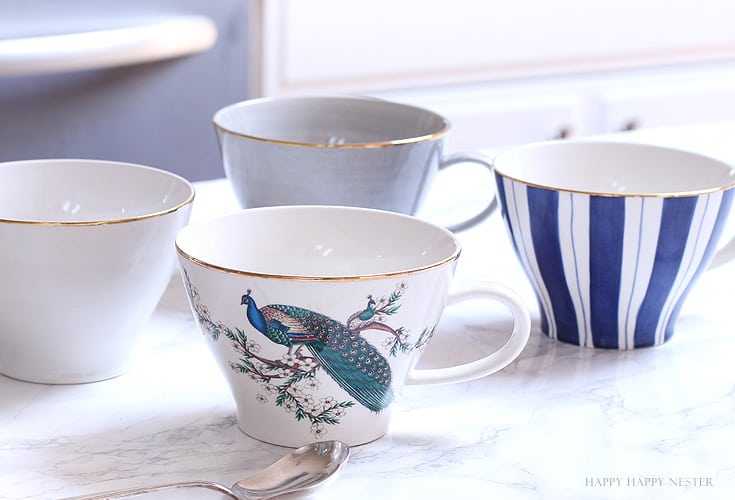 4. I grouped my favorite mugs up on my shelves above the coffee station.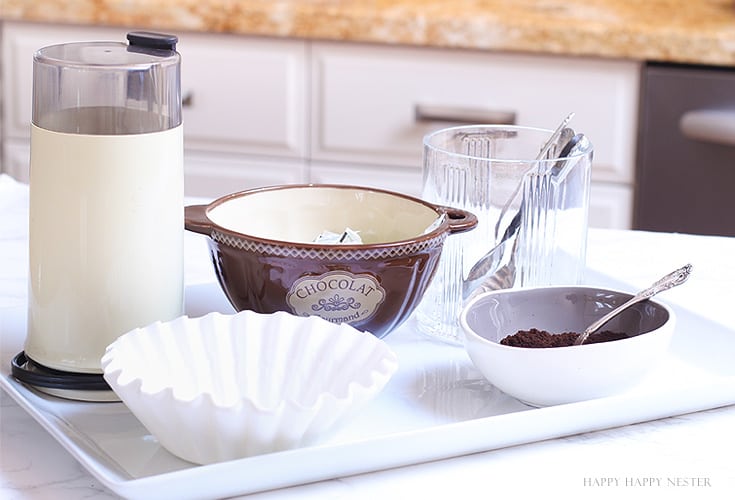 5. Filters, sugar, and coffee grinder are out and ready to use.
For months I hid the coffee filters in our pantry, which seriously was annoying. Now early mornings are all about efficiency.
It is the little things that make me happy.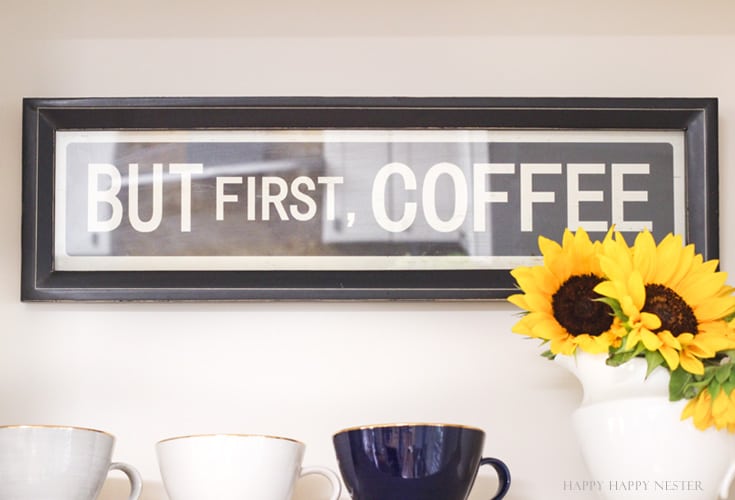 6. Decorate your space with coffee station decor.
I love my Pottery Barn coffee sign. Oh, and btw, this sign is now on sale, gotta love a bargain.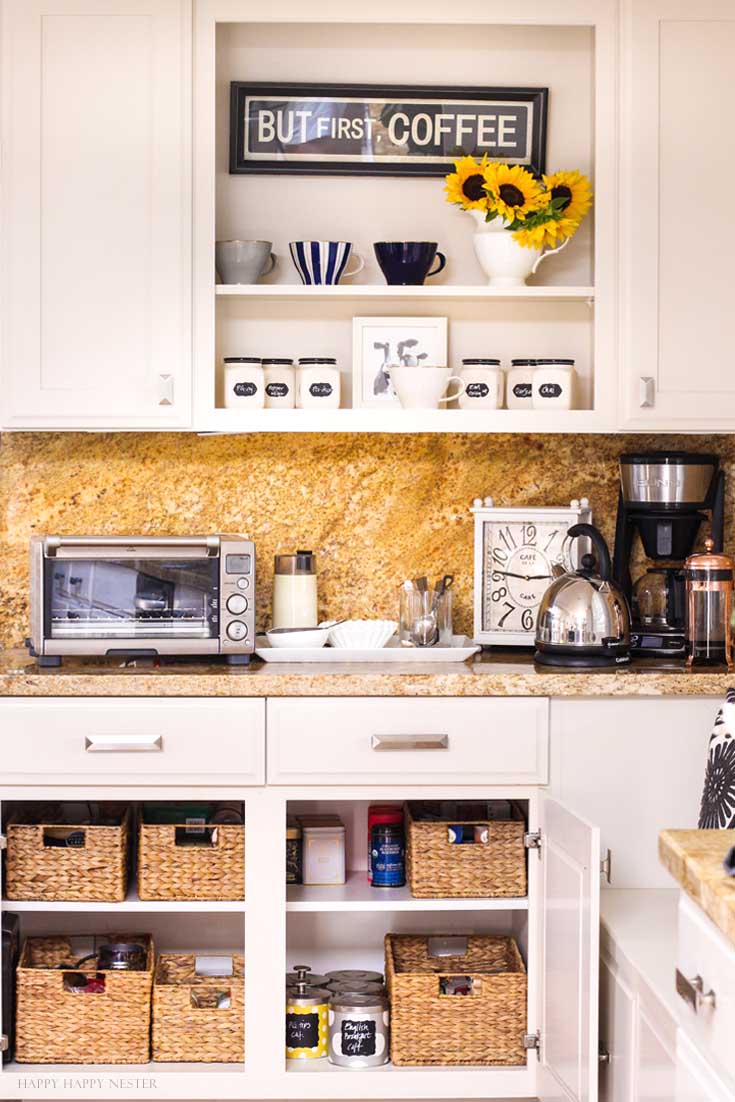 Tada, our coffee station is now organized and ready for fall and winter. Coffee stations in kitchens are such a great idea and save so much time and energy in the morning when everything is all at your fingertips.
So, what are you waiting for? Maybe a little more inspiration from my dear friends?
View these fabulous organizing projects!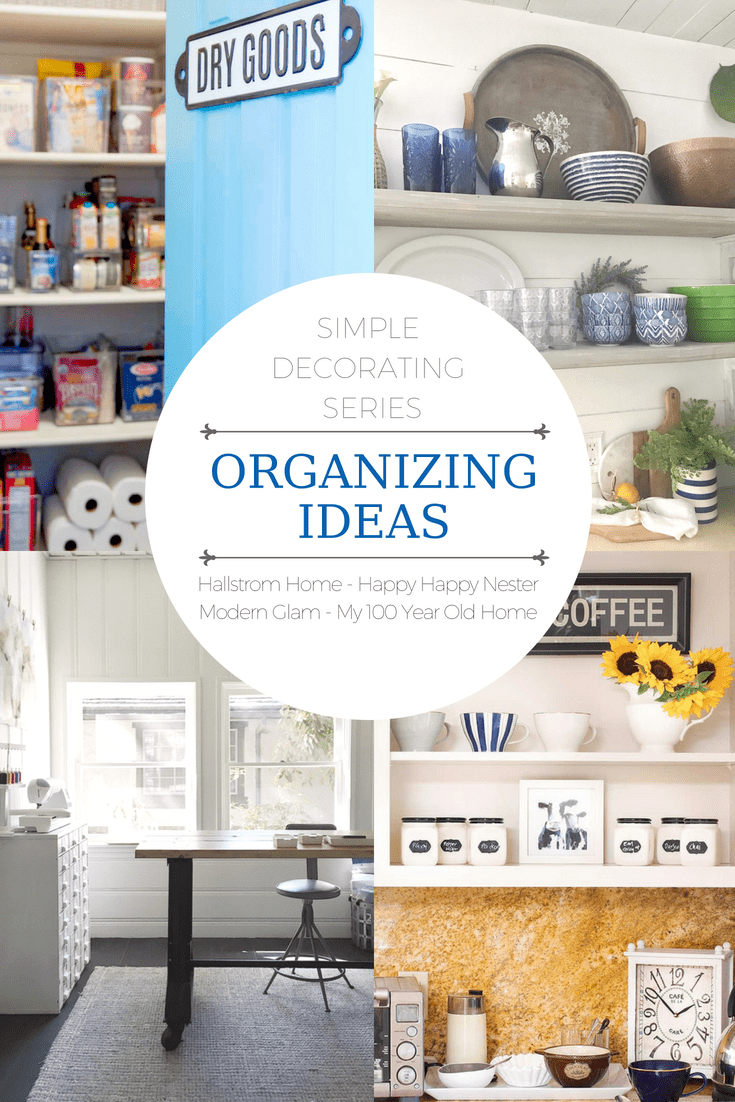 Can I get you a coffee or tea?
Or maybe my chocolate caramel scone recipe?
Cheers,

Shop the Coffee Station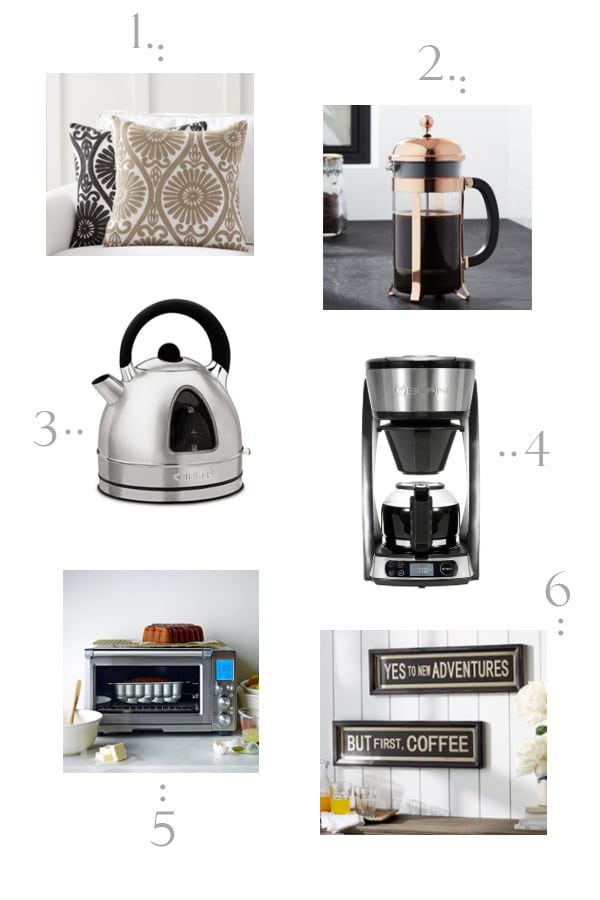 1. Pottery Barn Pillow | 2. Copper Bodum French Press | 3. Cuisinart Electric Kettle
4. Bunn Coffee Maker | 5. Breville Convection Toaster Oven | 6. Pottery Barn Coffee Sign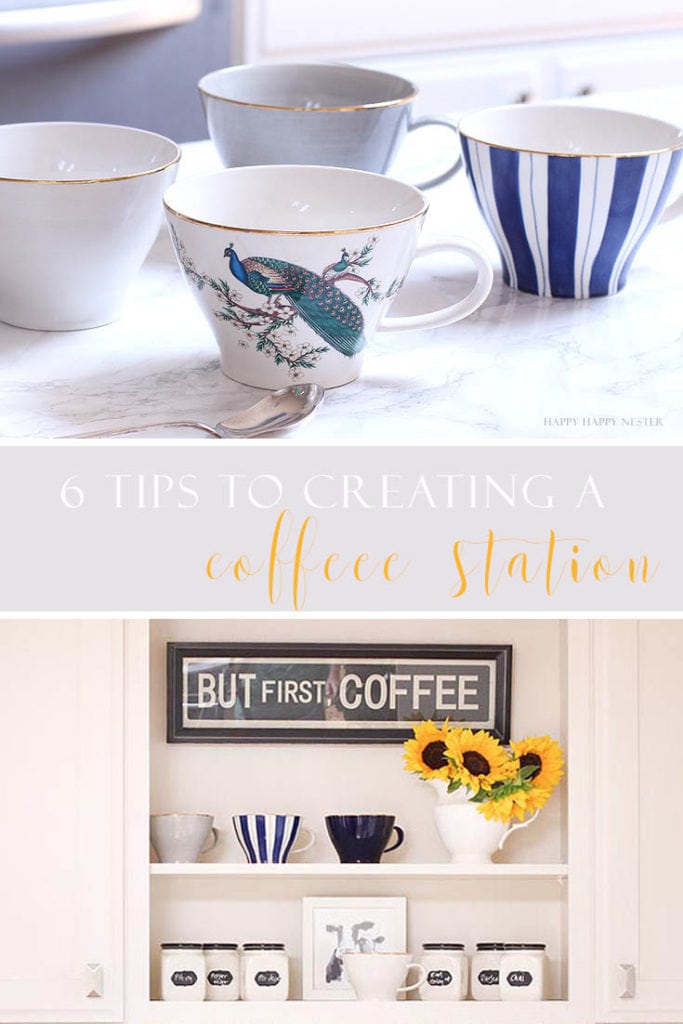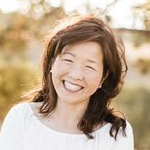 Latest posts by Janine Waite
(see all)