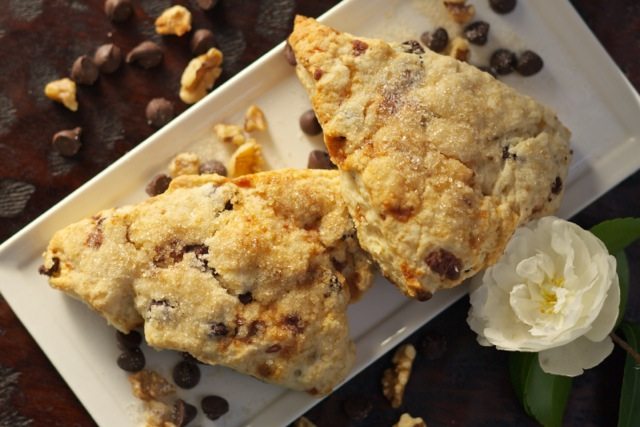 Light and Fluffy Scones
these are amazing scones! my friend and neighbor gave me the recipe from Epicurious.  it is an unusal recipe since it doesn't have butter, but rather has whipping cream in it.  the key is to whip the cream before folding it into the flour mixture.  also, the recipe calls for toffee candy which adds a unique flavor and makes it yummy.  my husband loves these scones, he said the only way to eat it is to pop it in the oven for a couple of minutes and it regains it's fluffy toasty goodness!  i've got to make low fat versions of stuff, since we are all getting our winter fat and it's only october!  oh gosh i'm going to have to exercise for an hour and half today!  i need to put my arm weights near my computer so that my arms get nice and firm…yeah
oh, btw, i love the photo my brother mark took of these yummy scones.  we are both enjoying the photo sessions, i have become his assistant and stylist and i love it. i didn't imagine this part of blogging would be so much fun!  i guess that is my graphic design background resurfacing after 13 years!  thanks for stopping by and drop me a comment if you try making these.  you are the reason that i keep designing for my blog.
3 1/4 cups all purpose flour
1/2 cup sugar
1 tablespoon plus 1 teaspoon baking powder
1/4 teaspoon salt
1 cup semisweet chocolate chips
1/2 cup walnuts, toasted, chopped
1/2 cup chocolate-covered English toffee bits
2 cups chilled whipping cream
2 tablespoons (1/4 stick) unsalted butter, melted
Additional sugar
Preheat oven to 375°F. Lightly butter 2 heavy large baking sheets. Combine flour, 1/2 cup sugar, baking powder and salt in large bowl. Stir in chocolate chips, nuts and toffee bits. Beat cream in another large bowl until stiff peaks form. Fold whipped cream into dry ingredients. Turn dough out onto lightly floured surface. Knead gently until soft dough forms. about 2 minutes. Form dough into ball; pat out to form 1 1/4-inch-thick round. Cut dough into 12 wedges.
Transfer wedges to prepared baking sheets, spacing apart. Brush with melted butter. Sprinkle with additional sugar. Bake until golden brown, about 20 minutes. Serve warm.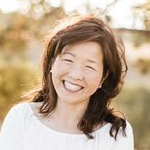 Latest posts by Janine Waite
(see all)