I love any dessert with citrus, and this Fresh Orange Scone Recipe has the perfect blend of orange and cranberry. The original recipe is from the Magnolia Table Cookbook by Joanna Gaines. Since I can't have enough cookbooks, I bought it, and after skimming it, I immediately knew that I wanted to bake her scone recipe.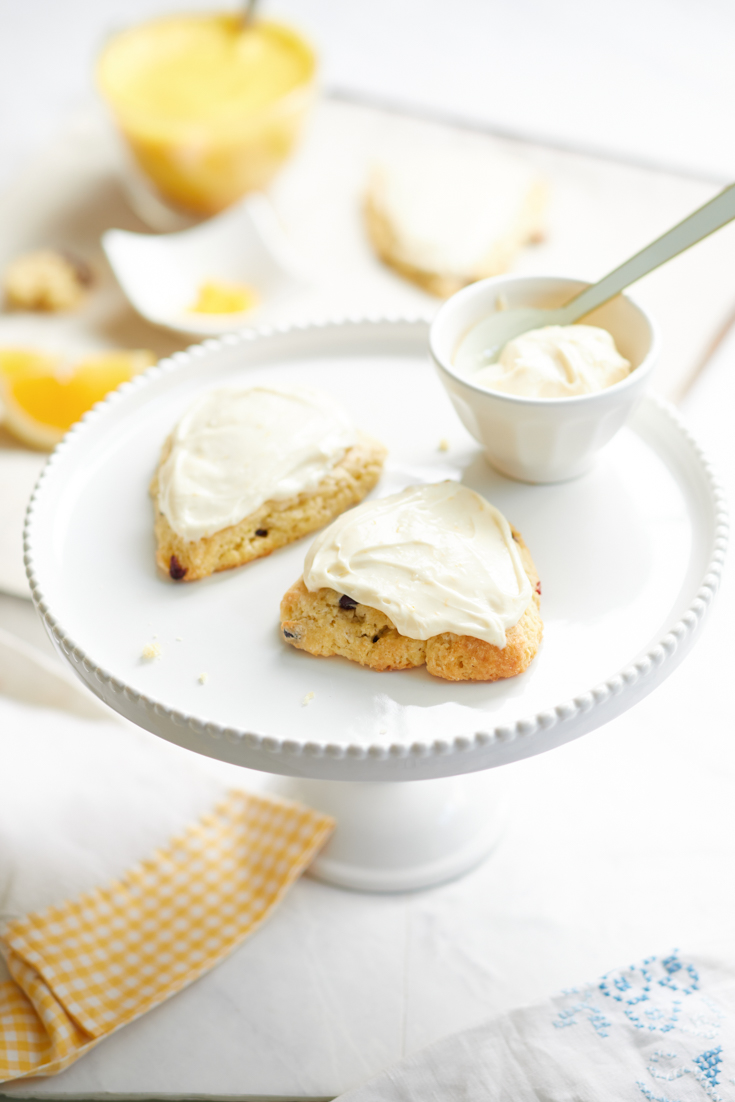 I was super excited to make Joanna's recipe, but my heart sunk when I saw that it called for sour cream. You see, my husband is deathly allergic to it. Well, I thought sour cream is a lot like Greek yogurt, and I'm delighted the substitution worked!
So, now the whole family can enjoy this fresh orange scone recipe.
Fresh Orange Scone Recipe
*This post contains affiliate links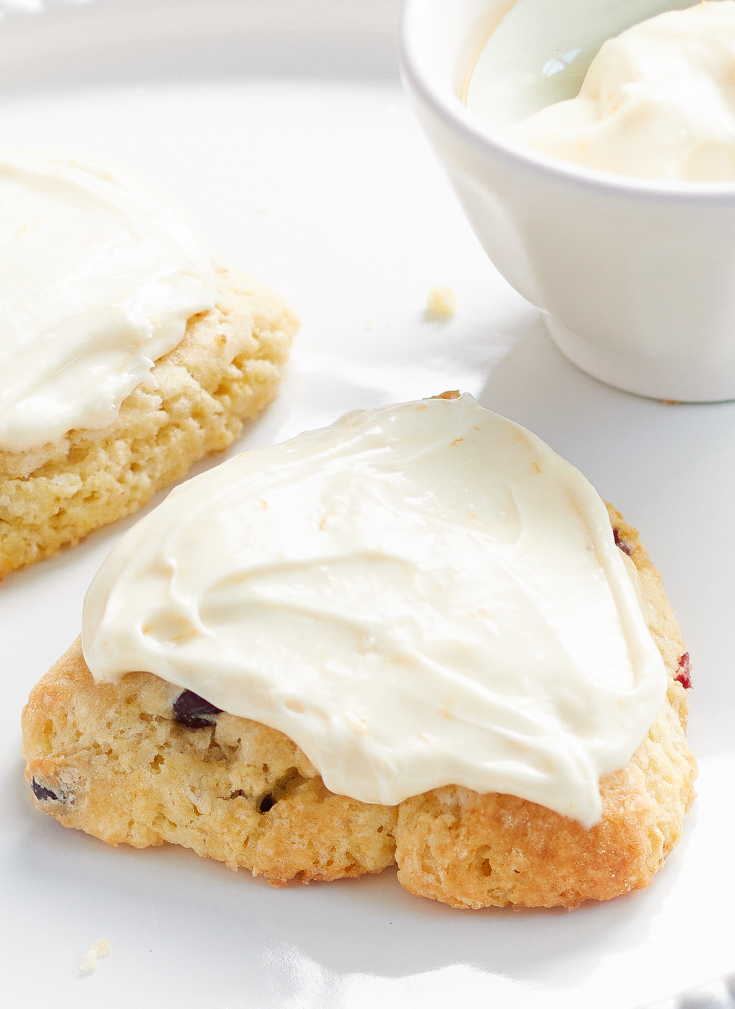 So the other day, my friends and I got to talking and came up with the idea of all of us buying the Magnolia Table cookbook! Then we thought it would be fun to make a recipe from it. And Joanna Gaines has this great quote from the book,
"A huge part of cooking is owning and enjoying the experience. Similar to my design philosophy about making your space uniquely yours, I want you to feel inspired to personalize these recipes and adjust them for your family's tastes. If you don't like onions, take them out! If you love mushrooms, add more. Just because the recipe is in the breakfast chapter doesn't mean you have to serve it for breakfast. In fact, I encourage you to switch it up more often than not."
Well, I decided to personalize her Orange Scones, and the rest was history. The result is this Fresh Orange Scone Recipe.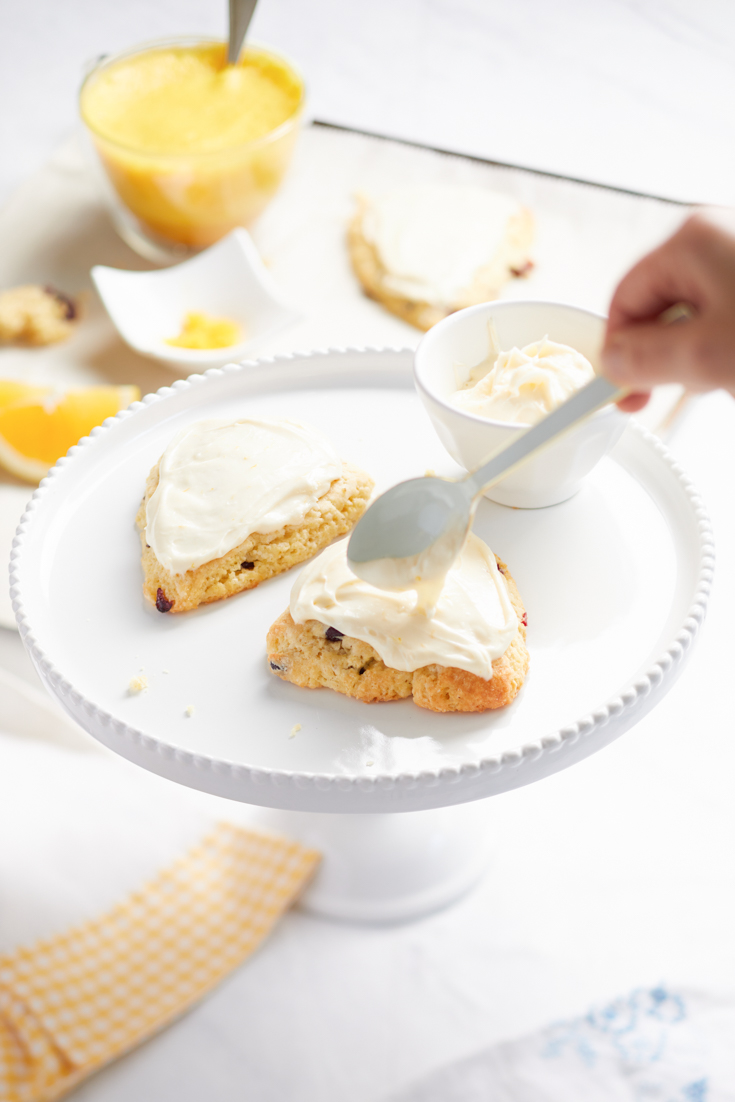 Scones are Best Fresh Out of the Oven
If you make these, you'll find that they are so light and flakey when they come out of the oven, so try and bake them at a time the scones can be served immediately. My husband is always waiting with his plate and a cup of tea when I make scones. He also loves my Starbuck's Copycat Pumpkin Bread.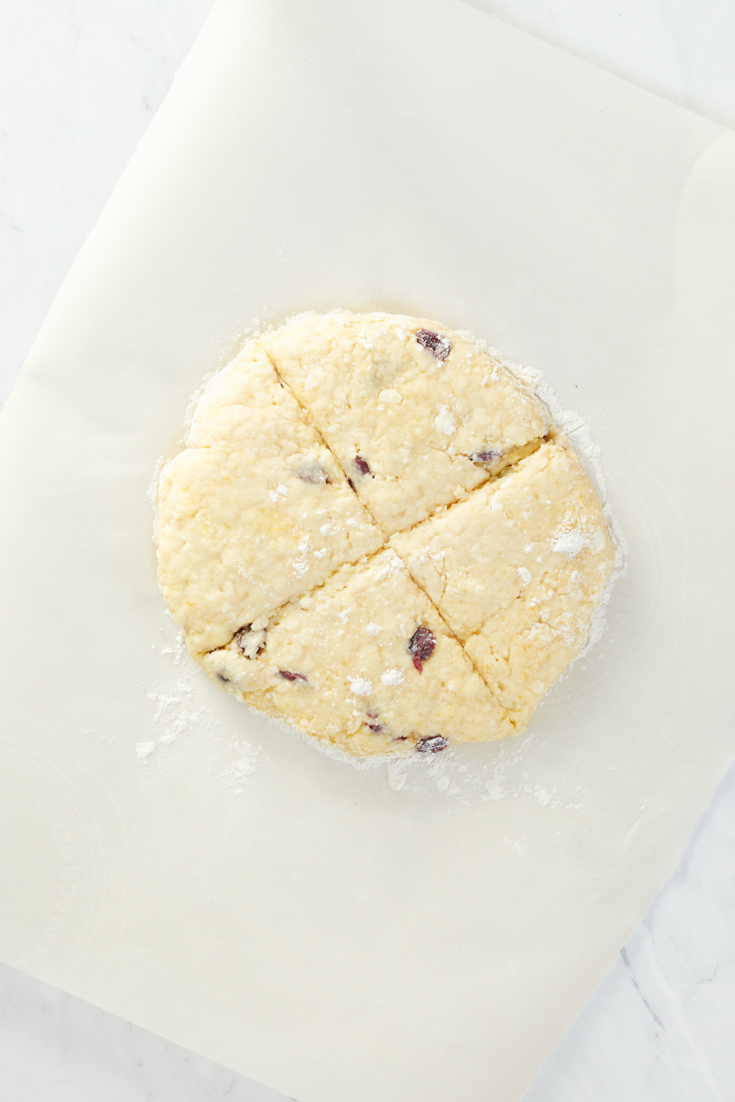 A Few Tips About This Fresh Orange Scone Recipe
1. Chill the butter in the freezer
I watch The Great British Baking Show, and when baking scones or pastries, they always try to chill the butter. So I froze a stick and a half of butter (Make sure to measure before freezing it), then I grated it and placed it on a plate lined with some parchment paper and froze it again. Chilling the butter creates the flakey layers in the scones!
2. Grate the frozen butter
It's easiest to grate the butter after you freeze it.
3. Use a pastry blender
Make sure to use a pastry blender so that your warm hands aren't handling the butter and melting it. You want things to be cold but mixed, creating a flakey dough.
4. Don't use a cast iron scone pan
I tried my cast iron scone pan, and the fresh orange scone recipe came out soggy and a bit difficult to take out of the pan. You see, these scones are wonderfully delicate and flakey, and they fall apart relatively quickly.
5. The scone dough spreads 
Make them small when shaping your scone dough since they spread while baking. I did make them somewhat large, and after they baked, they came out huge! So be careful with this step.
Fresh Orange Scones
This Fresh Orange Scone Recipe is the perfect blend of orange and cranberries and creamy, moist dough. The cold shredded butter and minimal dough handling are the keys to a fluffy English scone. I love the fresh and lovely orange zest, and juice is a delicious pair to the cranberries.
Ingredients
Scones
2

cups

all-purpose flour

plus more for working the dough

1 1/2

tsp

baking powder

1/2

tsp

baking soda

1/2

tsp

kosher salt

1

large

egg

3/4

cup

Greek yogurt

1

tbsp

orange zest

1/2

cup

sugar

12

tbsp

butter

chilled and grated

½

cup

dried cranberries

1

tsp

almond extract
Orange Glaze
3/4

cup

cream cheese

room temp

1/4

cup

butter

softened

1

tsp

vanilla extract

2 1/4

cup

powdered sugar

1/4

cup

orange juice

plus 2 tablespoons

1

tsp

orange zest

4

tbsp

raw sugar

if you opt not to use a glaze then you can top the scones with raw sugar instead
Instructions
Scones directions
Preheat the oven to 400° F. Next, line a baking sheet with parchment paper. 

In a large bowl, whisk together the flour, baking powder, baking soda, and salt and set aside. 

In a small bowl, lightly whisk the egg. Whisk in Greek yogurt and set aside.

In another bowl, place the sugar and orange zest together. Using the back side of a spoon combine the sugar and orange zest. 

Stir the sugar mixture in with the flour mixture.

Add the frozen shredded butter and blend with a pastry blender until mixture is like little pebbles.

Stir in the egg/yogurt mixture into the dough. Add the cranberries, vanilla extract and mix until it forms a ball. 

Place one portion on a lightly floured surface and press it into a 6-inch round. It should be about an inch in thickness.

Cut the round into 4 or 6 wedges and place on parchment lined cookie sheet. 

Repeat this with your other portion of dough.

Bake for about 13-15 minutes and until golden. Cool on baking sheet for 5 minutes and then transfer to a wire rack.

Meanwhile, make the glaze.
Glaze directions
Blend cream cheese and butter until well blended.

Add sugar and then vanilla.

Next, add the fresh orange juice until the glaze is a tiny bit soft and runny.

Glaze scones and eat them while they are fresh.
I've never met a scone I didn't like!
I love any scone, and this recipe is one of them.
But, my husband and I find there are so many types of scones.
So here is what I mean when I say there are many types. Have you had scones that are more like a biscuit, crispy on the outside and soft inside? My husband says we have had some that were similar to a cookie. I don't remember them. I assume that he means the scone was crunchy and hard in texture.
This recipe from Joanna Gaines is more like the top of a muffin and like a sweet muffin/pancake. Unfortunately, the frosting makes it even more confusing for scones.
But ultimately, my family loves them, and that's what matters most.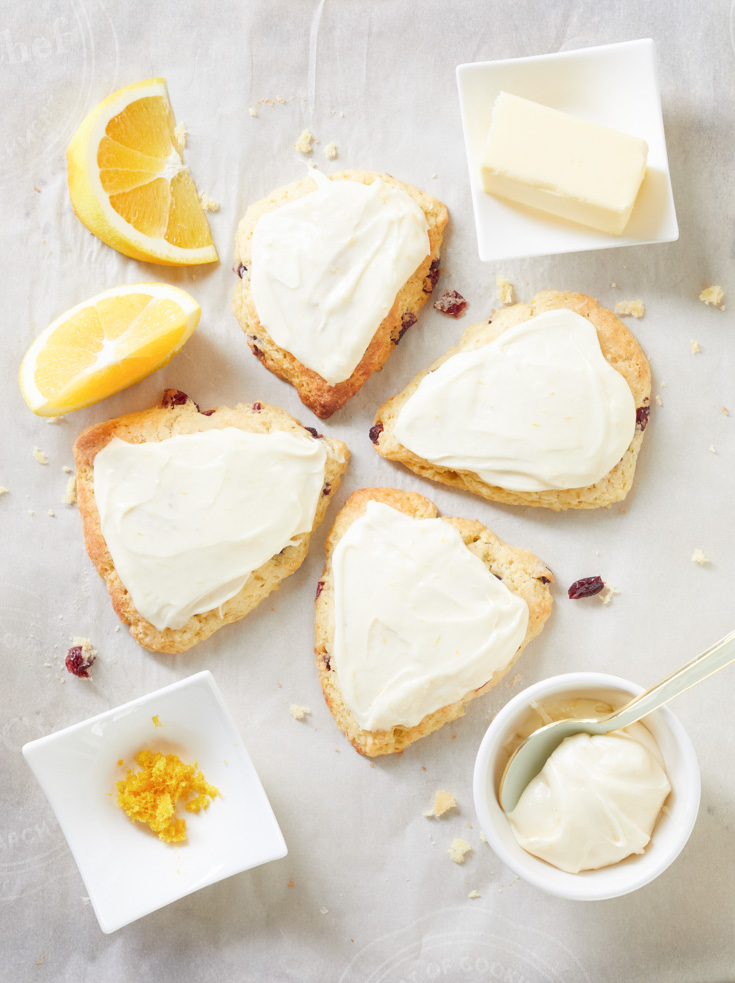 I'm so pleased that the freshly grated orange zest is present in every bite. I'm delighted with how the citrus flavor dominates, but you can alter the recipe if you aren't too fond of it. Also, if you plan to warm these up later in your oven or toaster, you may not want to put the glaze on the top. The glaze doesn't warm up too well, so instead, top it with raw sugar before baking. I have another scone recipe with raw sugar on the top, inspiring an Epicurious recipe.
Happy Baking!
Cheers,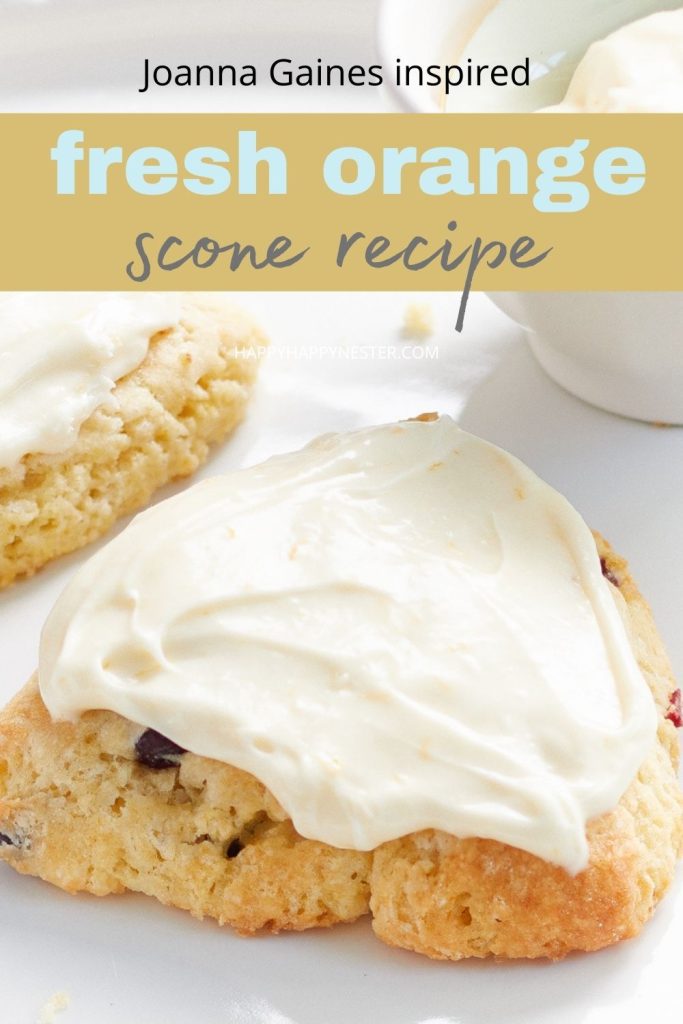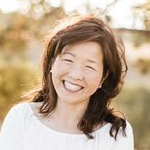 Latest posts by Janine Waite
(see all)