Today we are tackling Home Organization Solutions! Of course, everyone wants to know how to organize my stuff, and I'm sharing a collection of managing projects in this post.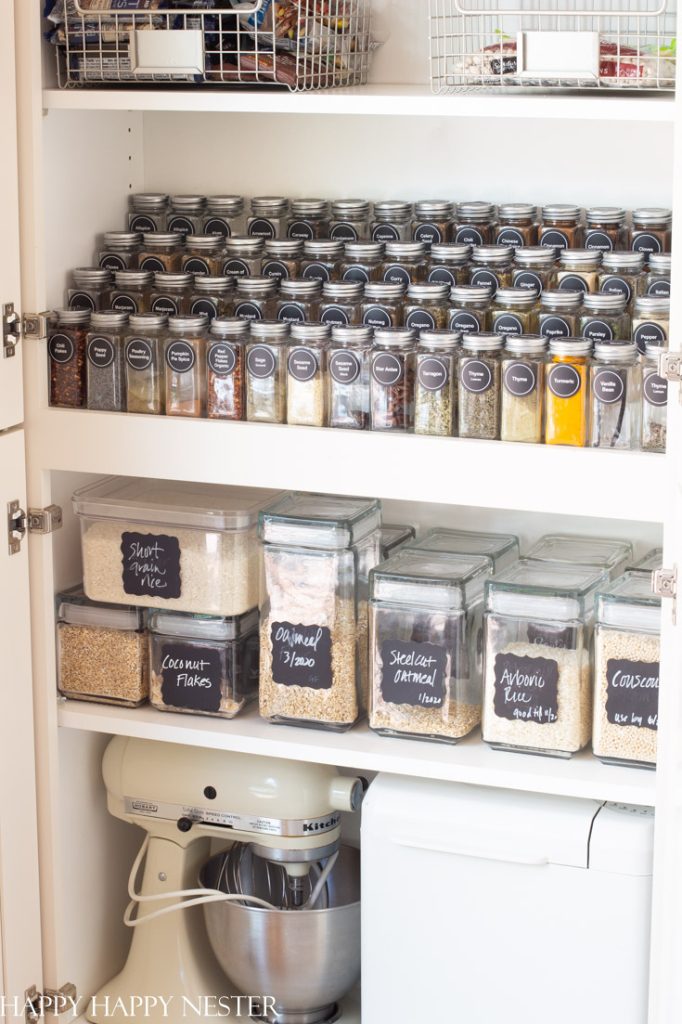 The lesson that I learned early on when tackling organizing projects does the areas stay organized. Although, I have to admit that I have a list of failures and successes.
The benefit of failing is that I learn to improve my organizing process. And I share this process with you over here on the blog.
Home Organization Ideas
Most of the organizing I've shared over here on the blog is mainly in the kitchen. So, today I'm branching out and sharing a broader area that includes closets, gardens,
Kitchen Organizing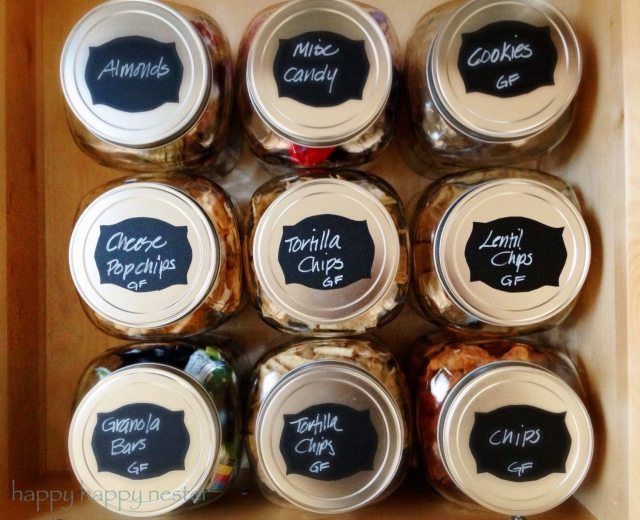 Homemade Chalkboard Labels | Happy Happy Nester
Organizing our snack drawer was super helpful and desperately needed.
I made these fun chalkboard labels that help identify the snack contents of each jar. The beauty of making your labels is that you can create as many as you need.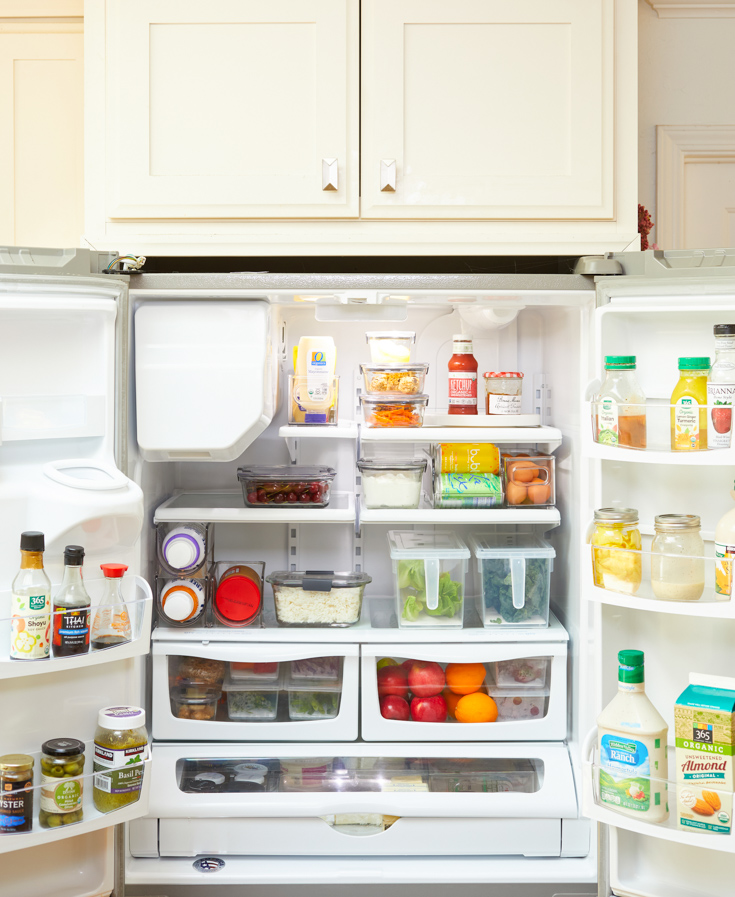 How to Organize a French Door Refrigerator | Happy Happy Nester
I organized our kitchen refrigerator, kind of similar to how I tackled other kitchen projects.
I found over the years that the fridge is a challenging project. The constant turnover of food means you need to keep up with purging. This task requires a ton of attention.
I did figure out the best way to deal with our fridge, and I shared all my helpful tips.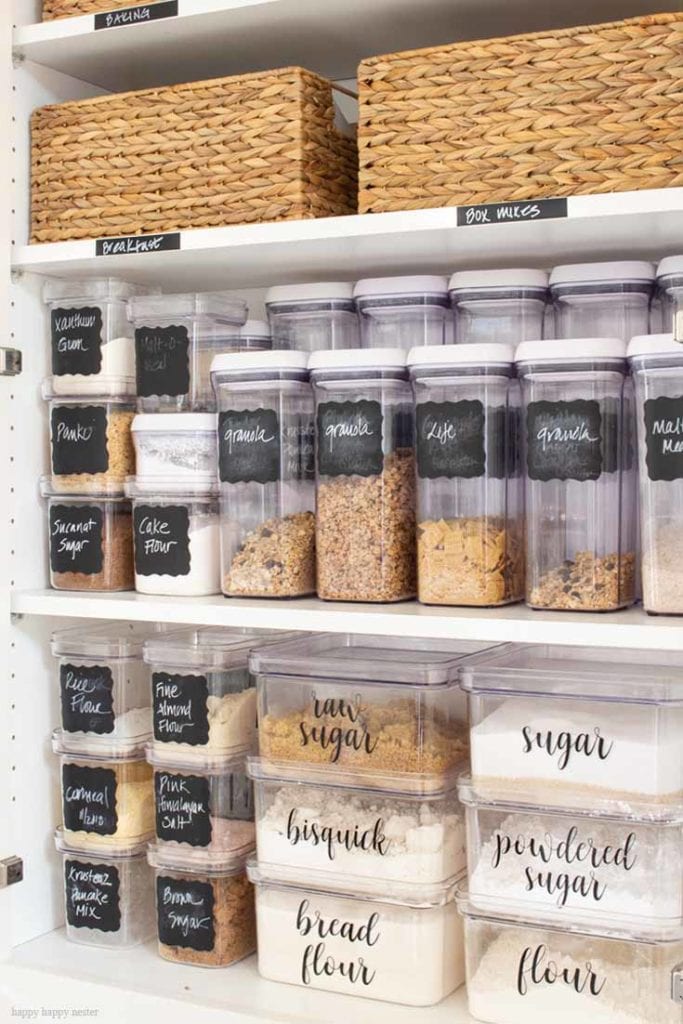 Organizing a Kitchen Pantry | Happy Happy Nester
This kitchen pantry was my first organizing project. I remember that it felt like it was a big undertaking, but after it was complete, I was super happy with the results.
If you organize your pantry or anything else for that matter, keep in mind your strengths and weaknesses. And you manage. Accordingly, you'll succeed.
In this DIY, I share the key things to consider when organizing a pantry.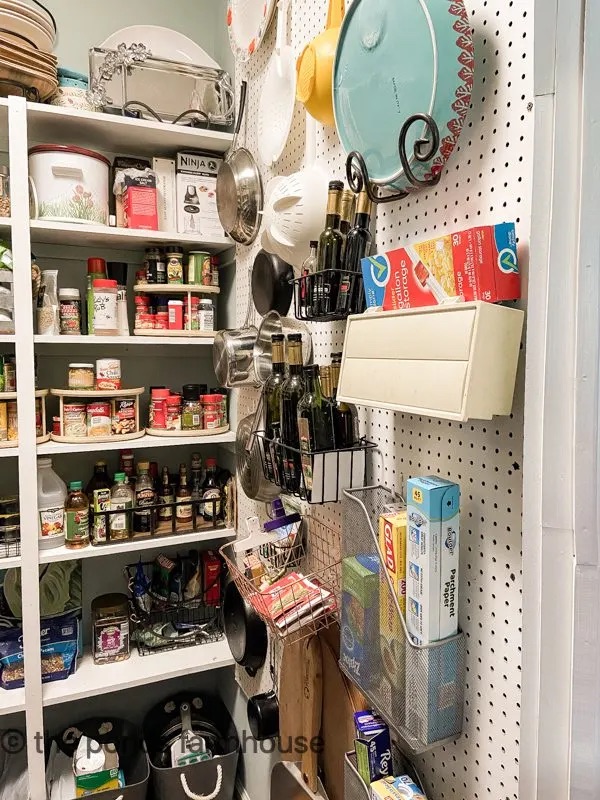 Best Pantry Organizing Tip | The Ponds Farmhouse
Together, let's tackle the pantry! If you don't know where to start, Rachel has some fantastic tips to help organize and clean your space.
Rachel will guide you in what has worked best for her in hopes of inspiring you to take a chance and clean your pantry to keep it neat.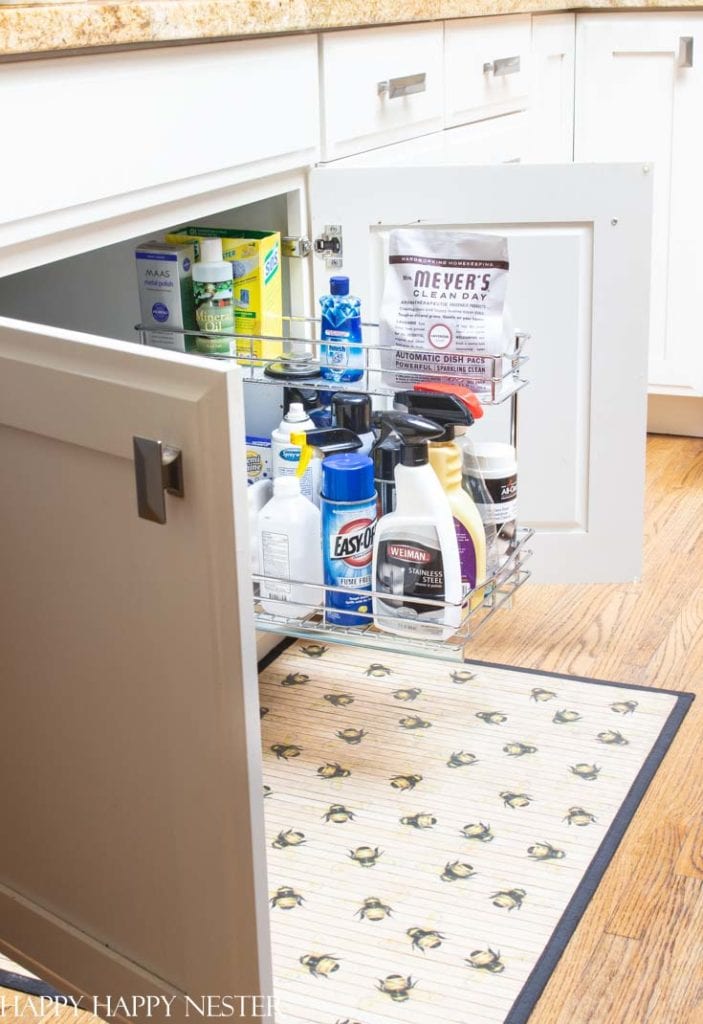 Organizing Under the Kitchen Sink | Happy Happy Nester
Every time someone would open the area under our sink, I would cringe and apologize for the mess.
Well, I finally tackled this area, and now it's so organized that now my family is super happy. We no longer dig around for things in the big messy cabinet.
We easily pull out the stainless steel shelf that houses most of the cleaning agents for the kitchen.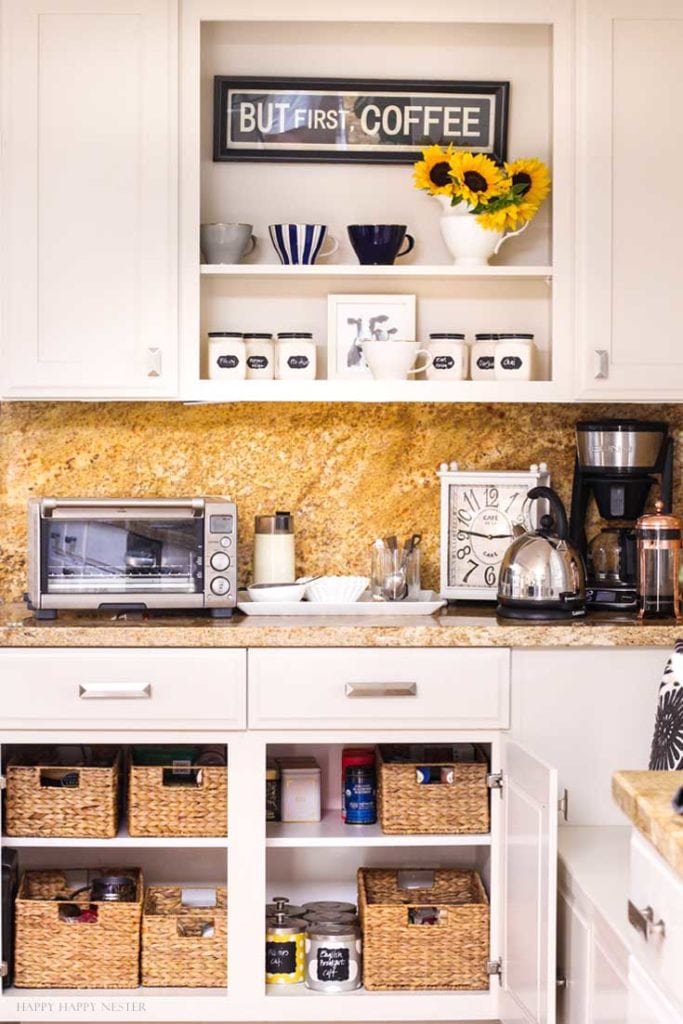 How to Organize a Coffee Station | Happy Happy Nester
Our coffee station is one of the most used areas of our kitchen. So I needed to organize this area for my family.
Everything we need to make drinks is at this coffee and tea station. I even keep a clean supply of spoons to measure and stir coffee.
So far, it's served its purpose well, and it keeps the busy drink station away from the busy kitchen traffic that is our kitchen island.
Check out my tips on how to get started in organizing this part of your kitchen.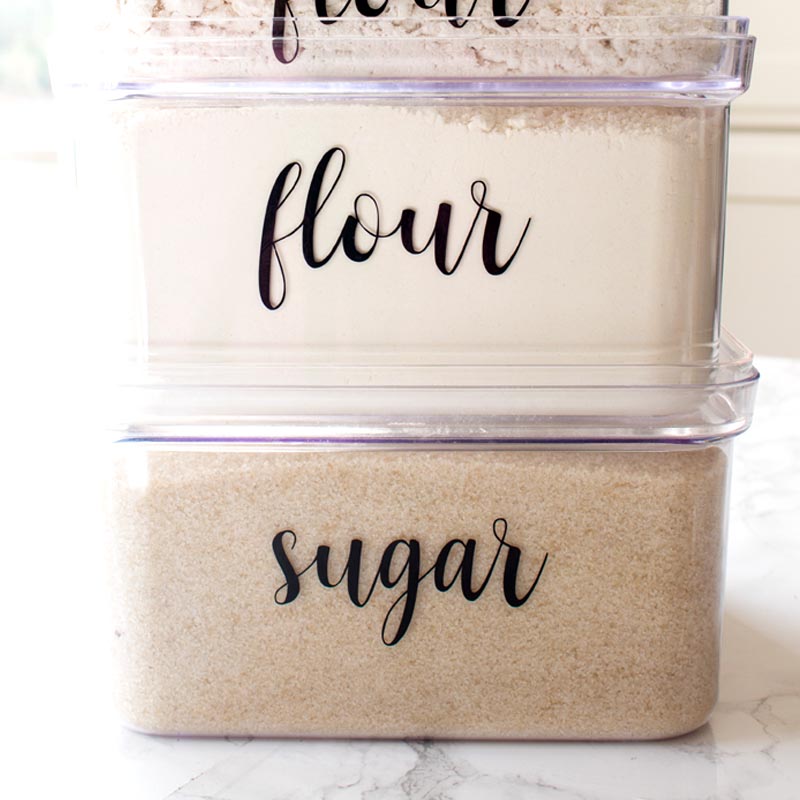 Organizing Kitchen Labels | Happy Happy Nester
When it comes to organizing, you can make a space pretty and functional. These labels are so gorgeous, and they elevate my kitchen pantry to a whole new level.
I love my kitchen pantry, and these labels make it so easy to find my baking ingredients. The importance of having a well-organized kitchen is beyond words.
Come on over to the post to find out where I found these beautiful and durable labels.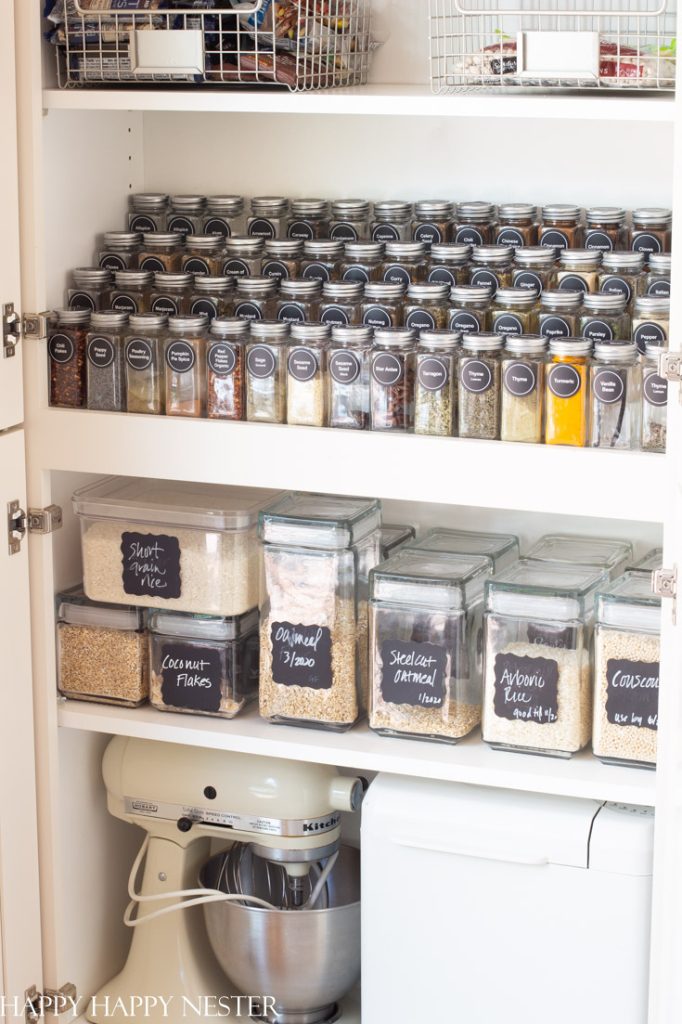 Spice Rack Organizing Tutorial | Happy Happy Nester
There are quite a few options to choose from for Spice Rack Organizing. However, selecting the best spice rack organizer, containers, and labels is overwhelming.
Learn how to create the best and most effective spice rack. There are a few essential tips to successfully arranging your spices, and this post will tackle some of these issues and more.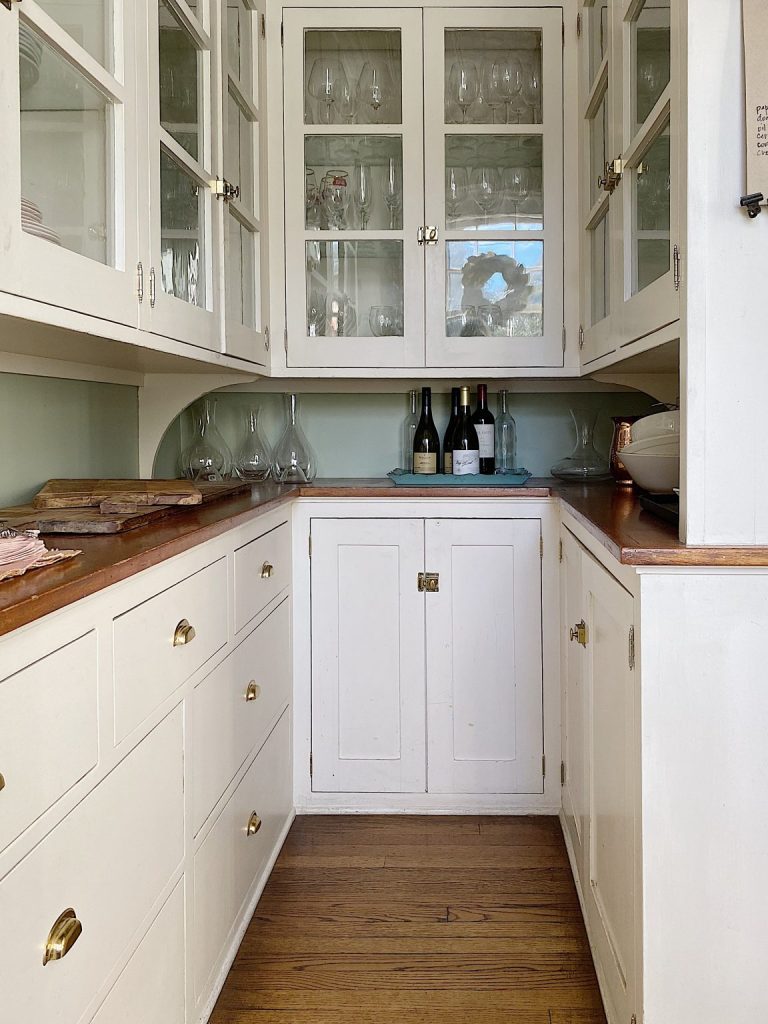 Organizing The Butlers Pantry | My 100-Year-Old Home
Here is my good friend, Leslie butlers pantry. Someday, I hope to visit her gorgeous home in Southern California. But in the meantime, I can view her home through all her excellent blog posts.
She is a significant entertainer, and her butler's pantry shows off her fantastic organizing skills. When you visit her post, you'll see all the excellent amenities this little room contains for her guests.
I'm sure you'll enjoy her blog and DIYs.
Office Organizing Ideas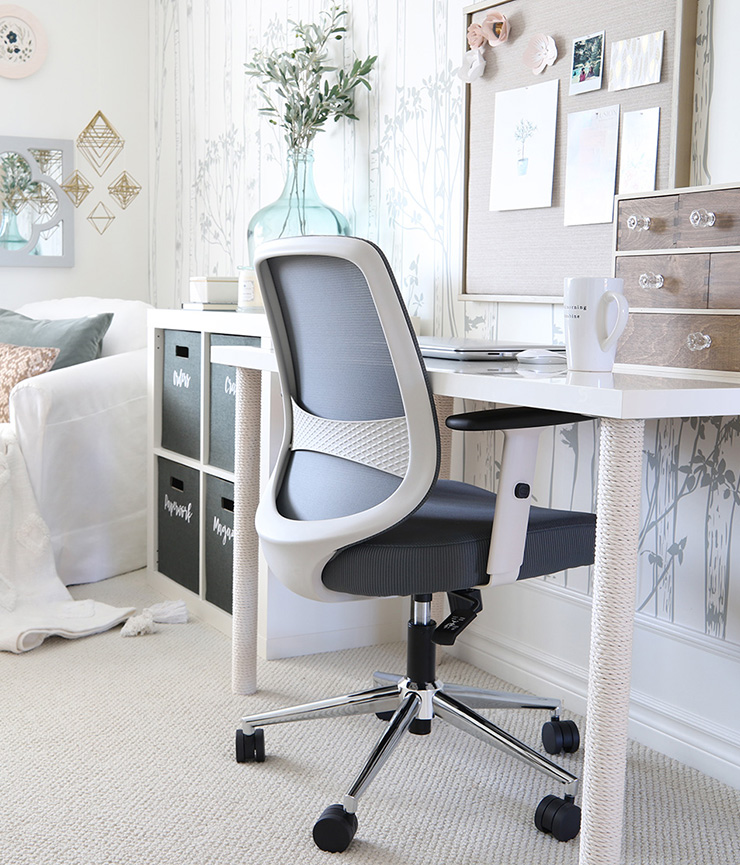 Home Office Organizing Tips with IKEA Hacks | Willow Bloom Home
I desperately needed to organize my office, and lucky for me, I had Shawna to help me out. Seriously, Shawna's tips and tricks sealed the deal when it came to cleaning my workroom.
Whether you're planning on tidying up your office or favorite space in the house, check out these ideas to gain inspiration and organize ways!
Closet Organizing Tips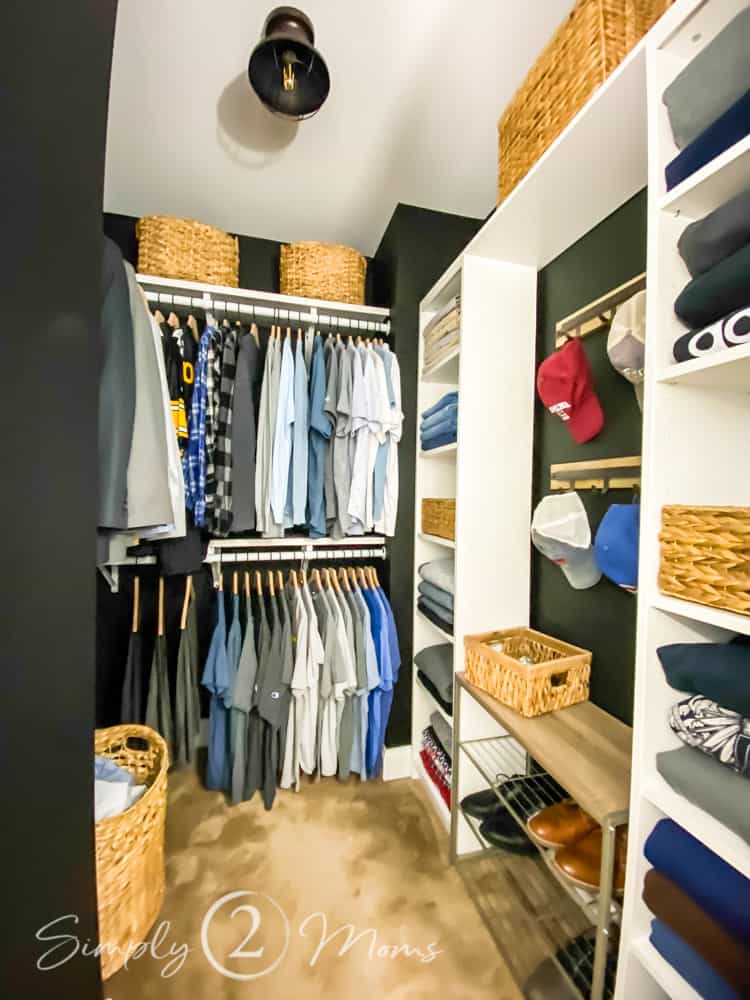 7 Quick Ways to Organize a Small Walk-In Closet | Simply 2 Moms
Take time off and clean your closet. With the right tips, tricks, and helpful hands, you will be able to create a neat space to admire.
Take a look at Anne and AnnMarie's seven quick ways to organize a closet to gain inspiration!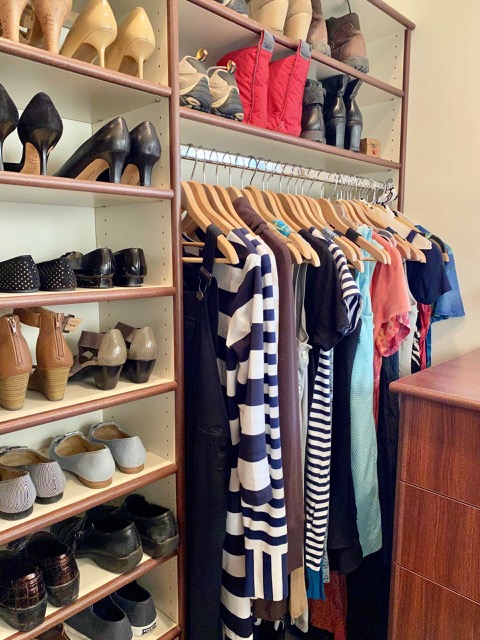 Master Closet Reveal | Life at Bella Terra
Since it's the new year, it's time to get organizing! But first, check out Mary's closet reveal to get a look at what an organized, clean, and stunning closet should look like.
Without a doubt, after following Mary's helpful tips, you will have the dream closet.
Linen Closet Tips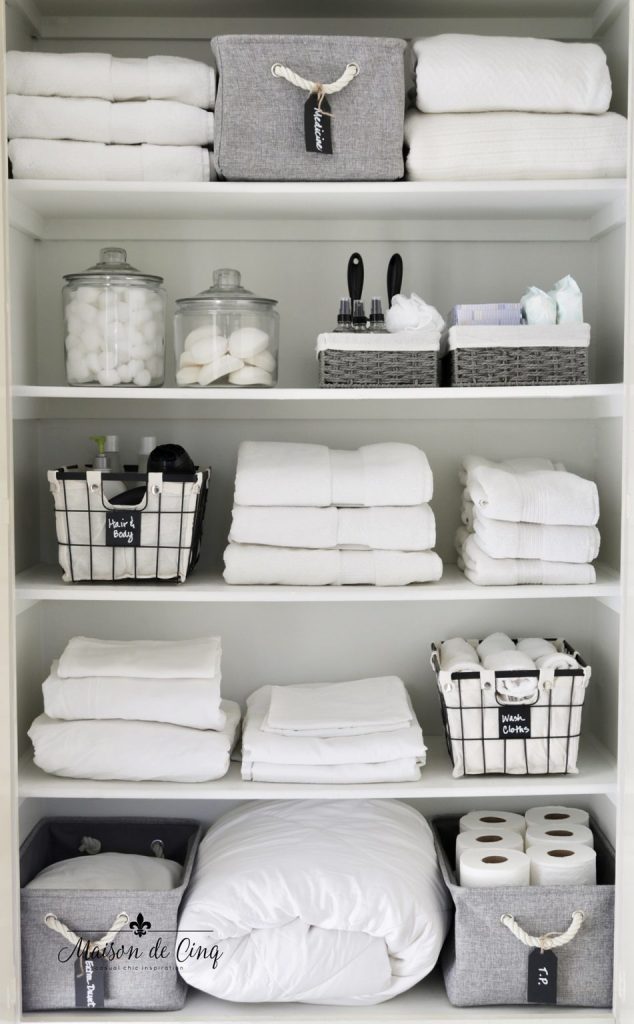 Linen Closet Organizing | Maison de Cinq
This linen closet is so lovely and organized. However, I need to up my game in our master bathroom. Sheila has a beautiful home, and I love all her home organization ideas.
She makes organizing look so easy, attainable, and realistic. Make sure to check out her French-styled home.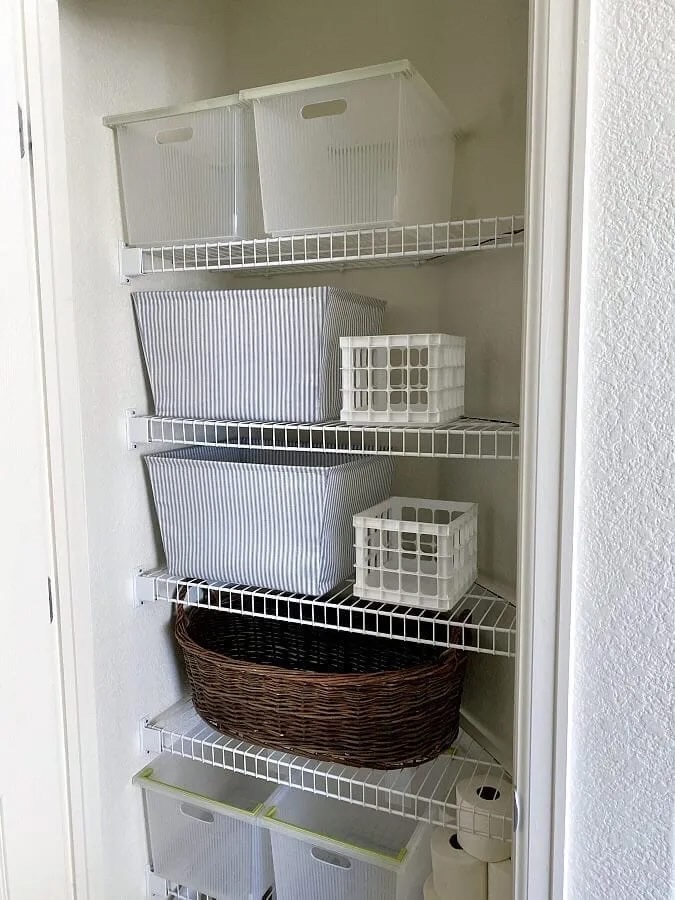 A Budget-Friendly Linen Closet Makeover | The Tattered Pew
I say it's about time we tackle one place in our home that needs organizing the most. How about the closet? Kelly shares all of her pro tips on how to give your favorite space an inexpensive makeover!
Imagine that messy, clustered closet of yours being neat, tidy, and clean! Sounds great, right? Look to Kelly and her helpful tips to get started.
Bookshelf Organizing Ideas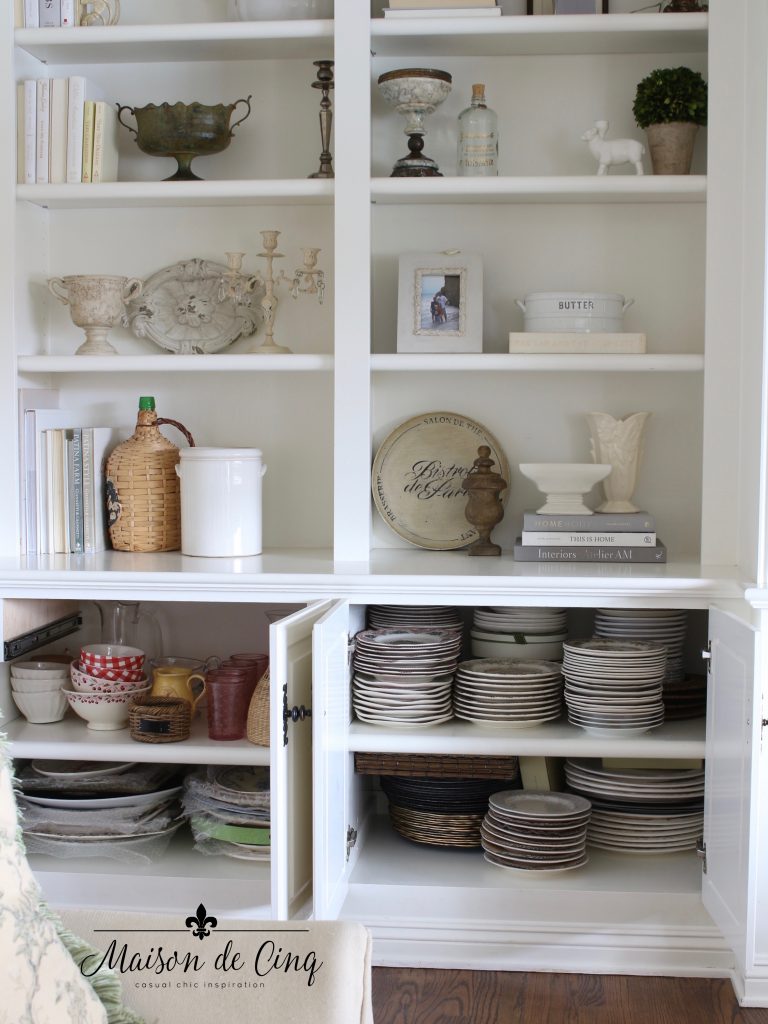 Organizing Cabinets | Maison de Cinq
Don't you love to see how everyone lives and organizes their homes? Sheila shares the before and after photos of her bookshelves. I think you'll like this DIY Sheila's living room bookshelves are so organized and packed and ready for entertaining.
Also, Sheila shares how to style bookshelves. Her style is classic and timeless.
Gardening Ideas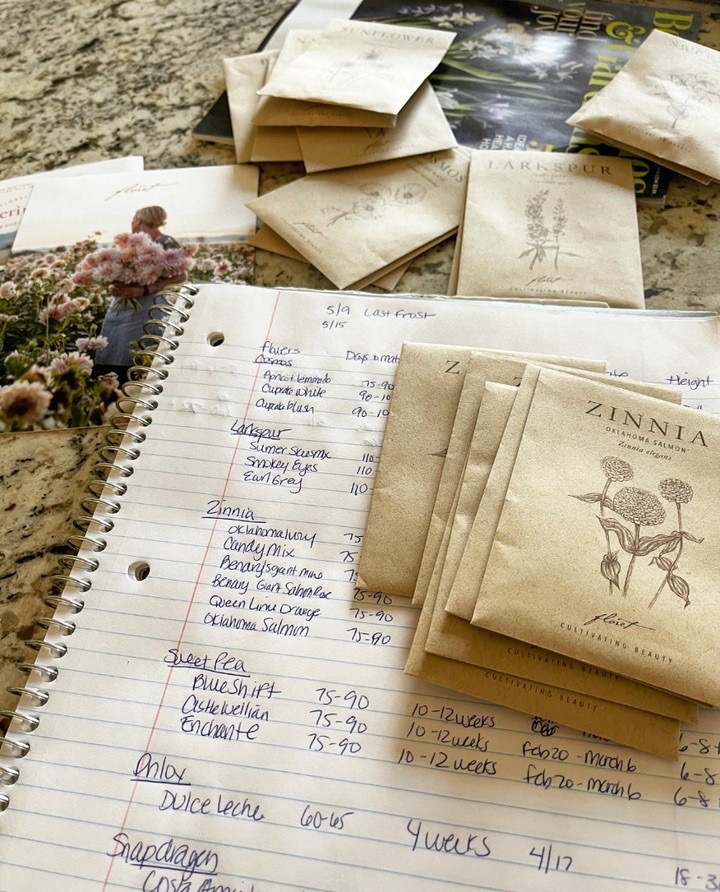 7 Simple Tips to Getting Organized Before Starting Seeds Outdoors | Stacy Ling
You know I love my garden and most of all, I love to watch flowers bloom. Well, to have a successful garden, you need an organized schedule.
Thanks to Stacy, here are the best tips and tricks to help you become and stay organized when planting your favorites!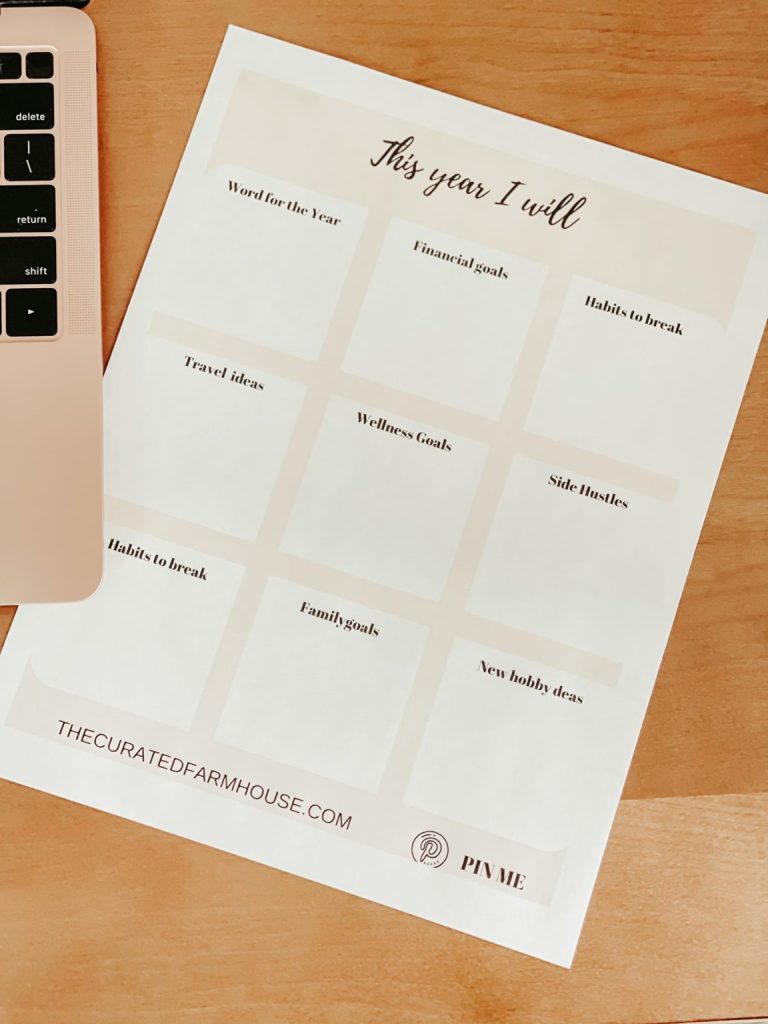 New Years Organizational Printable | The Curated Farmhouse
It's time to get back on track for the new year using this organizational printable created by Wendy. By using this, you will be able to check those boxes off your to-do list, make plans with friends, and have time with family!
Let's make organizing a habit of ours and check out this printable to begin the new year on a productive note!
---
Thanks for joining my friends and me today, and I hope this home organization solutions post inspires you to tackle some long-awaited projects!
Cheers,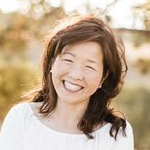 Latest posts by Janine Waite
(see all)