Is your fridge in need of cleaning? Well, I've grappled with keeping my fridge tidy, and I finally tackled the mess and came up with a system that works! And do you need to learn How to Organize a French Door Refrigerator?
The fridge is a challenging project since it means supplying it with food and purging it with food. This task needs constant attention. I hope you, too, can get your refrigerator organized and stay organized with my insightful tips.
I'm slowly working my way around my kitchen and organizing every space. One of the biggest organizing obstacles is our refrigerator. For any organizing project to succeed, I need to spend time thinking about and planning the area. If I jump into the task too quickly, it's not thought out thoroughly, and the DIY fails miserably.
I still have a few areas of my kitchen that still need some extra planning and organizing. And I'll be sure to share them over here in the future.
Here are the projects that I'm happy to say worked out beautifully.
Organizing with Container Store Products
Under the Sink Kitchen Organization Ideas
Before we dig into my project, I'm joined by my blogging friends for our Fall Organizing Projects. You can find their posts at the bottom of this tutorial.
How to Organize a French Door Refrigerator
*This post contains affiliate links
Clear and Clean Your Fridge
Cleaning out your fridge is half the battle when organizing the space. I visited my refrigerator's website and found how to clean it out. I also found that I could dismantle the glass shelves. So I washed all the glass shelves in cold water (I read that hot water might break them) and deep cleaned the shelf itself. I found everything in my fridge is designed to take out and clean it.
Also, clean the drawers out thoroughly, and remove all the spilled sauces and old food in the back.
And finally, look at the expiration dates on old bottles of salad dressing, condiments, and food and toss expired food.
At this point, you should have a sparkly and empty fridge.
Take Stock of Your Space
Knowing your space and the confinements of different areas is essential. I have an ice maker, so very few things can fit under it. My door space is smaller than the one-door fridge, but I'm clued into what works.
Choose Containers
These containers make it easy to view the contents in them, so it's a no-brainer when it comes to convenience. I found these excellent sealable glass containers from Rubbermaid. I immediately transfer leftovers into these containers, and I love that they are compact and stackable.
Also, these Rubbermaid containers are microwaveable, which is a big bonus. I saw someone on TikTok that had all their lunched pre-made and in individual containers. Now that is a brilliant idea. It's all about easy and quick meals and food.
Produce Containers
I searched the internet for suitable containers for my vegetables and fruits. I finally found these Amazon refrigerator organizers. They have a little water drain tray that keeps the produce from sitting in water.
I'm now in the habit of washing my fruit and chopping the vegetables up. I think having everything washed, rinsed, and ready to use means the food gets eaten more readily. It takes less work to grab something and immediately enjoy it.
So the little time investment on the front end means less food is wasted and thrown out.
Choose Organizing Tools
Lazy Susans
Ok, I was all excited when I found a lazy Susan for the refrigerator. I took a trip down to The Container Store to realize that not all lazy susans are the same. You see, when I tried to spin the lazy Susan display, it hardly moved. Most of the them that they sold didn't turn.
I ended up using my OXO lazy Susan. It spins and holds all my sauces.
I know that eggs should be in closed containers, but I find them cumbersome. I like to reach into the fridge and pull out the eggs I need for baking. So, I found this incredible, slender clear container that works beautifully. It's efficiently located to the side of my fridge.
I never thought I would like this item, but now that I own one, I love it! I always make sure to replenish the supply of sparkling drinks for the family. This dispenser is incredible and makes it easy to remove the containers from the fridge.
These bottle holders are supposed to be used for wine, but I'm using them for oversized bottles. You see, I can't store many big large bottles like my coffee creamer or sauce bottles, so that's what I used them for. I've placed them in areas that have little clearance so they are out of the way and occupying a space that might go unused.
Before buying these wine rack organizers, I always struggled to find a place for my bottles. This instantly solved the issue and I love their location.
Few Extra Tips
Grouping Similar Foods Together:
I have a container that groups condiments for hamburgers and hotdogs. It's all in a tray that I can pull out and use on the table. So, I used the same idea when organizing our salad dressings. I placed those on the right-side door so that they are easily accessed. I also placed our almond milk there as well, since it's a popular item.
Purge Food:
Always clean out your fridge the night before trash day. My friend Kelly mentioned this tip to me when I asked for some advice about keeping an organized fridge. This weekly schedule is so helpful and perfect for keeping my fridge clean and streamlined.
Use Containers:
When possible, transfer food into containers. So many times, the food is in a giant store-bought container and is taking up a ton of space. I enjoy transferring the food to a more compact container that I also easily see the contents.
We are lazy and so when we make some homemade salad dressing, sometimes the big 8-cup Pyrex measuring container gets put in the refrigerator. Well, now I'm making it a habit to transfer the salad dressing into a small mason jar. It's little things like this that add up and conserve space.
Prep Food and Store:
Prepping food is a new habit of mine. Once I bring home my groceries, I wash my produce and place it in my containers. But, before I store it, I also chop or cut the vegetables or fruit.
If I can eliminate one step to our busy cooking schedule, I'll do it. Also, my husband says that he is more tempted to eat the fruit if they are prepped. He is busy in the morning before work and he loves fresh fruit.
And now we are consuming more of our groceries which means less food is thrown out. So, my new habit saves time for the family and saves food also. So, my new practice saves time for the family and saves food.
Another thing that has changed in our lives is that I schedule out our meals for the week. I print out the recipes, write down the dinners, and tape the menu to the fridge. I love this since I shop most of our groceries online. This saves me tons of time and hassle.
The bonus to all this is that we are eating more at home and the meals are super delicious.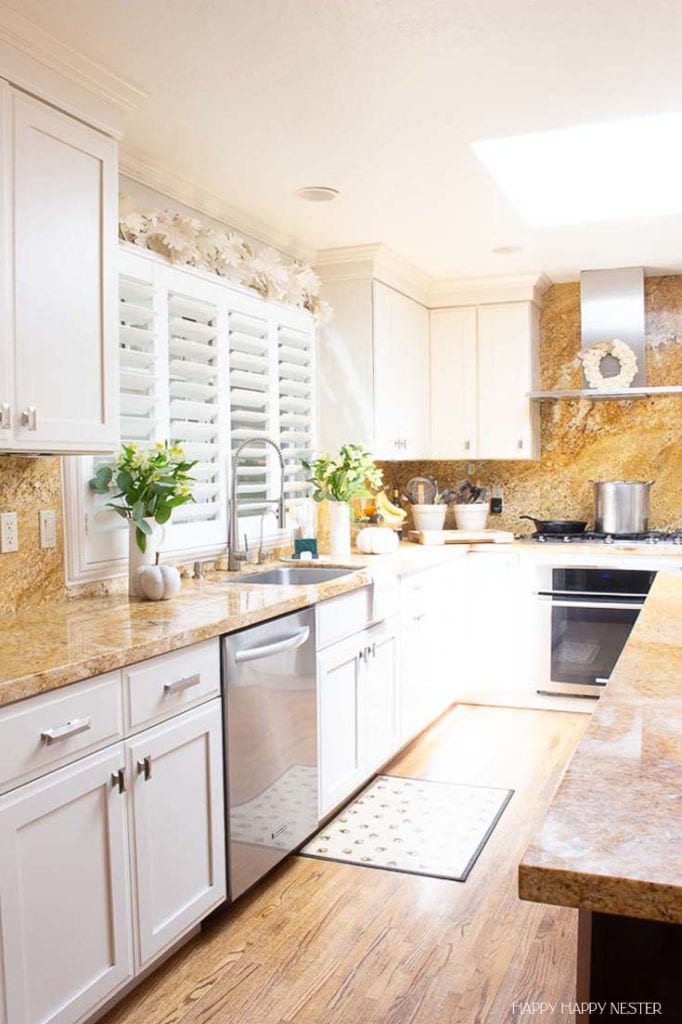 Also, if you can afford it, buy new containers that will are designated for your refrigerator. I love when I get new containers that are more efficient and pretty. This purchase is what I need to inspire me to tackle a project.
Look, if I can organize a French door refrigerator, you can too. I spent years with a messy kitchen, and slowly I'm getting it organized. If you talked to my husband, he would say that I'm the worst at keeping our fridge clean and tidy. He now knows that I mean business about this project and that I have changed my habits.
Ok, off to purge the fridge since trash day is around the corner!
Cheers,

---
More Fall Organizing Projects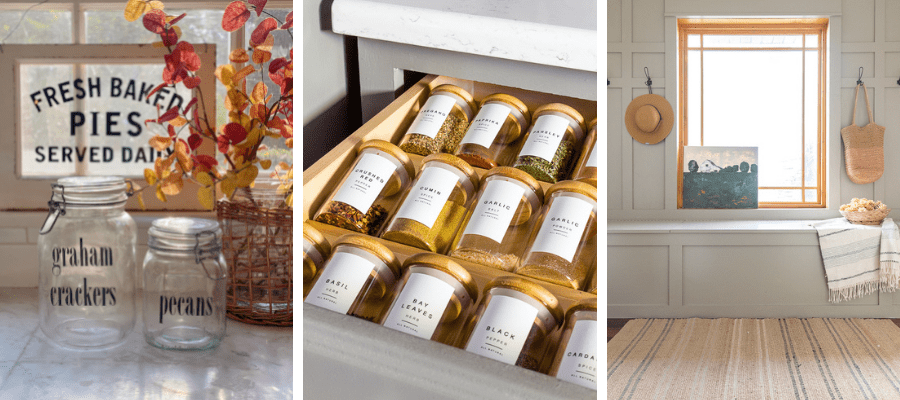 Organizational Tips and Some Fun Ideas to Enhance the Items in Your Pantry! // My 100 Year Old Home
Spice Drawer Organization Tips // Inspiration For Moms
10 Organizing Tips to Help You Tackle Fall // Twelve On Main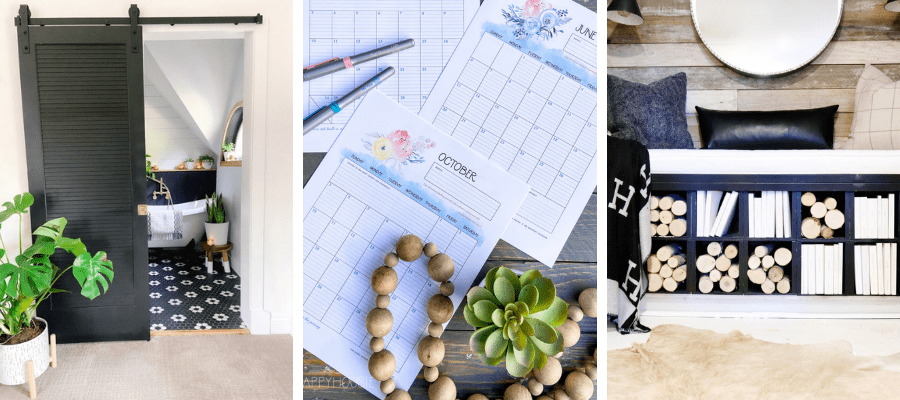 A Small Bathroom That's Big On Organization // Tatertots & Jello
Free Printable Family Planner Academic Year Calendar // The Happy Housie
Don't Judge A Book By It's Cover // My Sweet Savannah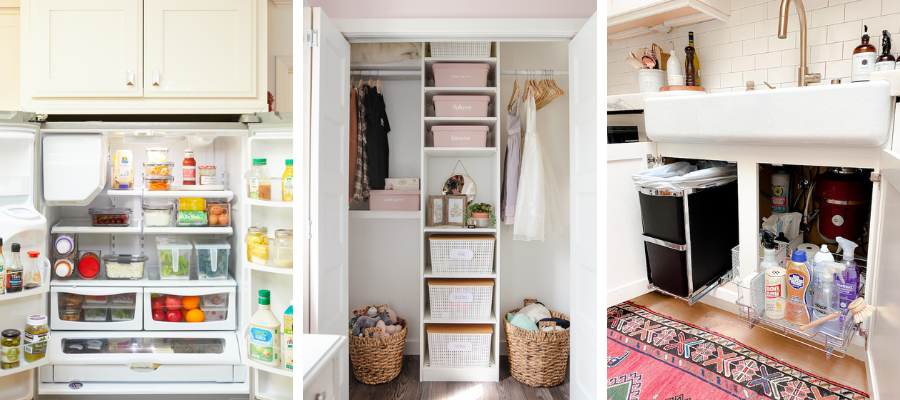 How to Organize a French Door Refrigerator // Happy Happy Nester
5 Quick Kids' Closet Organization Ideas to Start The School Year Off Strong! // The DIY Mommy
Under Kitchen Sink Organization Ideas // Modern Glam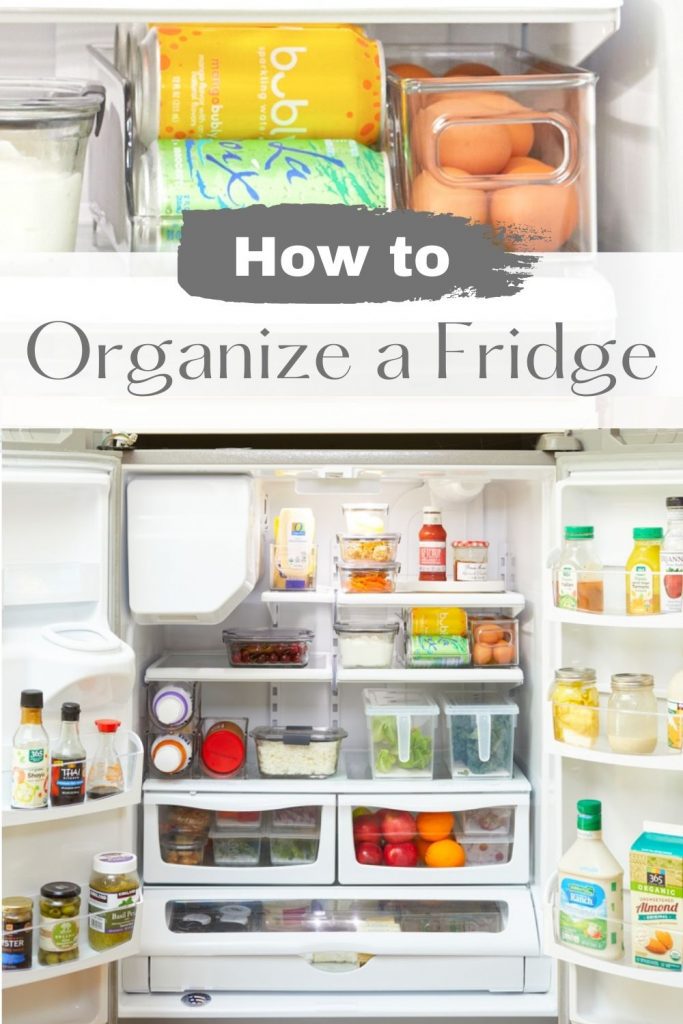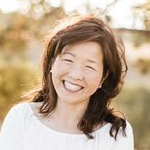 Latest posts by Janine Waite
(see all)