Hello! Here are some ideas on How To Organize Your Home On A Budget. Learn how to become organized with these tips.
I've rounded up some of the best snack, kitchen, pantry storage, and more ideas for you, so let's check out these organization ideas!
There is something here, from clear containers and snack bins to glass containers and plastic containers for everyone. Whether you're re-decorating your kitchen or finally organizing your closet, I've got the inspiration you need.
With these tips, you'll finally have the storage space for the closet, craft room, kitchen, and any other room needing some TLC.
It's always a good idea to plan, but if you're in a hurry and need to get organized NOW, here is a massive selection of organization ideas! Plus, as a bonus, I have included other types of organizing ideas for your home, such as the closet 🙂
Trust me. These tips are a huge help when you want quick access to your clothes, makeup, snacks, and more!
Saturday Chitchat – Volume 102
Hey You!
How are you doing? I hope the new year is treating you well. I have decided to go by the motto "new year, new me." Meaning it's time to create new resolutions, such as getting organized and staying organized.
Let's work together and store all those "things" away to create a clean space that is the perfect size. Plus, if you have a large family, these tips with help with any storage.
I admit my home can get pretty messy at times, so these tips and ideas will help the heart of the home become clean and tidy for the new year.
I'm here to help you in the best way possible, so come and on, and let's get organizing your pantry door, kitchen cabinets, shoe organizers, small kitchen, pantry shelves, and anything else that needs cleaning 😉
Personal Note from Janine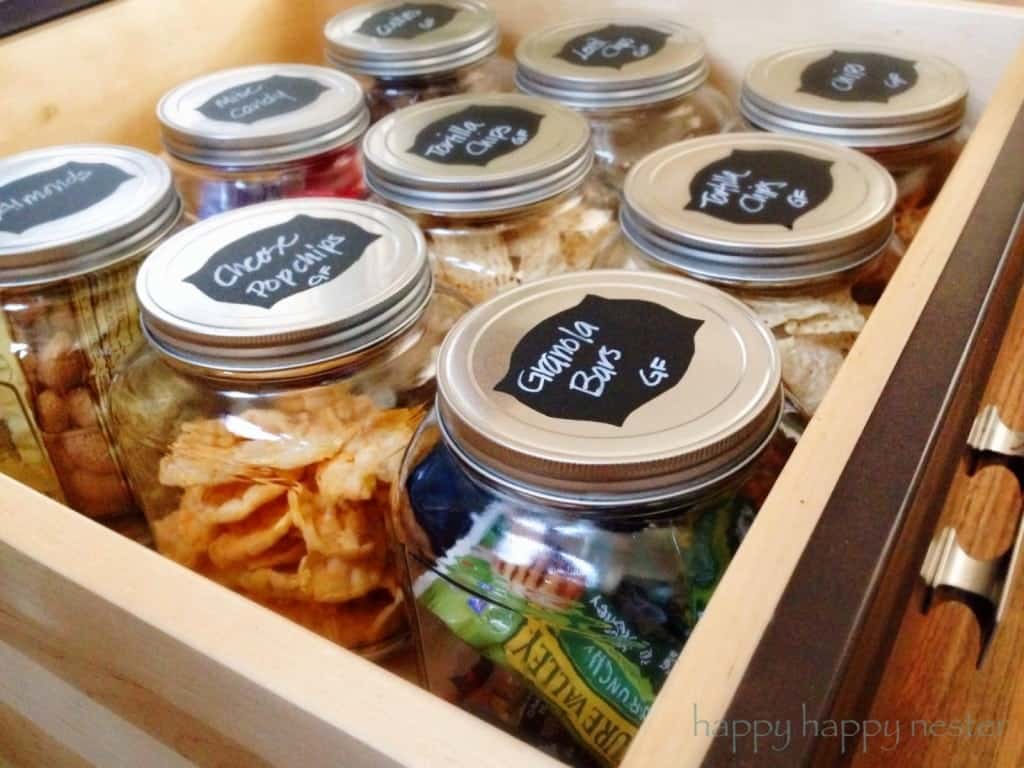 Organizing is in my genes.
My mom was a super organized person. With a family of seven, she had to be efficient with everything related to our home. Looking back, I'm not sure how she did it all.
She was a Martha Stewart type before there was a Martha Stewart!
Back in the day, when people used food coupons, she had files of coupons. Not only did she have one file but many. I don't want to get into her whole system. But trust me. She was thorough.
Even though some of it gives me PTSD, a little of her temperament rubbed off on me.
Since I spend plenty of time in the kitchen, I have that room organized to the max. It did take many years to perfect it all, but now it's pretty streamlined. My mom would approve if she were still alive.
I realized that an organized house makes me happy and saves time and money. And that's a good thing.
I hope this Saturday Chitchat inspires you to join the New Year's organizing tradition.
Happy Weekend to you!

This Week's Inspiration – How To Organize Your Home On A Budget
My Favorite Things – Kitchen Ideas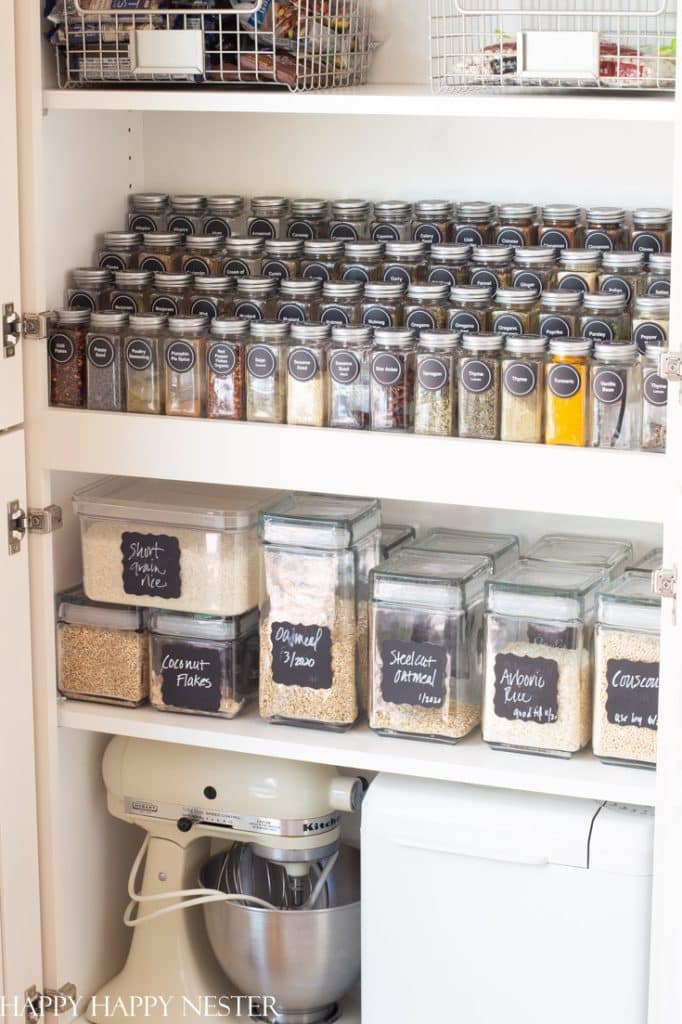 There are quite a few options to choose from when it comes to Spice Rack Organizing. Selecting the best spice rack organizer, containers, and labels is an overwhelming process.
This post will tackle some of these issues and more.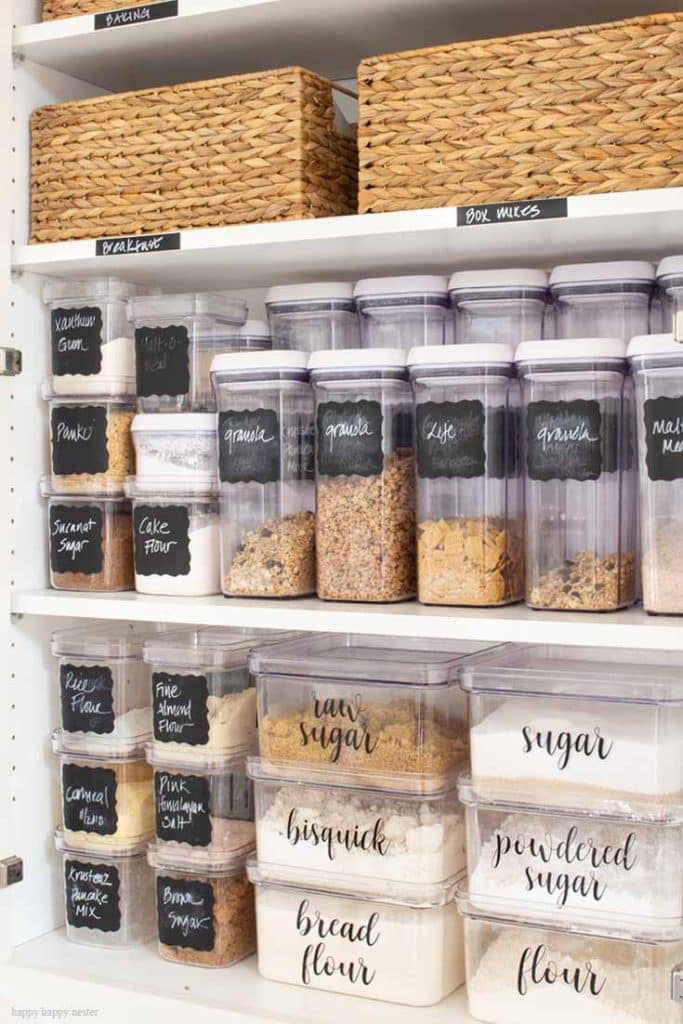 Organizing with Container Store Products
Organizing With Container Store Products is the key to a great kitchen.
Here you will find some of the best containers and bins to organize your pantry. Enjoy!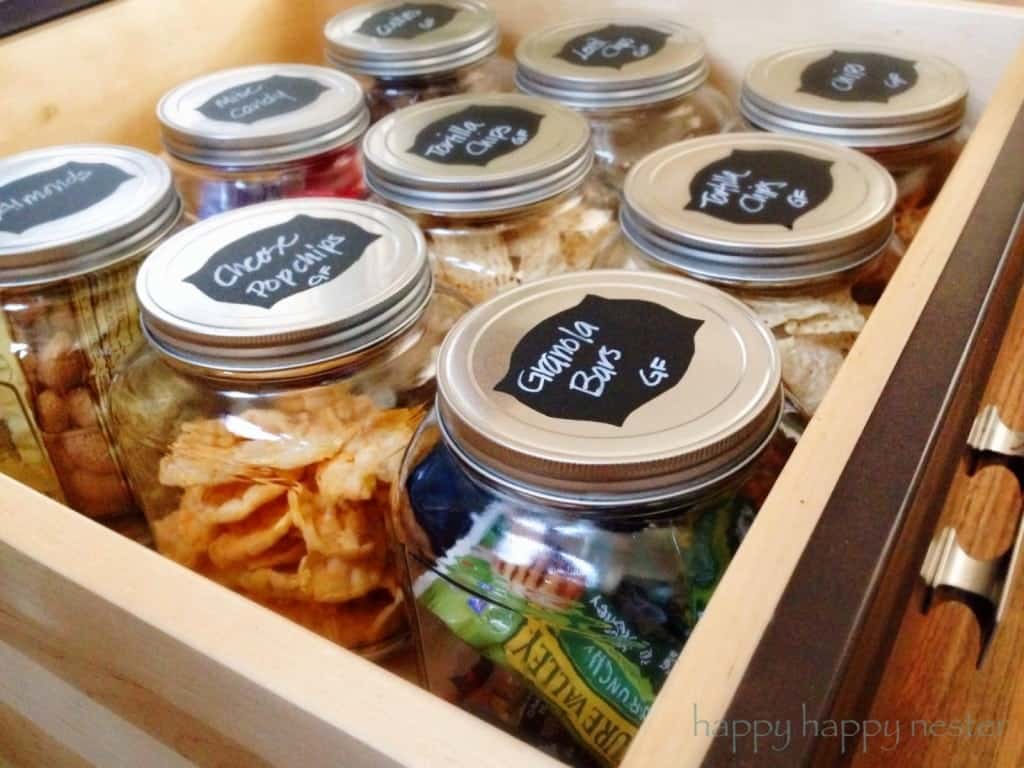 Chalkboard Labels for Organizing
Need a new pantry idea? Here are some chalkboard labels for any pantry for snacks, treats, and food favorites.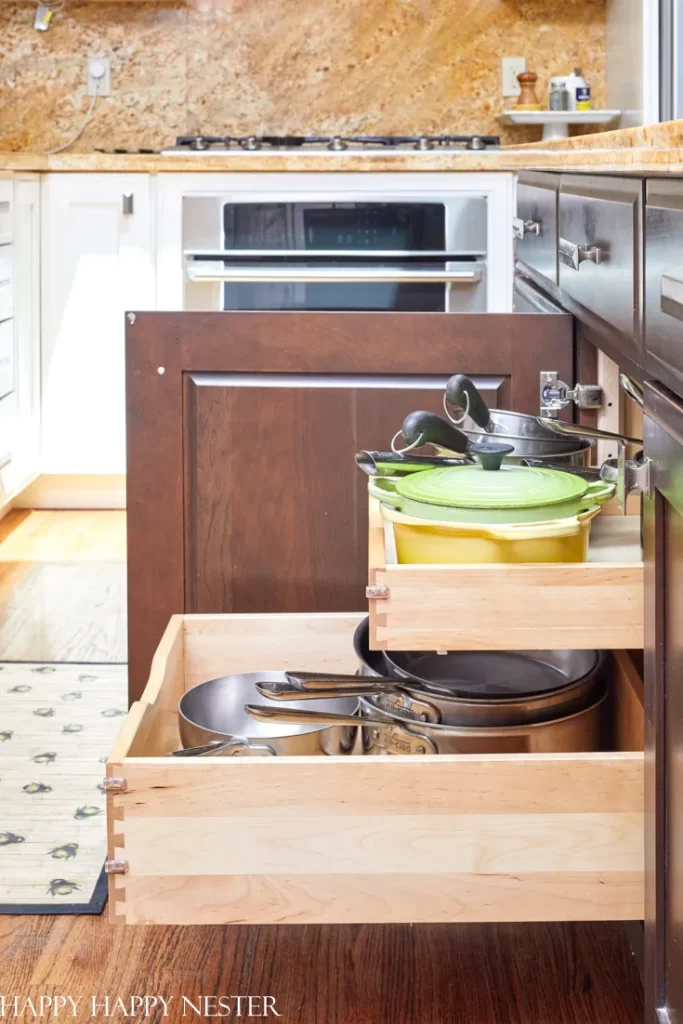 How to Organize a Small Kitchen
Hello and happy Saturday! Today we are going to learn How to Organize a Small Kitchen.
I share my tips, tricks, favorite products, and more that help me keep my kitchen clean.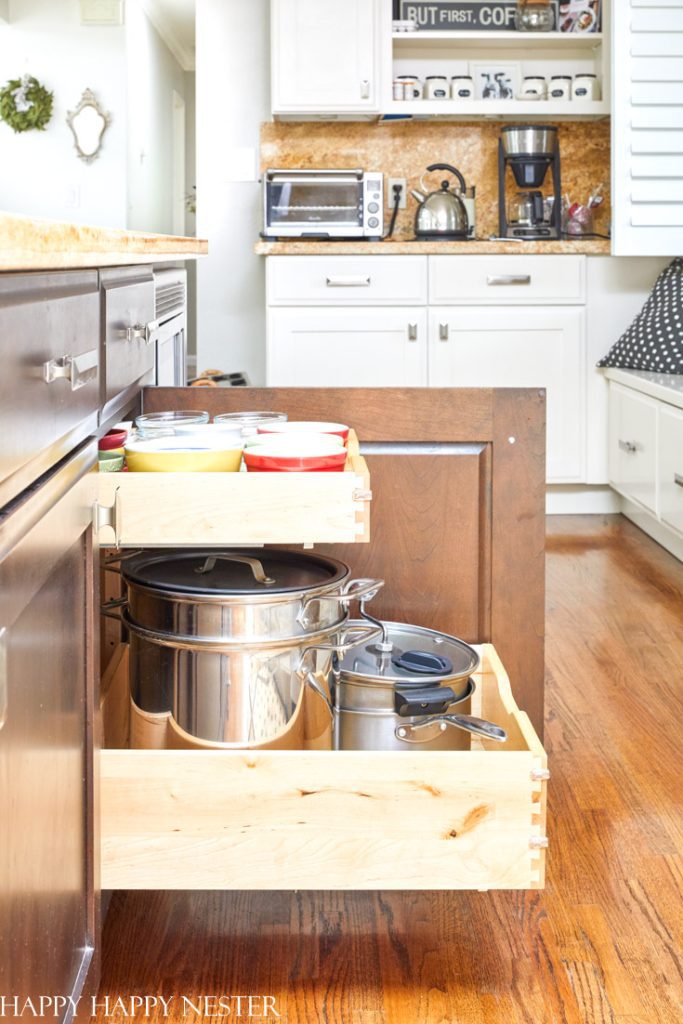 The Best Pots and Pans Organizer
If your kitchen needs organizing, let's look at these Pots and Pans Organizer solutions. Cookware is cumbersome and difficult to store, so installing a system is essential for an efficient kitchen.
Let's look at these Pots and Pans Organizer solutions. Here are 19 items for both cabinets, drawers, and more.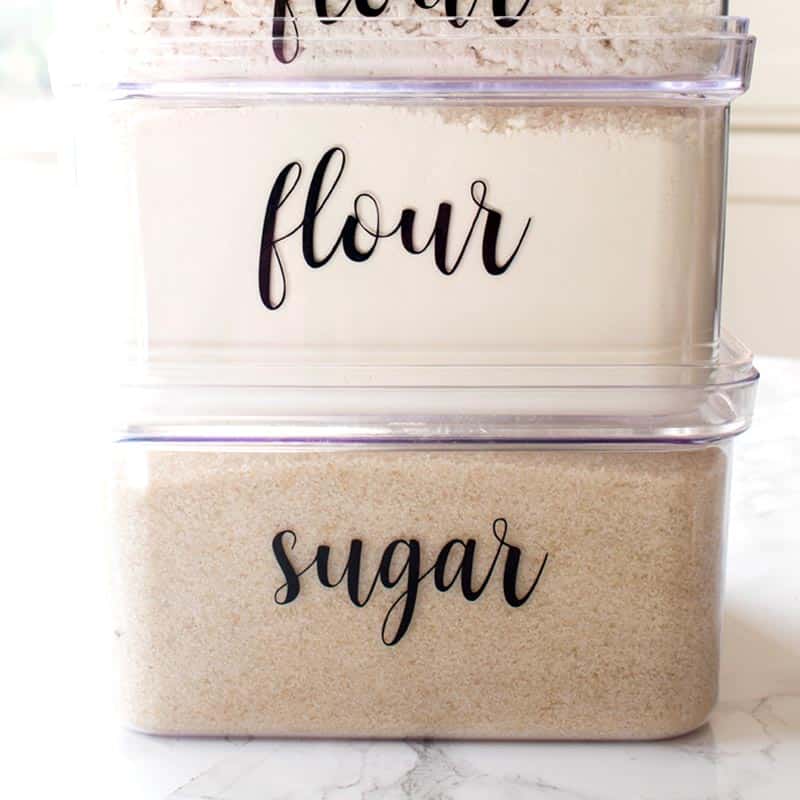 It wouldn't be January if we didn't attempt to organize our home and lives. But, these gorgeous handmade labels have been calling my name.
So, what better time to apply them to my kitchen containers!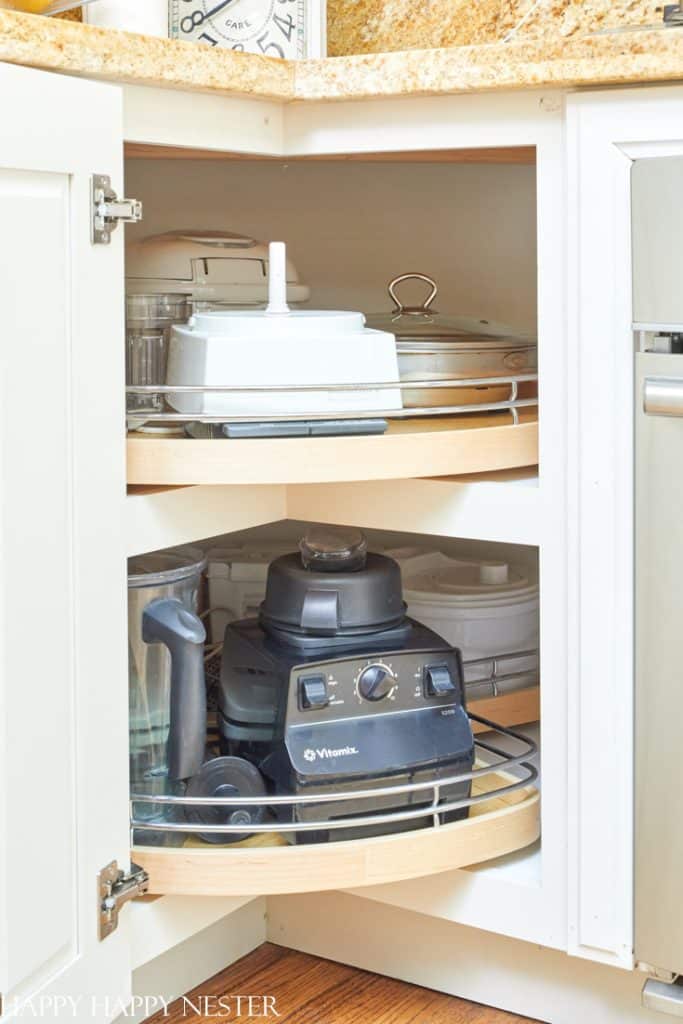 What To Do With A Corner Lazy Susan
For years I didn't know What to Do With Our Corner, Lazy Susan. I failed many times to organize this part of our kitchen.
I made a few attempts at what to store in my lazy Susan, and I finally figured out what worked best. The solution is an easy one, and I share why it works.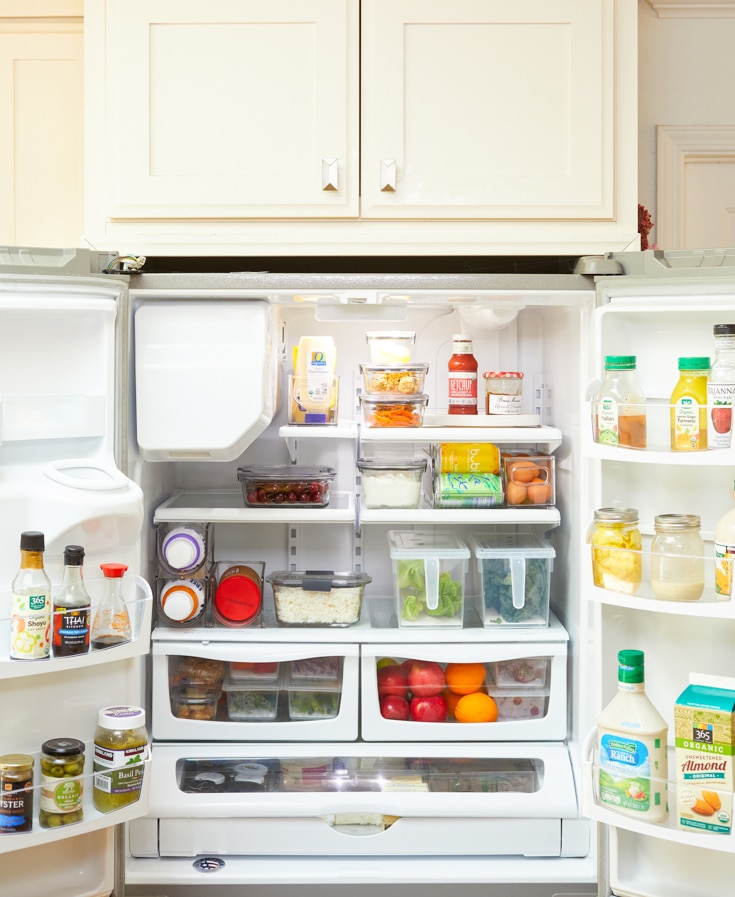 How to Organize a French Door Refrigerator
Is your fridge in need of cleaning? Well, I've grappled with keeping my fridge tidy, and I finally tackled the mess and came up with a system that works!
The fridge is a challenging project since it means supplying it with food and purging it with food. This task needs constant attention. I hope you, too, can get your refrigerator organized and stay organized with my insightful tips.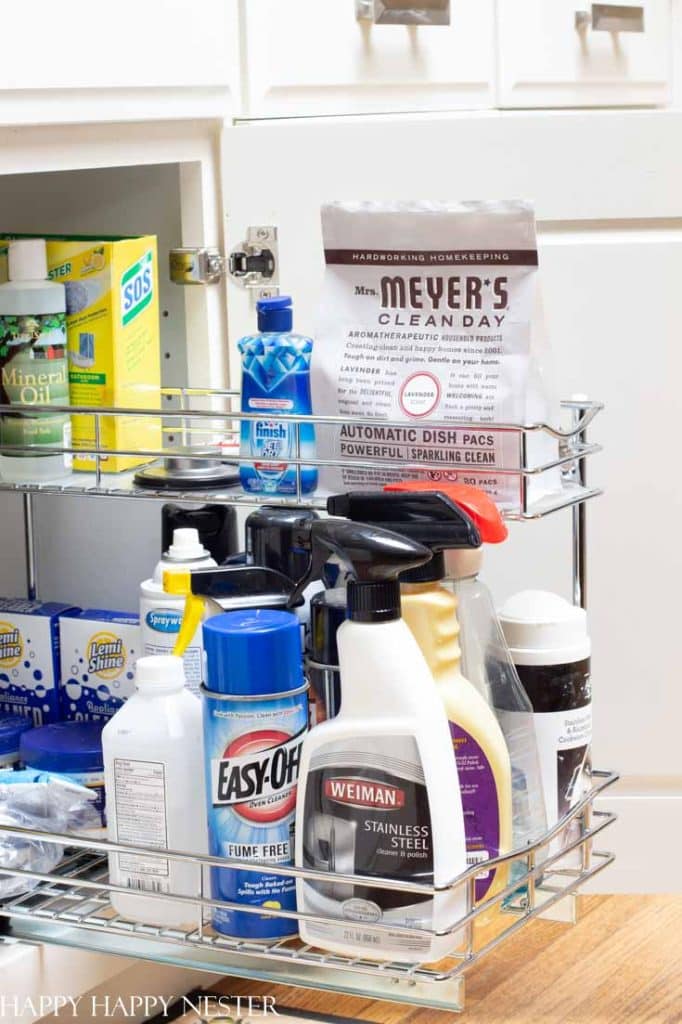 Under the Kitchen Sink Organization Ideas
If you follow a few of these tips organizing Under the Kitchen Sink, you'll save time and frustration.
A realistically organized space will stay tidy without much effort.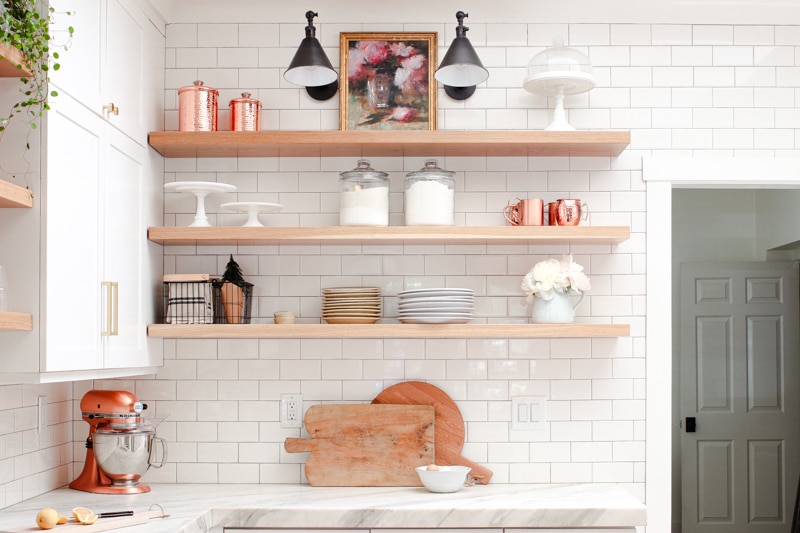 How To Create An Organized And Clutter-Free Kitchen
Easy and approachable tips for creating an organized and clutter-free kitchen and countertops. With Ashley's ideas, you can have a kitchen that looks and feels organized and is more functional too!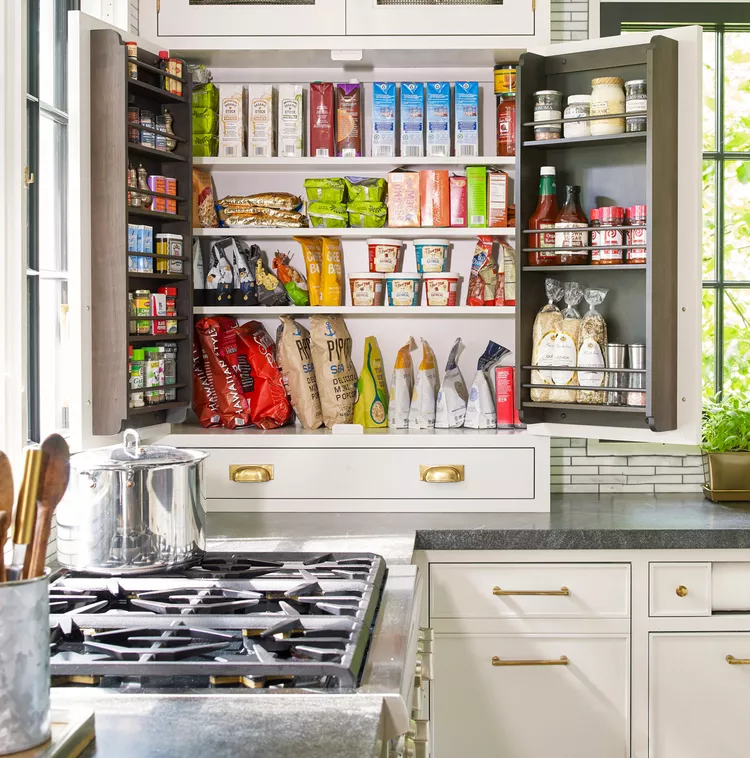 22 Brilliant Ideas for Organizing Kitchen Cabinets
Bring order to cluttered shelves and drawers with these smart and affordable ways to organize kitchen cabinets by Better Homes & Gardens.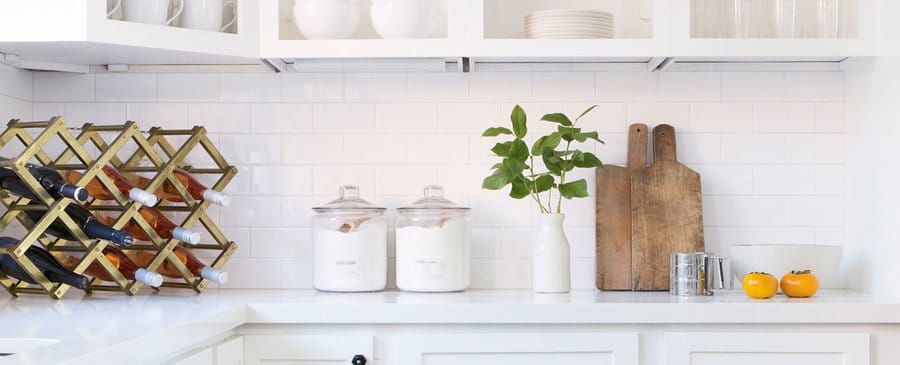 Simple Steps to Kitchen Organizing
Cooking and dirty dishes can wreck your kitchen. Bring order with these smart storage and cleaning tips with Sunset Magazine.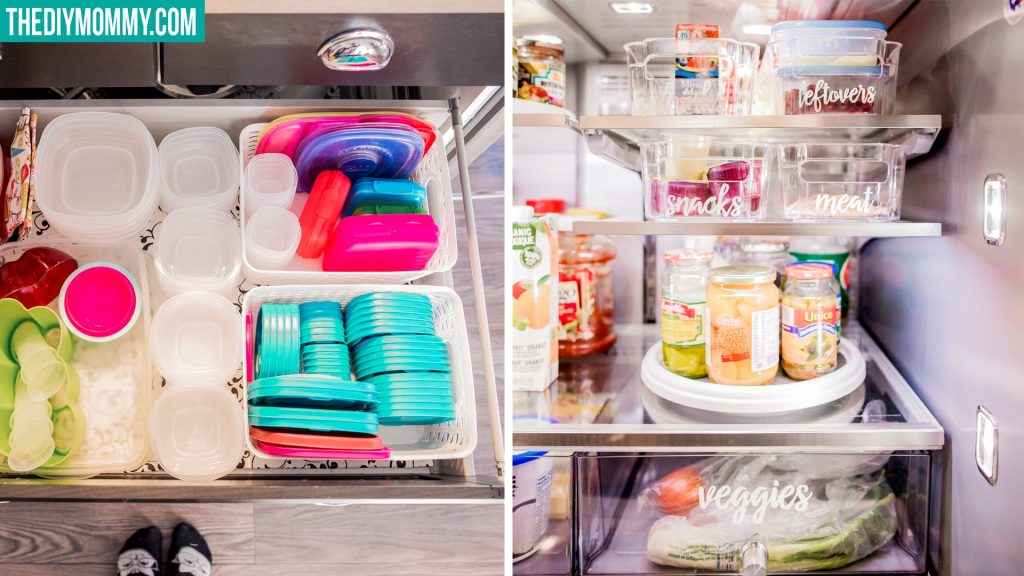 Organize Your Kitchen with These 6 Dollar Store Items
Get your kitchen organized with these simple and affordable dollar store kitchen organization ideas from Christina! Pick up these 6 items on your next dollar store shopping trip to easily organize your counter, drawers, fridge and cabinets.
Boutique of the Week – Best Tea Organizers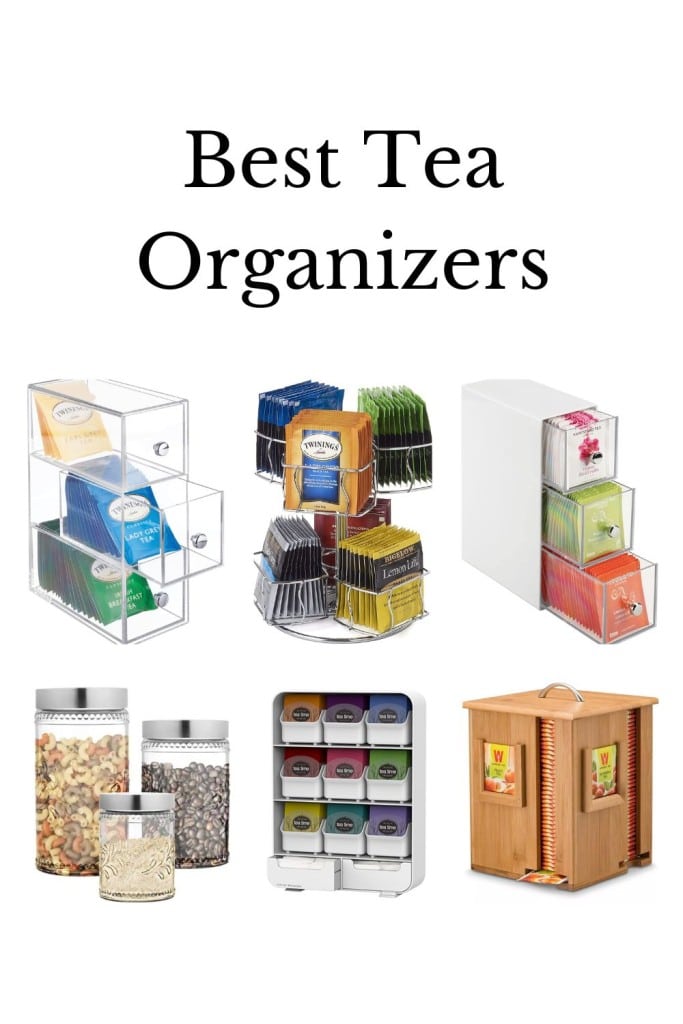 Welcome! Here is a collection of the Best Tea Organizers for all those fans with a tea collection.
Calling all tea lovers and more, whether you're a fan, these containers are some of the best for your pantry, drawer, or kitchen.
My Favorite Things – Pantry Ideas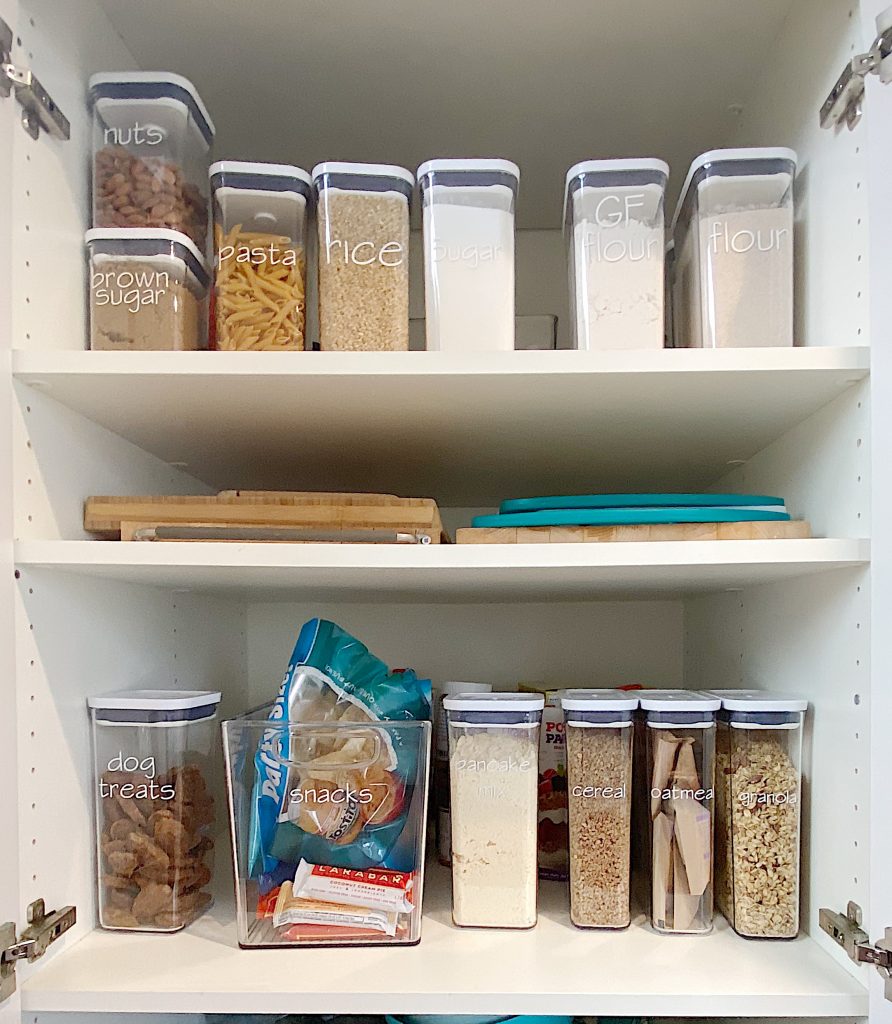 Organizing makes me so happy. It's the best feeling, especially when you organize something you use every day. Join Leslie to learn her tips and tricks!
How To Organize Kitchen Pantry
Maximize space and function in your kitchen pantry. You'll love these tips by Julie on how to organize your pantry cabinet, utilizing pretty pantry storage containers that allow you to see what you have and what you need.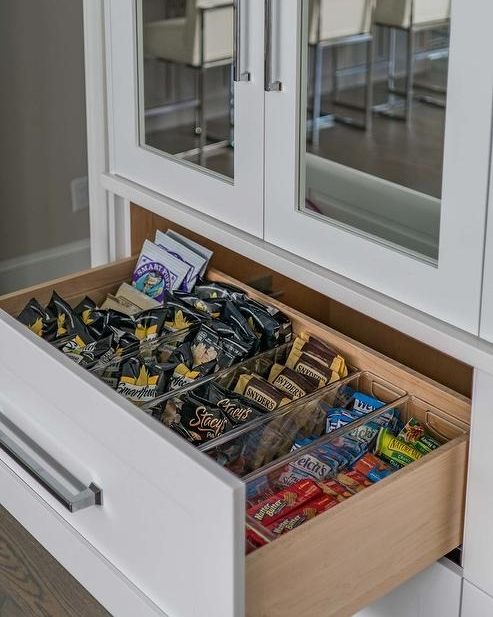 31 Best Pantry Organization Ideas
Keep it tidy, no matter the size of your kitchen with organization inspiration from The Pioneer Woman.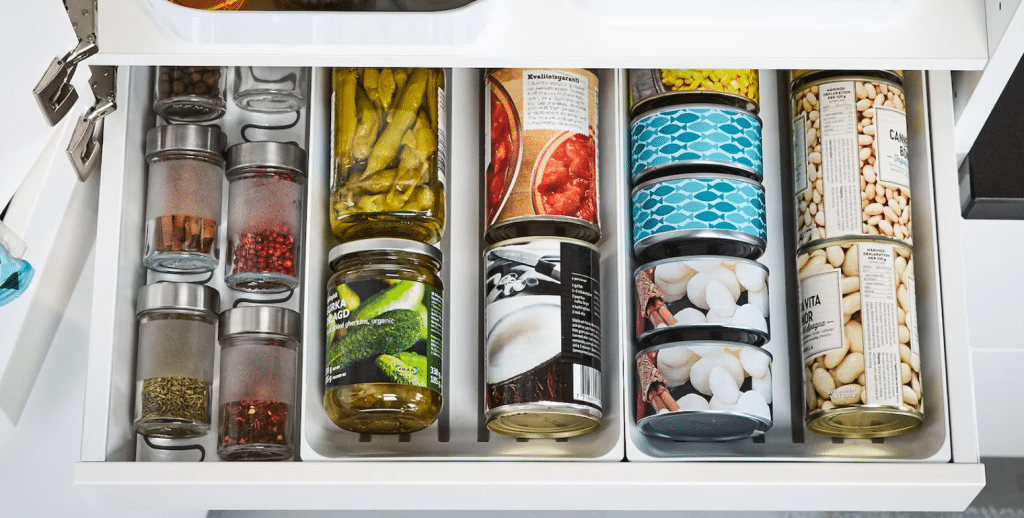 Use these six handy storage tips to arrange your kitchen pantry, so you can spend less, waste less, stress less… and have more time around the table with tips from Ikea.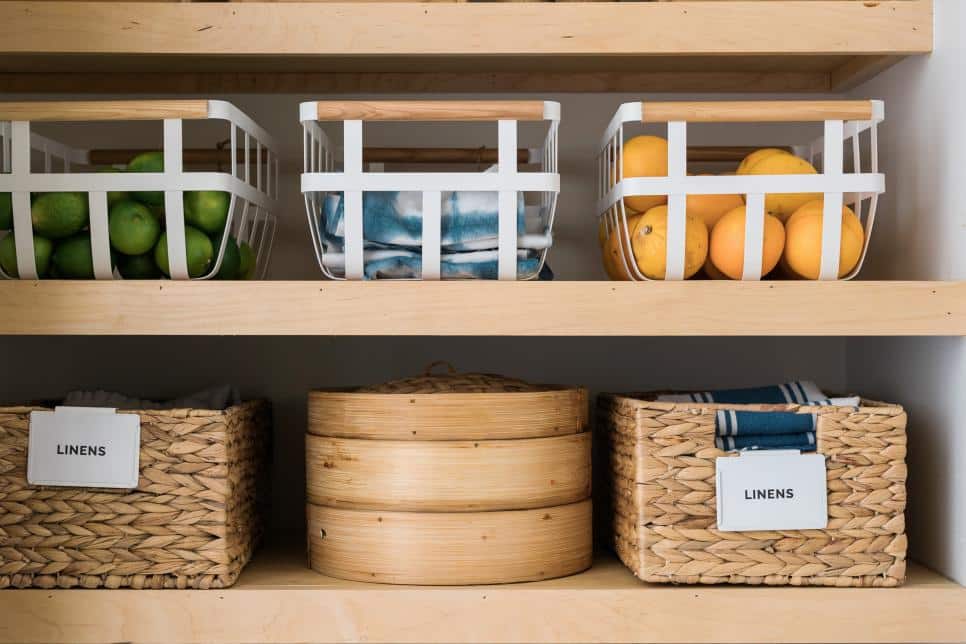 Small Pantry Organization Ideas
When cupboards are a jumbled mess, finding ingredients can take as long as cooking dinner. Keep even the smallest pantry organized with these clever storage tips and smart, space-saving products from HGTV.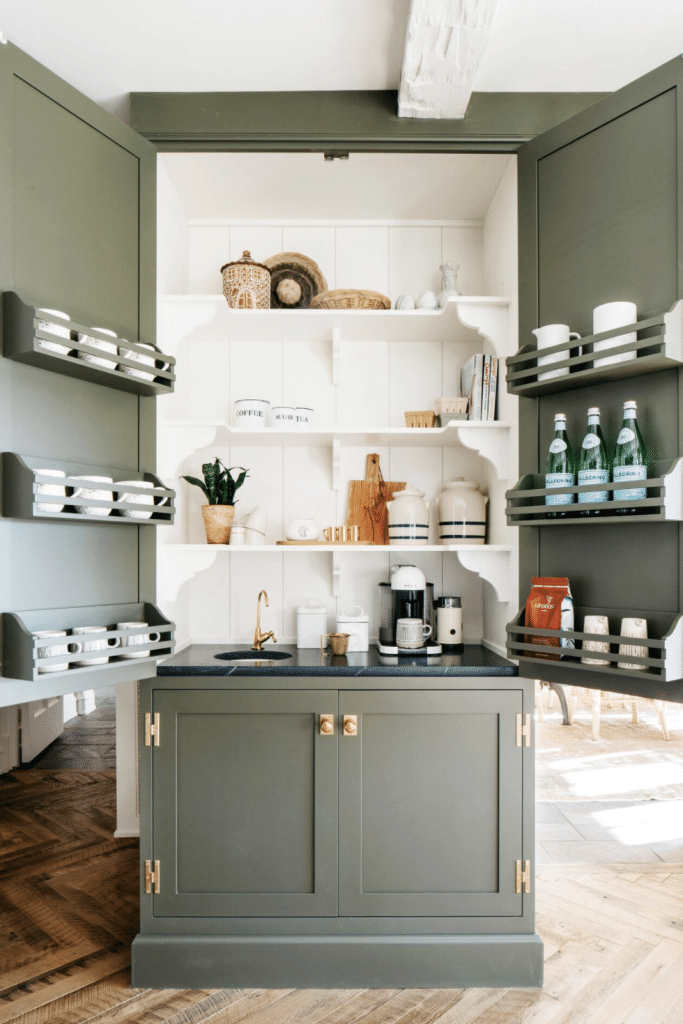 These budget-friendly tips and tricks from Good Housekeeping will help keep your cabinet and shelf staples in order.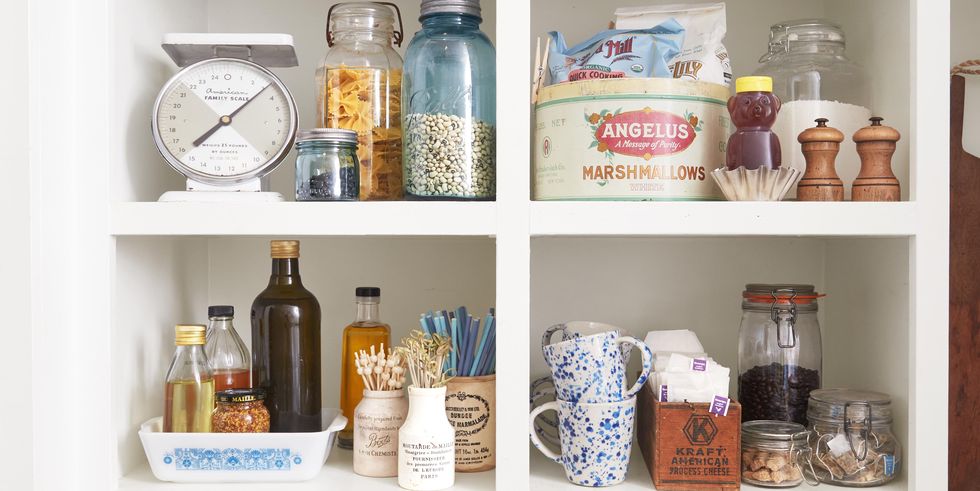 34 Best Pantry Organization Ideas
Use what you have to corral clutter with some of the best tips and tricks from Country Living.
8 Small Pantry Ideas to Free Up Kitchen Space
Stay organized even in the smallest pantries with these smart tips to maximize space with Better Homes & Gardens.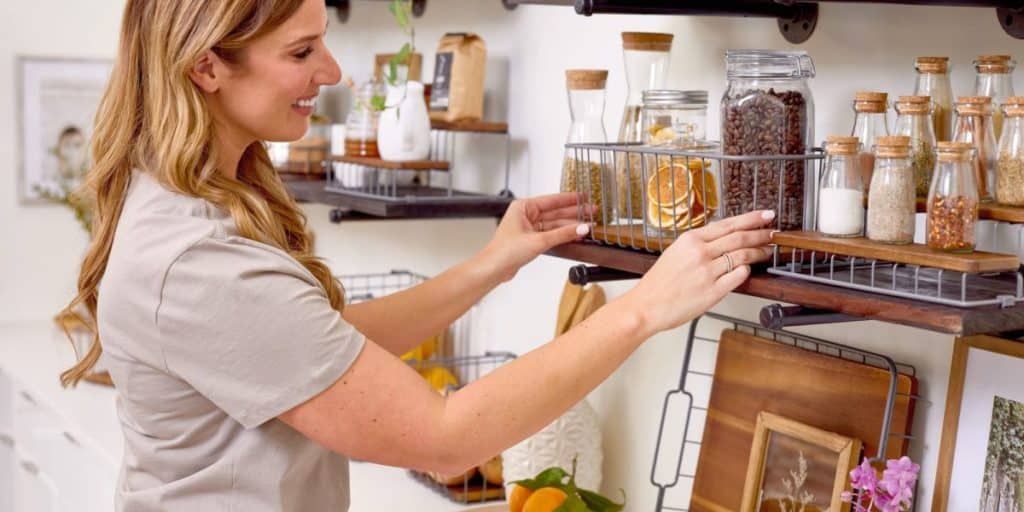 Keep Your Pantry Organized All Year Round
Ria Safford, the organizing expert behind Chrissy Teigen's pantry, helps us keep our pantries clean beyond spring with these awesome tips.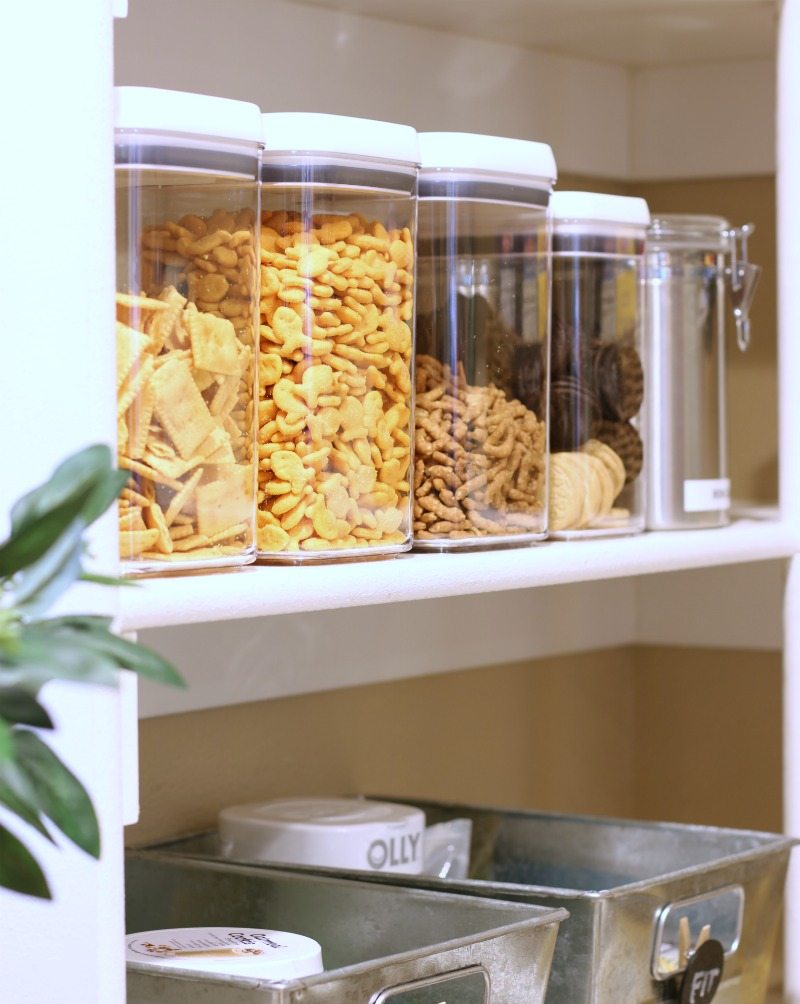 How to Create an Organized Pantry in 5 Simple Steps
Get ready to declutter and re-organize your cluttered pantry for good with Jodie and Julie. They're here to help you get organized for the New Year and get one step closer to achieving your organizing goals.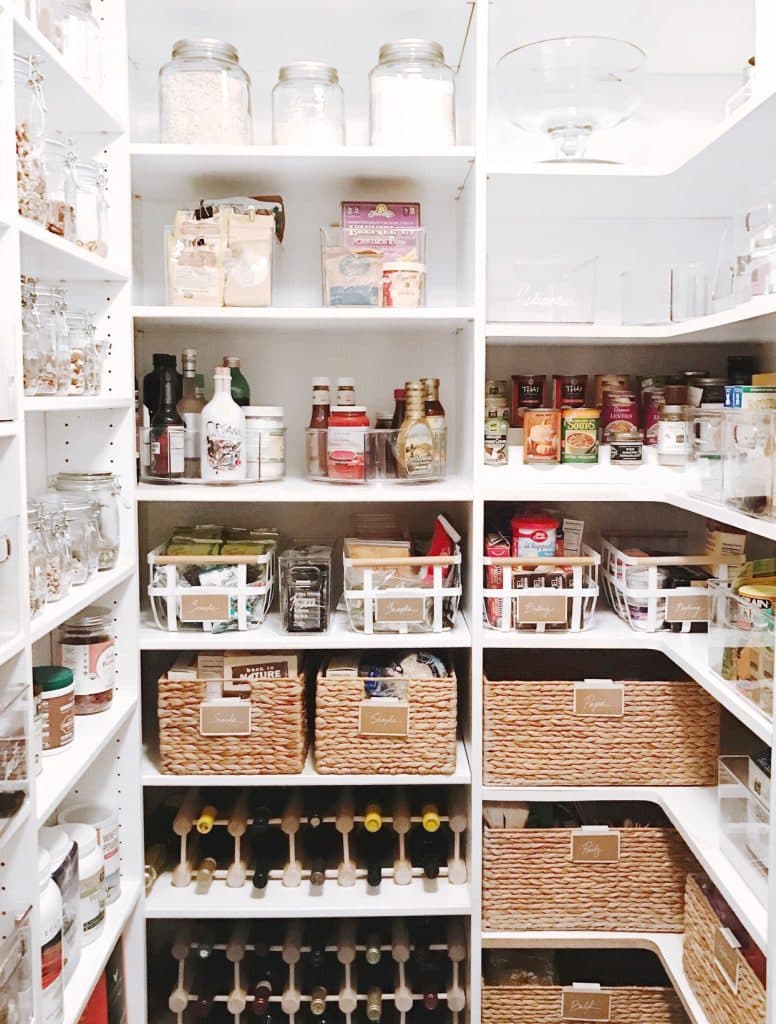 Best Kitchen Pantry Storage Ideas
I'm sharing kitchen storage ideas from Martha Stewart that will help keep your food fresh for longer and make the most of your space.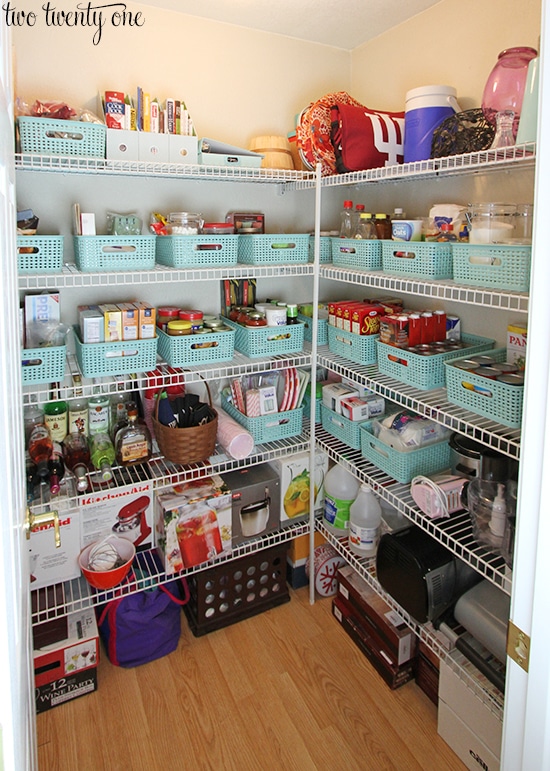 20 Incredible Small Pantry Organization and Makeover Ideas
I hope you find these posts as inspiring as I have -they are chock full of awesome ideas, helpful tips, and beautiful inspiration from Krista!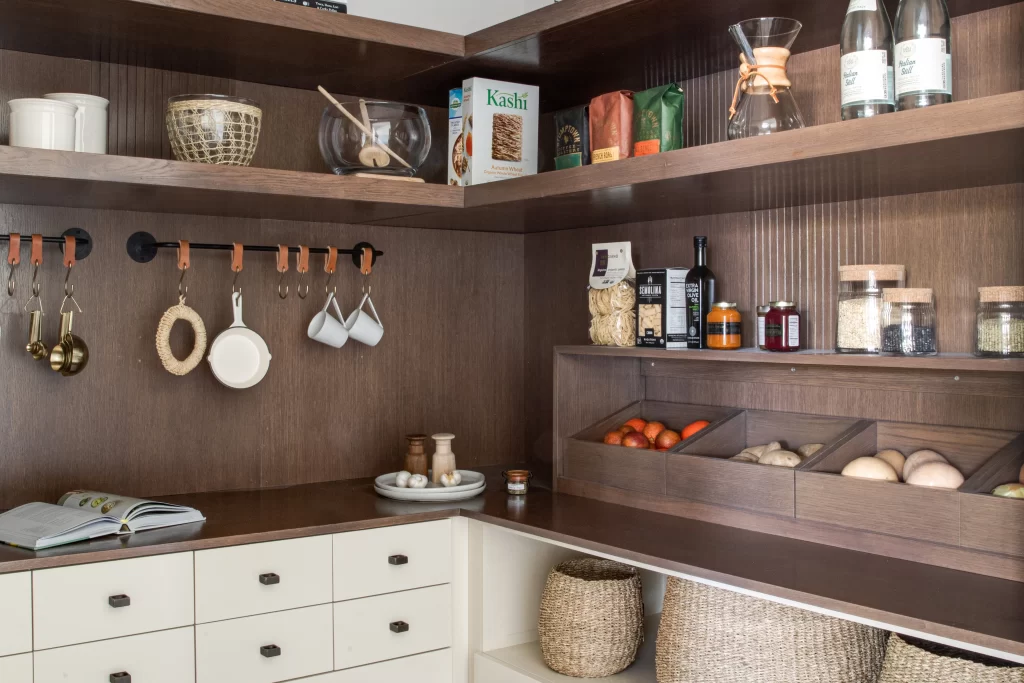 Food storage gets a makeover with these home edit hacks for dry goods with Architectural Digest.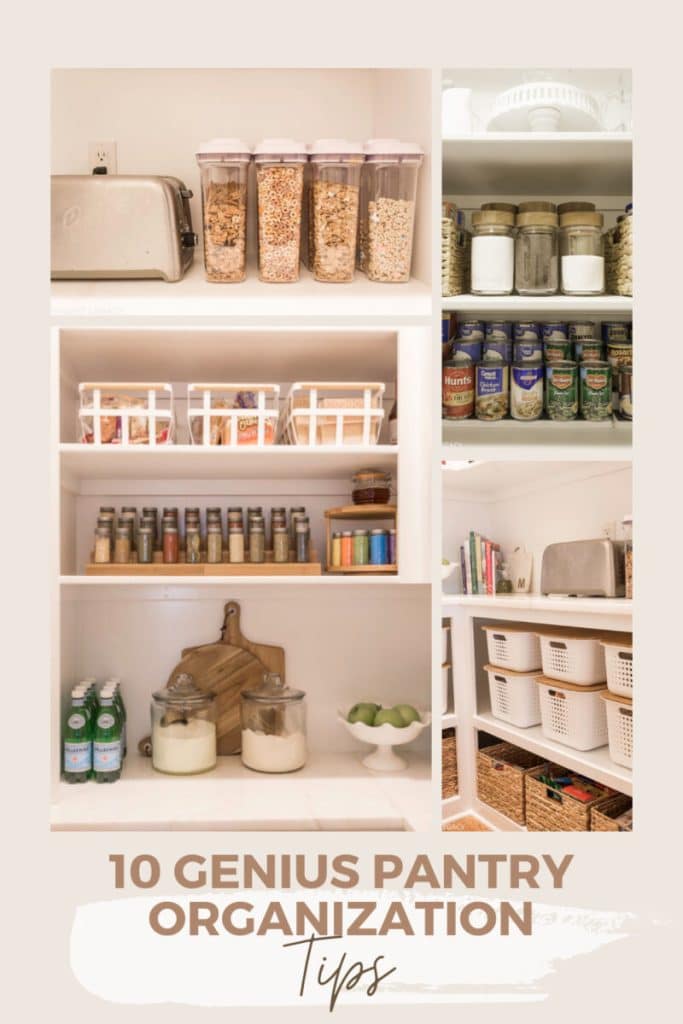 10 Genius Pantry Organization Ideas For Your Kitchen
I'm excited to share 10 Genius Pantry Organization Ideas for your Kitchen today by Jennifer!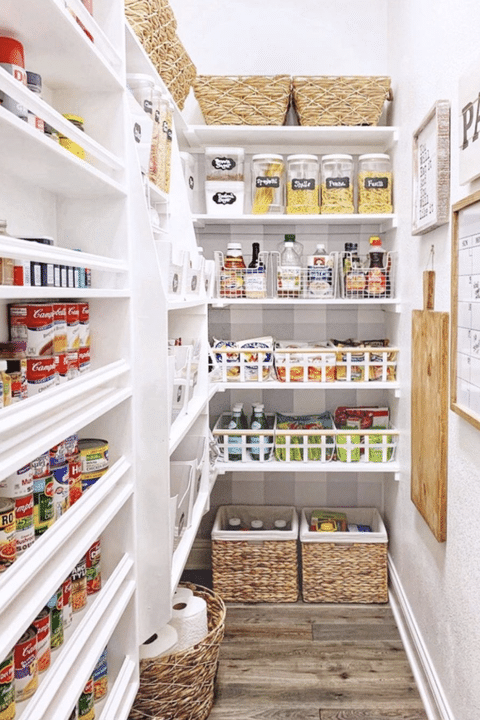 20 Pantry Organizing Ideas On A Budget
If you have dead space under or above your shelves, fill large baskets with other household necessities, like toilet paper, paper towels, or extra canned goods. Learn more tips with Oprah!
My Favorite Things – Closet Ideas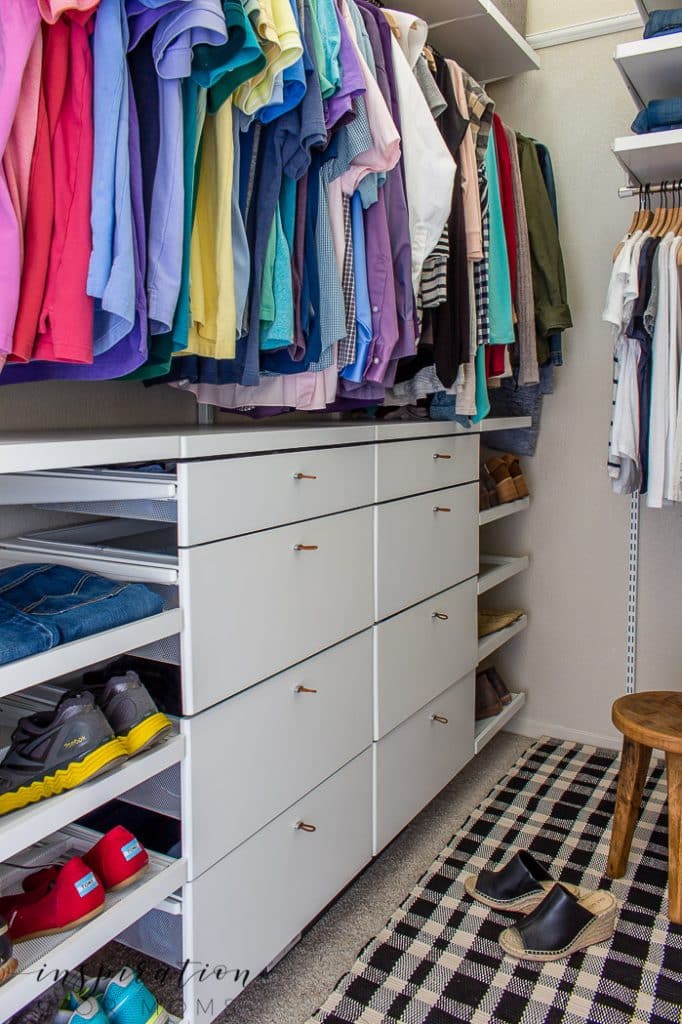 Best Small Closet Organization
Frustrated with the lack of storage in your small closet? Squeeze in more items with Laura's helpful tips and tricks on small closet organization.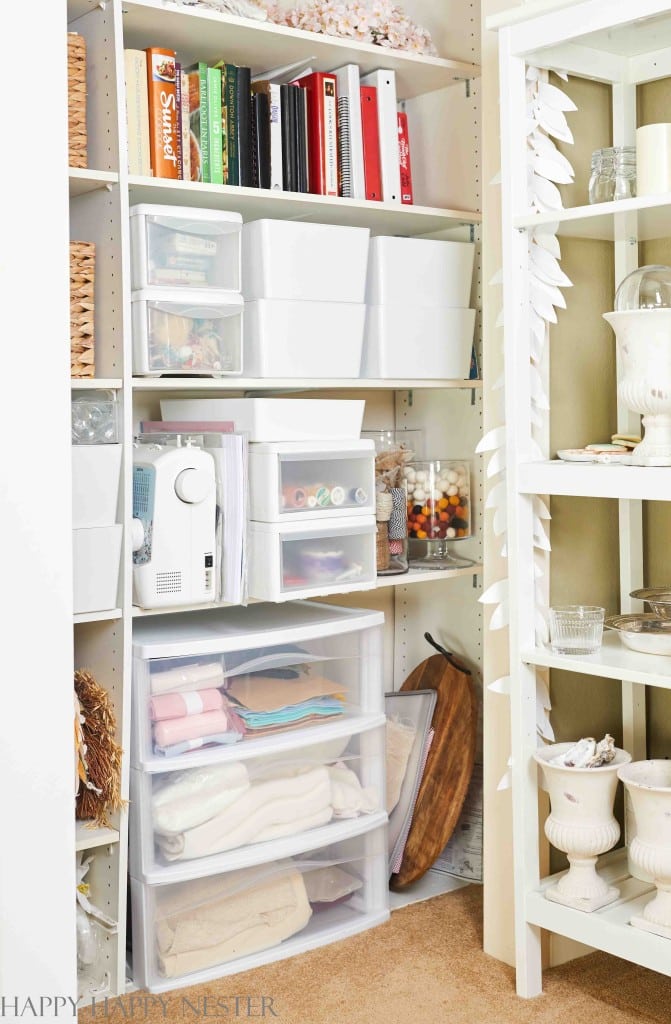 DIY Storage Closet Ideas to Double Your Storage
Let's optimize your closet space in this DIY Storage Closet Ideas post. Whether you have a big or small closet or a linen closet, these tips and tricks will help you double your storage.
I'm super happy that I didn't invest and spend a lot of money on a professional organizing system, but rather, I came up with my own DIY closet organizer.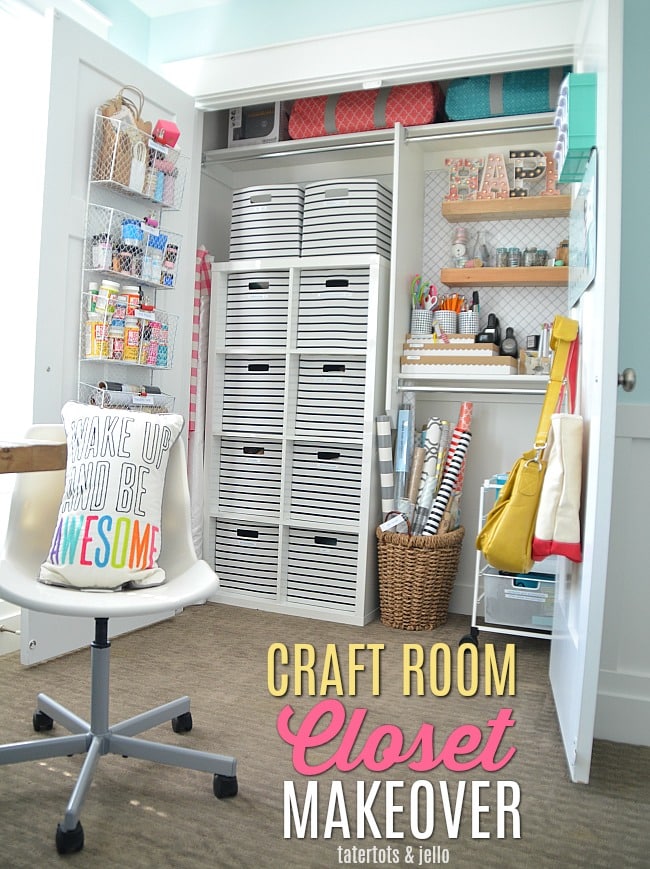 Craft Room Closet Makover Organizing
Join Jen and see how she redid her craft room. Follow the helpful tips and tricks to start organizing today!
My Favorite Things – Snack Ideas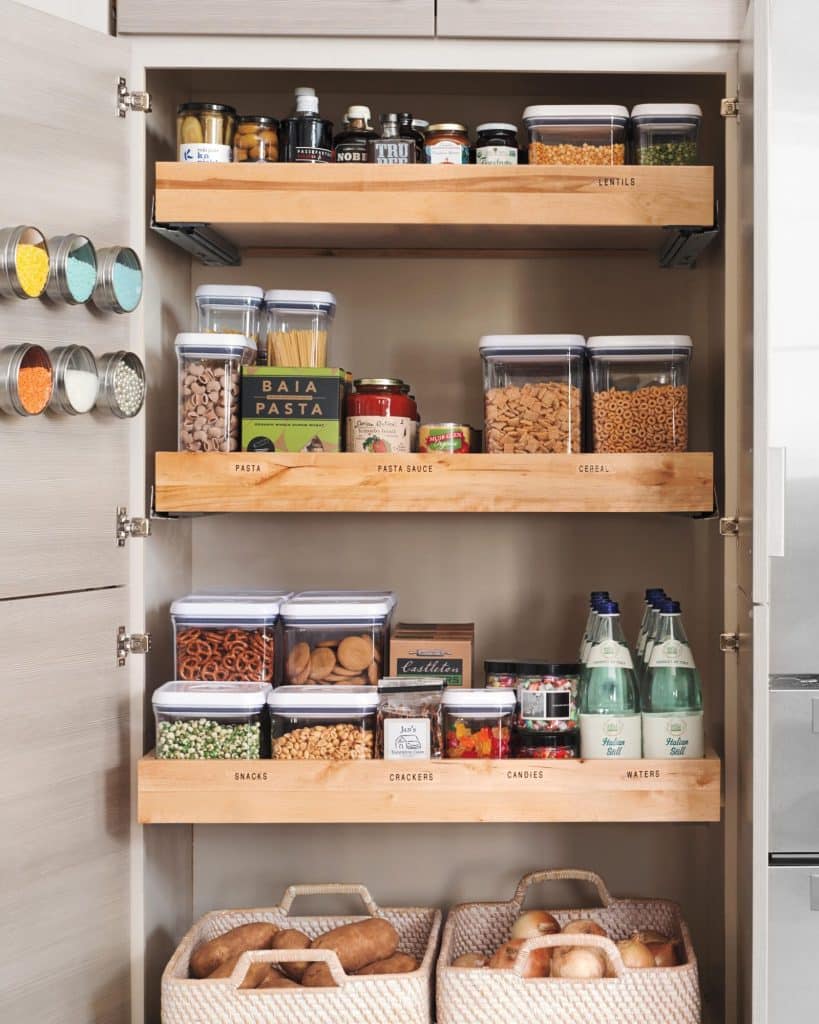 How to Organize a Snack Drawer
Keeping your favorite bites fresher and streamlined has never been easier thanks to Martha Stewarts tips and tricks.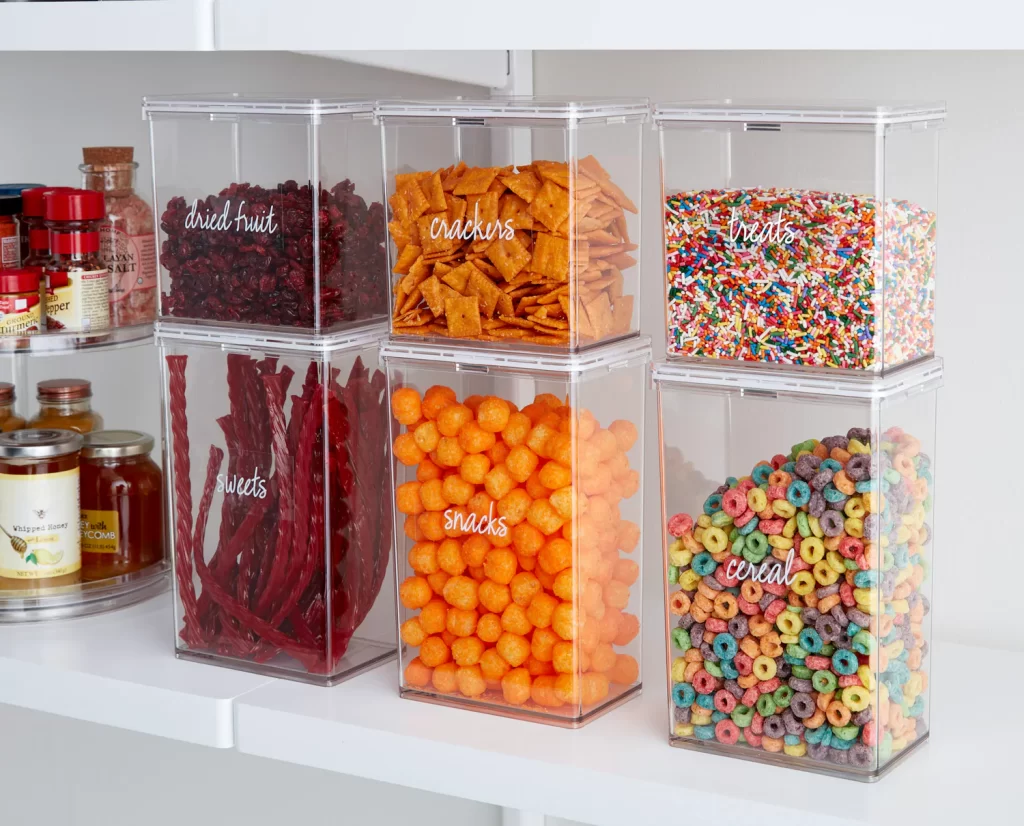 Follow these tips from The Home Edit to create a clean and tidy space for your favorite snacks of all time.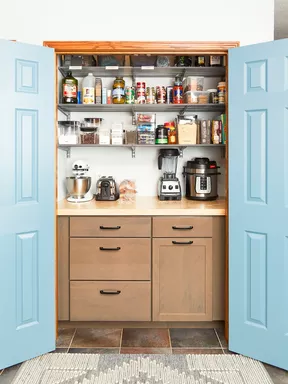 Turn a Closet Into a Storage-Packed Snack Organizer
Keeping an organized pantry can be hard when three teenagers are involved but functional fixes optimize this pantry's storage capacity with Better Homes & Gardens.
My Favorite Things – Drawer Ideas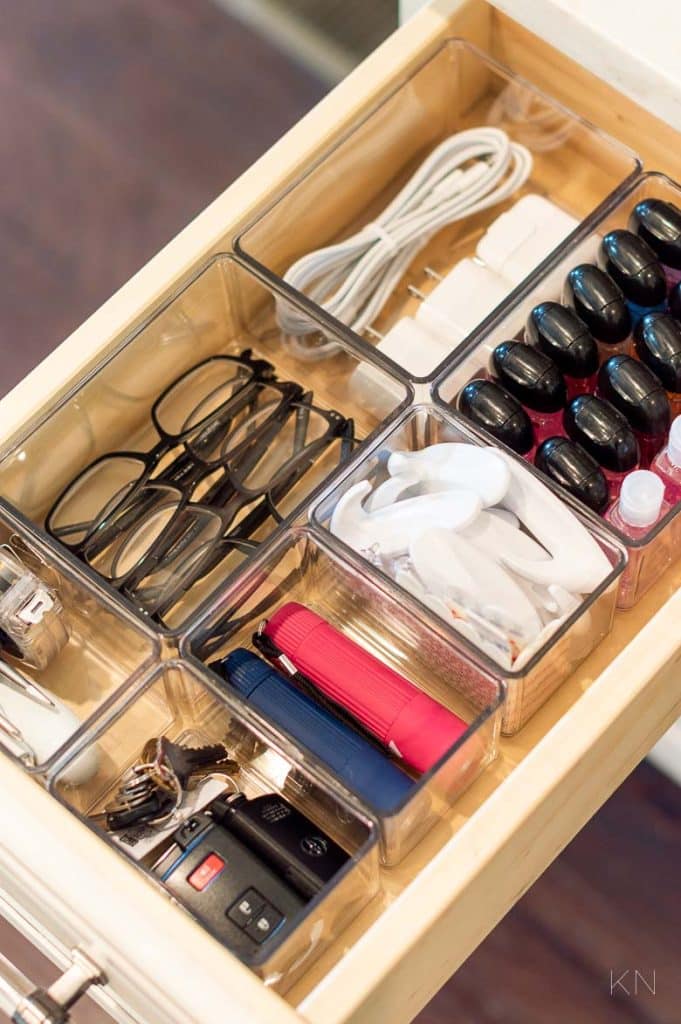 Five 50-Minute Drawer Organization Ideas
Today, Kelley Nan is sharing five drawers she tackled, with their befores and afters, that were all made over with new organization systems implemented in under an hour.
My Favorite Boutique of the Week's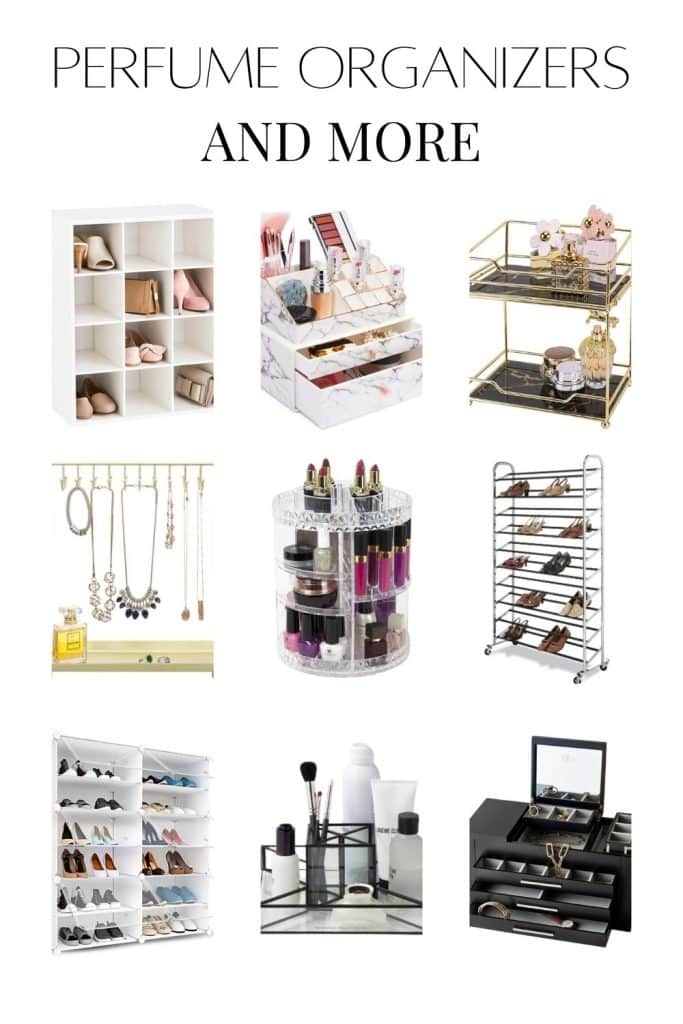 Let's get organized with Perfume Organizers. Today, I share a vast collection of containers for your makeup, skincare, perfume, clothing, etc.
These are some of the go-to containers that I love and recommend. Now is the time to take care of the mess, clean, and manage your space in time for summer.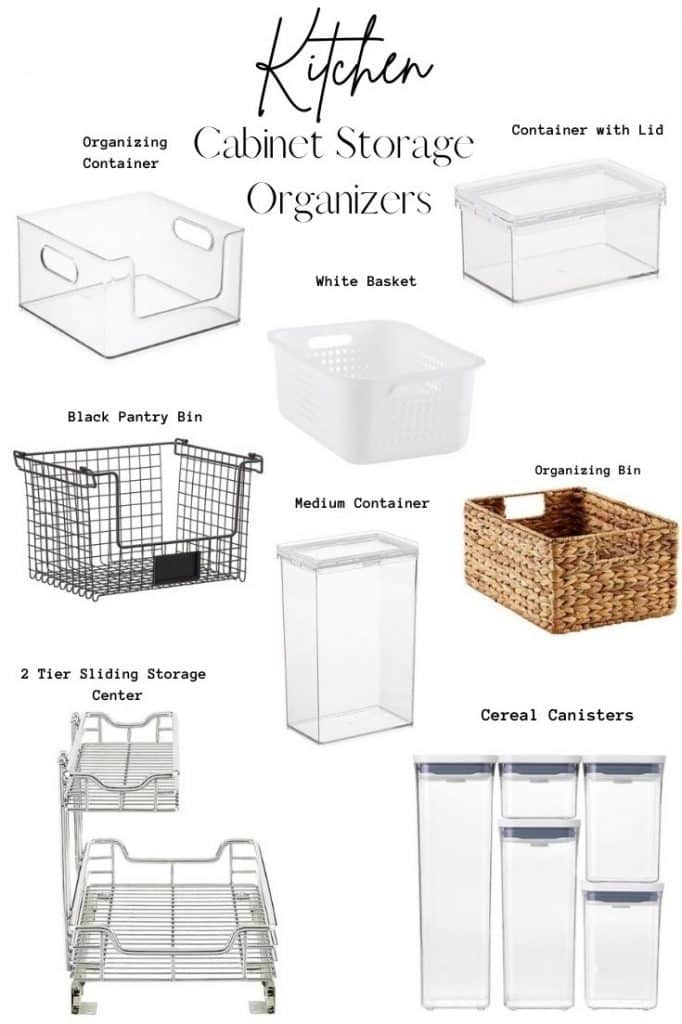 Kitchen Cabinet Storage Organizers
Welcome! Here are some of the best Kitchen Cabinet Storage Organizers to help you arrange your spice rack, baking ingredients, cereals, favorite snacks, and much more!
Regardless of your style, there is something here for everyone! So check out these kitchen cabinet storage organizers to and start organizing today!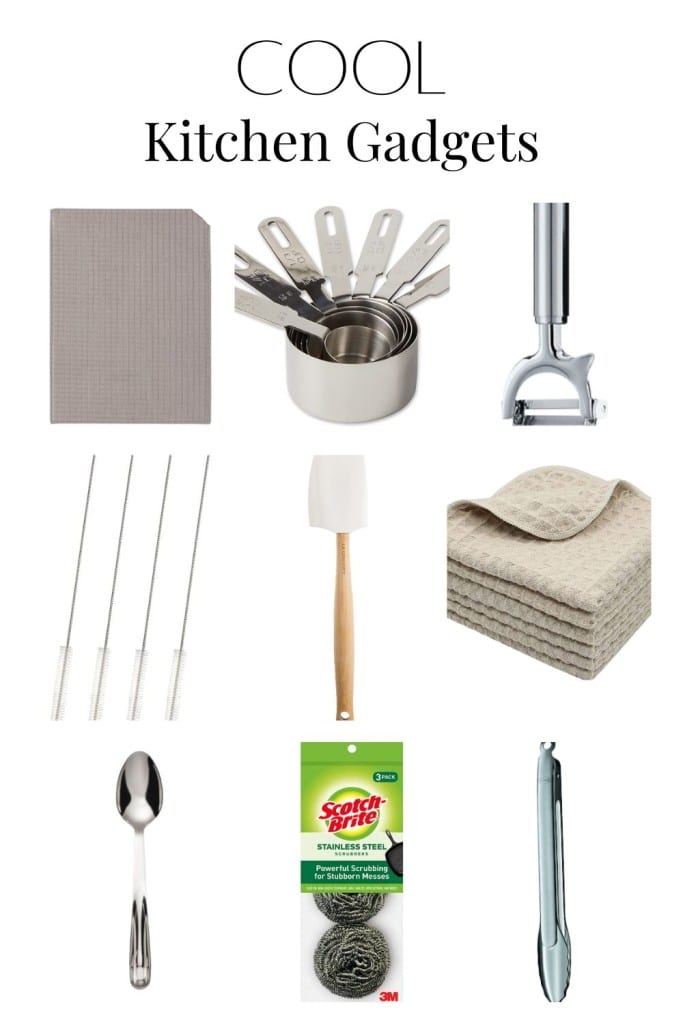 Since it's the start of a new season, I think it's a good idea to share some new Cool Kitchen Gadgets!
Add these items to your ongoing collection to better cook, bake, and even clean.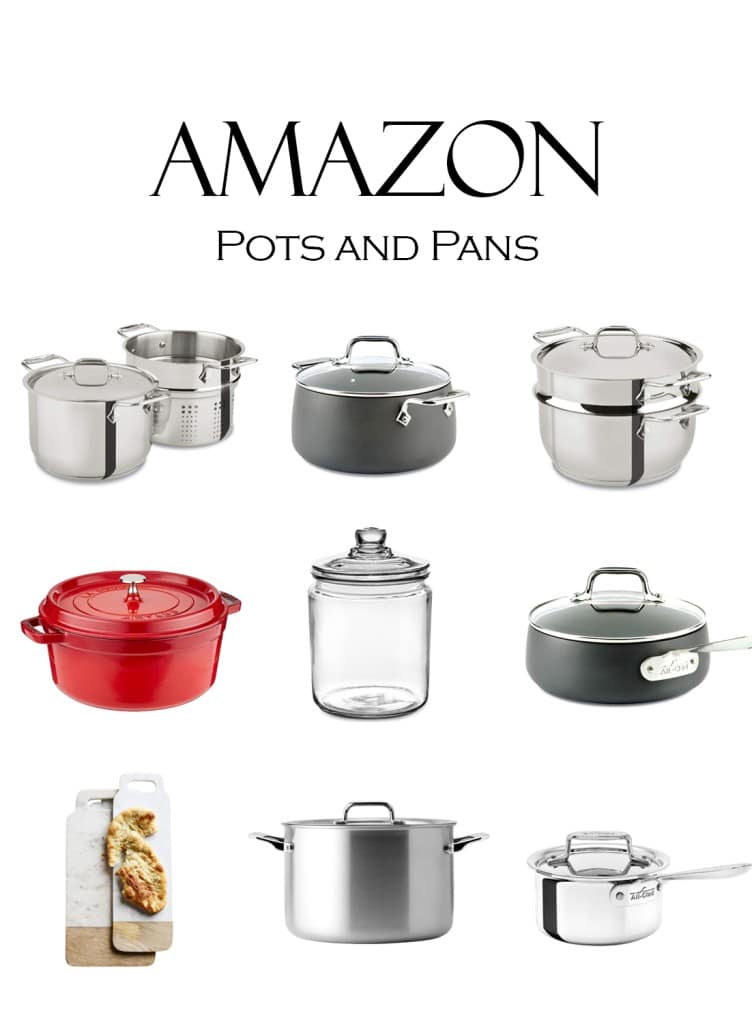 Check out this gathering of Amazon Pots and Pans to find affordable, accessible deals of the day.
Here you will browse some of the best kitchenware on one of the greatest sites. Let's begin!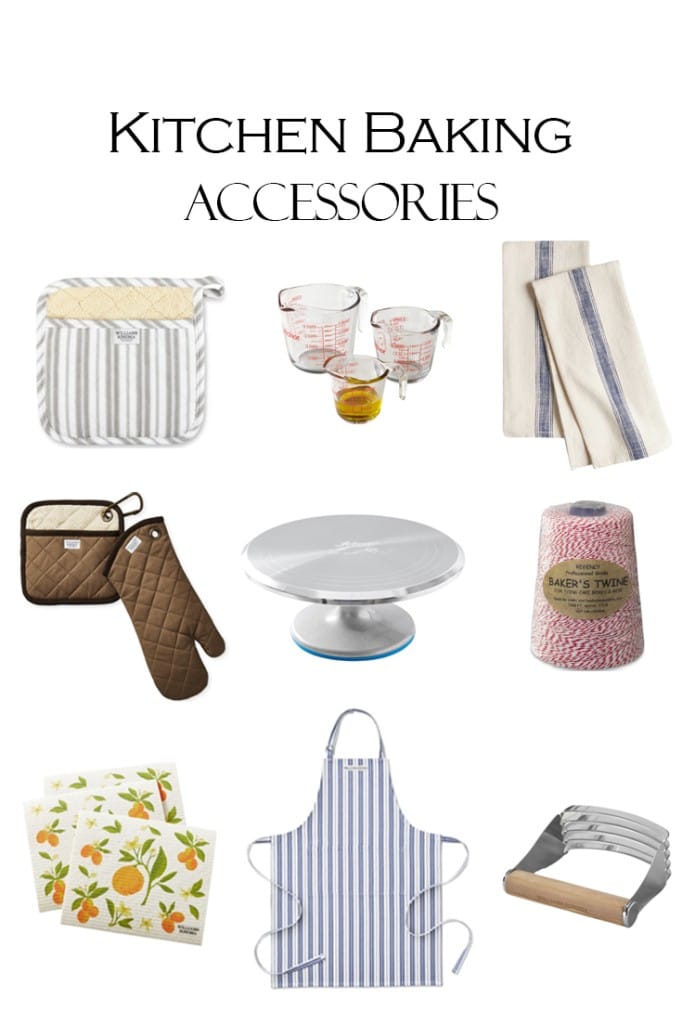 Here is a complete list of Kitchen Baking Accessories, from dishcloths and trivets to potholders and aprons.
Throughout this collection, you will find yourself clicking links, adding items to your cart, and purchasing a new addition to the (kitchen) family.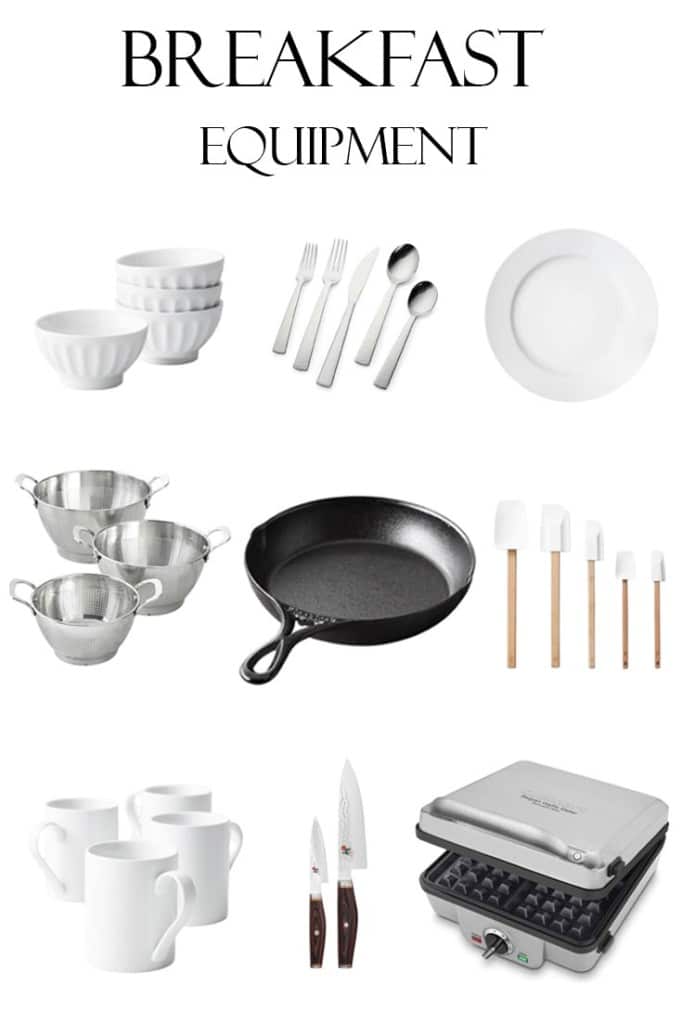 Since this week is all about what I eat in the mornings, here is a collection of my Breakfast Equipment that I love.
Throughout the post, you will look at my go-to accessories and utensils for my favorite meal of the day.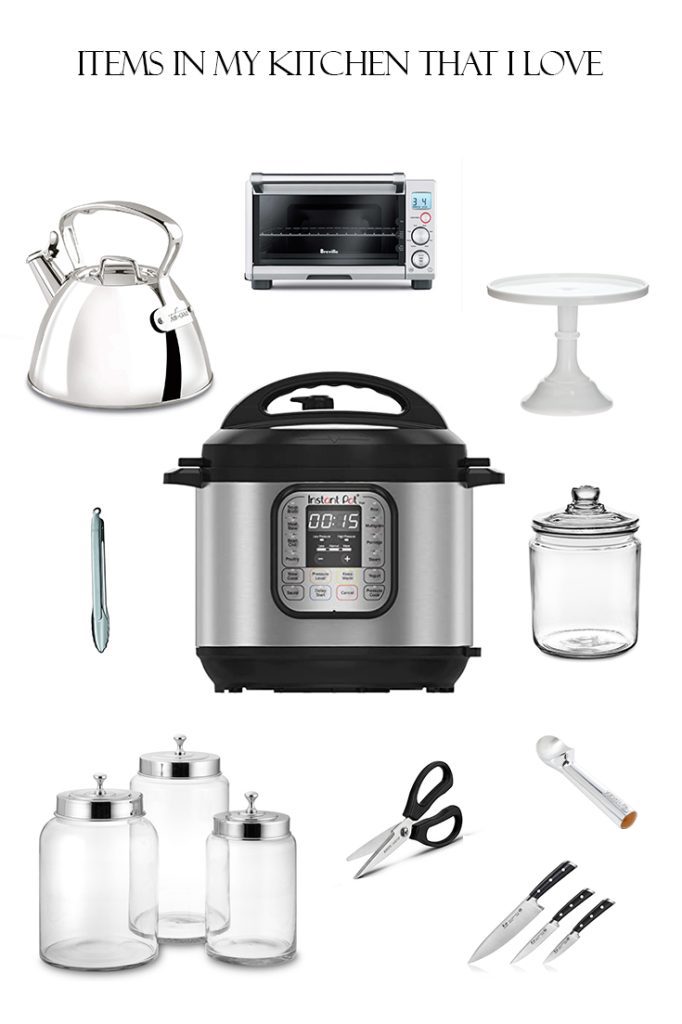 Items In My Kitchen That I Love
Join me, and let's take a tour through my favorite spot in the house to browse some Items In My Kitchen That I Love.
Everything from All-Clad pots and apothecary canisters to the best appliances and utensils! Here's an inside look at what I use daily when preparing meals for my family.
This Week's Tip – Under the Sink, Slide Our Shelf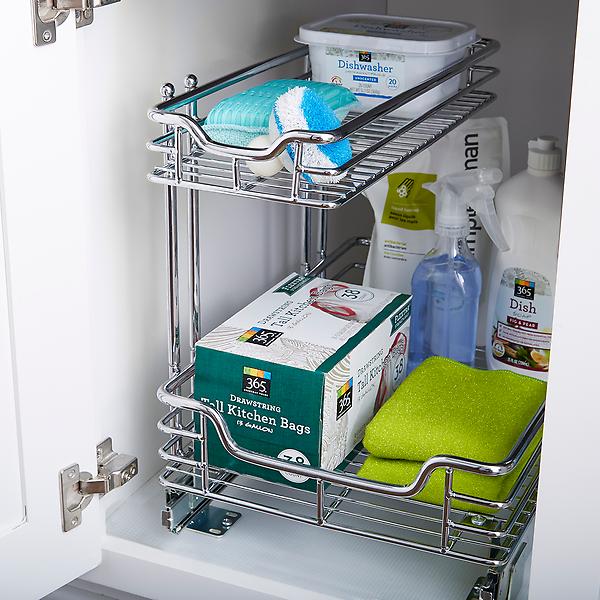 Over the years, I've struggled with the space under our kitchen sink. It takes work to organize and retrieve things from this area.
One day, I had enough and decided to bite the bullet and buy a slide-out shelf.
Now our experience with finding things under the sink is so easy. We pull out this sleek metal double shelf, and all our cleaning products are accessible. This excellent organizing product has changed the whole space.
I highly recommend investing in and installing this efficient pullout shelf.
Also, with our water filtration system leaking over the years, we finally bought a catch basin under the sink. This rubber boot tray protects the cabinetry from any water leaks. It is a must-have for under the sink.
Latest Obsession – A Well-Organized Dishwasher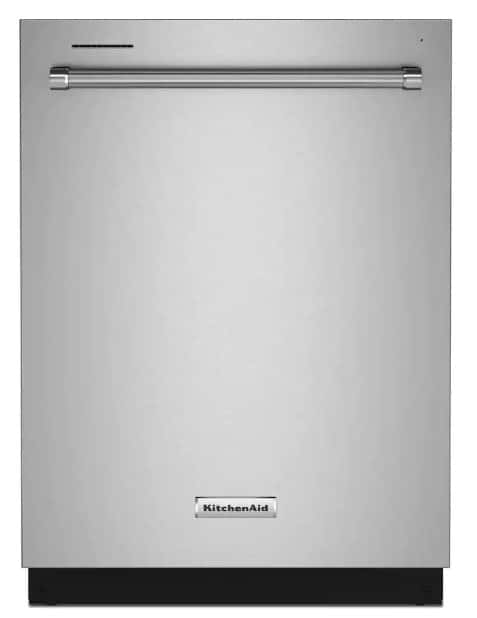 I'm obsessed with our reasonably new dishwasher. Unfortunately, we have yet to have good luck with dishwashers. But finally, our luck is turning around, and our new one is fabulous.
Here are a couple of things that I love about it.

It is super quiet. With our last dishwasher, we had to run it when we went to bed since it was so loud. Since our television is a few feet away, we can still run it and watch a movie.

This dishwasher has a third upper rack, and it's fabulous when it comes to organizing our dirty dishes. The efficient design allows ample room for everything.

Also, it gets our dishes super clean, which makes us happy!
It doesn't hurt that it got great reviews as well. It is the same brand as our last dishwasher, so I was scared to give them a second chance. But they nailed the design on this model!
---
Hello!
I hope you had a good time with me on the blog!
These ideas have inspired you to organize your pantry items and own snacks. Now you will have easy access to all snacks, foods, and more!
Use these tips to declutter similar items to have a squeaky-clean home for 2023.
Stay tuned to the blog for more tips, ideas, and decor inspiration from my home to yours!
Have a wonderful day, my friends,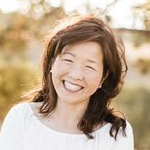 Latest posts by Janine Waite
(see all)