Join me, and let's take a tour through my favorite spot in the house to browse some Items In My Kitchen That I Love. Everything from All-Clad pots and apothecary canisters to the best appliances and utensils! Here's an inside look at what I use daily when preparing meals for my family.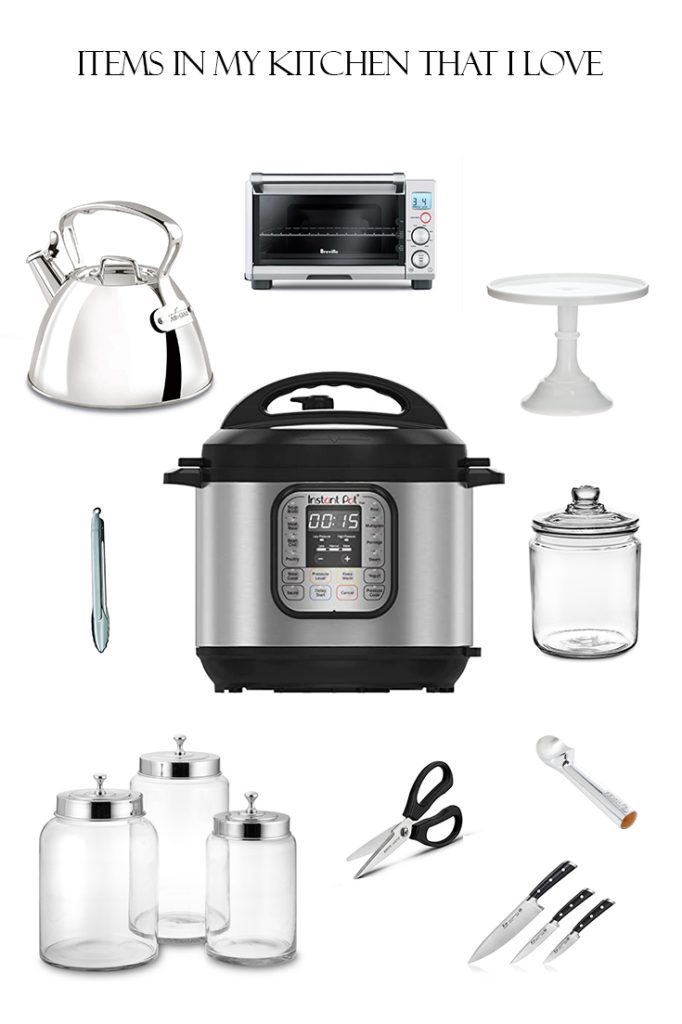 Do you have a preferred place in your home that you find yourself in most of the day?
For me, it's definitely my kitchen. If you didn't know, I love to cook and bake. I'm always testing old recipes with a twist of new! You name it, dinner recipes, desserts, snacks, drinks… I love it all. With some of the items in my kitchen that I love, maybe you'll find the next best utensil or appliance to add to your kitchen collection!
Don't get me wrong. It took years to find the best of the best when it comes to kitchen gadgets. However, I thoroughly researched and came across which tools fit my needs, wants, and overall style.
I'm happy to say the reviews of others did not disappoint.
All of the items in my kitchen that I love have proven that they are the best you can buy! No breakage, cracks, stains, nothing. I wouldn't present something to you if I didn't absolutely love the product.
All-Clad Pots/Pans
Cake Stands
Utensils
Appliances
Apothecary Canisters
Crate & Barrel Crockery
Browse on to see items in my kitchen that I love!
Items in my Kitchen that I Love
*This post contains affiliate links
ALL-CLAD POTS & PANS
When I say these All-Clad pots and pans are my favorite, I'm telling the truth.
Why? Well, because they are premium cookware that lasts throughout the years. Seriously, I have been using them since my kids were young. They are now adults! I can't say enough good comments about these pots and pans, and they are some of the best items in my kitchen that I love.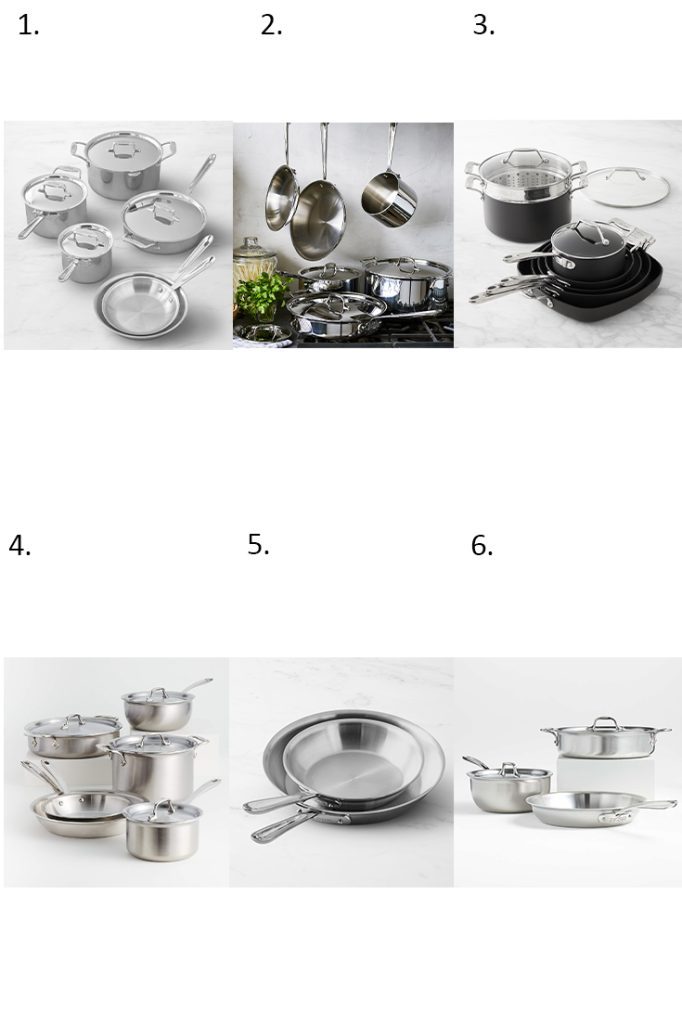 Sources: 1 l 2 l 3 l 4 l 5 l 6
Now, I went a little overboard with picking out stainless steel sets, but I wanted you to have a variety of different types of All-Clad cookware sets. Not only are these pots and pans priceless, but they are worth it—every penny.
CAKE STANDS
As we all know, I'm a big baker in my house. Especially making a cake. I believe you can never go wrong with a slice (or two) of cake! That's where Mosser cake stands come in handy. Mosser offers high-quality glass in classic and unique designs to your liking.
My favorites are their cake stands.
Simple, chic, and perfect to showcase your delicious creations!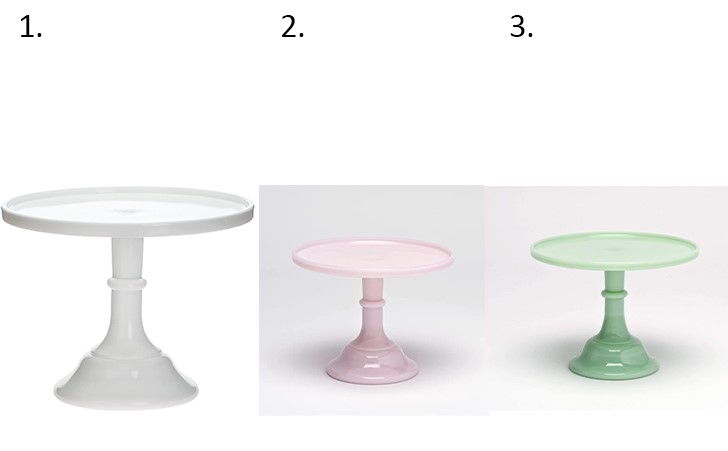 These three cake stands are just about my favorite because of the soft shade of pastel.
I'm a sucker for pastel-colored anything. So, to all of those bakers out there, take a look at these Mosser cake stands to get a look at some of the items in my kitchen that I love.
Word of advice: make more cake!
UTENSILS
I thought it would be fun to include some useful (and awesome) utensils for your everyday routine! But, of course, you guys know I wouldn't include a product if I didn't 100% love it, and lucky for you, these are all items in my kitchen that I love!
So, from tongs and knives to kitchen scissors and an ice cream scooper, here is a unique collection of some of my go-to utensils.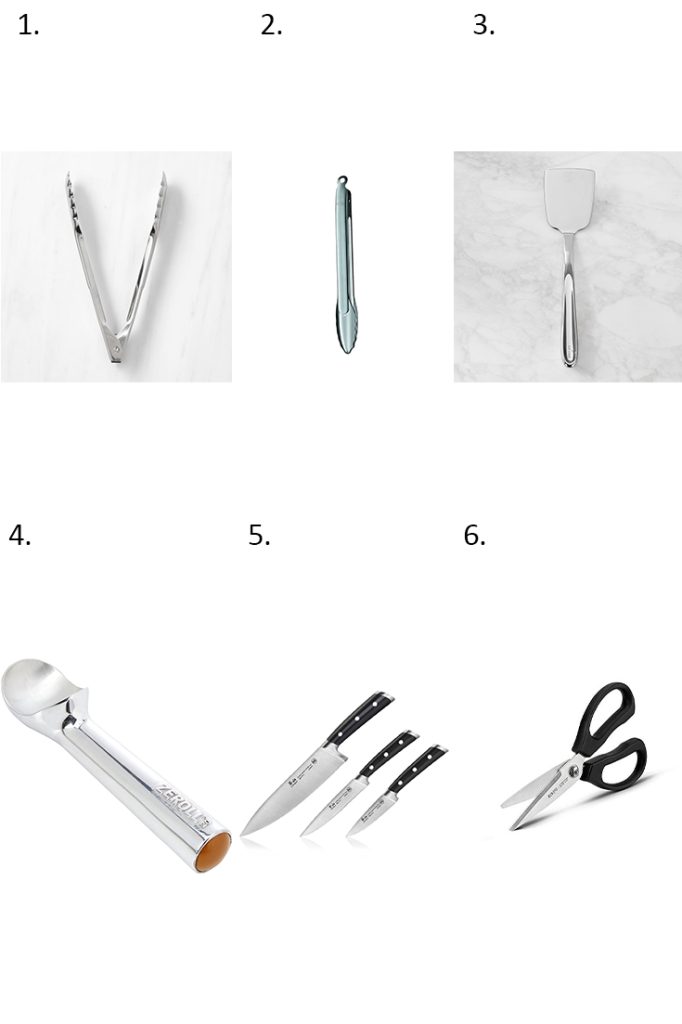 Sources: 1 l 2 l 3 l 4 l 5 l 6
Yes, this selection seemed to be all over the place, but I wanted to give you small accessories for your kitchen. I hope you found something for a friend or loved one who loves to be in the kitchen as much as I do. Or, I hope you found something for yourself to expand your cooking adventures!
APPLIANCES
This is probably my favorite section of items in my kitchen that I love.
All 4 of these kitchen appliances have helped me in more ways than I would like to admit because they make meals easy, quick, and delicious.
So on nights when I don't want to spend a lot of time preparing a meal, I turn to these appliances. These also gave me new recipes to try out, and now I can happily say those recipes turned into family favorites!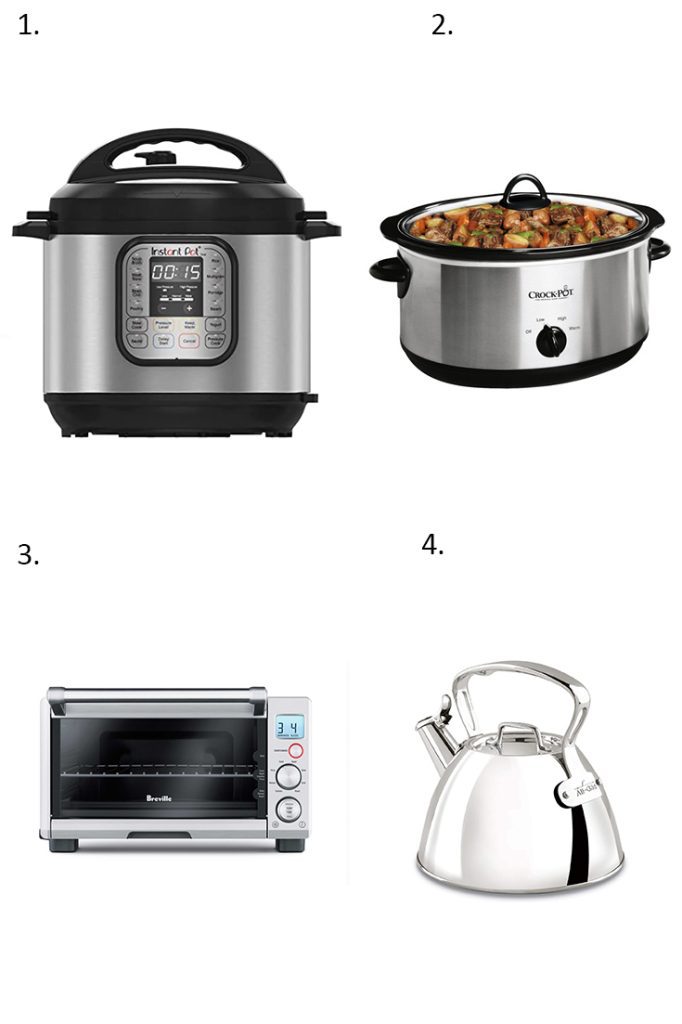 I am such a big fan of every item here. Plus, here's a bonus! I have quite a few recipes on the blog that cook great in some of these appliances. I'll link them below so you can try them out. My goal is to inspire others to cook more and let you know that you're capable of creating delicious meals, mouthwatering desserts, and scrumptious snacks!
APOTHECARY CANISTERS
As I said, the kitchen is my favorite spot in the house, so you could say I'm in there most of the day. And yes, while I'm working, I love to snack. So I told myself if I was going to snack on my favorite crackers and chips, I had to make it look pretty. That's where these apothecary canisters come into the picture. I place 3 or 4 of these glass containers on my kitchen island full of cookies, chips, crackers, mints. You name it. The possibilities are endless.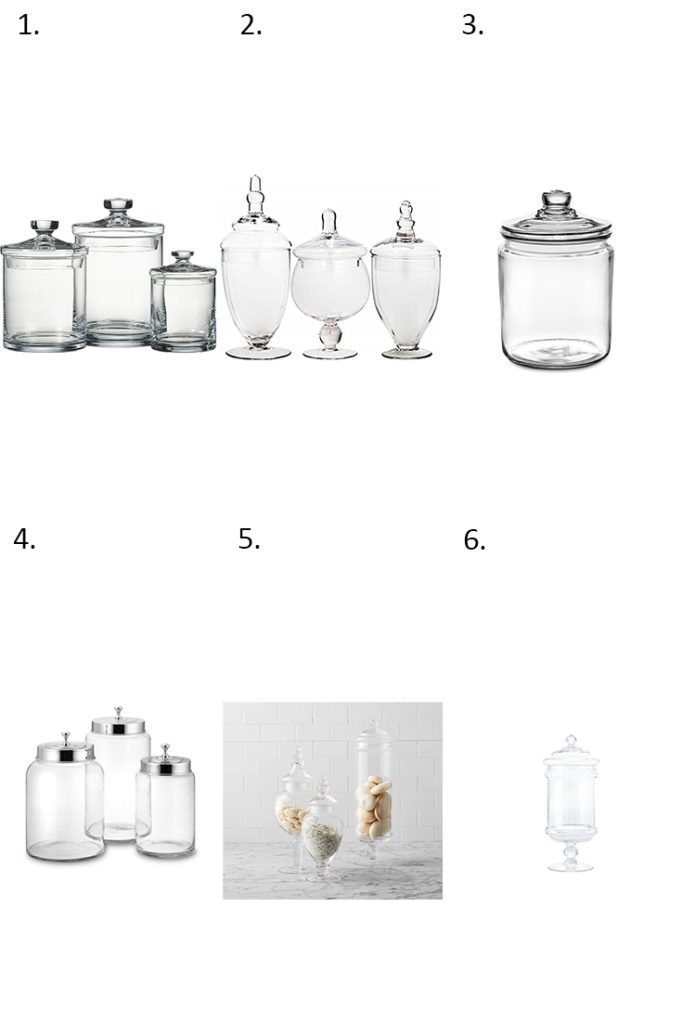 Sources: 1 l 2 l 3 l 4 l 5 l 6
I chose so many jars so you could pick and choose which ones fit your style the most. But, trust me, as a person who loves to snack and have a clean kitchen, and these apothecary containers will do wonders for your home!
But, beyond question, these jars are some of the items in my kitchen that I love the most.
CRATE & BARREL CROCKERY
Last but certainly not least, here is a small selection of crockery to add to your collection.
To say that I am obsessed with Crate & Barrel is an understatement. Their products never seem to disappoint and always make mealtimes even more special. From mugs and drinking cups to bowls and plates, here is a look at what I love to serve food and drinks with the most.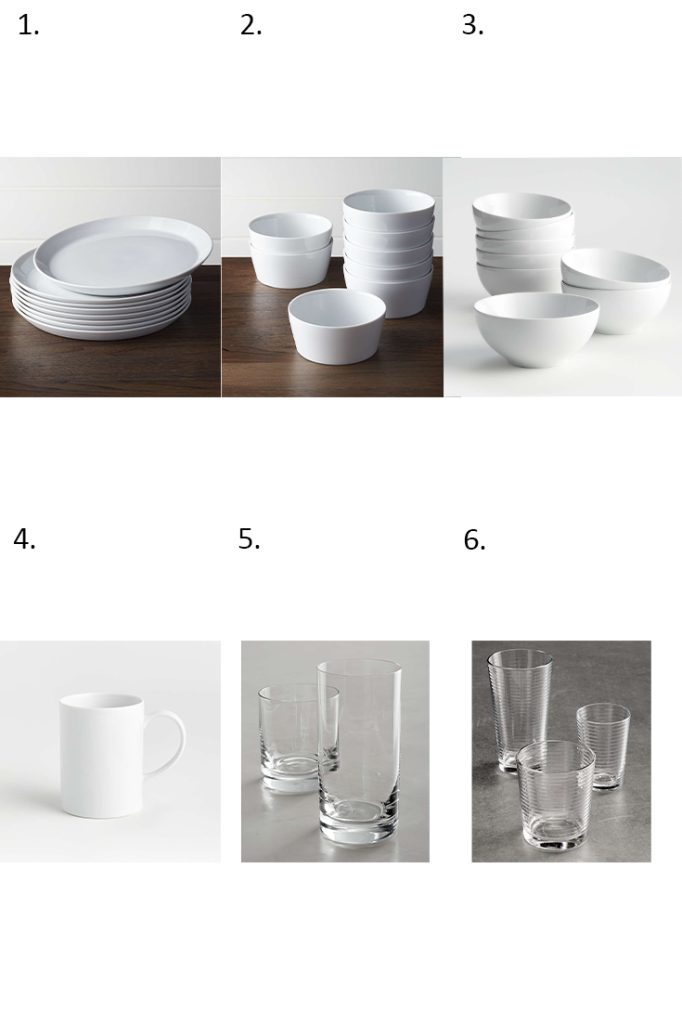 Sources: 1 l 2 l 3 l 4 l 5 l 6
I can't explain how great these products are. Easy to use, simple to style, and perfect for anyone's kitchen! Most of my recipes on the blog are actually served in these bowls and on these plates, so yes, you could say I'm a big fan of this crockery collection.
Hooray! You made it to the end. I'm so glad to share with you all a sneak peek of what I use most in my favorite spot in the house, the kitchen! Hopefully, throughout looking at the items in my kitchen that I love, you found something for your own kitchen!
WANT MORE POSTS LIKE THIS? HERE ARE A FEW OTHER IDEAS FOR THE KITCHEN
---
Thanks so much for checking out this selection of items in my kitchen that I love. It means a lot. I had such a blast picking out these items, and I hope you found something to add to your cart! Be on the lookout for recipes, crafts and, decor as we roll into the new year!
Have a great Wednesday, everyone,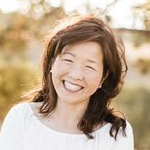 Latest posts by Janine Waite
(see all)