Here are some of my DIY Kitchen Organizing Tips! This collection includes some of my favorite organizing containers for your pantry, how to arrange your spice rack, how to organize a French Door refrigerator, and more! You'll also find some kitchen accessories, my favorites, what's trending on the blog, and tons more!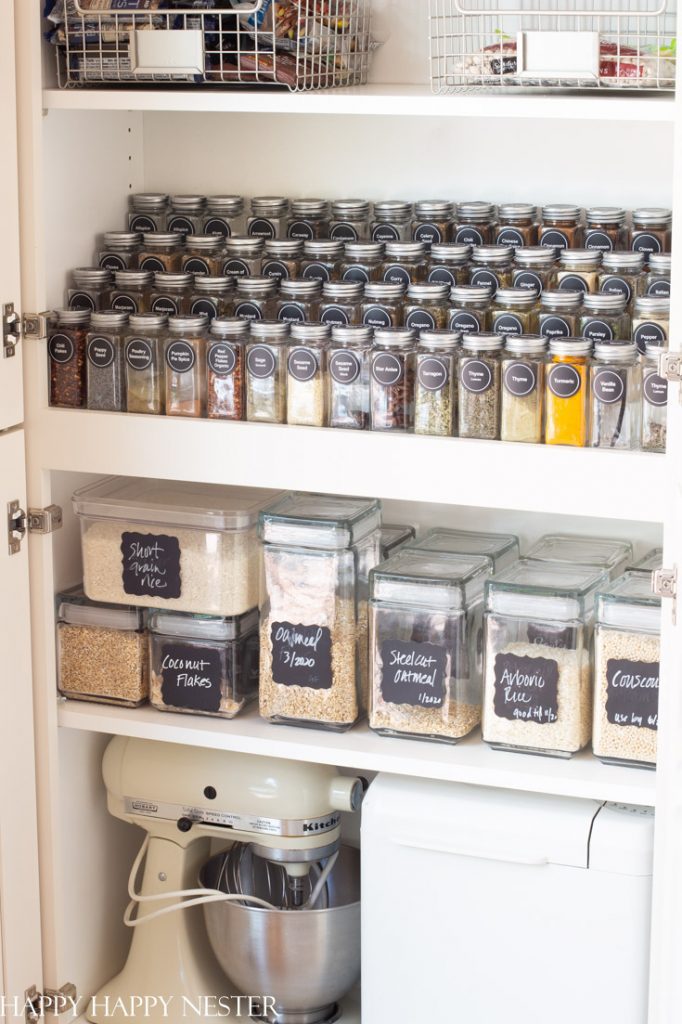 Here is a collection of some organizing and cleaning blog posts to help get you organized today!
It took me forever to find a cleaning system that worked for me. 11 years later, I can finally say that I have found the perfect process!
If you need some organizing guidance, these DIY kitchen organizing tips will blow your mind. Check them out here on the blog!
Saturday Chitchat with Janine – Volume 30
Hooray for the Weekend!
Hello fellow friends, I hope getting back into the groove of school and work hasn't been a struggle for you. Even though Summer is almost over, Fall is arriving. Meaning cold weather to stay inside and get some chores done!
I don't see organizing as a chore but more of a hobby for me. So if you enjoy cleaning and arranging, then you'll definitely enjoy today's post.
I talk about anything and everything organizing, so come on, put on those new comfy clothes, grab a blanket and get cozy!
Whether you've found your perfect organizing process or are on the hunt for one, you are in the right place. Together we will conquer the hardships and successes of cleaning parts of your home!
Come on over to the blog for a bit of a visit, and learn some helpful and handy DIY kitchen organizing tips!
Happy Saturday!
Cheers,

A Personal Note from Janine
Can you believe that we bought our house without me seeing it in person!
Yes, my husband viewed the house on a Wednesday evening and bid on it before going on the market the next day. Since time was tight, he needed to move quickly, so I had no time to travel to the Bay Area and see the house.
Thank goodness when we moved down a couple of months later, I loved the home we bought.
But, the kitchen was a bit dated and needed an overhaul. So after living in our home for a couple of years, we finally had plans drawn up, and we began demolition. We had a brand new kitchen and a remodeled living room, dining room, and family room six months later.
And now our new kitchen is triple its original size and has all kinds of extra counter space and storage. But, even after eight years of living in our remodeled kitchen, I'm still organizing the pantries, drawers, and new refrigerator.
Organizing is an endless task, and I'll never tire of all the projects on my list!
Ok, happy Saturday!

This Week's Inspiration -Organizing and Cleaning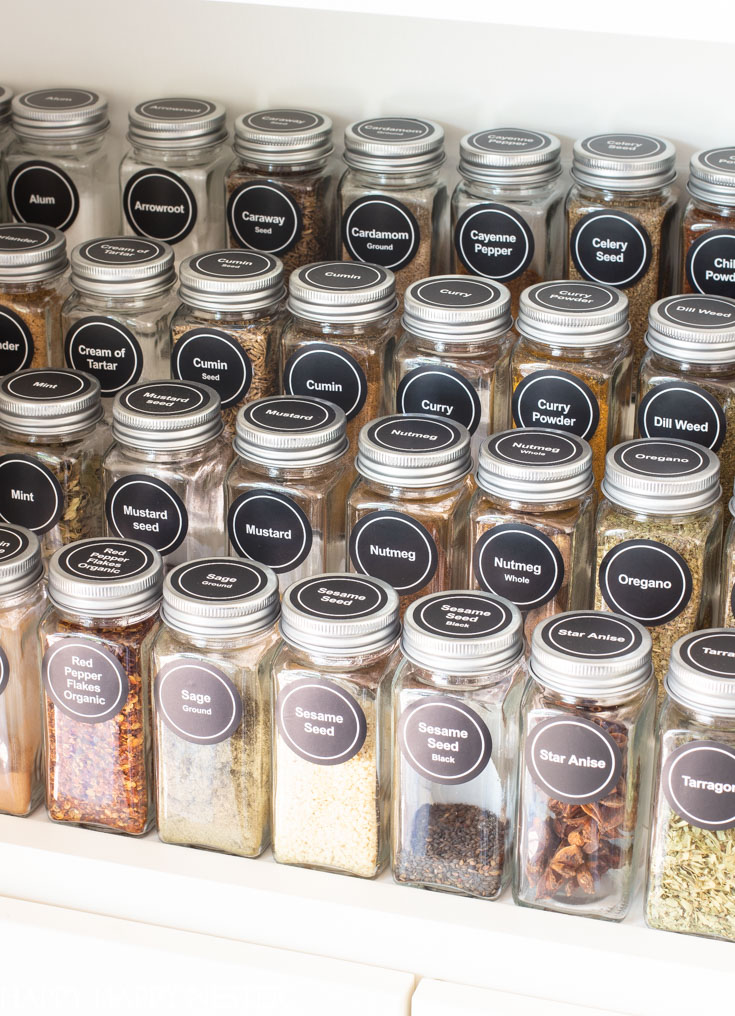 There are quite a few options to choose from when it comes to Spice Rack Organizing. Selecting the best spice rack organizer, containers, and labels is an overwhelming process. This post will tackle some of these issues and more.
When it comes to organizing, I am a woman on a mission, and I have organized our baking pantry, snack drawer, coffee station, under my kitchen sink, and now our spices. Suppose you like to receive my 5-step organizing series, then signup here. It is free and will be delivered to your email inbox!
Check out this post to start organizing your spice rack today!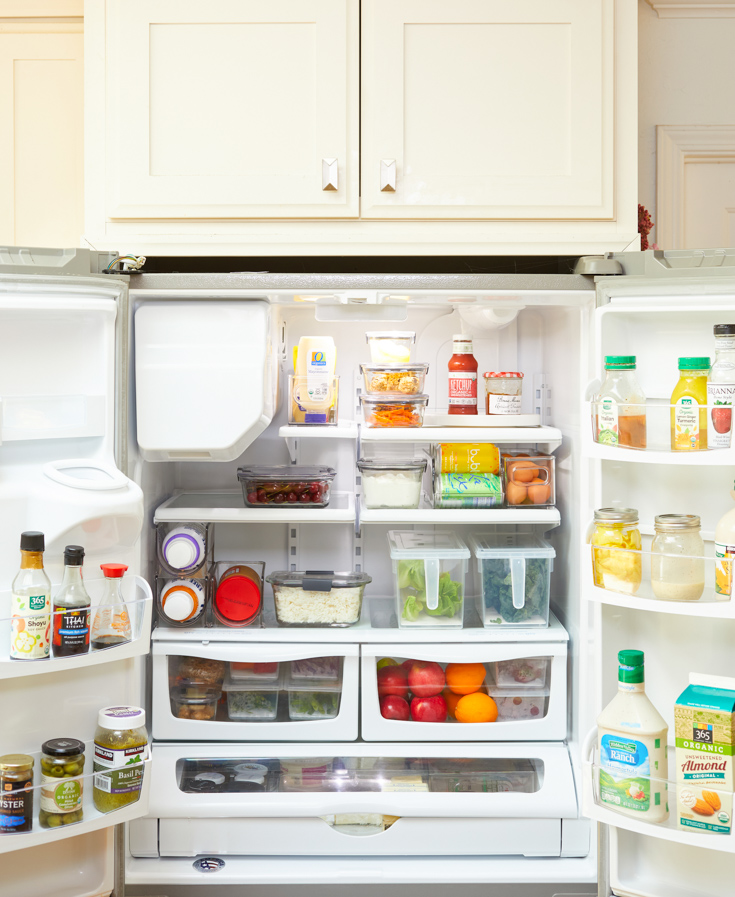 How to Organize a French Door Refrigerator
Is your fridge in need of cleaning? Well, I've grappled with keeping my fridge tidy, and I finally tackled the mess and came up with a system that works!
The fridge is a challenging project since it means supplying it with food and purging it with food. This task needs constant attention. I hope you, too, can get your refrigerator organized and stay organized with my insightful tips.
Check out these DIY kitchen organizing tips for your refrigerator!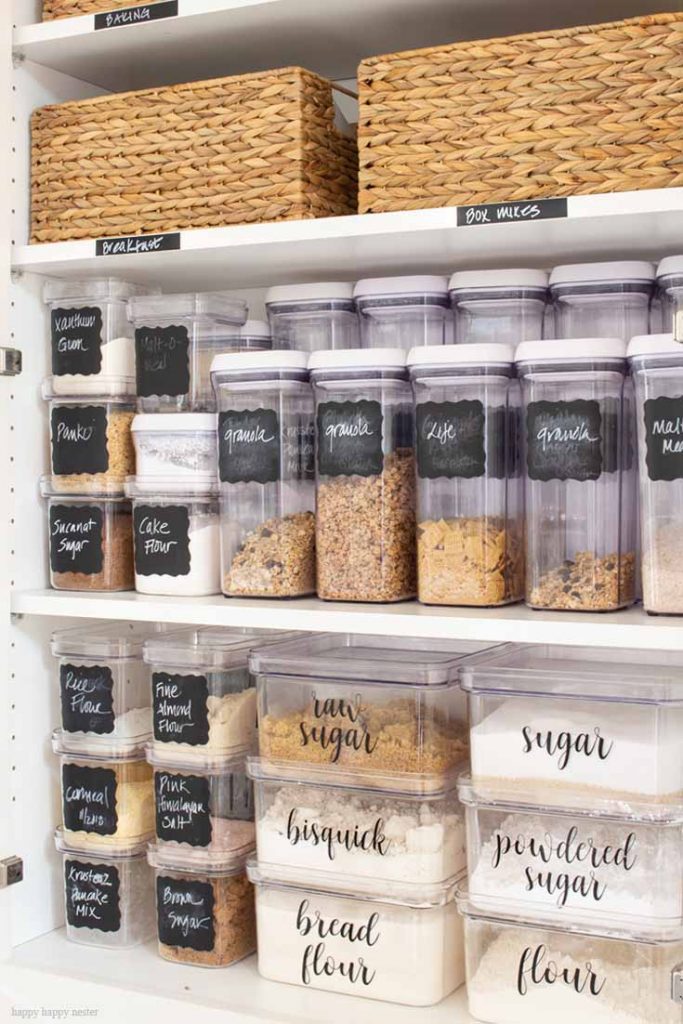 Organizing with Container Store Products
I found you can't have enough containers these days! So to put these containers to use, check out these DIY kitchen organizing tips to arrange your pantry containers!
By doing this, these containers will arrange your ingredients, necessities, and more perfectly to the point where you won't have to spend more than five minutes looking for them!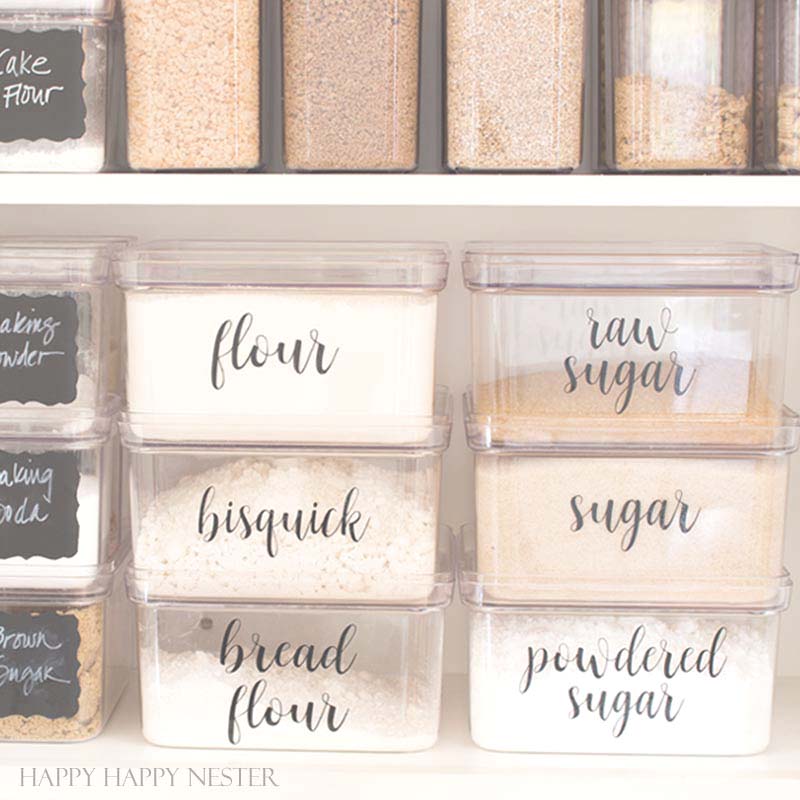 Organizing Kitchen Labels That You'll Love!
These gorgeous handmade labels have been the best thing for organizing! So, what better time to apply them to your own kitchen containers!
These organizing kitchen labels are so simple to make, trust me. Not only are they easy, but they will definitely make your containers pop with style!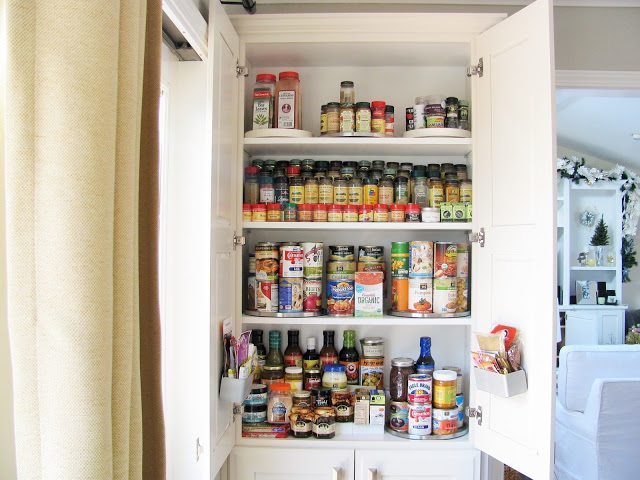 I present to you some of the BEST DIY kitchen organizing tips you most likely haven't heard about yet. These helpful tricks will guide you in finding the perfect process when it comes to organizing your pantry!
My goal is to help you, and these are simple, easy hacks that will make life a lot easier. Check them out!
Chalkboard Labels for Organizing
Here is an old organizing post, but still a good one. As my kids say, "it's an oldie but a goodie." Anyways, here are more organizing labels for your kitchen!
These DIY kitchen organizing tips for labels will help you arrange your favorite snacks, treats, ingredients, and more a lot better!
---
This Week's – Boutique of the Week (Fun Fall Tiered Tray Decor)
*The following post contains affiliate links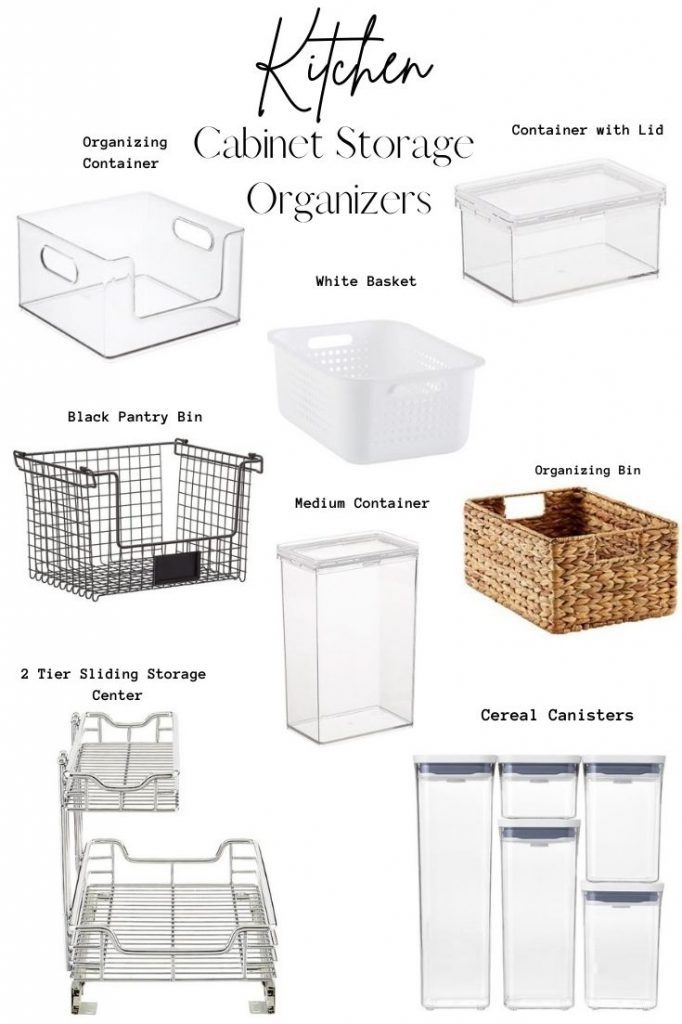 Kitchen Cabinet Storage Containers
Over the years that I have lived in California, I have struggled with finding a good organizing system.
I can now say that I have found the perfect system for me. My long search for containers, baskets, trays, lazy susans, and more, has resulted in organized and clean kitchen cabinets.
And guess what!? They stay clean and organized!
Regardless of your style, there is something here for everyone! So check out these kitchen cabinet storage organizers along with my DIY kitchen organizing tips to get started today!
---
My Favorite Things – My Favorite Kitchen Organizers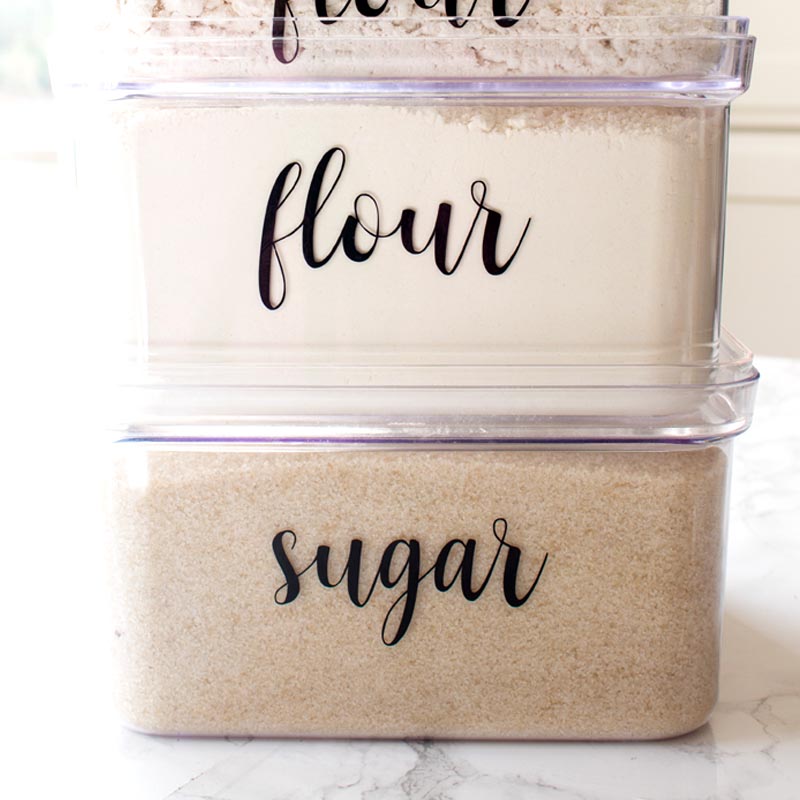 These labels are made by my friend, Sam from Raggedy Bits, and they are my favorite!
This fun line of 20 Farmhouse Pantry Labels is a great way to get your pantry organized. This set includes 20 labels! These labels can apply to glass, galvanized, wood, ceramic, or plastic surfaces.
They are made from vinyl and are the best labels for the kitchen!
I love these jars, and they are from another one of my blog posts, Chalkboard Label Organizing. Ever since I purchased these, it made finding snacks a lot easier!
The style of these jars is simple and will match any style in any house, whether you're going more modern or you like the farmhouse look!

Your favorite POP modular canisters have been improved. Designed to stack securely for space-efficient food storage in your pantry or kitchen cabinets, they now feature a slimmer shape and lids that come apart for easy cleaning.
They're ideal for preserving the freshness of dry food staples. Push down on the lid's button to create an airtight seal; press again to open.
I own tons of these containers, and they are amazing! I use these containers for my cereal, and you can find the pantry post here.
Gone are the half-eaten old boxes of cereals! These clear containers are perfect for keeping our cereals fresh and organized!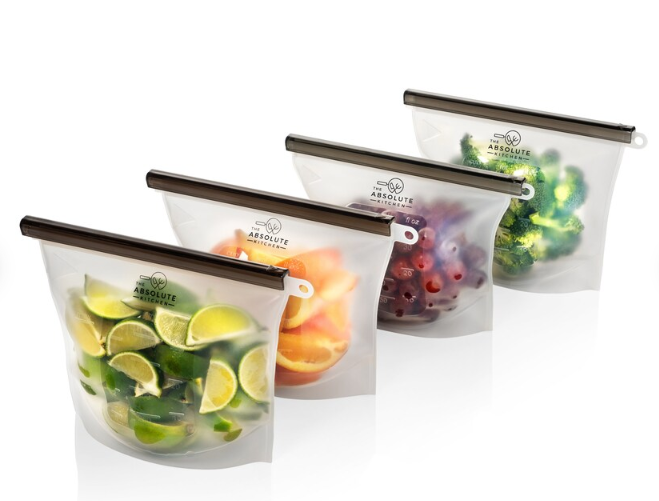 The perfect combination: 4 medium Food Grade & BPA- free reusable silicone food storage bags. The set includes 4 medium (1L/30 oz/4 cups) silicone food bags to help you preserve and store your leftovers, sauces, and snacks!
These bags help keep your fridge and kitchen organized and clutter-free. No more mismatched containers and lids taking up precious space in your kitchen.
A definite space saver since they are foldable, flexible, and stacked on top of each other. Imagine how good it feels to open the fridge and be able to quickly and easily see everything you have at a glance!
These reusable silicone food bags will make you feel good about the impact you have on our environment by making them as plastic-free as possible, one bag at a time!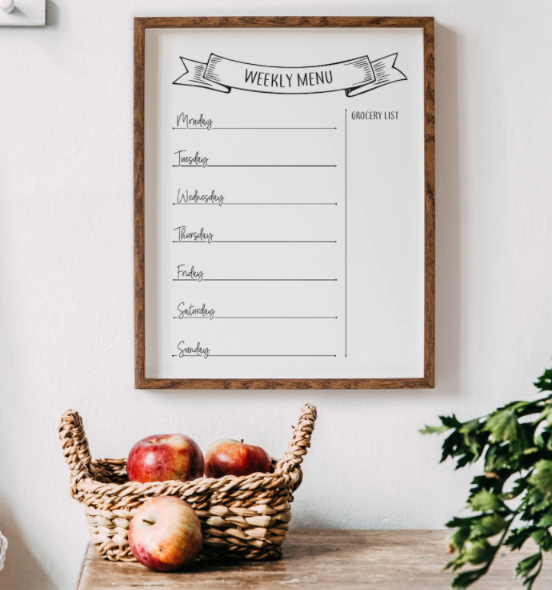 I plan our meals for the week every Sunday. I place it on our fridge so everyone in the family can view the menu.
So, I found a cute meal planner to keep the days and weeks organized. This is a pretty way to display it for the whole family to read!
If you love cooking, baking, meal planning, etc., try out this menu planner to keep your meals organized and different each week!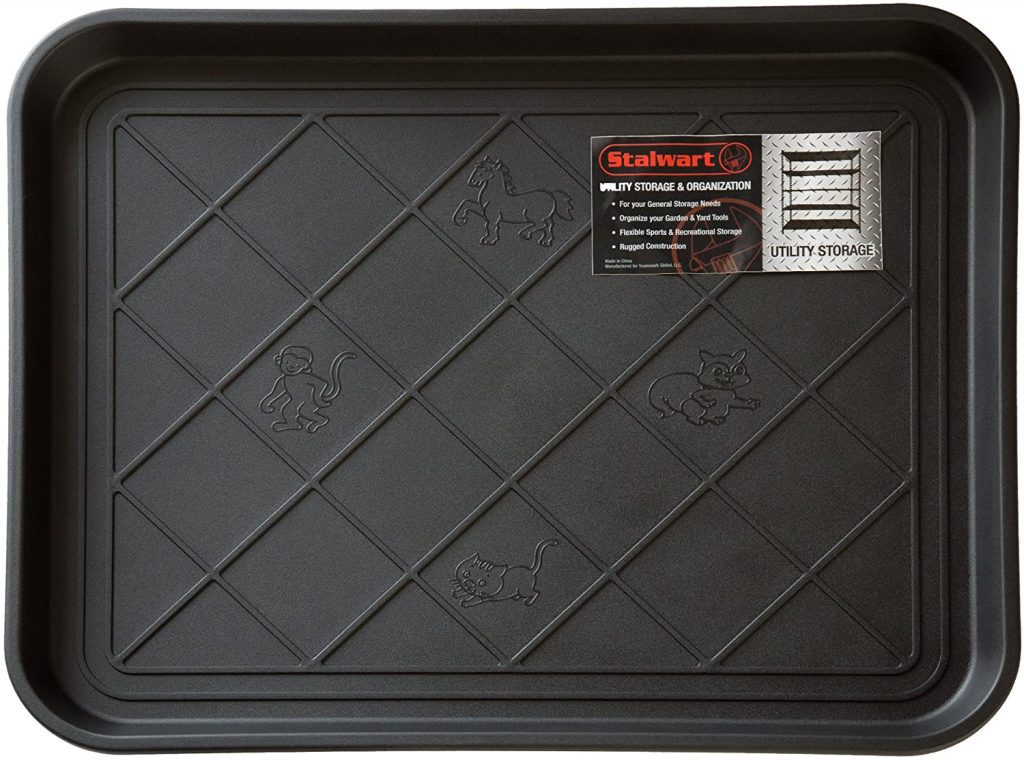 A Perfect Mat for Under The Sink
This is actually the perfect mat for under the sink. The great thing about it is, this mat catches water if you have leaks from your water system, pipes, etc.!
Recently, we had a problem with our filtered drinking water system, so after calling for someone to fix it, I purchased these mats, and they do an amazing job at keeping the water in one place!
This mat has protected our cabinets under the sink so far! It's too funny that it's a boot or shoe mat, but it works great for under the sink!
---
Organizing Projects from Friends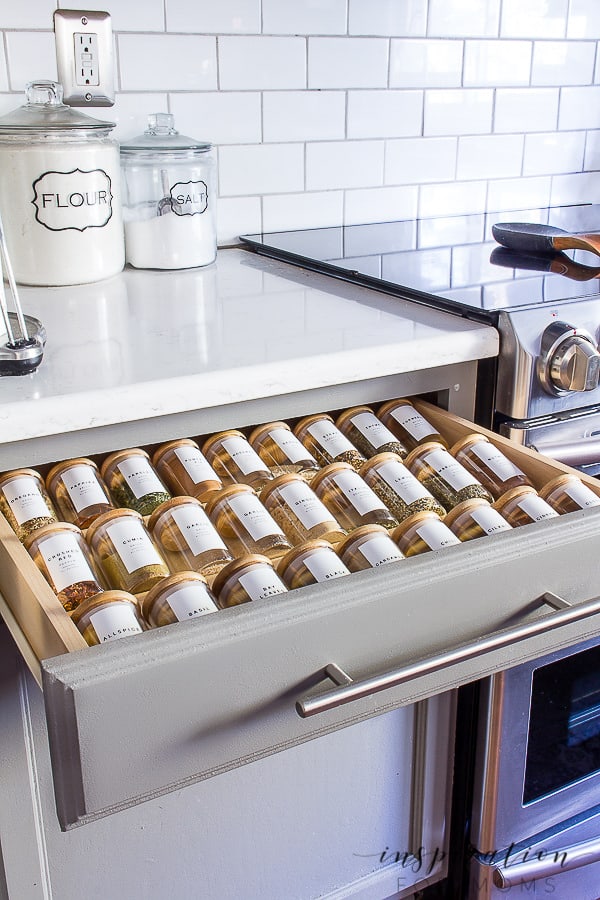 This post is from my sweet friend Laura from Inspiration for Moms, and she is sharing her spice drawer organizer DIY!
Spice is life! So that's why you need proper spice storage. Learn some of the best tips on how and where you should store your favorite spices and how to keep them organized as well.
So let's talk spices! Spices can get so disorganized, so fast! So Laura is sharing how she got hers organized easily with a doable method that's gonna keep them tidy. She also includes some of the best tips to help you keep those spices fresh longer.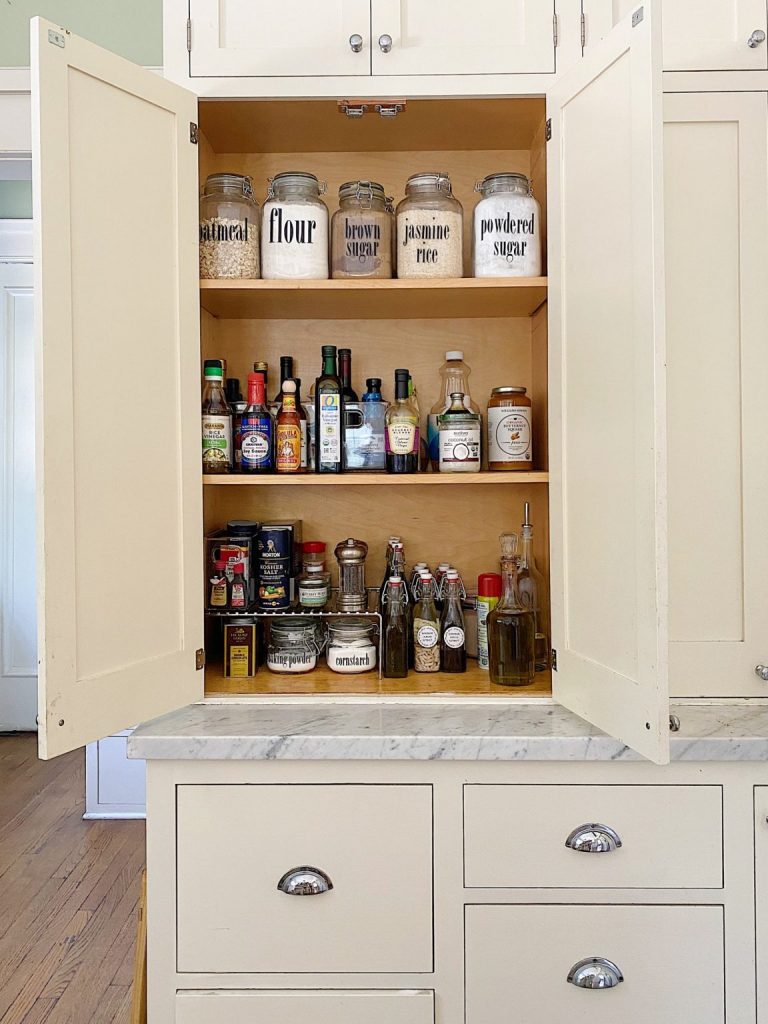 Here are some DIY kitchen organizing tips and some fun ideas to enhance the items in your pantry from my good friend, Leslie!
Since fall is right around the corner, I thought it would be a good idea to present to you some of Leslie's best tips and tricks on creating a fun fall look for your pantry!
If you love fall and are on the hunt for finding the perfect organizing process, you get the best of both worlds in this post. So come on over to Leslie's blog, My100YearOldHome, and check out her post!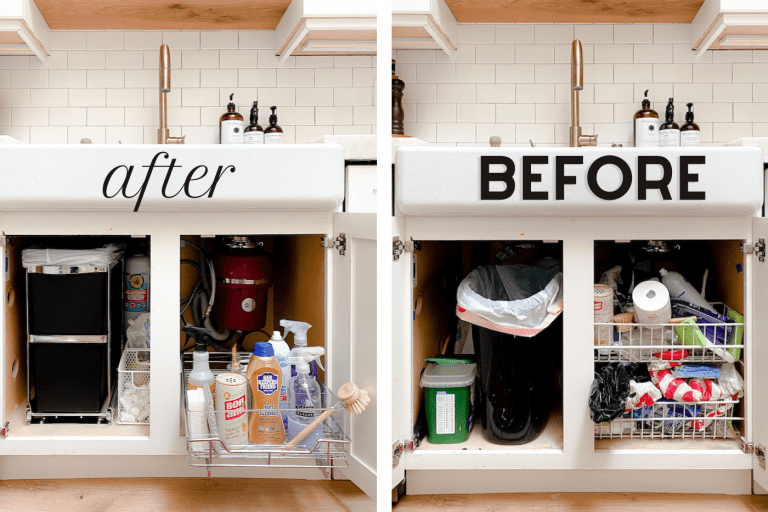 Kitchen Sink Cabinet Organization Ideas
If you know me at all, you know I enjoy organizing, cleaning, arranging, you name it! Not only do I love it, but my good friend Ashley does too!
This post is from Ashley and her blog, Modern Glam, and she talks about creative kitchen sink cabinet organization ideas and solutions that will make the most use of your space!
See how she transformed her small kitchen sink cabinet into a tidy space using organizational products!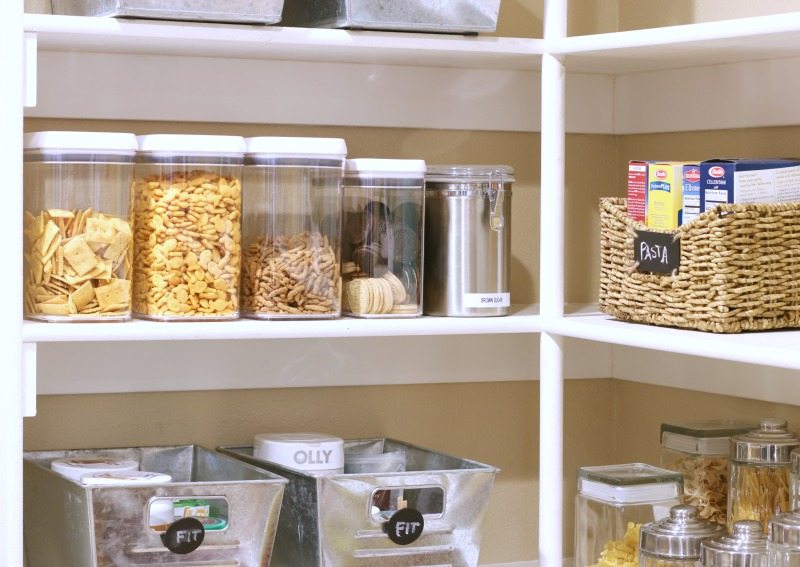 This post about DIY kitchen organizing tips is from my good friends, Jodie and Julie, their own blog, The Design Twins!
They created some of the best pantry organization tips, organizing tools, strategies, & ideas to keep it organized!
This is an easy DIY to add beauty to your organized pantry! If you love to organize or want inspiration from different sources, check out their blog to find more tips and tricks on organizing!
---
Trending Over On The Blog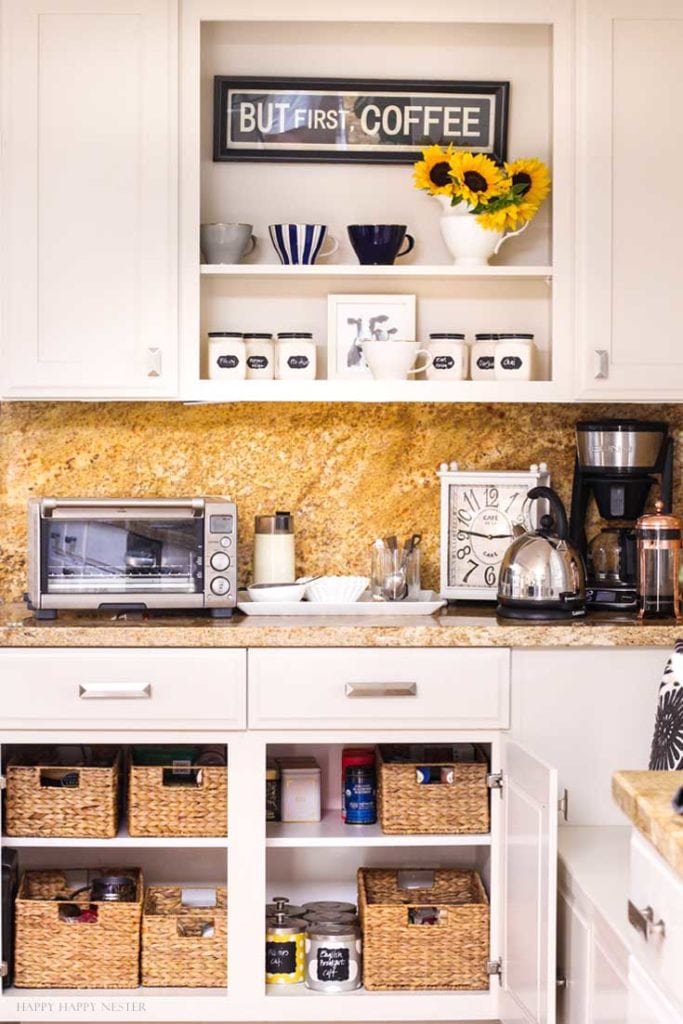 I love coffee. It's a must in this household. We love different types and brands, whether it's decaf or caffeinated. But the only way to tell what is what has to be organized.
So I took on the challenge of organizing our coffee station, and let me tell you, it makes it so much easier to find your favorite coffee brand early in the morning.
I am not a morning person, so I like to have the least amount of difficulty doing anything, so finding coffee fast sounds good!
Whether you're a coffee person, tea person, juice person, organize a shelf or station for your desired drink!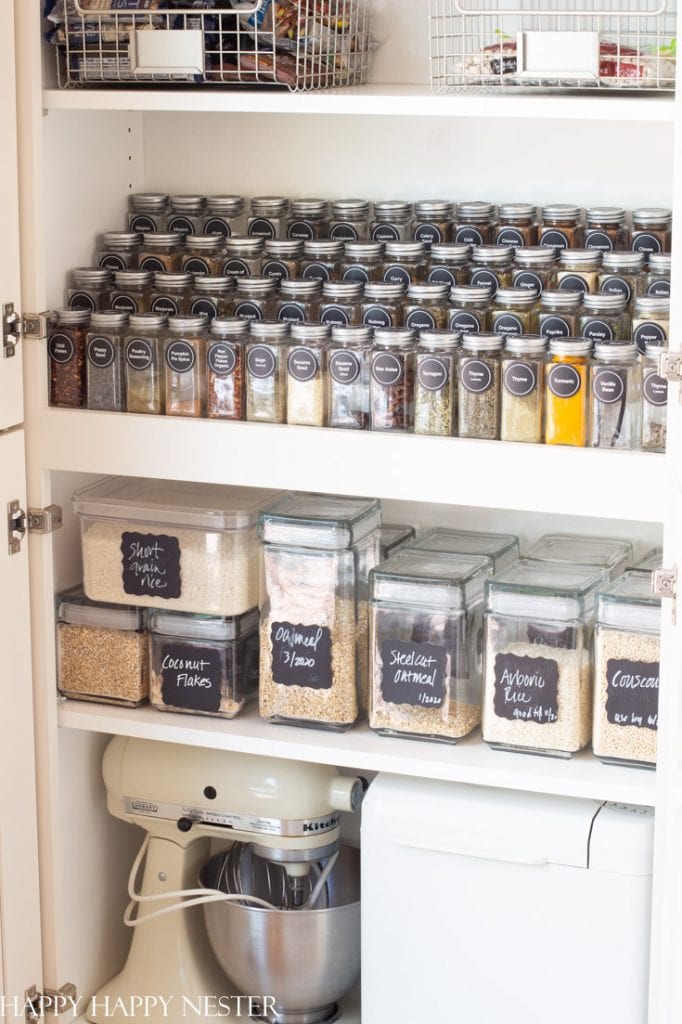 I love organizing. Don't get me wrong, and it took me forever to find a system that worked for me. But eventually, I found one and am thrilled to share some tips and tricks!
Organizing spices can be a hassle, but with this quick and easy organizing DIY, you'll have a dream spice rack that is clean, constructed, and easy to find your go-to spices for meals and more!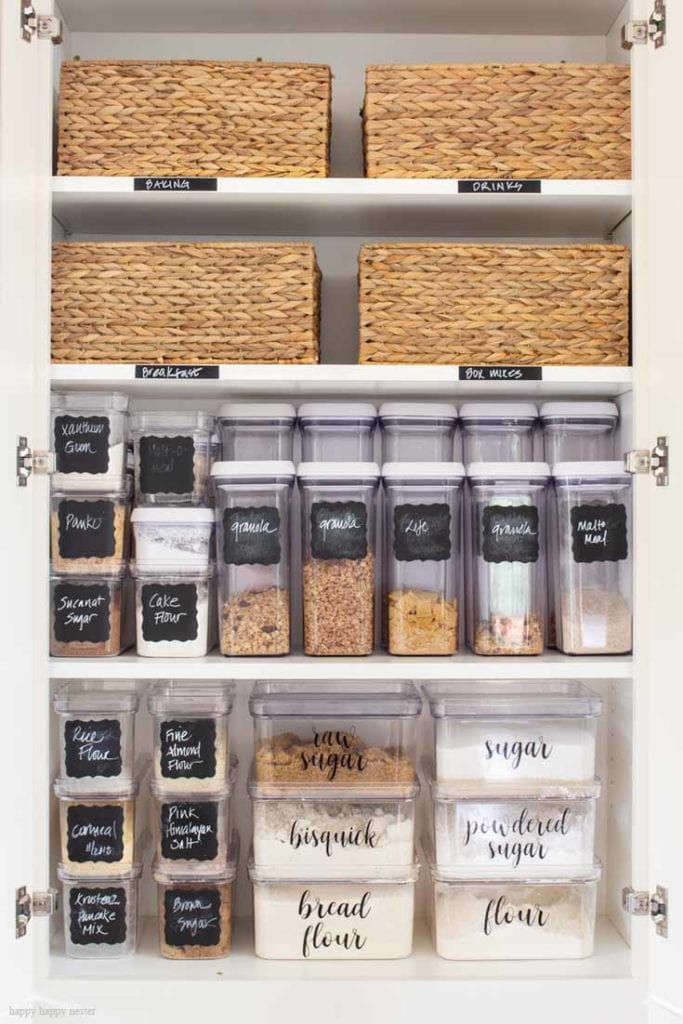 The Best Pantry Organizing Tutorial
I am an organizing fanatic. I love it so much that I have created a pantry organizing tutorial to help guide you with your own pantry!
It took me years to find a system that worked for me, and I am so thrilled to have finally found one and also have the opportunity to share it.
I show you my go-to containers, labels, organizing style, and more, so come on to the blog and check out this tutorial to start getting neat today!
---
This Week's Tip – How to Clean Carpet Stains!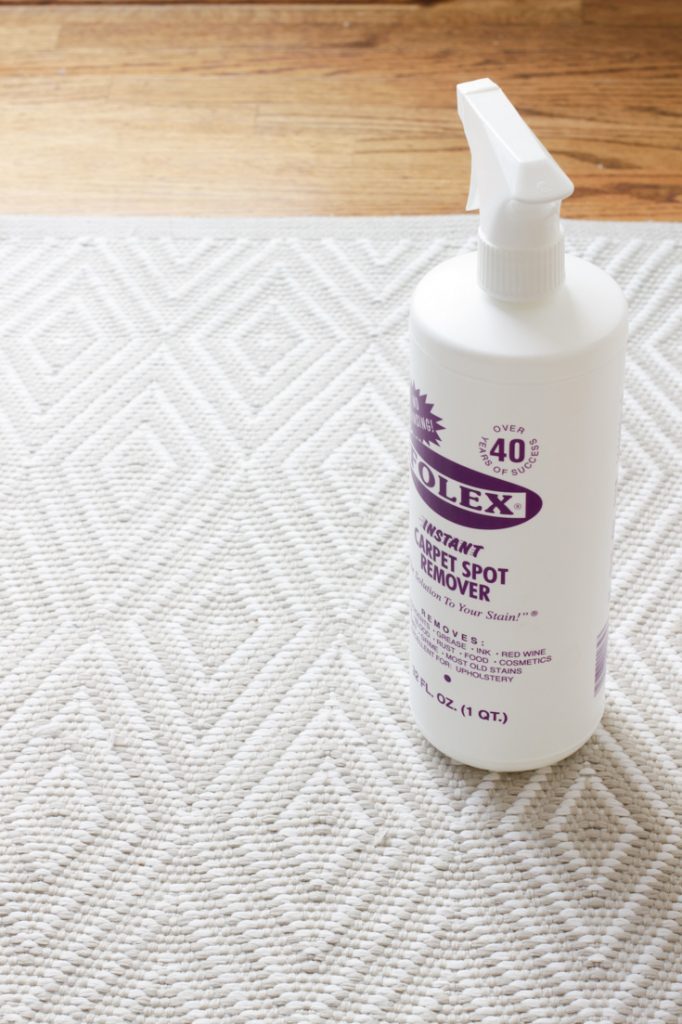 Oh, My Goodness! This is a Miracle Stain Remover
When I tell you, this stain remover works miracles, it does. My carpet in the dining room has always had stains on it, and I could never get them out no matter how many times I washed it.
Until now, my good friend Ashley recommended this stain remover, and now I can't thank her enough.
I know have a clean, no stained carpet! If you have stains and can't seem to get them out, try out this stain remover!
---
My Latest Obsession – Glass Containers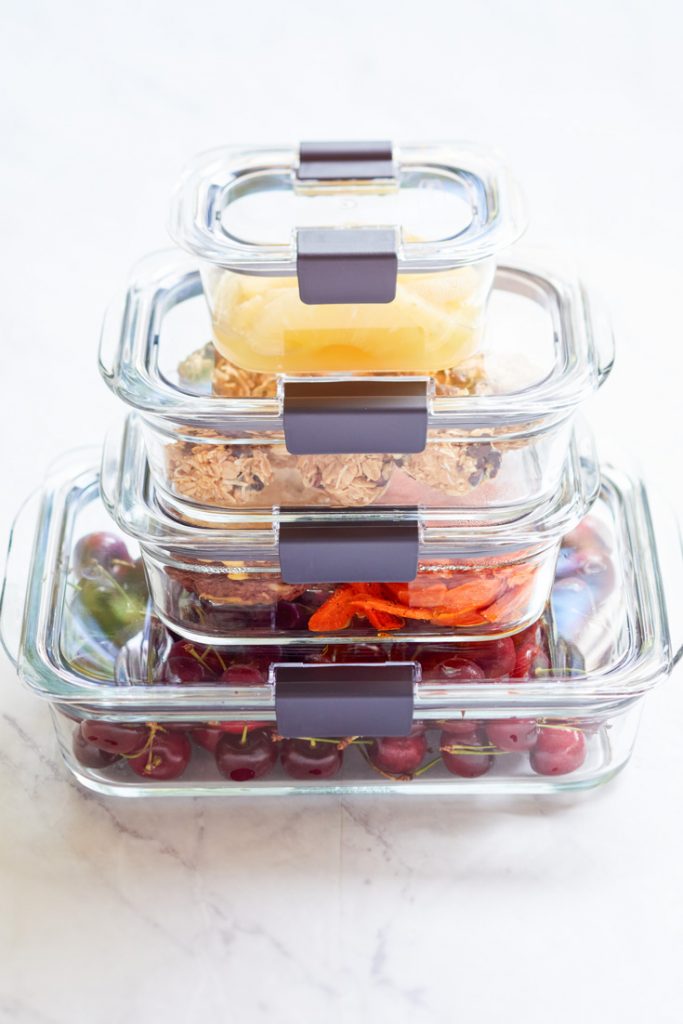 I am a big fan of organizing. So here are some DIY kitchen organizing tips. I present to you some of the best containers that I own that will make you a fan of the organization.
I literally store anything in these glass containers. I tend to put no-bake protein balls, leftovers, fruits and veggies, and more in them for a quick meal!
If you're starting on this organizing journey, start with some good containers, like these!
---
Hello, again, sweet friends! This is the end of this week's Saturday Chitchat about DIY kitchen organizing tips! Feel free to use these arranging tips, tricks, and strategies to start organizing your home today! Thanks for taking the time to visit the blog, and stay tuned for upcoming fall decor!
Have a relaxing Saturday!

Catch up on Saturday Chitchats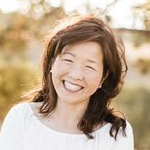 Latest posts by Janine Waite
(see all)