Welcome! Here are some Refreshing Cocktails and some of my favorite summer drinks to make for family and friends. Plus I added some outdoor entertaining accessories to help you have a fantastic summer! So, make sure to read this post to find your next "family favorite" summer drink recipe and some amazing home decor.
This collection of summer recipes includes summer drinks, including cocktails, poolside drinks, and more! There are also outdoor decorations such as hanging chairs, coasters, and more to kick off a great summer! I'm excited to share with you all some of my summer favorites!
Saturday Chitchat with Janine – Volume 25
Welcome to this week's Saturday Chitchat!
It's finally the weekend! So let's start this wonderful weekend by trying out some new summer drink recipes, along with decorating your outdoor oasis with some of my favorite outdoor decorations!
I have always loved sitting in my backyard patio with a summer drink in hand, enjoying time with my family. That's what summer is all about to me, relaxing and spending time with loved ones.
Don't you agree?
If you're like me, then this post is for you. I have a collection of summer recipes and outdoor decor ideas to get you cooking in the kitchen and decorating in the backyard!
I'm happy you're here. So, please sit back, get comfy, and let's hang out for a bit.
Check these posts out below, and have a great Saturday!
A Personal Note from Janine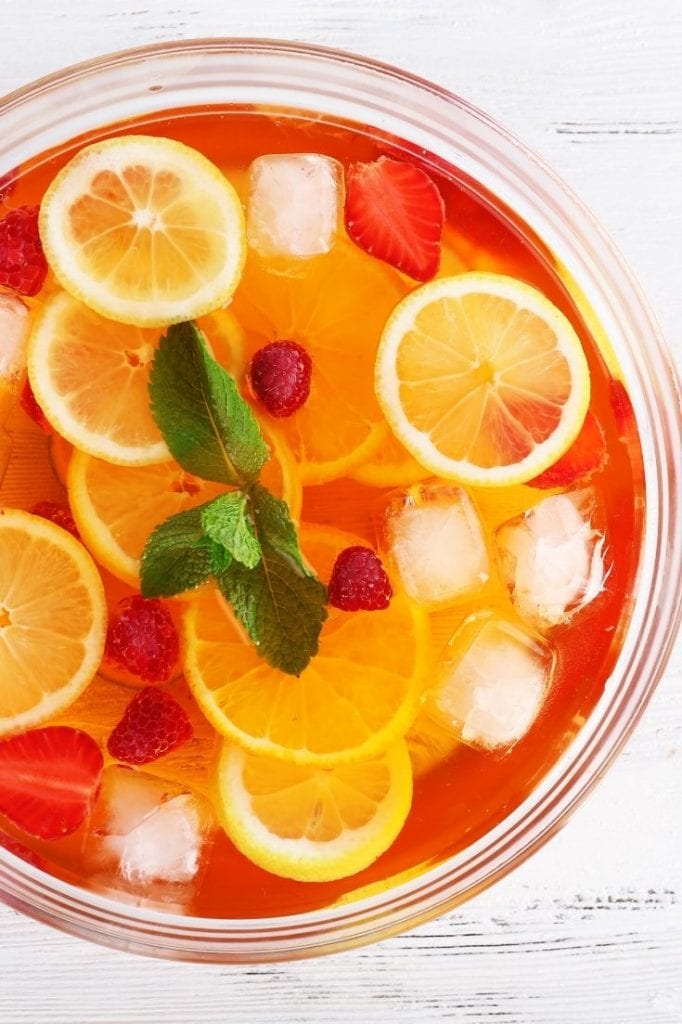 As a little girl, I remember all our holiday celebrations were never without my mom's big glass punch bowl. She always made a big batch of her scrumptious drink full of fruit and sometimes ice cream.
I remember hovering around the punch bowl and drinking a ton of punch. And when she made the punch with ice cream, I would try and scoop up those creamy islands in the sea of fruit juices.
I also remember her freezing round rings of ice that she infused with fruit. Oh my, I was mesmerized by these pretty ice rings during the holidays.
For our wedding, I requested that she make a bunch of her punches for our outdoor reception. So she made all her ice rings in advance and then had our caterer attend the punch bowl. It was such a nice touch to our gorgeous reception.
I'm not sure what happened to the punch bowl popularity of the past, but I want to bring it back at my next party.
But in the meantime, I made individual drinks this week, and I hope you have a chance to check them out.

This Week's Inspiration – Summer Mixed Drinks
For all of those coffee fans out there, here is a recipe for you. Dalgona coffee is a thick and strong whipped coffee that adds such richness to any drink. Serve it hot or cold it's tasty either way!
I know, I know. Coffee doesn't seem like the type of drink to sip away while hanging out in the sun but trust me, and sometimes we need a cup or two on Sunday mornings when life feels hectic.
I call this the "top of the morning" drink, and seriously it will make you rethink your whole coffee regime.
Here is a super fruity sangria recipe that is perfect for a summer party. It's a simple and delicious summer drink that's great for entertaining!
I love fruit, and this summertime drink infuses brandy and red wine into the yummy fresh fruit! It's a perfect refreshment, especially on warm days when the temperatures are hotter than 100 degrees!
This recipe is great to add to your list of summer drinks, refreshing cocktails and is for any occasion, too, such as dinners, events, holidays, parties, you name it!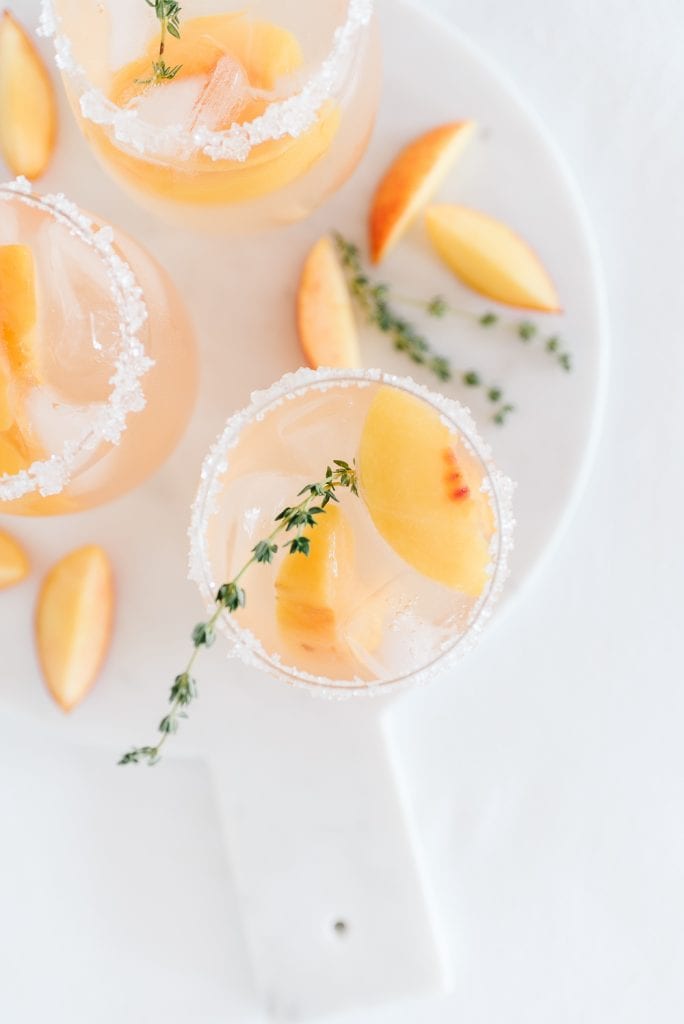 I am always up for a new lemonade recipe, especially peach lemonade, and this peach lemonade spritzer recipe is at the top of my go-to summer drinks!
This refreshing beverage is homemade peach thyme lemonade, chilled white wine, and carbonated water, making this Peach Lemonade Spritzer the perfect refreshing cocktail.
It all starts with this delicious homemade Peach Thyme Lemonade and, of course, your favorite white wine. It's a classic, and it will be my go-to cocktail this summer, thanks to Nick and Alicia.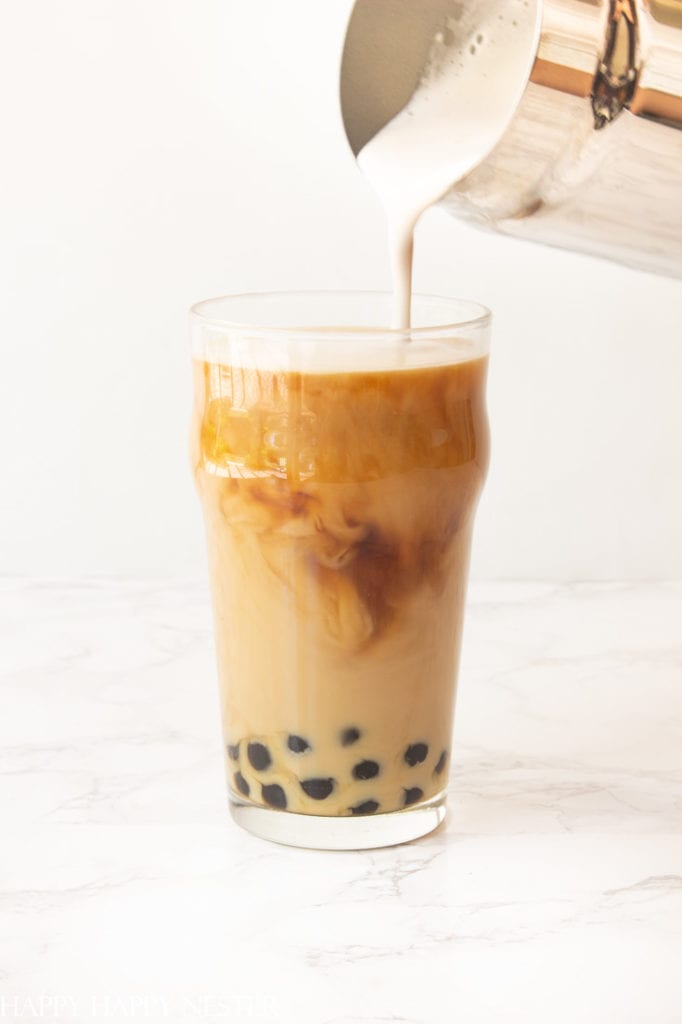 How to make bubble tea is one drink that I wanted to try making for a while. Well, I made this drink and let me tell you, it was a success! If you aren't familiar with this sweet, cold drink, it is known as pearl milk tea, bubble milk tea, or boba.
I love tea for its smooth and light taste. But, when it comes to tasty summer tea, I only drank ice tea. Well, that quickly changed once I tasted bubble tea. So now, you can say I'm a bit addicted to this creamy dessert-like tea!
If you like tea, then I highly recommend you try this delicious alternative. I feel that it is the tea version of a coffee drink, so delicious!
Looking for a new summer drink? I got you. This fruity sangria recipe is practically the definition of a summer drink. It's a simple, delicious beverage that's great for entertaining.
Trust me. I know the feeling of trying to find the perfect beverage to serve at special events or even dinners with friends and family. But this fruity sangria recipe will be on the top of your list at every party.
I am a big fan of fruit, so when there is fruit in a drink, I'm there! This summertime drink infuses brandy and red wine into the fresh yummy fruit, which is perfect for fruit fans!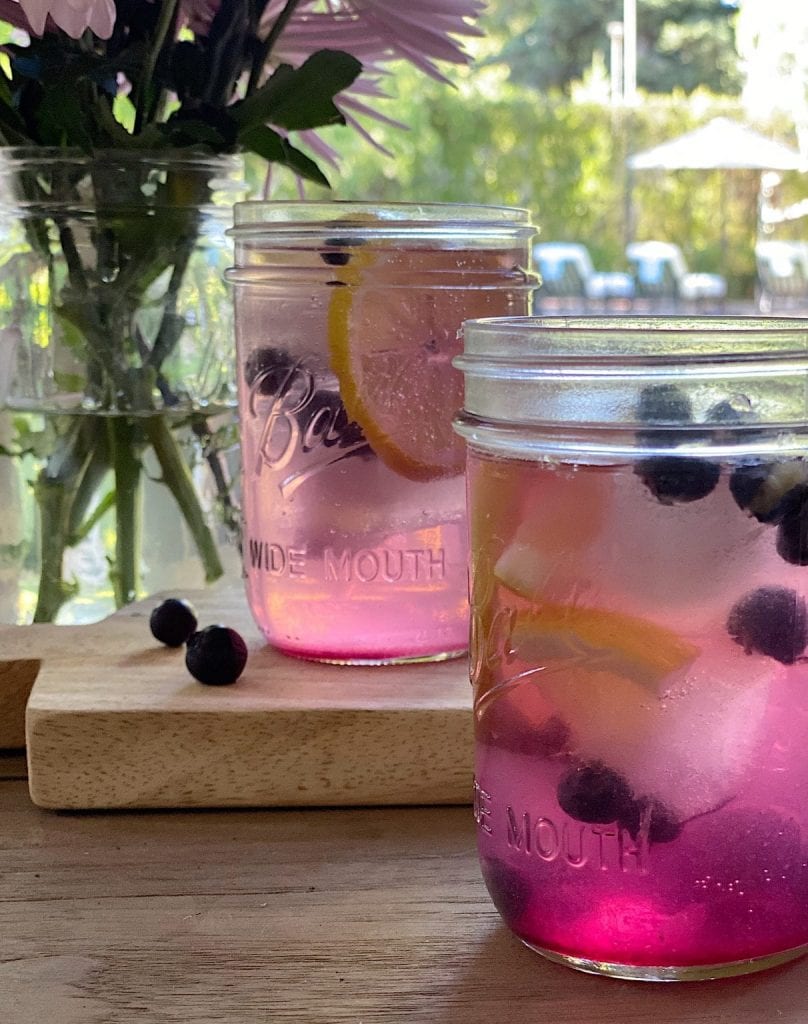 Blueberry Lemon Summer Cocktail
I have mentioned that I love fruit. Fruit desserts, fruit recipes, and especially fruit drinks. So, I had to share one of my all-time favorite drinks with you. So, here is my sweet friend, My 100-Year-Old Home's blueberry lemon summer cocktail!
To be honest, everything about this beverage screams summer, am I right?
The color, floating fruits, the ingredients, you name it. So for all those fruit fans out there, check out this refreshing cocktail to have a great summer!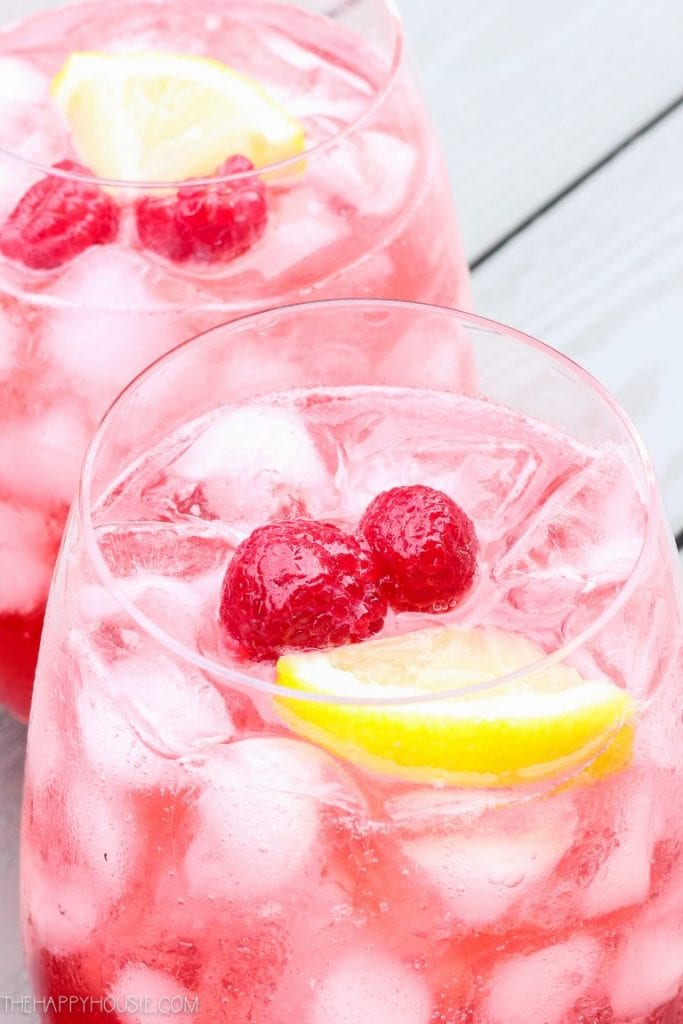 I have always said, with warmer temperatures comes the need for refreshing drinks, and I am right, especially with this 100-degree weather and nonstop sunshine.
So, to honor that saying of mine, here is a gin raspberry soda recipe from The Happy Housie that will cure your sunburns and mismatched tan lines.
This refreshing beverage will make anyone's day and wait, and there's even more good news. There is a secret ingredient, which is sugar-free syrup! Perfect for a hot summer day!
---
This Week's – Boutique of the Week ( Rattan Bar Carts)
*The following post contains affiliate links
Enjoying meals outside is a given for my family, especially during the summer. However, we always need a spot to put our meals on to receive second servings because who likes to make the trips back into the kitchen five times throughout mealtime.
So to fulfill those needs of second servings and laziness, we have a bar cart!
I have always admired outdoor decor, especially these bar carts because they are fun, stylish, and accessible to hold summer drinks, refreshing cocktails, meals, and more!
So check out some outdoor bar carts and more to fulfill your outdoor eating needs!
---
My Favorite Things – Drinking Glasses
*The following post contains affiliate links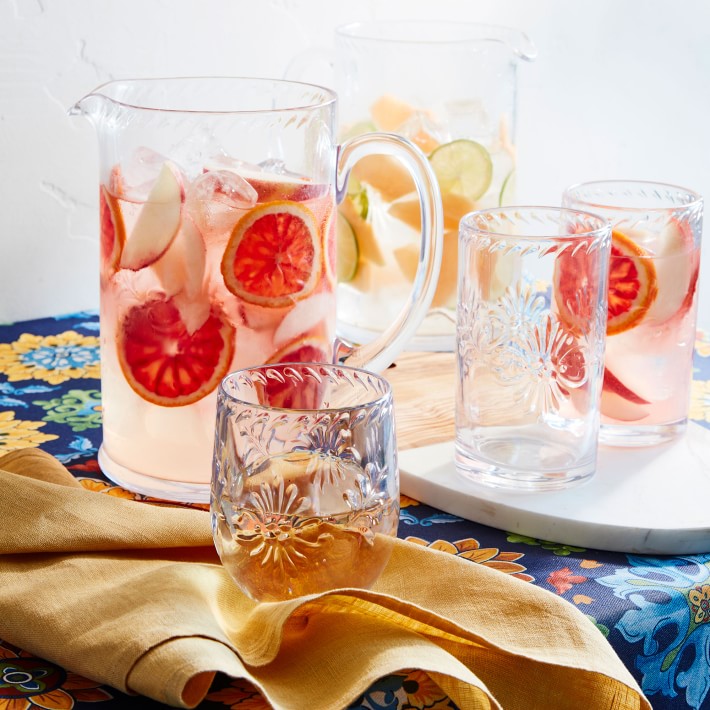 Enjoy one of my refreshing cocktails or summer drinks in one of these classic and practical glassware pieces. These glasses are easy to use, functional, and versatile, which creates a simple serving look during mealtimes.
It is a great option to fill with summer recipes and use outdoor decor for water, lemonade, or your favorite homemade cocktails, allowing you to surprise your guests with delicious beverages made by yourself!
Inspired by Mexico's renowned art glass, this Sonora collection boasts the elegant charm of hand-etched glassware in a durable, shatterproof material.
Lightweight, unbreakable, and crystal clear, the pieces are ideal for everyday dining and outdoor parties. In addition, their classic floral-vine motif adds a finishing touch to smoothies, sangria, and margaritas!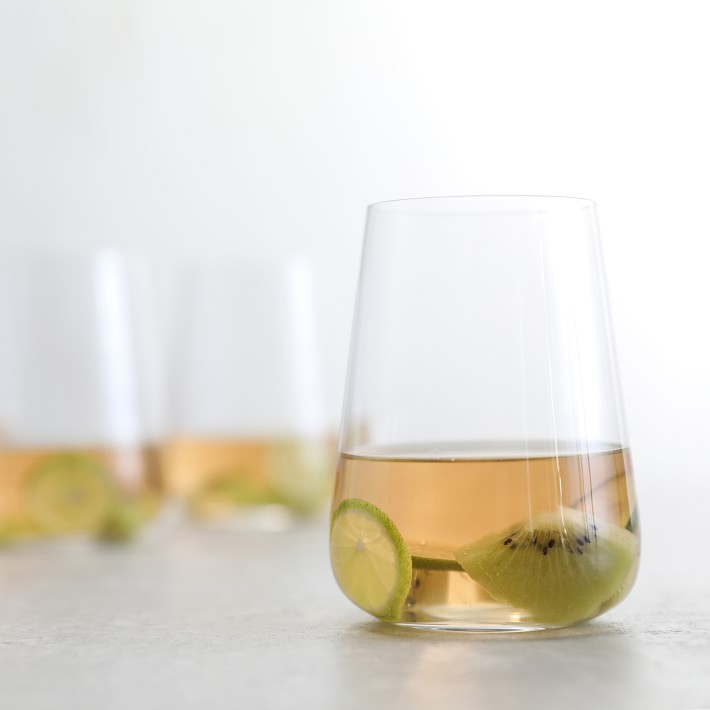 These elegant glasses from Schott Zwiesel are designed to showcase cocktails, juice, and iced tea. Beautiful and durable, they offer sparkling clarity and resist chipping, scratching, and shattering.
The versatile highball glasses are refined enough for entertaining yet sturdy enough to withstand daily use and dishwasher cleaning!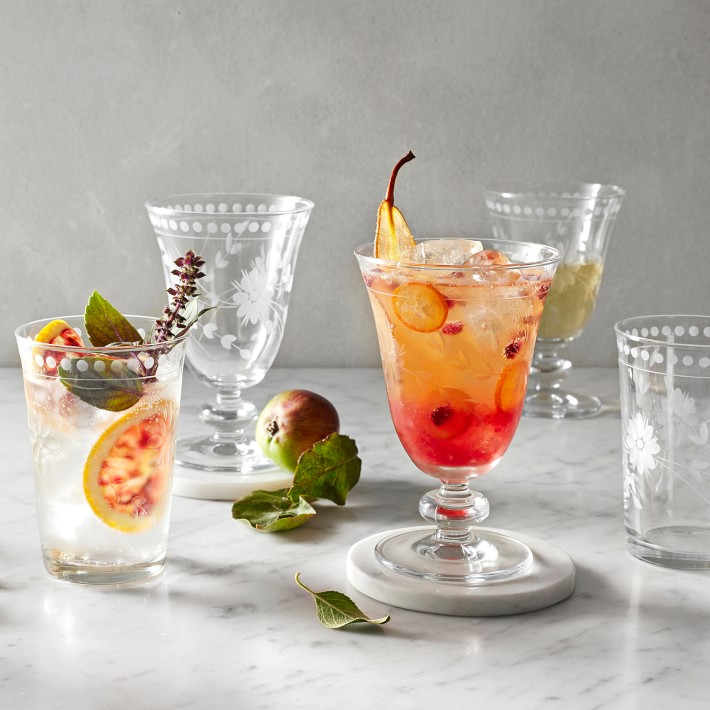 These are the classic tumblers you've always loved on your grandmother's holiday table – and that you'll always want to have on yours.
The design is a vintage-inspired glass that we fell in love with at an antique fair, with a hand-cut, stylized floral motif!
These tumblers are great for serving everything from water to iced tea, lemonade, and other refreshing drinks. Perfect for formal entertaining, yet durable enough for everyday use, and they are even dishwasher safe!
These tumblers are the ideal example to fill with summer recipes and be used as outdoor decor!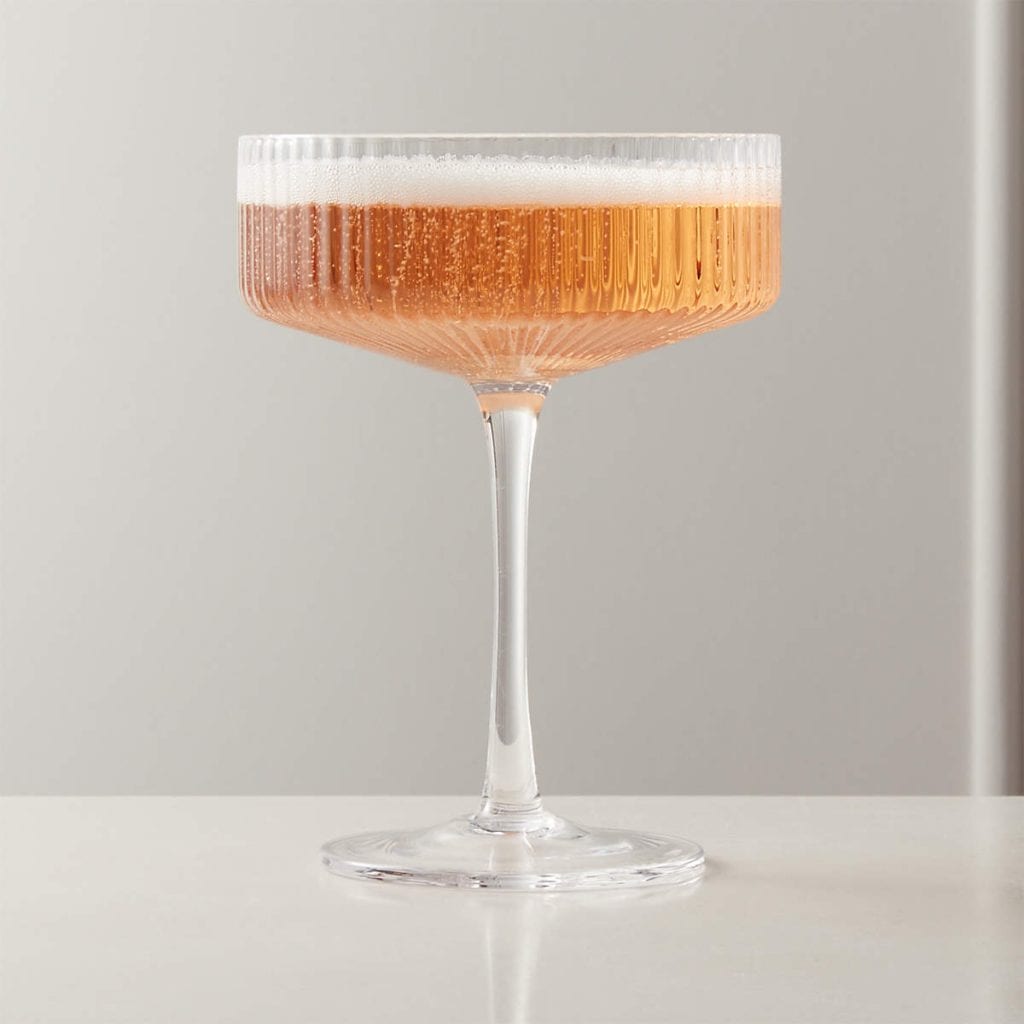 These stunning cocktail glasses are the perfect pick of glassware when choosing something to fill refreshing cocktails with.
But, seriously, these glasses are some of my favorite for fancier occasions, so if you like a little "glitz and glam" when celebrating, these pretty cocktail glasses are worth the purchase.
The short, flat-rimmed coupe features an optic texture all around the glass, which makes the perfect modern cocktail glass or extra fancy dessert/parfait bowl.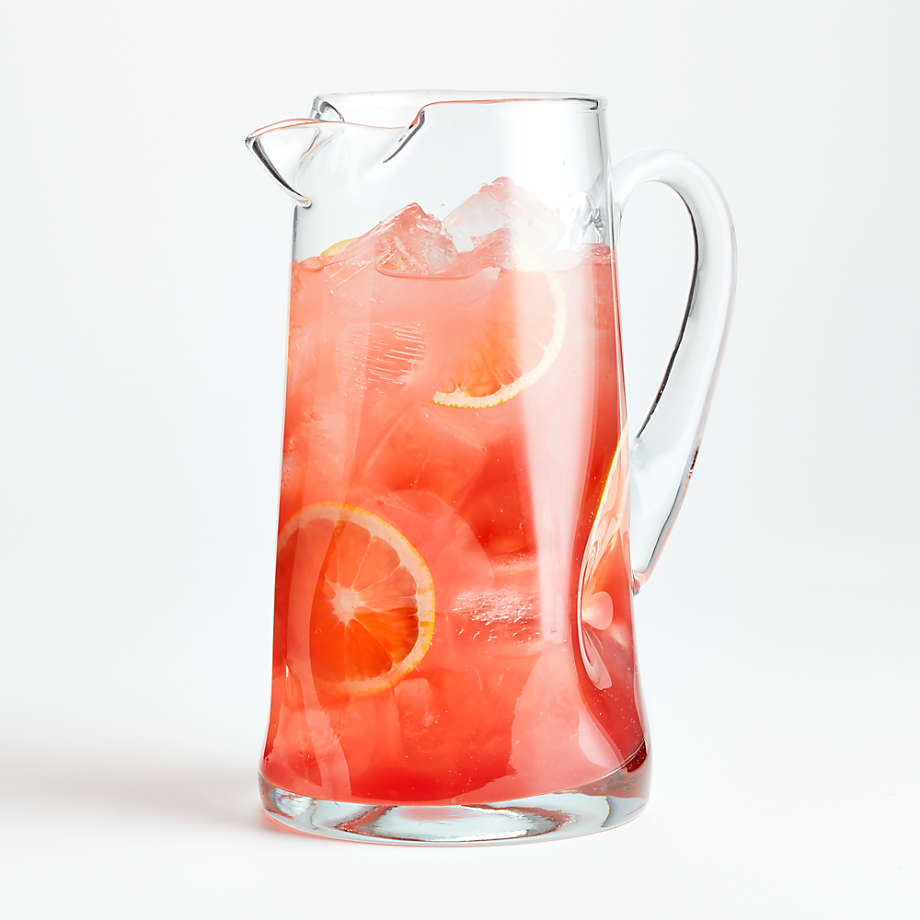 Serve lemonade, iced tea, refreshing cocktails, and summer drinks in style with this striking pitcher! A clean shape with four distinctive impressions and a thick sham tapers slightly at the top.
The four dimples are made by hand for a unique look, while the gracefully arched handle gives you a comfortable hold on the drink pitcher.
For a unified drink service, pair the glass pitcher with the coordinating Impressions juice and cocktail glasses!
---
Drink Accessories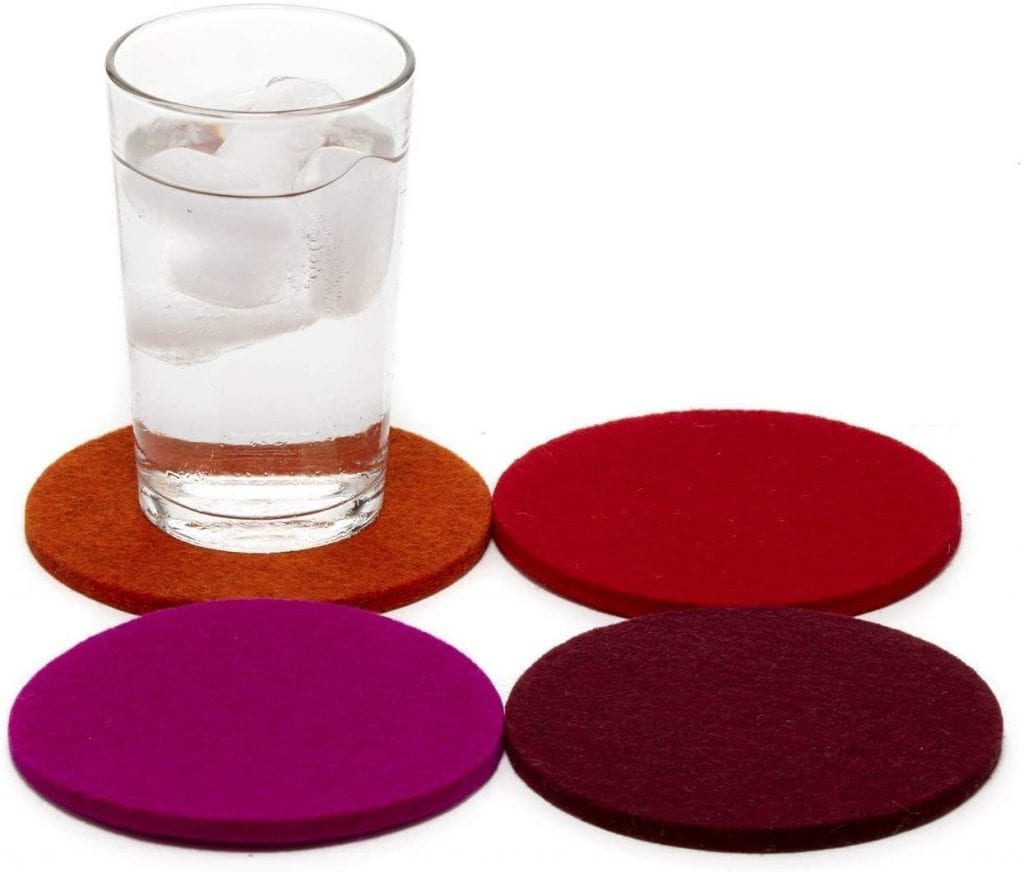 I like to enjoy refreshing cocktails and summer drinks outside and inside but don't want to ruin my tablecloth or leave glassware marks on the table, so I use felt coasters. They are soft, stylish and help with protecting my wooden tables, glass tables, and white tablecloths.
They are naturally water wicking, water-resistant & stain-resistant coasters which allows them to absorb moisture from the surface to remain dry, ring-free, and grateful!
These beautiful, functional, and enduring felt drink coasters are perfect for indoor and outdoor preference and also offer an unexpected textural and refined modern heritage element to any home decor.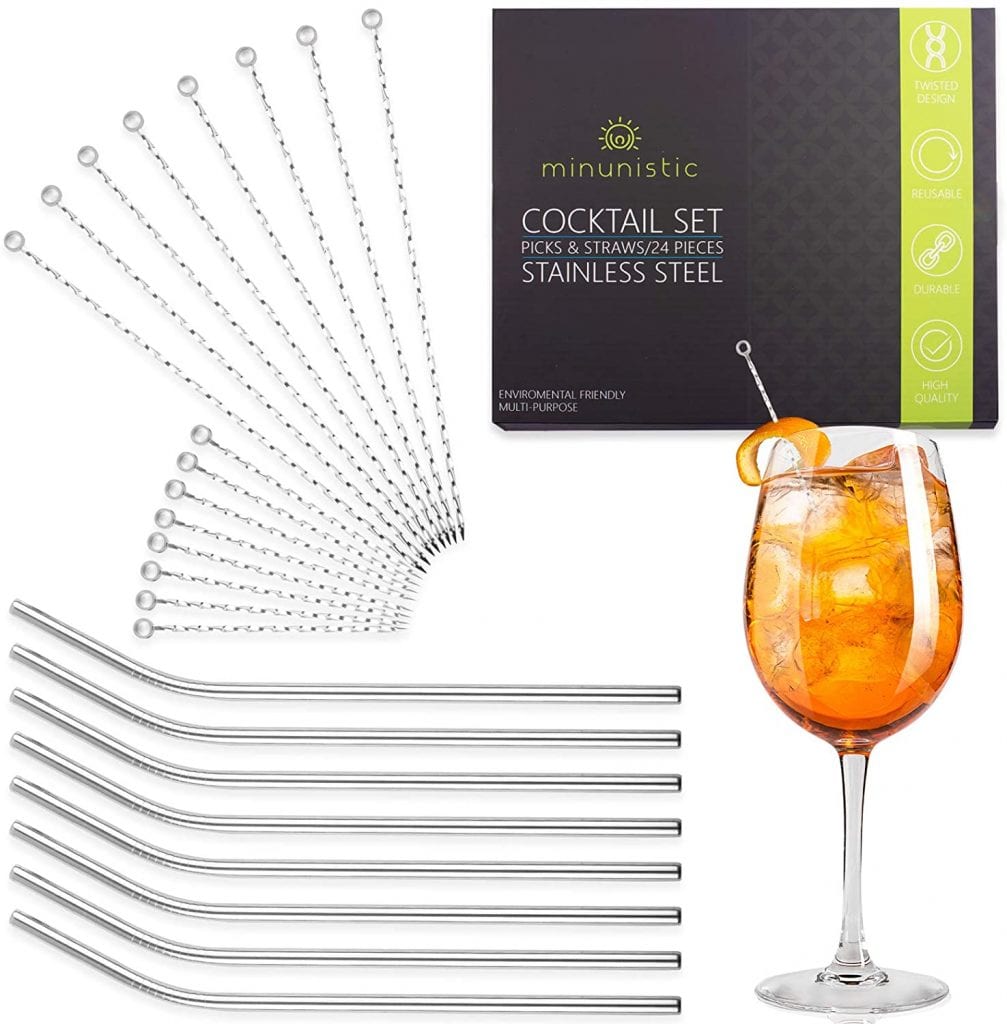 These reusable straws are a must need when enjoying refreshing cocktails or summer drinks because of many reasons. First, nothing looks fancier than matching items for your bar, a classic look that won't fade away.
This set comes with 8.5″ 304 stainless steel bent straws with rounded edges, firmly, won't lose their shape use after use, and leave any metal aftertaste. Besides, you can stick them in your purse, bring them to the movies, or whip them out at concerts.
Made of 304 stainless steel, they are reusable and perfect for any event or occasion over the years. It certifies the best rust-proof and durable cocktail pick and straw while showing your guests a festive touch with every use!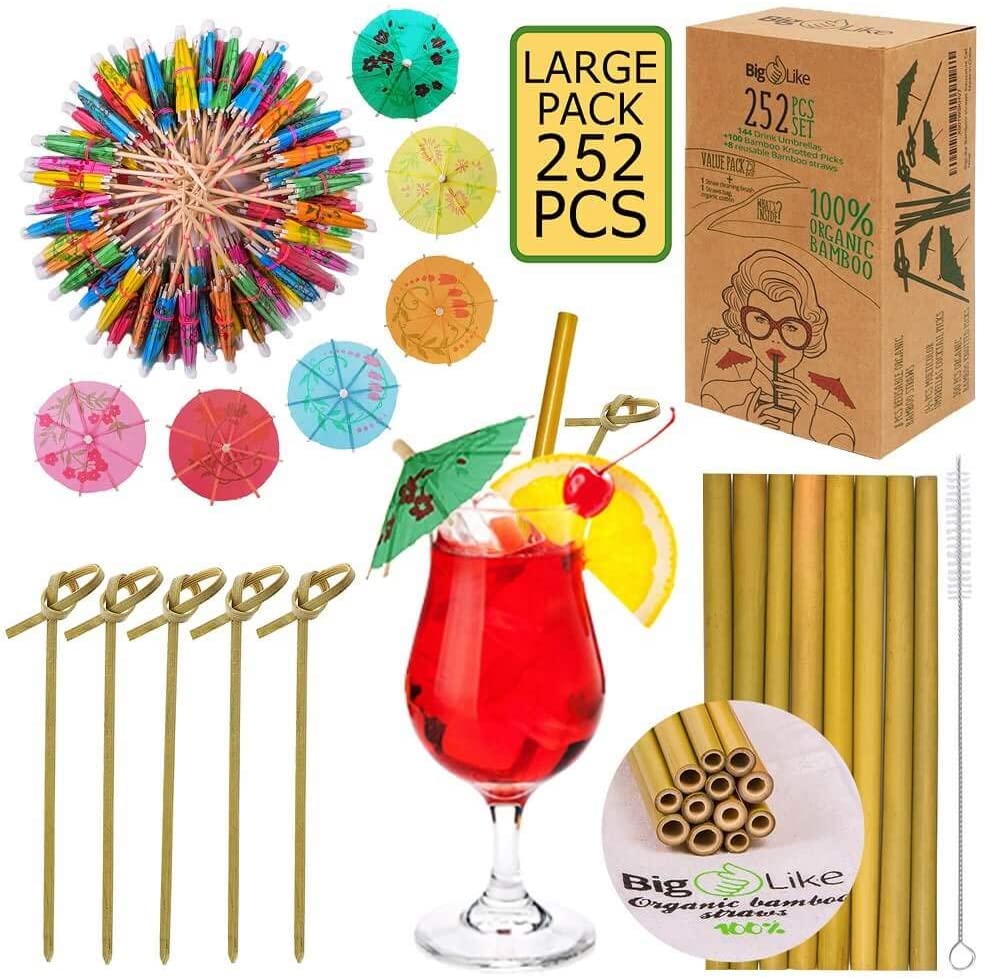 I admit. I like to have fun styling my summer drinks and refreshing cocktails. Don't you? I feel the little umbrellas, straws, and picks create an even more fun look at the party! And with this fun set of drink accessories, your party will be a hit.
When hanging out with friends and family, let them create a colorful display for drinks, fruits-kebab, or do individual DIY projects with mini umbrellas for drinks as cupcake toppers.
Bamboo straws protect their lips, sensitive teeth, and gums from hot or cold drinks. Picture their happy smiles and satisfaction!
Trending Over On The Blog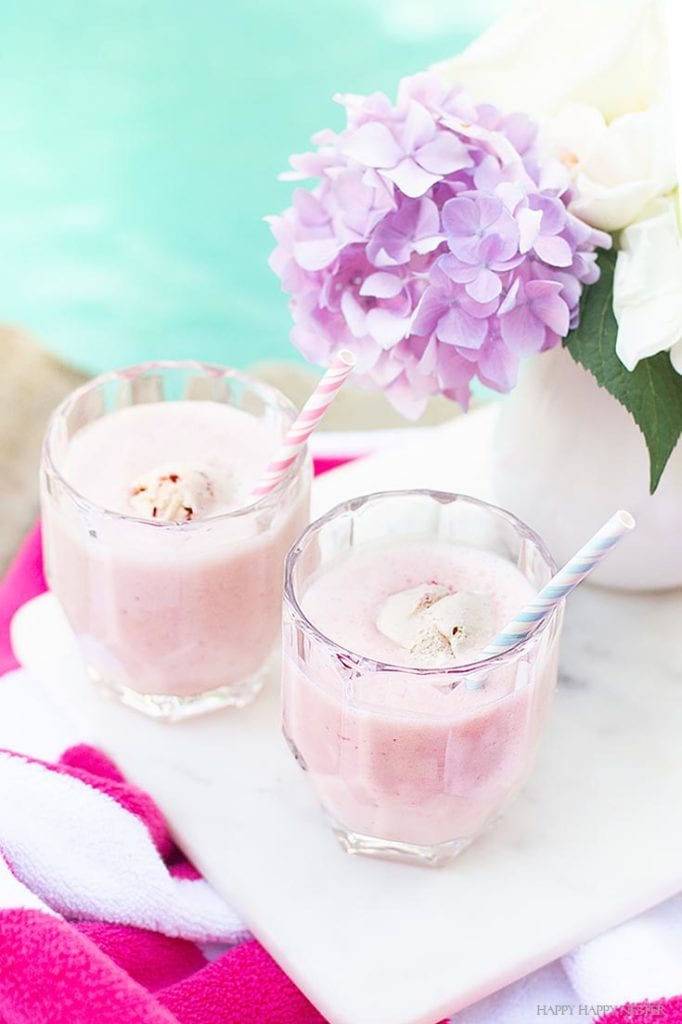 Not only does summer call for refreshing cocktails, summer drinks but also poolside drinks. And this recipe of mine is refreshing, delicious, and very summery!
This recipe combines coconut juice, strawberries, ginger ale, strawberry ice cream, yogurt, and agave syrup.
If you love summer drinks, try out this one. You won't be sorry.
And besides, who doesn't love drinking a refreshing beverage with some of the yummiest ingredients, including ice cream? It all sounds good to me!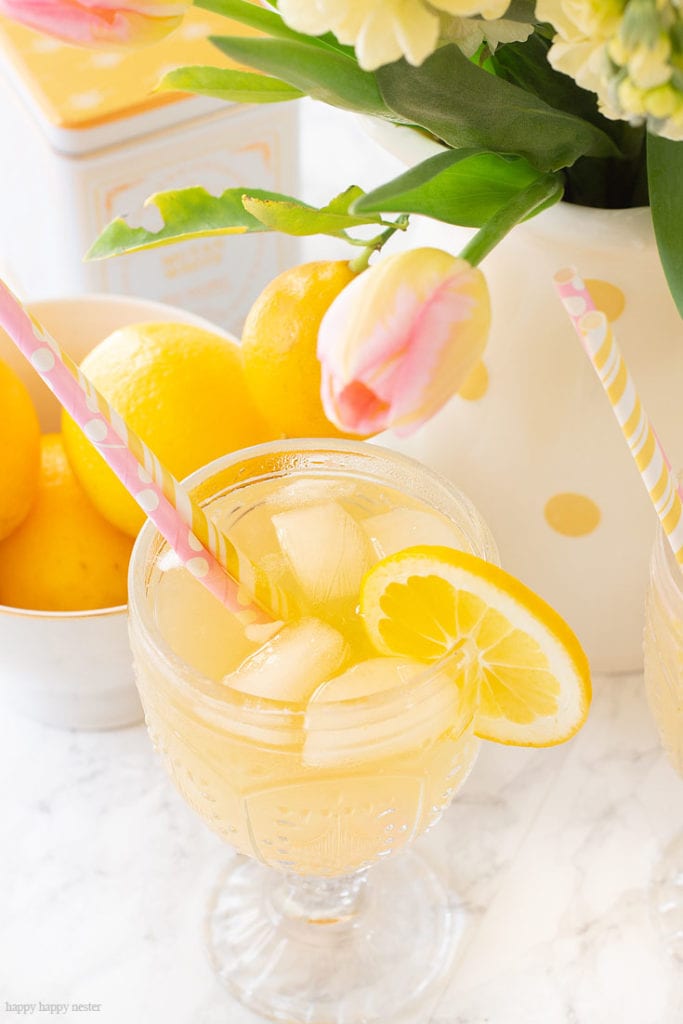 So, when our garden is full of Meyer lemons, it only makes sense to whip up my carbonated lemon iced tea recipe!
This recipe is a family favorite with my sweet lemons from the yard and the yummiest sparkling lemon white tea from our local grocery store.
Although I love my refreshing cocktails and summer drinks, this ice tea is a refreshing drink, and I love that it has white tea, which seems smooth and delicious. Trust me. Your thank buds will thank me later.
For all of those lemon fans out there, this one is for you. I present my lemon tart puff pastry recipe! This recipe is so easy to make. It honestly tastes like this dessert was made in a fancy bakery!
Of course, the key is to use fresh homemade lemon curd. But lucky for you, I have a lemon curd recipe that you can also make, or if you're short on time, store-bought will do just fine.
This recipe is the epitome of one of my favorite summer recipes. So if you love everything lemon and need a new dessert, this recipe is 100% worth it.
I mean, who would resist a sweet, fluffy, easy-to-make, lemony dessert? I wouldn't, and you shouldn't either!
---
This Week's Tip – Add This to Drinks and Smoothies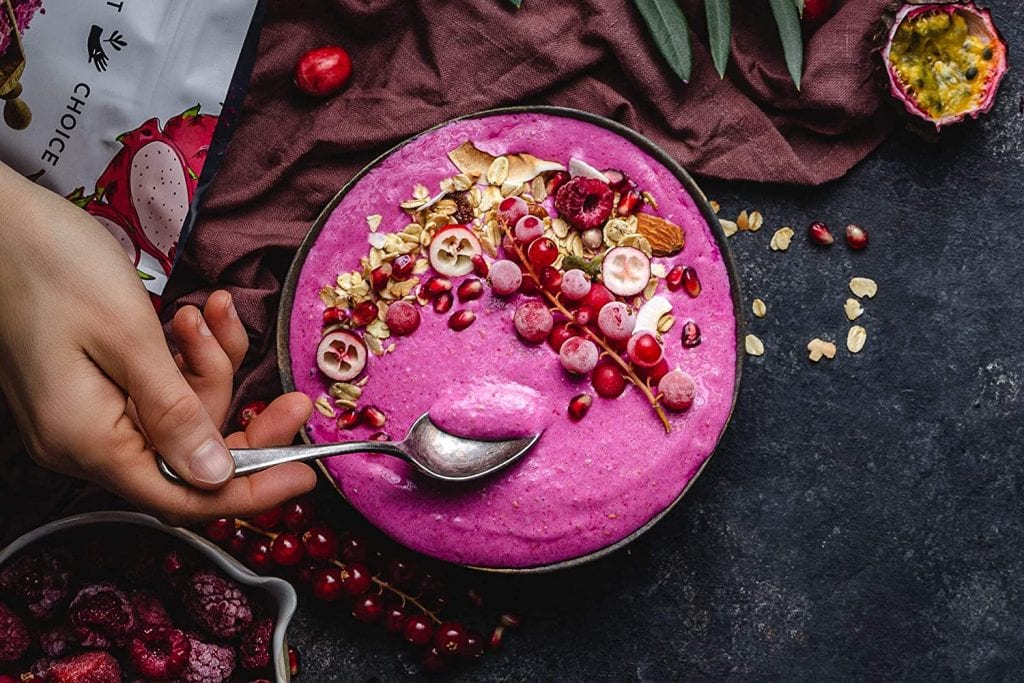 I'm new to the whole "fruit powder" trend, so I just ordered this exact fruit powder to add to drinks, smoothies, acai bowls, and more. I can't wait to get started using it in the kitchen. Wish me luck with these recipes!
I first saw it over on TikTok, and someone used it on their smoothie recipe, and the color is so amazing I knew I had to give the dragon fruit powder a go!
Not only does this powder create a summery color, but it also has some great nutritional qualities and is high in healthy probiotics.
I always love when the ingredients are actually healthy for you, so you don't feel guilty when cooking in the kitchen. I'll let you know how it tastes once I receive my package in the mail. Stay tuned!
---
My Latest Obsession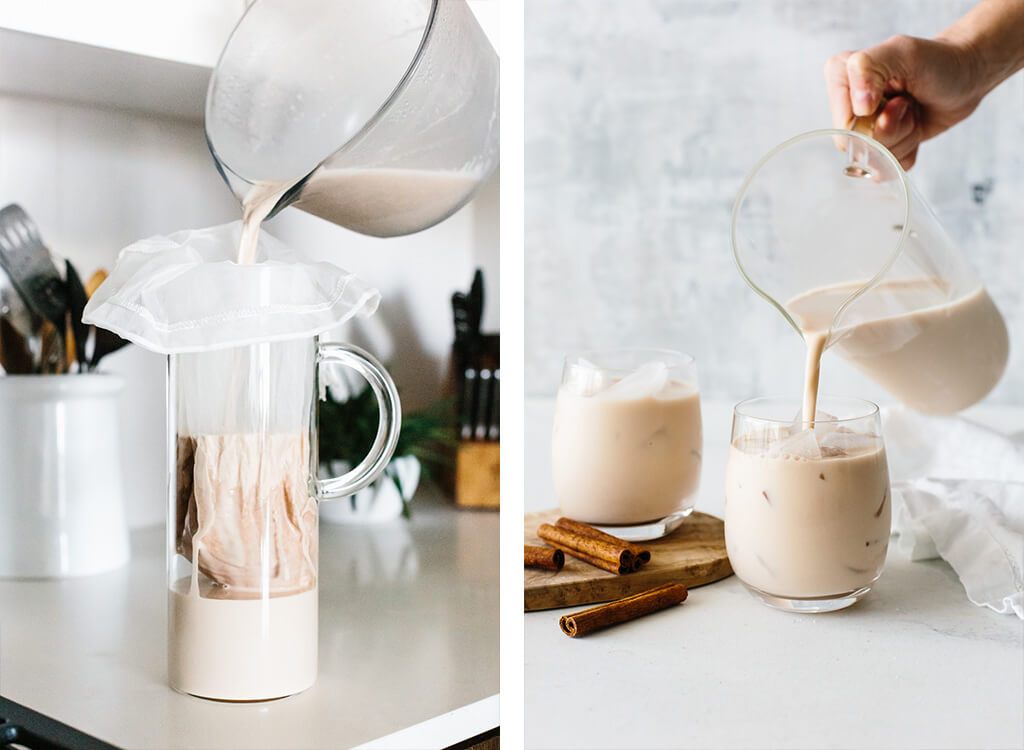 This Horchata drink recipe comes via Lisa at Downshiftology! Her recipe looks scrumptious, and I want to make it soon.
Horchata is an iced rice milk beverage from Mexico that's a simple blend of rice, cinnamon, milk, and sweetener for those who don't know.
I first had a boba version of this drink at our local Boba Guys shop. My son ordered it, and I sipped this desserty drink. From the moment of that first sip, I've been obsessed. I want to try a few recipes and possibly recreate a boba tea version.
It is a wonderful blend of rice, cinnamon, and milk and tastes like a dessert in a glass! It's unforgettable! I hope you get a chance to order one or make it soon!
---
Well, this wraps up this week's Saturday Chitchat celebrating summer recipes and outdoor decor. I always love hearing from you and thanks for taking the time to come on over to the blog!
Have a wonderful Saturday!

Catch up on Saturday Chitchats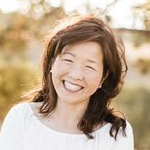 Latest posts by Janine Waite
(see all)