How to Make Bubble Tea is one drink that I wanted to try making for a while. If you aren't familiar with this sweet, cold drink, it is otherwise known as pearl milk tea, bubble milk tea, or boba.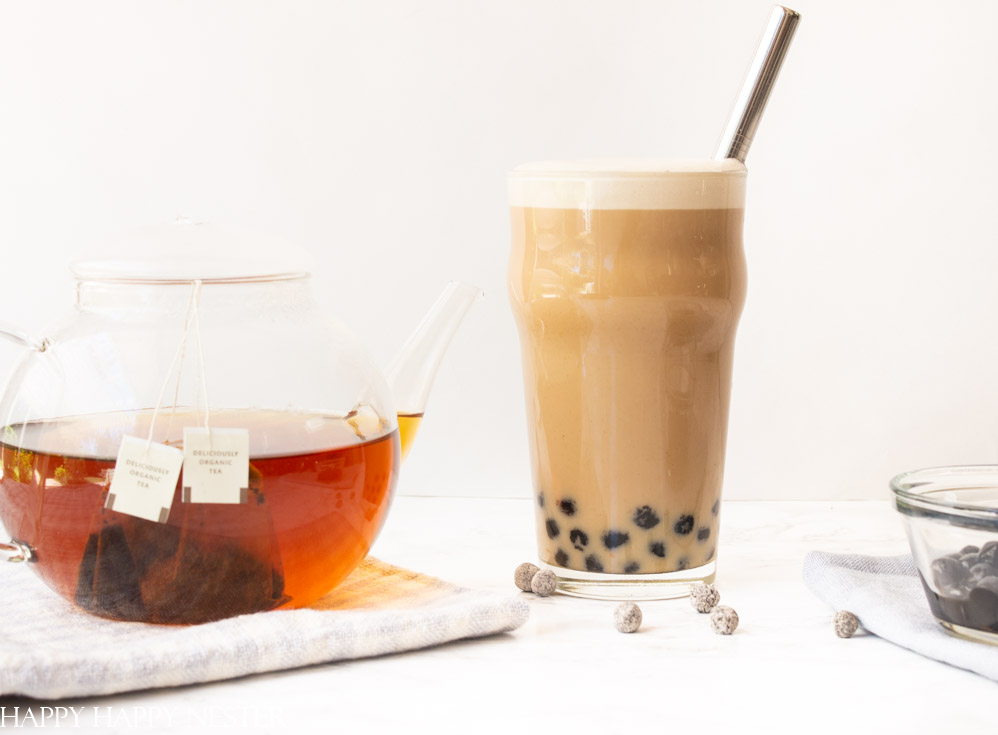 I love tea for its smooth and light taste. But, when it comes to a tasty summer tea, I only drank ice tea. Well, that quickly changed once I tasted Bubble tea. Now, you can say I'm a bit addicted to this creamy dessert-like tea.
If you like tea, then I highly recommend you try this delicious alternative. I feel that it is the tea version of a coffee drink, yum!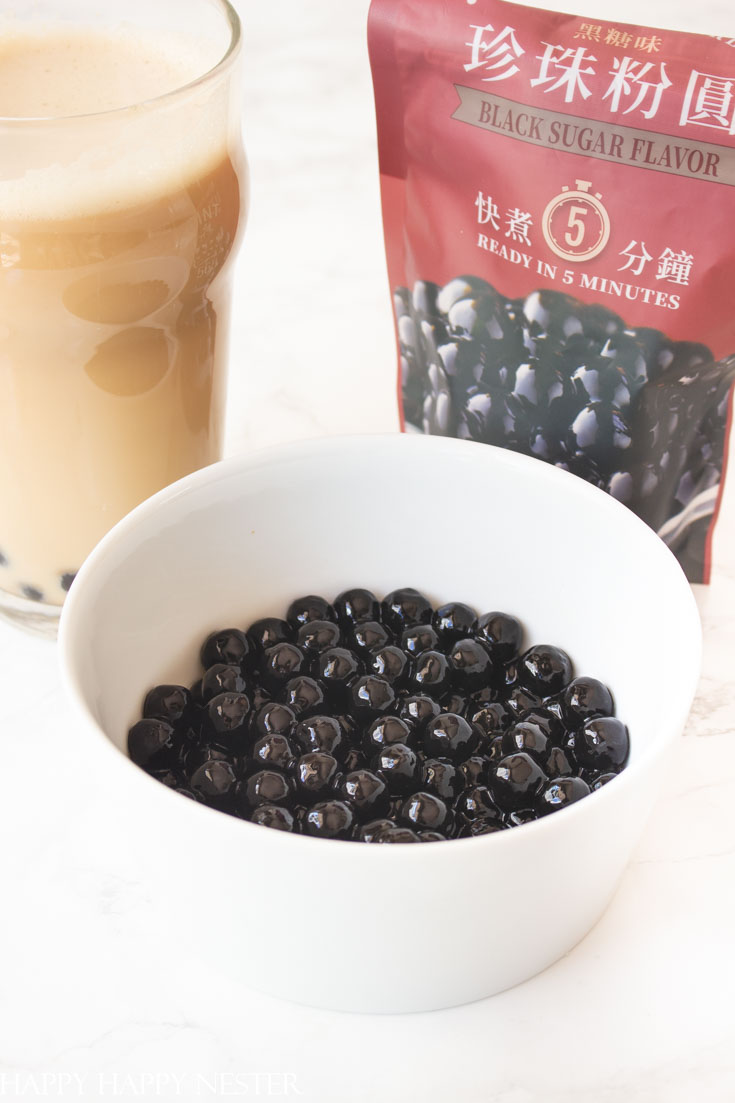 It is a perfect blend of tea, cream, and tapioca balls. Yes, you heard right, tapioca balls. If you are like me, you are probably wondering what Tapioca is. Well, Wikipedia says:
Tapioca balls are translucent spheres produced from tapioca, a starch extracted from the cassava root.
I remember eating tapioca pudding as a kid and loving it. Well, these are balls that are much bigger and of course chewier.
Bubble tea was invented in Taiwan in the 1980s, and technically there are two types of Bubble Tea. Teas without milk and milk teas. Now there are so many options for milk, so for those of you who can't have cow's milk, you can use almond, soy, and coconut milk, to name a few.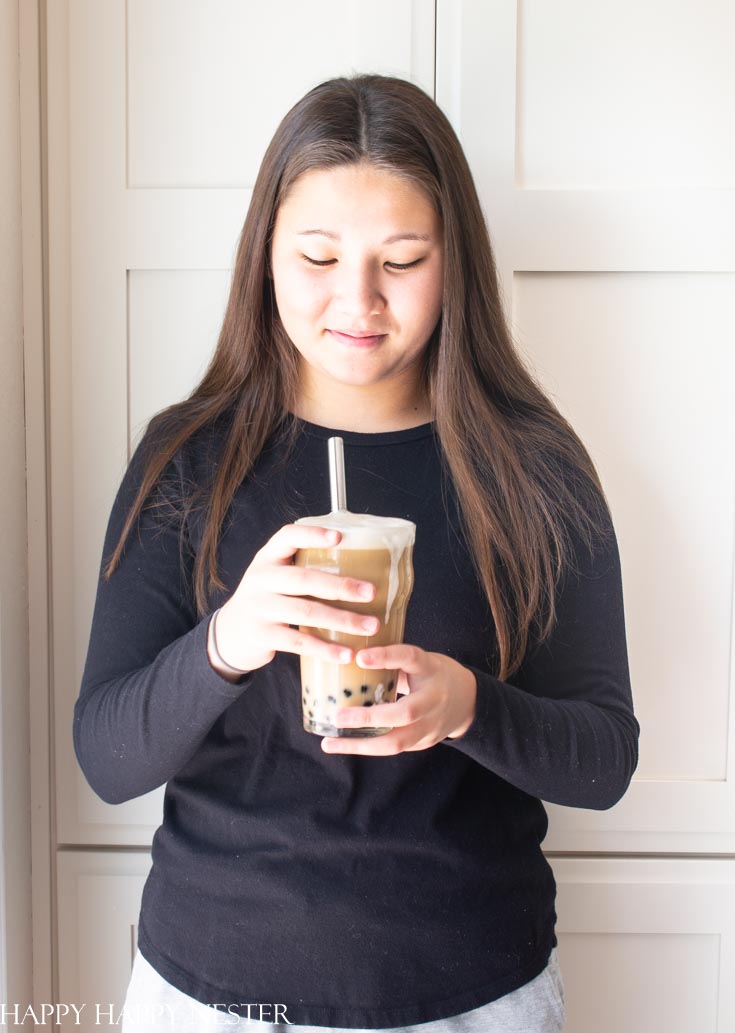 We have a few Boba stores here in the San Francisco Bay Area, and we, on occasion, will little treat ourselves to this refreshing tea drink.
Over the last year, we craved an ice-cold drink of boba tea and the stores were closed. So, I came up with my own recipe!
How to Make Bubble Tea
Step 1 – Brew a Pot of Tea
Make a strong pot of black tea. Add sugar and allow the tea to sit and cool down. Chill tea in the refrigerator.
Step 2 – Make Tapioca Balls
Meanwhile, cook tapioca balls in a pot of boiling water. Once cooked, drain tapioca balls and set them aside.
Step 3 – Froth Creamer
Froth almond creamer in a Nespresso frother. Make sure to use the cold setting.
Step 4 – Combine Ingredients
In a glass, add the tapioca balls. Next add the sweetened black tea, and top with frothed almond milk.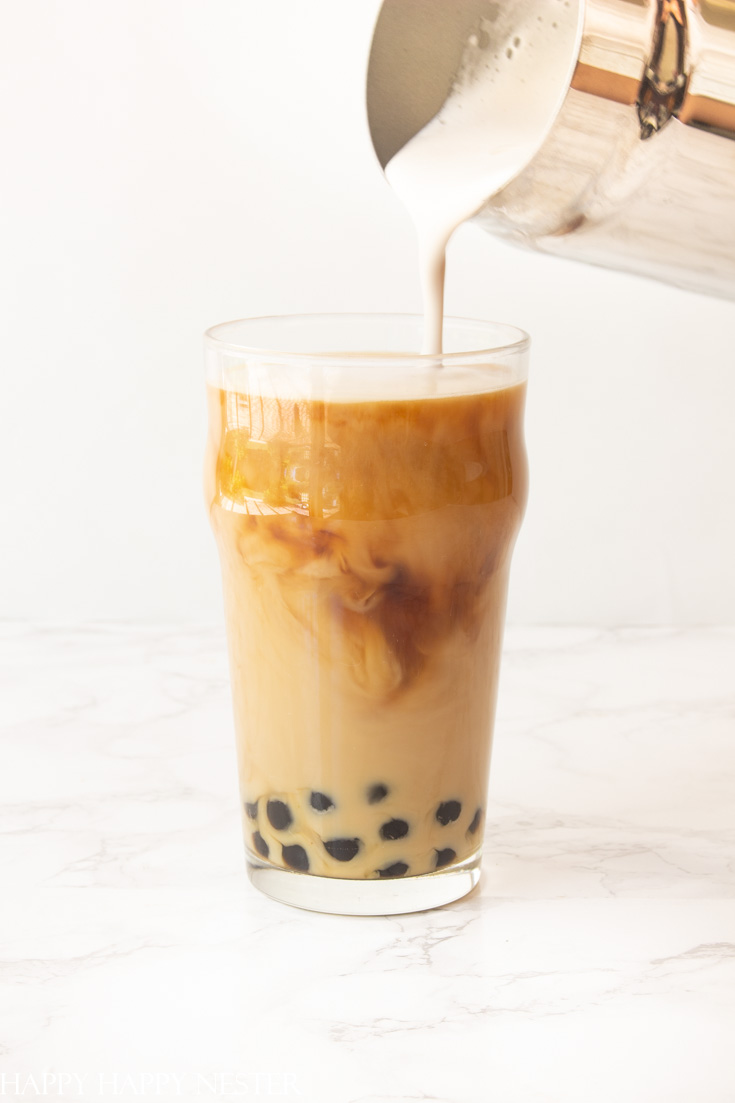 *The following post contains affiliate links
Here is What You'll Need to Make Bubble Tea
Tapioca Balls
I found a great selection of tapioca balls on Amazon. After making a few drinks, I quickly realized I needed quite a few more tapiocas. So, I placed another order that of two packages that contain 2.2 pounds of Tapioca. Yes, we are serious about making this delicious tea drink. I know that some people make their Tapioca, so maybe I will attempt another recipe in the future.
Almond Creamer
I bought a creamer that didn't contain a vanilla flavoring. I wanted it to taste as close to regular milk. I love the texture of this creamer, and when I placed it in my frother, it came out thick and perfect for my bubble tea.
Milk Frother
If you don't own a Nespresso frother, you can make this drink without it. Just make sure your creamer is thick in texture. I know in the past that I frothed some milk with the plunger of a Bodum French Press coffee maker. I placed the milk in the glass Bodum and moved the plunger up and down to create foam.
Big Stainless Steel Straws
The oversize straws are a must-purchase item. You see, in order to eat the boba balls at the bottom of your drink, you need large straws to suck them up. And believe me, the little straws aren't big enough. The cool thing about these stainless steel straws is that they are perfect for fruit smoothies as well. I love that they are reusable, and they come with their little cleaning brush.
My Favorite Black Tea
PG Tips is my favorite tea. It is a strong black tea that has a pretty smooth taste. The thing about making bubble tea is that you'll want a somewhat strong drink since it gets a bit diluted by the creamer. So make sure to steep your tea for a long time. But, you can use whatever tea you like.
Two Kinds of Sugars
When I thought of how to make bubble tea, I strongly felt that I needed to use brown sugar to sweeten the tea. This recipe includes both brown sugar and granulated sugar. I did try a tiny bit of honey, but it overwhelmed the flavor. But, if you love the taste of honey, try using it instead of brown sugar.
Bubble Tea
This Bubble Tea recipe has only 5 ingredients and is dairy-free. Bubble tea is a cold drink, otherwise known as pearl milk tea or boba. You can make this drink to your desired sweetness.
Ingredients
3

bags

tea

I love PG Tips Tea

5

cups

hot water

½

cup

tapioca balls

¾

cup

almond creamer

I used the Silk brand

⅛

cup

granulated sugar

¼

cup

brown sugar

packed
Ingredients to Sweetened the Tapioca
⅛

cup

granulated sugar

½

cup

water
Instructions
Tea
Place 3 tea bags in a teapot.

Pour 5 cups of hot water into the teapot.

Let the tea steep. Remove tea bags once you have strong tea.

Add ⅛ cup granulated sugar and ¼ cup brown sugar to the warm tea. Stir tea thoroughly.

Let cool and place in the refrigerator to chill.
Tapioca
Pour Tapioca into a medium-size pot. Place about 5 cups of water in a pan so that the Tapioca is covered adequately with water.

Wait until Tapioca floats to the top. Cover pot and cook in medium heat for 5-8 minutes.

Turn off heat and cover Tapioca for 3 minutes.

Scoop out Tapioca and let it rest in cold water for 20 seconds. Drain and rinse and place in a bowl with a ½ cup for water and ⅛ cup sugar. Mix thoroughly.
How to Combine Ingredients
Place about 30 or so cooked tapiocas on the bottom of a 12-ounce drinking glass.

Pour about 1½ cups of sweetened tea into a glass.

Froth ¾ cup almond creamer in the Nespresso frother. Make sure to froth it with the cold option. You do this by holding down the button longer. This results in cold foamy milk.

Top tea with frothed almond milk mixture.

Add a big stainless steel straw to the drink and enjoy. You can add ice if the drink is not cold enough.
Nutrition
Serving:
4
servings
|
Calories:
175
kcal
|
Carbohydrates:
43
g
|
Protein:
1
g
|
Fat:
1
g
|
Sodium:
67
mg
|
Potassium:
18
mg
|
Fiber:
1
g
|
Sugar:
27
g
|
Calcium:
71
mg
|
Iron:
1
mg
Here are some other drinks you might like: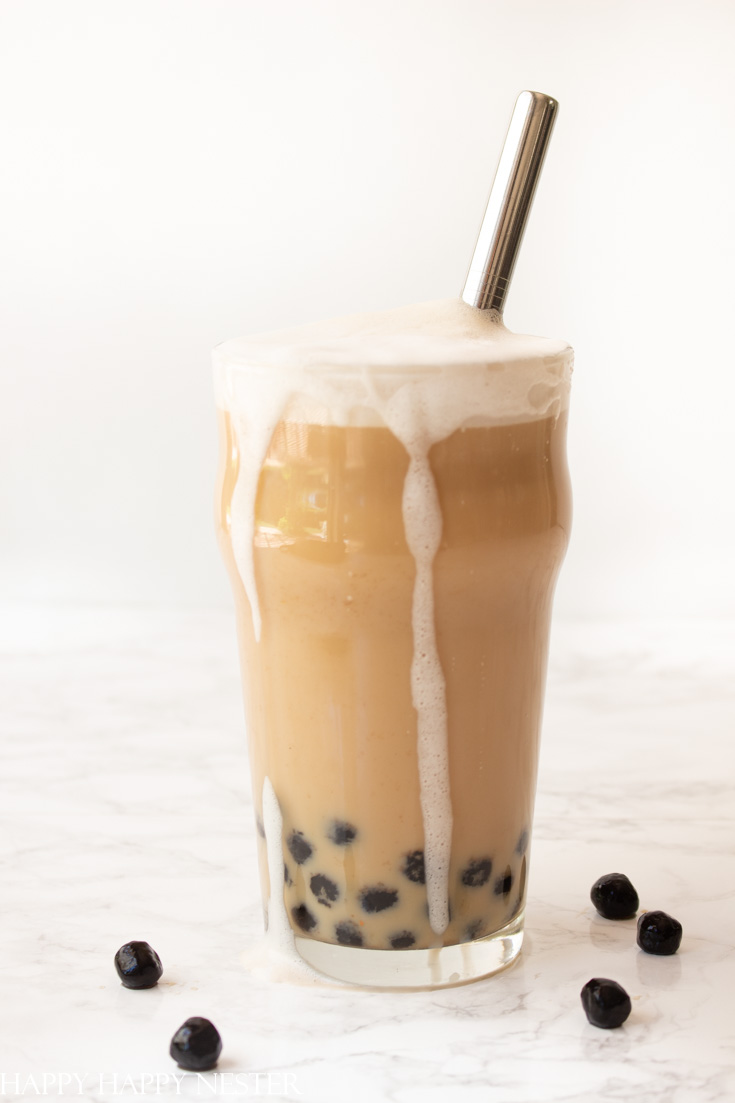 I hope you enjoyed this post on how to make bubble tea. Since coming up with this recipe, I have made this drink a gazillion times for my family. And I noticed about this drink is you can tweak the amount of sugar, tea, creamer, and Tapioca to taste. Some people like sweet tea, and others like it unsweetened.
So don't be afraid to experiment. You won't hurt my feelings.
Have fun, and enjoy this creamy tea alternative!e
Cheers,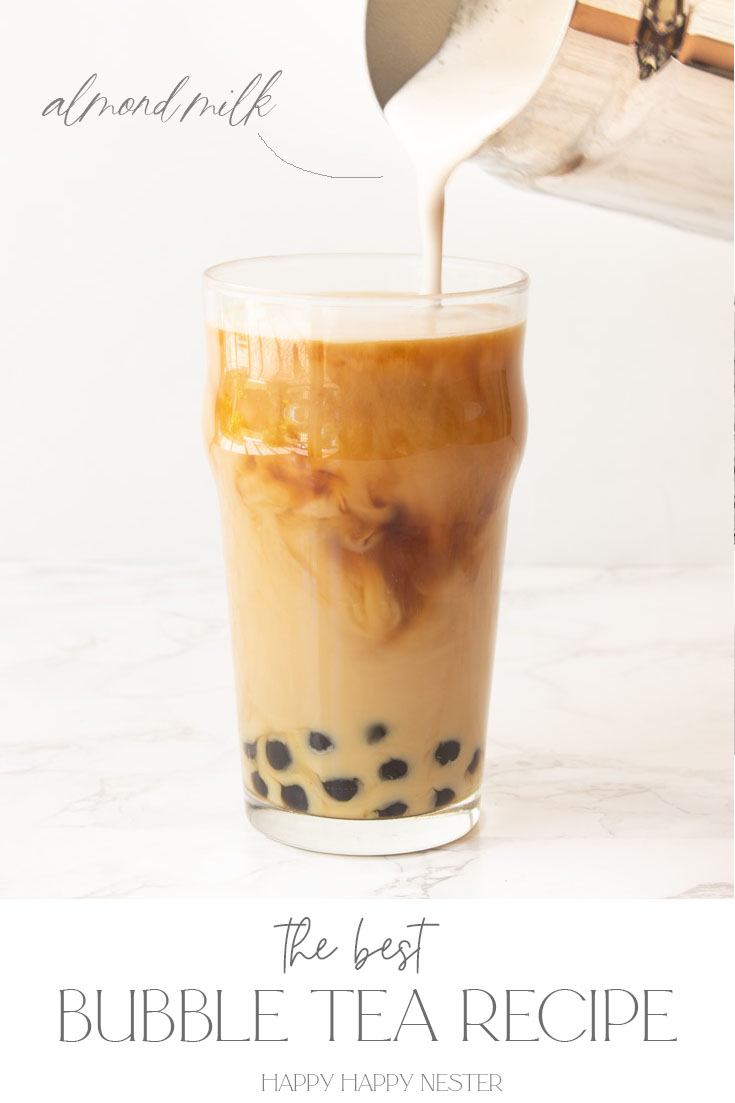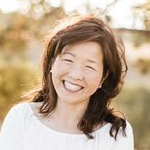 Latest posts by Janine Waite
(see all)