This is the time to share with friends and family while making some of the best memories during summer! I have always been inspired to create a fun, and welcoming look in the heart of my home when it comes to summertime. So today, we are going to be talking about some of the Best Summer Decorations for Your Home!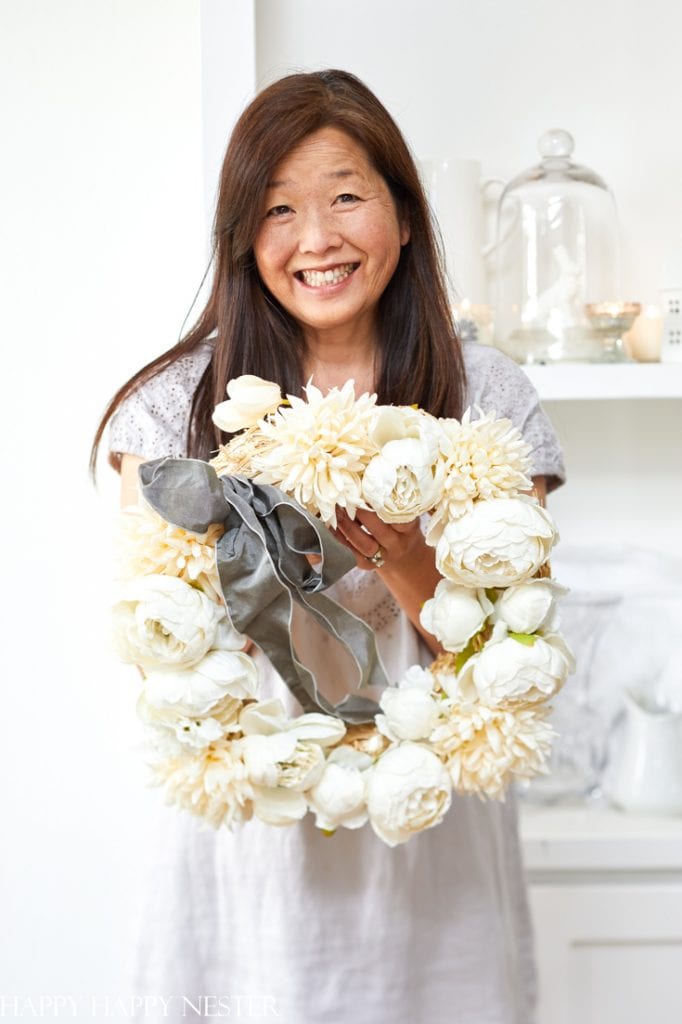 You're in for a treat! I hope these decorations inspire you to get creative today.
Saturday Chitchat with Janine – Volume 19
Welcome to this week's Saturday Chitchat!
It's finally the weekend, and it's going to be a good time because who doesn't love the weekend? This means it's time to have fun and make memories with family and friends!
To start the weekend on the right foot, below, I have listed some simple and stunning summer decorations to enjoy within your home to have a relaxing break!
So for all of you people out there who are wanting to have a good weekend, let's get started!
Check these posts out below and have a great Saturday!
A Personal Note from Janine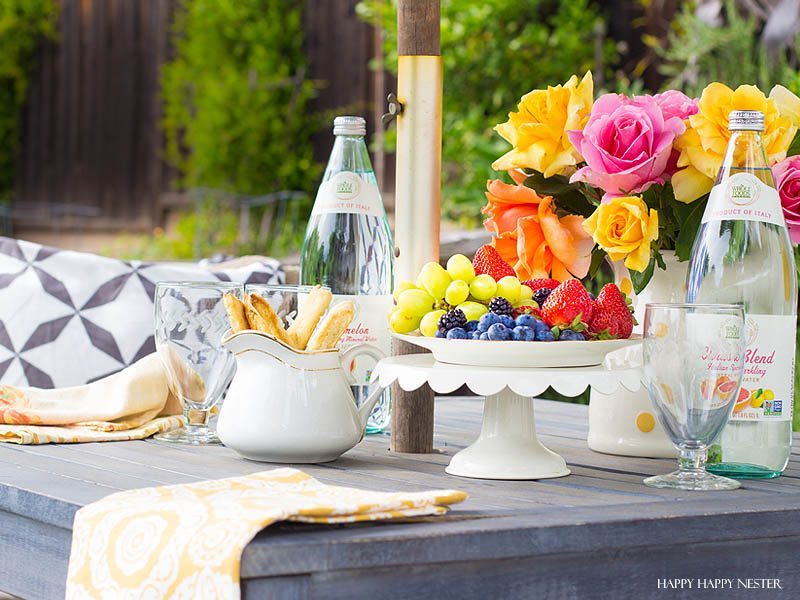 When the weather turns warm, we eat our lunch and dinners outside. Our home extends outdoors, and we add a lot of extra living space to our house.
So for about six or seven months of the year, we have an extra dining room. We recently moved our table so that it's under our patio and surrounded by our garden. It is a cozy spot that beckons us to relax and soak in the outdoor environment.
My husband wants to surround the patio with bird feeders so while we are eating he can watch the resident birds. This is his new hobby, feeding the birds and squirrels.
I feel that staying at home for the last year and a half has us appreciating our home a ton more. We are putting more effort into our backyard and we love lounging at our table after meals.
So, today, I hope to inspire you to change up maybe and add things to your home. Get in the mood for summer dining, entertaining, and pure relaxing!
Here's to Summer Vibes!

This Week's Inspiration – Welcoming Summer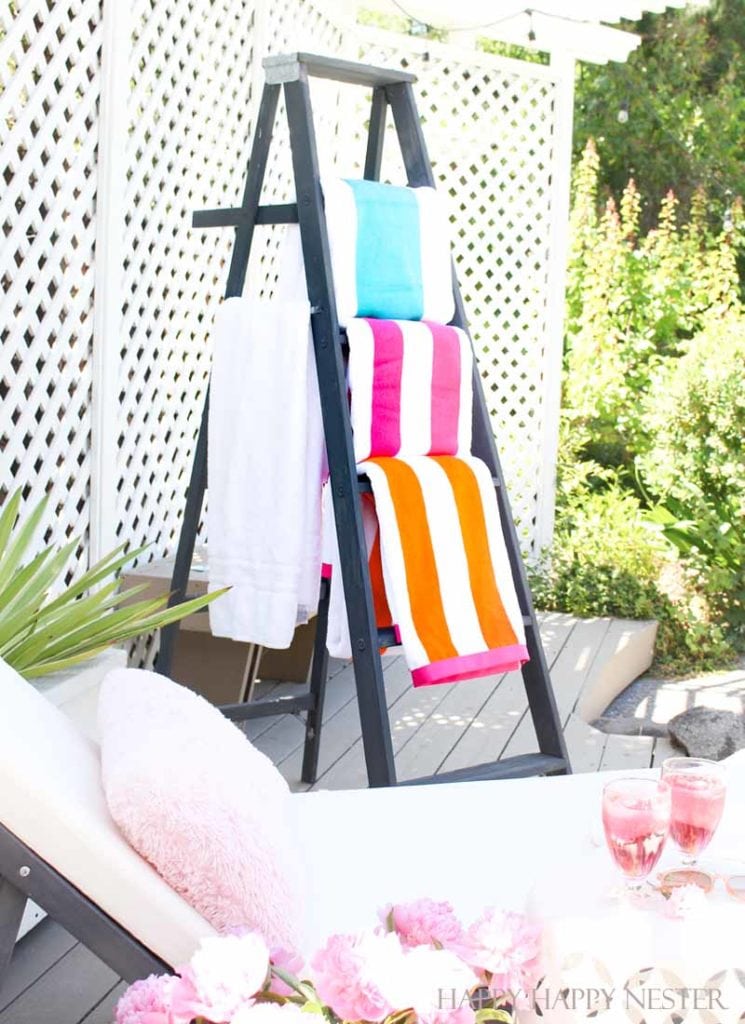 For those who don't know, I own an old and rickety ladder. Yes, the type that sways your body to one side when you climb it. I know, at first glance it looks safe but in the end, it's quite dangerous. But over the years, I have made amends with this ladder and decided to give it a new purpose.
I decided that I would recreate this ladder into a blanket and pool towel holder! Since summer is here, we tend to spend a lot of our time outside whether it's in the pool or hanging at the table feasting on some snacks, having a blanket or pool towel nearby helps a bunch!
For this post, I share with you how to paint an old, wooden ladder with chalk paint to give it a "new life" as one might call it.
Come on over to the blog to learn how to chalk paint an old piece of furniture of your own, possibly a ladder, and get ready to give it a new purpose!
How to Make a Paper Flower Wreath DIY is the fun project that I created. As some of you all know, I'm slightly obsessed with flowers and paper projects, and so I'm thrilled that I designed this happy spring wreath. I have a lot of paper crafts so you won't want to miss my popular DIY Paper Cherry Blossoms Tutorial.
In this post, I include a list of supplies needed for this fun craft and step-by-step instructions on how to assemble this beautiful wreath!
If you love DIY's and love wreaths, then this craft is a must for you! It's gorgeous and will look stunning throughout your home year long!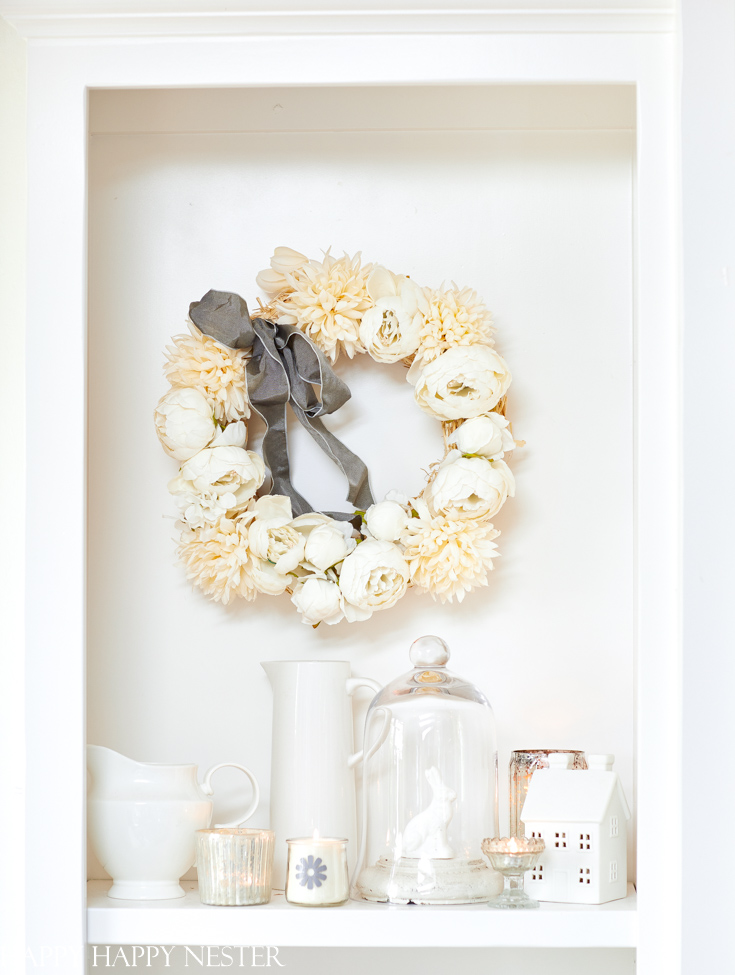 Have you ever wanted a simple yet stunning wreath that goes with anything? I have the one for you! But seriously, this wreath took me about 5-10 minutes to make and looks gorgeous in my home!
This simple summer wreath is full of faux blooms of Peonies and Chrysanthemums which helps creates a simple yet stunning look with the size and color of these flowers!
In this blog post, I include step-by-step instructions on how to create this wonderful wreath! Join me in creating a summer look within your home starting with this wreath!
---
This Week's – Boutique of the Week (Beautiful Paper Peonies)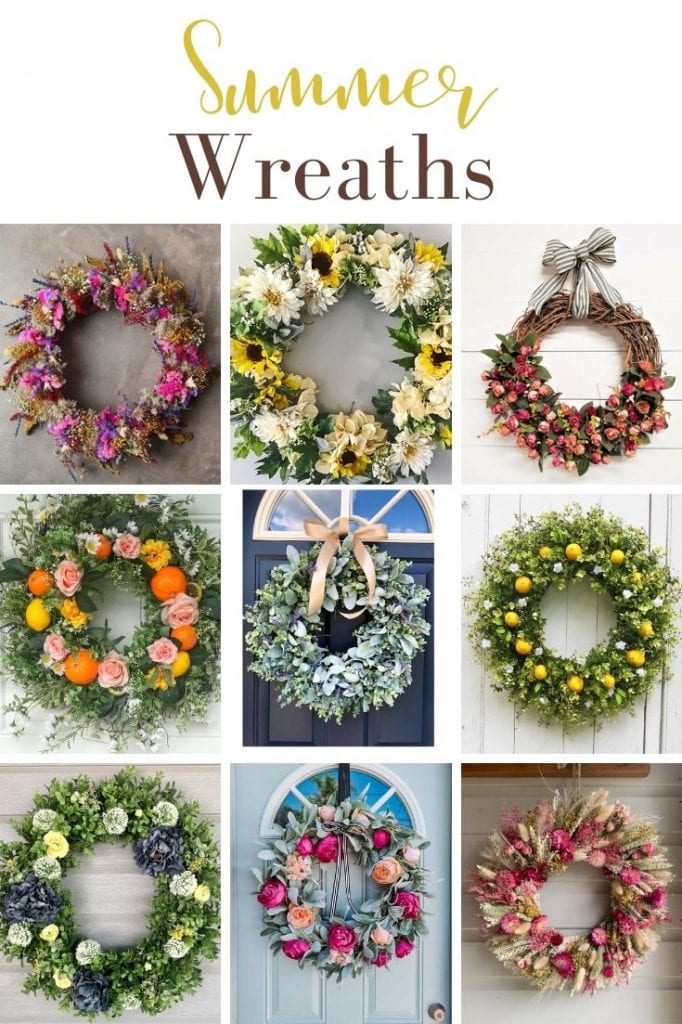 In need of a summer wreath for the front door? Here are 20 plus options from Etsy ranging from spring wreath ideas to summer floral wreaths!
I have always wanted to create a welcoming front porch when it comes to summertime. Finding the perfect wreath is the first step to putting together a comfortable and homey feeling when inviting friends and family to have fun and make memories!
Instead of spending hours, maybe even days on making your own wreath, come on over to find a wreath idea that fits your style!
---
My Favorite Things – Summer Home Decor
*The following post contains affiliate links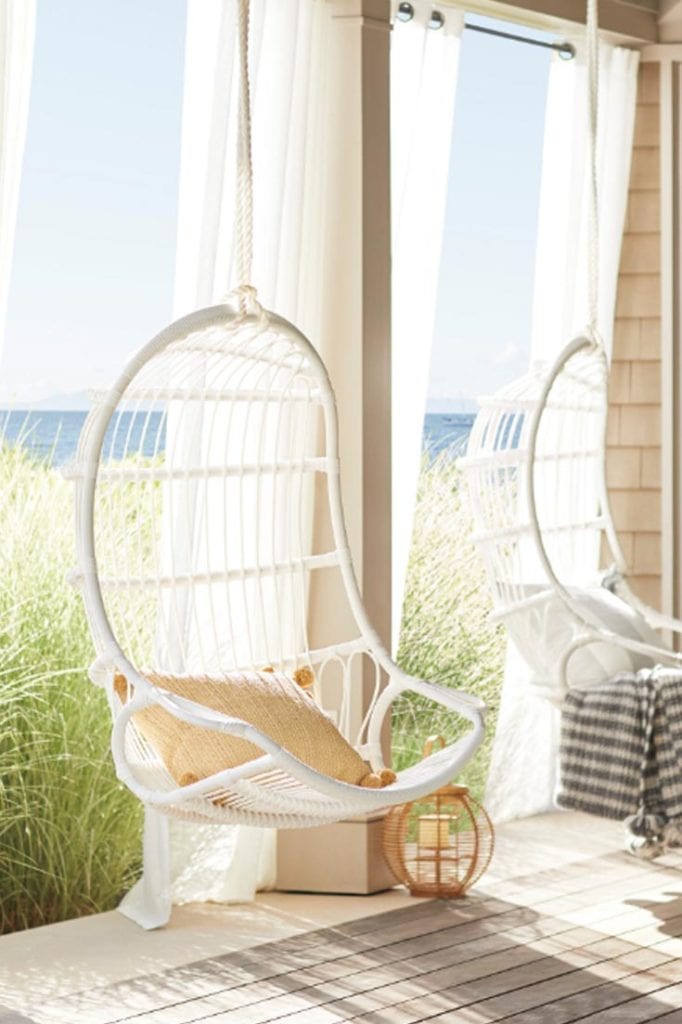 We Love this Chair
Who wouldn't want a stylish yet comfortable hanging chair to spend hours reading in one or time in one spent enjoying a snack? I have always wanted a fun chair to have in our backyard and I finally found the one!
But seriously, this hanging chair is a family favorite of ours! Since it's summertime, meaning we spend most of our time outside, one of us is always swinging around in the chair reading a book or sometimes taking a nap!
So if you shared my once struggle of finding the perfect outdoor chair, the hunt is done. I recommend this chair over any other!
Check out this hanging chair today!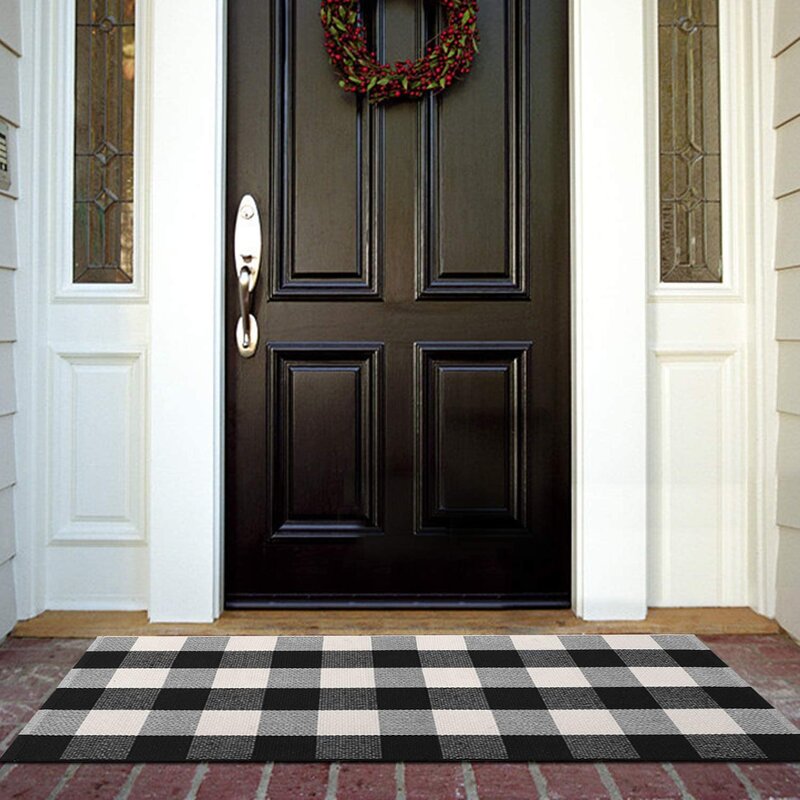 The Best Outdoor Rug
When decorating my home, I always want decor that will pop out, whether it's many small items or one big piece. If you're the same, this outdoor rug is a perfect choice!
This outdoor rug is a simple design to fill up any space needed which works well with your front porch!
This decor piece is perfect when adding a big enough item to add some pop to your home!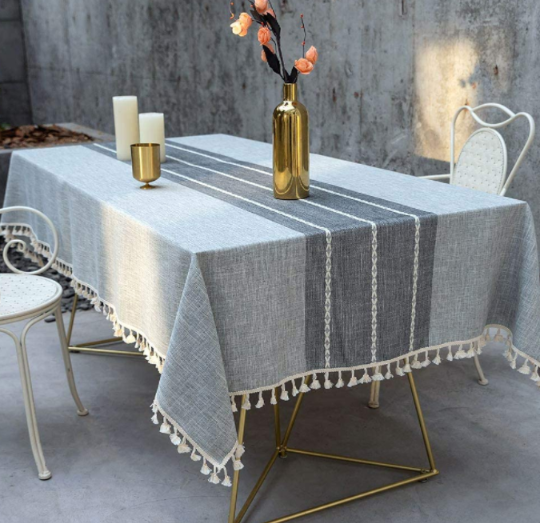 Summer is here, meaning we tend to spend a lot of dinners outside since it's warmer! I have always loved decorating our table with fun tablecloths, so here is a fun one for you!
If you are wanting to start styling the table whether it's inside or outside, then this tablecloth should be your first culprit!
This tablecloth is simple yet so stunning which will give your home a perfect glance of decor!
This tablecloth reminds me how much simple colors and designs can make such a big difference when creating a look! With the natural colors and lovely embroidery, this piece of decor will for sure bring summer into your home!
---
Easy Craft Projects to Make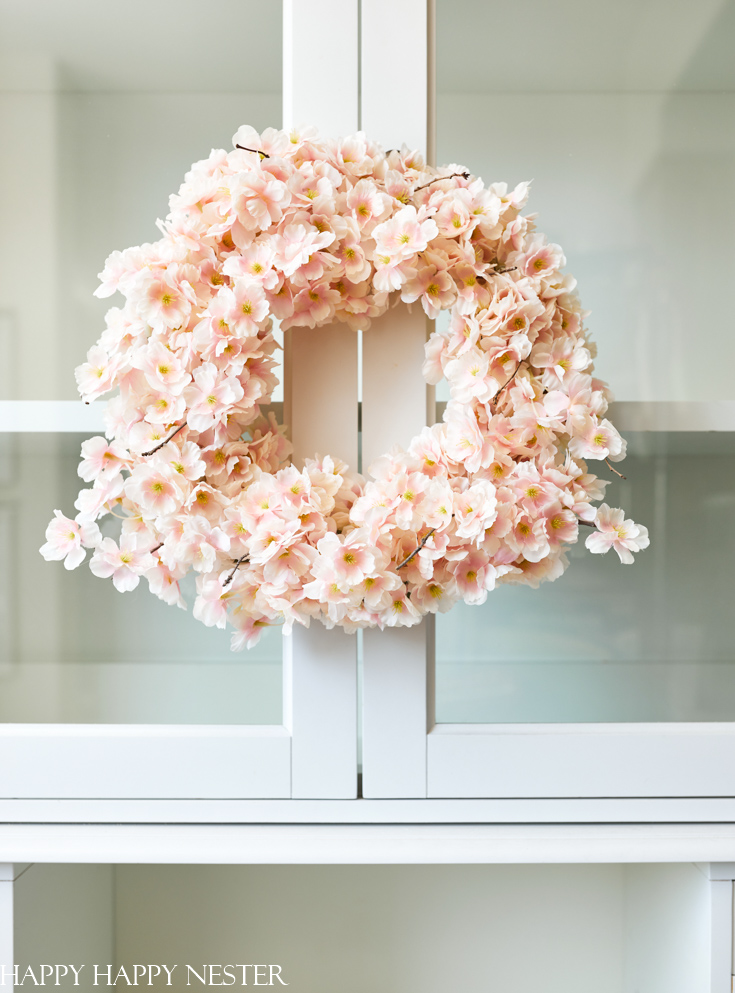 If I had to recommend one easy yet fun craft that will stay durable throughout the year as a piece of home decor, this easy floral wreath DIY is the one.
But seriously, this wreath is such a blast to make and has been a favorite of mine ever since I created it!
It's basically a wreath with the most beautiful flowers that creates such a fun and lovely look within your home!
Sounds fun right? Trust me, this is wonderful DIY to make as home decor, gift, or just something to create with the kids.
Come on over to the blog and check out this easy floral wreath DIY!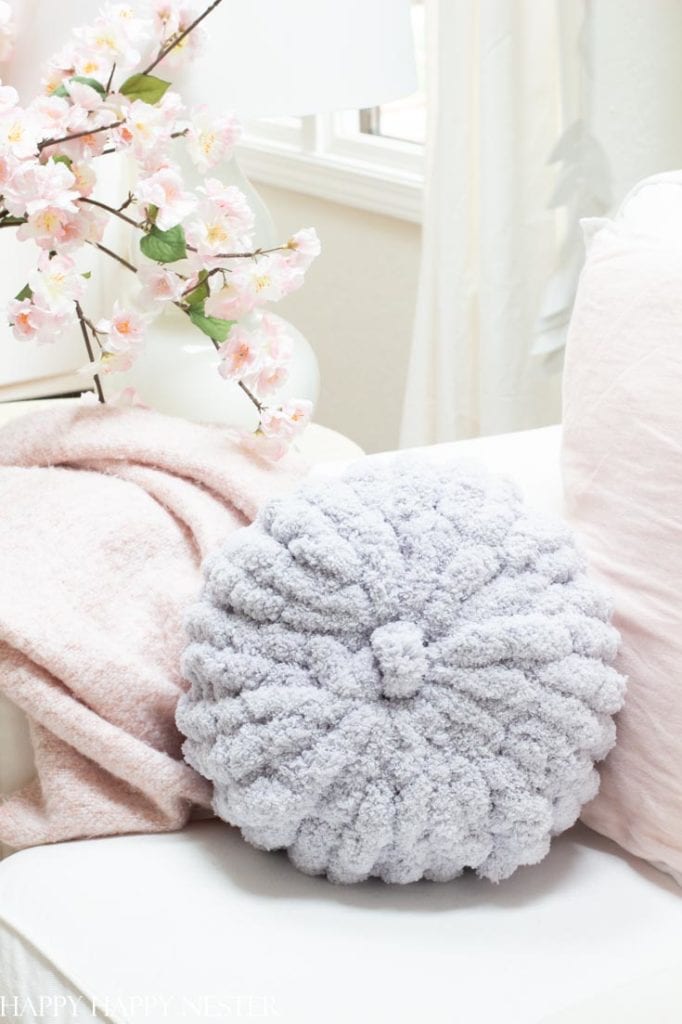 Have you ever wondered how to hand knit a pillow? This is my first project and I'm happy to say that you'll love this easy it is to make. If you want to knit but are afraid of needles, then this post on How to Hand Knit a Pillow is for you! I never was great at knitting, but for some reason, this whole arm knitting and hand knitting trend are right up my alley.
In this blog post, I answer some frequently asked questions you and others may have along with step-by-step instructions on how to assemble this fun craft!
A while ago, I tackled the whole chunky arm knit blanket thing. The wool yarn on that project is so thick and soft and the blanket is stunning. After my first attempt of arm knitting, I quickly realized that I like knitting without knitting needles.
Ok, that's a wrap on How To Hand Knit A Pillow in a nutshell. It is so adorable and pretty easy to make. It is an excellent introduction to knitting without needles!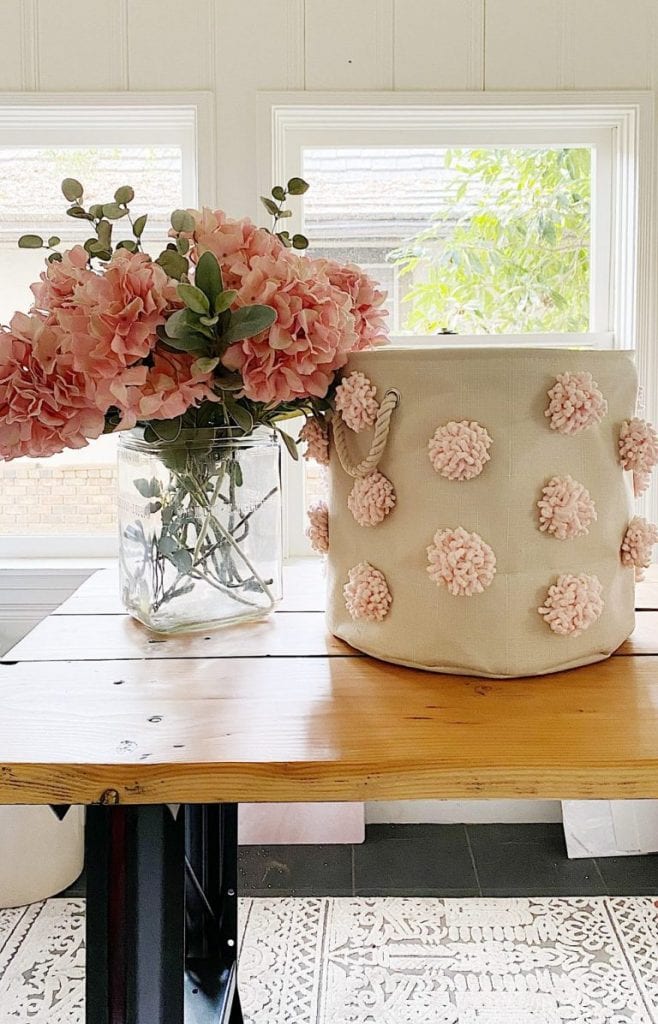 My great friend, Leslie, from My 100 Year Old Home, always invents amazing projects and crafts to share with people who love all things decor, entertaining, cooking, and crafts!
She recently created this pom pom basket DIY with a fabric basket and yarn! I don't know about you, but these basket will get the job done when you need to organize or store items!
So, come on over to Leslie's blog, My 100 Year Old Home, to check out this fantastic DIY!
---
Trending Over On The Blog
Alright, let's talk summer throws. It's that time of year when we tend to spend a lot of our time outside soaking up the sun or spending a cool evening outside after dinner. Either way, we are setting up our outside furniture along with the addition of some throw blankets!
If you're doing the same, check out this collection of summer throws galore to find one (or two) that fit your style!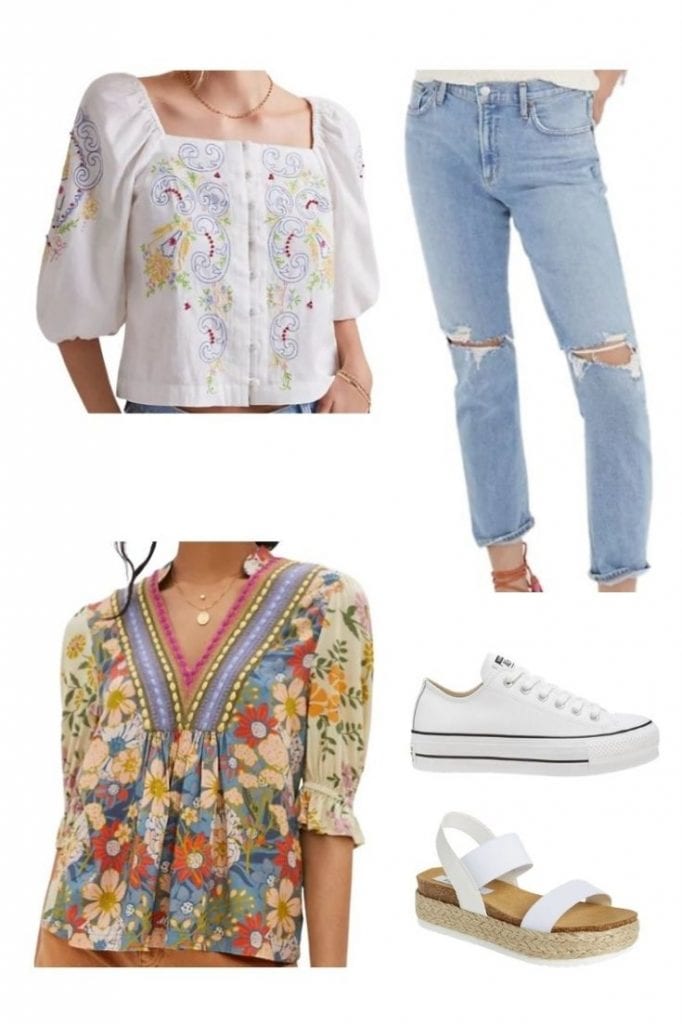 Summer is coming, and that means we are all in need of a new wardrobe! In this post, I am happy to share with you 7 outfit ideas that you can mix and match to have the best summer!
Basically, we want you to feel good and look good in what you wear, so with the help of these outfits, we hope to inspire you to wear these looks or create your own!
Summer is all about spending time with friends and family and making memories, and our main goal is to make sure you have comfortable yet stylish clothing to wear while having fun!
So, come on over and check out these fits and get ready to have the best summer ever!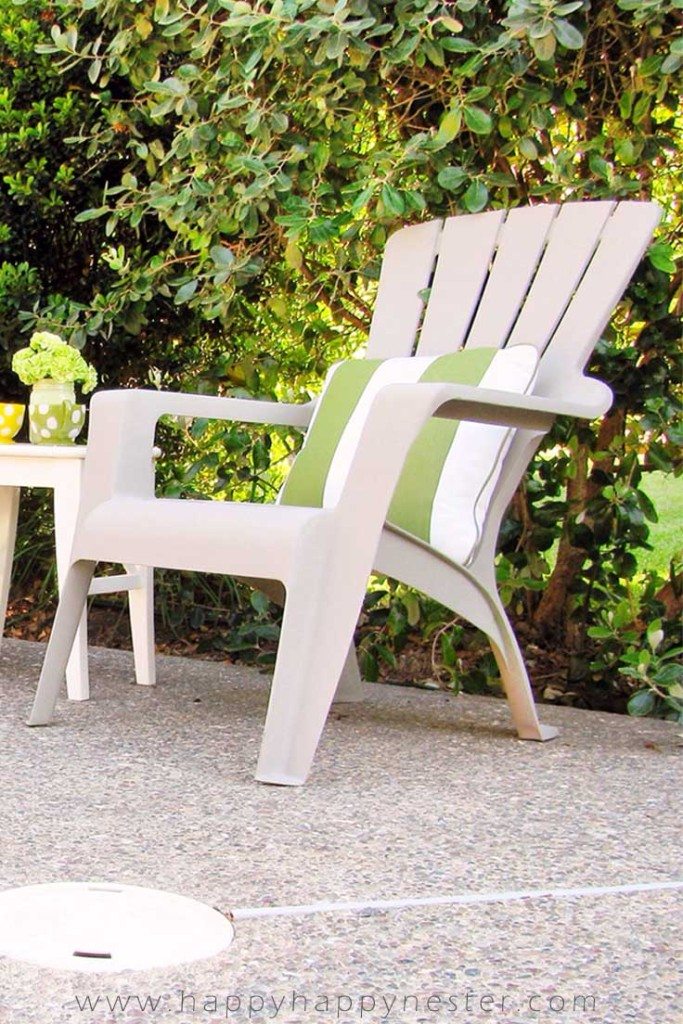 Do you want to be able to chalk paint your furniture but don't know where to begin? I got you. I have tried many crafts with chalk paint but this one has been a success.
In this post, I share with you our story of these plastic chairs and their journey from the day they were bought to the time they were transformed into something new!
I hope you are getting your backyard ready for summer and that this project has you inspired to paint some of your old chairs. Now, I'm thinking what more can I paint in our home! Maybe our piano will be a future project.
Stay tuned for more painting projects. I would love to hear if you have any fun projects on your list!
---
Outdoor Summer Lights!
Ways to Light Your Backyard for the Summer
It's summer time! Let's put out some furniture and decorate our backyard oasis together to create a fun and lively look to enjoy with friends and family!
I have found some ways to light your backyard so it's summer ready for any event!
I even have a blog post on how to hang outdoor string lights to help everyone in creating their dream summer backyard!
Find creative ways to hang these lights that suite your style or look for the summer!
Just let your imagination do the work for you and be creative!
---
This Week's Tip – Light Outdoor Rooms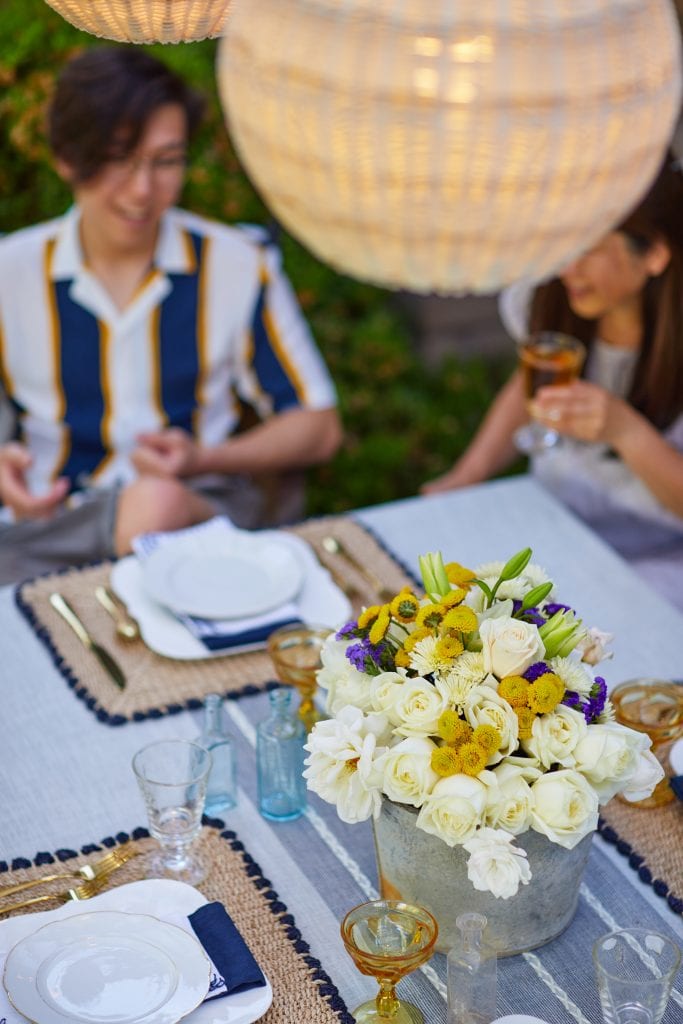 Light An Outdoor Table
I have always had trouble finding the perfect light source to have around the table outside. Anyone else? Seriously, years ago during the summer the family and I would spend a lot of time eating outdoors and the only light source available were our string lights which weren't enough to see our food.
Times have changed and I can now say that I found the perfect light source that gets the job done and looks stylish with my outside decor!
They are Serena and Lily outdoor lamps and they are the best. I have nothing bad to say about them because they are really all good!
So if you have struggled in the past not being able to see when spending time outdoors, these lamps are a must!
---
We are Outdoors for the Summer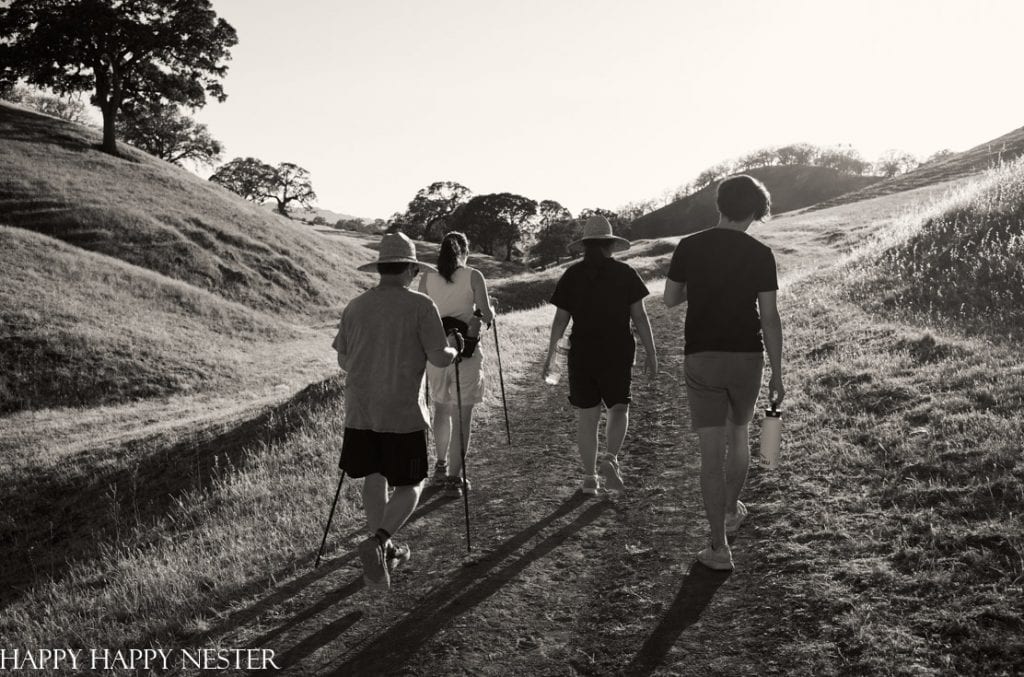 A Trip to Vermont
We have a trip to Vermont in a couple of days and so this weekend we are packing and getting ready.
I hope to take a few photos so I can share them with you in a future post. We will see if we make it to the fabulous King Arthur Shop in Norwich, Vermont. If you have ever visited this unique shop, you know how excited I am about my trip.
But, the main reason we are traveling to Vermont is to visit my husband's parents. They are true Vermonters and have lived there their whole lives. Since they live on the other coast, we rarely get out to visit them. So, I'm looking forward to seeing them.
Here is to traveling again and reconnecting with friends and family!
---
Well, this wraps up this week's Saturday Chitchat celebrating upcycling projects!
Thanks so much for chatting with me!
Happy Memorial Day Weekend!

Catch up on Saturday Chitchats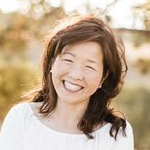 Latest posts by Janine Waite
(see all)