Fish Stories
Today, I want to talk to you about my no-fail salmon recipe but first, let's chat a bit.
I had a funny memory the other day.
While I pondered what I'd write for this blog post, I thought about my childhood. I remember how my mother would buy all her fish from a little Asian man who drove up and down the streets of our Southern California suburban neighborhood.
His truck would announce his arrival and let out a sound like today's food trucks.
He was like the ice cream man for middle age housewives.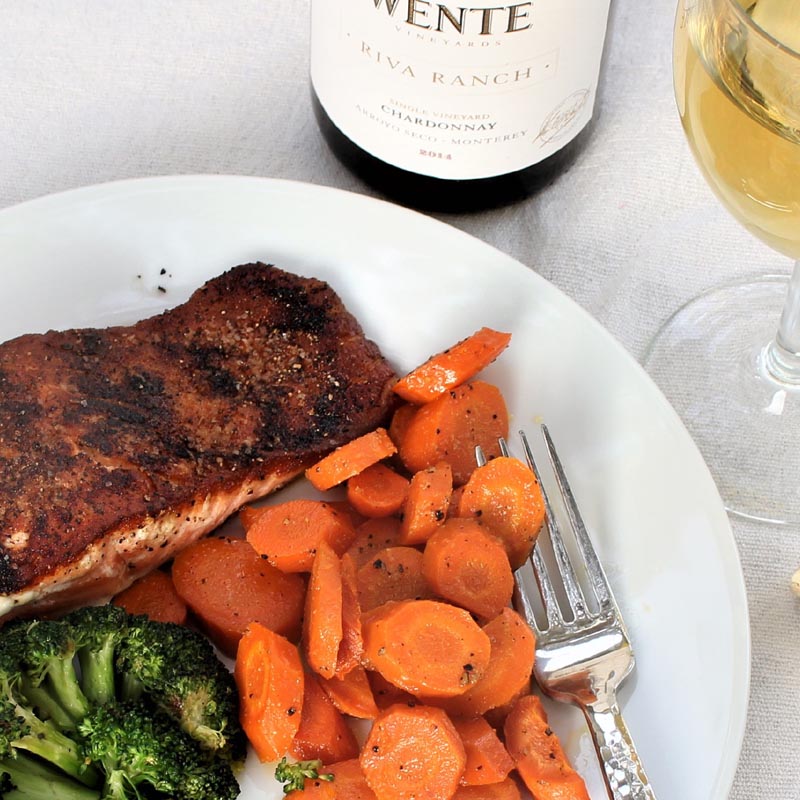 My mom and our neighbor would enter his store on wheels with all the fishy smells of his catch. Not sure why I looked forward to his visit, maybe I loved that my mom would buy me a little treat of rice paper candy that came with a toy prize.
You would think I would remember my mom's fish recipes. Let me just say; I was a picky eater and furthermore couldn't be bothered with meals.
So, I'm quite certain I ran the other way when my mom called me for dinner.
A Note about the Nester
When I was a kid, I hated mealtime. In addition, I couldn't be bothered with dinners and food. I was also a picky eater and so if I didn't like some leafy vegetable, I would cough and spit it out into my napkin. I kept grabbing for multiple napkins. Thank goodness I had my four older brothers who distracted my parents of my dinner shenanigans.
Today, I love cooking and eating fish. And after many years of preparing it, I finally mastered a few techniques.
When we were first married, my poor husband had to endure my lack of cooking experience.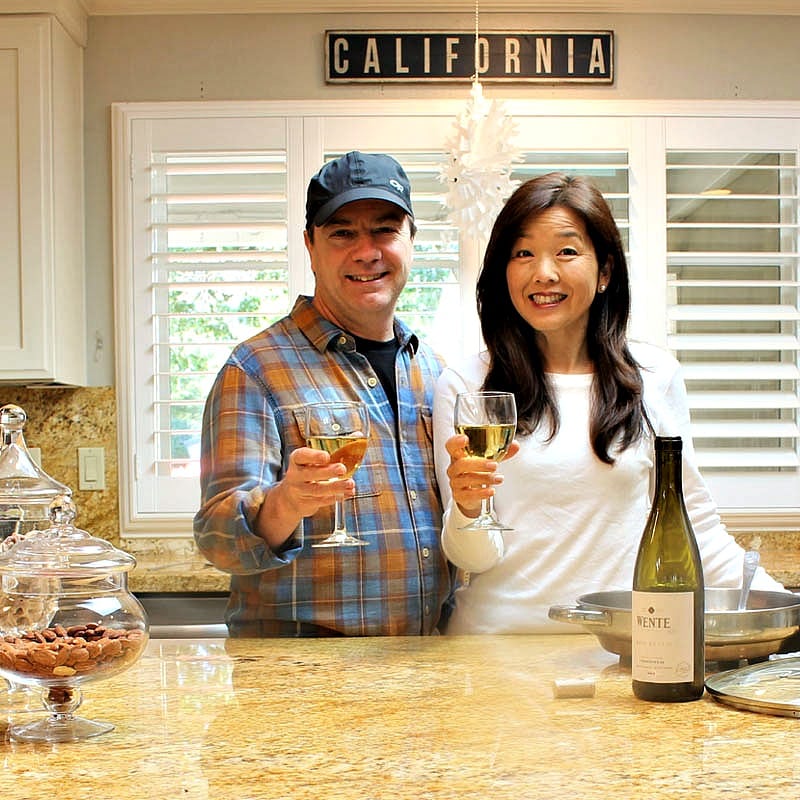 Luckily he is an excellent cook himself and he taught me a few tricks in regards to cooking trout. You see he grew up in Vermont and his family would send him out to a local trout stream to catch their fish dinner. This is a far cry from my family's suburbia fish seller.
So, I know what you are thinking. How do we stay married, since we are so different? For instance, while planning our vacations, he is drawn to cabins, and I love hotel rooms. Furthermore, he has an affinity for any music with banjos and mandolins, and I am a fan of jazz and big bands.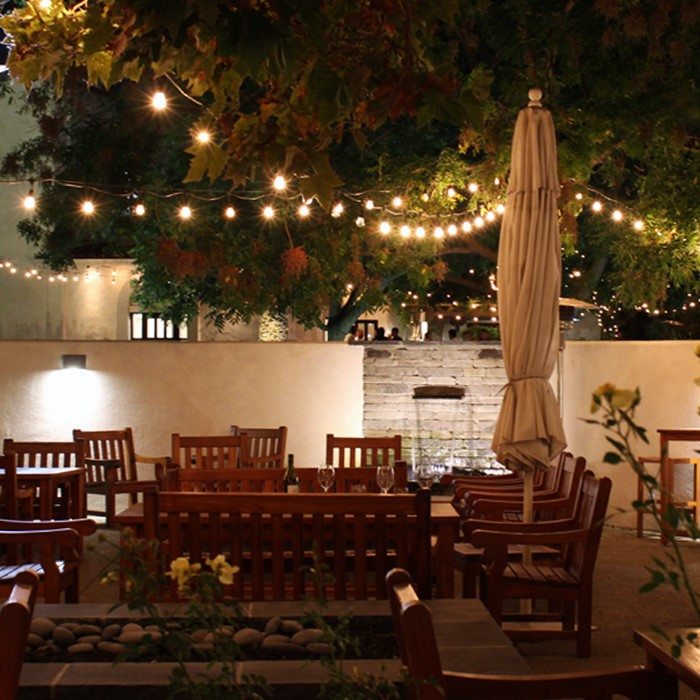 But one thing is for certain, we both love cooking and fine dining. So, recently, Wente Vineyards invited us out to their estate. As a result we sipped on fabulous wines and dined on delicious gourmet food. And if you missed that post you can read it here. So, when Wente approached me for this blog post, I couldn't resist sharing one of my favorite fish recipes and their Riva Ranch Chardonnay.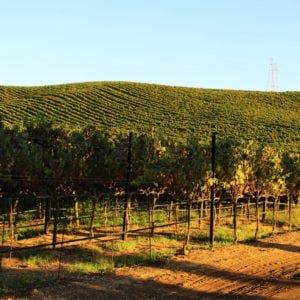 These Chardonnay grapes grow in the Arroyo Seco region of the Northern California coast. The soil in this area is rich and deep, and this allows extensive roots for the grapes. As a result, the wine is heavy with fruit flavors.
In addition, the Wente Riva Ranch Chardonnay is a buttery-sweet light palate and pleasantly non-cloying. It is a delightful wine and pairs well with my Crusty Crispy Salmon recipe.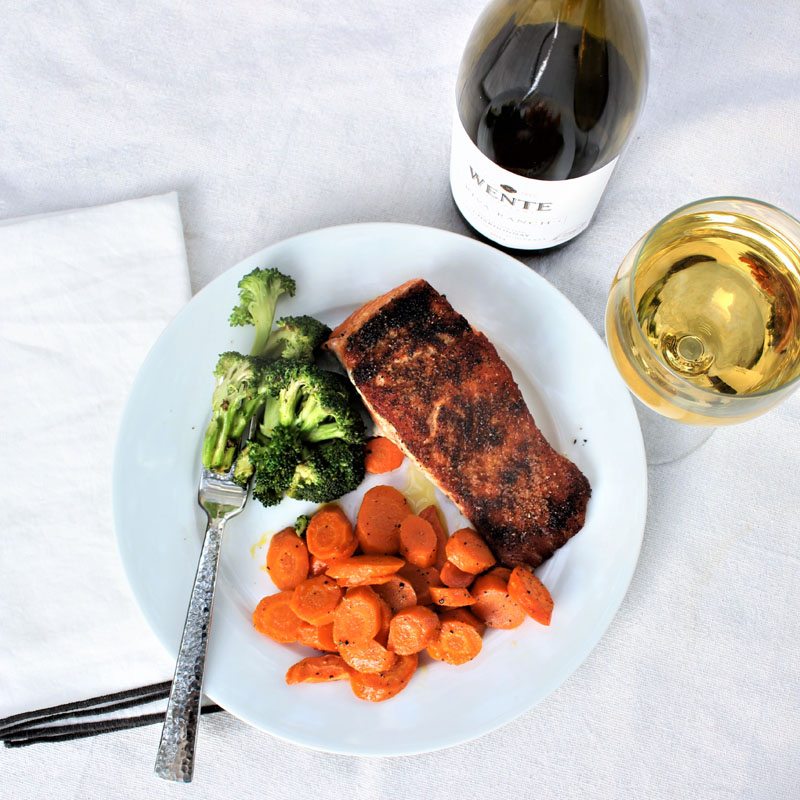 Crusty Crispy Salmon Recipe
Ingredients
Salmon fillets (preferably Norwegian Salmon)
Kosher salt
Pepper
Garlic powder
A good olive oil
Any other seasonings
Instructions
1. Season the meat side of your Salmon. Don't be afraid to season heavily.
2. Heat your pan to a high temp.
3. Drizzle a generous amount of olive oil in the pan.
4. Next, place salmon fillets meat side down in the oil.
5. Cook at high heat for about 3-4 minutes.
6. Reduce heat to medium, so you don't burn the fish.
7. Finally, here is the key to a perfect cooked salmon. As the salmon meat cooks, you'll see a line of where the cooked meat collides with the raw meat. Make sure that the fillet is cooked three-fourths the way and close to the skin. Then flip the fish to the skin side. As a result, you should have a nice crusty top at this point.
8. After flipping the fish, continue to cook the salmon for about 3-4 minutes. You'll see the meat is cooked all the way up the sides. Most of all, don't overcook the fillets or it will dry out. Finally, this technique ensures a perfectly moist and tender salmon with an oily crusty well-seasoned top.
So, make sure you try out my salmon recipe, I'm confident you will be happy with the taste. Anywho, have a lovely Thanksgiving! Enjoy your special time with family and friends. And mostly, I'm thankful for all your friendships.
Cheers,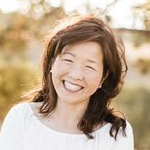 Latest posts by Janine Waite
(see all)