My brother and I are obsessed with making bread. There are so many bread recipes, but today, we will focus on the New York Times No-Knead Bread recipe. This recipe appears to be a popular one, and I wanted to see what the hype is all about. My brother is so devoted to bread making that he makes his bread in a beautiful Emile Henry Dutch Oven.
If you want to know more about this unique bread, then read on. I wrote quite a bit, but you can process whatever information you prefer. Just remember that I'm a bit crazy about this bread. You're going to laugh because I have a bowl of bread dough sitting right next to me as I write this post!
Like I said this is a no knead bread, and that saves you time and hassle. But I don't have anything against kneading bread. In fact, if I can knead the bread and have a loaf of bread in less than 12 hours, I might choose the later.
My brother summed it quite nicely about this bread recipe.
Mix and Wait, Flip and Wait, Bake and Wait! Eat and Enjoy!
New York Times No-Knead Bread Recipe
*The following post contains affiliate links
Let's take a look at the history of this bread phenomena.
It dates back to an early British cookbook back in 1727. The book, The Compleat Housewife, was said to be extremely popular in its day. And supposedly, the first no-knead bread recipe appeared in this book.
But recently, in 1999, another cookbook came out by Suzanne Dunaway. This cookbook is all about no-knead bread recipes. And it was republished in 2012. In the book, they refer to an earlier Italian no-knead bread.
Also, Jim Lahey published his no-knead bread recipe in 2006, and the New York Times got permission to publish it. And this is the recipe that I'm sharing today.
Long story short, there are many recipes out there on the web, and all of them are pretty similar. The key to this recipe is waiting.
You need to plan enough time to let it rise and ferment.
Let's look at some questions you may have.
If The Bread Isn't Kneaded How Does It Rise?
According to Wikipedia,
No-Knead bread uses a very long fermentation (rising) time instead of kneading to form the gluten strands that give the bread its texture.
Why is No-Knead Bread Dough So Sticky
Since this is a no-knead bread, the only way for fermentation to happen is through time and moisture. The water creates a moist environment in which the fermentation of yeast happens. So this dough is stickier than kneaded bread.
Why a Dutch Oven Pot?
The Dutch oven creates a perfect environment of moisture and equal heat that bakes the loaf perfectly. After removing the lid, the formed crust protects the bread's moisture. Exposing the bread at the end creates a lovely crispy outer layer to this rustic bread.
Is Cornmeal Essential to Making This Bread?
Cornmeal acts like balls that keep the bread from sticking to the pot. Since the dough is sticky, the cornmeal acts like a significant barrier. Also, I believe it creates a crunchy outer crust.
A Bonus Note About Temperature
My brother is really into this recipe, and he went as far as buying a food thermometer.
He uses it to read that the internal bread temperature. Supposedly, it should reach 190-210 when done. On the other hand, I look at the loaf, and if the top is brown, then I pull it out of the oven. You can choose your method.
No Knead Bread
This no-knead bread recipe creates delicious rustic bread. The moisture and long proofing allow the bread to rise without kneading.
Ingredients
3 ⅓

cups

all-purpose flour or bread flour

or 430 grams

¼

tsp

yeast

generous amount

2

tsp

kosher salt

1½

cups

water

cornmeal

for dusting
Instructions
In a large bowl, combine flour, yeast, and salt. Add water, and stir until blended.

The dough will be stringy and sticky at this stage. Cover with plastic and keep in a warm spot that is about 70 degrees. Rest the dough for 12 hours or more.

The dough is ready when its surface has bubbles.

Place a small amount of flour on a piece of parchment paper. Lightly cover your hands with flour before touching the sticky doung. Next, pour dough out onto it and sprinkle light some flour on top. Fold it over on itself once or twice. Loosely wrap with plastic and let rest 15 minutes.

Cover a section of a clean dishtowel with cornmeal. This is where you plan to place your bread dough.

I plopped the dough onto the dishtowel while molding it into a ball. If you have any seams try and place them down.

Dust the top of the bread with cornmeal and wrap the ends of the dishtowel over the top. Let rise for 2 hours.

The last 30 minutes of resting, heat the oven to 450 degrees. Place your 6" or 8" dutch oven with the lid in the oven to preheat.

When the dough is ready, place it in the hot dutch oven pot.

Cover and bake for 30 minutes.

After 30 minutes, remove the lid and bake another 10-20 minutes until the top crust is brown.
Nutrition
Serving:
1
g
|
Calories:
95
kcal
|
Carbohydrates:
19
g
|
Protein:
3
g
|
Fat:
1
g
|
Saturated Fat:
1
g
|
Sodium:
292
mg
|
Potassium:
28
mg
|
Fiber:
1
g
|
Sugar:
1
g
|
Vitamin A:
1
IU
|
Vitamin C:
1
mg
|
Calcium:
5
mg
|
Iron:
1
mg
I now have a loaf of New York Times No-Knead Bread in the kitchen almost everyday! It is so nice to have homemade bread for the family.
If you like this recipe then check out these others.
Now I'm off to experiment with my sourdough starter. Happy Baking Friends!
Cheers,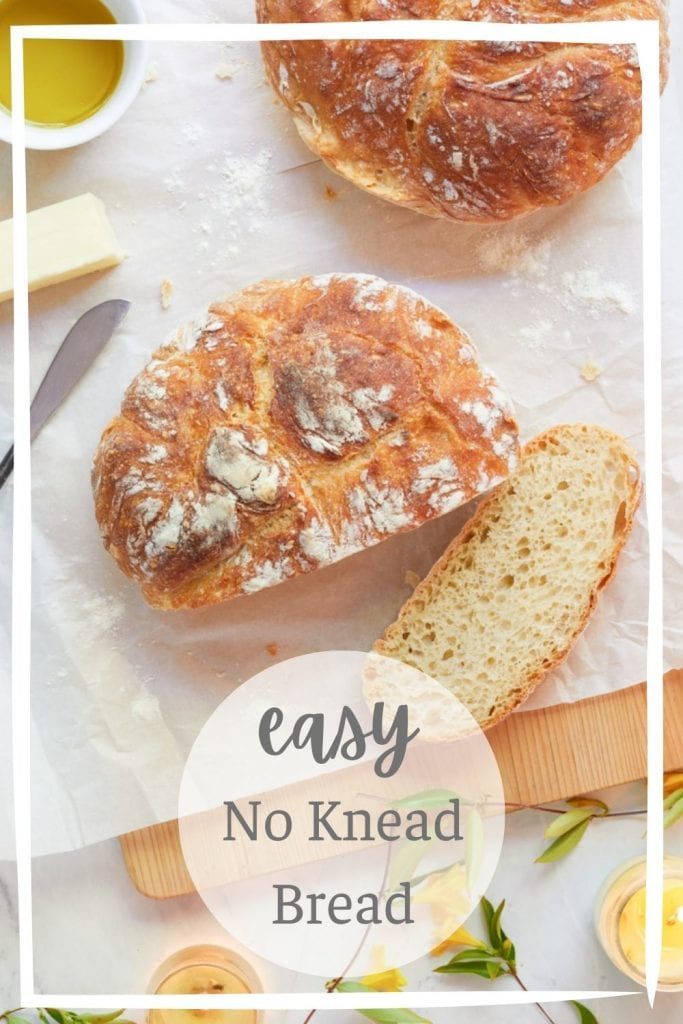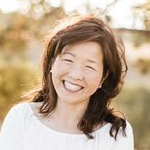 Latest posts by Janine Waite
(see all)