Lady Banks Rose is a vigorous climbing rose. It comes in white and yellow and has a slightly sweet scent. It is a thornless rose that is easy to care for. Prune it to train it to grow up in arbors, along a fence, or most anything.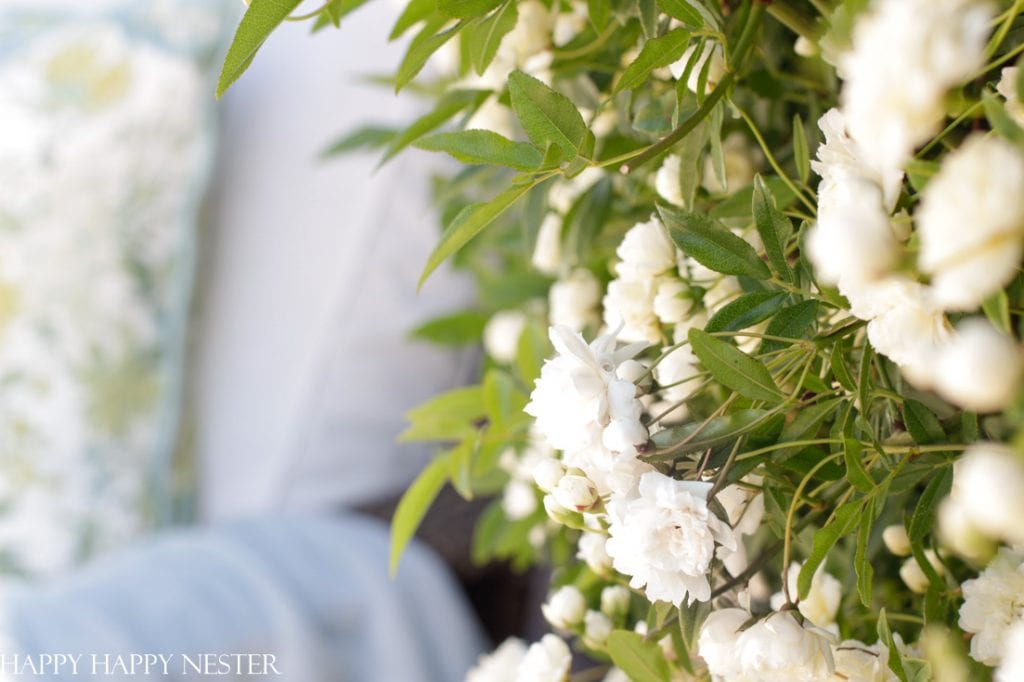 Despite being a novice gardener, this climbing rose has thrived along our backyard fence. It's done so well that we planted seven more bushes in our yard.
The first time I was introduced to Lady Banks was in Italy. We visited a museum, and outside the gardens was a beautiful shed covered with a yellow Lady Banks.
I was mesmerized.
And somewhere buried among our photobooks is a picture of this gorgeous rose. Too funny, I remember this rose and not the museum's name!
Alright, let's take a closer look at this beautiful climbing rose!
What Is Lady Banks Rose?
Lady Banks' rose is a type of climbing rose from China, named after the wife of a botanist.
It's known for its small, fragrant, yellow or white flower clusters and is a popular choice for arbors, trellises, and other garden structures due to its vigorous growth habit. It is also a low-maintenance plant that is resistant to pests and diseases.
How To Plant Lady Banks Rose
Planting Lady Banks' rose requires a few steps. Firstly, you need to choose a suitable location with at least 6-8 hours of direct sunlight daily and well-draining soil.
Then, dig a hole twice as wide and deep as the plant's root ball. Add organic matter to the soil and mix well.
Next, gently remove the plant from its container and loosen the roots. Place the plant in the hole and backfill it with soil, firming it gently around the base of the plant.
Water the plant thoroughly and mulch around the base to conserve moisture and suppress weeds.
Finally, add support such as a trellis or arbor to encourage climbing.
Where to Plant a Lady Banks Climbing Rose
Lady Banks climbing rose prefers a spot in full sun, with at least six hours of direct sunlight daily and well-drained soil. It can tolerate some shade, but it won't flower as much. It's also essential to choose a sturdy support structure, such as a trellis, arbor, or pergola, for the rose to climb on, as it can grow large and heavy.
Now our pergola is adorned with beautiful climbing roses!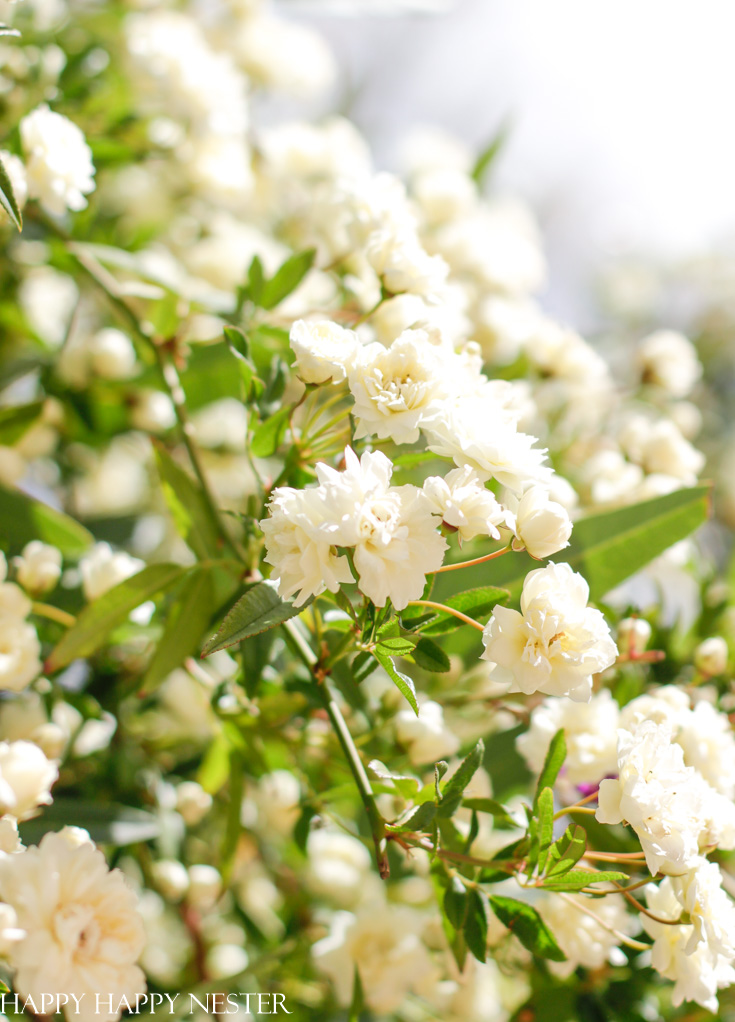 Lady Banks is also known as Banks Rose. And Rosa Banksiae or Rosa Banksiae Lutea are its Latin name.
The blossoms have many petals, and when it blooms in the springtime, the whole plant is covered from head to toe in roses. It's a glorious sight, and it takes your breath away.
It has a lovely fragrance with a hint of sweetness.
My husband is the gardener in the family, and I took photos of him planting a Lady Banks. So I published, How to Plant a Rose Bush.
In the meantime, if you don't have a local nursery that carries them, here is a link to buy a plant.
Let's answer a few questions you may have.
Frequently Asked Questions About Lady Banks
Is Lady Banks An Evergreen Rose?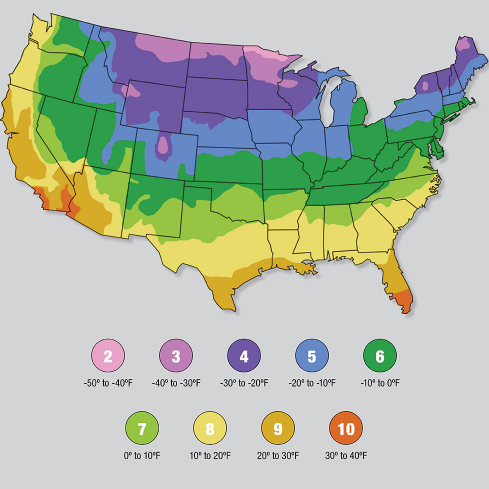 In gardening zones 9-11, Rosa Banks is an evergreen plant. And in colder climates 6-8, they lose their leaves in the winter. Here is a helpful Garden chart from Home Depot.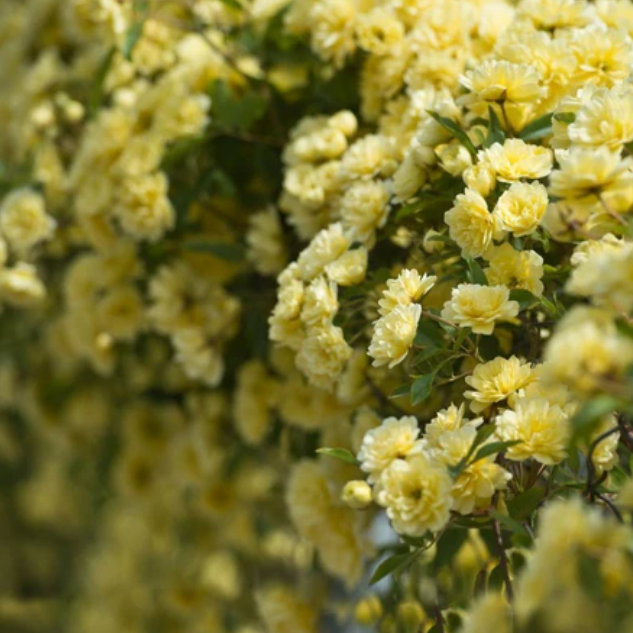 What Colors Does Rosa Banks Come In?
Lady Banks or sometimes called Rosa Banks comes in white and yellow. We own the white since it goes nicely with other flowers in our garden. And for your pink lovers, I have some good news for you – a friend on Instagram just told me that this plant is also available in pink, and it's called Pink Banksian Rose. I can't find a link to any on the internet, so check with your local nursery.
We love this climbing rose so much that we planted six more.
When Do Lady Banks Roses Bloom?
So, our plant is in full bloom on April 7th. Please note that we live in Northern California. So it blooms anytime between spring and summer. It only blooms once, but it is a glorious bloom. The whole bush is covered with blossoms.
Are Lady Banks Roses Deer Resistant?
I wish it were deer resistant, but it is not.
The deer love to munch on some in our front yard. Supposedly, they don't like the smell, which keeps them away. Immediately after my husband planted them, I sprayed them with a stinky deer spray.
It smells right after you spray it, but it wears off in a couple of minutes. I was pretty good about spraying it; the bushes survived the first year. If you saw our roses, you would notice that the bottoms are sparse compared to the tops. But we did keep the deer from killing our roses.
I'll take the victory!
Do Lady Banks Rose Have Thorns?
You'll be happy to know that they are thornless. This makes it easy to prune and handle the bush!
How to Prune Lady Banks Rose?
Since we want our rose bush to take over the fence, my husband keeps the bush tidy. Any stray growth, he trims, but other than that, he doesn't need to prune it too much. Be careful when pruning since it can affect next year's blossoms. If you have dead branches, you will want to cut them after the plant blooms. We haven't had that issue.
But, if the plant is in full sun and resides in the warmer zones, it is a worry-free kind of rose. That appears to be the case for our plants.
When to Prune?
The best time to prune them is in late winter or early spring before they grow new shoots. You should remove dead, damaged, or diseased branches and prune back any unwanted growth to shape the plant. It's essential to wear gloves and use sharp pruning shears to make clean cuts and avoid damaging the plant. Lady Banks roses are vigorous growers, so they can handle heavy pruning if needed.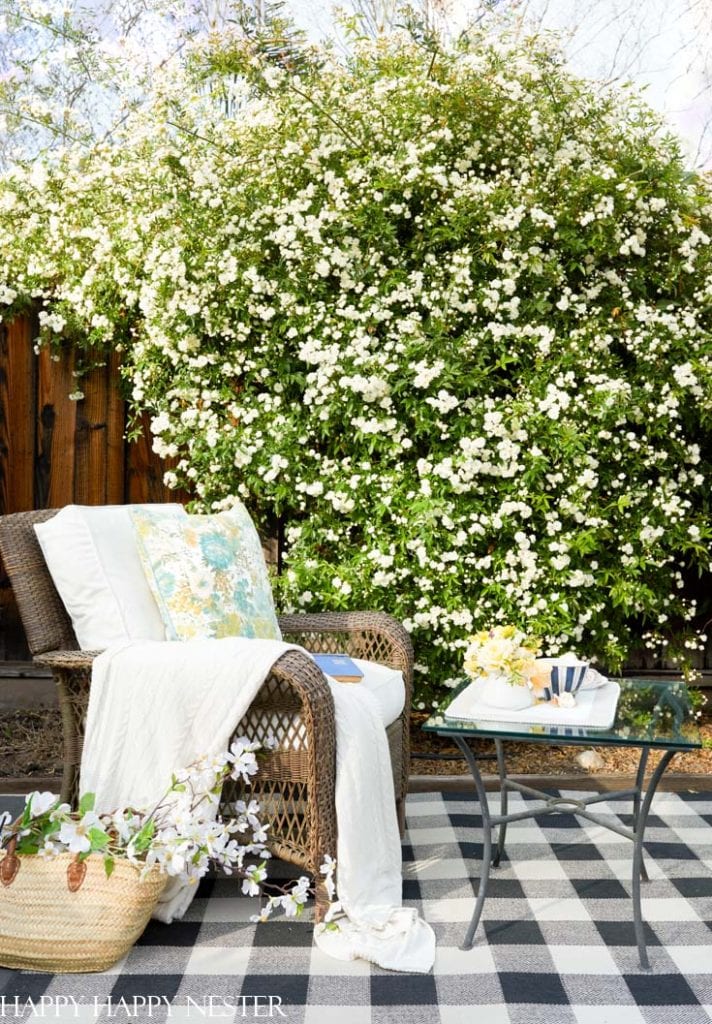 We originally planted one rose bush and loved it so much that we bought three more. Well, this spring, we planted four more! So we have a total of eight Lady Banks.
Three are in part sun/shade, so I'm curious how it grows.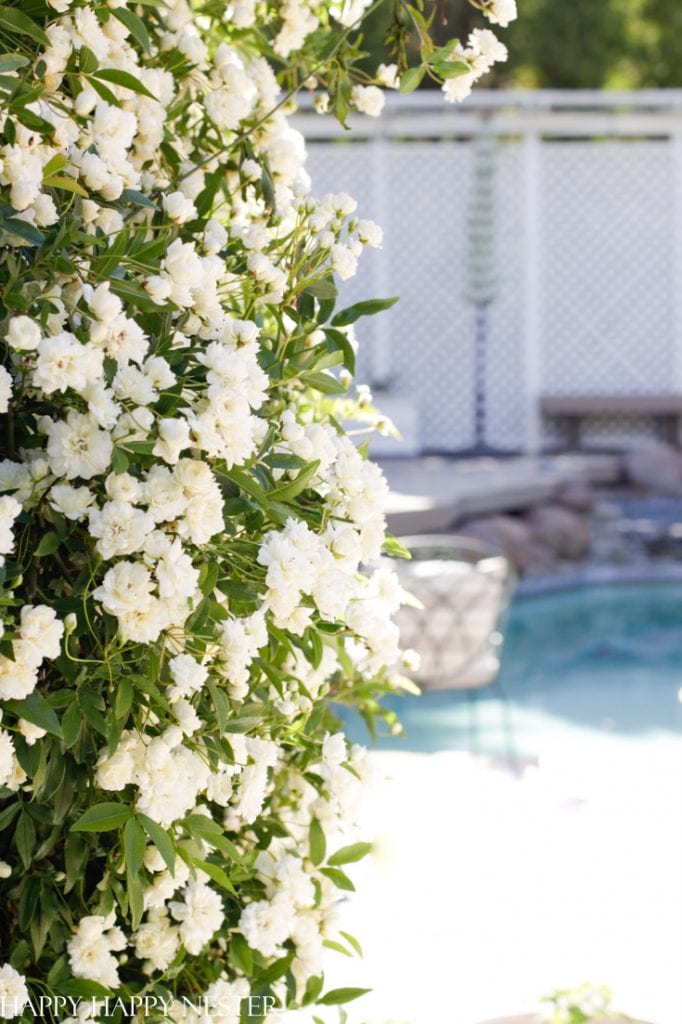 Our experience with this rose bush makes us happy gardeners. And as a result, we are excited about our yard and landscaping!
I have some yard DIY posts if you are interested.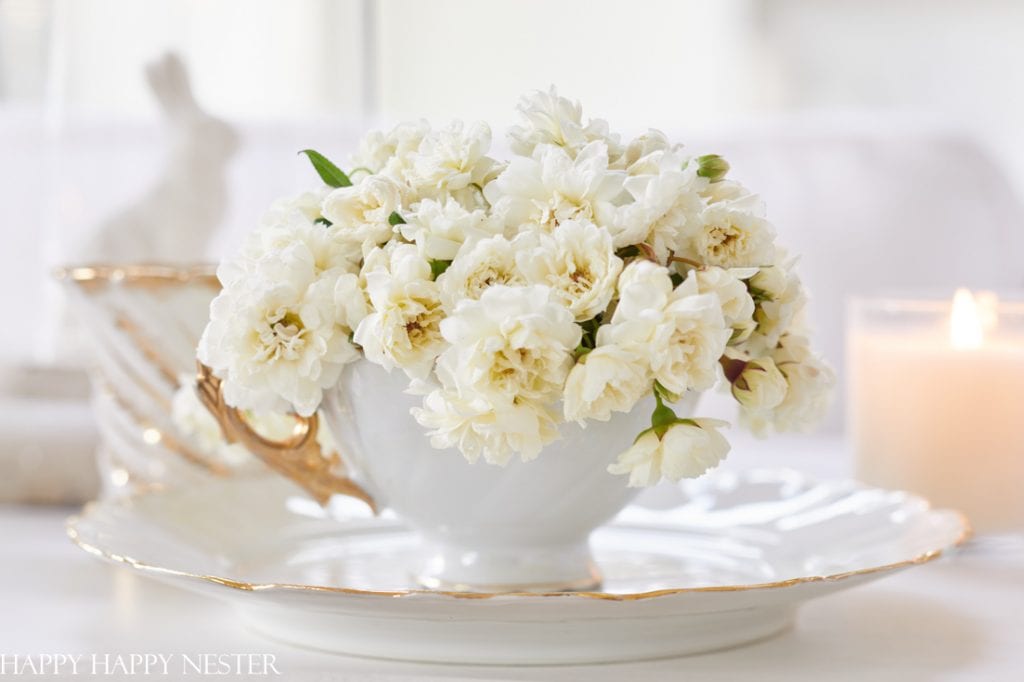 Aren't these the most dainty roses? They have a vintage feel that is so romantic! Oh my, I love to grab a few and place them in my teacups!
I will have more gardening posts in the next month. So, sign up for my newsletter so you don't miss out!
Thanks so much for stopping by, and I hope you have a lovely spring day.
Happy Gardening!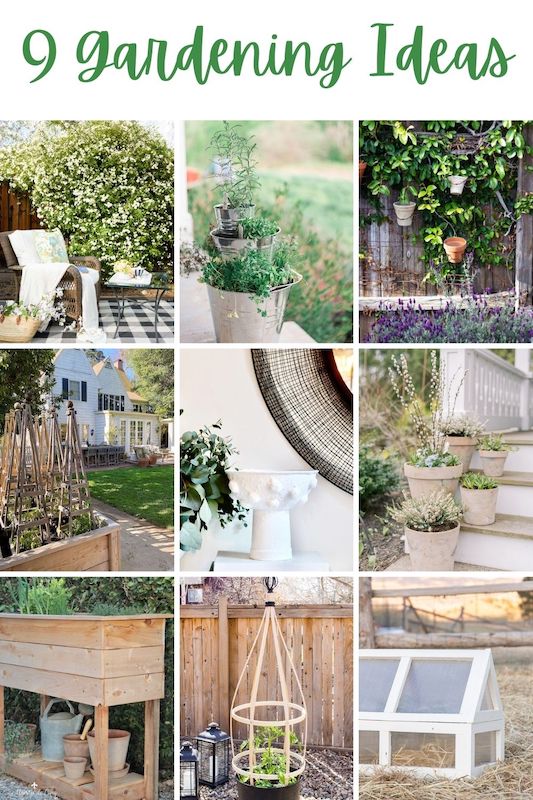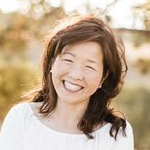 Latest posts by Janine Waite
(see all)