Now that our backyard remodel is underway, I'm perusing the internet for Ideas for Flower Gardens. So, I thought I would share my journey of finding different plants and flowers with you.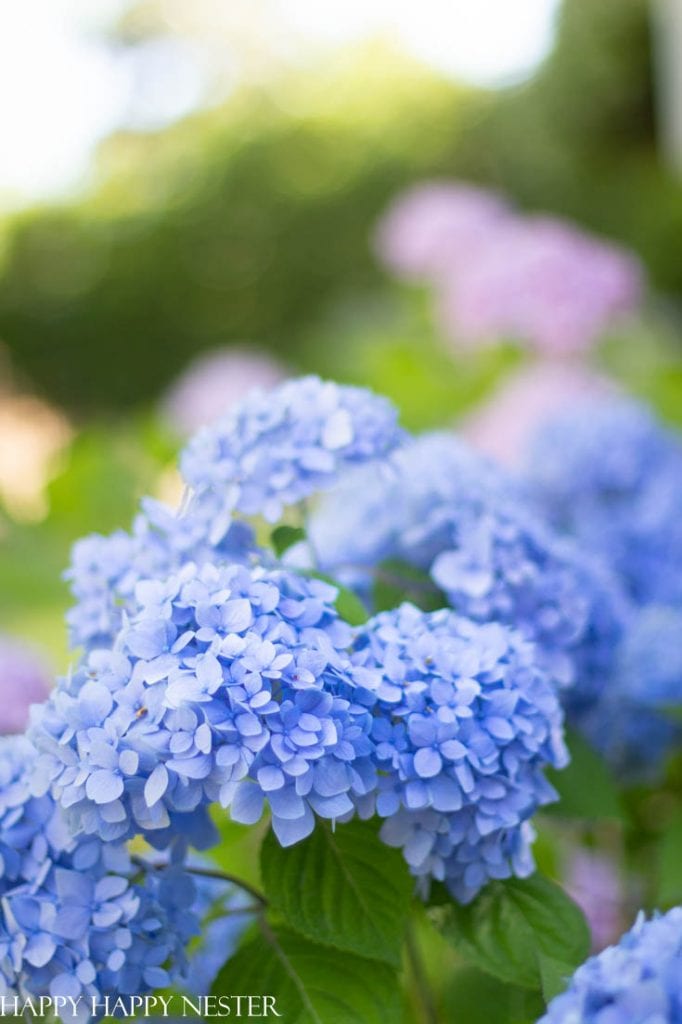 Finding gardening ideas can be overwhelming, so I handpicked some gorgeous flower garden photos for this post. I'm on the hunt for flower inspiration, so I thought, why not share my findings with you.
Since we remodeled our backyard, we unearthed lots of new gardening spaces. Both my husband and I have the impossible task of designing and implementing our garden.
I wish we had a landscape company we could hire for creating our new space in our backyard, but money doesn't grow on trees.
So, my husband and I will have to muddle through our gardening beds on our own. This journey will be fun since I like a classic look, and he wants a more natural wild tropical look. Hopefully, we will find a happy medium and figure out our gardening projects.
I have a few gardening and patio posts over here. Take a look at these posts.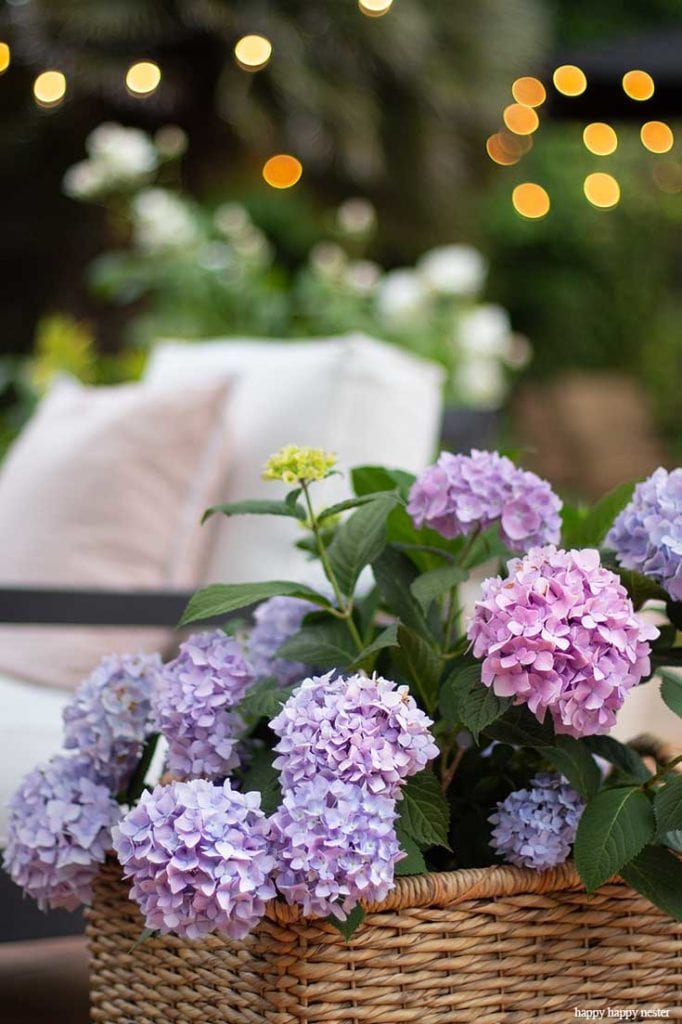 There are so many topics that we can talk about over here when it comes to gardening. But I thought it might be helpful to categorize the flowers in colors. So, this will be where we start, and then we can veer to other topics like flower containers.
Of course, when looking at these photos, they are launching pads to create your flower beds. You'll have to figure out what plants do well for your climate, sun exposure, etc.
Ideas for Flower Gardens
When it comes to flowers and gardening, my dear friend Loi comes to mind. In my opinion, he is a master gardener. And I love his gardens, and all decked out in white flowers. Here is a picture of his garden.
White Flower Gardens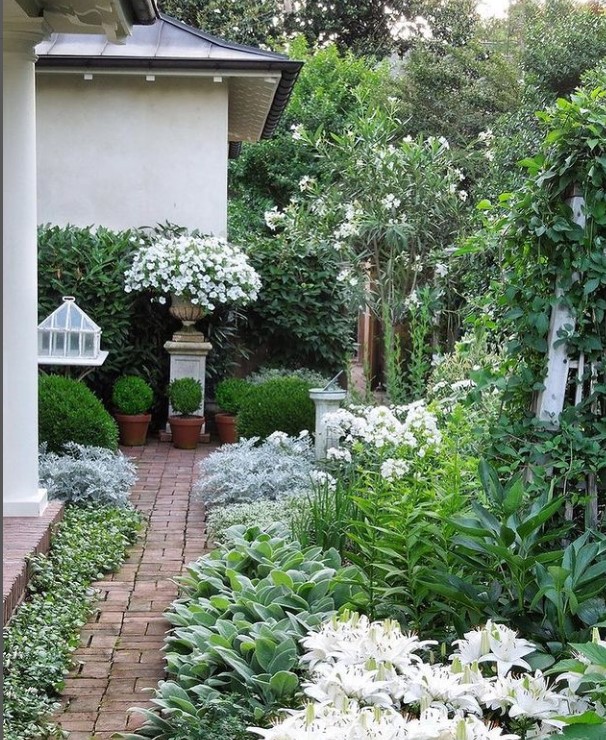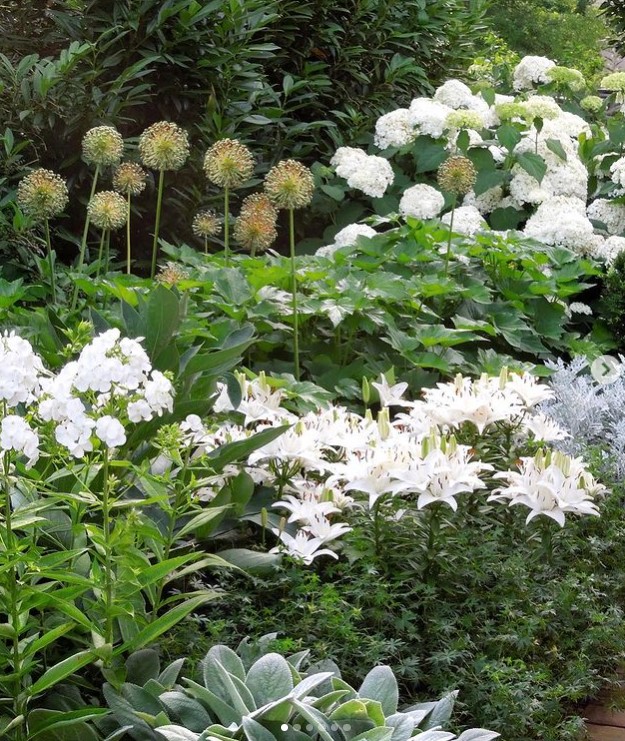 Loi and his partner Tom owned a gorgeous home in Washington DC, and their home is in many periodicals. He sold that house a few years ago, and he is now living in his Maine home. His gardening is impeccable, and I'm constantly referring to it for flower gardening ideas!
I've learned from Loi that it's best to plant massive flower beds with one flower.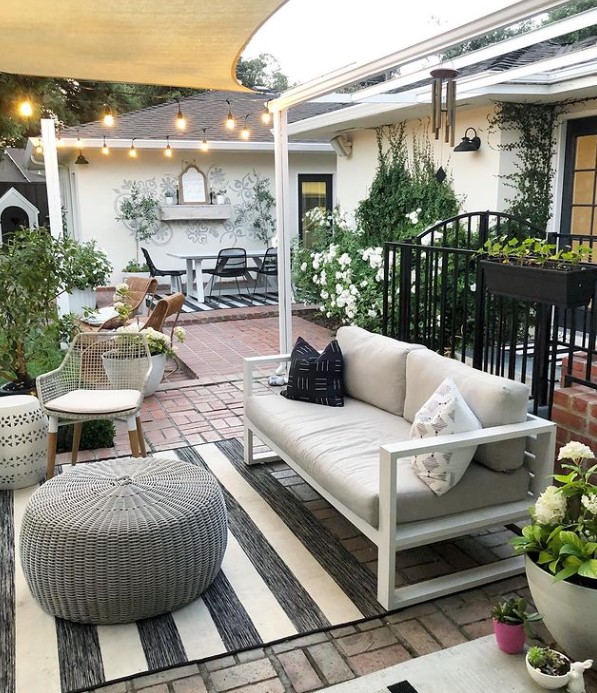 These photos are from Amy from Crazy Chic Design. She is uber-talented with interior and exterior design. I love how she combines flowers with her outdoor furniture. The two merge so well, and the green and white are gorgeous.
Amy's garden shows that landscaping and entertaining can co-exist beautifully together.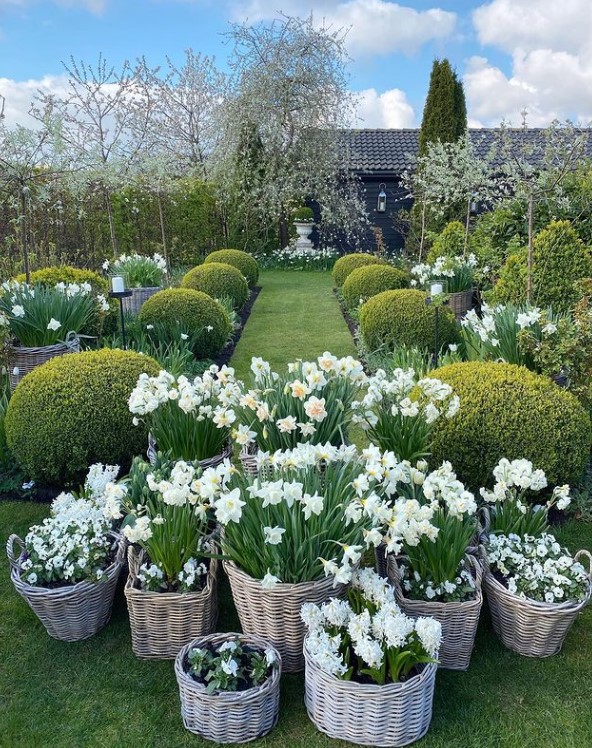 Gina's gardens in Holland are a gorgeous sea of white! Oh my goodness, her flowers are dreamy. I love white gardens, so this is perfect eye candy, in my opinion.
These fabulous gardens illustrate that more is better in this case of gardening!
Colorful Flower Gardens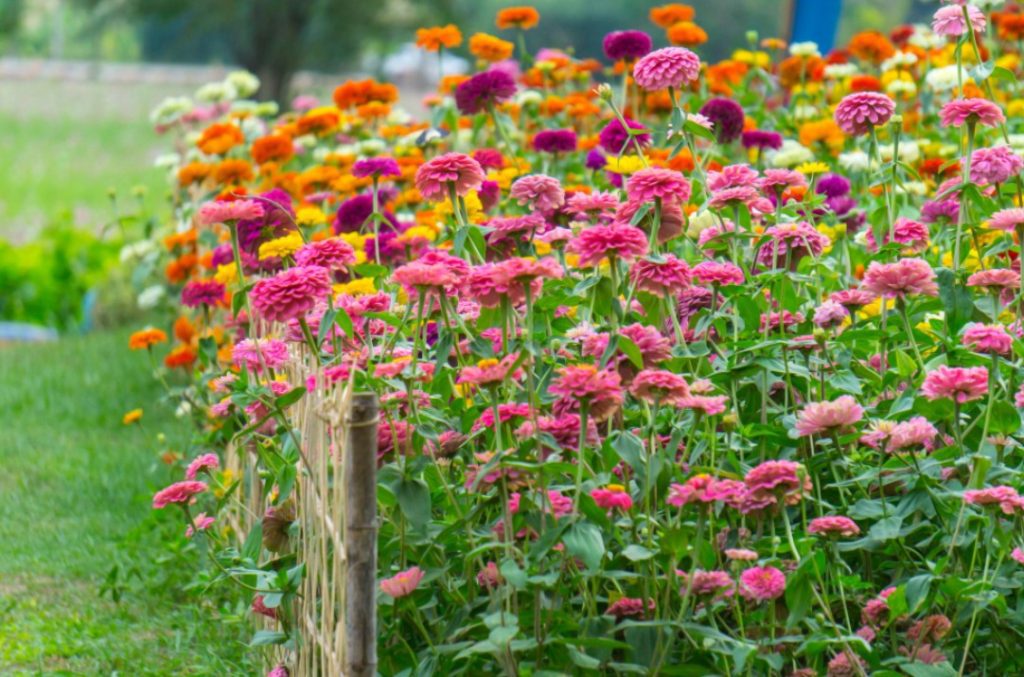 I love these zinnias that Martha placed on her website. I must admit that I hadn't given zinnias a thought until my mother-in-law asked for some seeds to plant in her garden. So my husband and I picked up a few packages, and I thought I should plant some this spring!
They look almost like a miniature Dahlia with a ton of charm!
Martha shows that color is a good thing!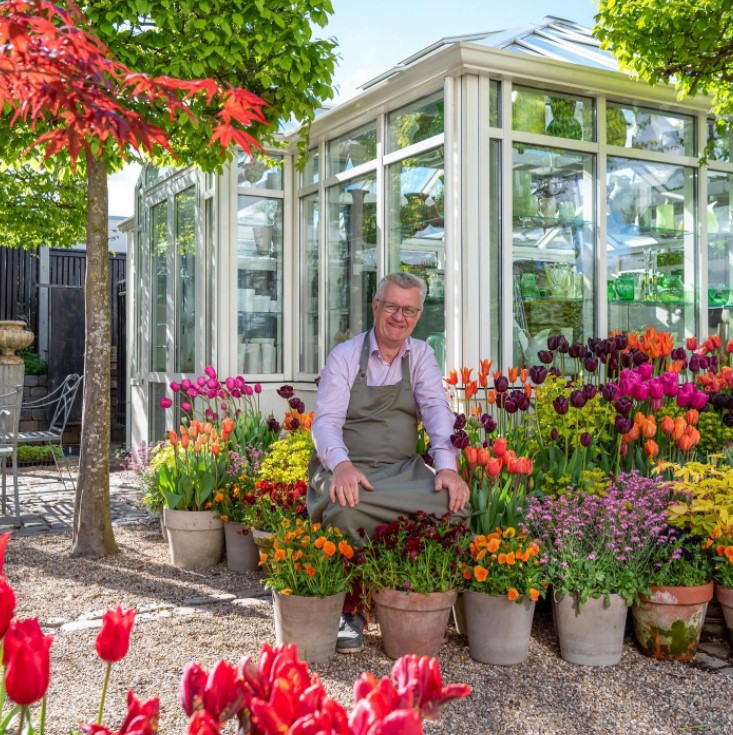 Claus is a master gardener! Check out his gorgeous grouping of flower pots! In this case, more is better.
My dear friend Leslie has this vintage flower pot stand, and she recently filled it with spring flowers. I love how it displays plants so beautifully!
I had no idea that gardening in pots is stunning and dramatic!
Blue Flower Gardens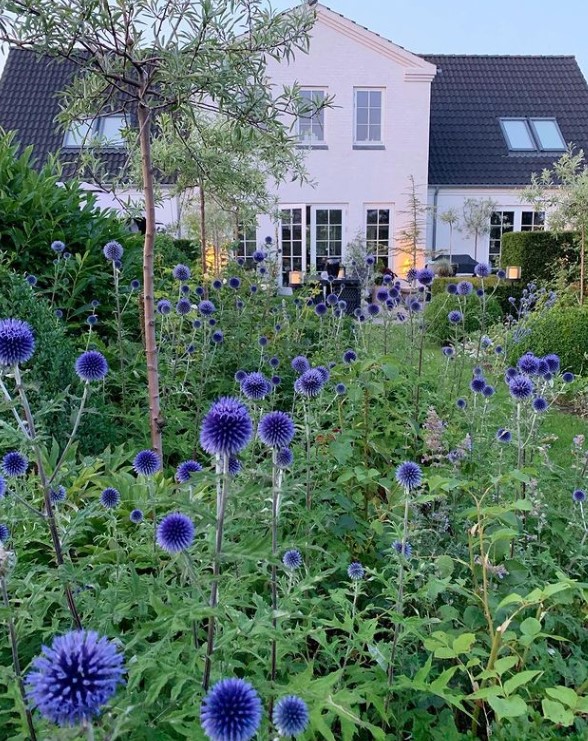 Wow, the small globe thistle is surreal. It looks like dusk, and these beautiful blue thistles catch the moonlight. I've never seen this plant, and now I must try and locate some online!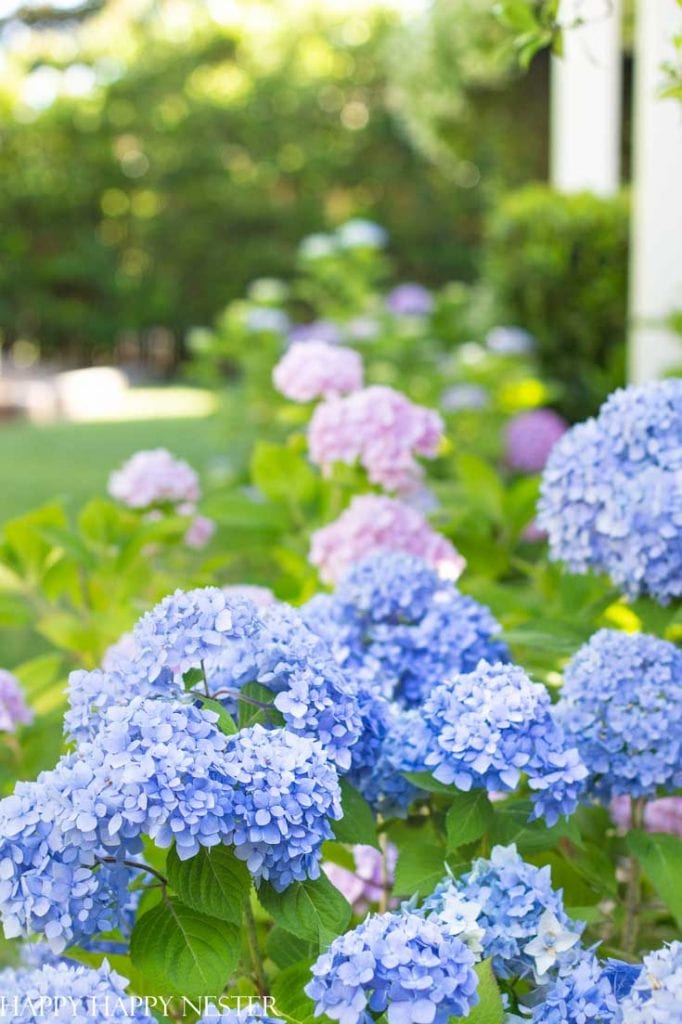 Yellow Flower Gardens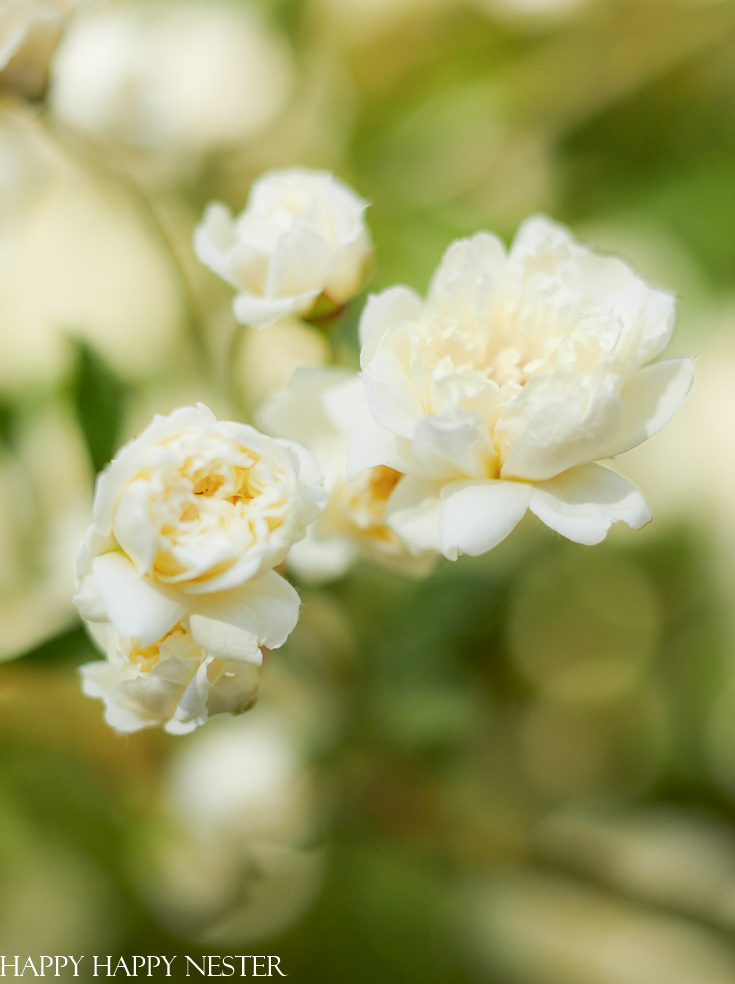 Happy Happy Nester
My husband and I love Rosa Banks! It is a pretty aggressive climber, and such an easy rose bush to grow in Northern California. It comes in white and yellow, and in our area, it's an evergreen bush, which means that it keeps its leaves on year-round.
I have more rosa banks information here.
My takeaway is that if you want coverage over a fence or wall, plant a Rosa Banks.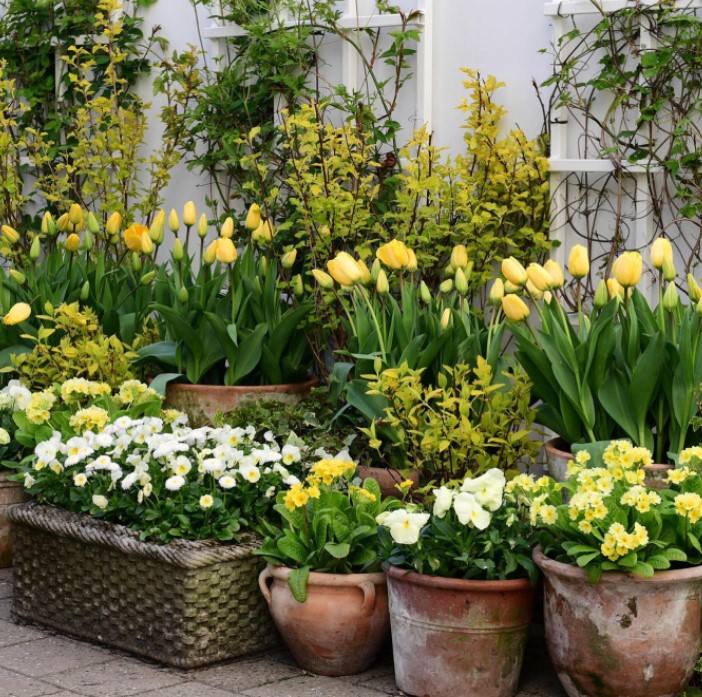 All these beautiful yellow and white flowers containers might persuade me to add this color to our gardens. The cream flowers combine perfectly with the yellow tulips.
Pink and Purple Flower Gardens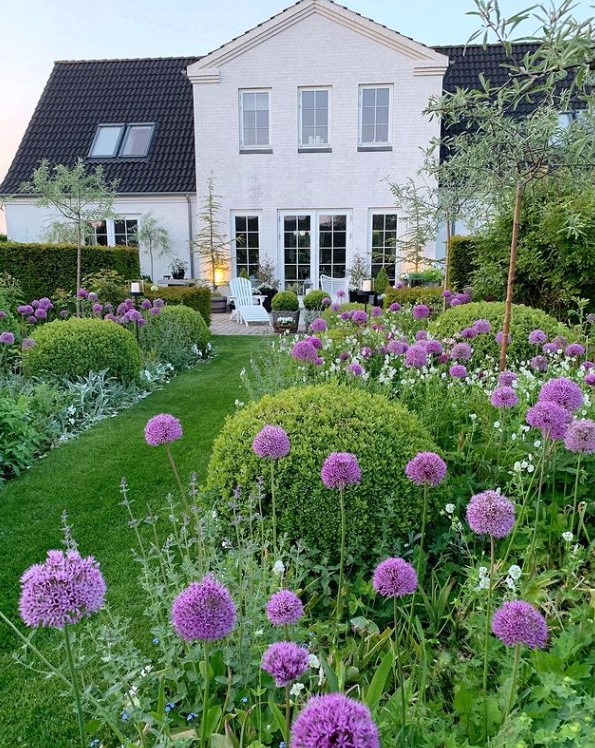 Gina's purple garden is impressive. Her hydrangeas inspire me, so I planted three flower beds full of them over the years. In the summer, we enjoy blossoms while we dine outside. I now have the urge to grow some Allium plants.
Who knew that hydrangeas are so gorgeous in big beautiful baskets.
My takeaway is that I'm going to plant even more hydrangeas!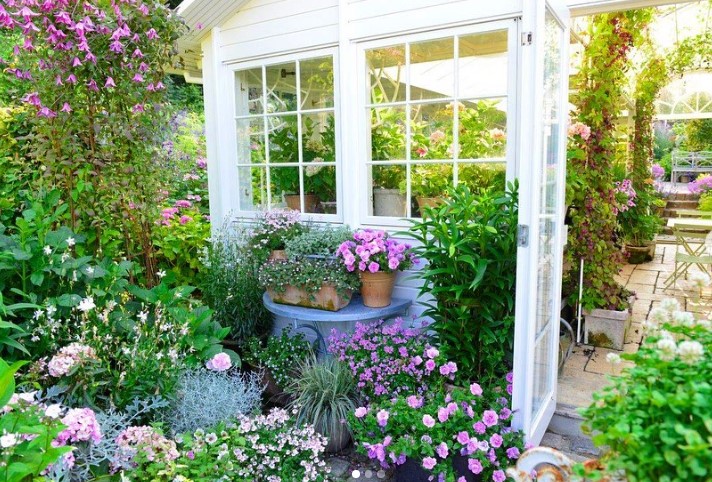 My issue is all about watering our plants since here in California, we are in a severe drought. All the pink and lavender blossoms are dramatic and soothing. I wonder if Claus starts his flowers in a nice sunny spot and then places them in their final location for a showy display. I'll have to read his blog and read about his process.
---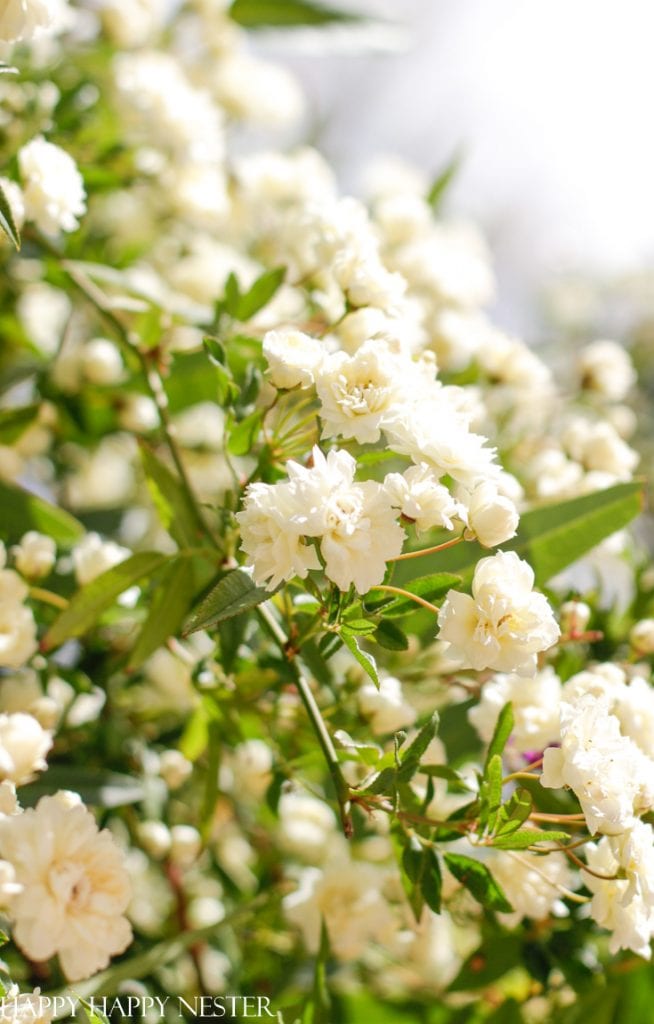 Now I hope you have many ideas for your flower gardens and are eager to begin gardening soon! I know that we are starting our adventure of filling our backyard with new plants this weekend!
Happy gardening!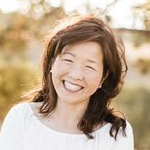 Latest posts by Janine Waite
(see all)