We recently changed our pool and patio, and this post is packed full of our Backyard Makeover with all our cool ideas. If you like before and after photos, I documented the whole project. You'll find this post helpful if you need ideas for your pool or flooring.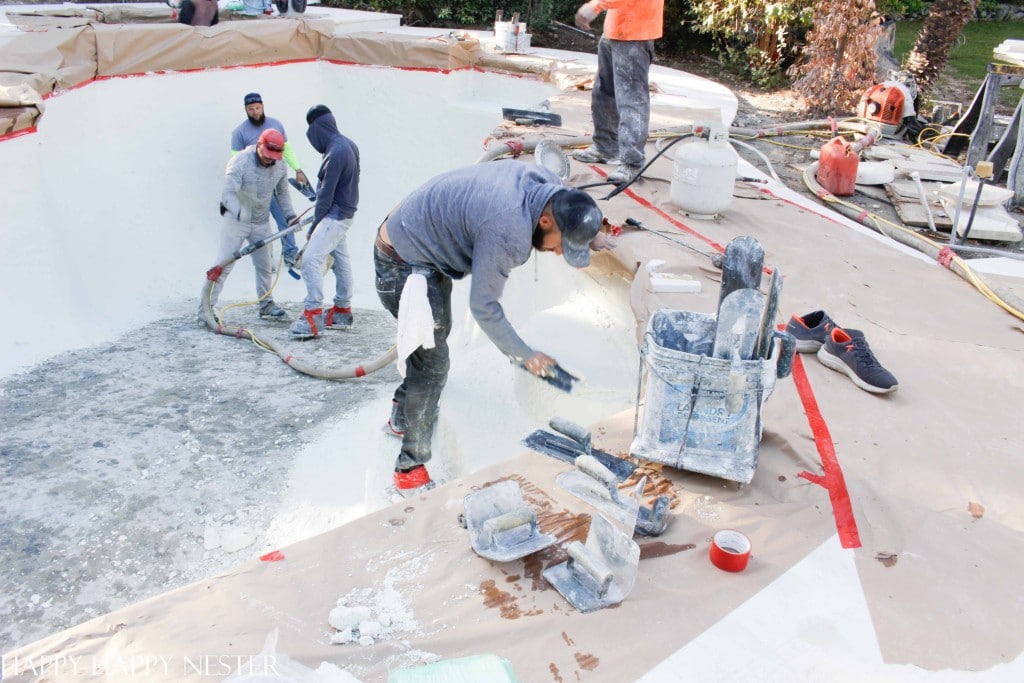 It took us 12 years to finally get around to remodeling our backyard. But this past winter, we tackled our vast project. The results are fabulous, and we couldn't be happier.
Over the years, I've shared our backyard. Here are some of the posts that you might enjoy perusing.
As I mentioned earlier, we waited 12 years to remodel our backyard. Every spring, we would roll our furniture out from storage and talk about changing the patio tile, the pool tile, and more.
Well, this last year, we finally bit the bullet and started demolition in November. It was a crazy five-month construction ride but worth the effort and money.
There are a few tips that I'll share after the backyard makeover before the after photos.
Backyard Makeover Before and After Photos
Our patio and pool came with the house when we bought it twelve years ago. The pool had large volcanic rocks framing the pool as well as pebbled concrete. The upper deck had a lattice privacy wall that we painted was fire engine red, and we painted it white in the meantime.
Pool and Deck – Before and After Photos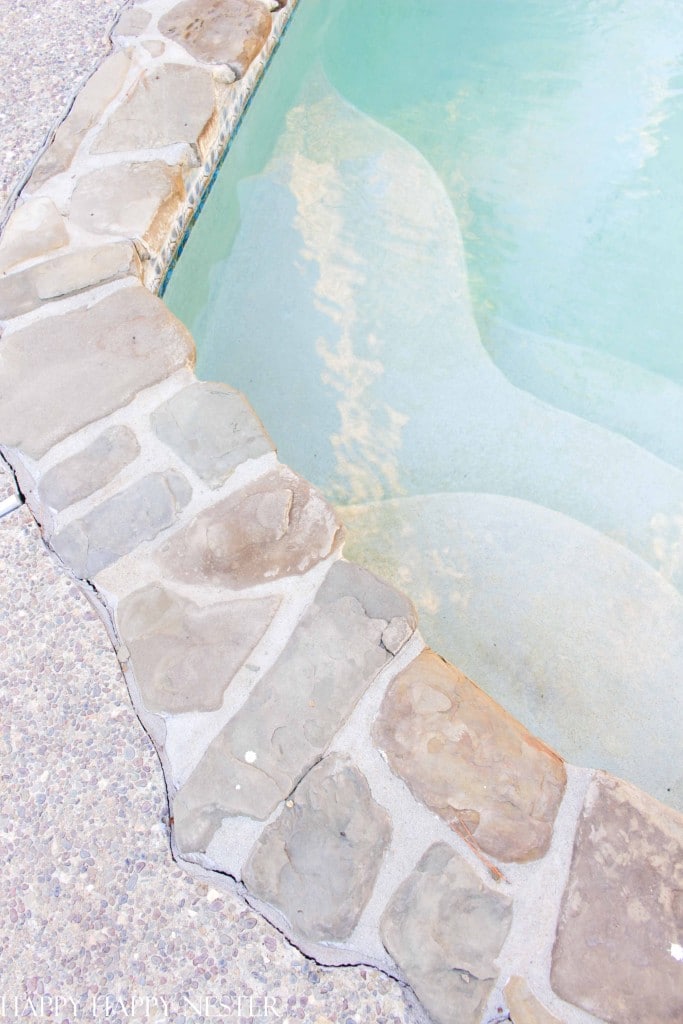 Our old backyard flooring was mismatched with concrete, terracotta tile, and rock. We unearthed it all and started fresh.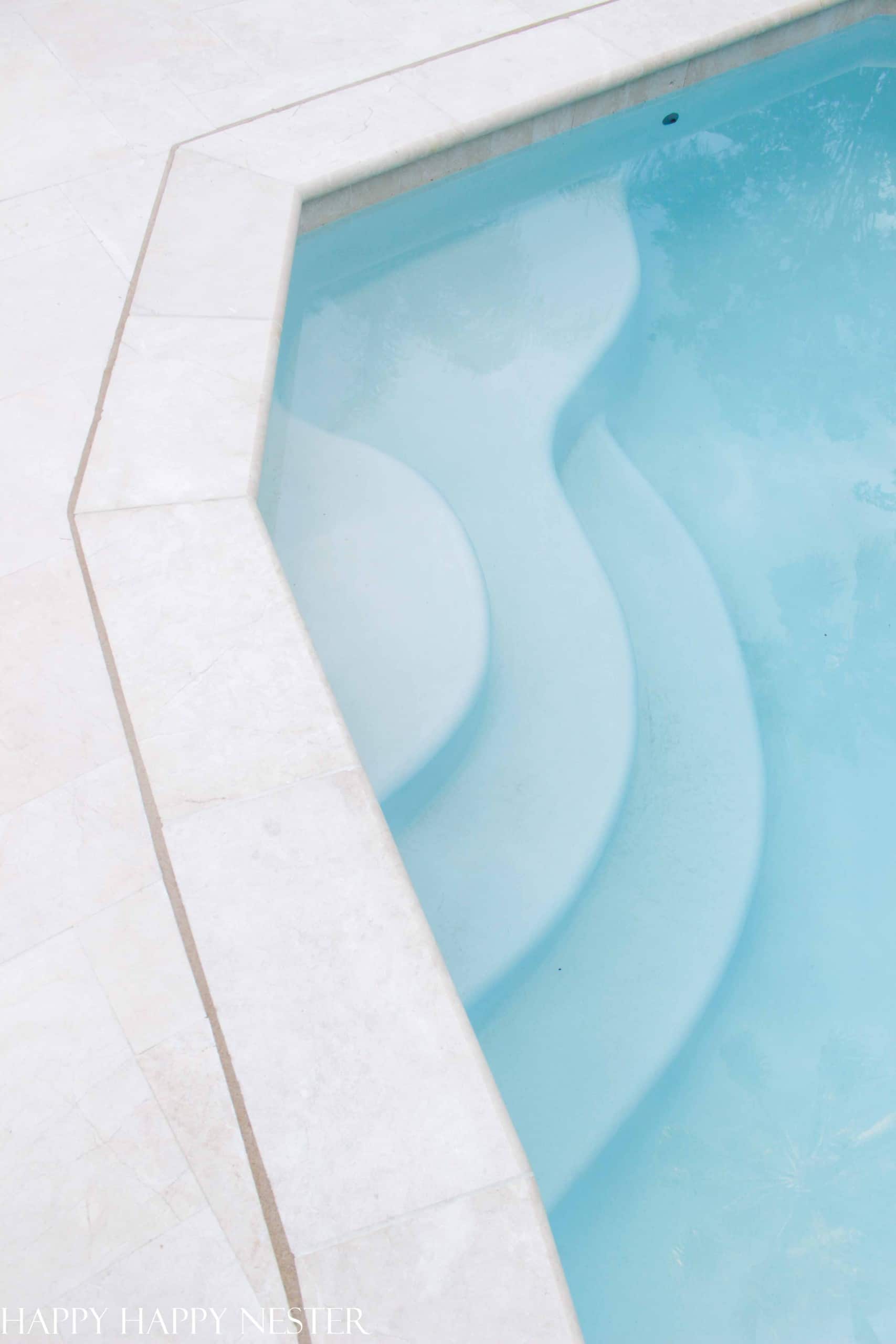 Our flooring is now MSI Aegean Marble Pavers, and we had the pool replastered. Our landscaping is a work in progress, and so far it's mostly lavender, white iceberg roses, and lots of white and purple hydrangeas.
Pool Remodeling Photos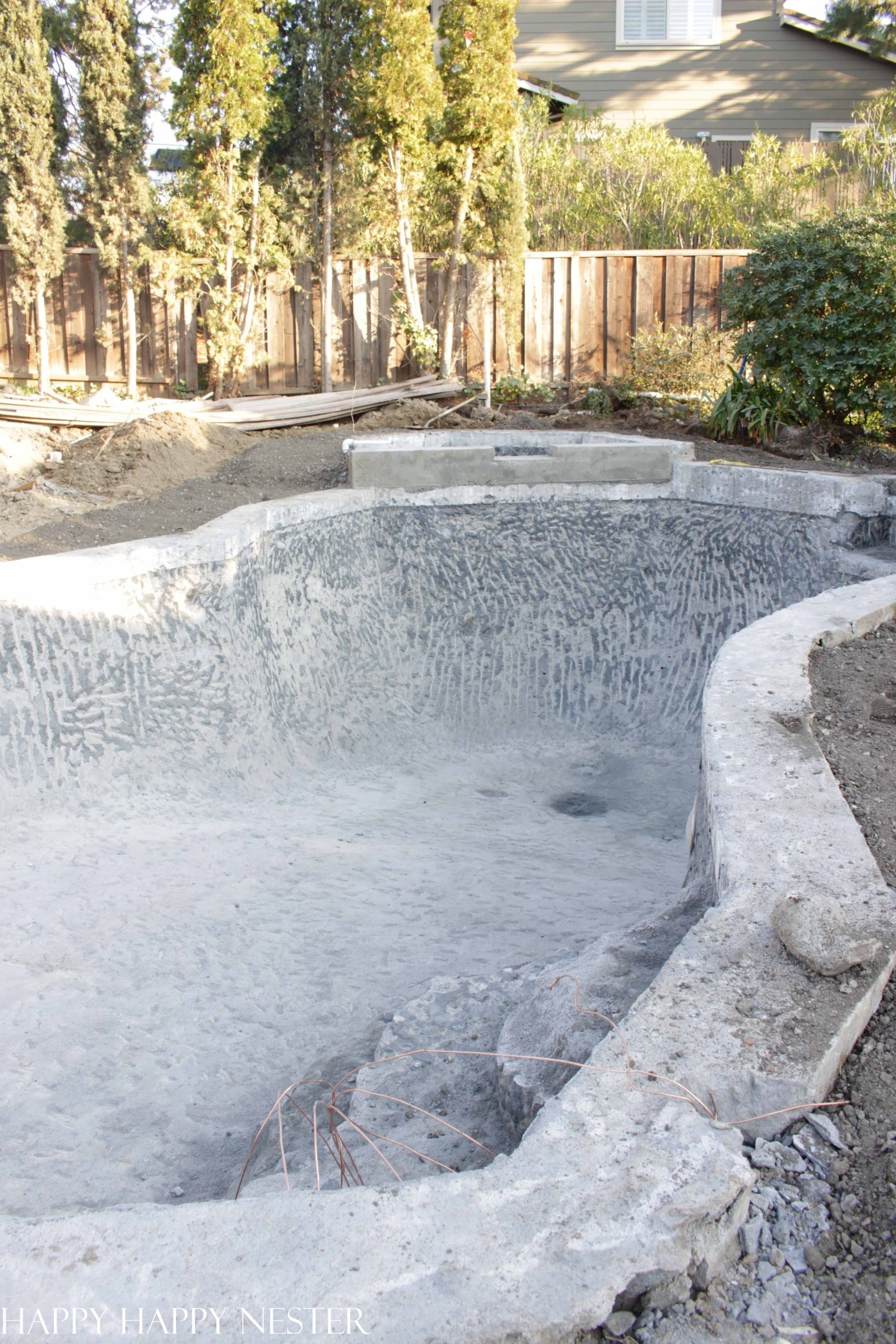 Patio Photos – Before and After Remodel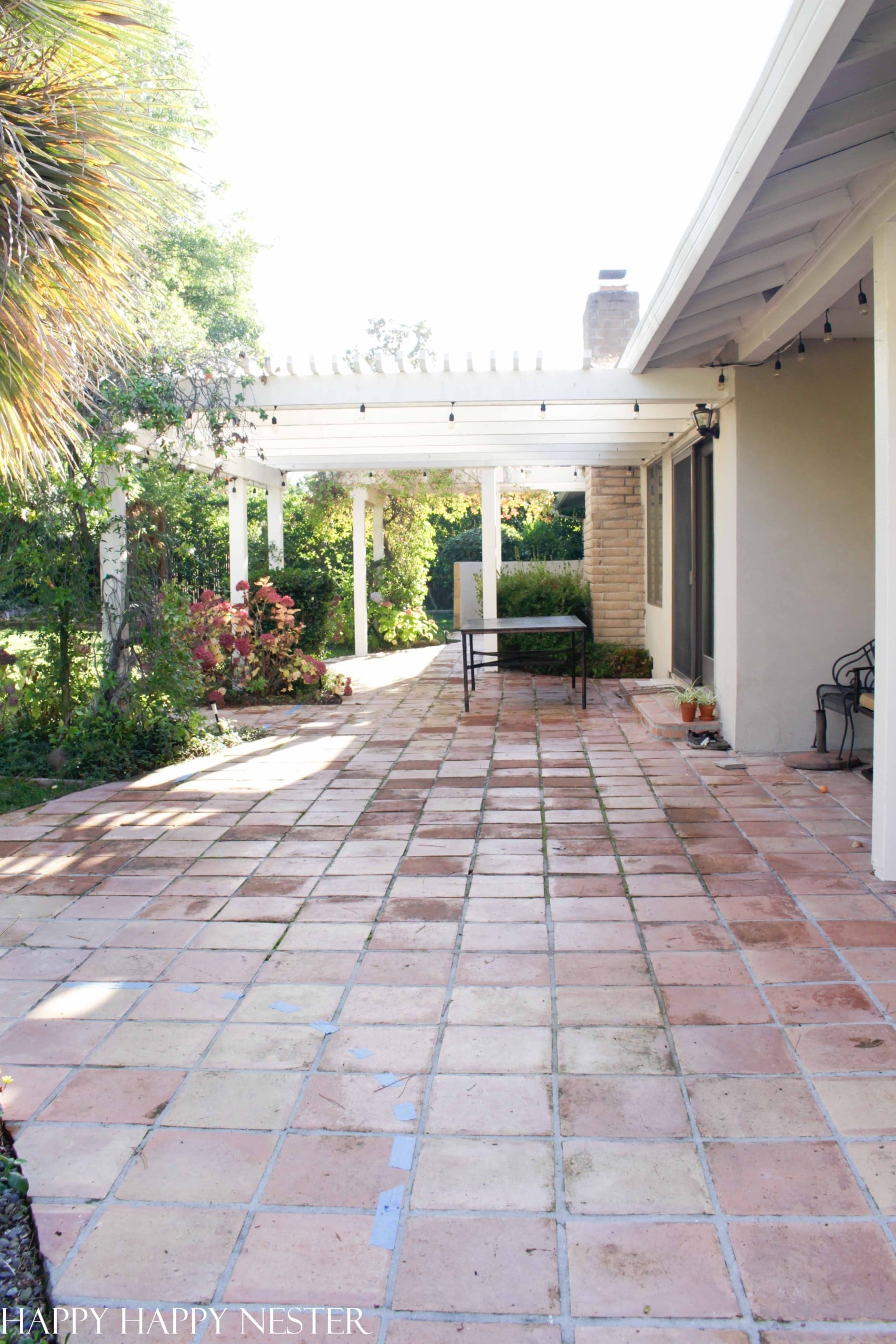 I was never a fan of the terracotta tiles, and once we pressure washed them, the tiles turned black with mold and moss. I always placed outdoor rugs to hide the tile; in the short term, that was an okay solution.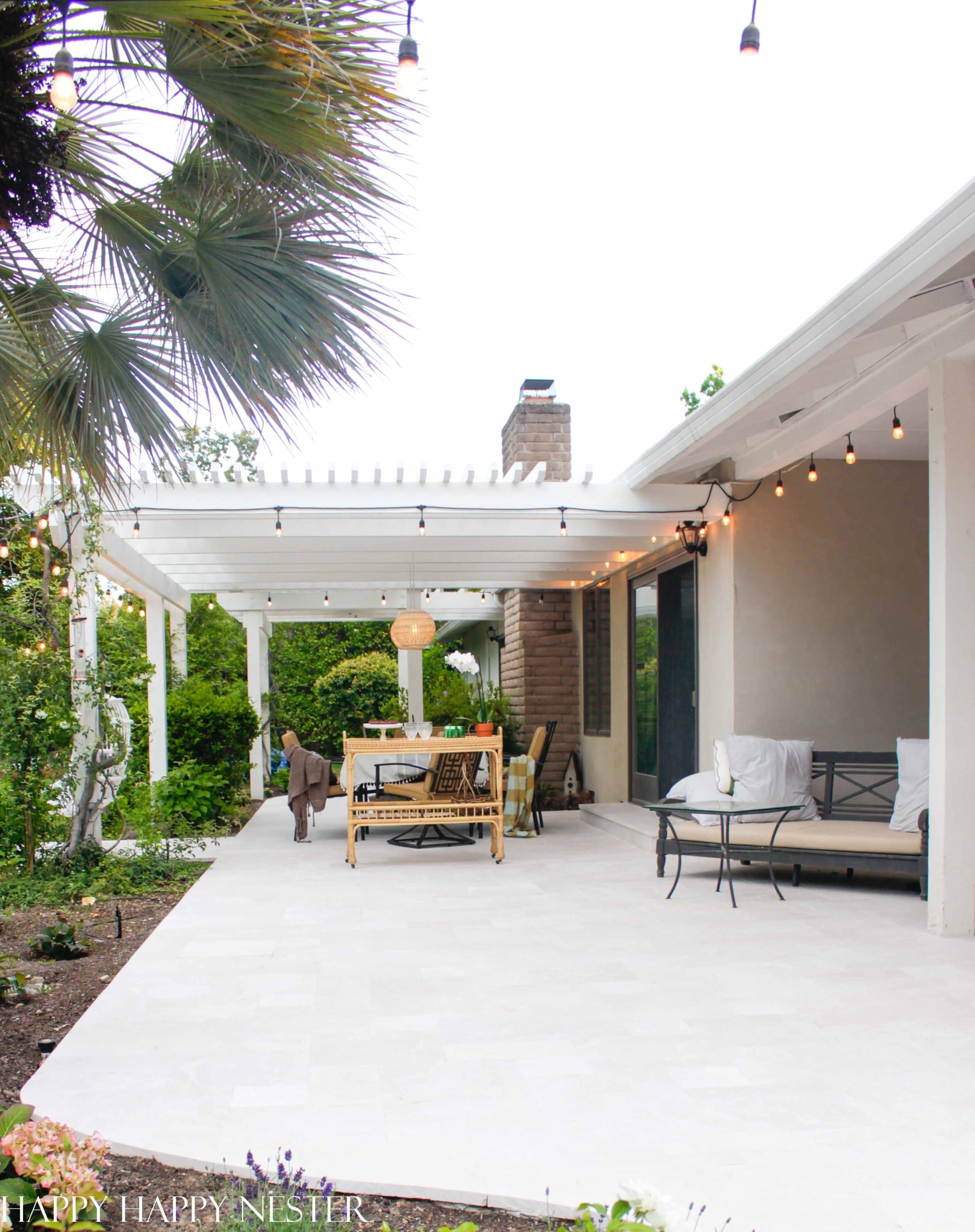 Now we have marble stone pavers, and I love the look! It's so clean and light, and everything looks so crisp. I'm progressing in repainting our pergola and chimneys white, so stay tuned.
House remodeling is never complete!
Helpful Observations About Our Patio Remodel
Interview Many Contractors
You want to hire a contractor you get along with since the project will rely on how well you communicate with them. We interviewed four contractors before settling on one. They all differed in personality, style, knowledge, and experience.
Get a Thorough Estimate and Contract
My husband is pretty comfortable negotiating contracts, so he included a thorough list of things he wanted completed. Our list included demolition and replastering the pool, demolition of our patio flooring, and new tiling. We also add a bunch of new drainage throughout our backyard. Also, don't forget your sprinkler system might be broken during construction, so you want it repaired in the end.
We Use Google Maps to Design Our Remodel
My husband screenshots our backyard from Google Maps and digitally draws over it for our design. Since he grabbed the image from Google, the outline of our house and yard was accurate.
We did have one contractor demand an architectural design, but we went with another contractor who was okay with what my husband created. You can work with your team if you have a good contractor and a clear idea of your remodel.
We also took blue painter's tape and mapped out the design in our yard. The tape gave us a better idea of the area and the look. You could also use spray paint to do this job.
We are so pleased of our remodel and I'm excited to share it over here. We still have lots of work on the backyard and I will continue to update this backyard remodel post.
Take care and thanks for joining me today!
Cheers,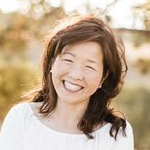 Latest posts by Janine Waite
(see all)