Need some Outdoor Living Space Ideas on a Budget? You see, t's all about making use of things you already own and repurposing them. This year I've decorated our backyard inexpensively.
You can have cozy outdoor spaces without breaking your bank account. If you're creative and dig into your home decor, you can have a beautiful backyard!
We've been working on our home over the years, and I've shared a few projects along the way. If you're interested, here are a few of those blog posts.
This year, we overhauled our backyard, and it was such a big project. As a response to spending money on our patio, this summer is all about not spending too much money.
Of course, I wanted to create a lovely oasis without spending too much money, and today, I'm sharing my project.
But before I go any further, today's post is part of a blog hop of bloggers sharing their outdoor
decorating projects. So you're in for a treat!
Blogger's Best Summer Series – Outdoor Decorating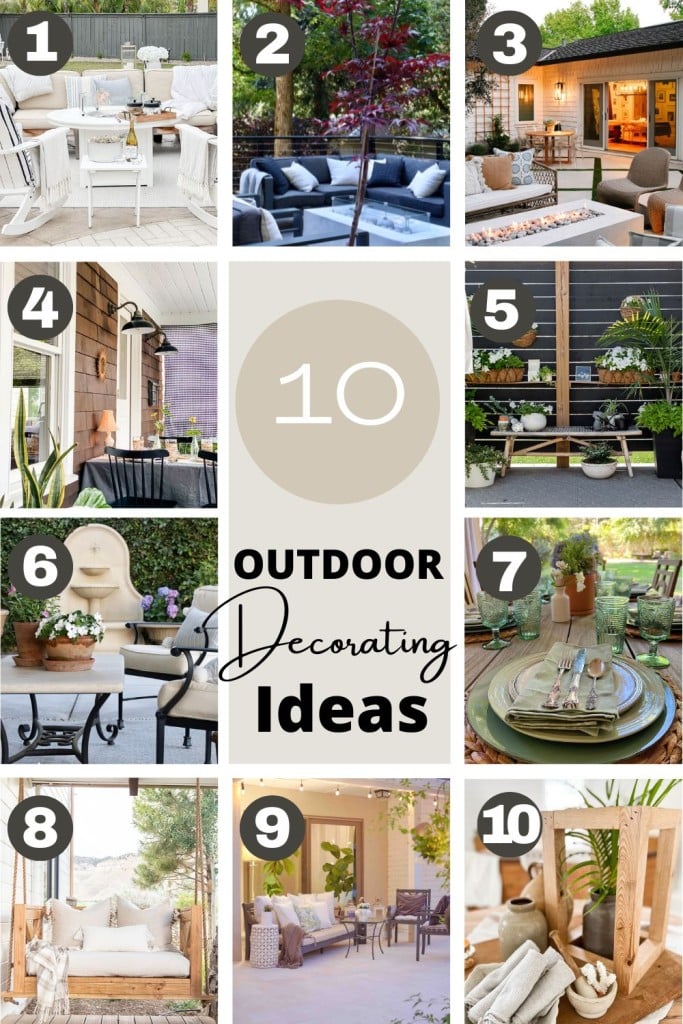 Outdoor Living Space Ideas on a Budget
Take Inventory of Your Space
This area of our patio was always empty. I never considered transforming it into anything functional. But once we had our patio flooring redone this winter, changing it was a priority.
View: I knew this partly covered area had a nice pool view.
Sun Exposure: Also, it's a bit shady, which is good when our summer days reach the 90s. So, it made sense to convert this space into an outdoor living space. My brain got busy with ideas on how to create a cozy space.
Location: It is close to our house, so it has all the amenities like electrical outlets. Also, it is close to our outdoor dining room, so it's connected to the flow of traffic and energy.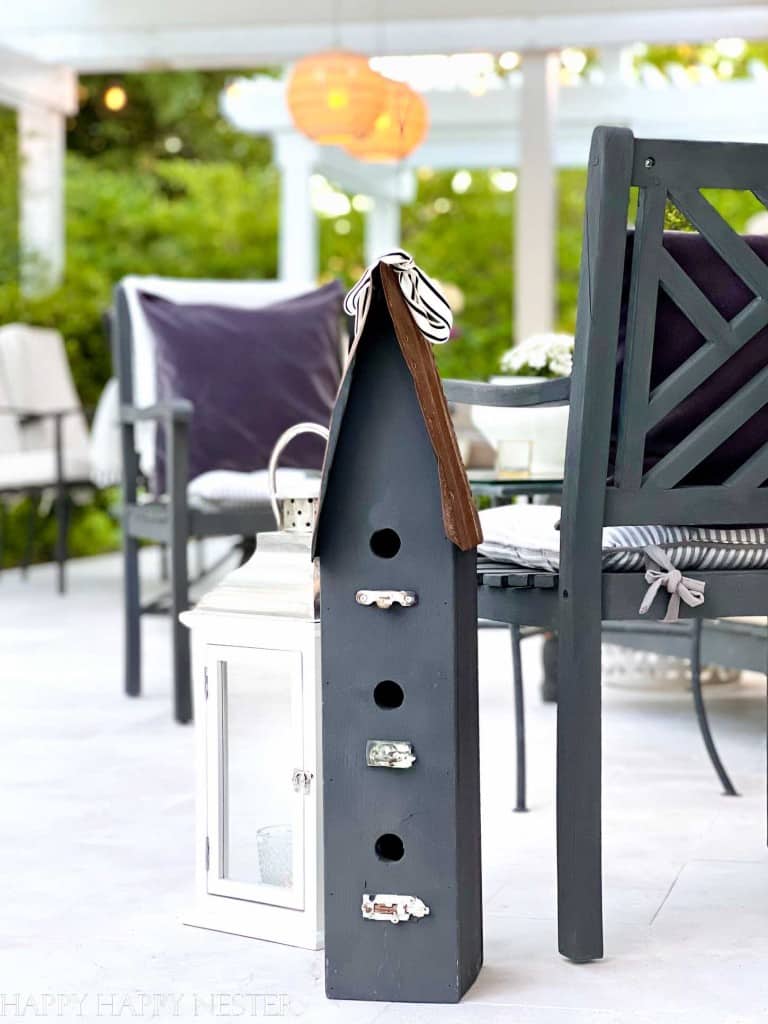 Use Indoor Decor for Your Outdoor Patio
Shop Your Home: I walk through my home and pull things for our patio. I added my white lanterns, pillows, vases, throws, and more. The sun will not fade the fabric if you have a shaded and protected spot. If you have a sunny spot, make sure to use pillows made out of Sunbrella. It withstands the sunny weather.
Decorate With Garden Decor: I have a few cute birdhouses kicking around, so I slapped a fresh layer of Annie Sloan's Graphite chalk paint. I love how nicely it fits in with all the other decor!
Use Indoor Lamps: I have this floor lamp that I don't use much in our home. So, since the light has a metal frame, I decided to bring it outdoors for the summer months. And since we have a covered outdoor living room, this lamp will hold up to the weather.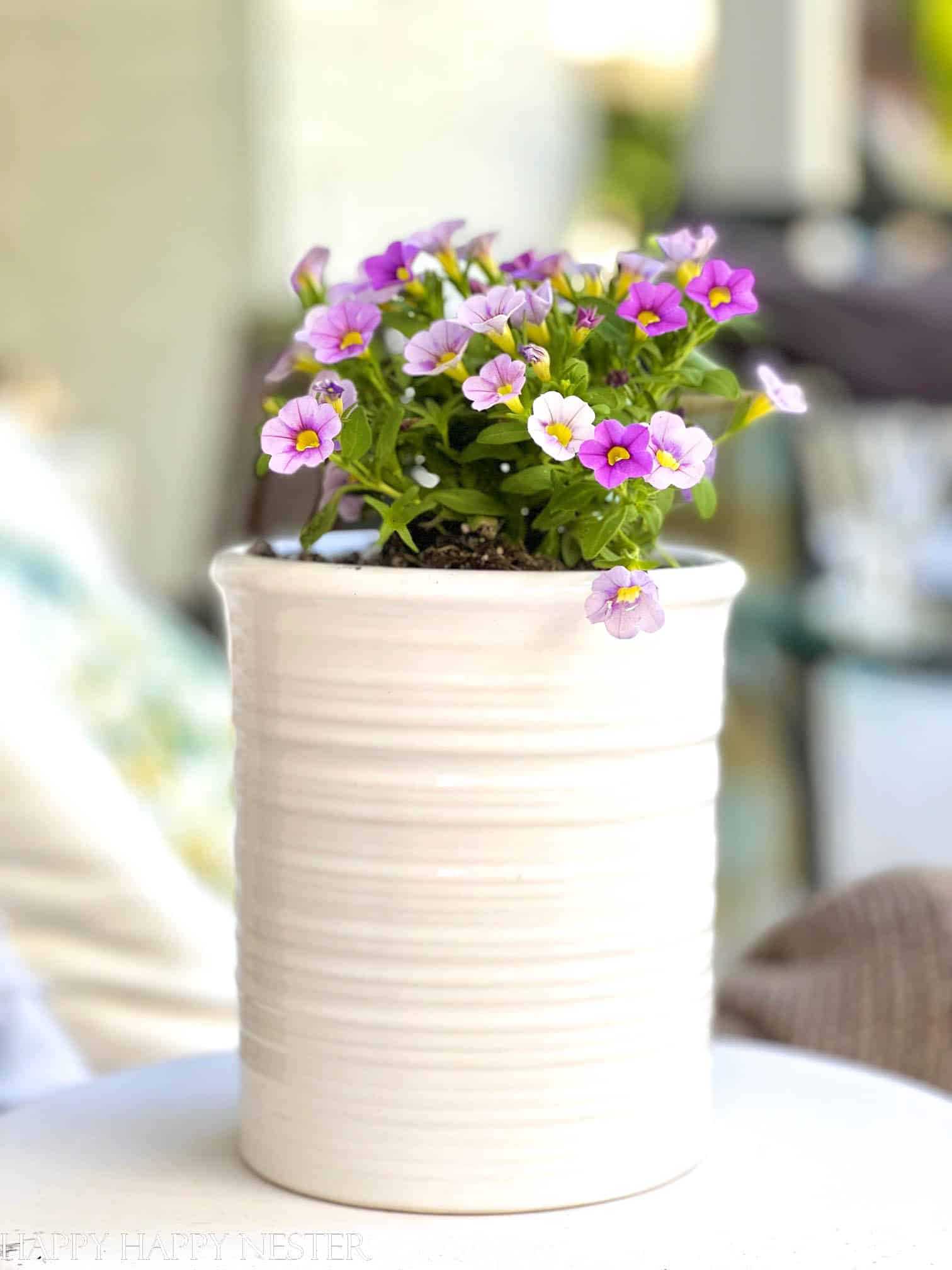 Add Plants
Bring Indoor Plants Outside: I wanted to add plants to my living space but didn't want to invest in buying them. I had these Fiddle Leaf Fig trees, and I read that they thrive outside in the summer months in our area. So, I placed them in a dabble light section, and so far, they love the outdoors. I watch their water needs since it's much hotter outdoors.
I love how they fill the space, and I didn't need to spend extra money on this project.
Decorate with Annuals: I did pick up a few annuals that were $5 a piece. I planted them in the vases I already owned, and I love how they add a nice pop of color.
Add a Fresh Coat of Paint
Use Chalk Paint:
These chairs and the sofa desperately needed a coat of paint. They looked so bad that my husband was going to toss them away. I talked him into saving them, and this spring, I painted them.
It doesn't cost much to paint furniture, and the results are excellent.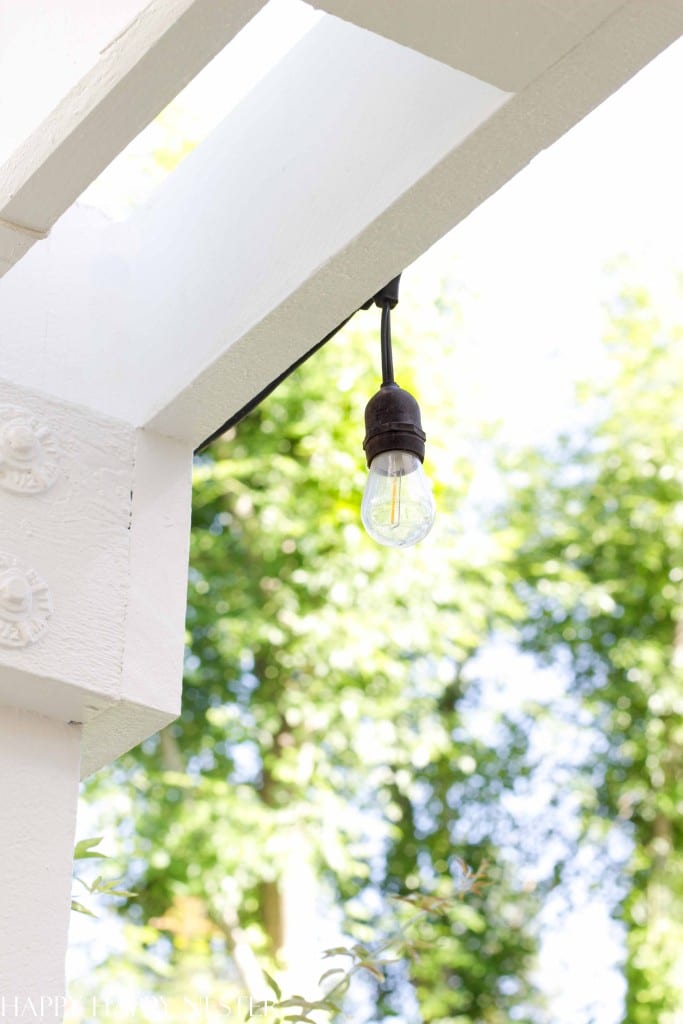 Add Lighting
Outdoor String Lights:
We have string lights throughout our patio. They provide such a wonderful ambiance and illumination. And since we live in California, we leave ours up all year round. I highly recommend investing and installing them in your backyard.
Lamps:
I used an indoor floor lamp that I bought outside for the summer. I love that it provides extra lighting and a fun accent to this area.
---
I hope you enjoyed this post on outdoor living space ideas on a budget.
Happy Summer to you all and have a wonderful day!
Cheers,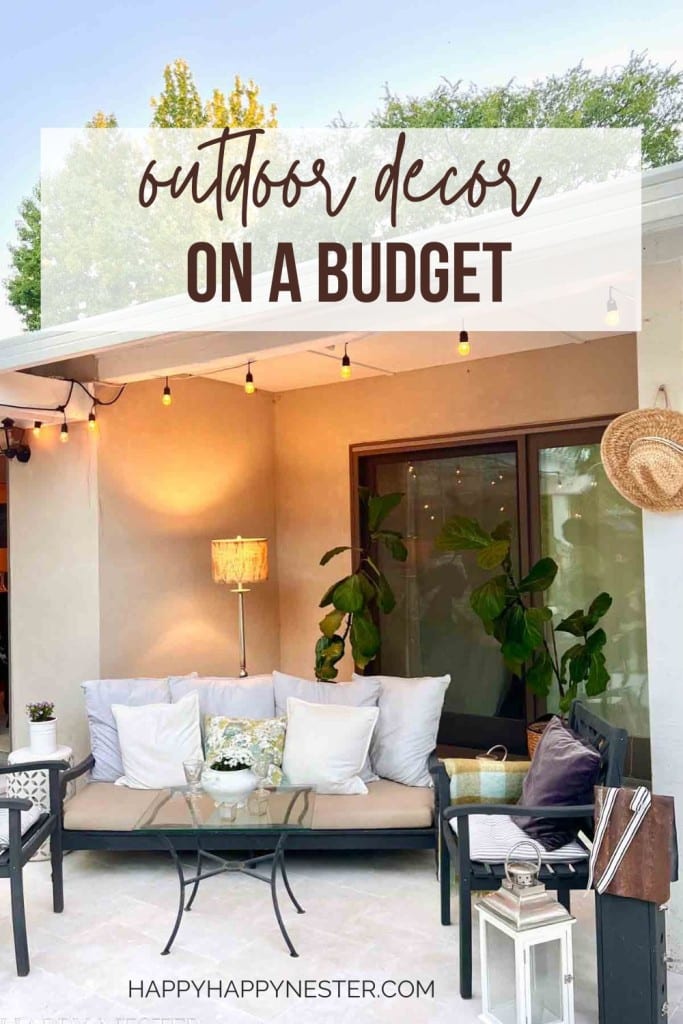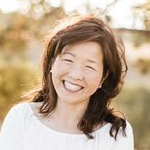 Latest posts by Janine Waite
(see all)