Summer garden lights are essential to dining and entertaining outdoors. This post on How to Hang Patio Lights on a Covered Patio will equip you with all you need to know to install your lights.
Adding outdoor lights to your garden changes the perfect ambiance for summer evenings. These lights are pretty easy to hang, but you'll want to check out all the little tricks and tips we have learned.
Today's post is part of Blogger's Best Summer Series. And the theme for this post is Summer Gardening.
I already have some gardening posts that might interest you, so make sure to check them out.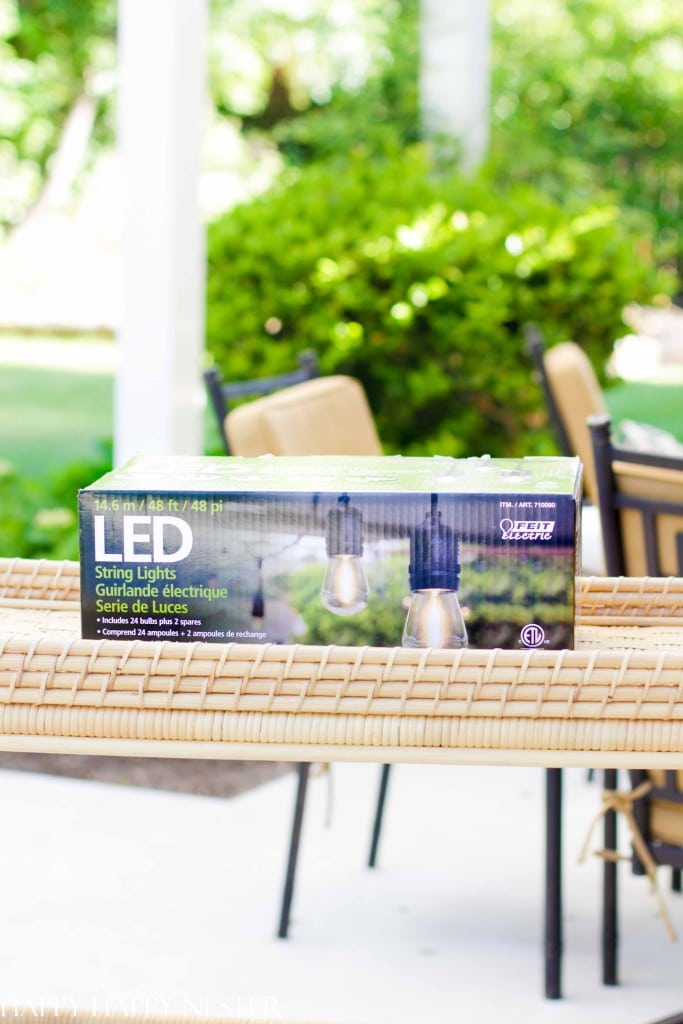 How to Hang Patio Lights on a Covered Patio
Over the years, we have installed out lights since we repainted our covered patio and had to take them down.
So, of course, my husband and I have made a few observations on the best way to hang our lights. And I'm sharing them on this DIY post.
Tips for Installing Patio Lights
Safety First When Installing Lights
Don't Have Lights Plugged in When Working With Them
This is not essential, but if the wire is exposed or a bulb blows, it's always a good idea not to have the string of lights plugged into an electrical socket.
Wear Protective Glasses
You may think this overkill, but I've had several light bulbs break. And when they break, they have a mini-explosion. I know of someone who had a light bulb explode in their face, which blinded him.
Wear Glove When Handling Lights
Since these light bulbs explode, wear gloves so that glass doesn't hurt your hand.
Don't bump up against any painted surface.
You want to hang the light bulb so that it isn't touching anything that it can damage. My husband turned them below our wooden patio boards.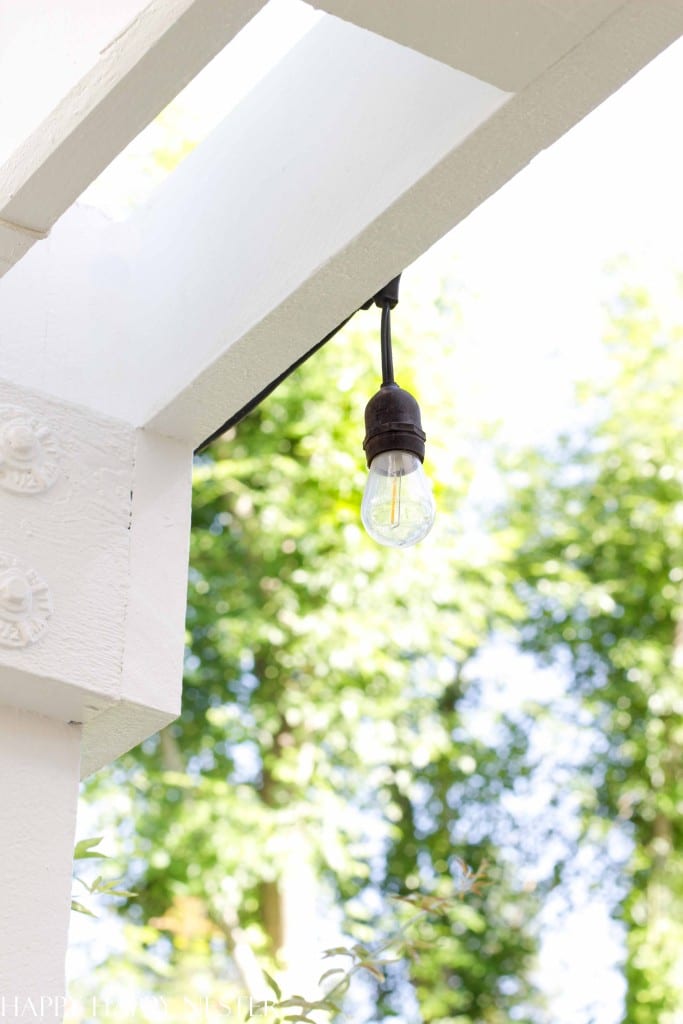 A Few Thoughts About Hanging Lights
Before Installing, Make Sure The Lights Work
Plug in your lights before installing to make sure they work. You don't want to install all your patio lights only to find out they don't work.
Hide Your Wires
I must admit that we installed our lights a couple of times since we had our patio painted. And finally, we figured out the best way to hide the black wires on our white pergola. I'll elaborate on this step below.
I just found that they carry white outdoor lights, so if you don't like the wires showing, buy these white ones.
You Don't Want the Bulbs Hitting Anything
If they touch other light bulbs, they may break and explode.
Work Slowly
You can't be in a hurry when installing these lights since the bulbs are so delicate.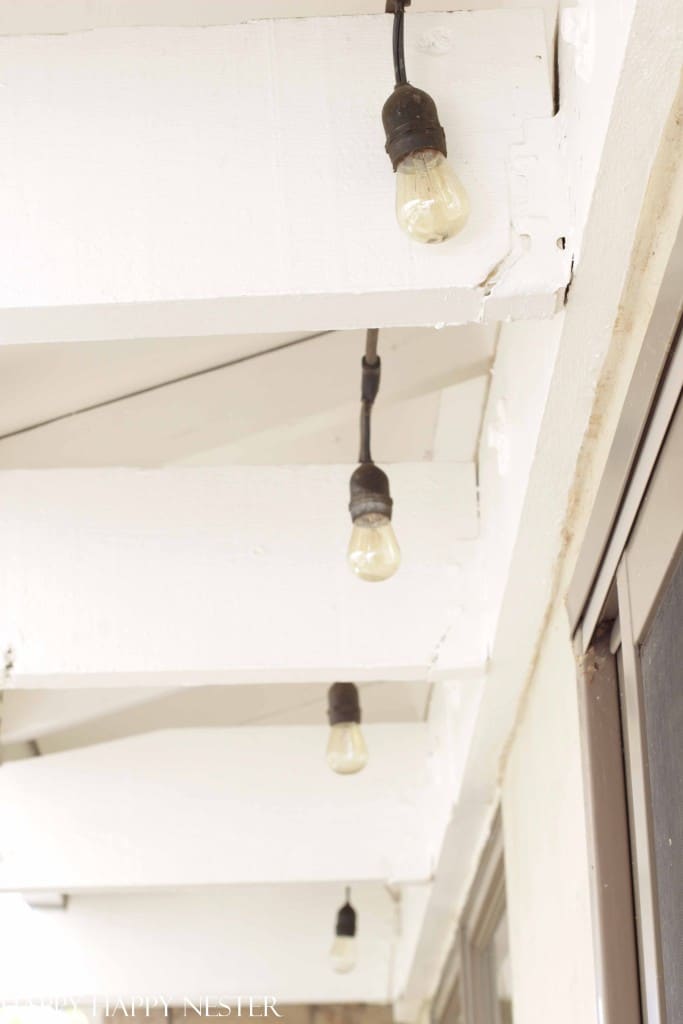 How to Install Lights on a Patio
Supplies:
1 1/4″ Black Anti-Rust Wood Screws – you won't exterior screws that don't rust
Ladder
Directions: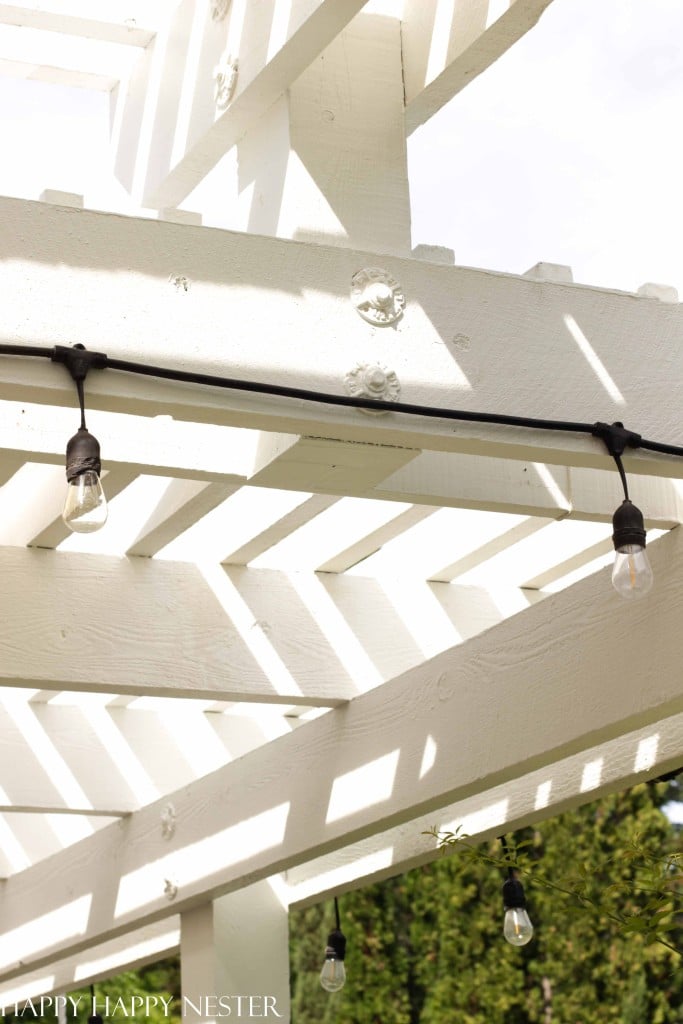 Step 1 – Make a Plan
My husband laid them out in the pattern under our patio, exactly where he planned to install them.
Secondly, he decided to start from our outdoor outlet.
And finally, we didn't want the black cord visible while we sat at our outdoor dining table. So, that meant my husband strung the light cord on the outside posts.
Step 2 – Turn Off Electricity
Turn the electricity off to the outlet you'll be installing the lights into.
Our outdoor outlet is connected to our indoor light switch. So, all our outdoor lights turn on conveniently with this switch.
Secondly, our outdoor outlet is a GFCI outlet that's watertight and protects the outlet even with a cord plugged in.
Step 3 – Plug in Lights
Now that your lights are laid out on the ground in the design you want to install them, plug in the end to your outlet.
Step 3 – Hang Lights
Each light has a little tab that you'll place your wood screw into. Place the light so that it hangs just below the wood patio, and the cord can't be seen. Make sure you pull the light cord tight, so it doesn't sag.
Continue attaching your lights until you complete the area of your patio that you want to be lighted.
---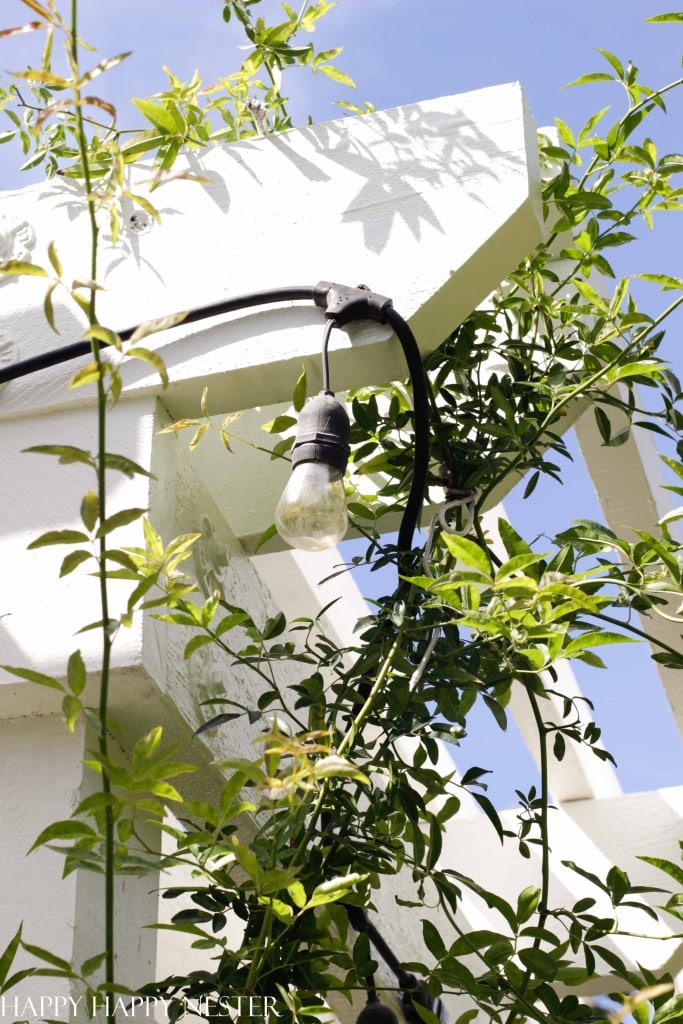 We enjoy our backyard patio during the day and evening. The lights add such a beautiful glow to this outdoor space. I hope you have a chance to hang patio lights this summer!
Thanks for stopping by today!
Cheers,

10 Summer Gardening Ideas

How To Hang Patio Lights // Happy Happy Nester
How To Pull The Yard Together // Finding Lovely 
Backyard Deck Decor // Craftberry Bush
How To Make A Stock Tank Garden // Most Lovely Things

How To Arrange Garden Containers // My Sweet Savannah 
Clay Herb Garden Markers // Modern Glam
Amazing DIY Strawberry Planter // Twelve On Main

How To Grow The Best Tomato Plants Ever // My 100 Year Old Home
How To Plant Moss Basket Container Garden // Inspiration For Moms
Cheap Simple Front Yard Landscaping Ideas // The Happy Housie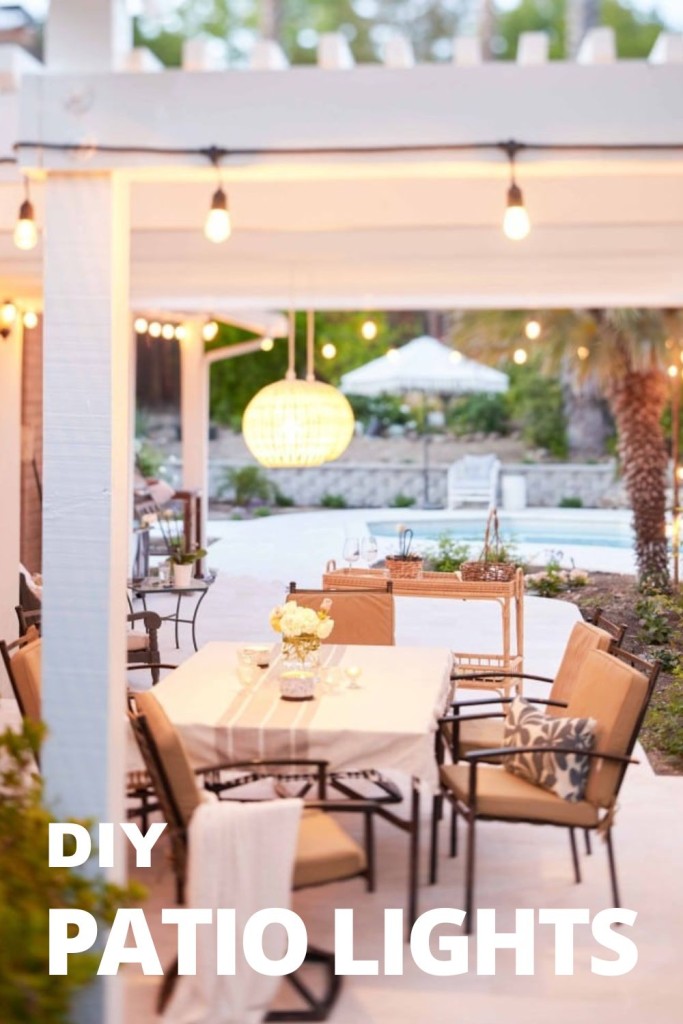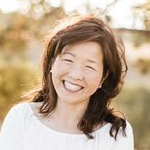 Latest posts by Janine Waite
(see all)