This is the best time of year to share Spring Decorations Ideas. Why? Because spring calls for simple, adorable crafts, decorations, and recipes for you to make.
Here you will find creative wreaths, sweet desserts, and decorating ideas from my home to yours.
This season has been one of the bests on the blog, filled with easy crafts to create, recipes to cook, and decor ideas to be inspired by.
I cannot wait to show you my latest spring decorations ideas from this week but before we continue, let's talk about springtime.
What do you love most about spring? I know it's hard to choose just one part of this magnificent season! But if I had to choose, I would pick the blooming flowers in every yard, hiking trail, and field I pass.
Then again, the beautiful weather in the Bay Area, cute holidays, and inspiration to switch up my home style.
So, what do you love about spring?
Saturday Chitchat with Janine – Volume 62
Happy Saturday,
How are you? I can't believe it's already April. Time is moving so fast that it's almost summer! But not so fast, I'm trying to savor every moment of spring until the hills turn brown and the temperature is 80-90 degrees every day.
And since I'm living in the moment, I thought I would share my latest spring decorations ideas to help inspire others at home.
Spring is one of the best times for the blog because it's all about creating cute, lovely pieces for your table, backyard, and home. And this week, I published some of my favorite posts yet!
If you're experiencing cold weather on the east coast or aren't yet to spring, still take the time to check out these ideas to start decorating early.
A Personal Note from Janine
This weekend is going to be about planting and landscaping our backyard. I'm super excited and can't wait to begin.
You see, it's been a long winter for us since we remodeled our backyard. You can view a few photos down below. I promise to share a couple of blog posts about the project since I documented it along the way.
I'm so happy to have the project done finally, and now we can enjoy our backyard. We planned the completion of the project to end before May, and it looks like we finished with room to spare.
We changed out our patio flooring, yard drainage, pool tile, and plaster. This project was our first yard remodel, and I'm super happy that we survived. Now looking back, we had some pretty crazy moments.
We had an "atmospheric river" and 10 inches of water in our backyard. Needless to say, we had to amend the drainage project!
Well, almost five months later and the project is complete.
So, I'm off to the nursery to peruse the plants!
Have a great weekend!

---
This Week's Inspiration – Spring Decorations Ideas
*This post contains affiliate links
Spring Decorations Ideas
Now that our backyard remodels are underway, I'm perusing the internet for Ideas for Flower Gardens. So, I thought I would share my journey of finding different plants and flowers with you.
Finding gardening ideas can be overwhelming, so I handpicked some gorgeous flower garden photos for this post. I'm on the hunt for flower inspiration, so why don't you join me!
Lemon Wreath DIY (Paper Wreath)
Here's a unique Lemon Wreath DIY made out of paper. The pretty yellow and pink patterned paper sets this off among the traditional wreaths.
Its bright and cheerful style reminds me of pink lemonade. You don't have to be too crafty to make this pretty spring/summer wreath!
Easter Bunny Cookies (Cookie Cutter)
These are the cutest Easter Bunny Cookies! The appearance of these treats relies on the cookie-cutter shape, which in the end, creates an adorable dessert.
I love a sugar cookie with frosting, and this adorable cookie is perfect for Easter. Make these with your kids or bake them for a party. They are the best little spring treat.
Everyone must have a favorite lemon dessert, whether a pie, bar, cake, or even a loaf.
Since it's officially springtime, and what's spring without a lemon or two, I thought it was the right time to round up my oldest, latest, and favorite lemon desserts. Let's dive into my Lemon Treats from the blog.
This easy and adorable fuzzy blue Bunny Tail Wreath is fabulous. Create small bouquets of the dried grass and then attach them to a wreath.
Bunny Tails are grass that comes in many colors. So choose what style you prefer and personalize your wreath!
This Easy Spring Tulip Wreath is a 30-minute craft project. Choose whatever color faux tulips you like and attach them to a foam wreath form. I'll show you how to make this spring wreath with step-by-step instructions.
You can make this bright and colorful wreath for your front door, wall, or mantel. It's the perfect spring accent for refreshing your home.
Hello and welcome! I say it's the perfect day to look at some Spring Decorations For Home. Don't you think? Today, you will find something to make, buy or bake from my home to yours. Let's get started.
Hello! Today, let's take a look at my latest Flower Crafts. Here, you will find recipes, wreaths, floral arrangements, and more to create for your beautiful home.
We step out of hibernation and embrace the current season by decorating, crafting, and baking new ideas.
Spring has sprung, and it's time to look at Spring Favorites from the blog. Here you will find tons of decor inspiration, recipes, crafts, and more to satisfy the season.
Join me in finding some of the best ideas for March, Easter, and more as we hop into the blog post.
The holiday is more than a month away doesn't mean we can't get started on our Decorative Easter. I was hoping you could look at my most popular crafts, recipes and decor ideas from the blog.
Easter will be a successful Sunday with some inspiration, whether you need a sweet treat, a gorgeous wreath, or more decoration ideas.
---
Boutique of the Week – Handmade Quilts for Sale
No matter the season, having a quilt is always a good idea. These quilts are unique, but they are such comfortable blankets to snuggle with at the end of the day.
So, here is a collection of handmade quilts that caught my eye. There is something here for everyone, whether you're looking for a new decor piece, warm blanket, or a gift.
---
My Favorite Things – Spring Decorations Ideas
Let's talk about Easter and food. If you're feeling lost about what you're going to serve on Easter Sunday, don't worry. Here are a bunch of recipes from Tieghan at Half Baked Harvest.
Every week, I end up cooking new recipes of hers for my family, and, every time, it wows them. Whether it's a drink, dessert, snack, or meal, something is here for you.
The Most Cheerful Spring Wreaths
Here is a collection of the most cheerful spring wreaths from the one and only Martha Stewart.
These wreaths have been some of my favorites since 2019 and still are to this day. Why? Because they are full of color and beauty and create such a gorgeous look for spring.
In need of a new wreath? It's time to change your decor and place one of these lovely decorations in your home.
How to Make a Terra Cotta Pot Beautiful
Here is a simple craft to make decorating more accessible than ever! Shout out to my good friend, Leslie, for coming up with this fun DIY.
When decorating, create one of these gorgeous pots and place them on your table to create the ultimate spring look.
Create Your Own Floral Arrangement
We all know I love to admire flowers. I love planting them and creating bouquets with flowers, and I also love incorporating them throughout my home.
If you're the same as me, today is your lucky day. Here is a step-by-step process to creating a floral arrangement made by Joanna Gaines!
The Ultimate Spring Brunch Menu
Spring calls for new recipes, and these meals are checking out. These desserts, snacks, drinks, and more are from Sunset Magazine.
If you want to change it up for breakfast, lunch, or dinner, here are 30+ ideas for finding a new favorite food for spring!
---
What's Trending on the Blog
The Best Chocolate Cake – Beet Cake Recipe
This is seriously The Best Chocolate Cake! Many people claim to have the best cake, but you have to believe that this is a super moist cake.
Yup, you heard correctly, there are red beets in this delicious cake. Also, it has another name, Chocolate Beet Cake. It has a whole can of cooked beets in this dessert.
If you love to change your image on your iPhone well, here are some Free Cute iPhone Wallpapers just for you.
I've designed more than 50+ pretty iPhone screensavers. You'll enjoy these adorable photos if you love flowers, Paris, beaches, gardens, forests, and succulents!
Cookie Dough Mochi (Chocolate Chip)
You'll love this fun Japanese recipe if you love Cookie Dough and Mochi. It combines a chocolate chip cookie dough with a beautiful sweet rice cake.
This simple recipe is an excellent dessert when you crave a unique confectionery blend of western baking and eastern cuisine.
---
My Tip – Scrapbooking Papers
*This post contains affiliate links
If you're a crafter, then I'm sure you've noticed that the pretty rows of scrapbooking papers have diminished at the craft stores.
So, instead of choosing from a few choices, I now turn to Etsy for digital papers. The cool thing is that you can buy the images and print out as many copies as you like. It is more convenient and financially cost savings!
I also love that I don't have to drive and sit in traffic to purchase them from our local craft stores. So next time you do a paper project, check out the excellent Etsy digital papers!
---
My Latest Obsession – Spring Patio Project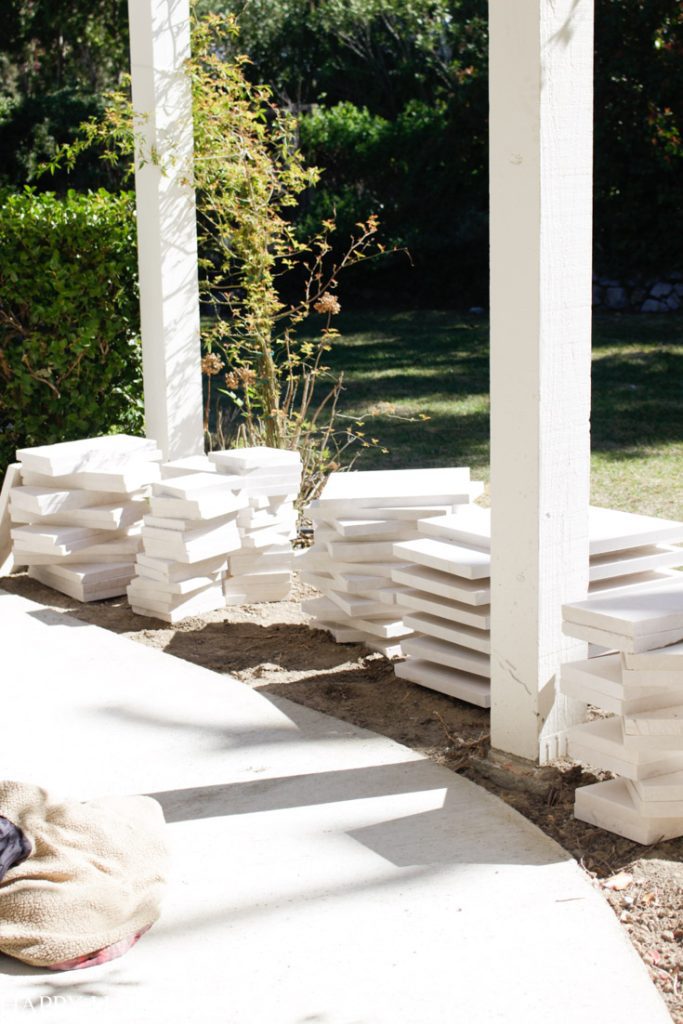 *Our patio flooring used to be an old pink terra cotta tile
Our Backyard Remodel
If you follow my Instagram account, you know that we have had a big outdoor project since Thanksgiving. Yes, we had a little bucket loader outside our living room at Christmas.
It has been a great adventure, and thank goodness we were in good hands with a terrific contractor. Before hiring a company for our construction job, we did our homework and interviewed five contractors.
Our project lasted for four and a half months, and the job began by tiling our patio to also, replastering the pool, and placing a whole network of drainage around the house. And of course, we tripled the price and scheduled out all by ourselves!
And I'm happy to say that we finished our backyard remodel with our contractor, and now I'm obsessed with landscaping. Oh man, my husband and I have a ton of work ahead of us, but we are excited to begin.
I'll keep you updated on the project, and I promise to write a few posts on our remodel. I made sure to document the whole project with pictures!
---
Cheers to the weekend,
Have you started decorating for spring? If yes, let me know! I always love hearing from you. If not, then don't worry. Hopefully, this collection of spring decorations ideas helped inspire you a little 🙂
I have more recipes, crafts, and decor ideas other than the ones above on the blog if you are interested.
I'm off to enjoy the good weather (89 degrees and sunny)! I hope you have a wonderful day and an even better weekend.
See you next time on the blog,