Spring has sprung! It's now time to look at Spring Wreaths For Your Front Door. No matter your style, here, you will find a broad assortment of gorgeous wreaths to design and decorate your home.
Scroll down to see 45+ excellent wreath options that will make you say goodbye to winter and hello spring!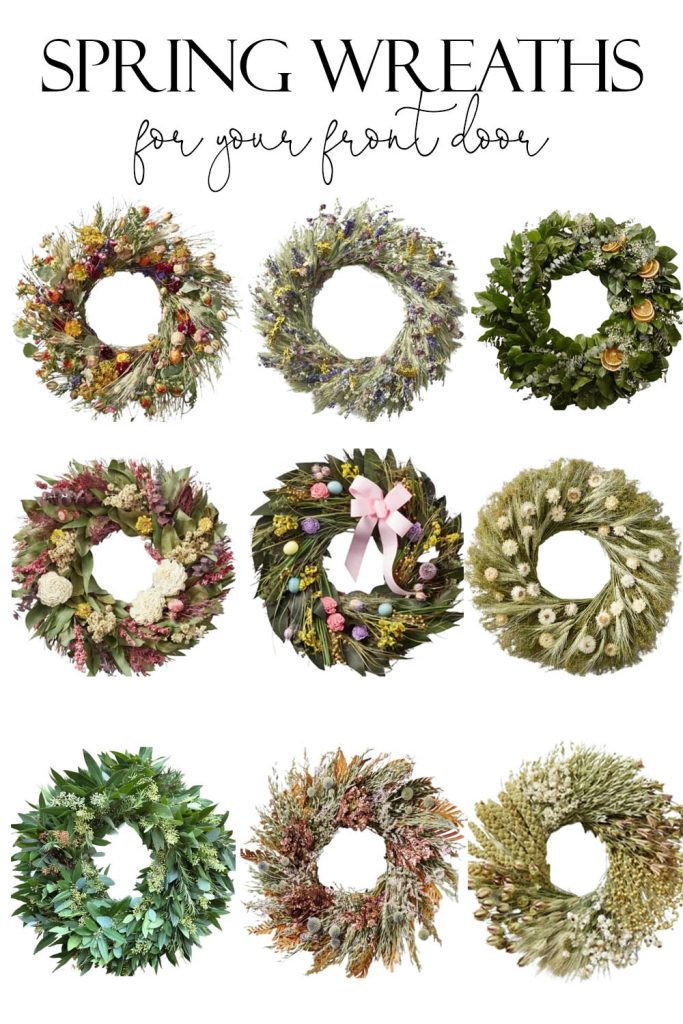 If there were one decor piece to make a statement, it would be a wreath—no doubt about it.
Why? Well, because a wreath is the first decoration your guest will see, it will make your home look cozier, and it's simple enough to style with little to no effort.
Spring is in the air! The flowers are blooming, the sun is shining, and the temperatures are getting warmer. I couldn't be happier, for this is my favorite decorating season.
What is your favorite season, and why? There is something special about springtime. I think it's because this is when Cherry Blossoms bloom, my late mom's favorite flower.
To honor her appreciation for flowers, I have many posts from the blog about all things flowers. Here are just a few of my favorites 🙂
In the meantime, start decorating today with this stunning collection of spring wreaths for your front door to have the best house on the block.
No matter the style, look, or color of your door, there is something here for everyone. Goodbye cabin fever and hello spring fever!
Floral Wreaths
Fruit Wreaths
Green Wreaths
Dried Wreaths
Easter Wreaths
Continue to see these magnificent wreaths!
Spring Wreaths For Your Front Door
*This post contains affiliate links
FLORAL WREATHS
One way to celebrate spring on your front door is to decorate it with a floral wreath. Since you know I love flowers; then you might have guessed I love floral wreaths.
For all of those people who like blooms as much as I do, you're in the right place. Lucky for you, here is a vast collection of 10 beautiful wreaths full of gorgeous faux flowers.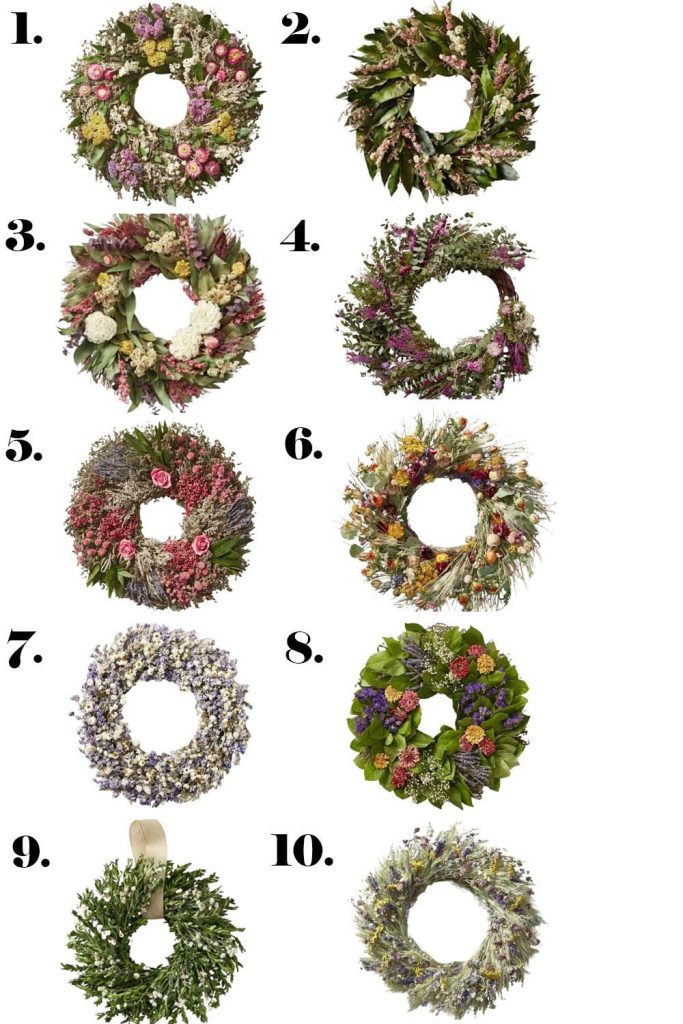 Sources: 1 l 2 l 3 l 4 l 5 l 6 l 7 l 8 l 9 l 10
We are just getting started, and I can't wait for you to browse more lovely wreaths. Don't stop now. There are more sections of spring wreaths for your front door.
FRUIT WREATHS
We all know floral wreaths are popular but have you ever seen a fruit wreath? I've seen a few and decided to include a section of wreaths for the front door. Plus, you never know this might be your next best springtime decoration.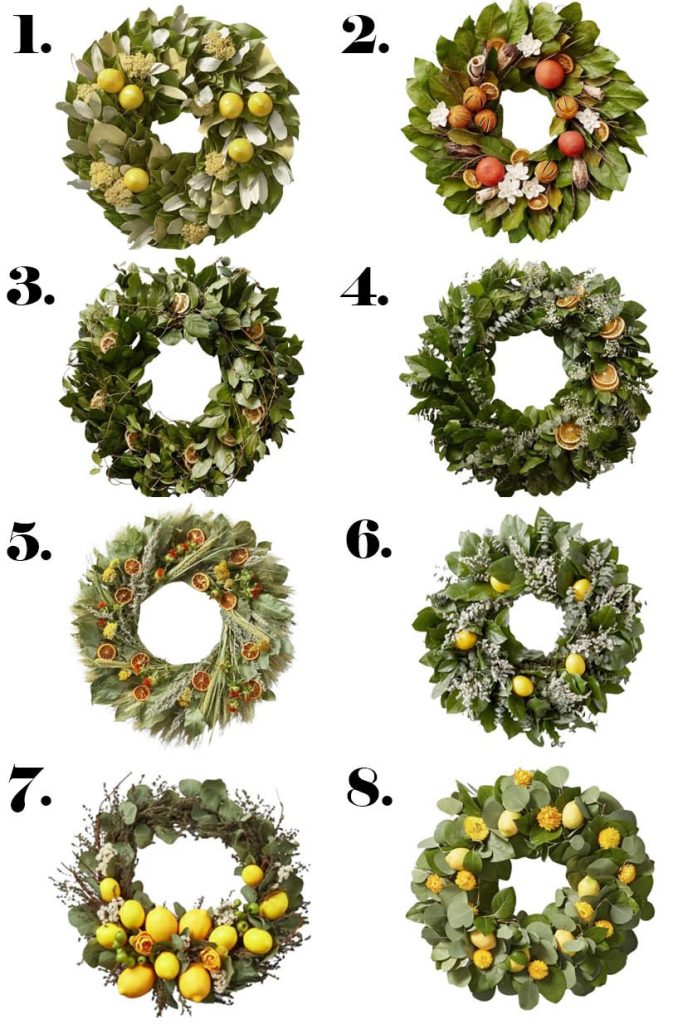 Sources: 1 l 2 l 3 l 4 l 5 l 6 l 7 l 8
Who knew a fruit wreath could look this good? And now you have another option for a spring wreath!
GREEN WREATHS
Let's get our green thumb by looking at some of these green wreaths! I've always thought green wreaths create a simple look in your home. It's hard to pass up a style like this one.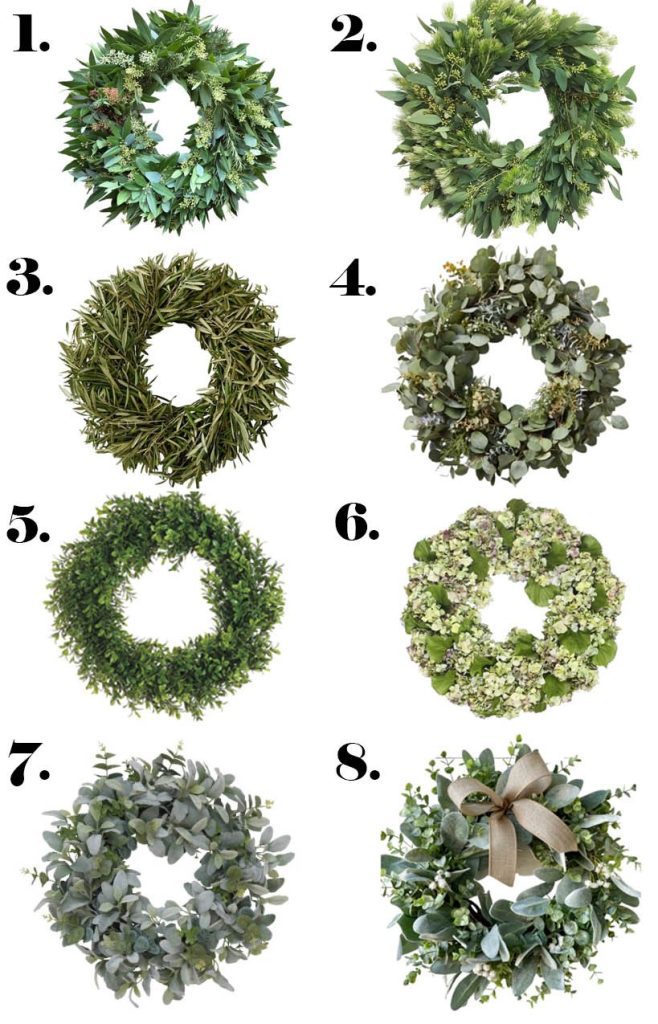 Sources: 1 l 2 l 3 l 4 l 5 l 6 l 7 l 8
I never thought I would see so many green wreaths in one spot, but here we are. I hope you found a simple wreath to complete the perfect look in your home. Now, onto more spring wreaths for the front door!
DRIED WREATHS
Believe it or not, I am a big fan of dried organic elements such as these wreaths. These wreaths aren't perfect "spring" examples, but they look just as pretty when hanging on the front door.
These wreaths are ideal for any room, whether inside or outside.
In the end, if you find a wreath worth buying, you don't necessarily have to turn it on the front door. That's the most significant part of this post.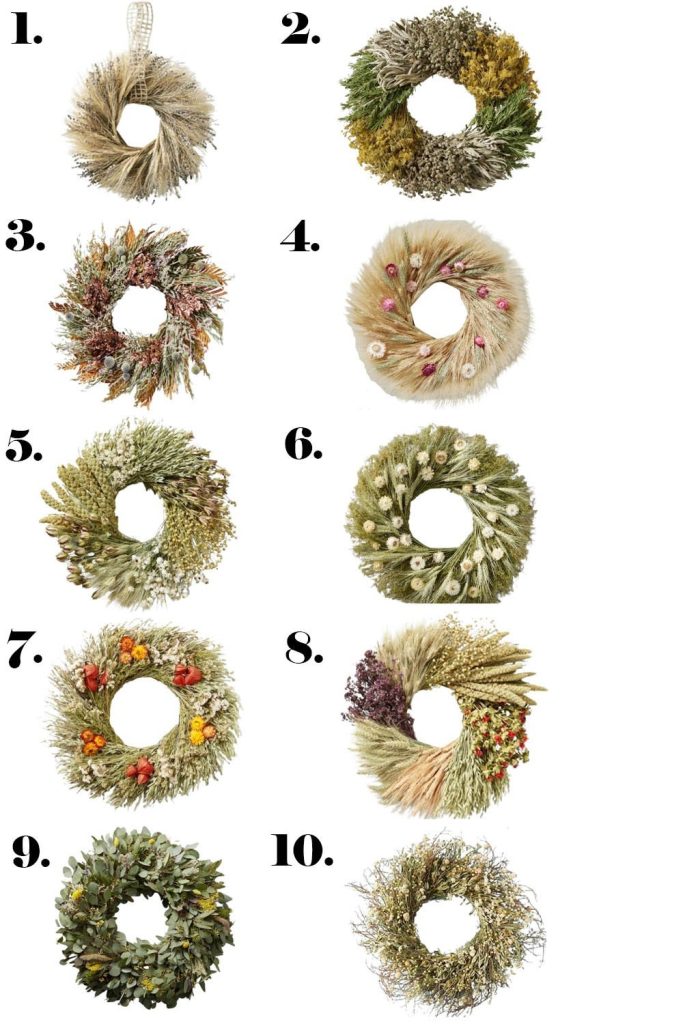 Sources: 1 l 2 l 3 l 4 l 5 l 6 l 7 l 8 l 9 l 10
EASTER WREATHS
Since this post is all about spring wreaths, I thought it was only fair to include a section of Easter wreaths since this memorable holiday occurs during springtime.
If you want more Easter decor inspiration, here are a few posts from the blog.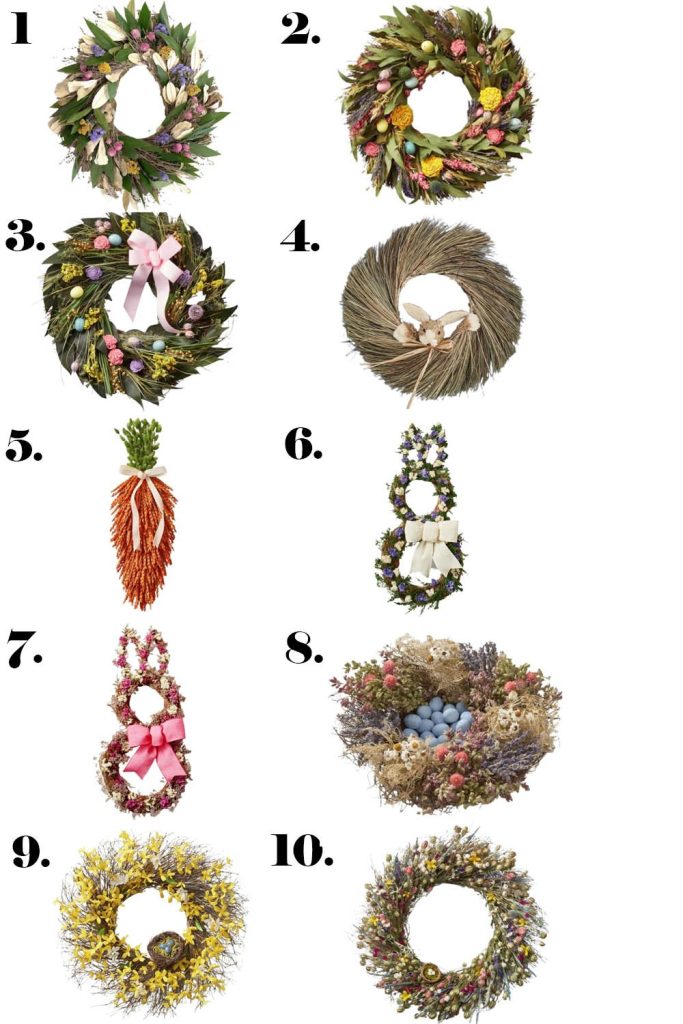 Sources: 1 l 2 l 3 l 4 l 5 l 6 l 7 l 8 l 9 l 10
You made it to the end of the blog post. Throughout looking at these spring wreaths for the front door, I hope you found one or many decorations for your home.
I've needed a new look around the house and can't wait until my wreaths arrive to start decorating the front porch.
WANT MORE POSTS LIKE THIS? HERE ARE MORE SPRING WREATH IDEAS FOR YOUR HOME
---
Happy Wednesday,
Cheers to a new month full of the latest designing and decorating! I hope you've had a good day so far and hopefully an even better week.
I decided to take on the challenge to get most of my blog work done on the weekends to have the week to relax a little, but here I am starting on a new recipe! It seems that baking, crafting, and decorating never leave my side.
Well, I hope you found a spring wreath for your front door. I'll see you next time over on the blog!
Have a wonderful day, friends,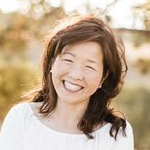 Latest posts by Janine Waite
(see all)