One way to make it feel like spring has sprung instead of your home is by designing a table setting with one of these elegant Easter Tablecloths.
This plethora of runners vary in unique colors, designs, and patterns, perfect for springtime!
Hooray for new decor, and cheers to spring! So let's dive into this fantastic collection of all types of runners for Easter Time.
It's officially time to change it up at the Waite house and start decorating for Spring. I've wanted a new look with new decor, and these tablecloths are just the thing.
I love decorating any table in my home, whether small like our coffee table or big like the table in the dining room. Plus, with a floral bouquet, a couple of candles, plates, and one gorgeous tablecloth, you will have a stunning setting to enjoy.
How do you decorate your table? It's always fun to hear about new ways to decorate and design a specific space. There's nothing better than gaining decor inspiration from your home to mine and vice versa.
Regardless of whether you have or haven't started decorating, take a look at this wide selection of Easter tablecloths to accessorize your table for spring!
White
Floral
Traditional
Colorful
Patterned
Browse on to see Easter tablecloths!
Easter Tablecloths
*This post contains affiliate links
WHITE
Let's start basically by introducing elegant, white tablecloths. Now, you can never go wrong with a runner like this because it's simple but still stunning.
Plus, this collection is what I consider "drop-dead gorgeous" because of the patterns, designs, and overall look. So, if you want a chic farmhouse style (or any style really), check out these Easter tablecloths to achieve your dream look.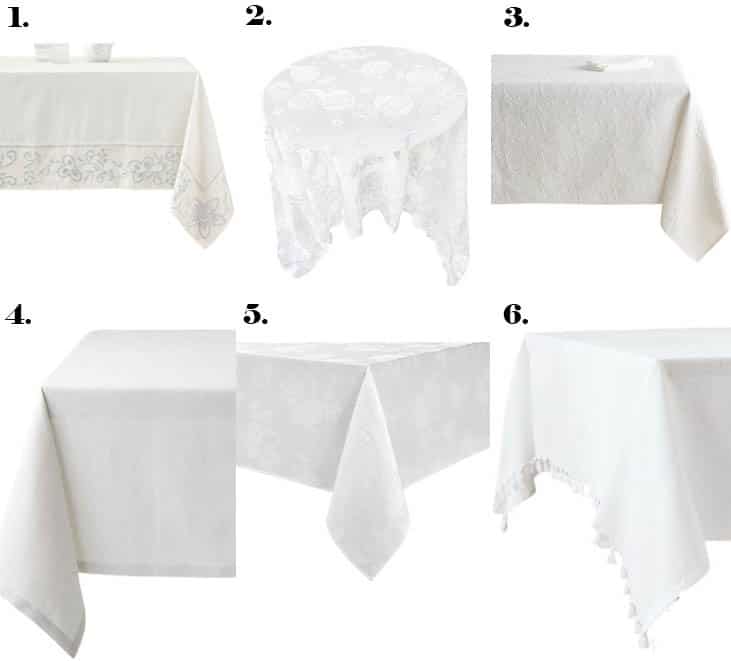 Sources: 1 l 2 l 3 l 4 l 5 l 6
FLORAL
These tablecloths are probably some of my favorites ever. I'm the type of person who loves anything floral. Whether it's flowers or a floral runner like these below, flowers can create such a cheerful, springtime vibe to the room without a doubt.
So, in honor of my love for flowers, I thought I would include a section of floral tablecloths to support others who love the sight of anything floral just as much as me.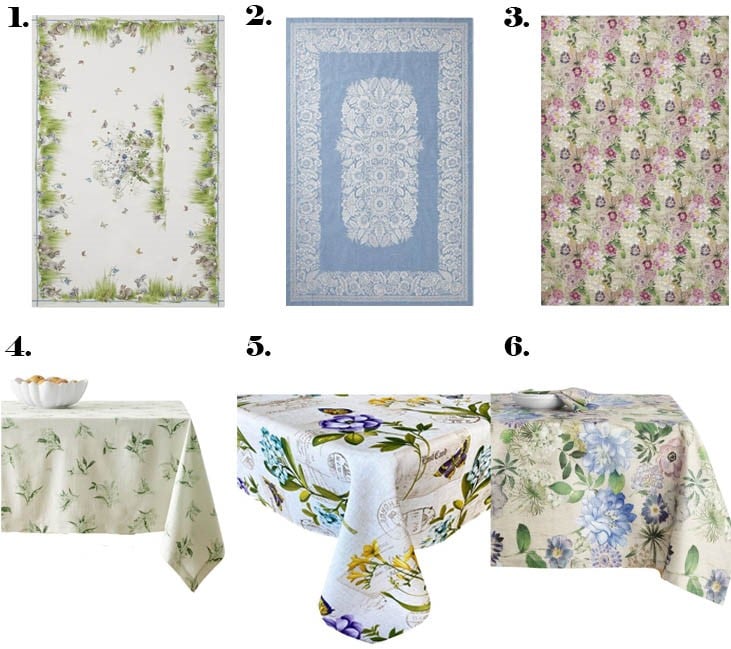 Sources: 1 l 2 l 3 l 4 l 5 l 6
TRADITIONAL
I told you I would include all types and sorts, including traditional tablecloths for Easter and spring in general.
These runners bring back many memories of Easter eggs hunts in the backyard, dying eggs in the kitchen, and overall special moments of when I was a kid and even when my kids were young.
So take a look at these tablecloths, hopefully blasting you to the past, to give you inspiration for your springtime style.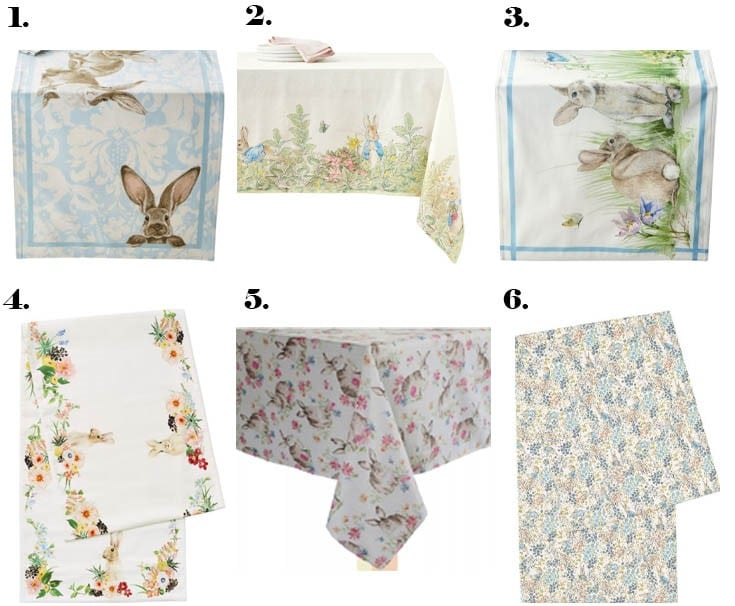 Sources: 1 l 2 l 3 l 4 l 5 l 6
COLORFUL
Time to have fun! Now, these colorful tablecloths will bring excitement to the room like no other. But, in all seriousness, colors really can affect one's mood and overall experience.
So, to have an enjoyable Easter with loved ones, try out one of these beautiful runners!
Plus, not only are these perfect for an Easter party but most occasions after that, such as birthdays, celebrations, and even social gatherings with friends!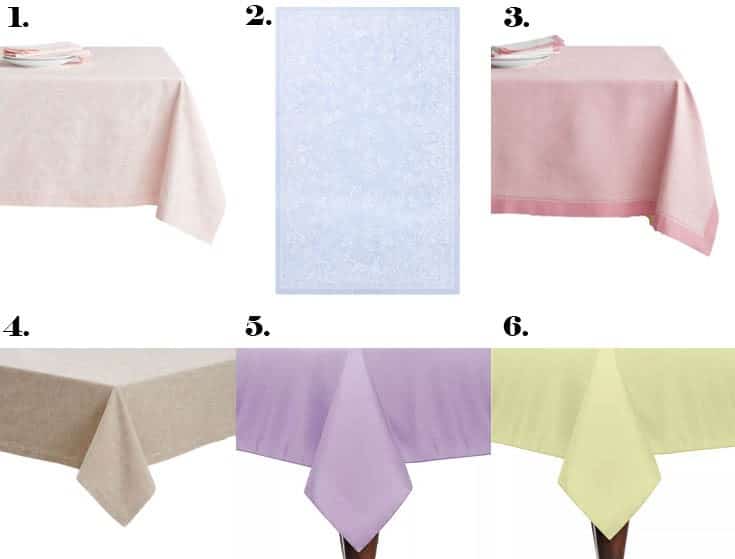 Sources: 1 l 2 l 3 l 4 l 5 l 6
PATTERNED
Last but certainly not least, the patterned tablecloths. Don't these runners remind you of the perfect picnic? I adore a good picnic with mini sandwiches, crunchy crackers, and sweet cakes.
It reminds me of the little things in life.
So if you want to create a fun look for Easter yet delightful to commemorate springtime, these runners are for you.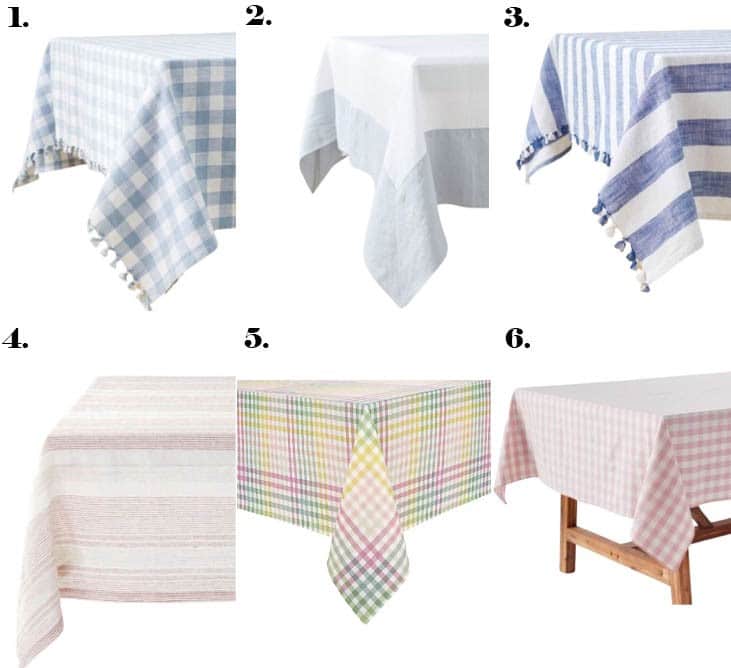 Sources: 1 l 2 l 3 l 4 l 5 l 6
As you can probably tell, I'm planning on writing as many blog posts containing new Easter decor for you as possible before Easter begins!
This way, you can browse now, purchase early and decorate on time without feeling rushed.
That's why I'm here. To give you inspiration for every event, whether it's a holiday, season, or celebration.
And since one of the most beautiful seasons of all is just around the corner, I thought it was best to up my game on finding new Easter decor just for you!
Hop on into this collection of Easter tablecloths and happy decorating!
WANT MORE POSTS LIKE THIS? HERE ARE MORE EASTER DECOR IDEAS FOR YOUR HOME
---
Happy Wednesday,
How was your weekend? The family and I explored a new hike and visited the beach, which was much needed. A little "vitamin sea" never hurt anybody.
It's now grinding time and I plan on baking and decorating this week, so stay tuned on the blog for what's new at the Waite house!
Much love,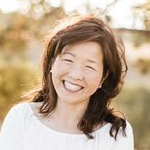 Latest posts by Janine Waite
(see all)